If you've never had Parmesan parsnips, you are in for a treat. Parmesan parsnips are so easy to make. For me, they are my go-to snack when I feel like I need to be munching on something.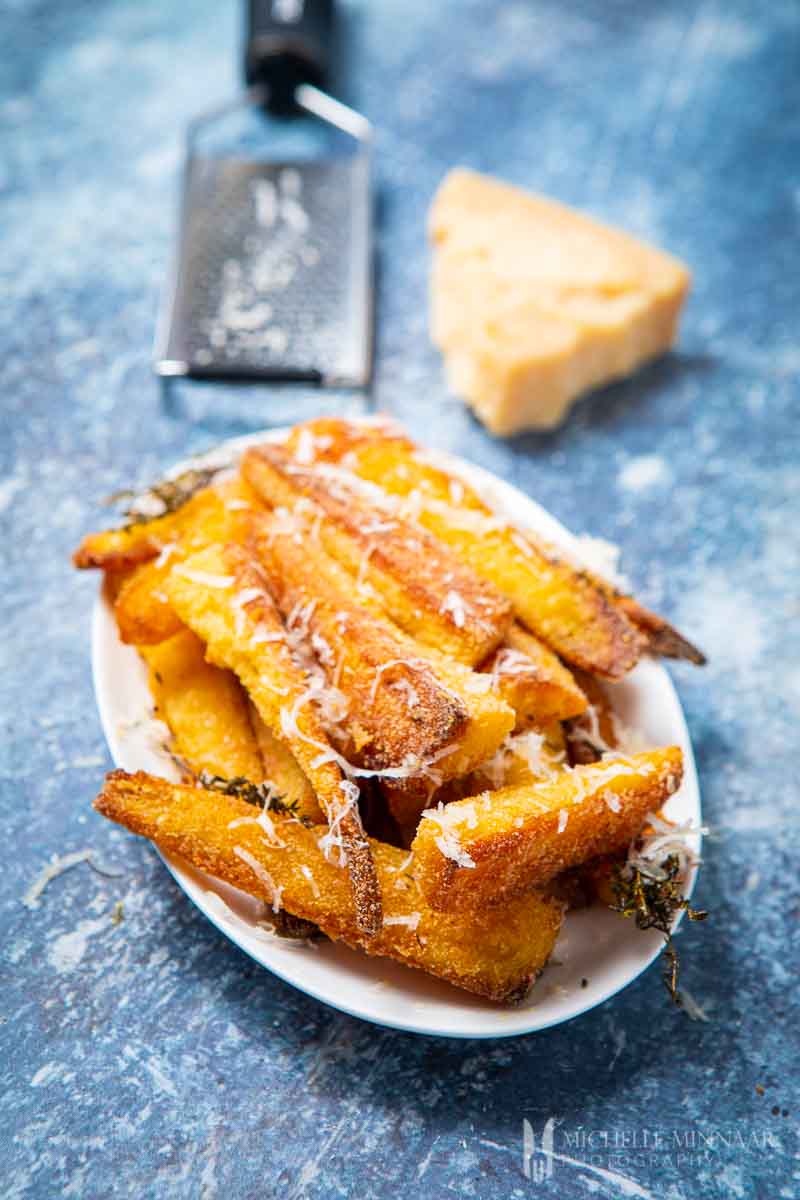 So, substitute the junk food and make this vegetable-based snack instead. This is your chance to get rid of your addiction to deep-fried crisps and the like.
Replace it with a healthier alternative and munch away in a less guilt-ridden fashion. Besides, once you master this easy Parmesan parsnips recipe, your family will want you to make it on a daily basis.
That's because you can pair it with practically anything and enjoy it at any time of the day.
What I love most about these Parmesan parsnips is their crispy yet creamy texture. Their perfect texture comes from semolina and Parmigiano Reggiano - the King of cheeses.
In fact, if you are going to try your hand at this parsnip recipe, then you should also try Parmesan crisps, baked Parma ham and Parmesan croquettes and Parmesan arancini.
All are irresistible and worth learning. When was the last time you made something delicious that included Parmesan cheese?
parmesan parsnips
Parmesan parsnips wouldn't taste the same with any cheese other than Parmigiano Reggiano. Trust me, you need it for this recipe, especially if you want to take advantage of the flavours.
Parmesan cheese is also known as Parmigiano Reggiano. The latter is special because it is produced exclusively in specific provinces in Italy.
These include: Parma, Reggio Emilia, Modena and parts of the provinces of Mantua and Bologna. In essence, it is a region enclosed between the rivers Po and Reno.

This area is famous for applying extremely strict norms and standards when it comes to feeding cattle. For instance, the use of silage and fermented feeds are completed banned.
Moreover, multiple quality control procedures are applied to the milk, ensuring the distinct natural taste of Parmesan cheese - without the use of any additives or preservatives.
Therefore, if you purchased and ate 'Parmesan' cheese made from elsewhere, it is not true Parmesan cheese.
Cheese lovers, beware! If you want to make sure that you've purchased an authentic Parmesan cheese, you'll need to look out for the P.D.O. label - found on cheese rind - or on the packaging.
This is very important because the P.D.O. label certifies the place of origin, or Protected 'Designation of Origin'. Moreover, the 'Consorzio del Formaggio Parmigiano-Reggiano' grants approvals on the Designation of Origin. So, keep a look out for the P.D.O seal and enjoy the King of cheeses.
parmesan nutrition
In essence, Parmigiano Reggiano is a hard and granular cheese. Generally, it matures for a long period of time, therefore it is a highly concentrated cheese full of flavour.
So, you can be sure that the Parmesan cheese will contribute a lot of flavour to the Parmesan parsnips. In essence Parmesan cheese contains only 30% water and 70% nutrients.
The cheese is rich in protein, lipids, calcium and phosphorus. The Consortium doesn't allow any artificial manipulation in the production of Parmesan cheese, hence all of these vitamins and minerals are completely natural!
This also allows the Parmesan cheese to:
conserve well and naturally
be easily digestible
possess a distinct flavour which no cheese can replicate.
what does parmesan taste like?
The taste of the Parmesan cheese depends completely on the duration of maturation. For instance, the minimum maturation length is 12 months.
However, the taste develops radically as the cheese ages for more. The typical aging period is anywhere from 24 to 36 months, which causes the cheese to gain a certain richness and a more granular texture.
The changes in flavour and texture are caused by the enzymes released by lactic bacteria, which in turn leads to the release amino acids making the cheese very digestible. The molecules and enzymes also determine the richness in taste and in aromas.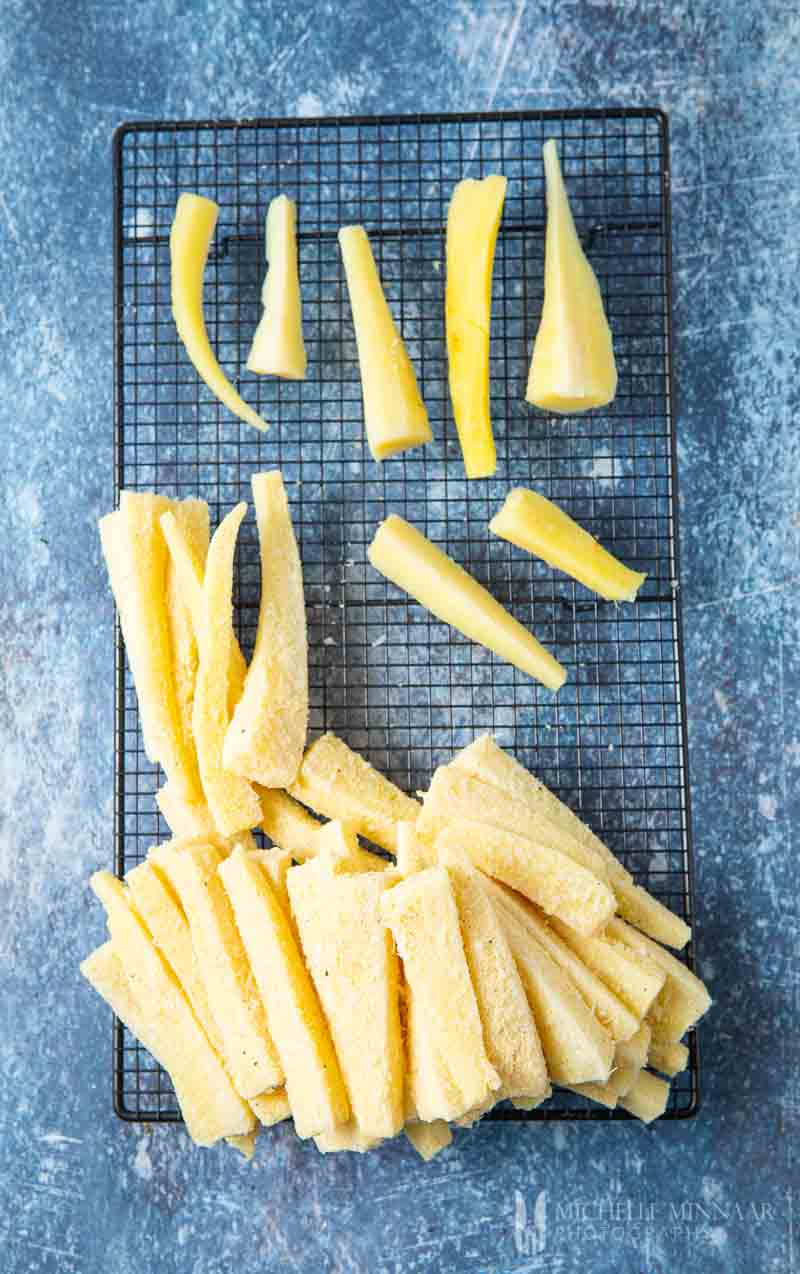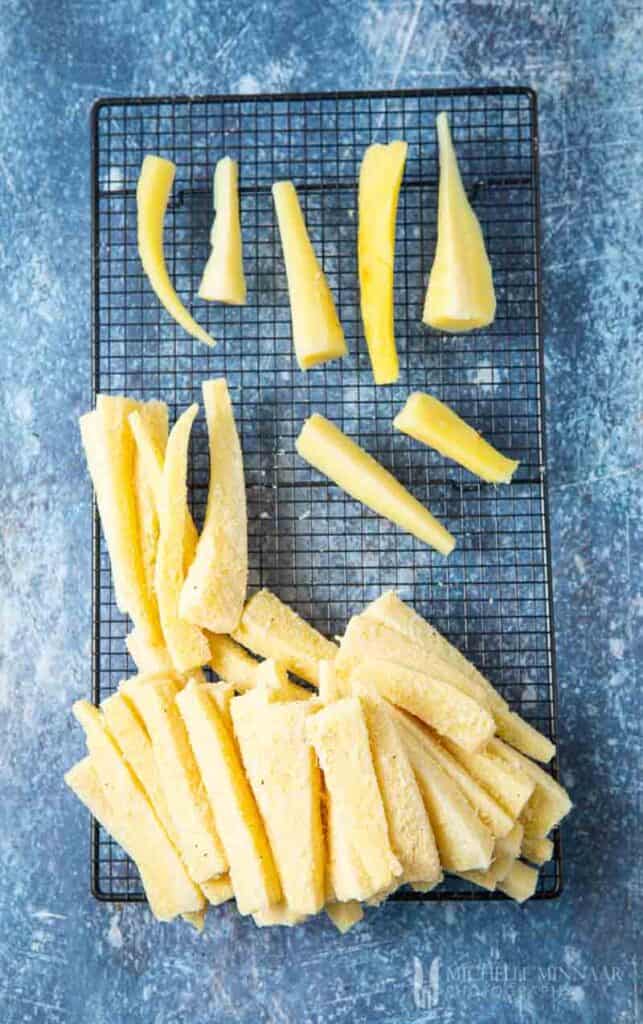 I prefer mature and aged Parmesan cheese but you can use younger options. Both work well.
Don't forget, if you have leftover Parmesan cheese, you can easily use it for these recipes:
If you would like to learn more about Parmesan cheese, click right here.
semolina parsnips
When roasted or baked, parsnip obtains a creamy texture. Therefore, to help this Parmesan parsnips recipe reach its full potential, the parsnips are first of all coated in semolina.
In short, semolina is made out of purified wheat middlings of durum wheat. It is high in protein as well as gluten.
If you suffer from a gluten allergy, then I recommend substitute semolina with polenta. Polenta is made out of corn, hence it is completely gluten-free. Moreover, you'll be able to achieve similar textures.
If you've got leftover polenta, you can also make buttered polenta with honey and seeds. An excellent idea for breakfast.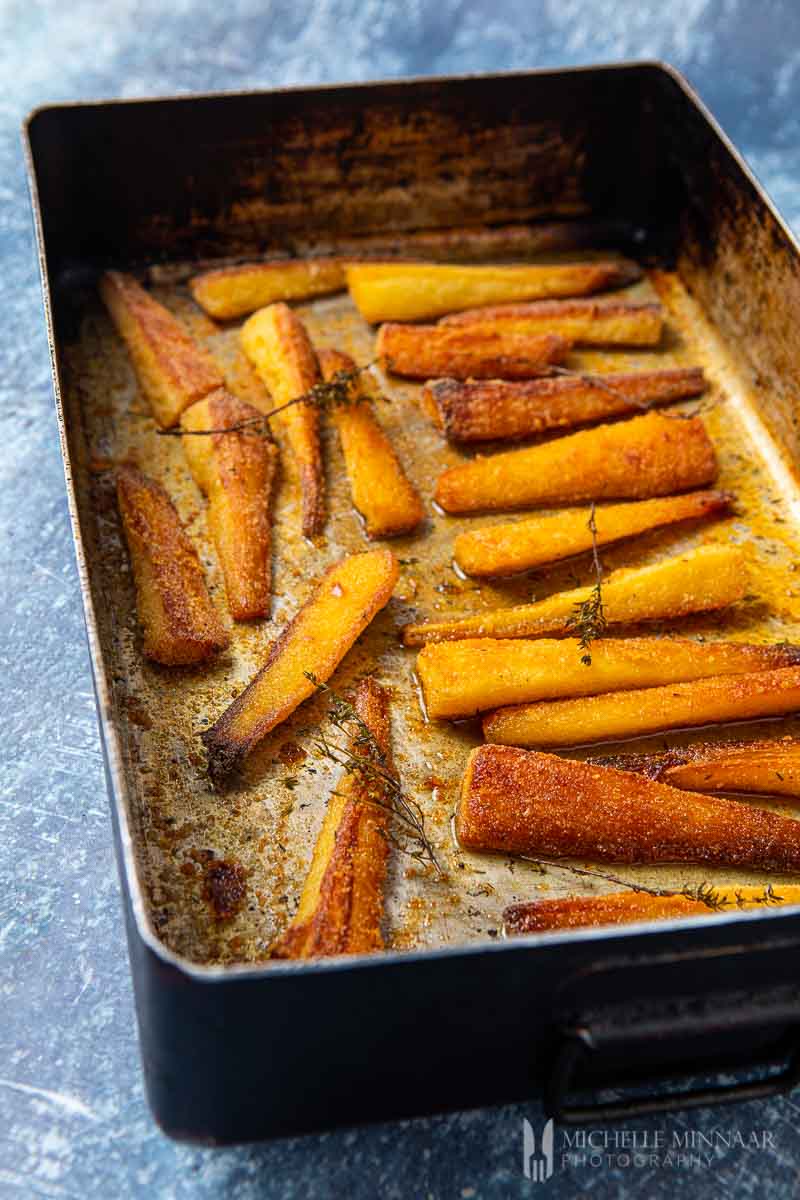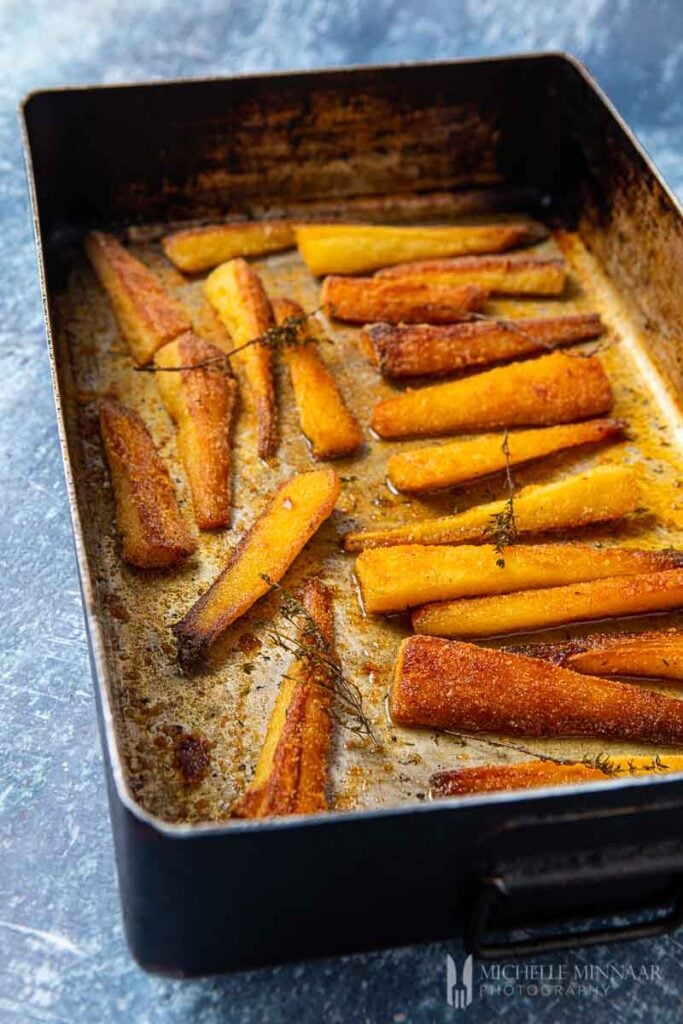 parmesan parsnip fries
You can turn these Parmesan parsnips into Parmesan parsnip fries! Simply cut the Parmesan into small thin and uniform pieces. If you want to be healthy, you can opt to oven-bake them.
However, you can also choose to deep-fry them, which will make them super crunchy. The choice is yours!
roasted Parmesan parsnips
You can also enjoy parsnips in a simple way. Just roast them plain, or try my honey roast parsnips and they'll make the perfect side dish to any meaty dish.
You can also make the following delicious side dish recipes to complement this one:
How would you enjoy your Parmesan parsnips? Let me know in the comments section below.
Print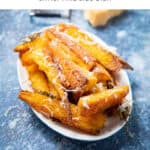 Parmesan Parsnips
---
Description
Learn how to make roast Parmesan parsnips in a few easy steps. This parsnip recipe is a perfect vegetable side dish for a meat course.
---
60

ml (4 tbsp) vegetable oil

1

kg (2lbs) parsnips, peeled and quartered

50g

(2oz) semolina

50g

(2oz) Parmigiano Reggiano
---
Instructions
Preheat oven to 200°C/fan 180°C/390°F/gas 6.

Pour the oil into a roasting tin and place in the oven to heat up.

Parboil the parsnips for 3 minutes in pan full of salted water.

Drain and let all surfaces dry out.

Mix the semolina and parmesan cheese in a large mixing bowl.

Toss the parsnips in the cheese mixture until all their surfaces are covered with the mixture. You might need to them in batches to do a proper job.

Add the parsnips the parsnips to the roasting tin and turn to coat in oil. 

Place the parsnips in the oven and roast for 15 minutes, then turn the parsnips over and turn over. 

Continue to roast for another 15 minutes or until they are crisp and golden. 

Serve as a side dish for a roast dinner. 

[Optional] Sprinkle the parsnips with grated parmesan cheese because you can never have enough cheese in your life!
Notes
If you can't get hold of semolina, you can your all-purpose flour which is finer in texture. 

Are you gluten free? Substitute the semolina with polenta!
Prep Time:

20 minutes

Cook Time:

40 minutes

Category:

Side Dish

Method:

Roast

Cuisine:

English
Keywords: parmesan parsnips, roasted parsnips recipe, semolina parsnips, parmesan parsnip fries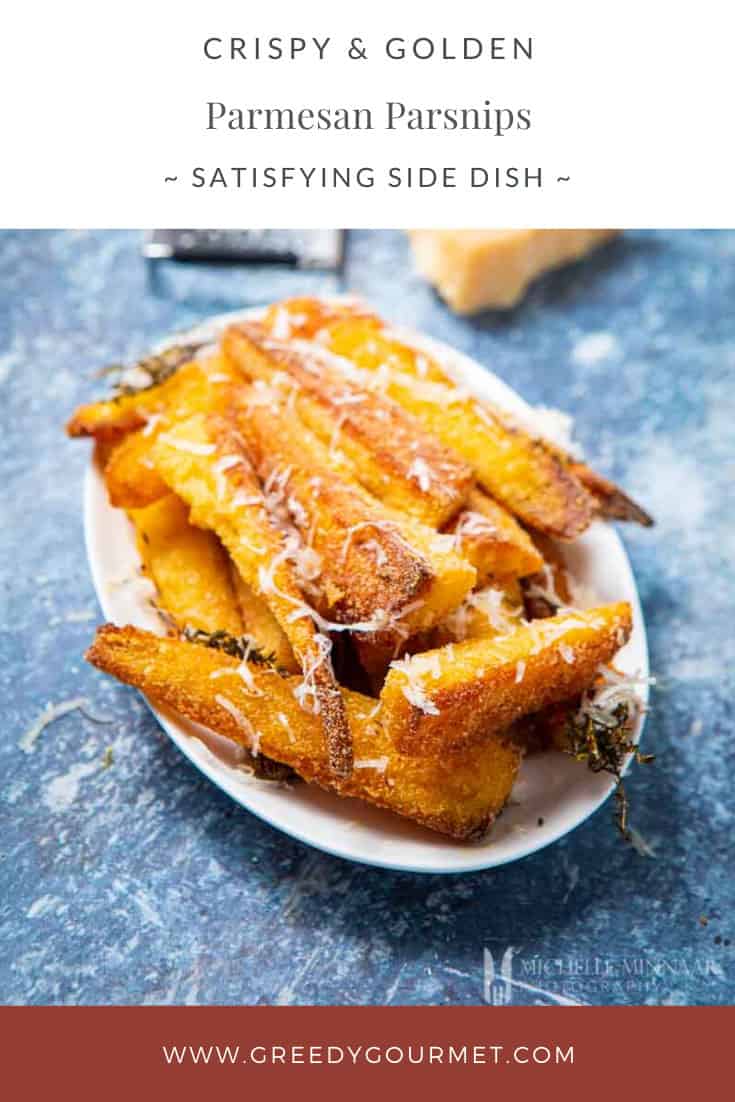 *This recipe is a sponsored post .