Today, many families struggle to come up with nutritious, easy mid-week meals in order to make ends meet – especially those with a busy schedule! Have you considered cooking pork medallions? My guess is probably not, as pork is somehow a bit overlooked in modern cooking. That's a shame because pork medallions are delicious and easy to cook at home. Did I mention that they also cook quickly and are versatile?! Therefore, in this post, I will give you tips and tricks that will add a little pork-related excitement to your mid-week meal repertoire.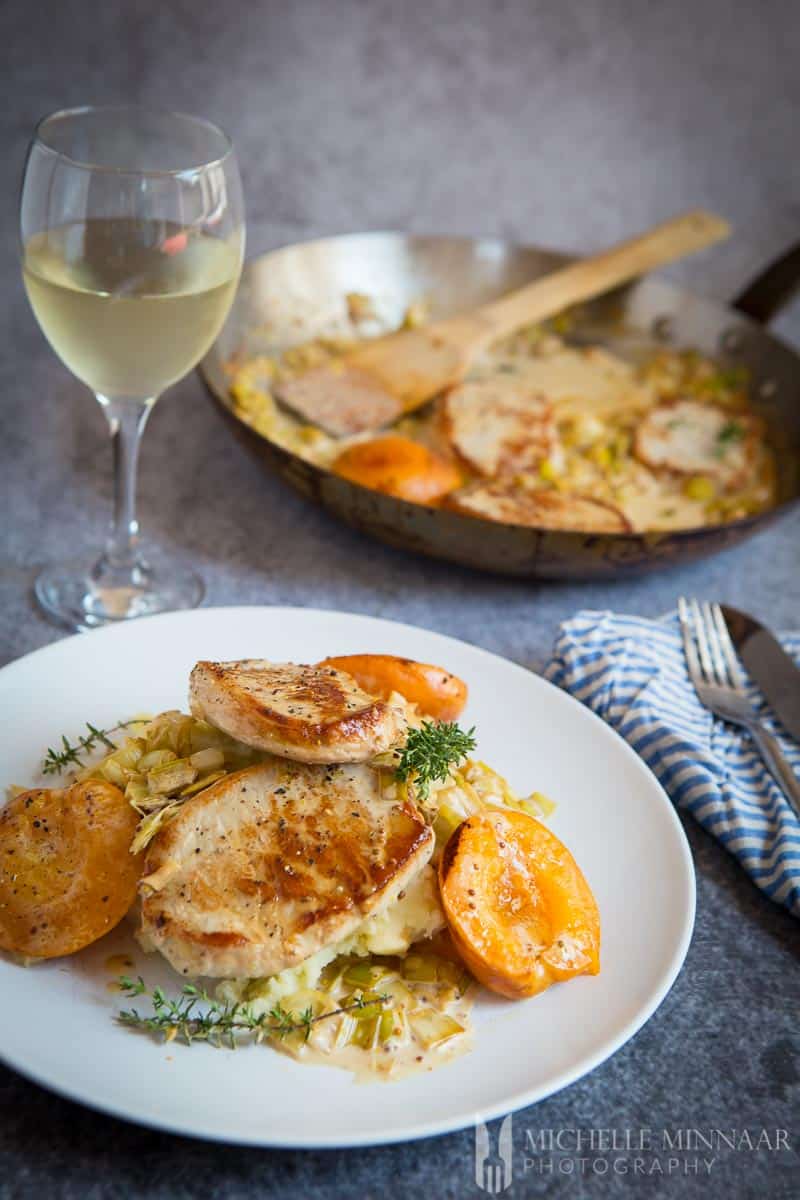 Sourcing great pork medallions
The first tip is to source your meat responsibly. Buy your medallions from a trustworthy butcher, where you're more likely to get the highest quality of meat. However, if you can't find pork medallions in the shop, don't let that stop you. Simply buy a pork fillet, also known as tenderloin, instead and cut it into medallions. If you end up with more medallions than you need for tonight's family dinner, just put the surplus ones in the freezer.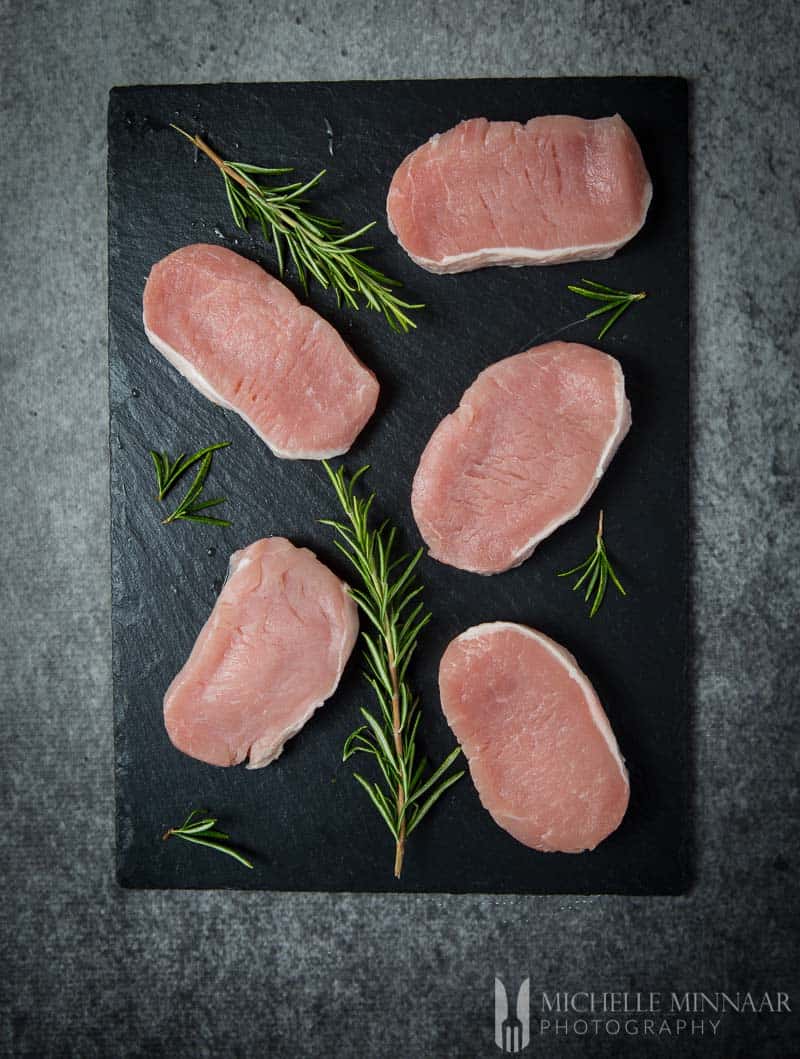 How to cook pork medallions to perfection
I recommend that you take a look at some of the pork fillet recipes I have previously published. You can easily adapt these to be made with pork medallions and you will see just how versatile this cut of meat actually is.
Pork medallions are a lean cut, full of flavour but be careful not to overcook them. When you cook them correctly, they aren't dry or tough, but tender and succulent.
For best results, the meat only needs a few minutes on each side in the pan, so keep an eye on them, and don't blast the heat up to the maximum. If you are in doubt whether or not they are cooked, remove them from the heat and leave them to rest. You can always put the pork back in the pan to cook a little longer if they're not done. Pork medallions are delightful fried in a bit of butter and don't forget to season it afterwards with freshly ground salt and pepper!
Nutrition
Pork medallions only contain around 2-3 grams of fat per 100 grams of meat! Therefore, it is actually a good diet food because it is so lean while being rich in protein. If you want to lead a healthy lifestyle, you just need to be aware of what you actually serve with the meat.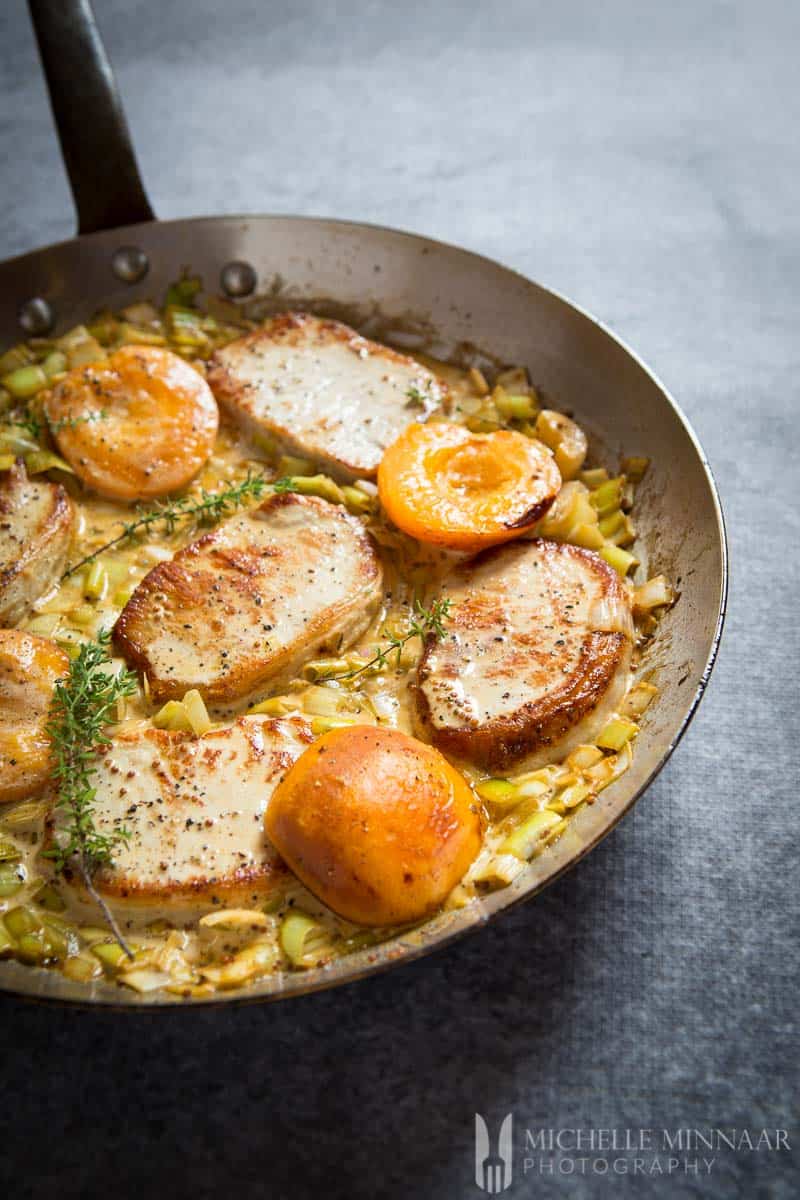 Suggestions for serving the pork medallions
The possibilities of what you can do with pork medallions are practically endless. Generally, I prefer to cook with the seasons.
In the summer time, I like to keep it simple and just pan sear pork medallions and serve new potatoes and a simple green salad with fresh peas as side dishes.
Alternatively, you can also bring a bit of holiday atmosphere to your dinner table, even though it's still the middle of the work week. Serve the pork medallions with a Greek salad and tzatziki! The latter goes very well with the subtle taste of the pork.
Soon, we will enter autumn where the richer, fuller flavours dominate the cooking style. For instance, you can check out this pork fillet I did with porcini mushrooms, juniper berry and marsala.
This one is also one of my favourites. There is just something about the combination of the pork and orange flavour that's really unbeatable.
This is the beauty of cooking with pork. You can combine it with practically anything! If you want to find out even more about the possibilities of cooking with pork, you should check out this site and for more inspiration.
Seasoning
As you know, I am a huge fan of using fresh herbs in everyday cooking. It's even better if you grow your own herbs, whether in the garden or even just a few pots on the kitchen window sill. Most herbs are pretty easy to grow at home and having fresh herbs available can really improve the quality of your cooking. For pork medallions, I particularly recommend thyme or rosemary. These beautiful Mediterranean herbs complements the flavour of the meat very well without dominating it. Rosemary has a very punchy flavour, so use it sparingly. If you have a lot of time on your hands, you can use herbs in this more time consuming recipe. Here, you really get to appreciate the heavenly match of pork and thyme.
It's really surprising how many different directions you can take the flavours. How about going Asian and frying those medallions with teriyaki sauce and chili? Sprinkle with fresh coriander, and serve with jasmine rice, and you have a tasty meal ready in no time. Easy! Starting with the pork you have a surprisingly tasty and nutritious base to go from, and then it's just a matter of adjusting the dish to your taste.
More fresh apricot recipes for you
Print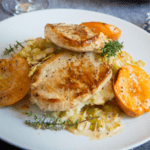 Pork Medallions with Apricot and Leek Sauce
---
8

pork loin medallions

30

ml (2 tbsp) vegetable oil

4

apricots, washed and halved

15

ml (1 tbsp) butter

2

leeks, washed and chopped

125

ml (½ cup) white wine

75

ml (5 tbsp) double cream
Salt and pepper, to taste
---
Instructions
Fry the pork in the oil until both sides are browned then set aside.
In the same pan, place the apricots in a single layer. Fry them on both sides 1 minute each. Set aside.
Add butter to the same pan, let it sizzle then add the leeks.
Fry the leeks until softened then add the wine.
Once the wine has reduced by half, add the double cream, pork and apricots.
Cook gently until the sauce has thickened and serve immediately on top of a big pile of mash!
Notes
You can make the sauce a bit runnier by adding a bit of vegetable stock to the wine.
For a healthier alternative, you can omit the cream altogether and substitute it with 125ml (½ cup) vegetable stock. You can even add a tablespoon of apricot jam if you'd like to sweeten the sauce.
Prep Time:

10 minutes

Cook Time:

20 minutes
Nutrition
Serving Size:

1 serving

Calories:

357

Sugar:

5.2 g

Sodium:

39 mg

Saturated Fat:

17.6 g

Carbohydrates:

11.6 g

Fiber:

1.5 g

Protein:

19.6 g

Cholesterol:

34 mg
save the recipe to your pinterest board

P.S. This is a sponsored post.