This salad olivieh recipe is truly one of a kind because it's definitely not your usual potato salad. In fact, I guarantee you that a lot of people have never heard of salad olivieh, but have most likely eaten it! When you find out what goes into this nutritious salad, you'll definitely have one of those 'aha' moments and you'll remember that you've had it before.
Think of this salad olivieh recipe as a rich and creamy chicken potato salad with eggs and lots of vegetables. In short, this salad is a vast combination of flavours and textures. A Persian salad olivieh recipe might sound complicated to make, but it is far from the truth. It only takes a few minutes to toss the ingredients together.
Besides, a salad olivieh recipe gives a great excuse to use up any leftovers from a roasted chicken or roasted turkey. The same goes for tomatoes and leftover roasted vegetables. Don't feel the need to follow this recipe too closely when you are dealing with leftover ingredients. Get creative and have fun with salad-making. Above all, explore the Persian/Iranian flavours.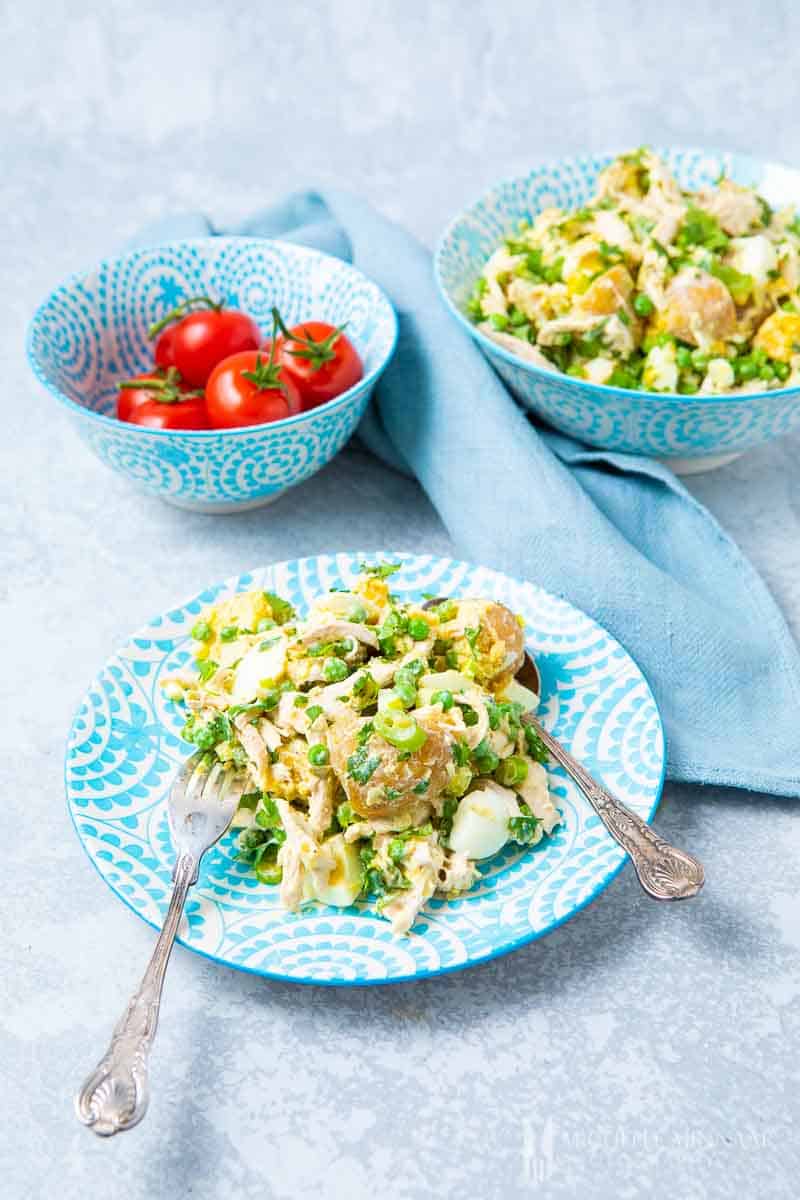 salad olivieh recipe
A salad olivieh calls for a couple of items in your pantry. Again, that's why this salad is an excellent choice for those who are wishing to use up some of the leftover ingredients in their fridge. First, you'll need cooked chicken breasts, but other parts of the leftover chicken will do. You'll also need cooked potatoes, boiled eggs, cooked sweet peas, spring onions, pickles, olive oil, coriander leaves or cilantro, lemon juice, Greek yogurt and mayonnaise.
However, for those of you who have never heard of a salad olivieh recipe, don't confuse it with olivier salad. In contrast to salad olivieh, which stems from Iranian cuisine, the olivier salad is Russian. Oftentimes, it's also predominantly present on the menus of post-soviet countries. In retrospect, the olivier salad calls for many more items. For example, the Russian version calls for these ingredients:
sliced carrots
celeriac
onions
bologna sausage or ham
apples
mustard
dill
Apart from that, an olivier salad is also super creamy because it calls for tons of mayonnaise. Although, my salad olivieh recipe is a much lighter and healthier version.
So as you can see, the pantry requirements differ from one another. Make sure that you are following an Iranian salad olivieh recipe, not the Russian olivier salad. It makes quite the difference.
salad essentials
Here's a list of the things you need for any type of salad recipe:
leftover salad olivieh
As mentioned above, a salad olivieh recipe is excellent for using up leftovers from Sunday roasts. For instance, you can consider using a whole roasted chicken or a whole smoked turkey. You can easily use either of the white meats. Although, I suggest you brine the poultry first. Click here to learn how to brine chicken, or check out my ultimate guide to brining.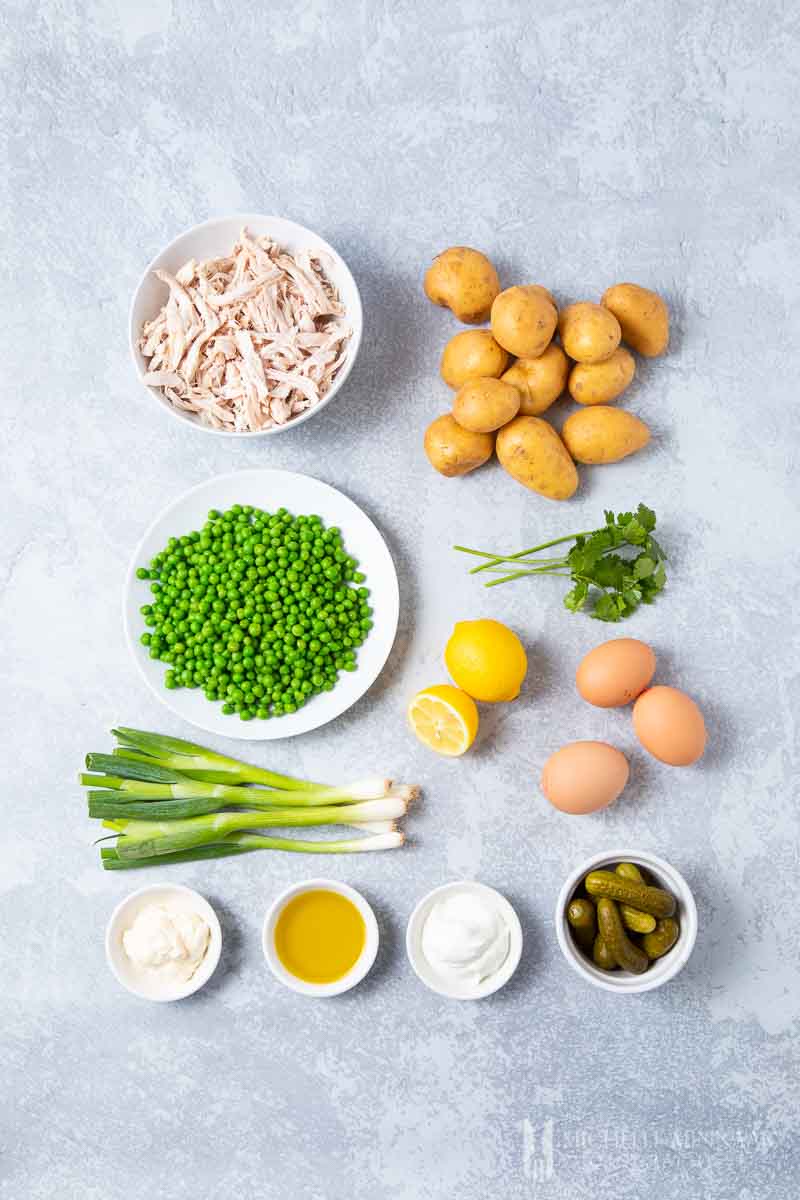 The brining process will ensure that your chicken or turkey is flavourful and juicy. It will also extend the 'shelf life' of the poultry as it won't dry out so quickly. Therefore, for your frying, smoking or roasting recipes, brine the meat beforehand.
Later, you will be left with moist and edible pieces of meat for your salad olivieh. Also, you can make a leftover turkey casserole, leftover turkey curry or chicken pathia. Same goes with this leftover Chinese chicken and sweetcorn soup and other types of meat such as roasted lamb, steak and more. Then, you can make these wonderful sandwiches too:
Don't you love eating sustainably? If you do, you'll keep coming back to this salad olivieh recipe as it's very practical for using the leftovers.
salad olivieh sandwich
Here is the best part about making a creamy and nutritious salad. You can also use it as a filling for a fabulous sandwich recipe. I've made plenty of sandwich recipes before which were of gourmet quality. For example, check these out:
So, inspire yourself and use the salad olivieh as a sandwich filling. What's more, you can make large batch of salad olivieh sandwiches for your children for school as well as for yourself to take to work.
Next, you can also consider these incredible salads as for next time if you like these sort of practical ideas:
Do you have a favourite sandwich filling in mind?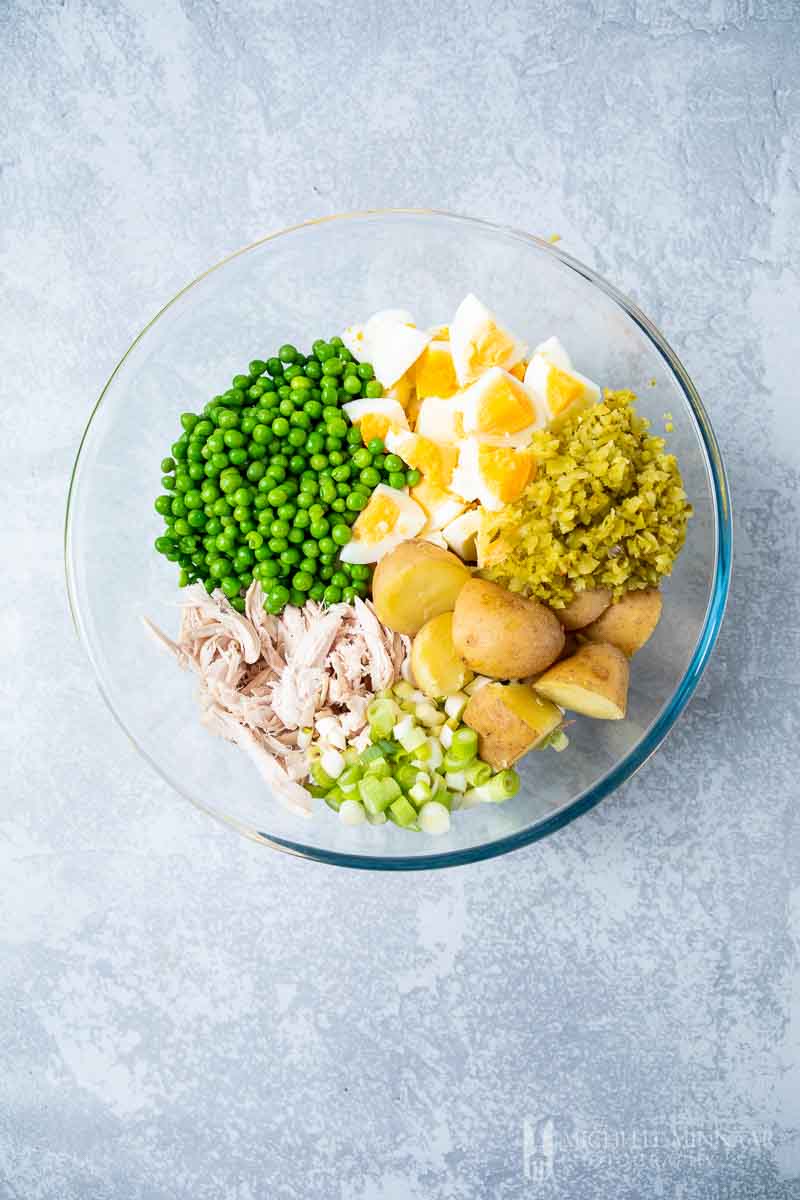 Persian salad olivieh's calories
Here is how you can make the salad olivieh even more authentically Iranian than it already is. First, instead of normal pickles, you can try to source Persian pickles which contain more spices.
Next, you can also add in some of the usual spices you find in Iran. For example:
add a pinch of cumin or coriander powder
add a pinch of sumac
drizzle some lime juice instead of lemon for acidity
add a pinch of ras al hanout for extra intensity but it's not a common addition to a salad olivieh recipe
Next, to cut down on the calories, use only a spoonful of the mayonnaise. Naturally, you can use vegan mayonnaise or avocado oil mayonnaise. Other than that, you really needn't worry about the calories of this salad olivieh. It's made with only lean and healthy ingredients so you can easily munch away guilt-free.
vegetarian option
For a vegetarian option, omit the chicken element and add more potatoes. Similarly, for a vegan option, omit the chicken and the eggs, but use chickpeas for the protein element. Instead of the mayonnaise and the yogurt, add vegan mayonnaise or a creamy avocado dip.
How would you tweak your salad olivieh? Let me know in the comments!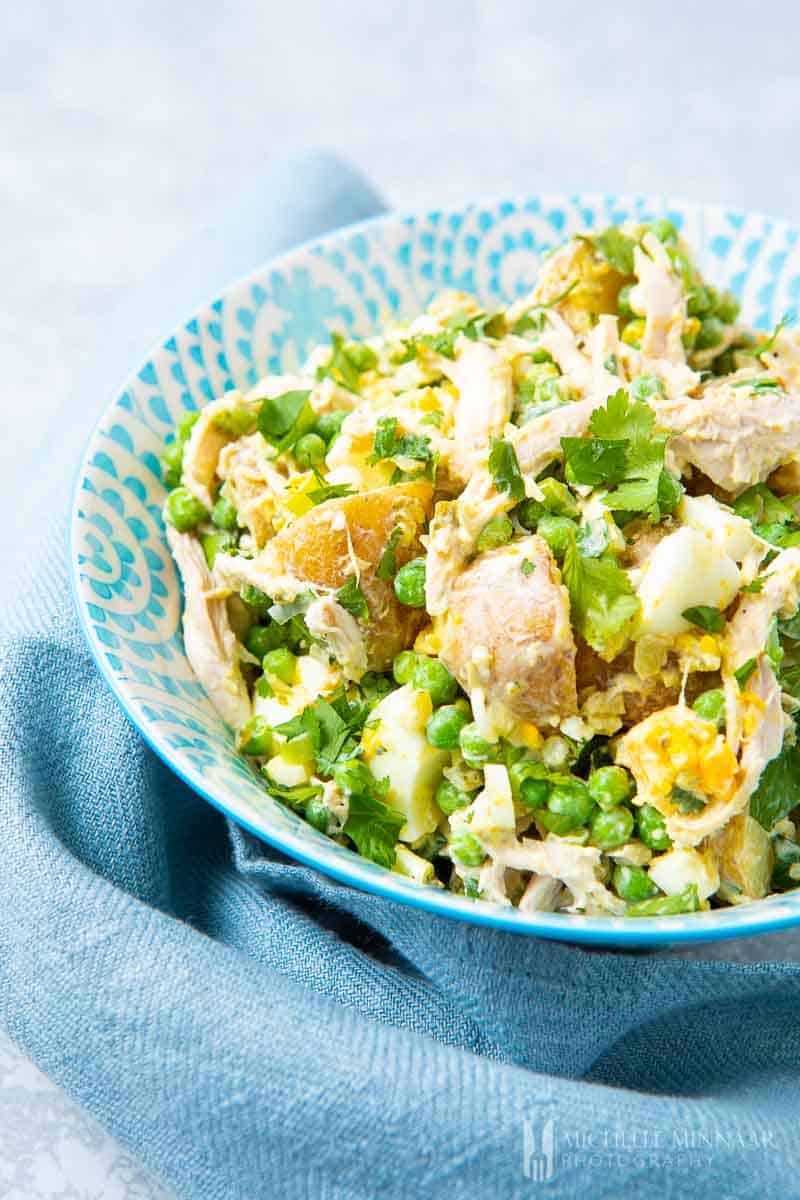 Print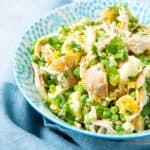 Salad Olivieh
---
Description
No one can resist this Salad Olivieh recipe. This Iranian salad olivieh calls for chicken, eggs, mayo, cilantro, lemon juice, vegetables and more.
---
30

ml

(2 tbsp) mayonnaise

1/2

lemon, juiced

45

ml

(3 tbsp) greek yogurt

30

ml

(2 tbsp) olive oil

450

g

(1lb) cooked new potatoes

450

g

(1lb) cooked chicken meat, shredded

150

g

(5oz) pickled gherkins, finely chopped

10

spring onions, washed and finely sliced

4

boiled eggs, peeled and chopped

225

g

(1/2lb) cooked peas
Salt and pepper, to taste
---
Instructions
In a small bowl, mix the mayo, lemon juice, greek yogurt and olive oil. Set aside.
Place the rest of the ingredients in a big salad bowl.
Pour the salad dressing over salad and mix until everything is covered with the sauce.
Season to taste and serve.
Notes
In the spirit of health, I've not used a lot of dressing. If you're a saucy kind of person, feel free to double up or even triple (!) the sauce ingredients. In recipes elsewhere on the web you'll see the salad drenched in the stuff!
This recipe is ideal for leftover roast lunches where you have an excess of meat, potato and peas at the end of the meal. You can substitute the chicken with other types of meat.
Prep Time:

15 minutes

Cook Time:

0 minutes

Category:

Salad

Method:

No Cook

Cuisine:

Iranian
Keywords: Salad Olivieh recipe, Persian Olivieh salad