Make these incredible slow cooker lamb shanks. Forget about going to a restaurant in order to enjoy a meal like this.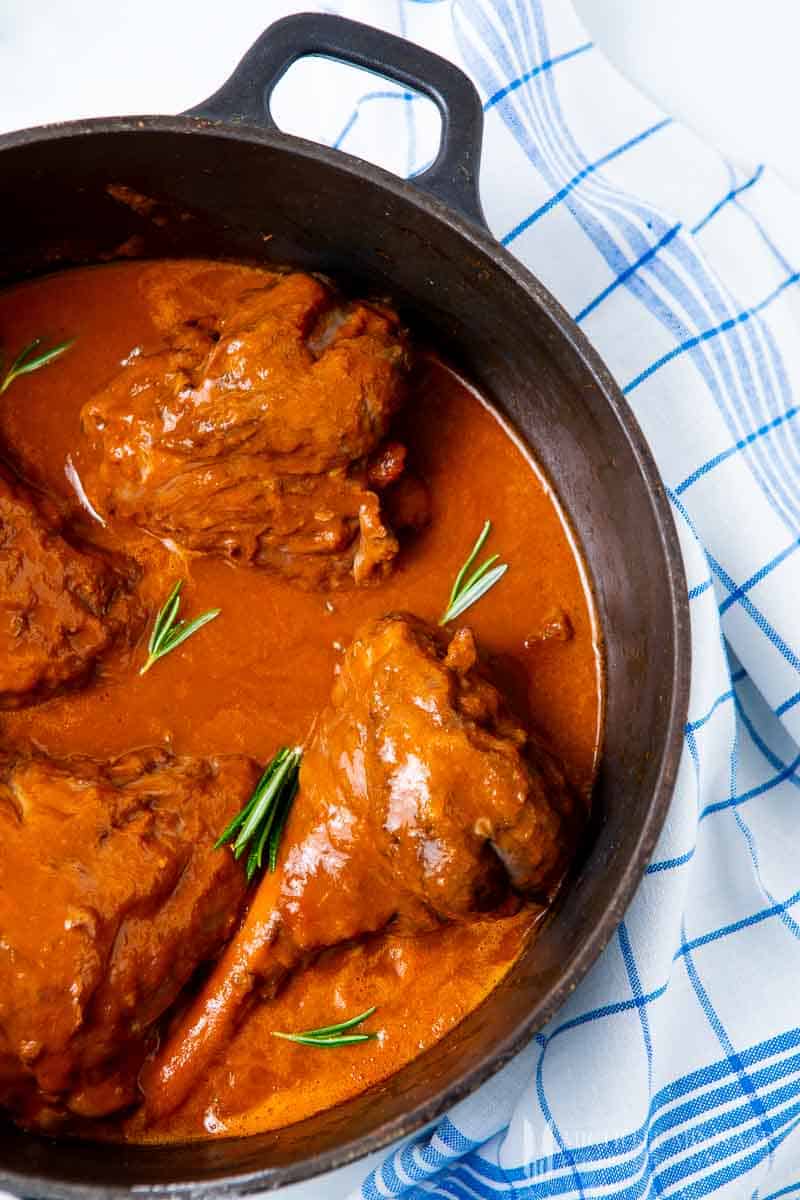 This lamb shanks recipe is quite easy to master. With the help of the slow cooker, these lamb shanks will taste even better than in a restaurant. Guaranteed!
Once you bite into these, you'll see that slow cooker lamb shanks completely melt in your mouth. The lamb is best served hot, immediately once the cooking is done.
So grab some green peas and serve it alongside a delicious gratin dauphinoise or a healthy carrot and swede mash.
So give these slow cooker lamb shanks a go and you'll see they will be a hit. Soon you'll be cooking them once a week or every Sunday instead of the usual Sunday roast recipe.
If you feel like jazzing up your dinner, then serve these slow cooker shanks with a heavy red wine. Best from Southern France, South Africa, Chile, Spain or Italy. You see where I am going with this.
slow cooker lamb shanks – best recipe
To make this slow cooker lamb shanks the best it can be, there are a few steps you need to take. First, try sourcing cuts of premium lamb shanks.
The best way to ensure that you've got top-notch quality lamb is if you source it from your local butcher. Of course, you can also purchase it in the supermarket.
However, as always, I prefer purchasing meat fresh and bio at best, locally. 
Not to mention, lamb shanks are quite inexpensive. So, if you are under the illusion that this slow cooker lamb shanks recipe costs a lot to make, it really doesn't.
Even though the lambs shanks look and taste expensive, it is a budget-friendly family meal. Plus, it can last you for up to two or three nights, depending on what you serve the lamb shanks with. 
What's best about this lamb shanks recipe is that you can practically use any cut of lamb. For instance, you can use shoulder of lamb, neck fillet, leg of lamb and much more.
If you love cooking with lamb, then you can also try other incredible lamb dishes. These are similar to this lamb shanks recipe:
Do you know what all of these lamb dishes have in common? Absolute tenderness!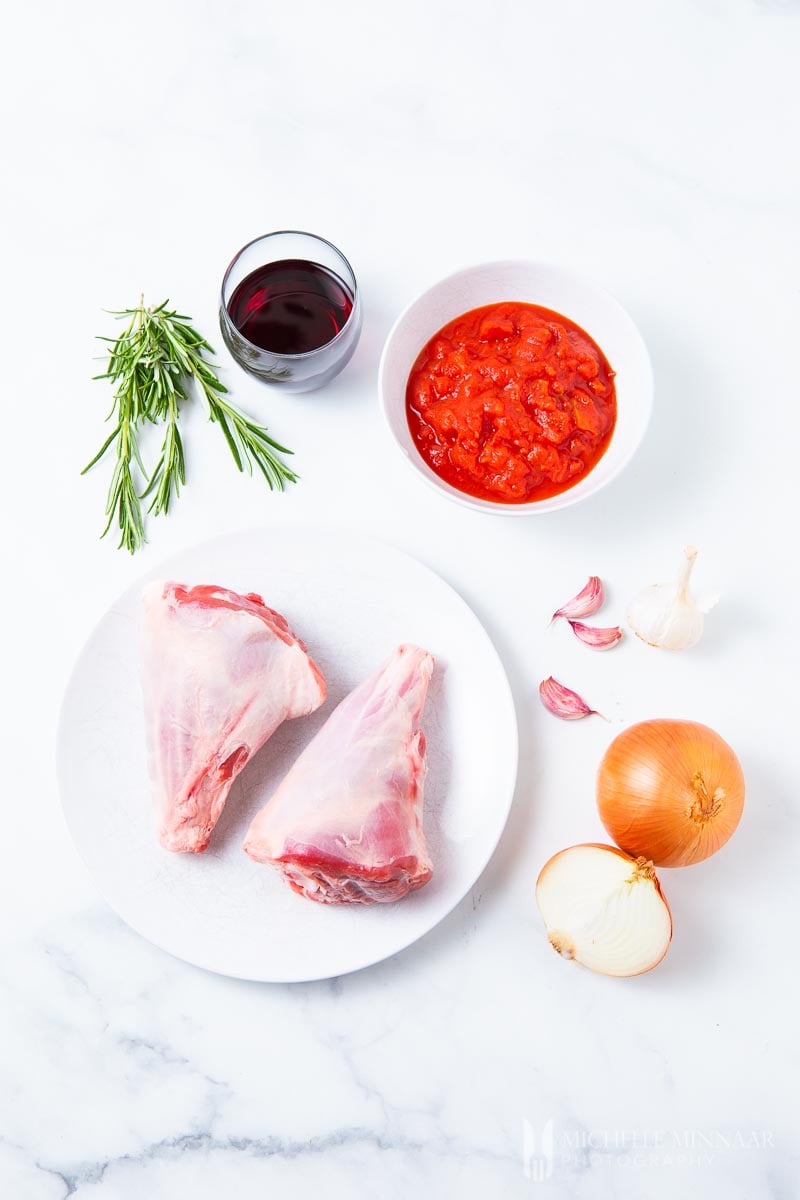 how to cook lamb shanks in red wine
Here's a list of things you'll need for this slow cooker lamb shanks recipe:
slow cooker lamb shanks in red wine
You can use any type of red wine for this slow cooker lamb shanks recipe. However, as always, the better the wine, the better the sauce.
Therefore I recommend going for something heavy, preferably from a sunny destination. Hence, you can consider the following types of wine:
Cotes du Rhone or Bordeaux from France
Tempranillo or Rioja from Spain
Shiraz or various Cabernet Sauvignon blends from South Africa
Zinfandel, Syrah, Merlot or Barbera from Chile
Nero d'Avola, Nebbiolo or Barbera from Italy
Do you have any other favourite red wines that you'd like to use for this slow cooker lamb shanks recipe?
Let me know. Just remember, try not to consume all the wine prior to finishing the cook, you might need some red wine for consistency control.
lamb shanks slow cooker recipe, without wine
If you generally dislike the taste of alcohol, or if you ran out of wine, no need to fret. This slow cooker lamb shanks recipe works just as well without the red wine.
If you find yourself in a position where you have to omit the wine element, then I suggest you add an extra spoonful of tomato paste.
Remember, the wine usually adds a certain complexity to a meal and binds all the elements together. Therefore, the additional spoonful of tomato paste will enhance the flavours in its own way as well.
If you feel like you have consistency issues with your slow cooker lamb shanks without the wine, you can always dilute with water.
Although, I highly recommend using either lamb stock or beef stock for extra flavour. If you've made a homemade beef broth, then add a cup of it into the lamb shanks recipe. You'll see just how delicious the end result is.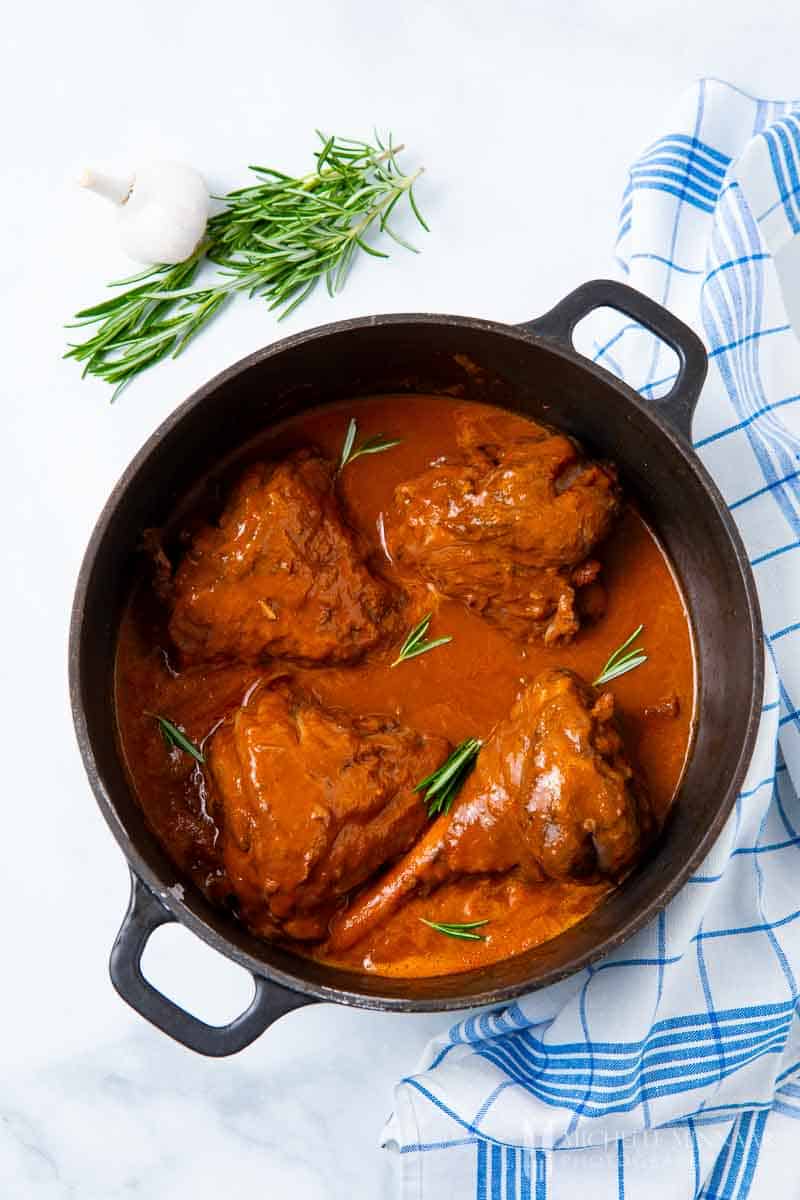 variations of lamb stew
This is where you can get creative with this slow cooker lamb shanks recipe. You can add all sorts of vegetables and herbs in there to put your own spin on this recipe. For instance, consider the following:
Herbs and spices you can consider: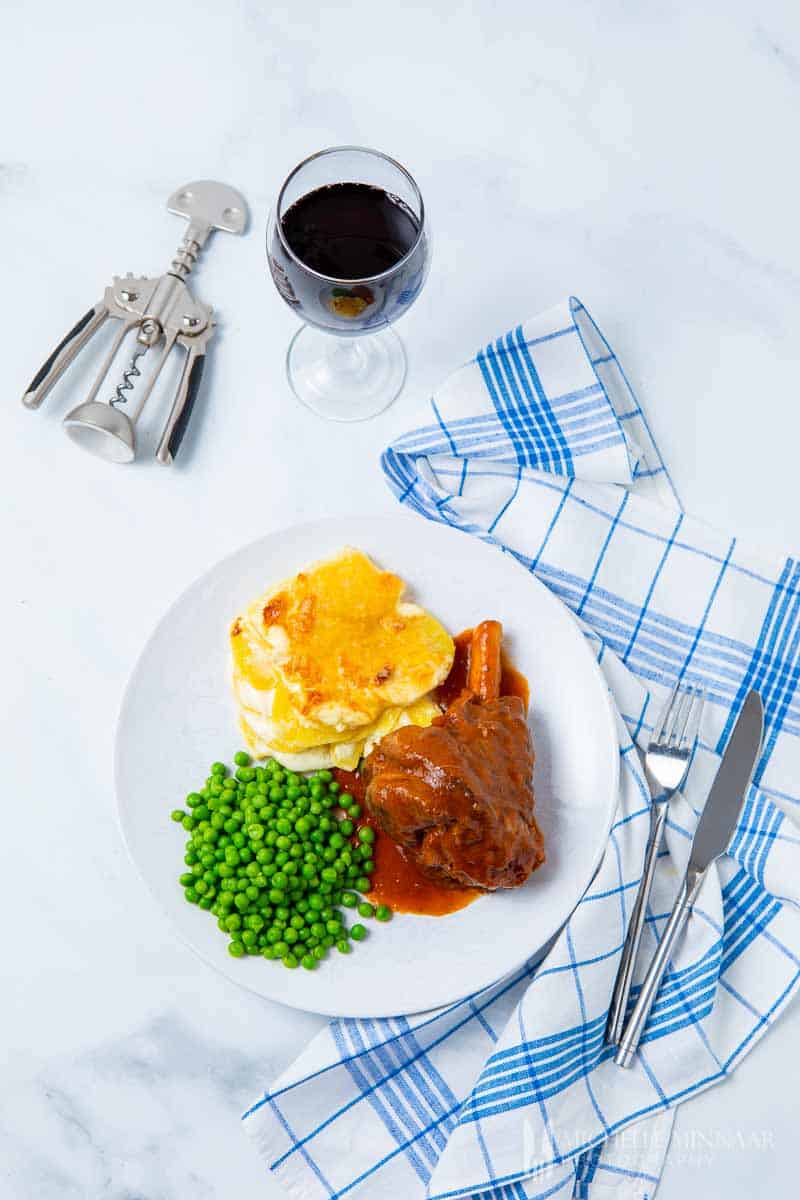 how to serve lamb shanks
In essence, you can serve lamb shanks on the bone or without. The choice is yours. Personally, I prefer serving the shanks on the bone as it is really satisfying to peel the meat off.
Next, I recommend you serve the lamb shanks with these side dishes: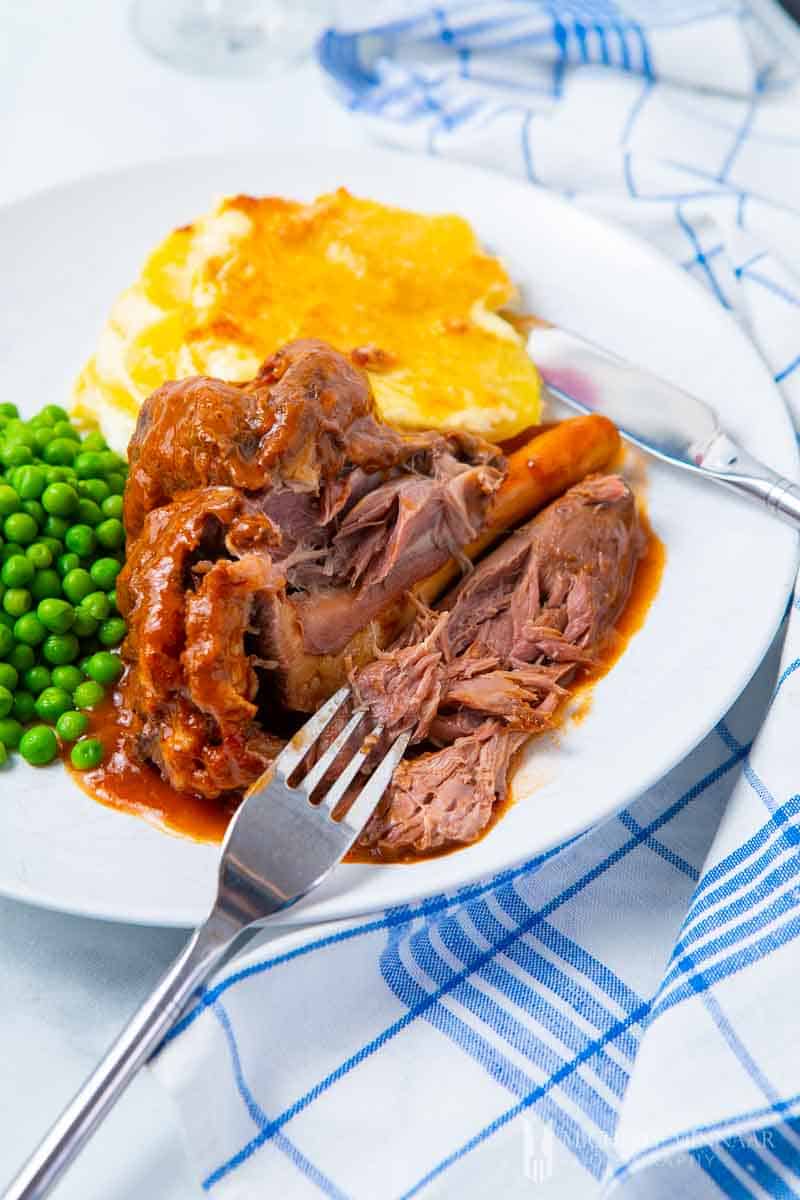 How would you serve these slow cooker lamb shanks? Let me know.
Print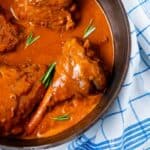 Slow Cooker Lamb Shanks
---
Description
If you want to cook to impress, then make these amazing slow cooker lamb shanks. The lamb completely melts in your mouth.
---
30

ml

(2 tbsp) vegetable oil

4

lamb shanks

2

onions, peeled and chopped

4

garlic cloves, peeled and crushed

250

ml

(1 cup) red wine

440

ml

(1 can) chopped tomatoes

250

ml

(1 cup) lamb or vegetable stock

2

rosemary sprigs

15

ml

(1 tbsp) sugar [optional]
---
Instructions
Heat the oil in a large frying pan.
Fry the lamb shanks for 4-5 minutes, turning regularly, or until browned all over. Place the lamb shanks in the slow cooker.
Add an extra splash of oil if needed and fry the onions until translucent, which will take about 5 minutes.
Deglaze the frying pan with red wine and continue to cook for 2-3 minutes.
Pour the onions and red wine in the slow cooker with the lamb shanks.
Add the tomatoes, stock and rosemary too, and give everything a stir.
Cook on the low setting for 8 hours.
The lamb shanks should now be tender and falling off the bone. Take them out and keep warm.
Remove the rosemary sprigs and transfer the rest of the contents, plus the sugar [optional], to a food processor. Blend until smooth.
Serve the lamb shanks on a pile of mash with huge quantities of the gravy poured on top. Enjoy!
Prep Time:

15 minutes

Cook Time:

8 hours

Category:

Stew

Method:

Slow Cook

Cuisine:

French
Keywords: slow cooker lamb shanks, slow cooked lamb shank recipe, lamb braised in red wine and tomato