If you are looking at this smoked leg of lamb recipe, then I commend you for intending to cook with this beautiful ingredient. Most people shy away from cooking with a large piece of meat like this because they worry that they will get the cooking time wrong.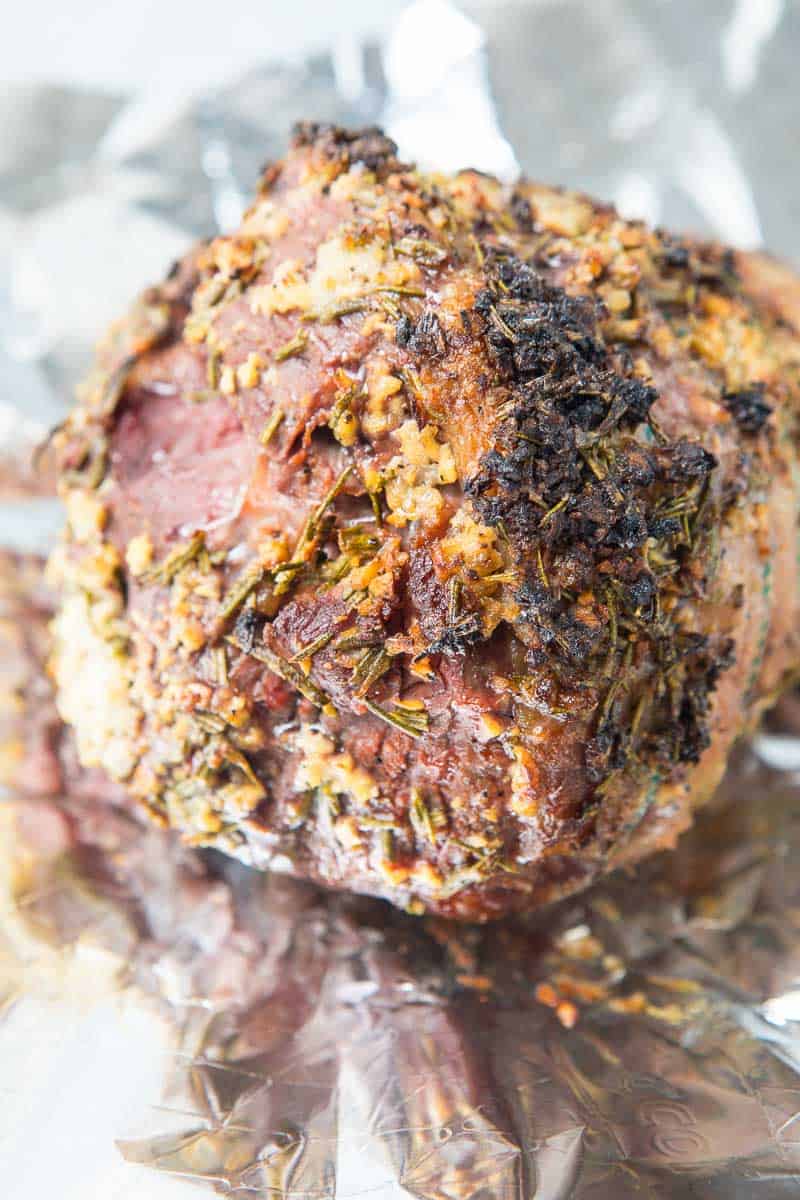 Sometimes we refrain from cooking these types of recipes out of a (misplaced) fear of the complexity. Well, making this smoked leg of lamb was a piece of cake and there was nothing complex about it, apart from the flavours.
This smoked leg of lamb recipe made Greek-style gets really easy if you have an electrical smoker at home, but of course you can opt for using any type of smoker.
What's best is that you can tweak the Greek flavours and put your own favourite herb rub on the lamb! Enjoy!
boneless smoked leg of lamb recipe
As mentioned above, this smoked leg of lamb recipe is a Greek-style recipe. Meaning, it calls for traditional Mediterranean herbs like rosemary, lemon zest, garlic and olive oil.
A splendid combination to complement the bold flavours of the lamb. In addition, this smoked leg of lamb recipe calls for a boned leg of lamb, which means that the bone has been taken out.
It's best to source the lamb at your local butcher and ask him/her directly for this cut.
If at this point you are wondering whether or not you can make this smoked leg of lamb recipe with the bone inside, the answer is YES!
Indeed, you can keep the bone. However, expect the cooking time to vary, as it will take longer for the lamb to cook in the smoker.  

You can also consider other cuts of lamb for this recipe. The lamb shoulder cut will do the trick.
If you change your mind, you can use it to make this lovely 7 hour slow-roast shoulder of lamb. In addition, the spicing is appropriate also for making a BBQ rack of lamb Greek-style.
smoked leg of lamb brine
I often use brining when cooking meat recipes because the cuts tend to be much more tender. Mostly, I use brine with poultry recipes. However, the technique works with other types of meat too, like this leg of lamb.
The best part about the brining process is that you can use it for three things. First, it makes the meat more tender.
Second, your meat will not dry out (especially if you are roasting it or smoking it) as it absorbs the water cells.
Third, you can already use the brine to flavour your lamb to make it the best smoked leg of lamb ever!
For example, you can add paprika powder, herbs, zest, vinegar, you name it. Whatever your preference.
The general rule for brining a leg of lamb is the following:
1-2 pounds of lamb: 2 hours minimum (in the fridge)
2-4 pounds of lamb: 3-4 hours minimum (in the fridge)
Prior to cooking the leg of lamb, take it out so it can reach room temperature.
To learn more about brining, just check out my ultimate guide to brining chicken. Here you'll learn how to brine an entire chicken along with other cuts as well.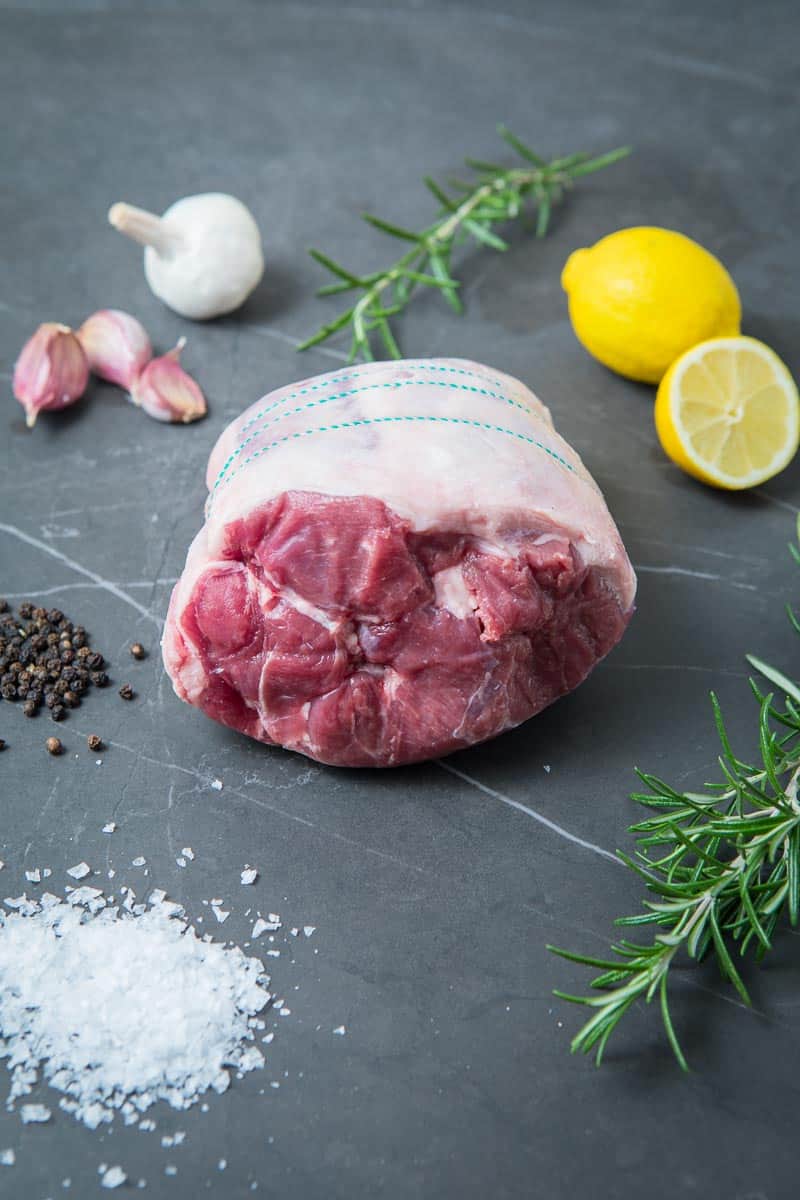 leg of lamb smoker
Again, my recommendation is to use an electric smoker. However, any type of smoker will do for this smoked leg of lamb recipe!
what is the best wood for smoking lamb?
In general, I recommend sticking to oak. It is the universal wood for smoking any type of meat. However these will also do the trick and yield excellent results:
hickory
mesquite
apple
pecan
smoked leg of lamb Greek-style
My smoked leg of lamb calls for rosemary, lemon zest, garlic and olive oil. However, you can interchange the rosemary with oregano in combination with thyme.
You will still respect the Greek Mediterranean flavours. If you are not the biggest fan of thyme, then opt for oregano on its own. As a last resort, you can combine it with a bit of dried basil. 
To keep things as Greek as possible, pair it with a simple Greek salad.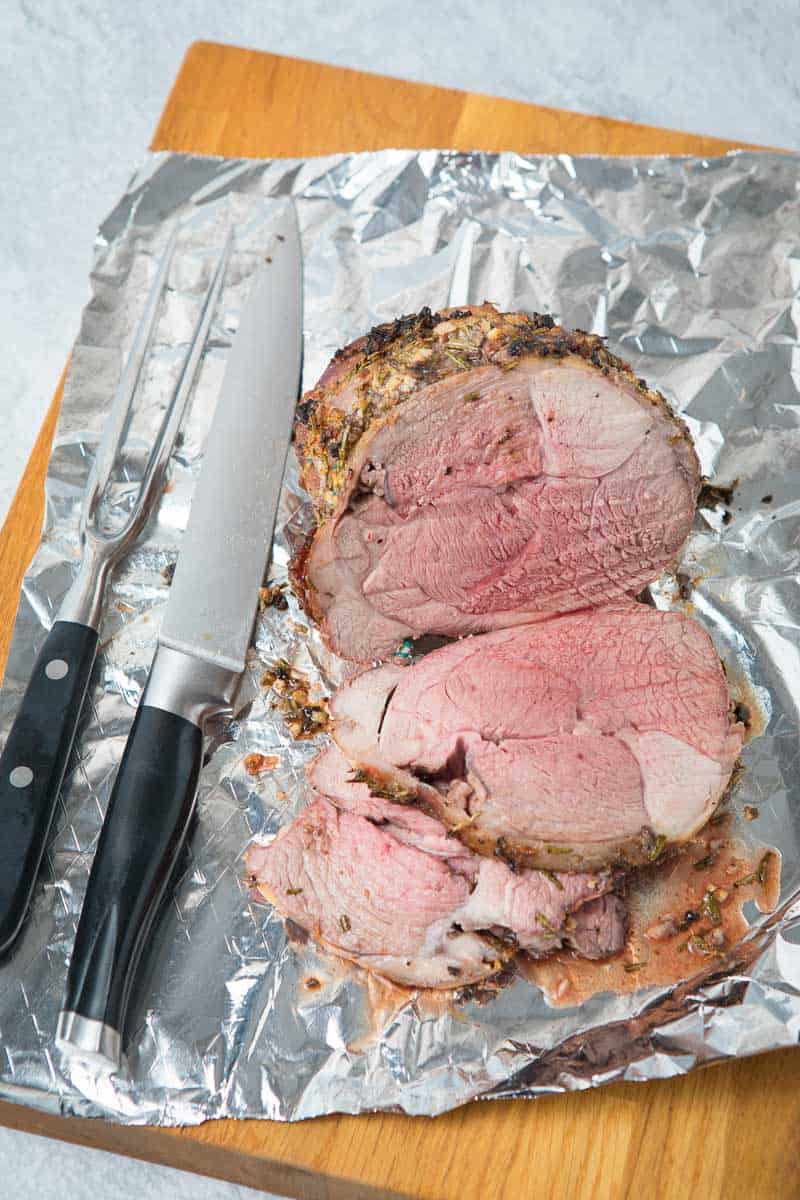 bbq leg of lamb
If you are looking for those typical bbq flavours, then look no further. You need to try this amazing gluten-free barbecue sauce!
Simply rub the barbecue sauce on the leg of lamb. Apply the sauce generously for the maximum amount of flavour. 
The barbecue sauce works perfectly well as a dip for baked sweet potato fries. Oh so good! They make the perfect party food! Plus, they are super-addictive.
smoked leg of lamb, Indian
If you are willing to try something different and more exotic, then this following flavour combination is for you. Try my Indian roast leg of lamb recipe which combines madras powder, ginger powder and coriander powder.
All of these spices are mixed in a yoghurt base with sugar, lemon, ketchup and chilli. So, as you can see, this leg of lamb recipe is made Indian-style with typical Asian spices.
Do you dare to try smoked leg of lamb in a different way? If you haven't got any coriander at home, then you needn't panic. These top coriander substitutes will help you out.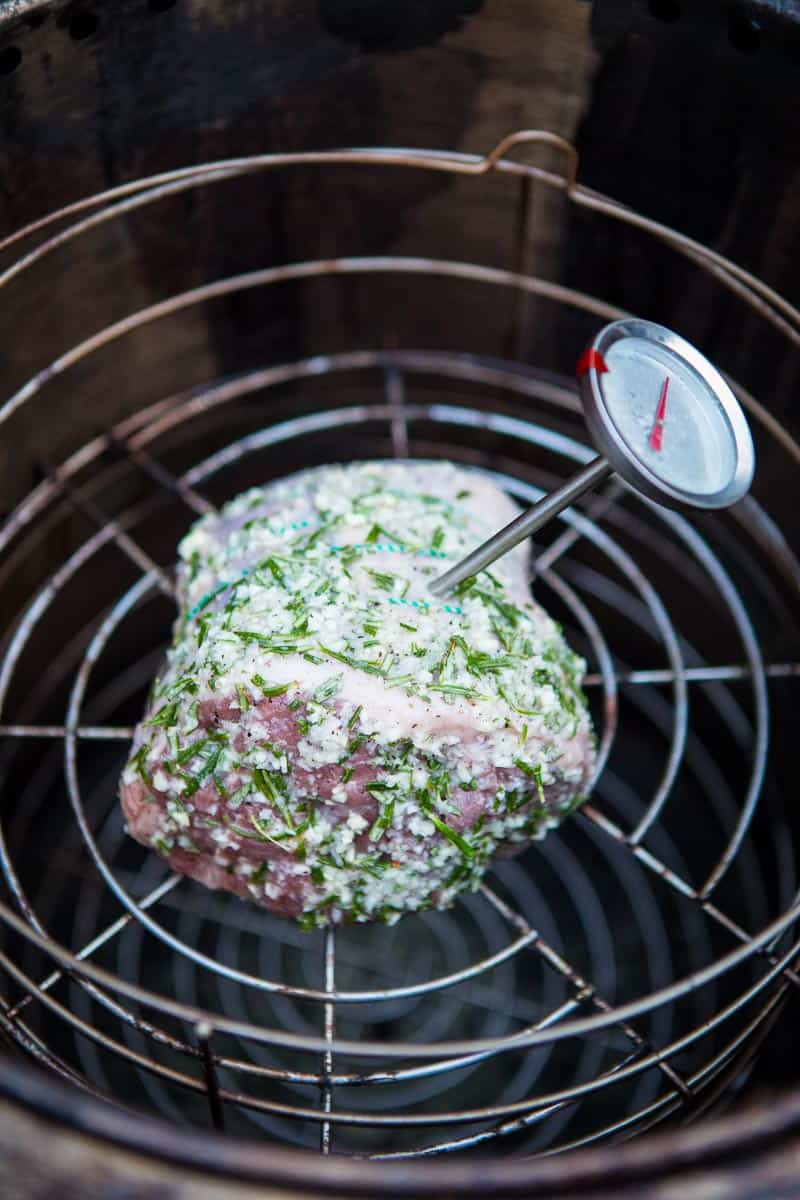 what to serve with smoked leg of lamb
Lamb is a very nutritious ingredient. It is full of essential nutrients and rich in vitamins. Nonetheless, if you feel like this smoked leg of lamb is too filling for you, then I recommend combining it with a vibrant pumpkin and beetroot salad.
The sweet and earthy flavours of the vegetables pair exceptionally well with the bold flavours of the lamb.
For a more traditional side, you can opt to make these rosemary roast potatoes. Plus, you'll get to be economical and use the leftover rosemary the smoked leg of lamb calls for.
For a creamier alternative, go for this roasted sweet potato mash, which is perfect with any roast meat recipe.

My favourite pairing with this smoked leg of lamb would be these spicy low fat potato wedges with mint raita. Besides, what's a lamb recipe without that traditional mint sauce to go with it, right?
What is your favourite way to prepare leg of lamb?
Print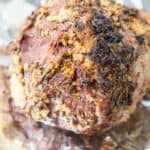 Smoked Leg of Lamb
---
Description
Make this easy smoked leg of lamb recipe Greek style. Use garlic, lemon zest, rosemary and traditional seasoning for the rub. Learn all about smoking lamb.
---
5

garlic cloves, peeled and crushed

1

lemon, zested and juiced

45

ml

(3 tbsp) rosemary leaves, washed and finely chopped

30

ml

(2 tbsp) sea salt

15

ml

(1 tbsp) black pepper, freshly ground

60

ml

(4 tbsp) olive oil

1

kg

(2lbs) boned leg of lamb
---
Instructions
Preheat the smoker on a high setting and fill the smoking box with wood chips.
Wait for 10 minutes until the chips begin to smoke, then change the heat setting to low.
Mix the garlic, lemon zest and juice, rosemary, salt, pepper and olive oil in a bowl.
Rub the mixture all over the lamb and place the meat in the smoker.
Close lid and cook until the lamb's internal temperature is 62°C (145°F). This takes about 2 hours and the lamb would be medium. Always use a meat thermometer!
Remove the lamb from the smoker and wrap the meat in foil, letting it rest for about 30 minutes before carving.
Notes
You can use bone-in lamb as well.
Lamb shoulder would work too.
Don't cook the lamb to a temperature over 70°C (160°F) because by then it's well done and you run the risk of overcooking the meat.
Prep Time:

10 minutes

Cook Time:

2 hours

Category:

Dinner

Method:

Smoked

Cuisine:

Greek
Nutrition
Serving Size:

1

Calories:

396

Sugar:

0.2g

Sodium:

1506mg

Fat:

31.1g

Saturated Fat:

11.1g

Carbohydrates:

2.4g

Fiber:

0.9g

Protein:

25.3g

Cholesterol:

100mg
save the recipe to your pinterest board