How do you like the sound of tasting the most amazing melt-in-your-mouth beef you've ever had? With this incredible sous vide beef cheeks recipe, you'll be able to make the most beautiful and tender meat you've sampled to date. That's a promise.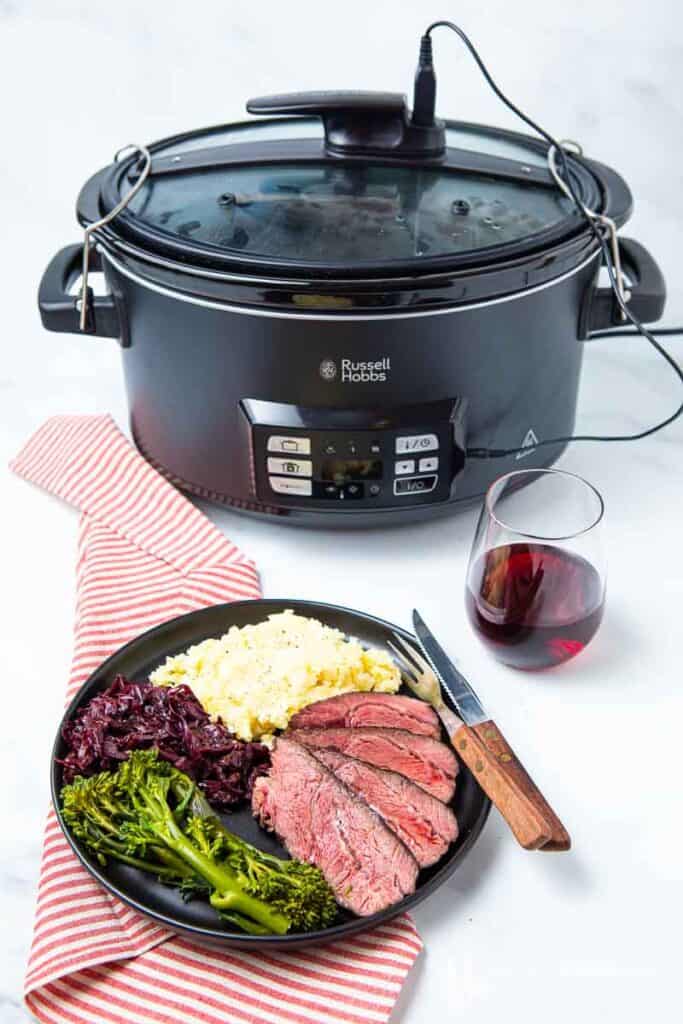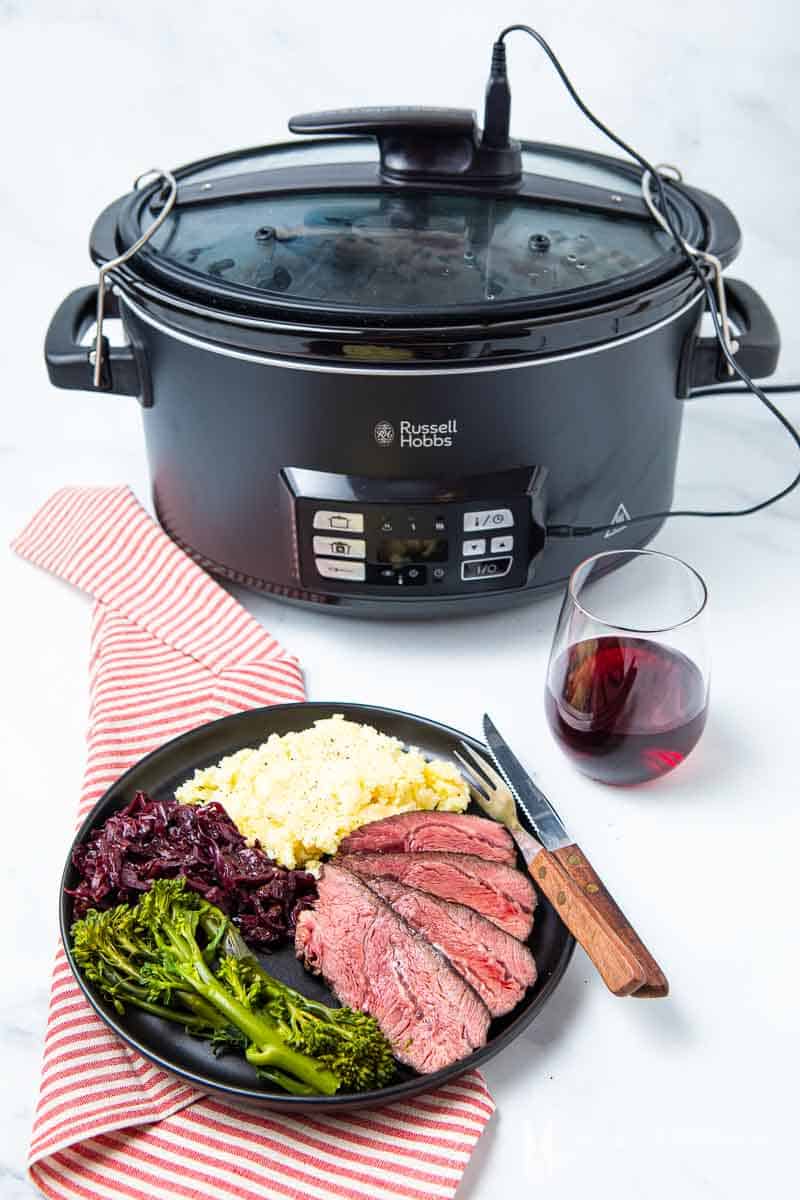 The best part is that this sous vide beef cheeks recipe resembles one that you would normally see on a gourmet restaurant's menu. With the right equipment in your kitchen, you too can indulge on the exceptional texture and taste of sous vide recipes.
Surprisingly, you'll discover that your sous vide beef cheeks recipe is even better than the one you would order at the restaurant. Subsequently, you'll also save tonnes of money, as we know that ordering red meat cooked in a fancy restaurant can be dear.
For this reason, all you need is a proper sous vide machine and you are good to go. What's more is that a sous vide machine has multiple applications and you can even cook dessert with it!
So, come and learn how to make these irresistible sous vide beef cheeks and all there is to know about the sous-vide cooking technique.
sous vide beef cheeks recipe
Speaking of proper equipment for sous vide recipes, you will need a special kitchen gadget. Cue the Russell Hobbs Sous Vide Slow Cooker.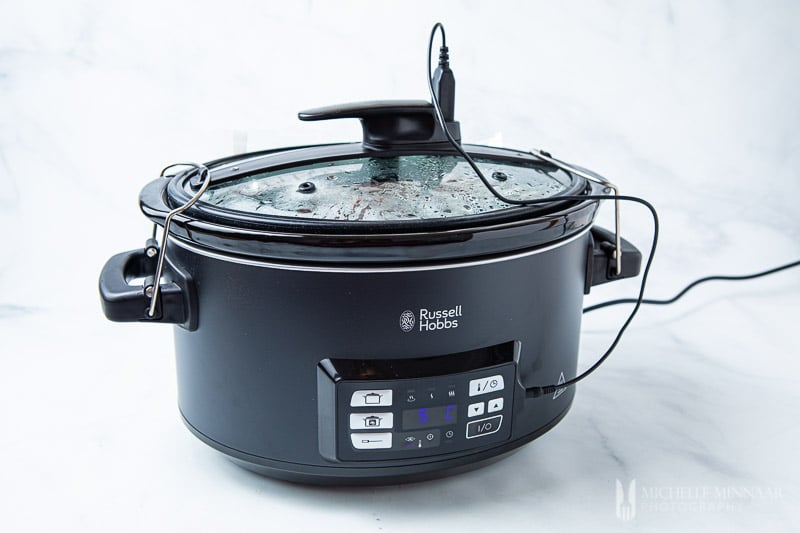 This multifunctional sous vide slow cooker is the perfect gadget for your kitchen, yielding the best possible results.
Firstly, you can indulge inn slow cooker recipes, as you can use the slow cooker function to cook your favourite chicken curries or slow cooker soups.
Next, you can also use the Russel Hobbs Sous Vide Slow Cooker's temperature probe to make the perfect roast meat. For instance, this venison roast can be easily monitored in this machine.
Lastly, you can use the sous vide function to make the most amazing sous vide reipes.
The Russell Hobbs Sous Vide Slow Cooker contains the following:
An integrated handle probe
Digital microprocessor display with LED
Locking lid
6L capacity (so you can comfortably fit 8 servings)
Extra-large cool touch handles
Dishwasher safe removable ceramic inner pot
Tempered glass lid
Sous vide rack
My favourite part of cooking with the Russell Hobbs Sous Vide Slow Cooker was the fact that it was easy. What's more, it saves storage space because I can now chuck out my standard slow cooker, yet I can sous vide too now!
Are you tempted? You can find out more about this machine here.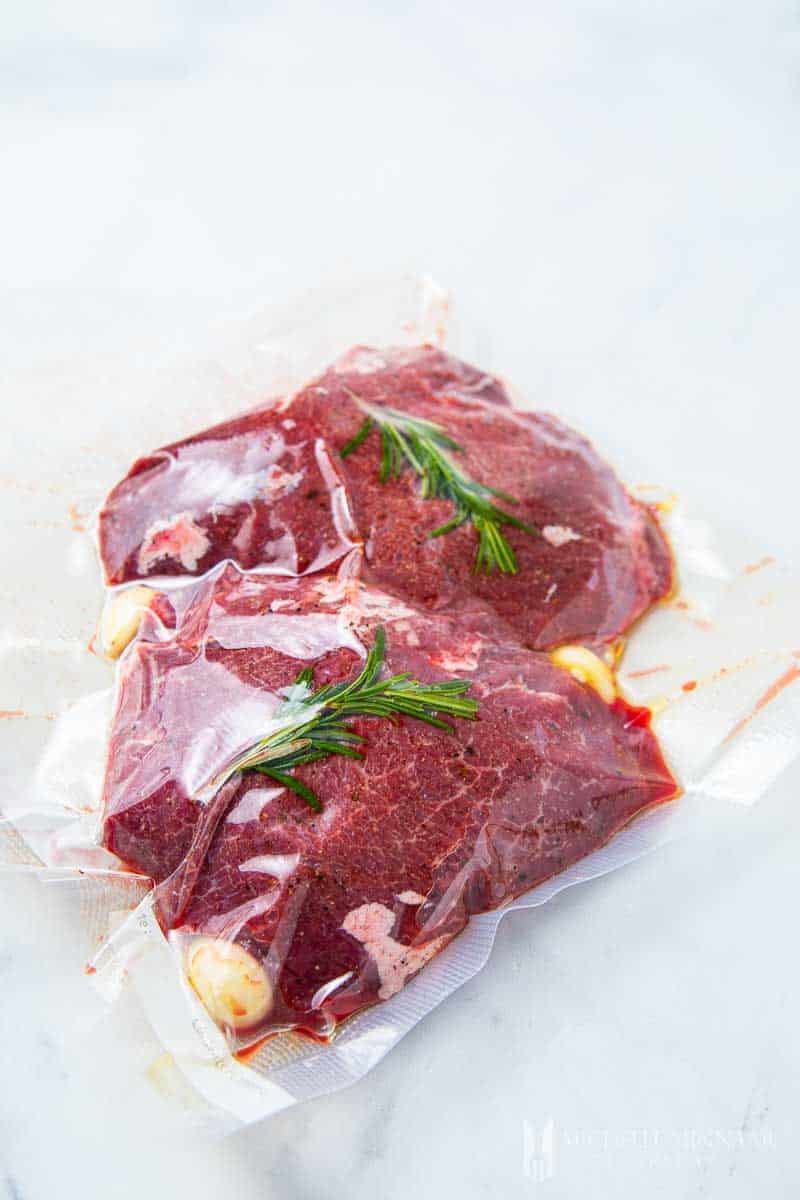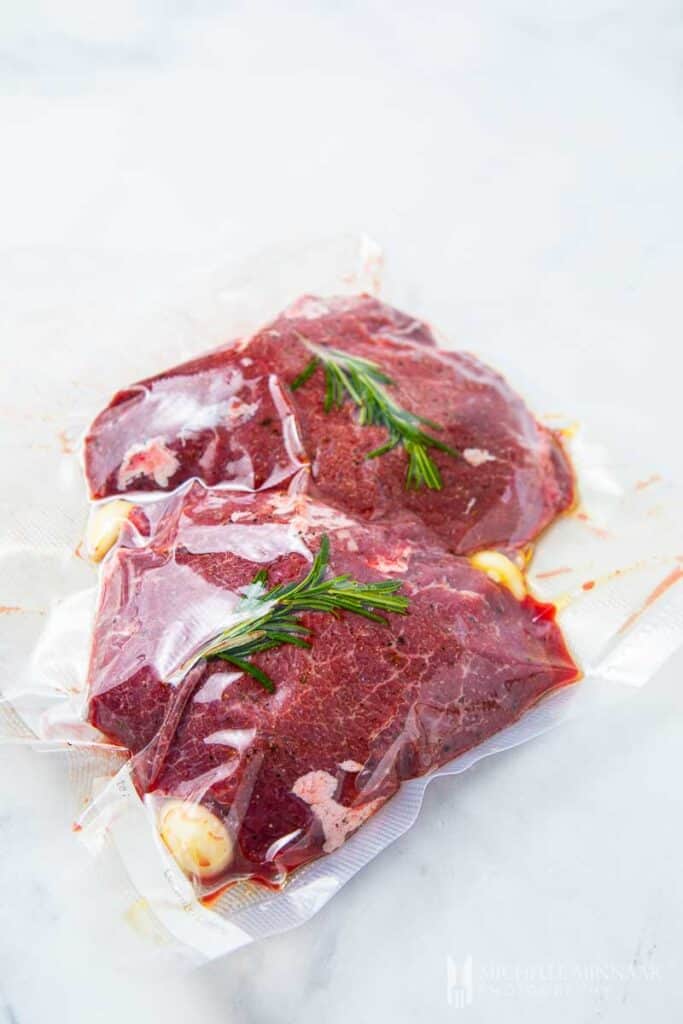 What is sous vide?
Sous vide, translated from French meaning 'under vacuum', is a specific French cooking technique. It involves cooking food at a low temperature for a long time. Hence, sous vide cooking is also known as low temperature long time (LTLT) cooking.
As with this sous vide beef cheeks recipe, a sous vide technique involves placing the ingredients in a plastic bag or plastic pouch. Next, the plastic bag is sealed and then placed in a water bath for a relatively long period of time.
Typically, the sous vide temperature for cooking meat is around 55°C up to 60°C, or 130°F up to 140°F) for meat. Cooking the ingredients on a low temperature setting ensures a a perfectly tender result that's evenly cooked.
Moreover, when you are making sous vide beef cheeks like these, they will cook and tenderise in their own juices.
This type of low-temperature cooking technique was first introduced by Benjamin Thompson, all the way back at the turn of the 18th century. In fact, the technique was discovered by accident, as Thompson tested cooking meat in a machine intended to dry potatoes.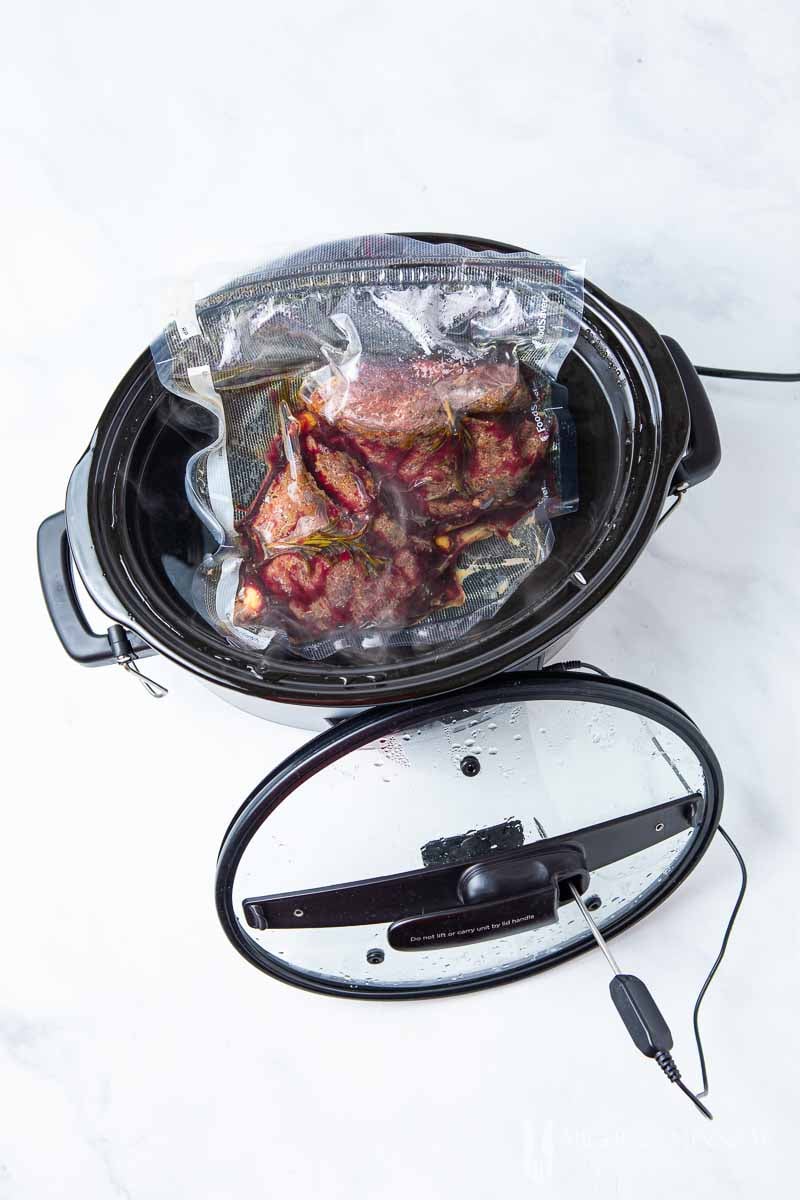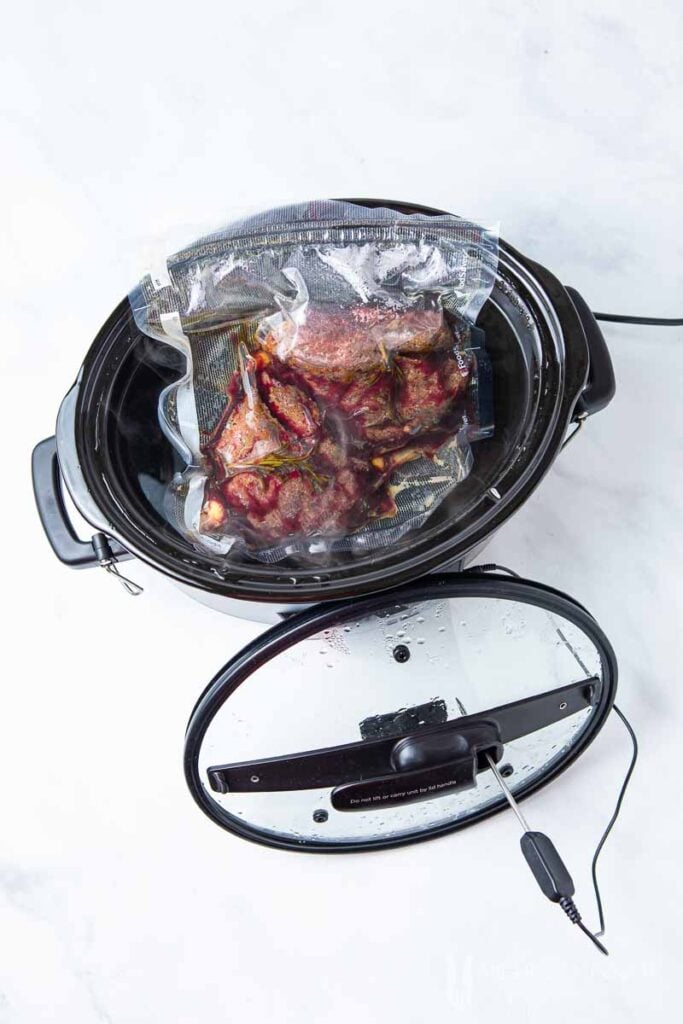 Delicious & easy sous vide recipes
If you are looking for further inspiration, check these sous vide recipes out:
If you would like to learn more about cooking food with a sous vide machine, check these out:
Sous vide beef cheek ragu
The best part about making any type of sous vide beef recipe, like these sous vide beef cheeks, is that you can flavour the beef in any way you want. For instance, you can simply add a bit of olive oil, some herbs like rosemary or oregano combined with black pepper. You can even make a flavourful marinade.
In addition, you can even make a beef ragu and stick it in the sous vide machine. For instance, check out this easy beef cheek ragu recipe.
Here are some other delicious beef recipes you might want to get your hands on: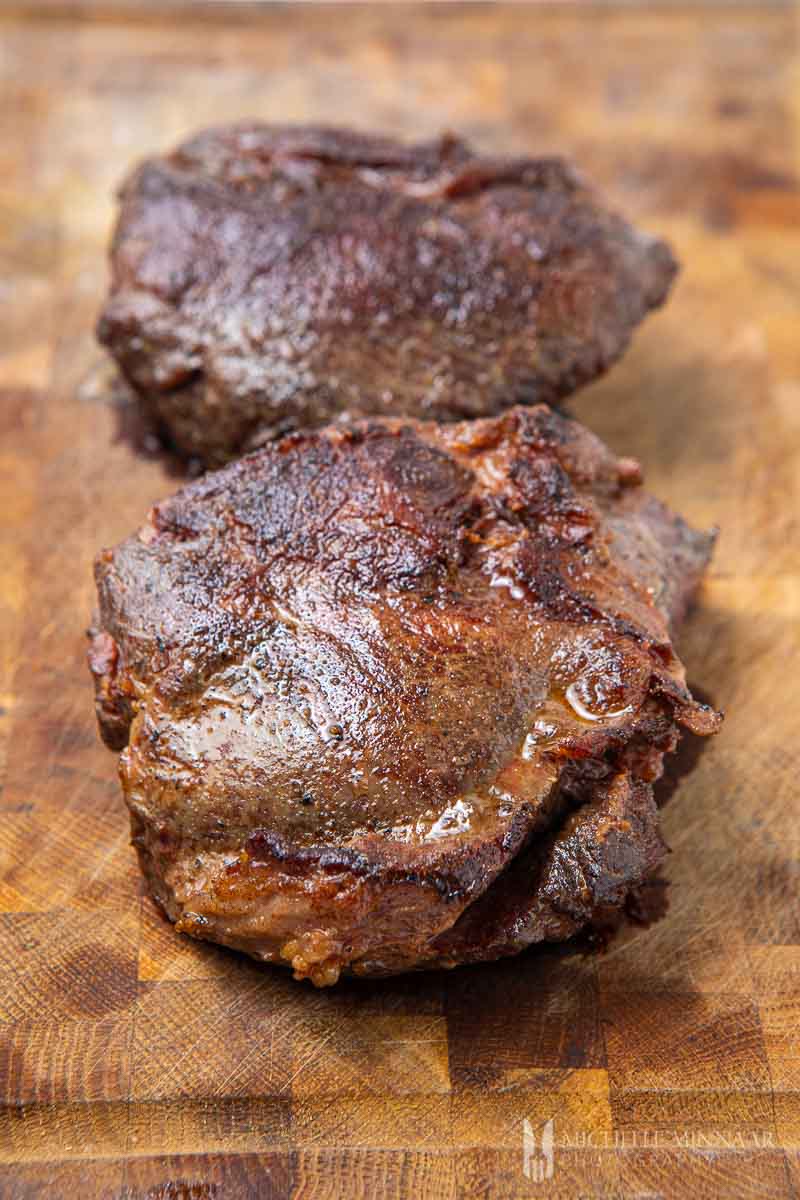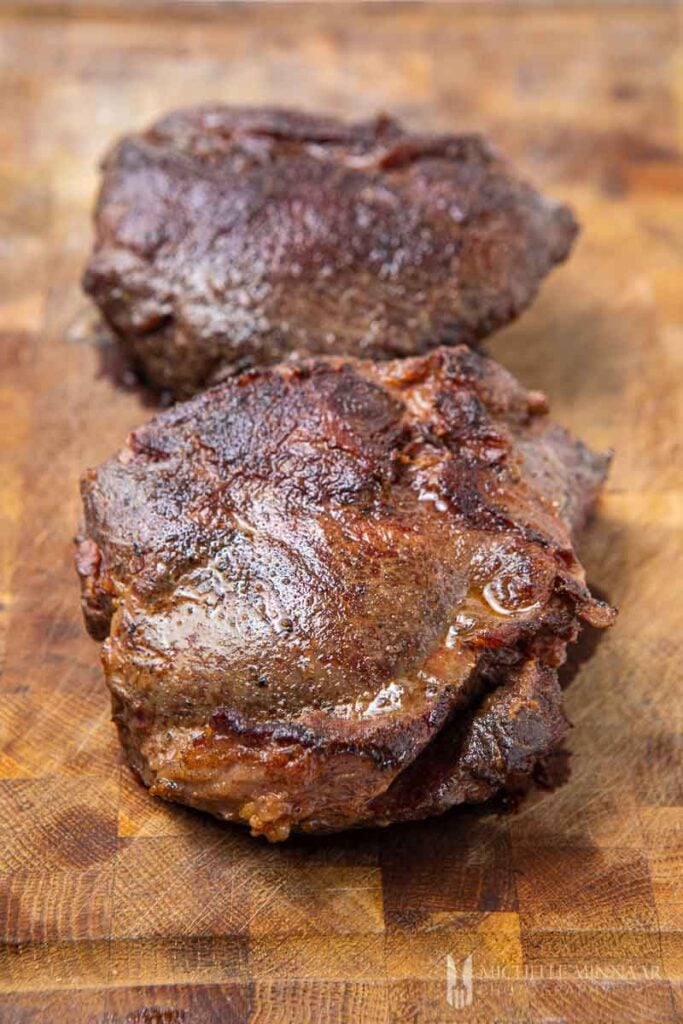 Sous vide beef cheeks with red wine
I recommend pairing these sous vide beef cheeks with a creamy side dish, such as mashed carrots and parsnips, and some steamed green vegetables. Keep the side dishes simple so that you can let the meat shine.
A beautiful serving of beef like this plate of sous vide beef cheeks deserves a glass of red wine to go with it. For this rich yet refined serving of beef, I recommend opting for an elegant wine. That being said, it still needs a bit of power.
An Italian Barolo for example, will provide a lovely pairing with sous vide beef cheeks. Typically you will find plenty of blueberries and red fruit, kept in check by subtle tannins and acidity. A great match for the tender beef cheeks, especially when served with earthy sides, such as steamed broccoli and potato mash.
Of course you can always go for the heavy reds from California, South Africa or Israel.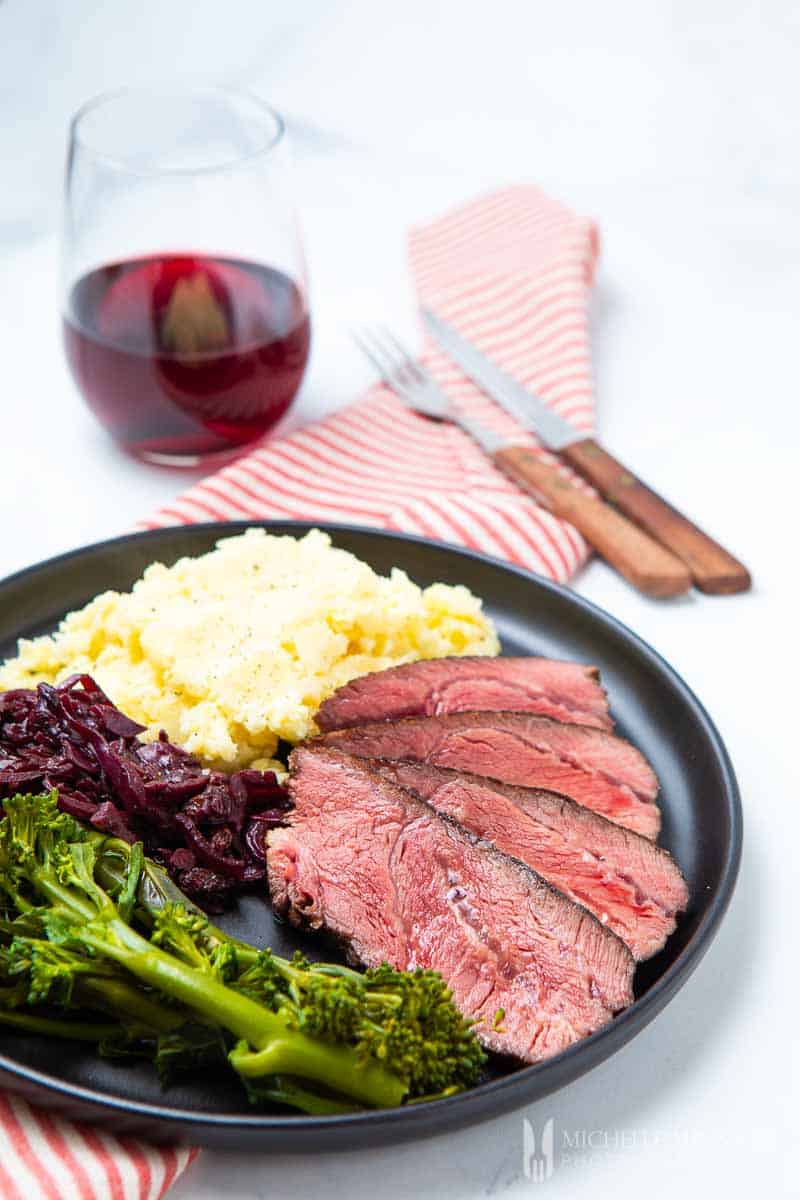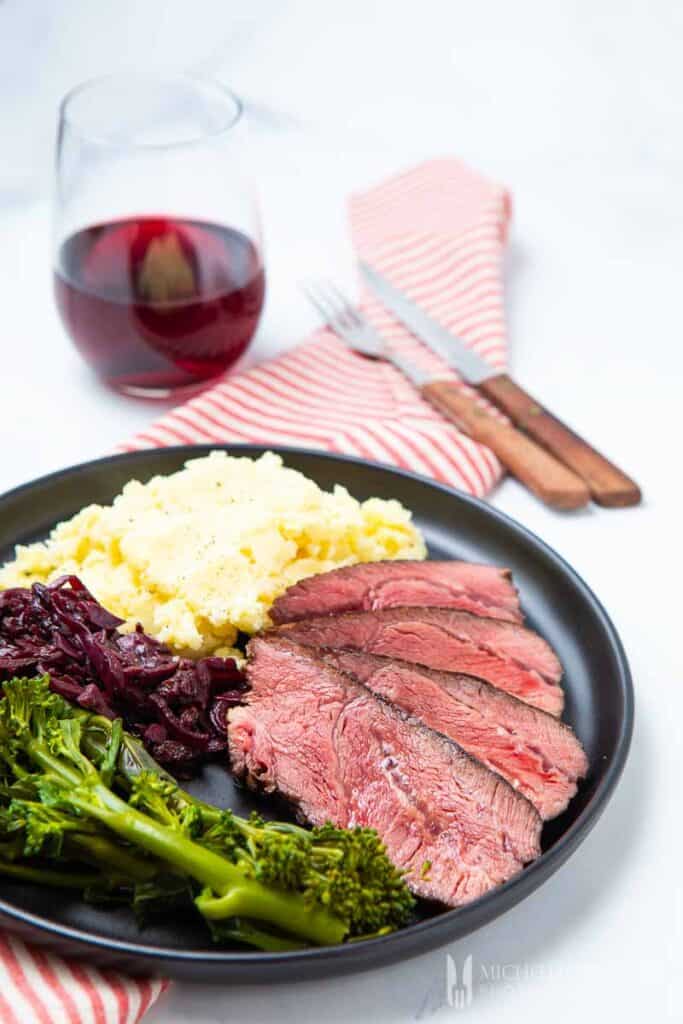 So, how would you enjoy this exquisite sous vide beef cheeks recipe? What other sous vide recipes would you try? Let me know in the comments section below.
Print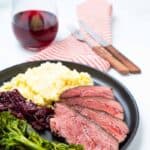 Sous Vide Beef Cheeks
---
Description
Learn how to make Sous Vide Beef Cheeks and all there is to know about this cooking technique. You'll never cook meat any other way.
---
2

beef cheeks, weighing approximately 900g (2lbs)

4

garlic cloves, peeled

2

rosemary sprigs [optional]

15

ml (1 tbsp) olive oil
salt and pepper
---
Instructions
Preheat the Russell Hobbs Sous Vide Slow Cooker by setting the temperature at 55°C (130°F).
Place the beef cheeks, garlic, rosemary, oil and some seasoning, in an even layer in a pouch and vacuum seal. 
Place the sealed pouch into the preheated water bath and cook for 48 hours.
Just before the allotted cooking time is finished, preheat a grill or skillet until it's very hot.
Remove the beef cheeks from the pouches and pat them dry with paper towels.
Lightly brush the beef cheeks with oil and generously season them with salt and pepper.
Place the steak on the very hot grill and sear each side until it's nicely browned, about one minute on each side. Alternatively, sear each side in the very hot skillet for 15-25 seconds on each side. To avoid overcrowding, work in batches if necessary. 
Blot the beef cheeks with paper towels afterwards to remove excess oil. 
Let the beef cheeks rest for 5 minutes before slicing them thinly.
Serve immediately with your favourite vegetables.
Notes
As shown in the pictures, the beef cheeks were cooked at 55°C (130°F) for 48 hours, and came out medium-rare, as intended. If you prefer your meat more cooked, please select from the following: Medium : 60°C (140°F) for 48 hours, Well, slow: 70°C (160°F) for 48 hours, and Well, quick: 70°C (160°F) for 24 hours.
Rosemary is listed as a suggestion and isn't a must. Feel free to experiment with different herbs but refrain from using too much. Since the food cooks for a long time, the flavour of herbs intensifies, so tread carefully.
Prep Time:

10 minutes

Cook Time:

48 hours

Category:

Dinner

Method:

Sous Vide

Cuisine:

French
Keywords: sous vide beef cheeks, beef cheek recipe, sous vide recipe, French cuisine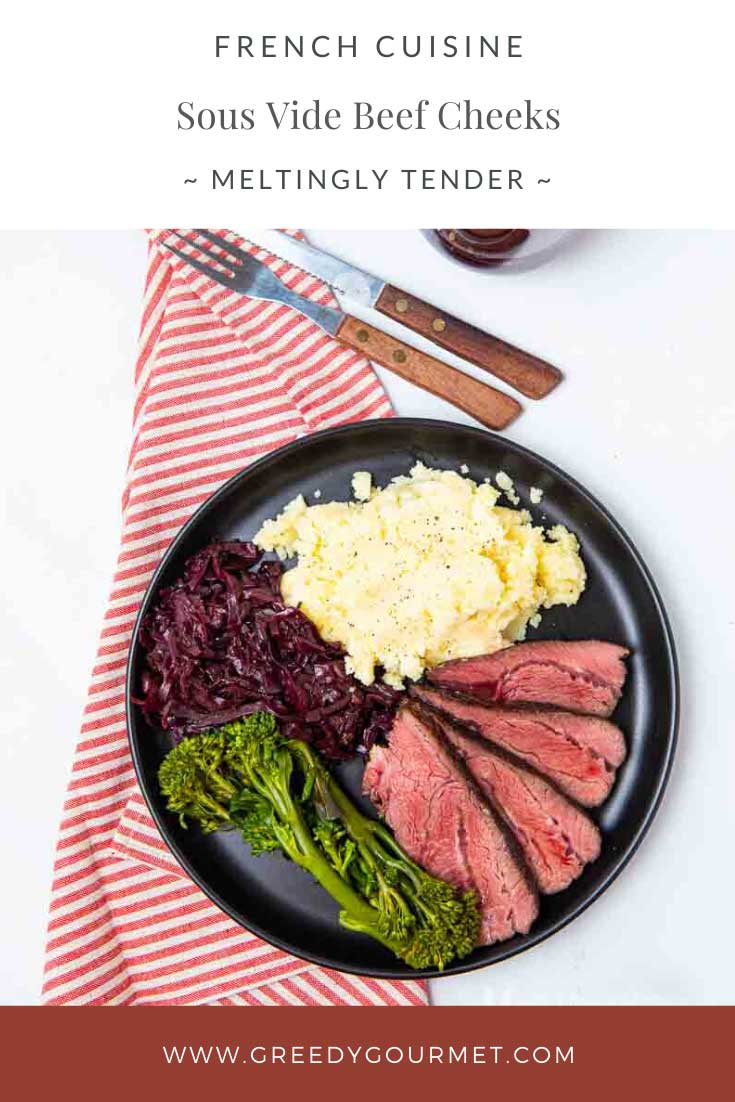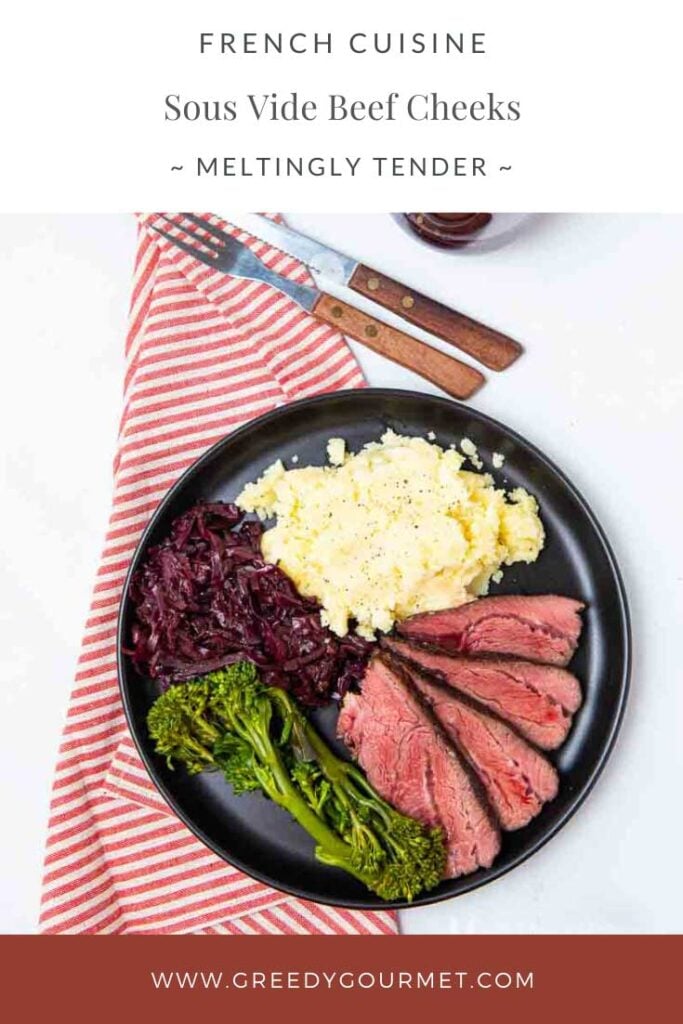 P.S. This is a sponsored post.