Who ever said that it has to take a long time to cook a tasty dinner? This sweet chili chicken stir fry can be prepared and cooked in less than half an hour! I'll bet many of us sometimes feel a bit spent at the end of the day. The thought of having to spend one or two hours in the kitchen before you can enjoy your dinner is daunting. With this sweet chili chicken stir fry however, you can have a tasty, nutritious dinner in no time. Just like my venison chili recipe, it only takes a few steps to complete this Asian-inspired stir fry.
Moreover, it can be made with ingredients that many of us either have in stock or are easy to come by – even in a last-minute shop on the way home from work. No excuses for eating fatty takeaway food, with recipes as easy as this sweet chili chicken stir fry. Make your own fakeaway at home! Start with this simple sweet chili chicken stir fry.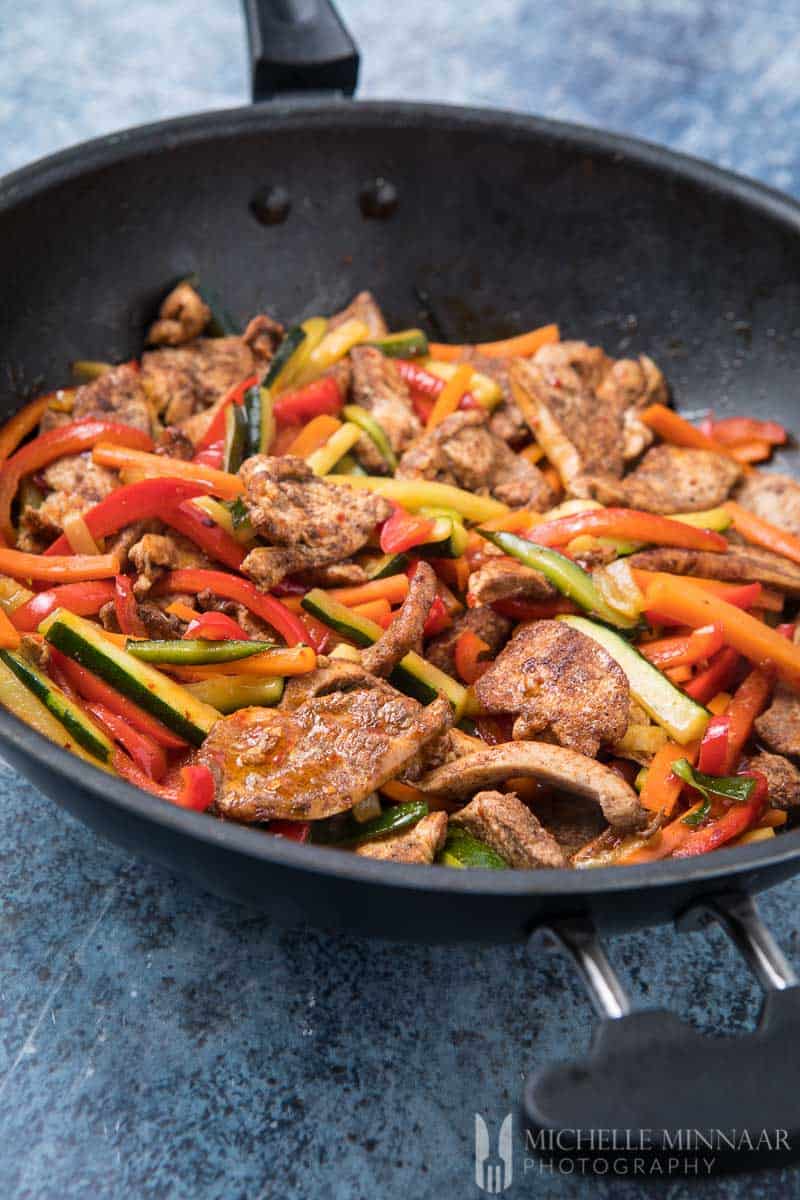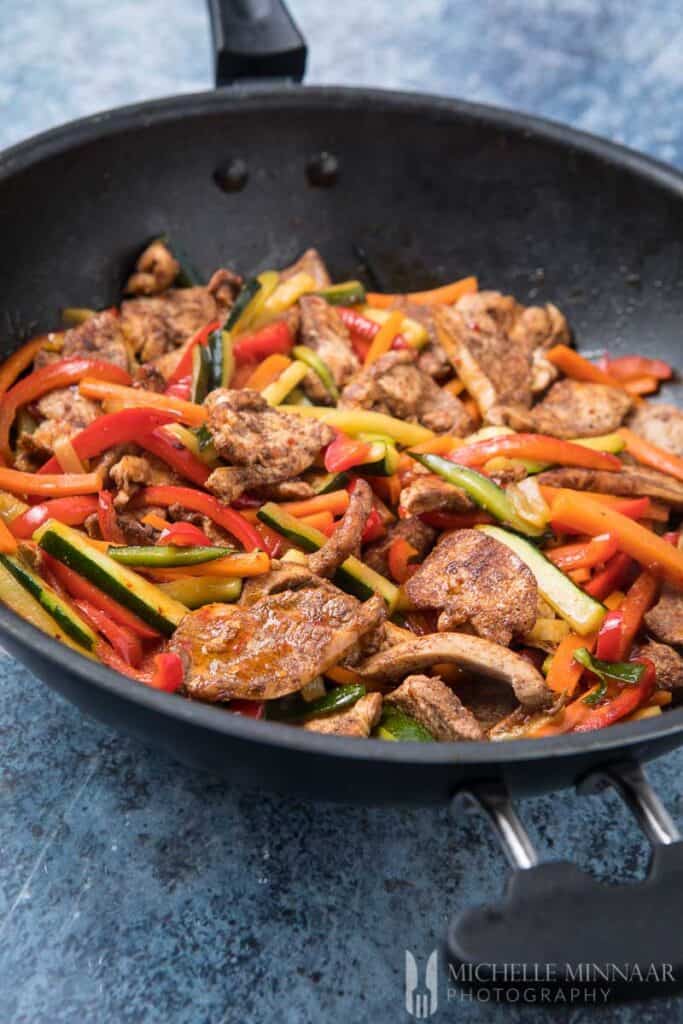 basic sweet chili chicken stir fry
This sweet chili chicken stir fry recipe is really easy to prepare. Yet thanks to the Chinese five spice mix and the sweet chili sauce it's packed with flavour. Sometimes the simplest recipe with only a few ingredients can be every bit as good as a complex dish. I love cooking stir fries. They give maximum satisfaction with only a little effort.
For this basic version of sweet chili chicken stir fry, I have used a couple of simple vegetables that I always keep in the fridge. Courgette, carrot and bell pepper. Very humble ingredients. Together with the chicken breast, that is really all you need. In fact, make brined chicken breasts beforehand! If you brine them, they'll be more tender and juicy. Check out my ultimate guide to brining chicken and become the master of all chicken recipes!
The good thing about sweet chili chicken stir fry is that it leaves a lot of room for creativity. You can make a number of alterations to satisfy your own preferences.
honey chili chicken stir fry
One of the best things about this sweet chili chicken stir fry is the balance between sweet and spicy. For this purpose, and for my convenience, I have used store-bought sweet chili sauce. It's easy to find a good one, especially if you look in an Asian supermarket. Another, slightly more sophisticated way to get this amazing sweet and spicy combination is by using honey.
Instead of the sweet chili sauce, add a generous spoonful of liquid honey. In order to still have the spiciness in there, use a stronger chili sauce, or even better some freshly chopped red chilies! If you are not used to spicy food, be careful when cooking with fresh chilies. They come in all kinds of strengths, and some of them can be quite lethal! Start by adding a little bit at a time until you find it spicy enough. If you overdo it with the chili, it's not easy to go back on it.
In order to get a nice saucy stir fry, it's important to use liquid honey. For Asian dishes I prefer acacia honey, however you can use any type of liquid honey you like.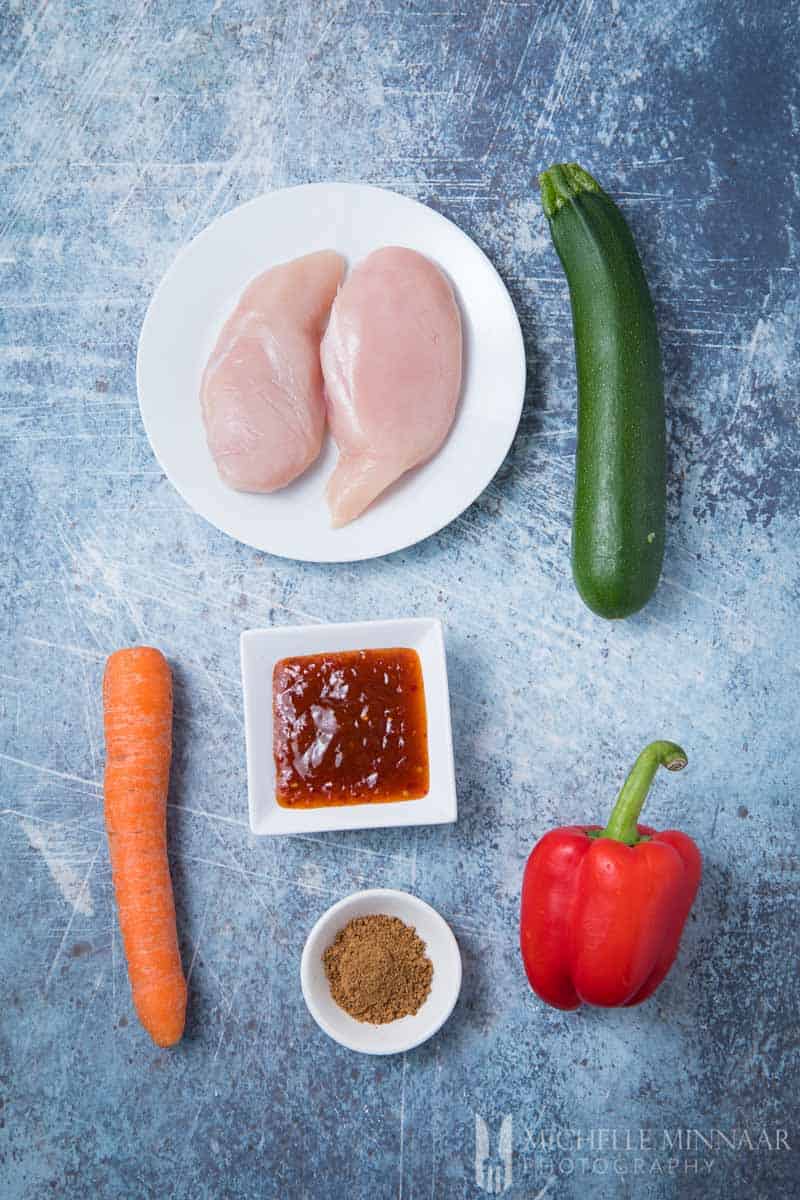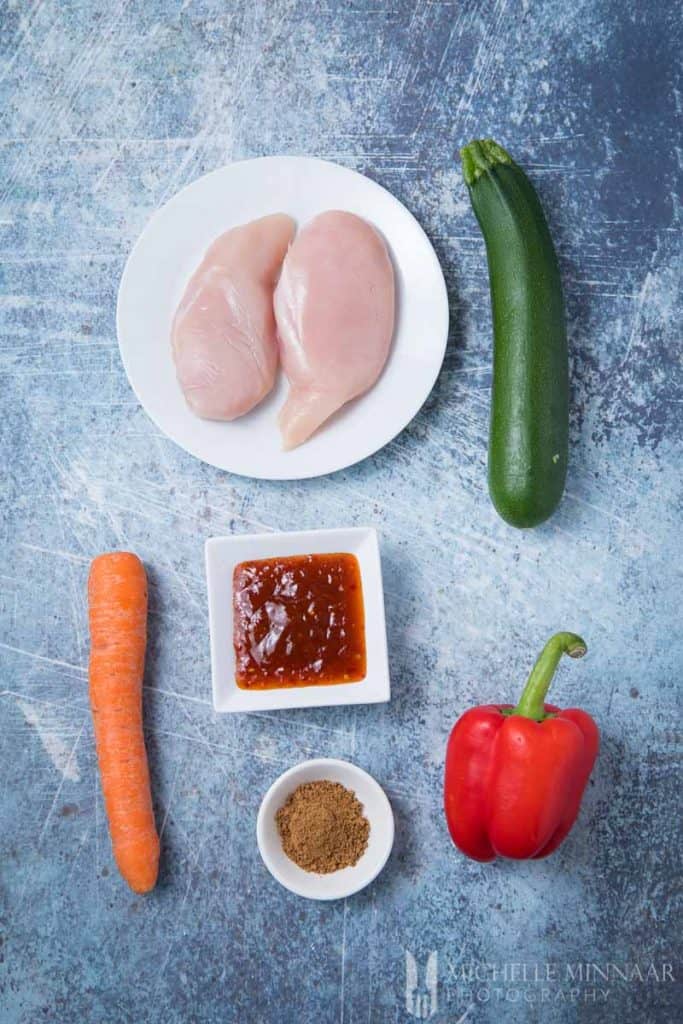 sweet chili chicken stir fry with mushrooms
I used only courgette, carrot and bell pepper for my sweet chili chicken stir fry. However, you can add any vegetable that you like to it. One of my own favourite additions to a stir fry is mushrooms. You can use just plain white mushrooms, the earthy flavours of which work well with the five spice mix and the sweet chili sauce.
If you can get your hands on them there are also a number of more exotic mushrooms that are ideal for a stir fry. The oyster mushroom for example is widely used for dishes like this one throughout Asia. Japanese shiitake mushrooms are also great. These are normally not available fresh around here, but can be found dried in many Asian stores. Soak them a bit in water and add them to the sweet chili chicken stir fry.
Mushrooms also work very well with oyster sauce. Just take a look at my chicken in oyster sauce stir fry recipe. or shrimp in oyster sauce. To spice things up, try adding some spicy sambal oelek.
variations on chicken chili stir fry
Starting with some basic ingredients, a good sweet chili chicken stir fry can be jazzed up in a number of ways. This dish is almost like a blank canvas that you can paint on. Furthermore it can also be a great way to clean out your fridge of leftover vegetables.
If you have half a leek lying around just chop it up and throw it in. Onions are also a nice addition for a stir fry. If you want to use a bit less chicken and add more vegetables, use something filling. I, for example, enjoy adding sugar snap peas or green beans to my stir fries. Just check out my chicken stir fry with sugar snap peas. Baby corn, bamboo shoots or water chestnuts are equally great additions to the sweet chili chicken stir fry. Go through your cupboards and pantry and inspire yourself for your next stir fry. If you want more inspiration have a look at my Hong Kong-style sweet and sour chicken, Mongolian lamb stir fry or my venison stir fry. If you'd fancy something vegan, you should try my vegan chop suey. Bok Choy stir fry is a great alternative if you're looking for a vegetarian variation.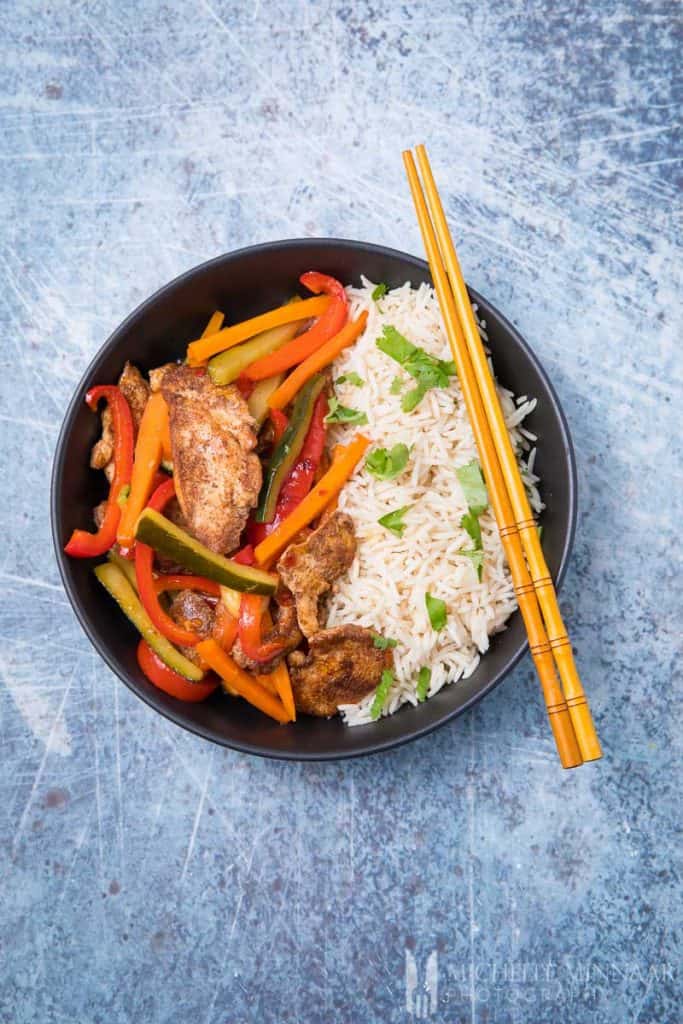 sweet chili stir fry prawns
The possibilities of variation are not limited to vegetables. Instead of chicken you can use another kind of protein. This sweet chili stir fry is perfect for prawns. Use some nice big tiger prawns and follow the same steps of the recipe. You will end up with a delicious bowl of sweet chili stir fry prawns. You could also use a white fish. In this case reduce the cooking time to avoid overcooking the fish.
Alternatively you can swap the chicken or prawns for some diced beef or pork. A beef stir fry or a pork stir fry recipe are as tasty!
serving and topping
Once cooked, your sweet chili chicken stir fry should be served at once. Serve the stir fry with egg fried rice for maximum authenticity. Alternatively you can serve with plan jasmine rice, or even egg noodles.
Your dish of sweet chili chicken stir fry should be as appealing to the eye as to the taste buds. All it takes to obtain this is the right presentation. A touch of green to top it all off is the perfect way. Top your stir fry with freshly chopped coriander for that unmistakeable Asian flavour. If you don't like coriander you can sprinkle with some finely sliced spring onion instead. This adds a crisp freshness to the dish. If you went with the honey as sweetener, a sprinkle of sesame seed is the ideal combination.
Print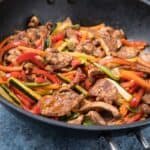 Sweet Chilli Chicken Stir Fry
---
Description
Make this sweet chilli chicken stir fry recipe for dinner tonight. You'll need simple ingredients like sweet chilli sauce, courgette, red bell peppers and carrots.
---
30

ml (2 tbsp) vegetable oil

5

ml (1 tsp) Chinese five spice

300g

(

10oz

) skinless chicken breasts, cut into thin strips

1

carrot, washed and julienned

1

leek, washed and julienned

1

courgette, washed and julienned

1

red pepper, washed and julienned

90g

(

3oz

) sweet chilli sauce
---
Instructions
Dust the chicken with the Chinese five spice.
Heat the oil in a large wok and fry the chicken for 5 minutes until it's browned on all sides.
Add the leek and carrot and continue to stir fry for another 5 minutes.
Add the courgette and pepper and continue to stir fry for another 5 minutes.
Pour in the sweet chilli sauce, stirring to ensure that all the ingredients get covered with the sauce. Fry for 2 minutes.
Serve immediately with egg fried rice.
Notes
The cooking time of the vegetables depend mainly on how cooked you like them. The more crunch they have the more vitamins they retain in the cooking process. Always ensure that the chicken is cooked through.
Prep Time:

15 minutes

Cook Time:

15 minutes

Category:

Dinner

Method:

Stir Fry

Cuisine:

Thai
Nutrition
Serving Size:

1

Calories:

283

Sugar:

4g

Sodium:

85mg

Fat:

12.7g

Saturated Fat:

2.9g

Carbohydrates:

18.4g

Fiber:

1.9g

Protein:

23.1g

Cholesterol:

67mg
Keywords: sweet chilli chicken stir fry, sweet chilli sauce recipe, chicken stir fry
save the recipe to your pinterest board