King prawn butterfly is one of the best and simplest prawn recipes. If you love seafood, you'll know that king prawns are the creme-de-la-creme when it comes to eating prawns. So, prepare them in the best way possible and make this excellent king prawn butterfly recipe in a matter of minutes.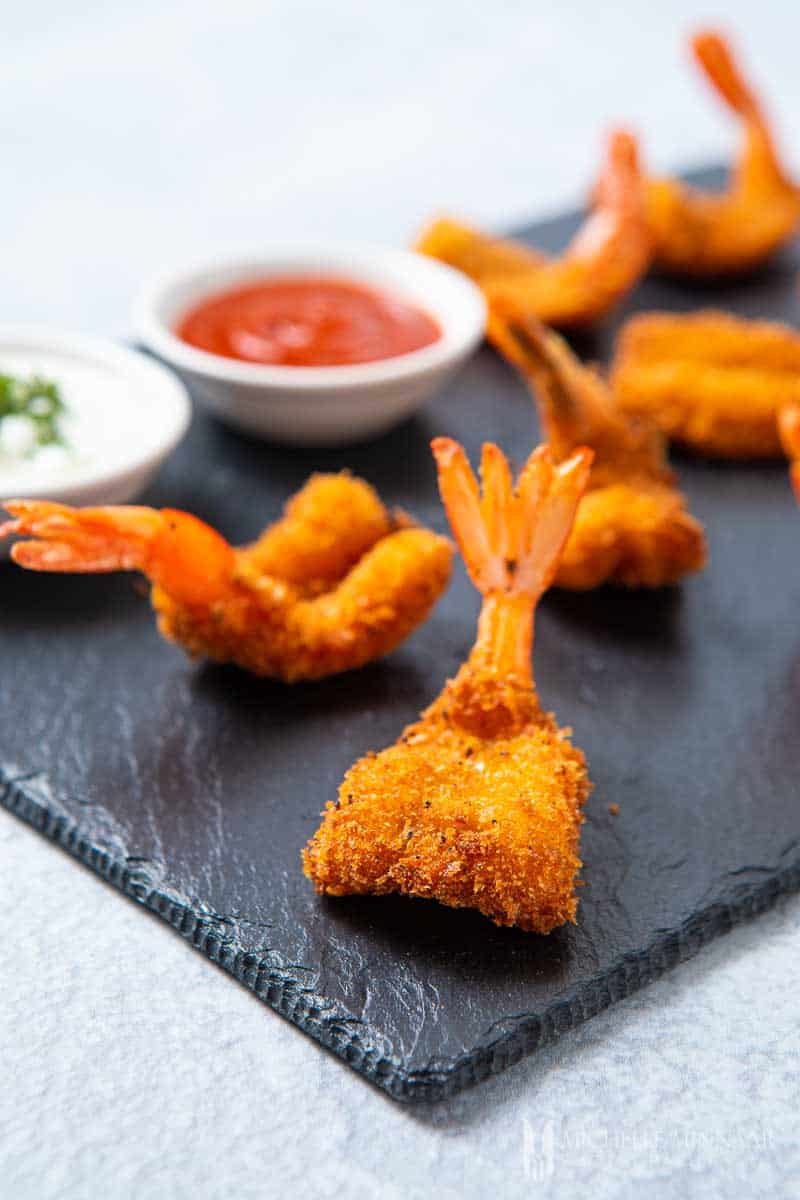 This king prawn butterfly combines beautiful prawns with a pinch of Indian spices. Even better, you can spin this recipe in any direction you want.
For example, you can add chilli powder, paprika powder, garlic, you name it. In addition, you can also interchange king prawns with regular prawns (as a cheaper alternative).
However, I recommend sticking to the king prawns. They are much fleshier and are more suitable for deep frying. Enjoy and let me know how it works out for you.
king prawn butterfly recipe
I love cooking with seafood, especially with prawns, which are a highly versatile ingredient. You can find them in practically any cuisine (of a country that has a coastline).
Hence, this king prawn butterfly can turn in any direction. Although, this recipe has a subtle Indian vibe due to the addition of the spices.
If you fall in love with this king prawn butterfly, then you can inspire yourself with these additional prawn recipes:
All of these prawn recipes are really easy to master. Have I tempted you to add one of these on your weekly menu?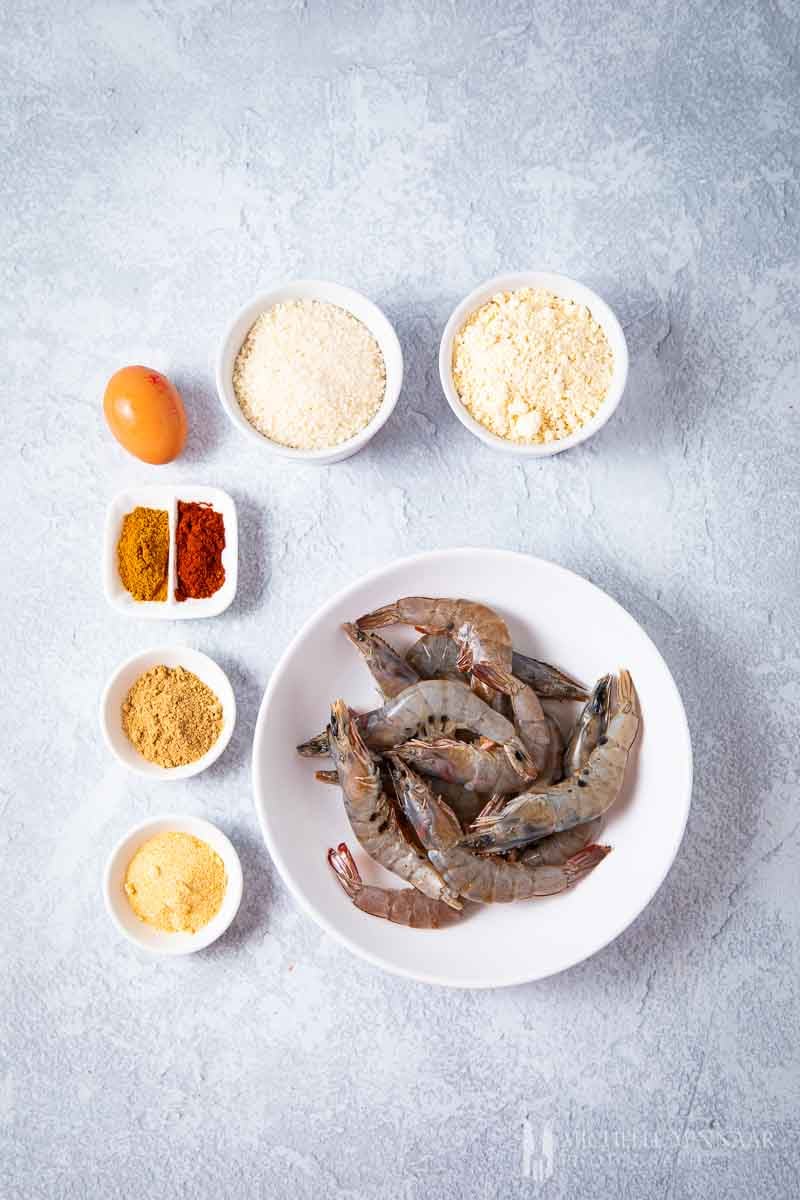 top things you need for this recipe
Here's a list of things you absolutely have to consider for making this king prawn butterfly recipe:
how to fry butterfly prawns
First and foremost, I highly recommend using king prawns. Although, prawns work equally well in the king prawn butterfly recipe. Nevertheless, the king prawns have better flesh and they are larger.
Of course, the best type of king prawns are purchased at your local fishmonger. Tip: You can ask your fishmonger to give you de-veined clean king prawns. This will speed up the preparation process by many minutes.
Otherwise you are going to have to complete this process yourself, in which case make sure you have a good knife handy.
Tip: Don't let the oil in the deep-fryer overheat. Otherwise, you'll burn your king prawn butterfly in an instant. Make sure your oil is just the right temperature. Also, you don't want to make your king prawn flesh dry and rubbery.
tandoori king prawn
If you would like to expand on the Indian flavours, you can also add an extra touch of tandoori spice – just add as much spice as you desire. Mix it in with the panko crumbs and you've got a whooping batter for your king prawn butterfly.
healthy king prawn butterfly
If you are not such a huge fan of deep-frying, you don't need to be put off by this recipe. There are methods to deep fry ingredients in a way that doesn't involve the use of unhealthy fats.
Just substitute regular frying oil with coconut oil. I know it's not the cheapest solution, but it is the healthiest. Coconut oil contains anti-fungal properties and anti-inflammatory properties, making it excellent for digestion. So, when in doubt, use coconut oil instead.
If you are worried about the coconut oil adding an extra flavour to the king prawn butterfly, you can always use unscented coconut oil. On the other hand, I would use the coconut flavour to add an extra flavour.
This way, you can turn the prawn recipe in an Asian direction. Add shredded coconut into the batter (and omit the Indian spices). Pair it with a sweet chilli dipping sauce and you've got one of the best Asian starters ever!
what to serve fried king prawns with
There is nothing better than pairing a piece of fried king prawn butterfly into a dip! In fact, I wouldn't consider this dish to be complete if it was served without a dip.
Although, the fried prawns are delicious - don't get me wrong. However, there is just something very satisfying when it comes to dipping the prawn into the sauce and then licking the residue from your fingers.
That being said, since this king prawn recipe has an Indian twist to it, I highly recommend pairing it with these dips:
If you feel rather lazy, you can also dip the king prawn butterfly in a sweet chilli sauce or ketchup.
If you like canapés, you would adore these stuffed cherry tomatoes! For a posh smoked salmon starter, check out salmon terrine. If you want something that you can whip together in 5 minutes, try my Edamame Salad recipe for a fresh, vibrant dish that is packed with protein, full of flavor and looks wonderful in your salad bowl.
How would you like to make this king prawn butterfly recipe? Do you have a favourite dip or sauce in mind? Let me know in the comments section below.
Print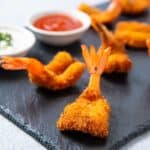 King Prawn Butterfly
---
Description
This King Prawn Butterfly is the perfect starter/canapé to any meal. Make this classic Indian starter recipe at home today!
---
12

king prawns

1

egg, whisked

150g

(5oz) panko crumbs

60g

(2oz) gram flour

2.5

cm (1/2 tsp) curry powder

2.5

cm (1/2 tsp) chilli powder

2.5

cm (1/2 tsp) ground ginger

5

ml (1 tsp) garlic granules

Salt and pepper, to taste
---
Instructions
Remove the head of the prawn.

Using a sharp knife, make an incision down the centre of the shell on the back of the prawn and take out the black vein.

Remove the shell but leave the tail intact. 

Flatten the prawn lightly, and repeat the process with the rest of the prawns.

Whisk the egg with the curry powder, chilli, ginger and garlic. Season.

Place the flour and panko on two respective plates. 

Heat the oil in a large saucepan or deep fryer. Test the oil by dropping a bit of batter in it. It should sizzle immediately.

Dip the prawn into the egg batter, then cover with flour, and lastly with panko. 

Lower the prawn with a spatula into the oil and fry until browned, crisp and cooked through. Remove the prawn with a spatula or tongs. Drain on a kitchen towel.

Repeat the process with all the prawns.

Serve with salad and a sweet chilli dip. Pakora sauce works too! Enjoy!
Notes
The size of the prawns affect the cooking time. Smaller prawns might only take 2 minutes while bigger ones will take longer.

Don't overcrowd the saucepan with prawns because it will lower the temperature of the oil and cook unevenly. Do it in batches instead.
Prep Time:

20 minutes

Cook Time:

10 minutes

Category:

Starter

Method:

Deep Fry

Cuisine:

Indian
Keywords: king prawn butterfly recipe, indian king prawn butterfly, king prawn starter, indian starter recipe