Dumplings are a great Asian starter or light meal. What is especially great about prawn dumplings is that you can make them yourself and enjoy a restaurant quality dish at home. At first, it might look like a complicated procedure but once you give it a try you will see that making your own prawn dumplings is actually easier than you would expect. Plus, it gives you a great excuse to cook with prawns. Who could possibly resist?
The Asian cuisine favours fresh ingredients but in order to prepare these beautiful dumplings you will need a bamboo steamer. This can be obtained quite cheaply from Asian supermarkets and they last forever, so consider it a good investment in your future cooking adventures. You can use the bamboo steamer for other fish meals, like steamed salmon or cod.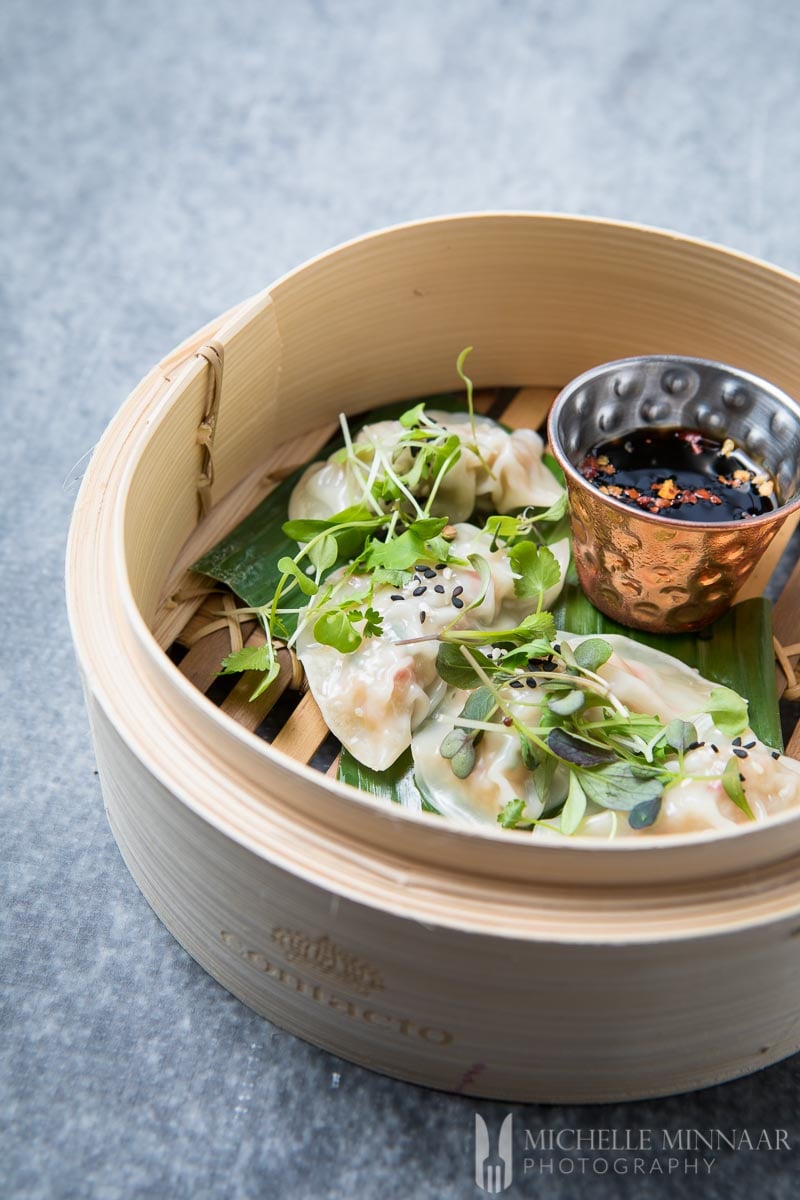 Visit to Alexander's
Before this I never dabbled with dumplings. I was intimidated by the wrappers, not knowing how to deal with them. Good job I visited Alexander's Bar & Kitchen in Skipton (Yorkshire), where they showed me step-by-step how to create them!
If you are a lover of a European inspired bar and kitchen, you've come to the right place. Alexander's took over the historic building 4-6 High Street in 2016 and have lovingly restored it to its former glory, ready for customers to enjoy for years to come.
Alexander's has magically created a warm and welcoming atmosphere, in elegant surroundings in the style of a Grand Cafe and an Edwardian Palm Court. By combining fine dining quality with a social ambiance of small plates and sharing plates for all the family, guests are encouraged to have a memorable night of new experiences together.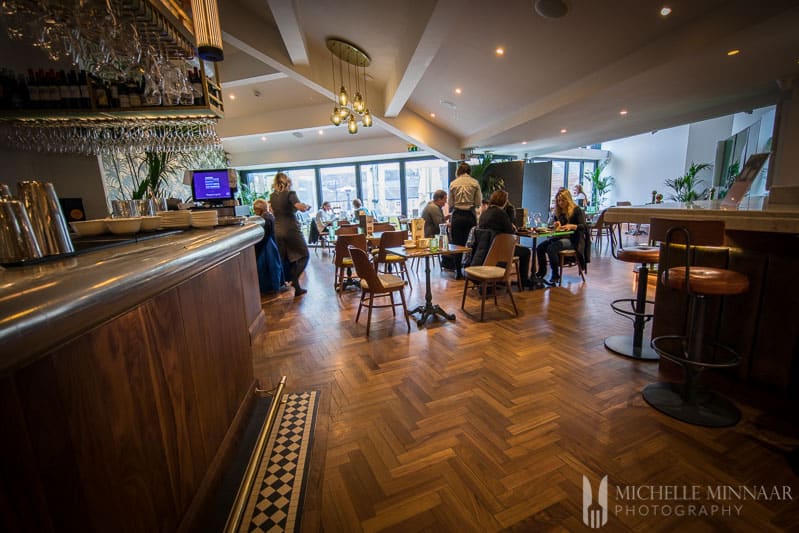 About Alexander's
Alexander's is open morning, noon and night, offering brunch, lunch, afternoon tea and dinner menus through the course of the day. When the weather permits you can enjoy the afternoon on the gorgeous terrace, sipping one of Alexander's innovative cocktails.
Alongside the cosmopolitan cooking style, Alexander's offer a great choice of drinks. Sporting their very own bar, with a cocktail menu good enough to battle any rival on the international scene, Alexander's bring you flavours you have never had before. The signature cocktails are creative and flamboyant, many of them with a herbal theme that I have not seen before. In addition, keeping with the international atmosphere, you find a number of wines and beers hand-picked from around the globe, combined with an array of the finest local British products.
For a full review of Alexander's, click right here.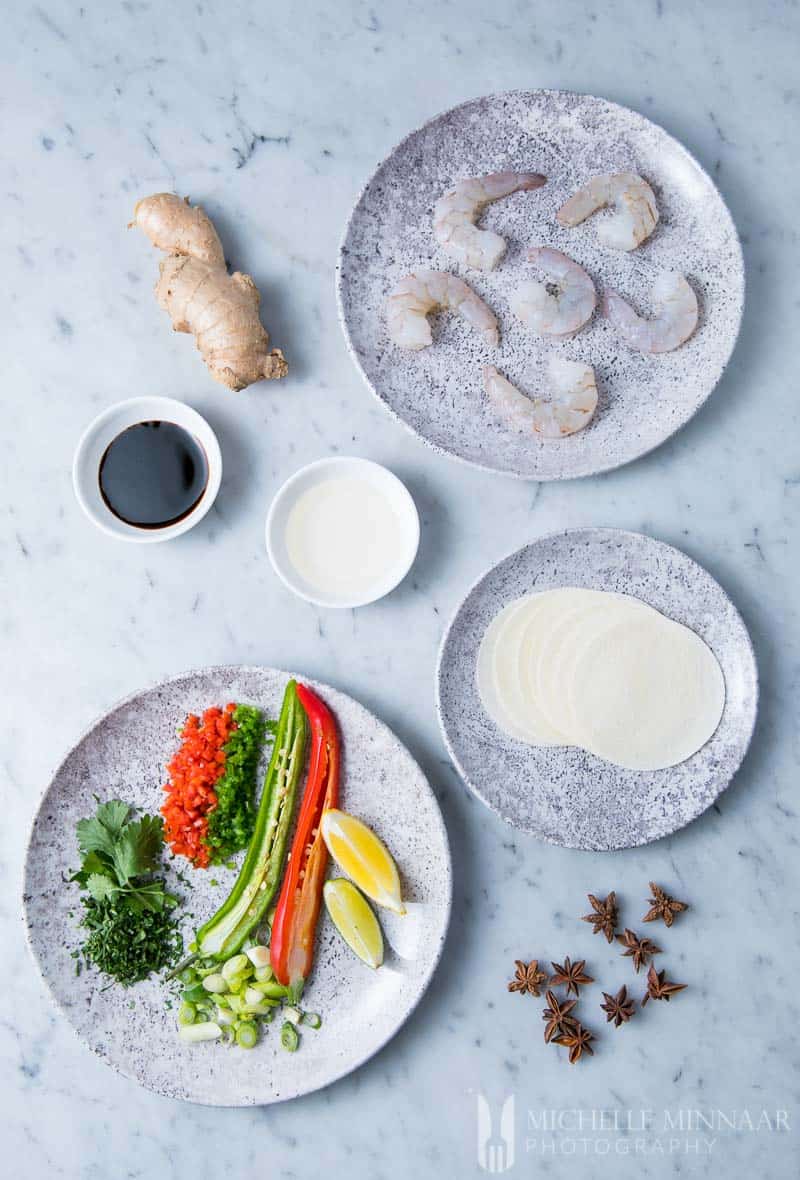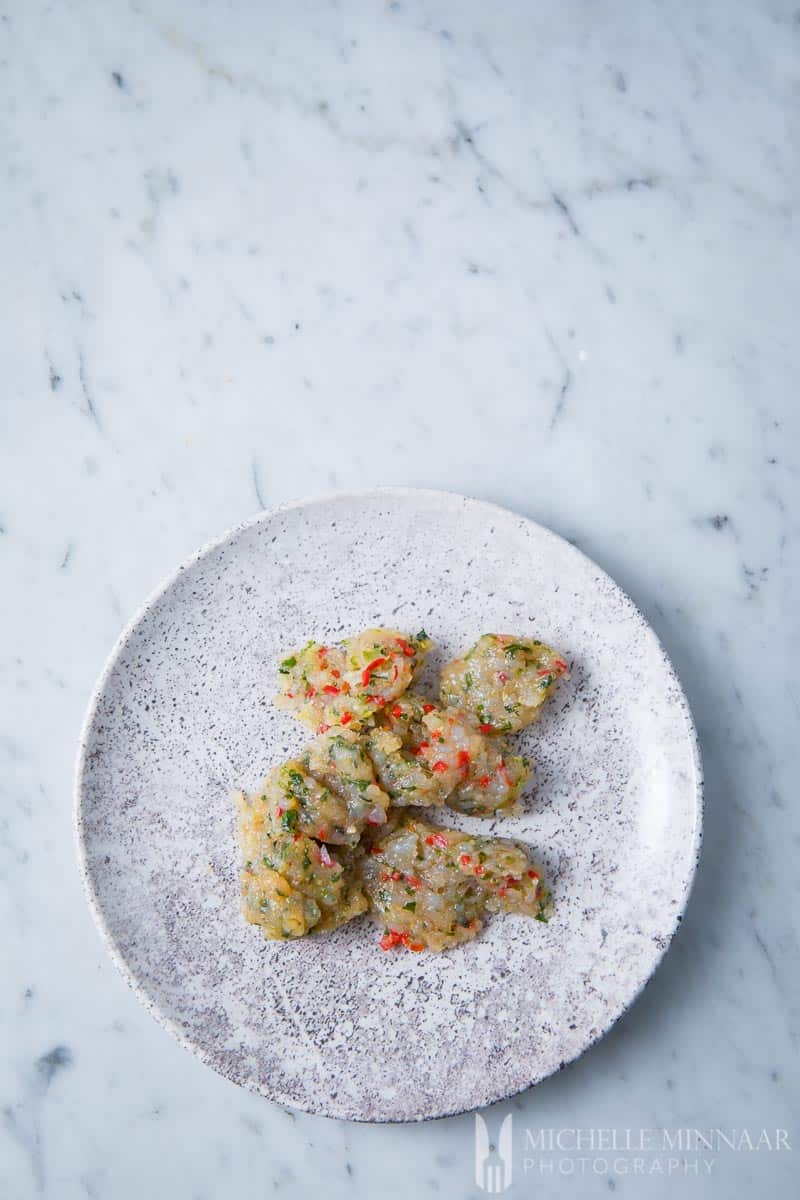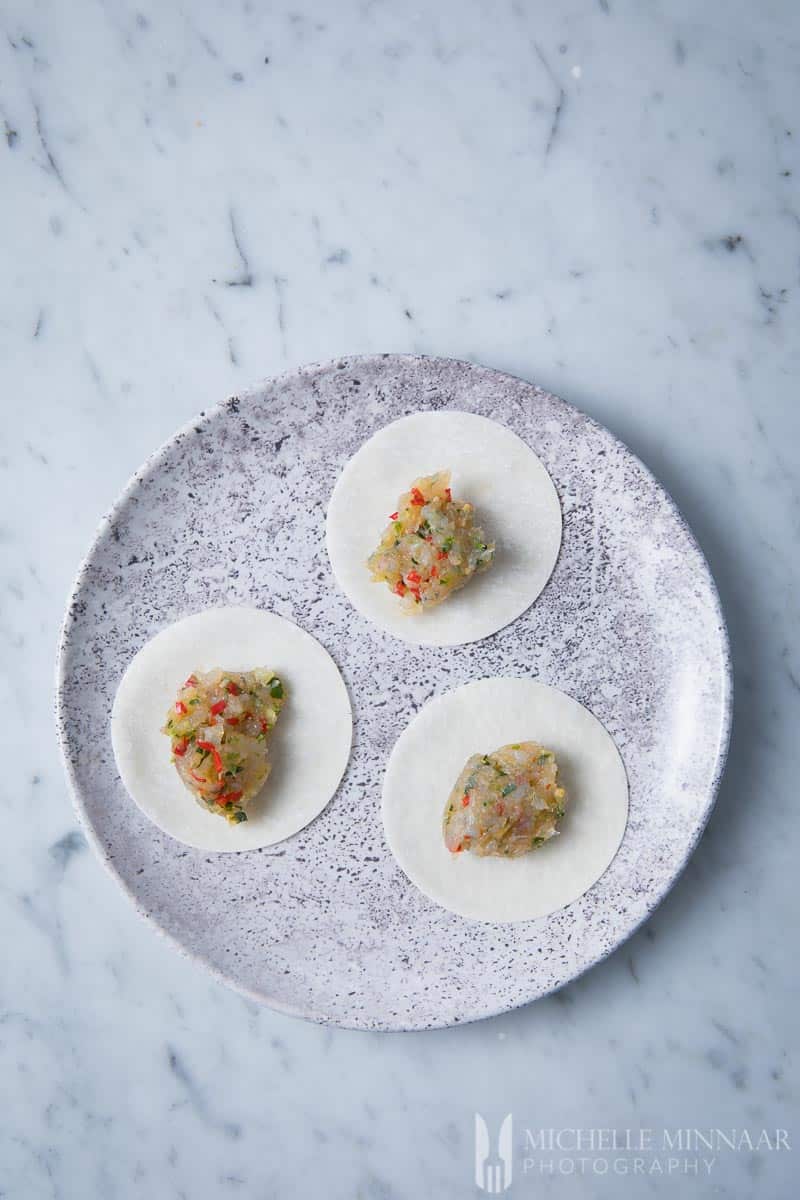 Alexander's prawn dumplings
It was indeed a long drive from my place in the south up to Skipton, but it was definitely worth the effort. The menu at Alexander's contains interesting flavours from all over the world. You can find such different dishes as Moroccan Spiced Buttermilk Chicken and a Slow Cooked Shoulder of Lamb with Garlic and Rosemary. On this menu, their King Prawn and Sweet Chili Dumplings also feature. Now you can make the latter at home, Or, if you're lucky enough to be in the area you can skip the work and simply drop by.
The quality of the ingredients are very important for the success of this dish, and at Alexander's they value high quality fresh ingredients. I was presented with the most beautiful king prawns you can imagine and immediately I wanted to cook with them. You do need quite a few things to make these prawn dumplings, however, once you have prepared the prawn mixture, it is fairly easy the rest of the way. This was actually the first time I saw Japanese-style dumplings (gyoza) being made, and I was lucky to have chef Struan offering professional guidance.
The soy, ginger and mirin dipping sauce that goes with the prawn dumplings is a sensation on its own. The flavour of this dipping sauce is exotic, with a perfect balance of flavours thanks to the respective ingredients. A perfect match for the prawn dumplings! It is all about binding the flavours together, which is a special trademark of the kitchen at Alexander's.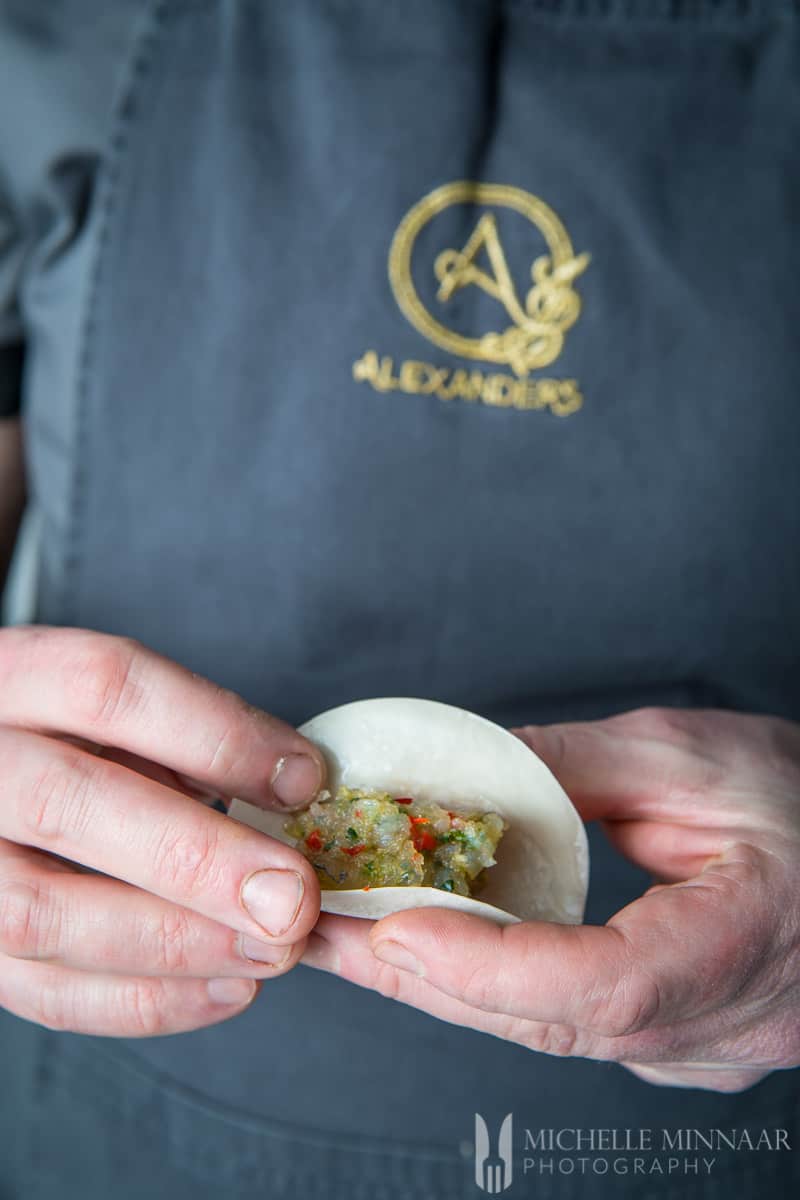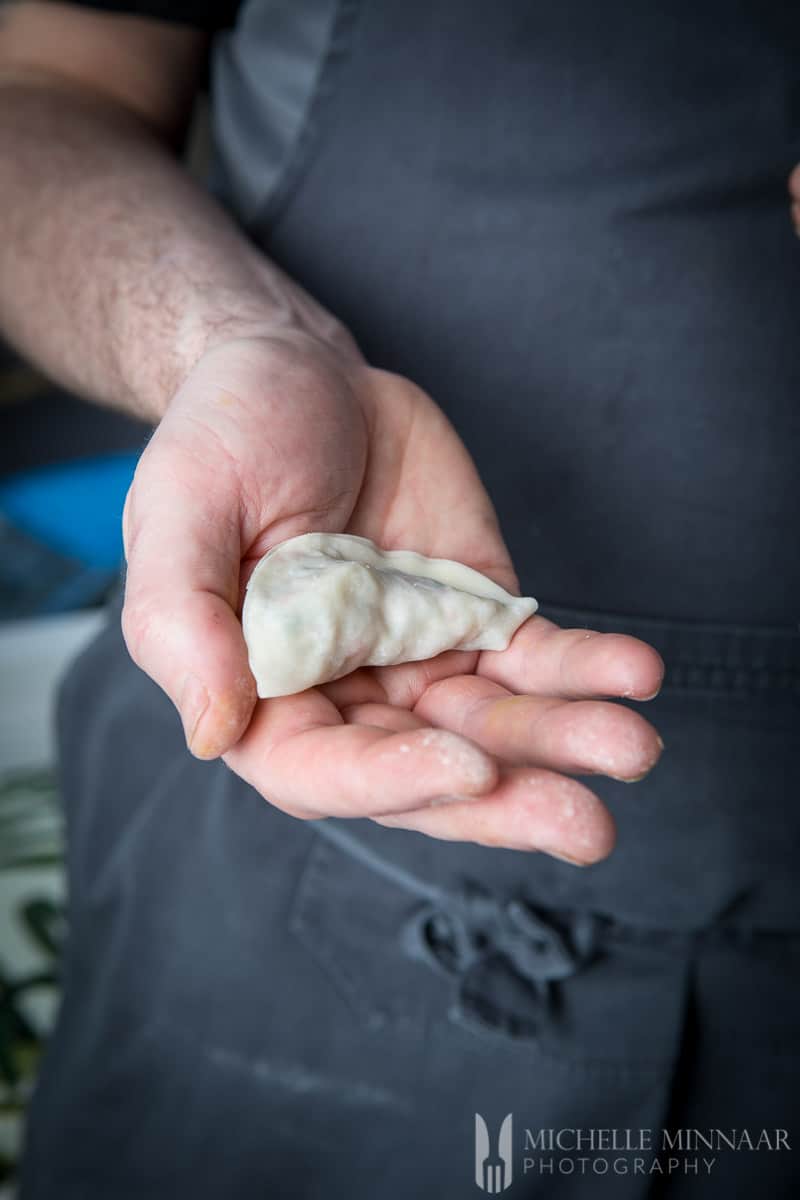 What you need for making prawn dumplings
Admittedly, the list of ingredients for this recipe is a bit long. If you really want these exceptional flavours when making your own prawns, you will need to procure everything on the list. Fortunately, most Asian supermarkets carry what you will need so do make the effort of finding one of these places.
Dim sum wrappers are readily available and should be relatively easy to find, but what about mirin? If you are not quite sure what mirin is, let me explain. Mirin is a type of sweet rice wine from Japan. It is somewhat similar to the more famous sake, only mirin contains more sugar and less alcohol. The sugar content stems from natural fermentation and is not added in separately.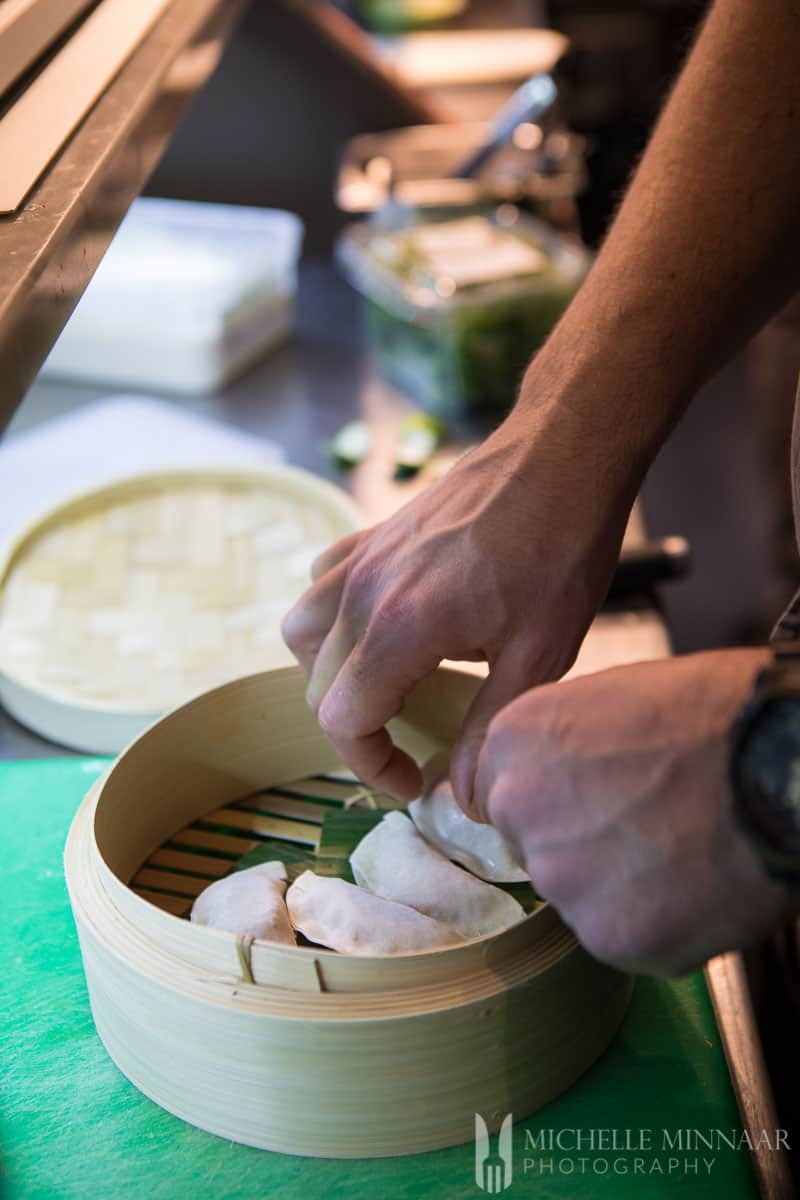 Kecap manis is another item that might pop out as an unknown ingredient on the shopping list. In essence, kecap manis is a type of sweet soy sauce originating from Indonesia. It is dark, almost black, and with a thick syrupy consistency. The reason for this is the generous addition of palm sugar. Kecap manis forms an essential part of Indonesian cooking.
If you cannot get hold of mirin and kecap manis you can double up on the vinegar and soy sauce instead. However, in order to get the full benefit of this dipping sauce for your prawn dumplings, you should try to obtain them. All of the elements have their place in the balance and flavour of the sauce.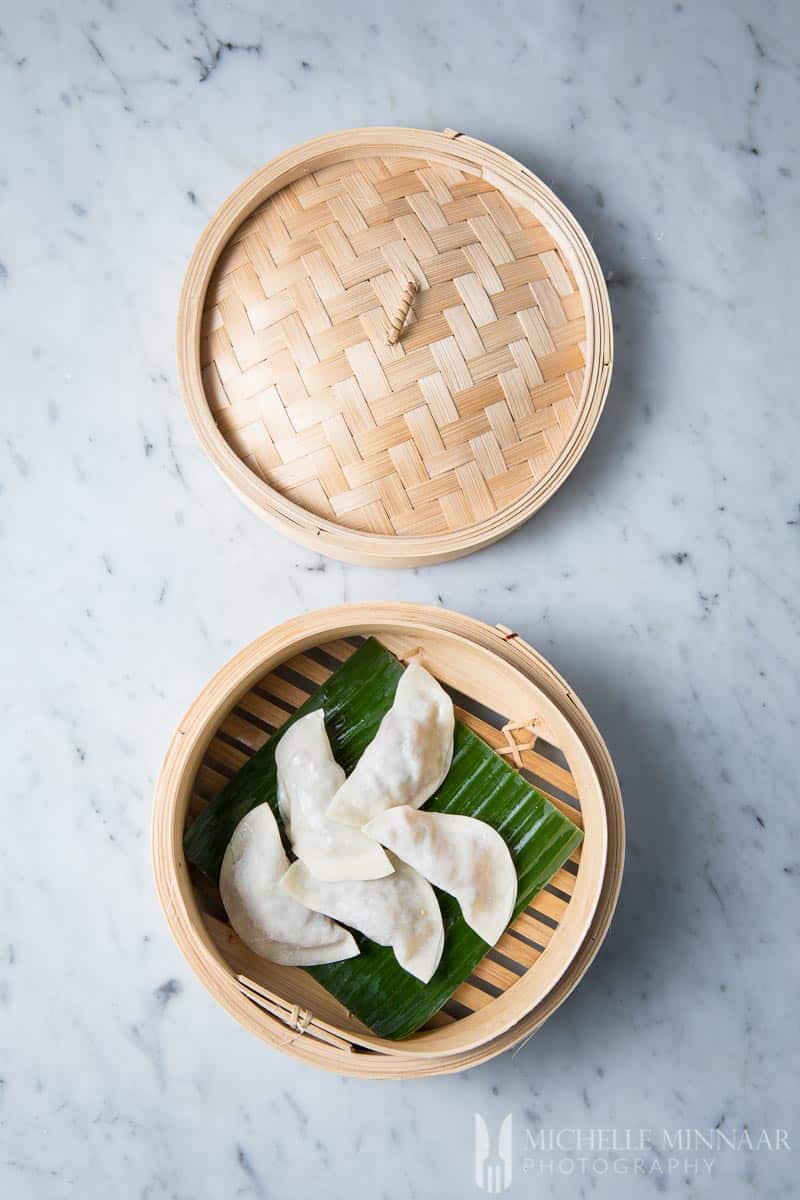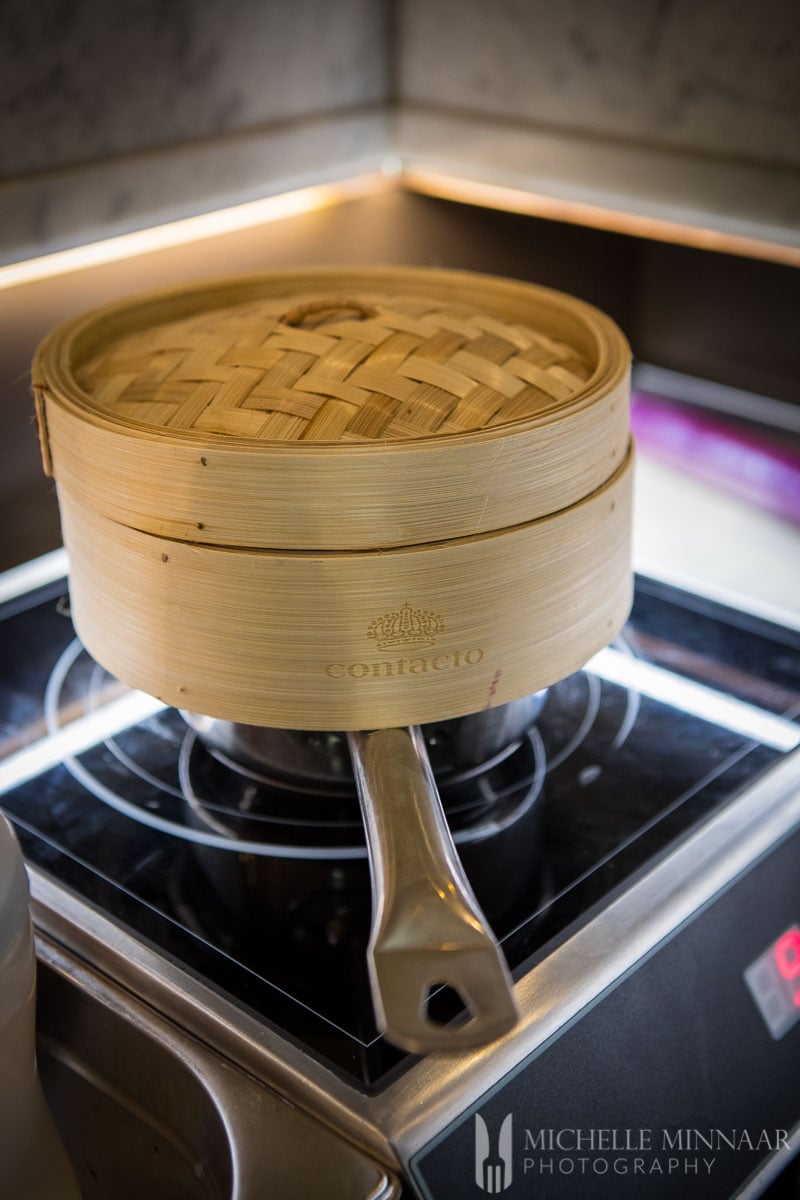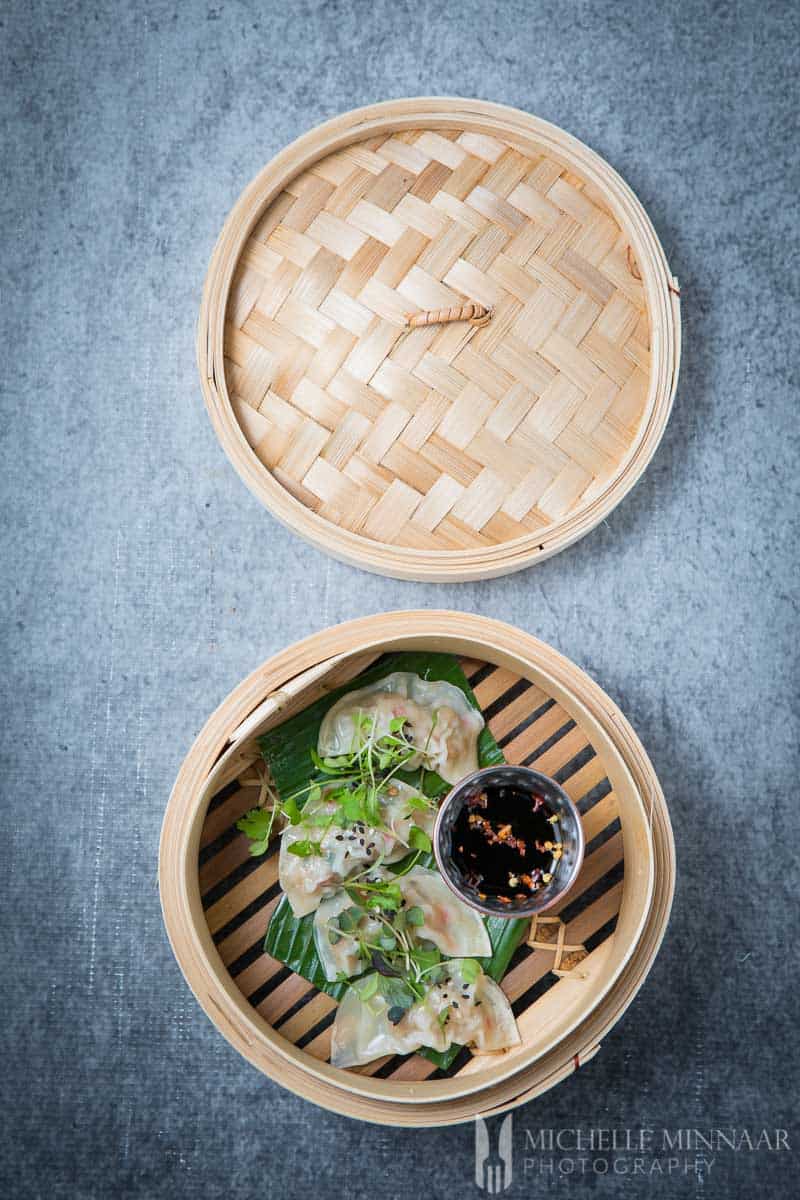 Serving
After steaming the prawn dumplings for about four to five minutes, serve immediately with the dipping sauce. Depending on how many you make, the prawn dumplings can be an excellent starter or even a main course. It is a perfect dish for sharing at the table in the spirit of Alexander's Bar & Kitchen. If you want anything green to go along with it, I imagine a sugar snap pea salad would complement it well. A less traditonal choice would be som tum pak, which is actually a Thai recipe. A brilliant way to celebrate Far Eastern flavours!
What is your favourite dumpling filing?
Print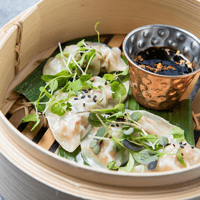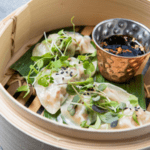 Prawn Dumplings with Soy and Mirin Dipping Sauce
---
Description
These prawn dumplings make for a fab Asian starter. The miring dipping sauce is ideal for dim sum and gyoza. Ready under 30 minutes!
---
Prawn Dim Sum
250g

(

8oz

) raw prawns, peeled and deveined

15

ml (1 tbsp) fish sauce

1

lime, zested

1

chilli, deseeded and finely chopped

5

cm (2 inch) lemongrass, finely chopped

30g

(

1 oz

) coriander, washed and chopped

5

ml (1 tsp) mirin

16

ready-made dim sum wrappers
Soy & Mirin Dipping Sauce
50

ml (3½fl oz) rice wine vinegar

50

ml (3½fl oz) mirin

50

ml (3½fl oz) kecap manis

50

ml (3½fl oz) light soy sauce

25

g (1oz) caster sugar

10

ml (2 tsp) sesame oil

2.5

cm (1 inch) ginger, peeled and grated
---
Instructions
Prawn Dim Sum
For the prawn dim sum, place the prawns into a small food processor and blend to a purée. Transfer to a bowl, add all the other ingredients, except the dim sum wrappers, and mix thoroughly.
Place the wrappers onto a clean work surface and place a small spoonful of prawn mixture in the centre of each wrapper. Fold the wrappers over the prawn mixture to create a semi-circle. Press the edges of the wrapper together with damp fingers to seal the wrapper parcels and crimp the edges.
Place the parcels into a bamboo steamer over a pan of simmering water and cover. Steam for 4-5 minutes, or until the prawn mixture is completely cooked through. Remove from the steamer and serve immediately.
To serve, place the dim sum onto a serving plate with both bowls of the soy and mirin dip alongside.
Soy & Mirin Dipping Sauce
Whisk all ingredients together.
Notes
Dim sum wrappers are readily available at Asian supermarkets.
If you can't get hold of mirin and kecap manis, omit them and double up on the vinegar and soy sauce. All elements have their place in the balance and flavour of the sauce, so do make the effort of obtaining these ingredients if you want to enjoy exceptional flavours.
Prep Time:

30 minutes

Cook Time:

5 minutes

Category:

Starter

Method:

Steam

Cuisine:

Chinese
Nutrition
Serving Size:

1 serving

Calories:

323

Sugar:

21.9 g

Sodium:

1654 mg

Fat:

8.3 g

Saturated Fat:

1.7 g

Carbohydrates:

45.3 g

Fiber:

1.2 g

Protein:

20.4 g

Cholesterol:

159 mg
Keywords: prawn dumplings, mirin dipping sauce, asian starter recipes, gyoza mirin sauce
save the recipe to your pinterest board

P.S. This is a sponsored post.