Shrimp in oyster sauce is the ultimate Chinese recipe and my secret comfort food. Forget expensive Chinese takeaways when you can make your own Chinese fakeaway in just a matter of minutes.
There are two key ingredients you need to make this simple shrimp in oyster sauce recipe. Care to take a guess? You will need to source shrimp and oyster sauce, it's that simple. The beauty of this Chinese shrimp recipe is that you can improvise with the rest of the ingredients. Just think of it as another delicious stir fry recipe, but this time with shrimp and oyster sauce. Read more about this prawn dish and learn about all the possible flavour combinations you can explore.
shrimp in oyster sauce kawaling pinoy
The one thing that I love about this shrimp in oyster sauce recipe is the simplicity of it. It's made with delicious ingredients which are tied together with a fantastic oyster sauce. Oyster sauce is a very dark and viscous sauce made from oysters. In most cases, it is thickened by sugar, corn starch and seasoned with salt. Sometimes, you may also find versions of oyster sauces which contain caramel, as the caramel darkens the sauce even further. However, premium versions of oyster sauce is always dark.
Would you believe me if I told you that oyster sauce was an accidental invention? It's one of the pure genius moments which influenced the direction of many Asian cuisines. In essence, the invention of this product is credited to Leek Kum Sheung from Nanshui, China dating all the back to 1888. Lee ran his own tea stall where he cooked and sold oysters. Actually, he was famous for his clear oyster soup. However, he forgot about his soup one day and let is simmer completely until he noticed a strong smell. Instead of the clear oyster soup, there was a very thick dark brown sauce which had a surprising, yet amazing, taste.
As such, Lee started selling the sauce to the locals who loved it immediately. Its popularity soon spread over China and other South Asian countries. Today, oyster sauce is a vital part of Vietnamese, Chinese, Japanese, Malay, Cantonese and Khmer cuisines.
where to buy oyster sauce
Oyster sauce is available in most supermarkets. In either case, I recommend visiting you local Asian specialty store. Most importantly, there you can find perhaps more premium or varied versions of oyster sauces. I always prefer having a larger selection of products.
Otherwise, you can always order it online. Just check out these options:
Panda Oyster Sauce - click right here
Lee Kum Kee Premium Oyster Sauce - click right here
Healthy Boy Oyster Sauce - click right here
Trust me, you won't regret purchasing oyster sauce. There are so many other tasty recipes other than this shrimp in oyster sauce recipe. For example, you can use oyster sauce in these easy recipes:
how to cook shrimp
I just love cooking with shrimp and this prawn stir fry can be prepared in a jiffy. First of all, prawns only take a few seconds to cook, unlike pork or other types of meat. So, if you are in a hurry, you should always opt for shrimp. Besides, shrimp are very nutritious. For instance, they are rich in omega-3 fatty acids and excellent source of protein, if you are following a ketogenic diet. In addition, they have very low mercury levels.
Generally speaking, shrimp are sold frozen but if you can, I highly recommend sourcing a fresh batch from your local fish monger. The difference in taste and quality is noticeable. Here's a handy tip for you. If you buy the fresh shrimp, don't throw away the shells. They are ideal for making a rich shrimp broth, tom yum goong soup or a shrimp bisque. Also, you can make this amazing shrimp in spicy coconut sauce recipe - it's to die for!
In this shrimp in oyster sauce recipe, you should toss the shrimp sometime midway in the cooking process. Remember, you don't want to overcook the shrimp. If you do, they'll take on this sort of rubbery texture which is not so desirable. It's like cooking scallops. They need to be done just right.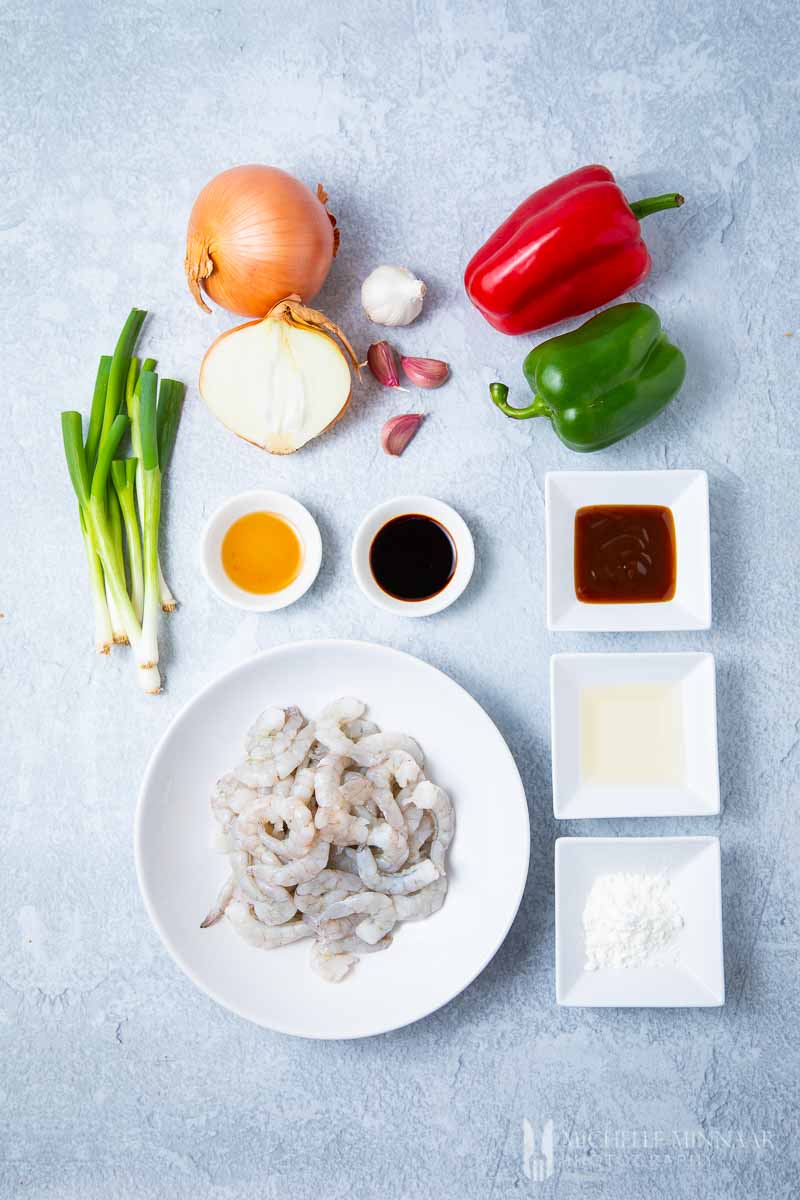 grilled shrimp with oyster sauce
Another one of my favourite ways to prepare shrimp is to grill them. To give this shrimp in oyster sauce recipe a different slant, I recommend you leave the stir fry and marinate the whole prawns in oyster sauce. Grill them and make sure you get a nice char on the shrimp. The smoky, rich flavour will complement the intensity of the oyster sauce. Once you done grilling them, serve them on a platter along with other side dishes.
Chinese prawns in oyster sauce
Even though I've used shrimps in this Chinese recipe, you can replace them with tiger prawns.
Here's a list of the different types of prawns you can consider:
jumbo prawns - very huge and meaty prawns (too large for this recipe unless you want to grill them)
sea tiger prawns or normal tiger prawns - large and meaty (suitable for this recipe)
medium prawns - medium sized (suitable for this recipe)
small prawns (cocktail prawns) - less meat and smaller in size (very suitable for this recipe)
I recommend purchasing a larger batch of prawns. Clean them and freeze them for future easy prawn recipes. Just take a look at these:
Tempted yet?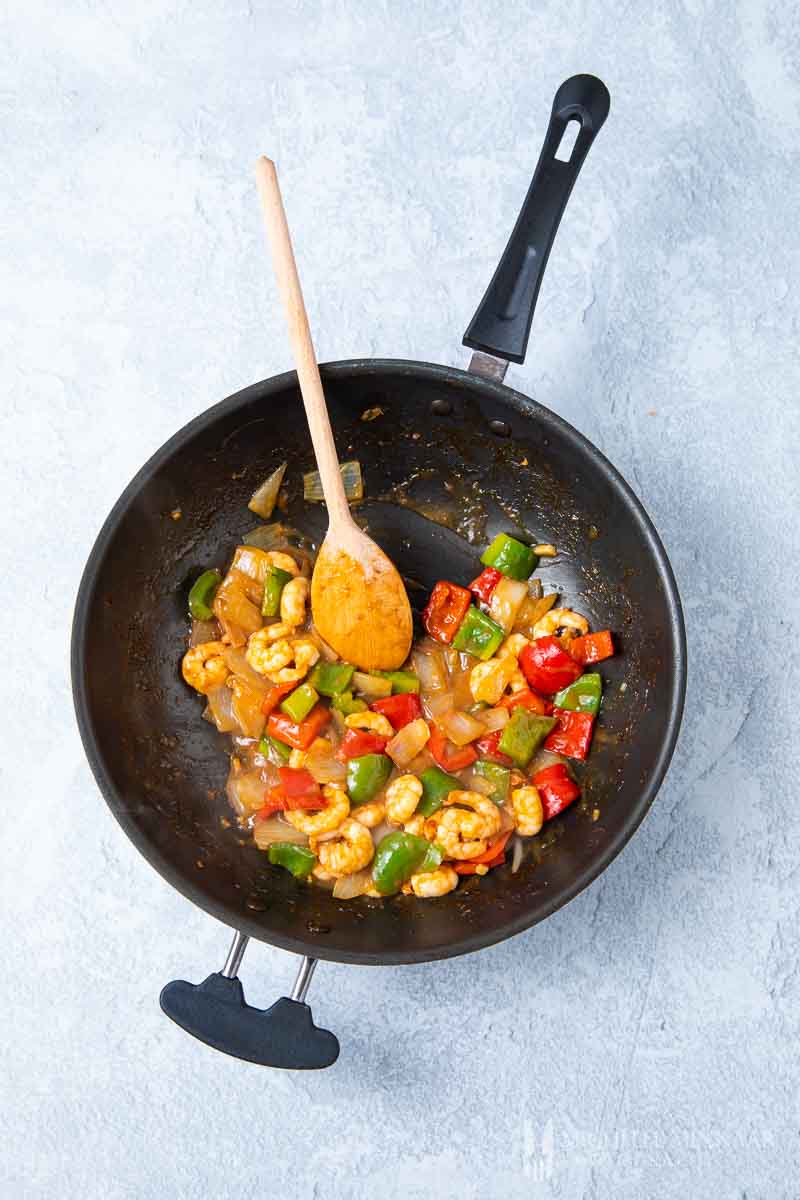 shrimp with ginger, garlic & soy sauce
If you would like to jazz up your shrimp in oyster sauce recipe, you can easily do so with garlic, ginger and soy sauce. Just take some inspiration from my ginger prawns with soy sauce recipe. Otherwise, you can also consider substituting the oyster sauce with soy sauce in general.
toppings
There are a few key toppings you should consider for these shrimps in oyster sauce:
coriander
spring onions
peanuts
fresh chillies
lime juice
Do you have a favourite topping?
Print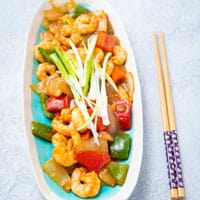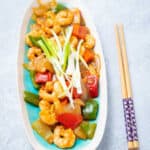 Shrimp in Oyster Sauce
---
Description
Enjoy making this shrimp in oyster sauce recipe. For this easy Chinese recipe, you only need a handful of ingredients. You can use prawns instead of shrimp.
---
15

ml

(1 tbsp) light soy sauce

10

ml

(2 tsp) sesame oil

15

ml

(1 tbsp) Shaoxing rice wine

5

ml

(1 tsp) cornflour

500

g

(1lb) peeled, raw shrimp

30

ml

(2 tbsp) vegetable oil

1

large onion, peeled and chopped

3

garlic cloves, finely chopped

1

green pepper, washed and chopped

1

red pepper, washed and chopped

45

ml

(3 tbsp) oyster sauce

4

spring onions, washed and shredded
---
Instructions
Mix the soy sauce, sesame oil, rice wine and cornflour in a bowl to form a thin paste.
Place the prawns in the paste and marinate while preparing the vegetables.
Heat the vegetable oil in a large wok.
Pour in the onions and fry for 2 minutes.
Add the garlic and peppers and continue to fry for another 2 minutes.
Turn up the heat and pour in the prawns and their marinade with the vegetables. Stir constantly for 2 minutes.
Pour in the oyster sauce and make sure to stir until everything is well incorporated.
Continue to let the stirfry sizzle while you stir for 2 minutes and remove from the heat.

Serve immediately with egg fried rice. Garnish with with spring onions.
Notes
If you can't get hold of rice wine you can use dry sherry instead.
For best results, you can marinate the prawns for one hour.
If you are gluten intolerance, use tamari instead of soy sauce
Prep Time:

15 minutes

Cook Time:

15 minutes

Category:

Dinner

Method:

Stir Fry

Cuisine:

Chinese
Keywords: shrimp in oyster sauce, Chinese recipe, Chinese prawn stir fry
save the recipe to your pinterest board