Celebrate World Porridge Day with this excellent almond milk porridge recipe. It has all the key flavours you should be looking for in your morning porridge.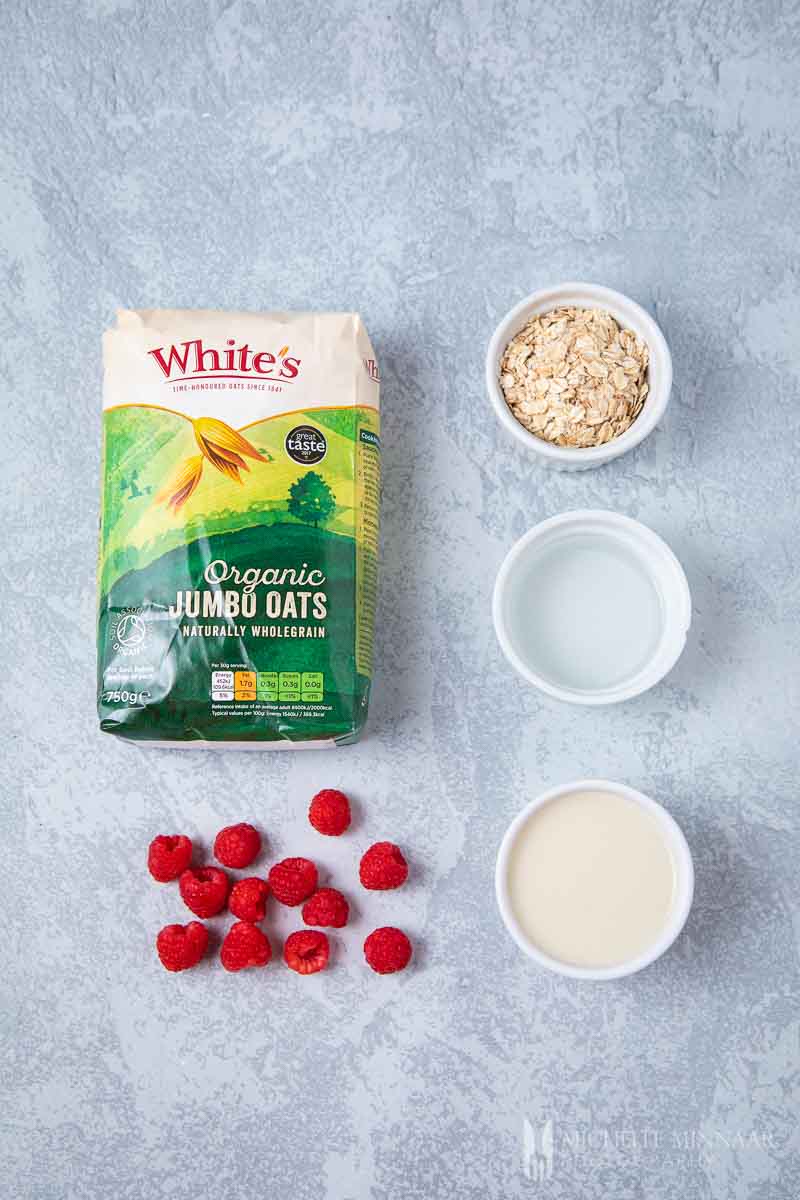 With the extra nutty flavour from the almond milk, this almond milk porridge is definitely one of my favourites. You can serve the almond milk porridge immediately or, if you made a big batch, you can save leftovers in the fridge for subsequent breakfasts.
The following days you can add your preferred porridge toppings and enjoy. It's so important to get a good start in the morning, and this almond milk porridge can help you do that.
healthy almond milk porridge recipe
For this almond milk porridge recipe, I've used White's Jumbo Porridge Oats. They are 100% wholegrain jumbo oats, which are high in fibre and contain no added sugar.
In addition, the oats are suitable for vegetarians and vegans because they are high in protein. Lastly, they also contain beta-glucan to actively lower your cholesterol.
White's has been in the business for over 177 years. The White's mill was founded back in 1841 in Tandragee by Thomas Henry White. The mill started out with only corn and flour.
Today, however, it is Ireland's largest oat miller as well as breakfast cereal producer!  To learn more about White's history, click here.
You can buy White's Organic Jumbo Oats in 750g packages and, if you follow the package instructions and use 30g (1oz) per serving, this will provide you with 25 portions.
At around £2 per bag, this works out at approximately 8p per serving, which is phenomenal value for money. So not only is it healthy for your gut but for your wallet as well.
An added bonus is that all White's packaging are recyclable, which gives even more reason to support this eco-friendly company. Click here to view more of White's products.
porridge almond milk overnight
Here is some food for thought. You can leave the almond milk porridge overnight so that it softens up. I've done this trick before with my overnight oats with chia and blueberries. The result was delicious.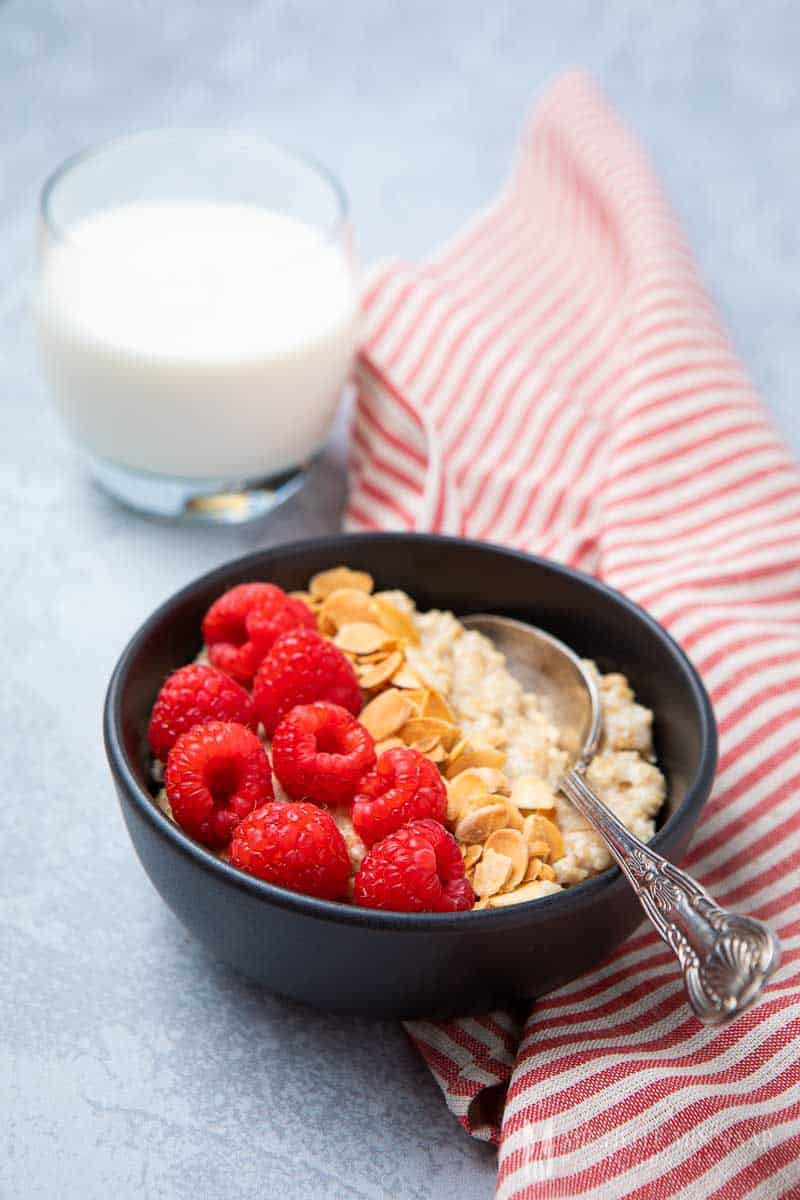 almond milk porridge calories
One serving of White's Jumbo Oats contains only 108 calories. Although porridge is not the most keto-friendly recipe, it is absolutely vital for your body. Porridge to the stomach is like chicken soup for the soul.
Chinese medicine, Ayurveda cuisine and many more argue that breakfast should be warm and simple. The aim is to keep the body healthy from the inside.
For best results, you should prepare it only with water and consume it warm and unsweetened. If you're watching your weight, this is an easy way to shave calories off this dish. Moreover, don't add any extra toppings.
porridge made with oat milk
Those of your who suffer from lactose intolerance can rejoice, because this recipe contains no dairy and there are so many types of nut milks to choose from these days.
Vegans can enjoy this almond milk porridge too! The almond milk will make it creamy, instead of the sticky effect the water usually has.
Mind you, I prefer almond milk because it lends a lovely flavour to the porridge. So, if I had my way, I would always opt for almond milk.
Of course, you don't have to stick to almond milk. For instance, you can try a normal lactose-free milk if you don't wish to add more flavour.
Secondly, you can also pick soy milk or hazelnut milk, which some people might find aromatic. However, the closest substitute to almond milk by far is oat milk.
Oat milk adds a certain flavour  and subtle acidity to the dish. Don't worry though, the flavour will be more or less the same. 
If you are looking for more inspiring breakfast recipes, take a look at these below: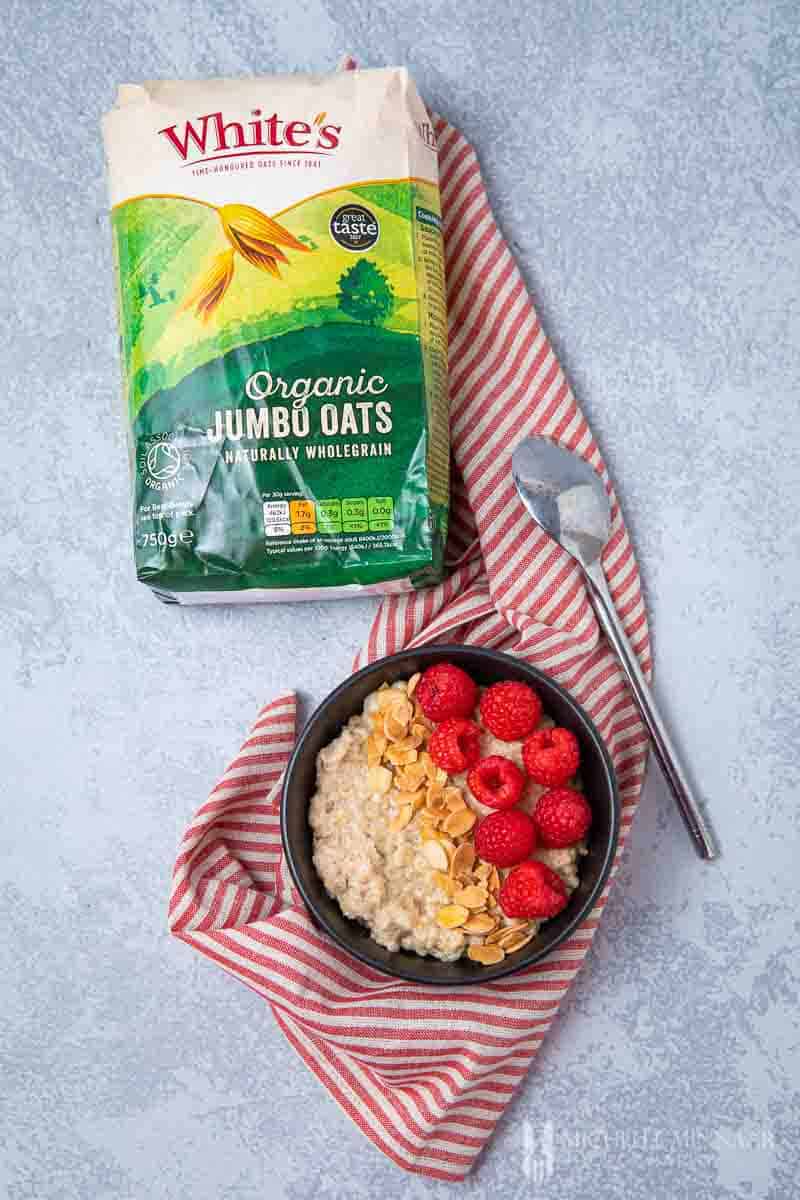 best toppings for porridge
I love porridge. It's one of the healthiest breakfasts in the world, even if eaten its own. However, if you feel like adding more flavours and textures, you definitely can.
Let's start with the fruits:
banana - the morning classic which gives you tonnes of energy
berries - blueberries, raspberries, strawberries, etc.
kiwi - for a bit of acidity if you find the almond milk porridge too sweet
apples or pears
grapes
melon
In fact, you can use any type of fruit. All will work very well with the almond milk porridge.
Next, you can consider boosting your porridge with extra protein. This is where nuts are very handy:
almonds - these will go perfect with the almond milk porridge
walnuts - also known as the brain nut to give a boost in the morning
hazelnut - also a very healthy nut
pumpkin seeds - excellent for extra zinc
macadamia nuts - very mellow and my favourite
As per my usual favourite toppings, you can also consider these for the porridge. Try some of these:
cinnamon - it is not only a flavour enhancer, it's a metabolism booster too
honey - for extra sweetness, which is far better than adding sugar
syrup - or this chocolate fudge sauce, if you want to make it more kid-friendly
Try some of my other delicious recipes, such as:
With what would you serve your almond milk porridge? Nuts, fruits or any other additional toppings I should know about? Let me know in the comments section below.
Print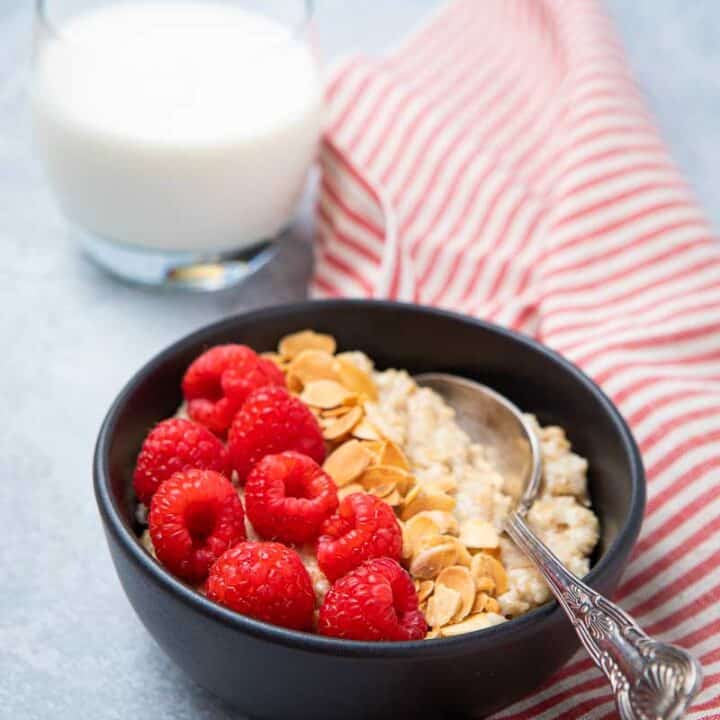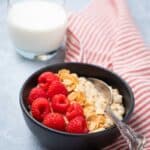 Almond Milk Porridge
---
Description
Try this great vegan-friendly almond milk porridge recipe. Almond milk adds a lovely nutty flavour, but soy, hazelnut or oat milk can be used.
---
200

g

(2 cups) White's Jumbo Oats

750

ml

(3 cups) almond milk

500

ml

(2 cups) water

200

g

(1/2 lb) raspberries, washed

60

ml

(4 tbsp) flaked almonds, toasted
---
Instructions
Place the oats, almond milk and water in a large non-stick saucepan.
Cook for around 5 minutes on a medium heat or until the oats are cooked.
Share the porridge evenly between bowls and top with raspberries and almonds. Enjoy!
Notes
Feel free to play with other types of dairy free milk, such as cashew, hazelnut, soy and oats.
The consistency of the porridge is up to you. You can have it firm, or add extra milk to make it runnier.
Prep Time:

5 minutes

Cook Time:

5 minutes

Category:

Breakfast

Method:

Boil

Cuisine:

Scottish
Keywords: almond milk porridge, vegan porridge recipe, how to make porridge with almond milk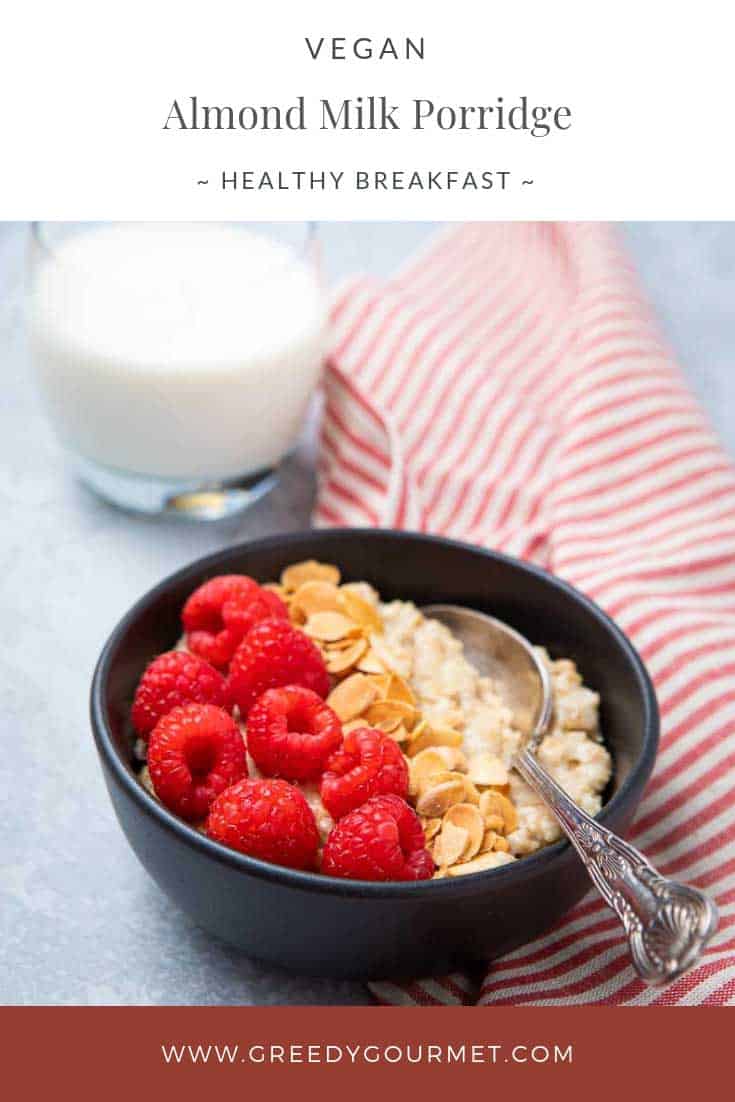 P.S. This is a sponsored post.