Healthy, creamy, easy to make AND it tastes like a dream. Appetizers just don't come any more appetizing than beet hummus… and just feast your eyes on the color!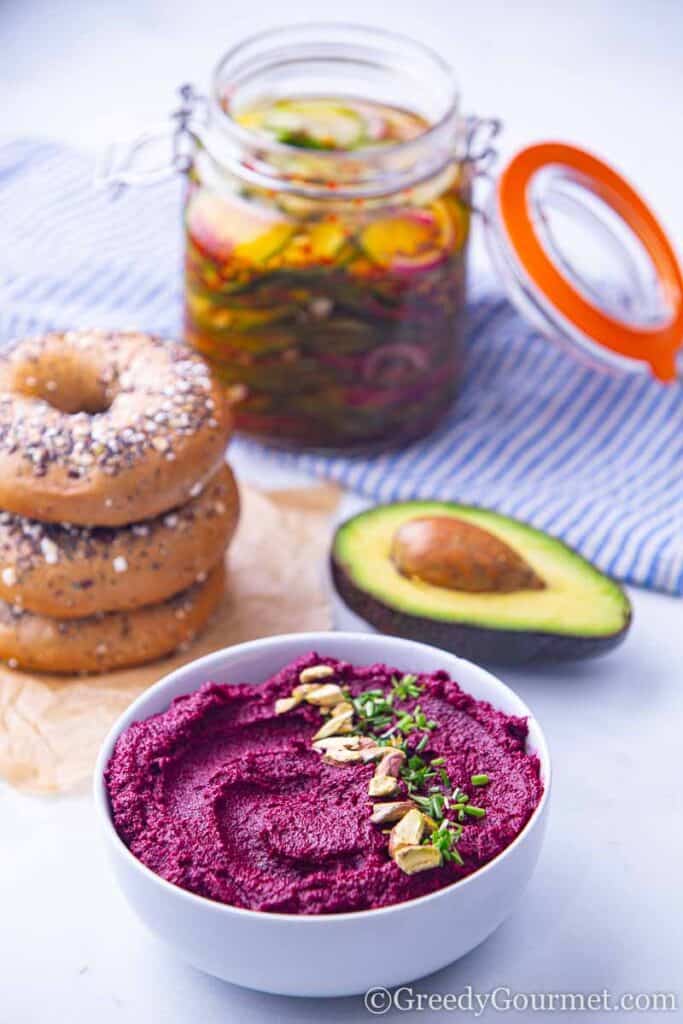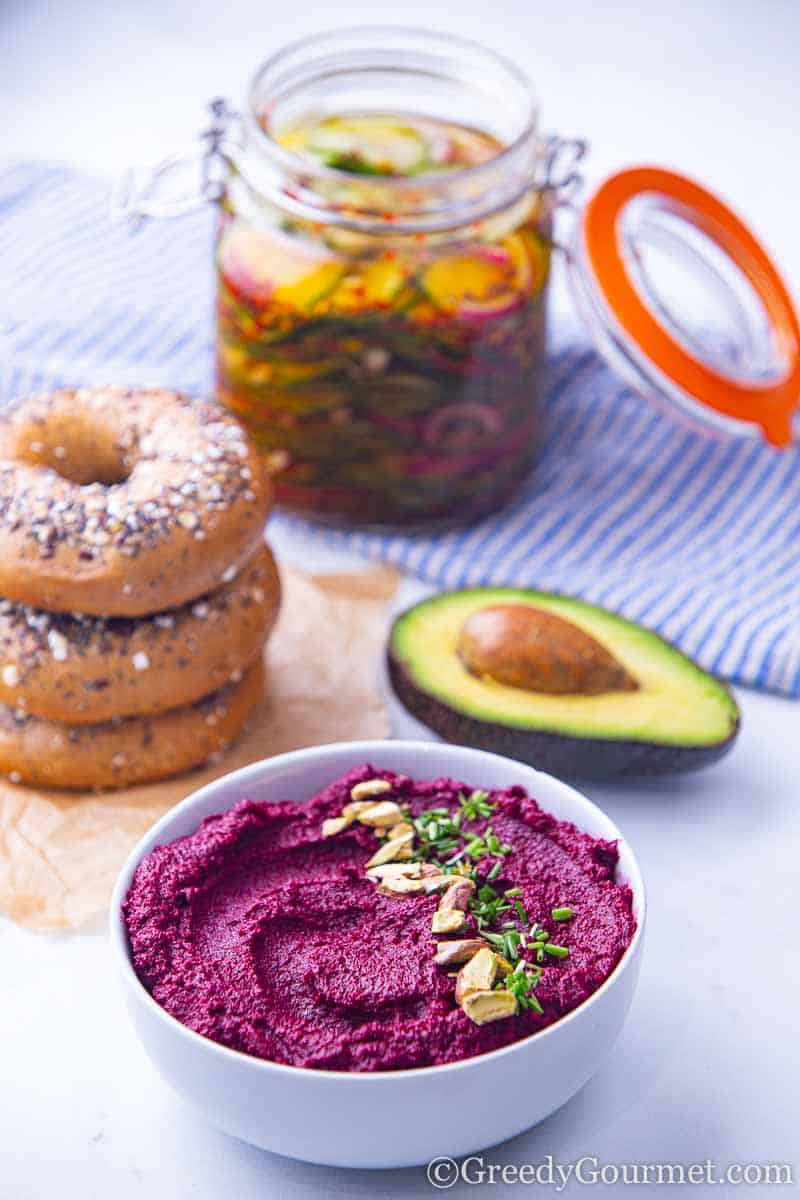 Make it just the once and it'll become your go-to dip, amazing when spread on sandwiches or served with crunchy crudités. So, want to find out how it's done? Let's dive in and discover my divine beet hummus recipe.
Products you need for this recipe
Roasting tin – if you haven't already got one, invest in a good roasting tin. You'll need it for this beet hummus recipe, as roasted beets in the oven brings a great depth of flavor
Kitchen knife – make sure you have a quality, sharp kitchen knife to chop the stems off your beats after you've scrubbed them
Food processor – a simple food processor is an essential part of any proper foodie's kitchen, especially if you want to make some delicious dips like this roasted beet hummus recipe
Olive oil – go for a high-quality extra virgin olive oil, for a more refined taste. The more nuanced flavor of extra virgin gets lost when heated, so don't use it for roasting the beets – save it for adding to the hummus. It's also great when drizzled on salads
Balsamic vinegar – a touch of acidity is essential to bring balance to your roasted beet hummus recipe. When it comes to vinegar, balsamic is the boss!
Tahini – ah, that all-important ingredient. Quite simply, without tahini it isn't hummus. As it's such an important piece of the puzzle, make sure you go for a good quality tahini. It'll make all the difference
Cooked chickpeas – chickpeas, or garbanzo beans, make up the base of hummus. It's completely fine to buy pre-cooked chickpeas – they still taste great. Of course, if you have the time, by all means buy raw chickpeas and cook them from scratch
Ground cumin – this heroic little spice adds a extra twist of earthy Middle Eastern charm, to make this delicious roasted beet hummus recipe all the more special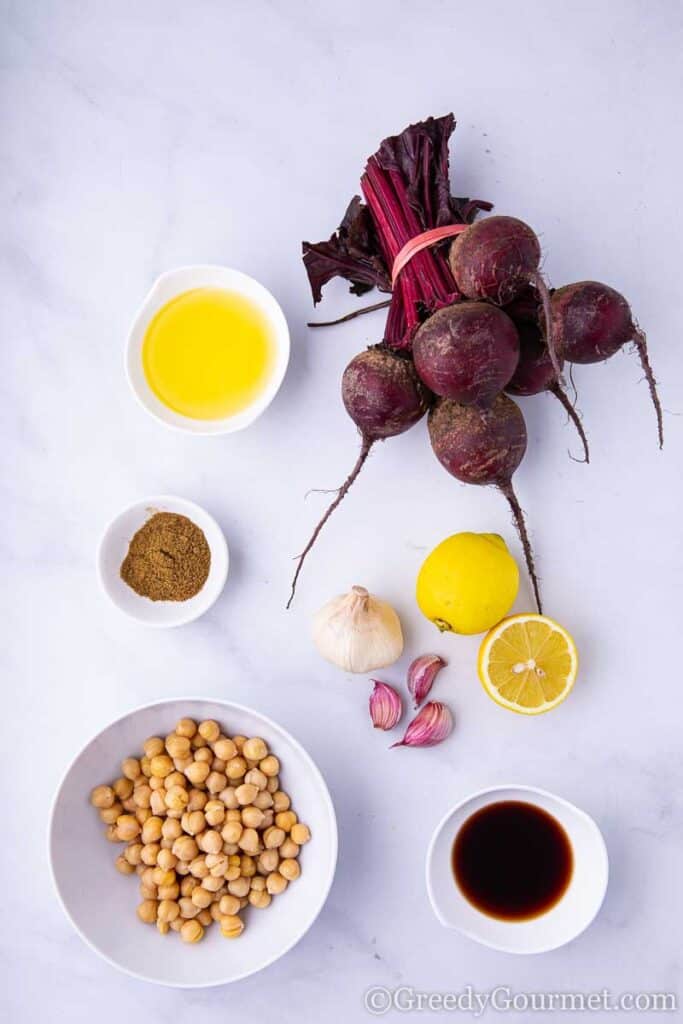 How to make beet hummus
Making beet hummus is so simple, you'll wonder why you haven't tried it before. After you've tried this recipe, you'll only want to eat the homemade stuff!
First, you'll need roasted beets. Roasting them brings a wonderful deep earthiness to your hummus.
Start off by scrubbing your beets. Then, top and tail your beats, chop them into half-inch slices, drizzle with a little olive oil and scatter them in a roasting tin. Place them in a preheated oven – 375ºF/190ºC/gas mark 5, for about 15 minutes. This will tenderize them and bring a subtle sweetness.
They're not done roasting yet though. The roasting stage is a two part process. Next, you'll need to drizzle some quality balsamic vinegar over your beets and return them to the oven for another 15 minutes. This will bring a nice charred flavor and will sweeten the deal!
When they've finished roasting, you'll want to let them cool as you gather the rest of your ingredients.
Once your beets have cooled completely, add them to the food processor, along with the drained chickpeas, garlic clove, lemon juice, olive oil, tahini and cumin. Give it all a good blitz until you've got the most divine, smooth and sumptuous roasted beet hummus!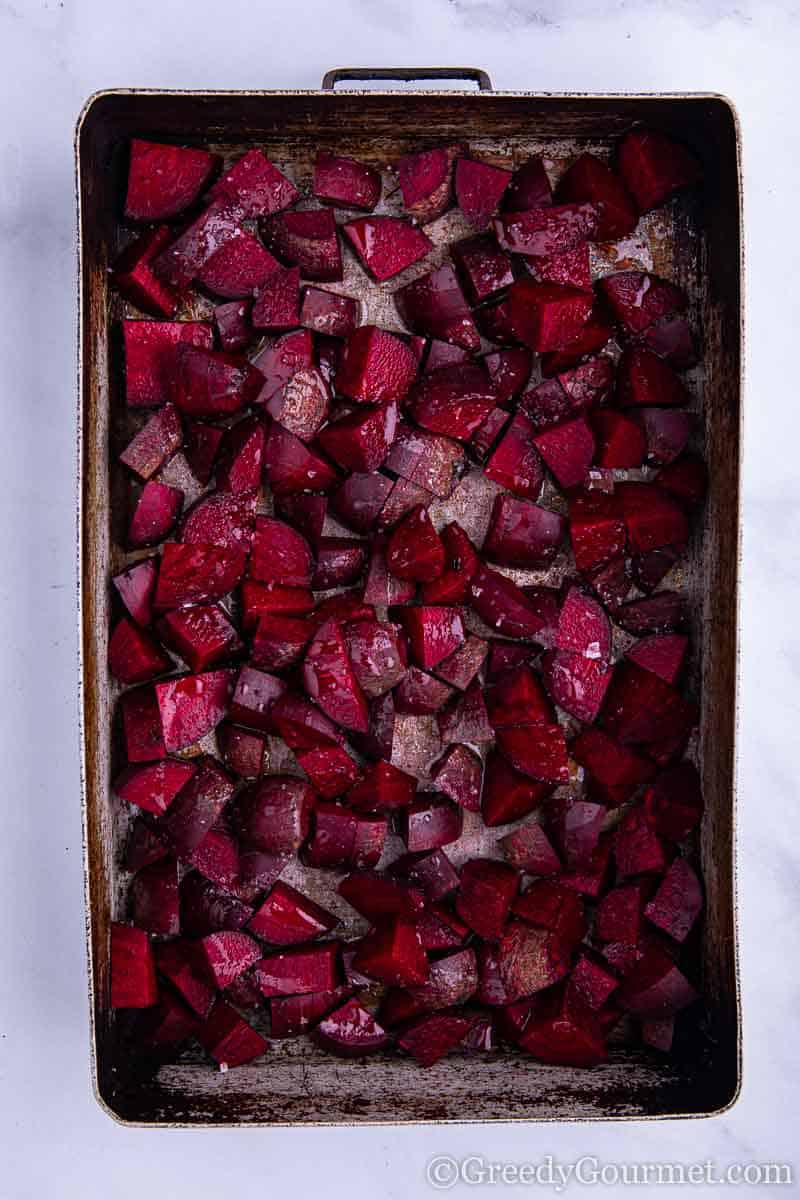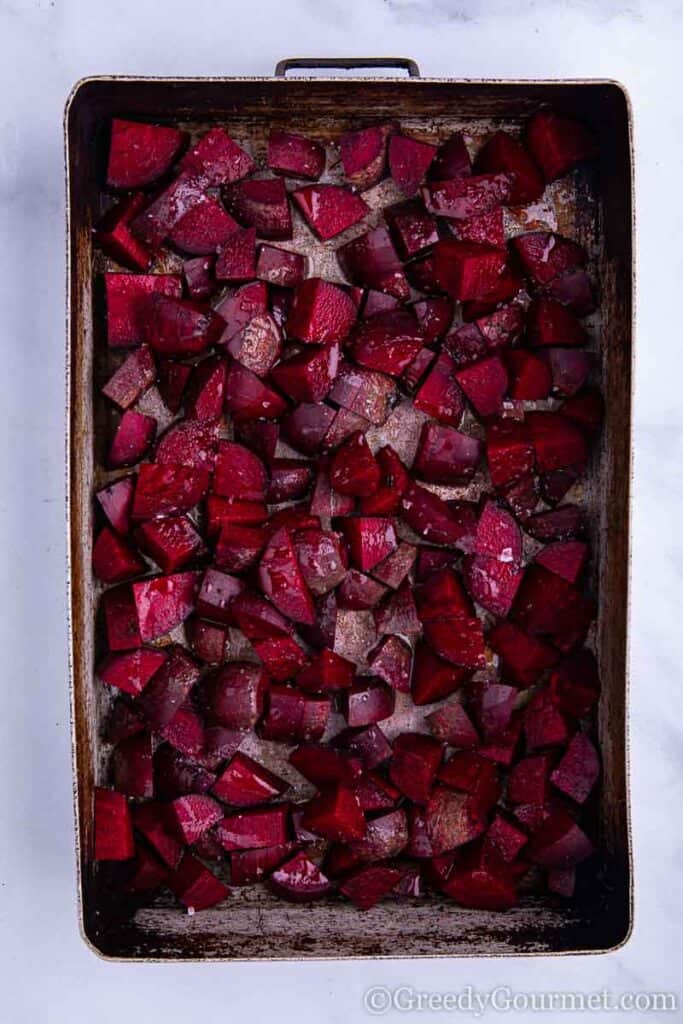 How do you scrub beets?
Okay, it might seem like a silly question, but it's really not! If you've never cooked a beet before, you might not know how to prepare them for cooking.
Well, don't worry, it's a breeze! First, twist off or cut the stems and leaves and place them to one side. Don't throw them away though – they make a delicious salad ingredient.
Using a vegetable scrubbing brush, scrub the beets in cold water until all the dirt and debris have been removed. Don't stress too much about the dirt around the stem area, as you'll need to chop off the stems once your beets have been cleaned.  
What do beets taste like?
Lots of people think beets taste like dirt. Literally, like dirt. Well, this filthy reputation is completely unwarranted and I'm going to prove it with this recipe.
Firstly, let's get to the root of the problem. For some people, beets taste too earthy. This is because they contain a compound called geosmin. Geosmin is something that is found in other foods such as spinach and mushrooms.
Some people are particularly sensitive to geosmin. Actually, geosmin is that distinctive earthy smell that comes after a rainstorm. 
Some love it, some hate it. Either way, this can be toned down with certain flavors and modes of preparation. 
First, clean your beets properly. You'll want to remove all the soil from your beets before you cook them – see the previous section.
Secondly, roasting beets brings out their natural sweetness, which in turn tones down the earthiness that can be off-putting for some.
Adding ingredients like balsamic vinegar to beets when roasting them add even more of a subtle sweet character to their overall flavor. 
Is beet hummus good for you?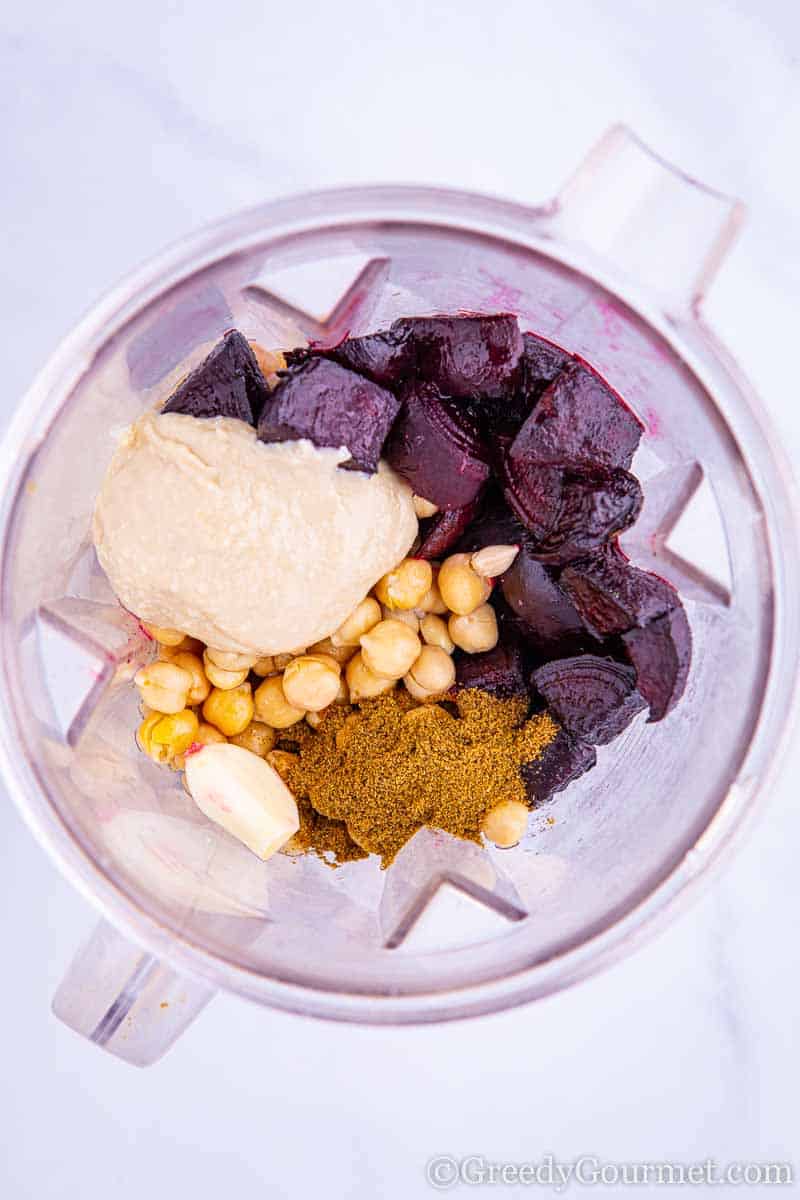 Beet hummus is a wonderful way to add extra flavor to snacks as part of a healthy, balanced diet. 
 
Firstly, the main ingredients in beet hummus, beetroot and chickpeas, are both full of nutrients.
Beetroot, or beets, are a great source of fiber, folate, vitamin C, potassium and manganese. They are also packed full of antioxidants.
As you'll find out below, tahini is also a super healthy ingredient. All of this adds up to what is, despite its rich creamy taste, actually very good for you!
Should you cook chickpeas for hummus?
You should also use cooked chickpeas when making beet hummus. You can buy raw chickpeas and cook them yourself.
It can be quite time consuming, so I don't blame you at all if you buy the ready-cooked stuff, which tastes completely fine.
Is hummus better with or without tahini?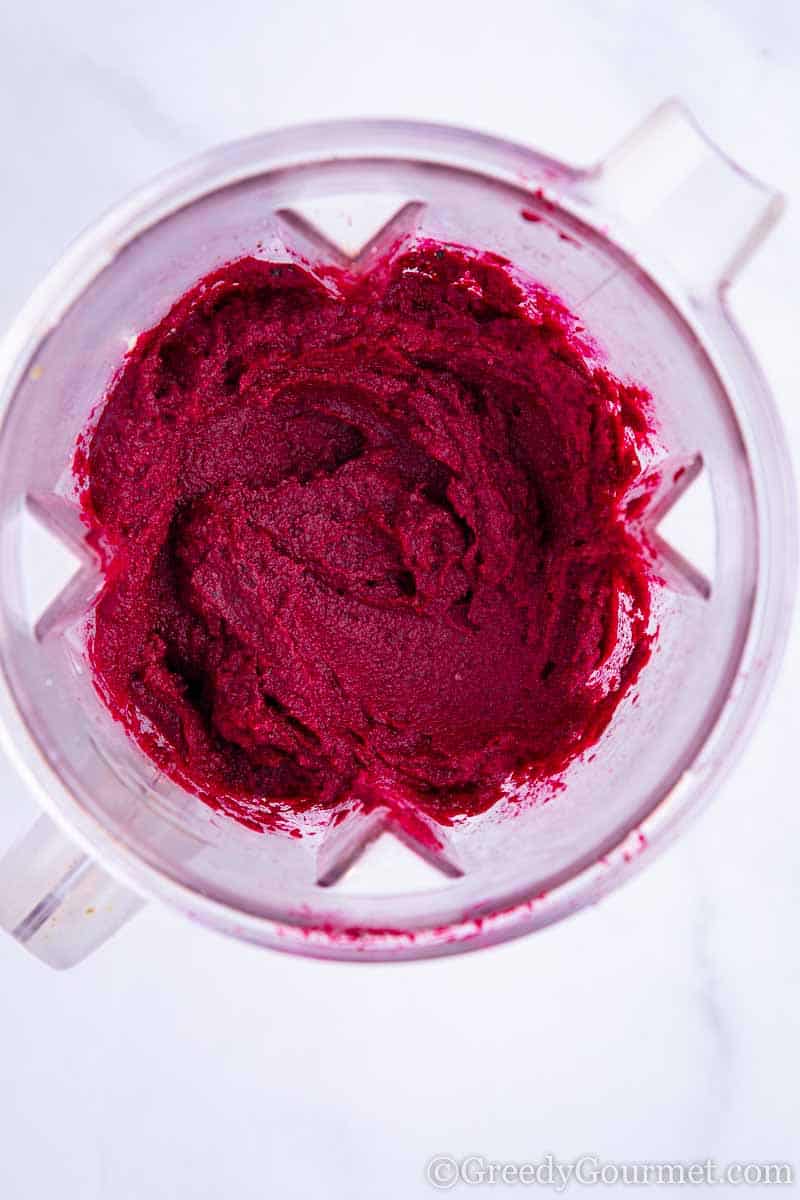 When you think of hummus, you immediately think of chickpeas, garlic, lemon juice and salt. Oh, and what's that other thing in there… um…
Oh, yeah… "tahini." Well, we don't really need that do we? 
You may not be all too aware of what tahini is, what it tastes like or whether you even need it in hummus at all. In actual fact, tahini is a key part of hummus.
It's like the bass player in the band – most people don't even know it's there. Without it, it just wouldn't be the same.
Tahini is a paste made from roasted and ground sesame seeds. It's a traditional Middle Eastern ingredient that brings a slightly salty, nutty, creamy taste and texture to dishes.
That's why it's a crucial part of making hummus, both in terms of the delicious savory flavor and smooth silky consistency.
What's more, tahini is packed full of vitamins and minerals. In fact, eating foods with tahini can lead to an improved immune system, better skin, hair and heart health, liver detoxification and improved cellular function.
How's that for a super food?!
Is it okay to eat hummus everyday?
Yes, you can! Okay, so we're not talking about morning, noon and night here. Everything in moderation.
Still, keep it to small portions and hummus can certainly be a part of your daily diet. Just make sure you get a balanced variety of foods for optimal healthy heating.
Is hummus a good food to help you lose weight?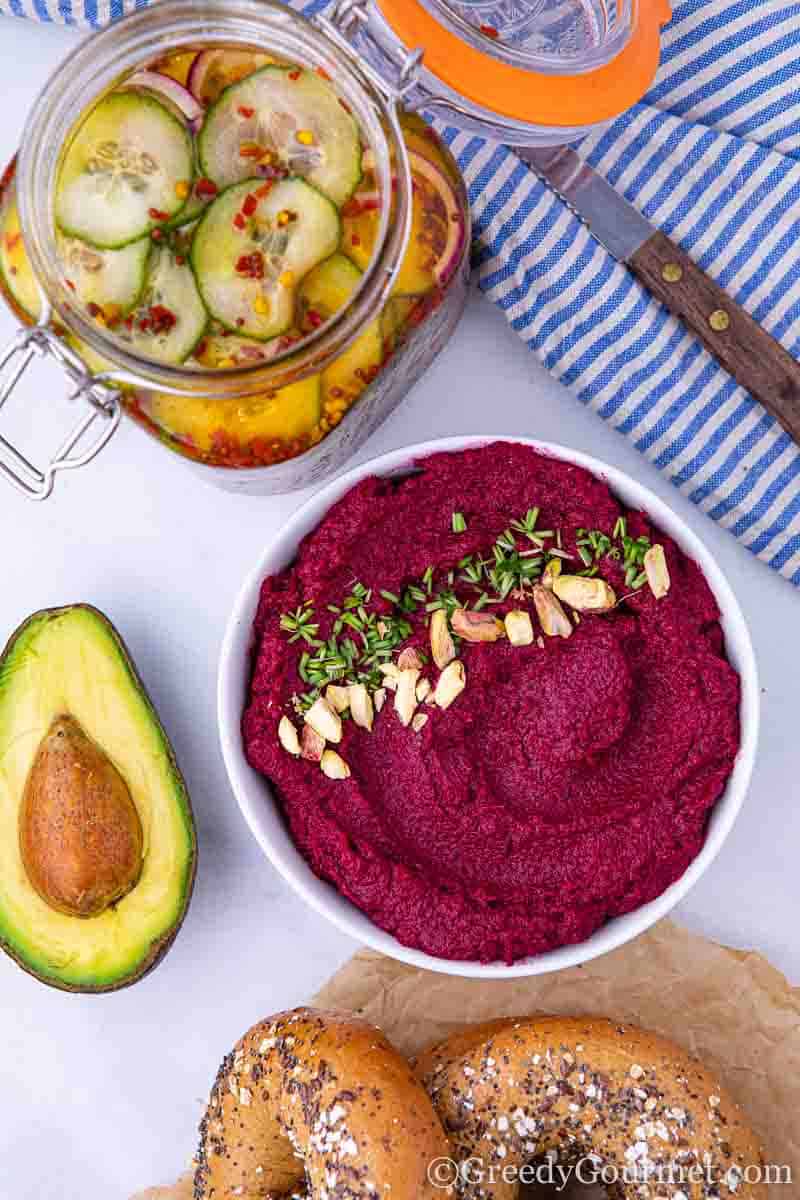 As it's a really good source of protein and fiber, hummus makes a great alternative to other high calorie foods. In this way, if eaten as part of a balanced diet, hummus can contribute to weight loss.
What's the difference between beets and beetroot?
It's that old American-British thing again. There's no difference at all, just a different way of saying things.
In the States, it's known as a 'beet' and in the UK it's known as 'beetroot.'
What can you serve beet hummus with?
Beet or beetroot hummus is delicious when served as a dip for your favorite crunch raw vegetables. Think carrots, cucumber, pepper or broccoli. Or just go for the breadsticks.
Equally delicious is spreading hummus on toast or crackers.
On that note, have you ever thought of making a hummus sandwich? Yep, I know, it sounds like something you might have made in college for a midnight snack, but trust me.
It's absolutely delicious! Check out my hummus sandwich recipe and tell me you don't love it!
How to get creamier beet hummus
First, let's take care of how to correct overly thick hummus. It sounds simple and it is – just a splash of water or a drizzle of olive oil and should have a smoother, silkier texture.
Now, to make it creamier. Simply add more chickpeas. Or, you could even add a tablespoon of Greek yogurt.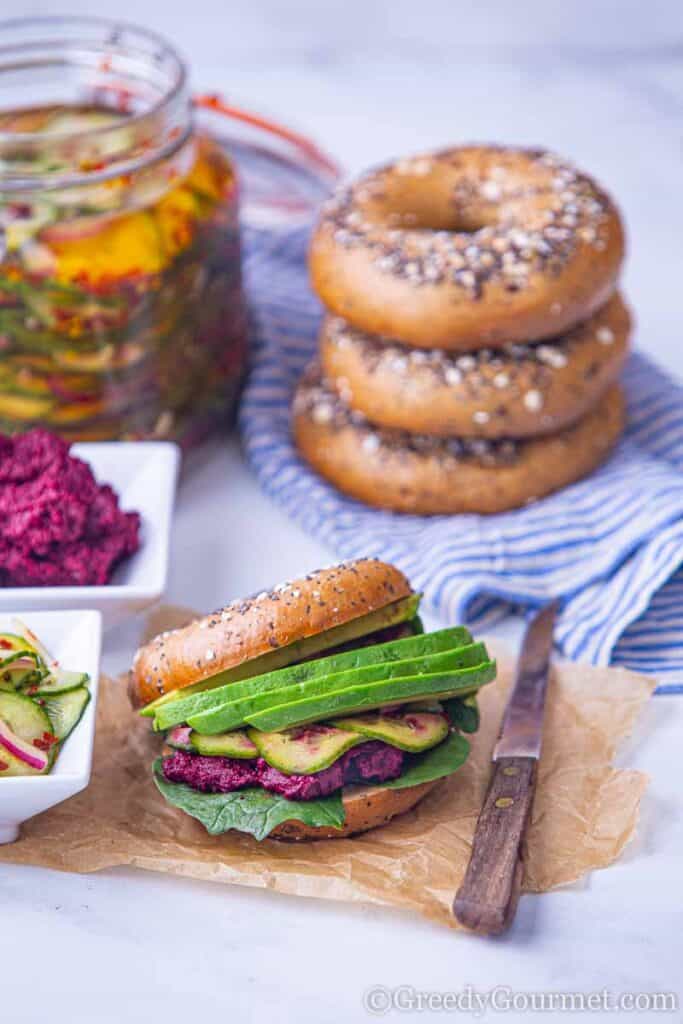 And the beet goes on…
If you love beets and you want to dive straight into another recipe, I've got some amazing flavors for you to try.
The recipes below are all super simple and will open you up to the incredible things you can do with this humble root vegetable. Happy cooking!
Print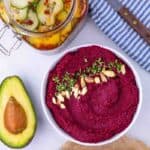 Beet Hummus
---
Author:

Michelle Minnaar

Total Time:

45 minutes

Yield:

6

servings

1

x

Diet:

Vegan
Description
Beet Hummus comprises beets that are roasted with balsamic vinegar, which is then whizzed up with chickpeas, spices and tahini. This healthy vegan lunch is best served with vegetable crudités and warm flatbread. 
---
Roasted Beetroot
500

g

(1lb) beetroot

15

ml

(1 tbsp) olive oil

15

ml

(1 tbsp) balsamic vinegar
Hummus
30

ml

(2 tbsp) olive oil

30

ml

(1 tbsp) tahini

1

lemon, juiced

250

g

(1 1/2 cups) cooked chickpeas

1

garlic clove

2

g

(1 tsp) ground cumin
---
Instructions
Preheat the oven to 190ºC/fan 170ºC/375ºF/gas mark 5.
Scrub the beetroot thoroughly to remove any dirt, then top and tail them.
Cut them in 1cm (½ in) slices and toss them in oil.
Place them in a roasting tin and cook in the oven for 15 minutes. Toss them in the balsamic vinegar, then return them to the oven to cook for another 10-15 minutes, or until they are tender and a little bit charred on the edges.
Remove the beetroot from the oven and leave to cool completely.
Place the olive oil, tahini, lemon juice, chickpeas, garlic, cumin and roasted beetroot in a food processor and blitz until smooth.
Serve with warm flatbread and vegetable crudites. Enjoy!
Notes
In this recipe, 1 can (400g) of chickpeas was used. The figure stated is the drained weight.
For best and easiest results, place the liquids in the food processor first.
If the mixture gets too thick to blitz, add more liquid. You can either add a splash of olive oil or water.
Beetroot hummus is freezable, so you can store it in batches in the freezer.
Feel free to play with the beetroot and chickpea ratios. If you want a hummus with a touch of pink and beetroot flavour, double or triple up on the chickpeas used and adjust the liquids accordingly.
I made a gorgeous hummus sandwich with this recipe, check it out!
Prep Time:

15 minutes

Cook Time:

30 minutes

Category:

Starter

Method:

Roast

Cuisine:

Lebanese
Keywords: beet hummus, beetroot hummus recipe, roasted beet recipe, how to make beet hummus, vegan beet recipe