Blueberry chutney, goat cheese and crackers… they say that simplicity is bliss. When you taste this spiced blueberry chutney spooned on top of creamy goat cheese, you'll totally agree!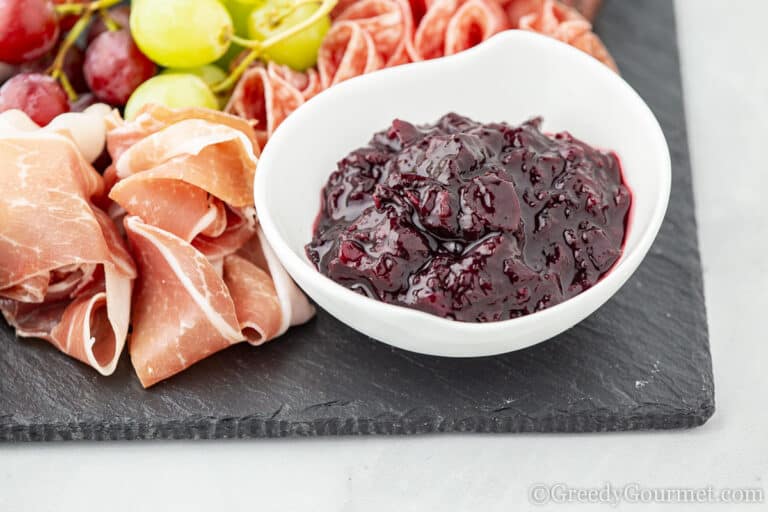 While blueberry isn't the first fruit you think of when you think of chutney, trust me… it just works! The flavors all come together – from the spicy star anise and the zesty lime to the fabulous fruitiness of the fresh blueberries – to create a beautifully balanced chutney that's bursting with flavor.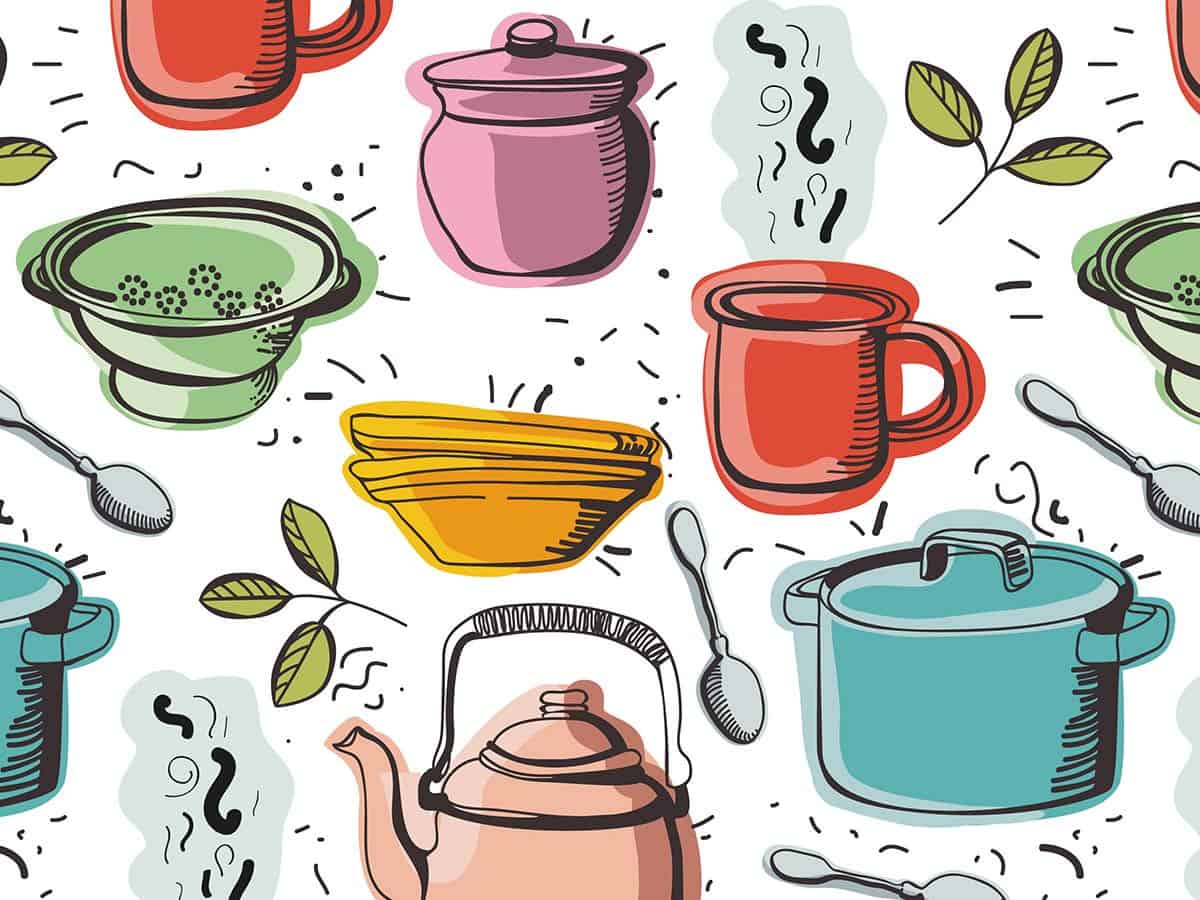 CHUTNEY EQUIPMENT YOU NEED
Check out the ultimate list to chutney making equipment. You actually don't need that much and most of the items are quite affordable!

Making your own preserves is a great and satisfying hobby. Giving the gift the lovely food to your friends and family are especially rewarding!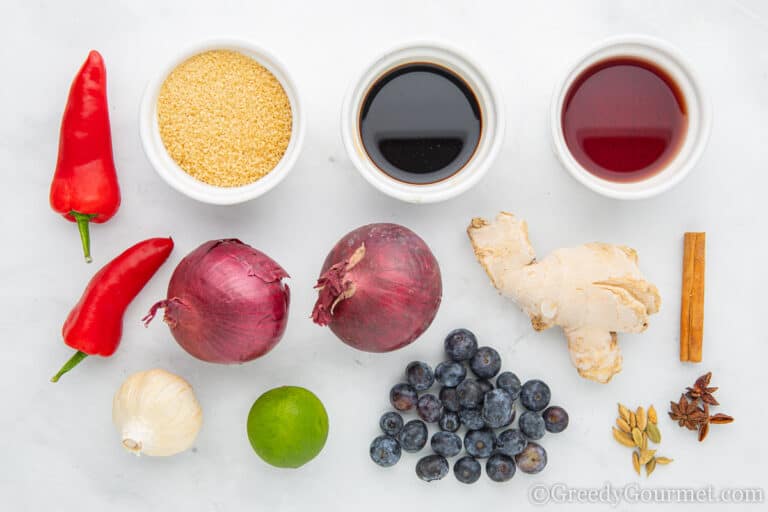 Blueberry chutney recipe
This is a terrifically balanced chutney, with sweet, sour, savoury and spicy flavors that all work in harmony.
If you've tried chutney before, you'll understand just how special it can be. If you haven't, you'll instantly fall for this blueberry chutney. With a taste that tingles on the tongue, it's an absolute stunner, and so easy to make!
Juicy fresh blueberries bring the smooth fruity flavor. Red onion, garlic and fresh ginger add a deep savory taste with a subtle kick. Chillies for extra heat. Lime for the zing. Sugar to balance out the sweetness. Vinegar to help preserve the chutney.
Finally, cinnamon, star anise and cardamom pods to bring that beautiful fragrance and subtle spice that makes this blueberry chutney so special.
Add some creamy goat cheese and you'll be in heaven!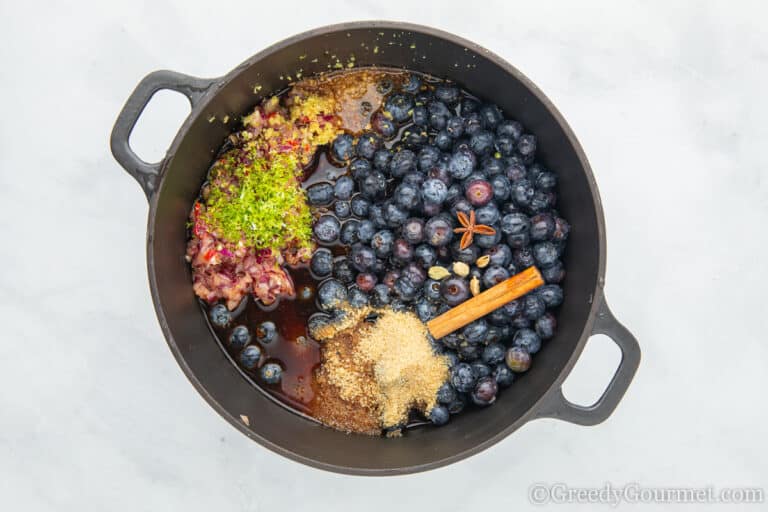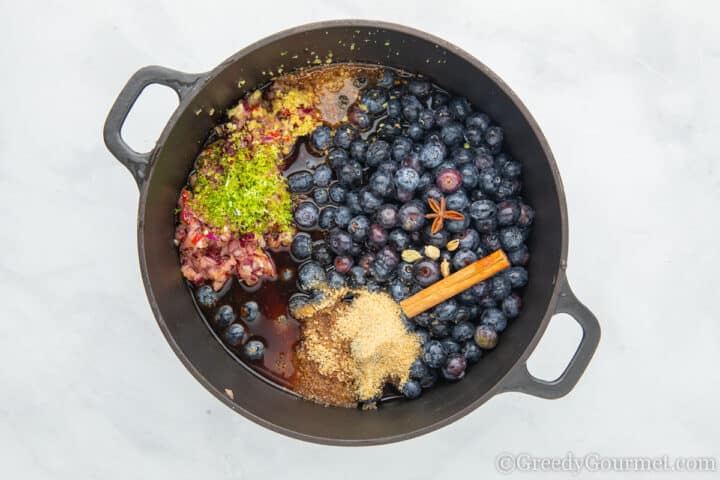 Is fruit chutney healthy?
Absolutely! It can improve digestion, help weight loss by speeding up metabolism, help maintain a healthy heart, reduce inflammation and enhance blood circulation.
How long does chutney last?
If you sterilize the jars and seal them properly, this blueberry chutney will last for a very long time.
It will last over a year unopened when stored in a cool, dry place. Once opened, store it in the fridge and keep it for up to 4 weeks.
When are blueberries in season?
Blueberries love the warmer months. In their native North America, blueberries are in season between April and late September. 
During winter months in the Northern Hemisphere, blueberries are harvested between November and March. Try to buy your blueberries locally and within season. They'll taste all the better for it!
Can I use frozen blueberries?
Yes, you can use frozen blueberries for this chutney recipe. Thaw them overnight in the fridge before weighing them for the recipe, then use as per the instructions below.
What other fruit can you use?
The best thing about chutney is its versatility and flexibility. You can go off script and improvise a little bit!
So, why not make up your own divine combinations! Cater to your own tastes and swap 50% of the blueberries in the recipe below with one of the following fruits:
- Apple
- Peach 
- Apricots
- Sultanas
- Currants
- Pineapple
- Raspberries
- Strawberries
- Grapes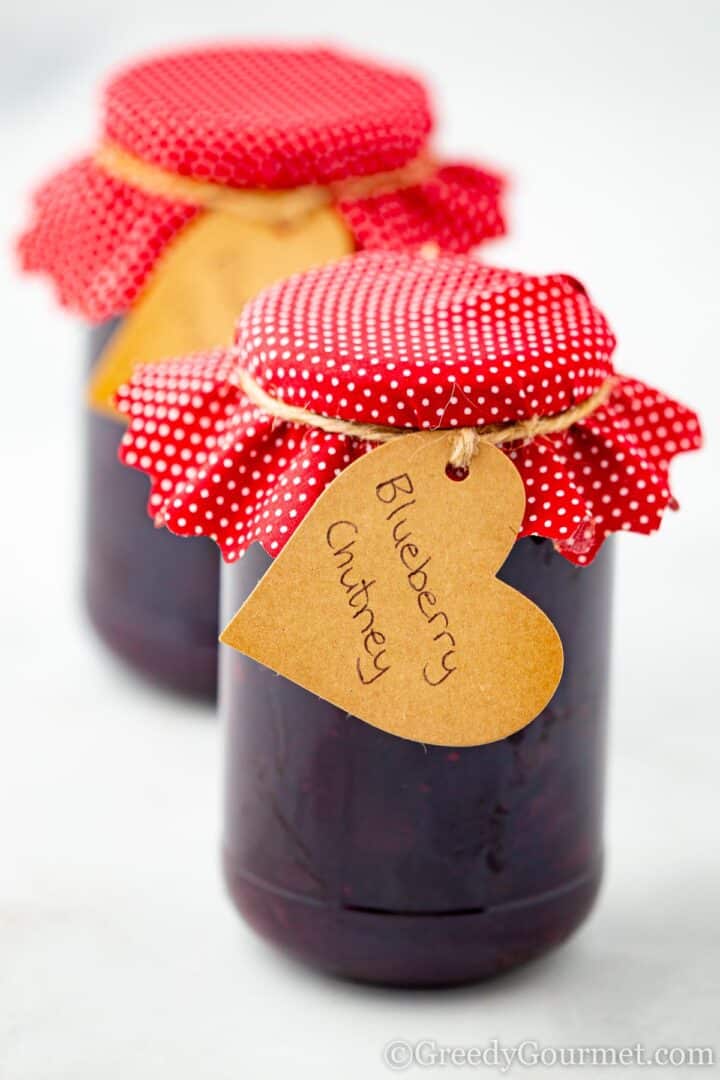 Variations on this chutney recipe
A few more interesting ingredients that will pair perfectly with blueberry chutney:
3g (2 tsp) coriander seed
1 vanilla pod
1g (½ tsp) dried lavender
1g (½ tsp) dried thyme
2g (1 tsp) ground mustard powder
1g (½ tsp) ground cardamom
2g (½ tsp) ground fenugreek
1g (½ tsp) ground cinnamon
2g (1 tbsp) fresh tarragon leaves
2g (1 tsp) dried tarragon
Alcohol that pairs well with blueberries
There's no better way to enjoy this blueberry chutney than as part of a cheeseboard. If you want the perfect tipple to accompany brie, stilton or goat cheese and chutney, try any of the drinks below.
Bourbon
Cognac
Cointreau
Grand marnier
Alternatively, you can actually give your chutney a boozy edge! Simply pour in 125ml (½ cup) of your preferred alcohol at the end of cooking time and bottle up your chutney as soon as possible.
Not only will it make the chutney taste all the more explosive, it will also extend its shelf life.
How to serve blueberry chutney
Blueberry chutney makes a perfect topping for cold meats such as turkey, chicken, pork or ham.
You can also serve it with a cheese board (blue cheese, brie, cream cheese or goat cheese and blueberry especially work really well together).
It's such a good appetizer and one that's so different that it's bound to put a smile on the faces of family and friends.
You could also serve it with crackers, chia seed bread, rye bread or biscuits – don't forget to add the cream cheese or goat cheese for good measure!
Also, add almond butter or macadamia butter for a wonderful flavor combination, or a selection of veggies roasted in olive oil.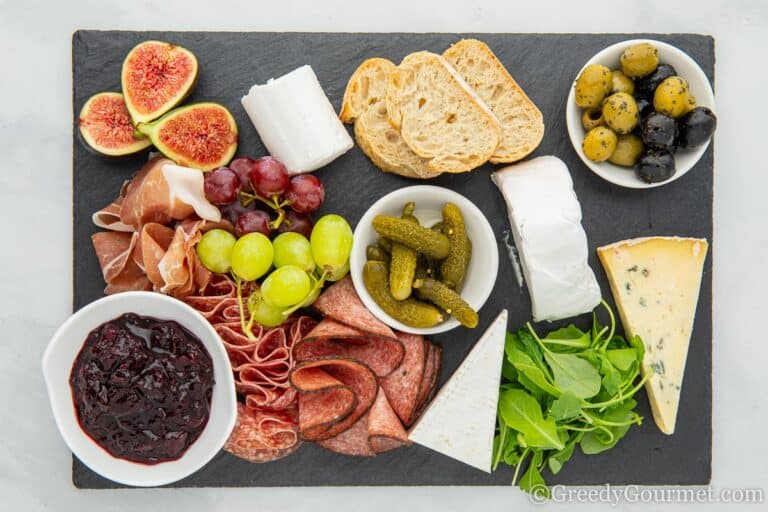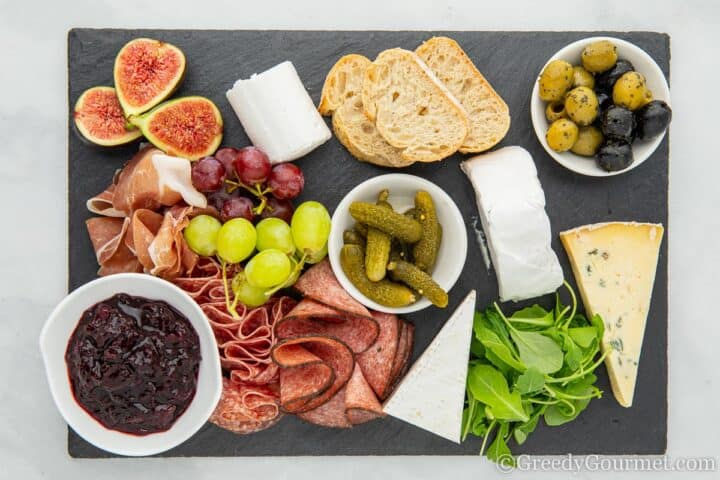 More serving suggestions
Ok, you need more inspiration on how to get the best out of this recipe? Let's break out some Greedy Gourmet favorites and see if we can make some magical flavor combos:
Whole smoked turkey – this whole smoked turkey is incredible! The slow cooked turkey brings melt in the mouth texture and so much flavor. Pair it with blueberry chutney and spice things up a little
Smoked chicken filo tarts – these little smoky tarts are like little delicate delights. The spiced fruit flavor of blueberry chutney is the perfect filling
Orange peel chicken – zesty chicken paired with spiced chutneys is a winning combo and one you've got to try
Goat's cheese and beetroot tart – as I've said, goat cheese and blueberry chutney is an excellent pairing. This tart is certainly ideal as an appetizer alongside your blueberry chutney. Serve it up at a dinner party impress your guests
Duck liver parfait – duck is another meat that really works when paired with this chutney
Lamb sandwich – you'd be forgiven for thinking this lamb sandwich couldn't be improved. Well, leave out the blackcurrant jam and spoon a generous serving of this fantastic chutney for a show stopping sandwich
More ways to use blueberries
Blueberry season calls for some creativity in the kitchen. So, get inspired and whip up some of the beautiful blueberry dishes below:
You could also use this blackberry jam recipe and simply swap blueberries in, for a mouth watering blueberry jam recipe.
Chutney heaven
Once you've made this recipe, you'll realise just how easy and delicious chutney is. So, get those jars ready and get yourself a chutney collection.
Here are just a few of my homemade chutney recipes, each of which are simple to make and oh so delicious. So, get some goat cheese and crackers and start making chutney!
Print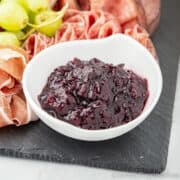 Blueberry Chutney
---
Author:

Michelle Minnaar

Total Time:

1 hour 20 minutes

Yield:

500g

(

1

lb)

1

x

Diet:

Vegan
Description
Transform fresh or frozen blueberries, along with a blend of spices, into a spectacular blueberry chutney. It pairs beautifully with goats cheese and can be served as part of a cheeseboard. 
---
900

g

(2lb) fresh blueberries

2

red onions, chopped

4

garlic cloves, crushed

2.5

cm (1in) fresh ginger root, peeled and chopped

1

lime, juice and zest

2

red chillies, chopped

150

g

(3/4 cup) brown sugar

125

ml

(1/2 cup) red wine vinegar

125

ml

(1/2 cup) balsamic vinegar

1

cinnamon stick

1

star anise

4

cardamom pods, crushed
---
Instructions
Place all the ingredients in a large, heavy bottomed pot and bring to a boil.
Lower the heat to a gentle simmer and cook uncovered for 1 hour. Give it a stir every now and then.
If the chutney hasn't thickened, cook for 10 minutes more or until no excess liquid is detected. 
Season to taste, then spoon into hot, sterilised jars. Seal and then let it cool down.
Leave for a month to mature. Enjoy!
Notes
You can also use frozen blueberries for this recipe. Thaw them first before weighing them for the recipe.
To add some extra texture to this chutney, substitute a few of the fresh blueberries with dried ones! Sultanas or raisins can also be used.
You can substitute the red wine vinegar with apple cider vinegar.
The lime can be substituted with lemon.
Serve with crackers and goat cheese. Enjoy!
Prep Time:

20 minutes

Cook Time:

1 hour

Category:

Condiment

Method:

Boil

Cuisine:

American
Keywords: blueberry chutney recipe, blueberry chutney, blueberry goats cheese, blueberry appetizer