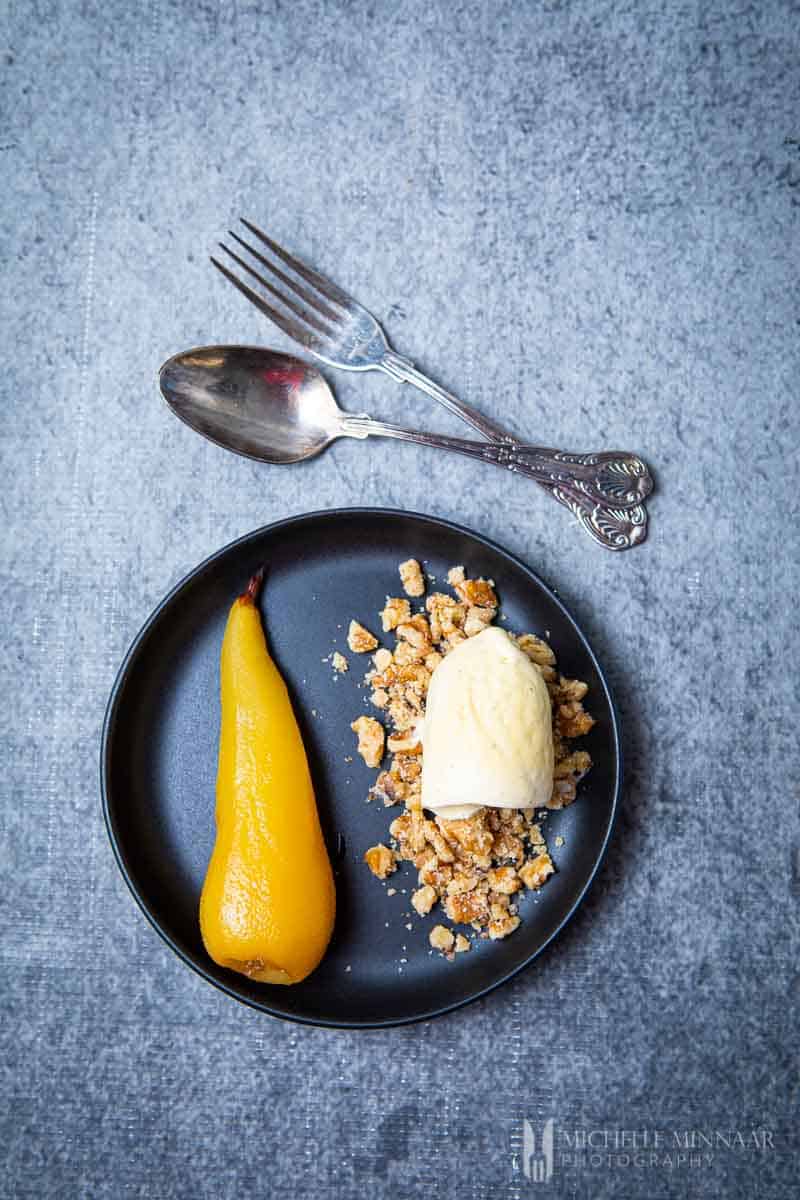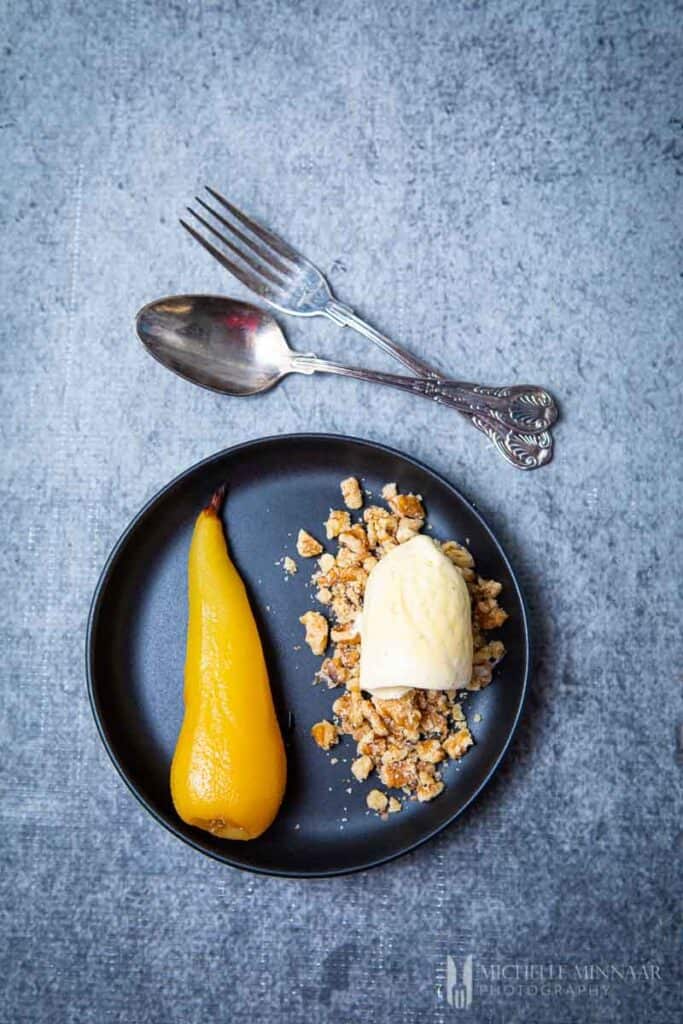 It's not that type of recipe which is drowned in massive amounts of alcohol. On the contrary, the brandy is added to accent the richness of the pears. That being said, parents beware, these brandied pears are for adults only. Even if the pears cook off in the alcohol, there is still some residual alcohol absorbed by the pears, so please don't serve this dessert to little ones. In essence, you can use any type of brandy for this brandied pears recipe. Brandy is a spirit, which is made out of distilled wine. Generally speaking, it contains anywhere from 35% up to 60% of alcohol (which is not a small amount). Therefore, it is usually served as a digestif at the end of dinner. Also, for this brandied pears recipe, you have to be very selective about the type of pears you use. Otherwise, you risk that the pears will dissolve, especially if you purchase soft pears.
brandied pears with Tala Kitchenware
For my brandied pears, I've used the
Tala Clip Top Storage Jar (750 ml)
.  The jar is perfect for storing my pears for a later occasion. Moreover, the jar excellent for preserving fruits, jams and chutneys. Therefore, you can easily store recipes like:
carrot chutney
,
seedless blackberry jam
or
dried fruit compote
. The Tala Clip Top Storage Jar is finished with a silicone seal and stainless-steel wires. Not only will the jars be airtight - ideal for storage and preserving - but also completely leak free! Tala Clip Top Storage Jars are also perfectly handy when it comes to storing dry foods in the kitchen such as rice, beans or pasta. Moreover, you can also use them to store other items such as buttons, crayons, you name it. All in all, Tala Kitchenware is a huge help in the kitchen.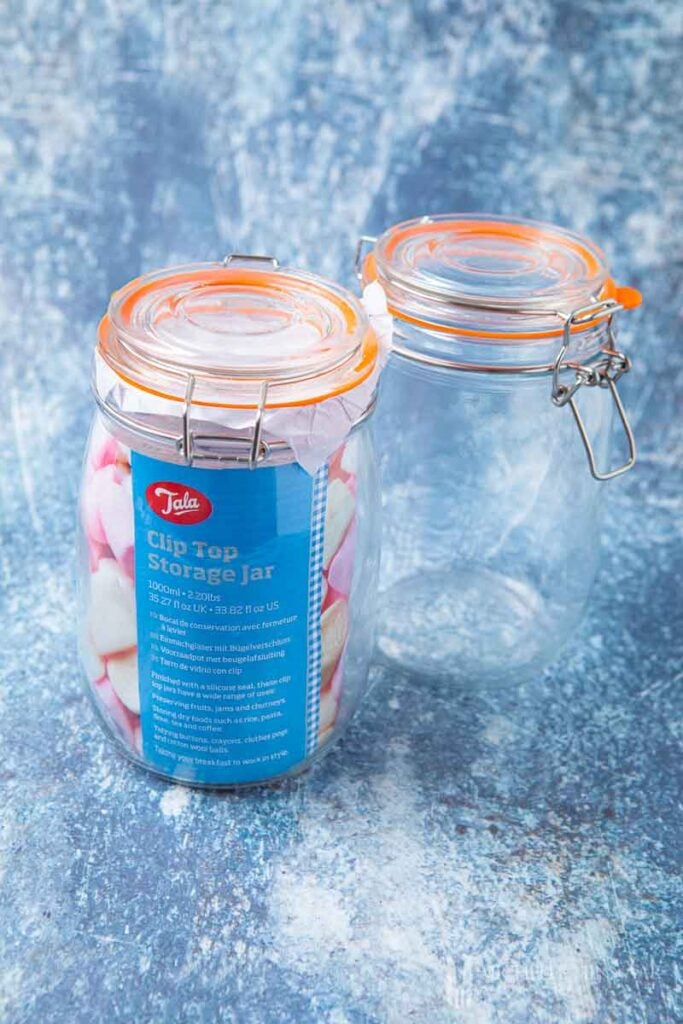 about Tala
In fact, Tala has been a leading kitchenware brand since 1899. It was established first as Taylor Law & Co Ltd., but then rebranded to Tala in the 1920's. Tala has been involved for over 100 years in supplying households with various kitchenware gadgets. In fact, I've had the opportunity to cook my
Louise cake
recipe with their stunning Indigo and Ivory collection. I've used the
Indigo and Ivory flour sifter
, the
enamelled steel roaster
as well as the
mixing bowl
. With Tala, it's always a joy to cook in the kitchen. To learn more about Tala and its history, click right
here
.
where to buy Tala's products
If you are wondering where to get Tala Clip Top Storage jars for the brandied pears, take a look below. You can also find other sizes which could come in handy with other recipes. For example:
So, as you can see, whether you use Tala for these brandied pears or not, you'll certainly be able to find use for the Tala Clip Top Storage Jars. Other super-useful tools that you will find handy are:
Tala Jam Thermometer - this thermometer is vital when preparing jams and confectionery, such as fudge
Tala Jam Funnel - for this recipe, you have two options: keeping the pears whole and intact, or cutting them up into slices or chunks. The former method is preferred if you prize aesthetics but you will need a lot more brandy liquid to keep the pears covered. On the other hand, the chopped pears might not be as visually pleasing but you can cram the maximum of fruit in the jars and use not as much liquid, which will save you money. The choice is yours! If you do go down the chopped pear route, Tala's Jam Funnel comes in super handy to avoid any clumsy spillage.
Tala Wax Discs - these are useful if you decided to use chopped pears. After covering the fruit with the liquid in a smaller glass top jar, you can place a wax disc on top, ensure that an airtight seal is formed and the contents stay fresh. Essential for jam making too!
best pears for brandied pears
The best pears for this brandied pear recipe are those that are firm and won't dissolve once cooked. Therefore, you need to source pears with a firm texture, i.e. Conference, Seckel and Bosc. Avoid the Barlett and Williams varieties at all costs. They will fall apart because they are very sweet, soft and juicy in their raw state.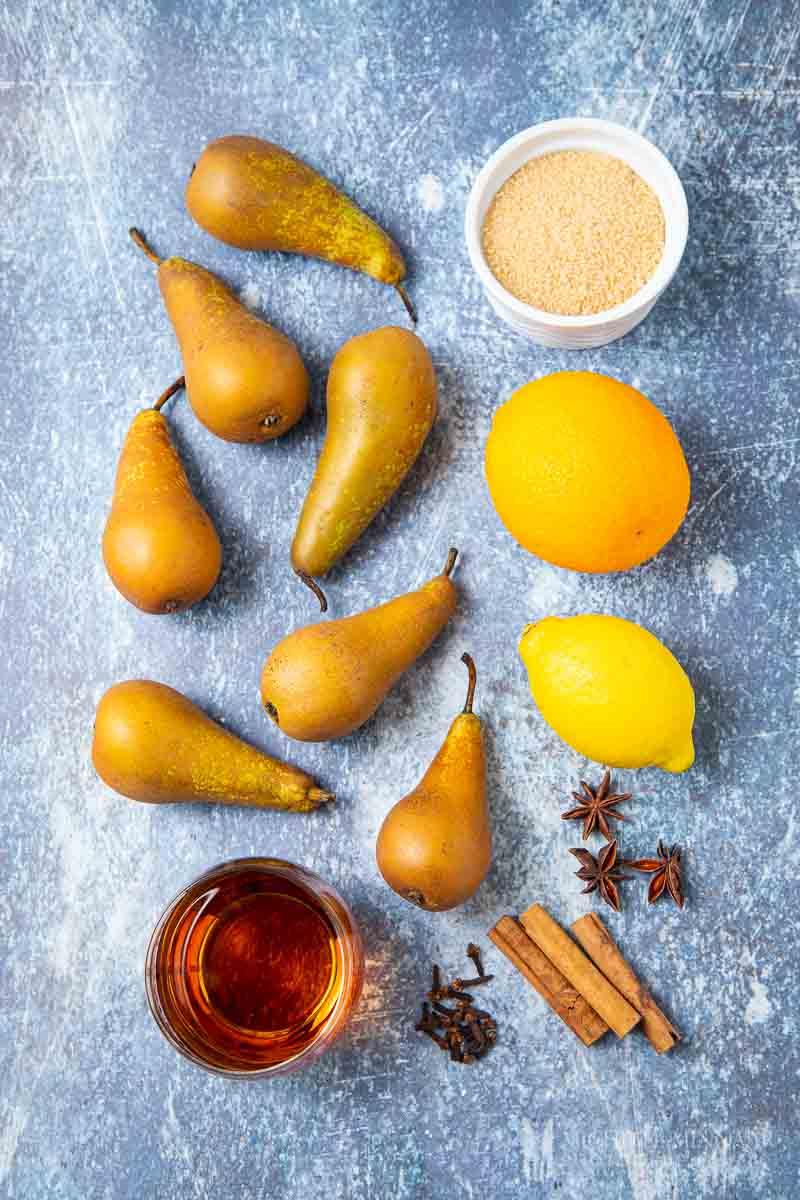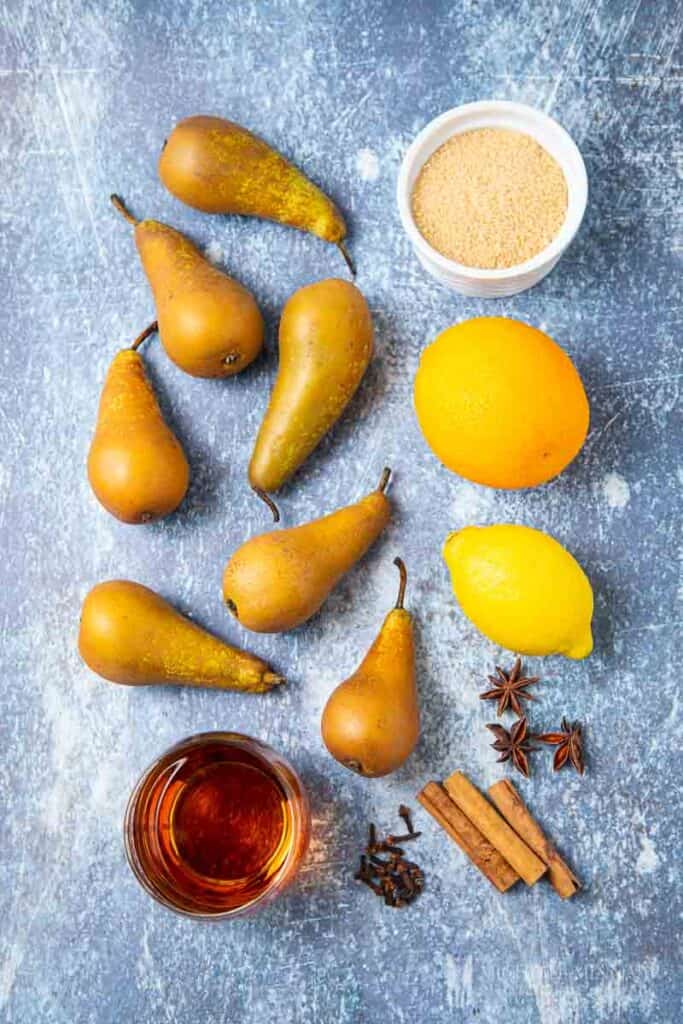 top substitutes for brandy
I've used brandy in many desserts. For example, take my
brandy snaps
or my rich
chocolate brandy torte
. These are also worthy dessert recipes, fit for any occasion, just like this brandied pears recipe. If you find yourself that you are out of brandy and all the stores are closed, there are couple of substitutes which you can use. These include:
cognac - this is the top substitute for these brandied pears
bourbon
rum
sherry
fortified wine liqueur
brandy caramelized pears
Brandy is such a rich flavour; it offers an opportunity to combine it other flavours that impact your taste buds. For instance - caramel! Oftentimes, as mentioned before, brandy is served as a digestif for heavy dishes. For example, if I served these
salted caramel cupcakes
for dessert, I would pair it with a glass of fine brandy. In short, brandy and caramel is a match made in heaven. Imagine dipping these exceptional brandied pears into a silky-smooth caramel. The brandy will cut through the fatty and creamy caramel, turning it into a beautifully balanced dessert.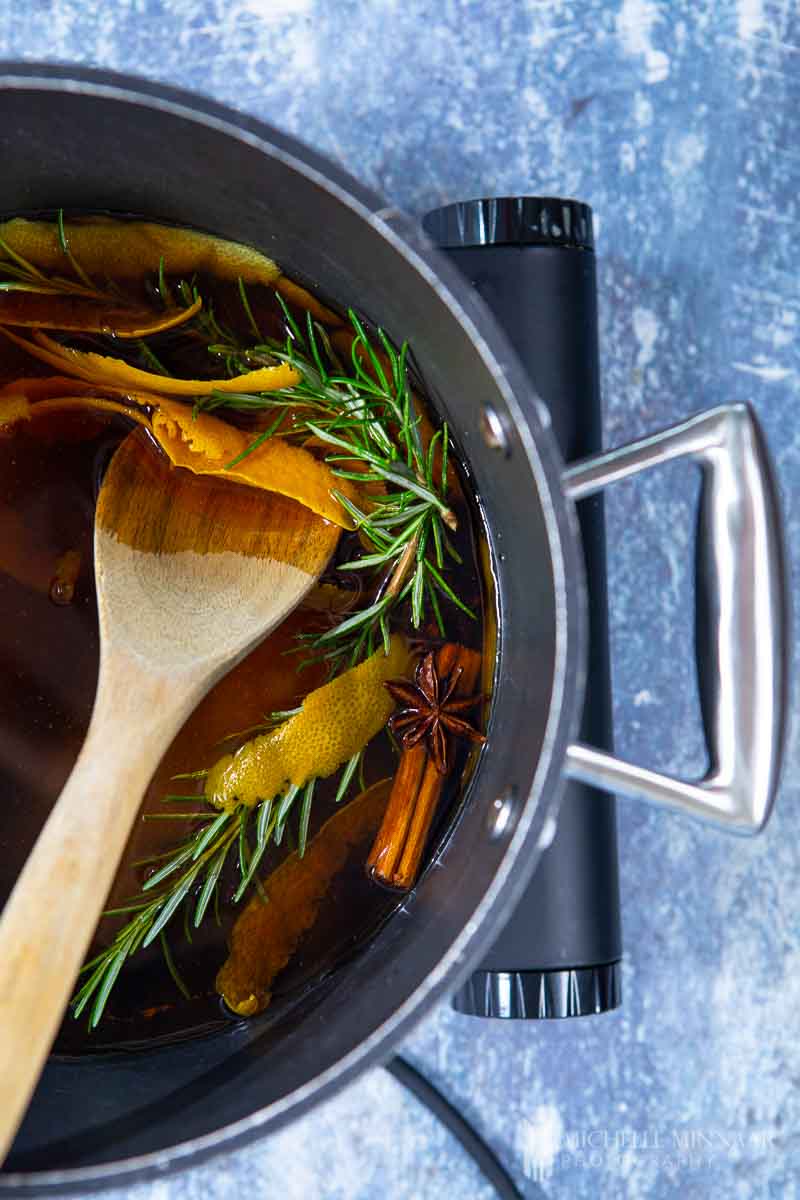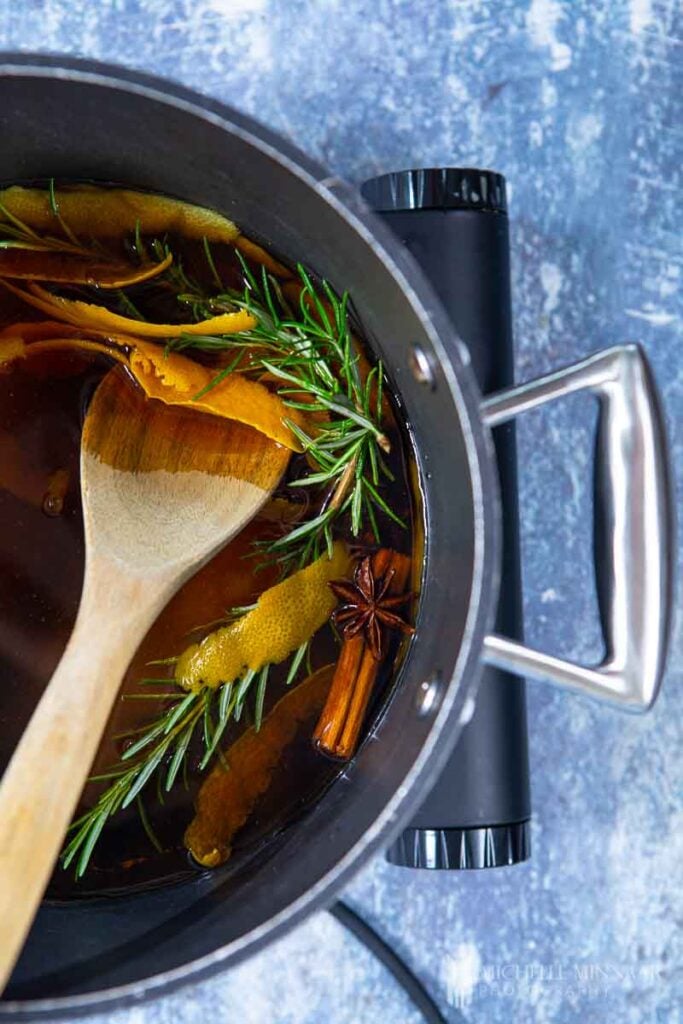 what to do with brandied pears
First and foremost, you have to decide whether or not you would like to serve the brandied pears warm or cold. My preference is for them to be warm. You can also let them cool down in the fridge. Just remember to take them out of the fridge prior to serving them because they won't be as enjoyable. Nobody enjoys taking a bite out of a cold pear. Let them sit in your kitchen for about 10 minutes until they reach room temperature. Next, you can serve the brandied pears with a crumble like this
one
along with a scoop of
this
delicious ice cream.
Pink Custard
works beautifully with it too. Otherwise, you can also serve the brandied pears in a savoury fashion. Just pair the brandied pears with a cheese platter. Best cheeses for job are:
goat's cheese - go for the French Saint Maure
blue cheese - a Stilton or Roquefort will work perfectly with the brandied pears
brie - if wouldn't be a proper cheese platter if you didn't include brie cheese
Of course, you can also toss in some walnuts and grapes. So, as I see it, you've got two choices. Sweet or savoury. Which one will it be?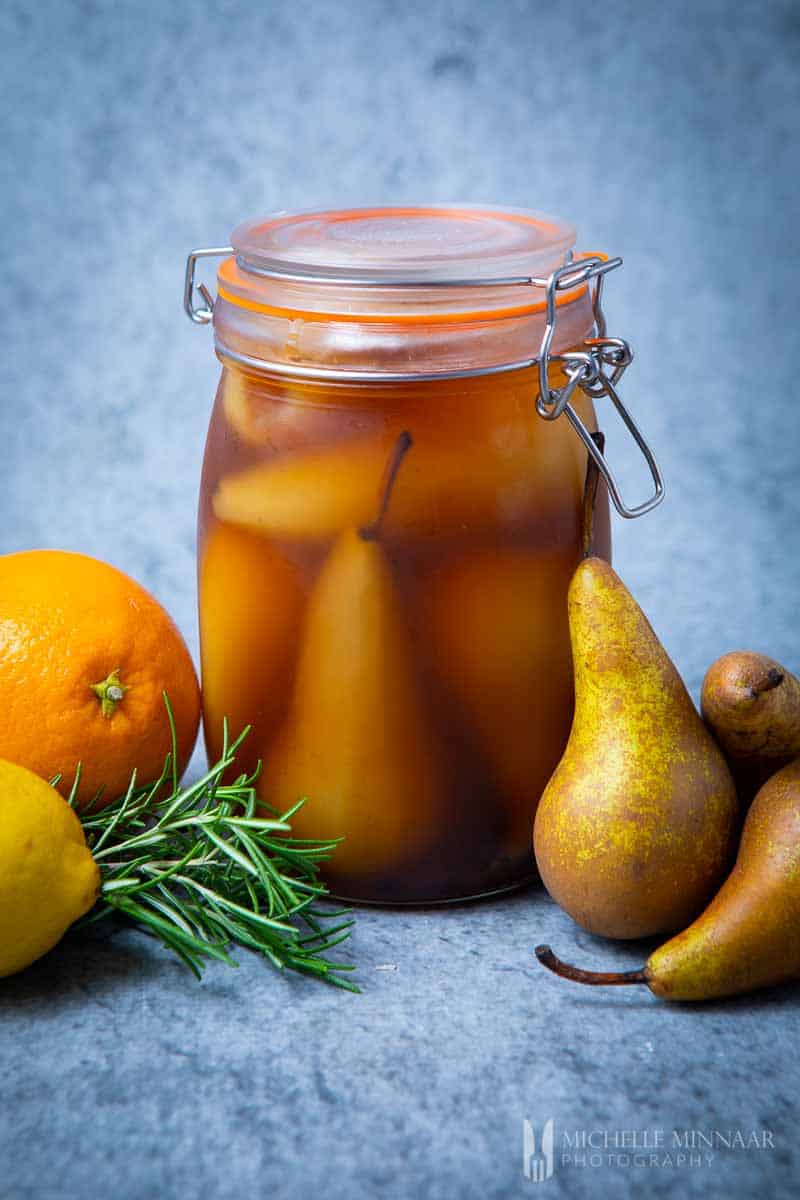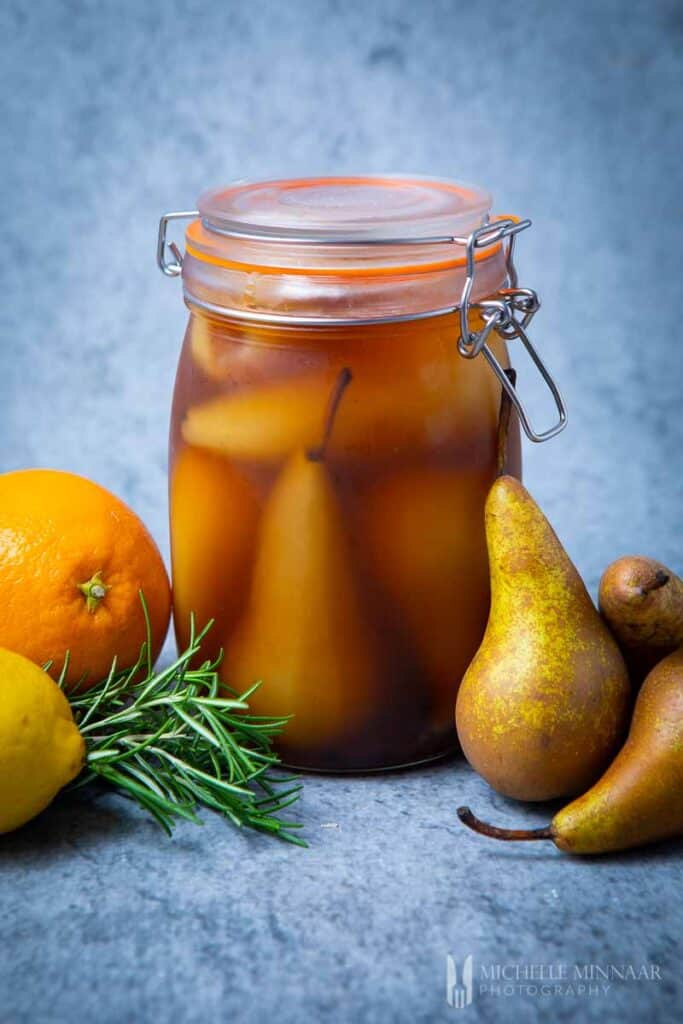 storing pears in alcohol
Of course, with
Tala Clip Top Storage Jars
, it's never been easier to storing pears. The best part is, that the alcohol acts as a conservator. Therefore, you can easily store these brandied pears for a longer period of time. In sum, just make sure that the jar is properly sealed and airtight. You can store them in the fridge for a couple of weeks. After you open the jar containing the brandied pears, you should consume them within a week, when cooled properly in the fridge. I don't recommend freezing the brandied pears. Once you reheat them, the pears will fall apart and won't have an appetising texture. As always, I recommend enjoying the brandied pears immediately as I like to serve the warm. Fresh is always best!
How would you serve your brandied pears? Have you ever made them before? Let me know in the comments section below.
Print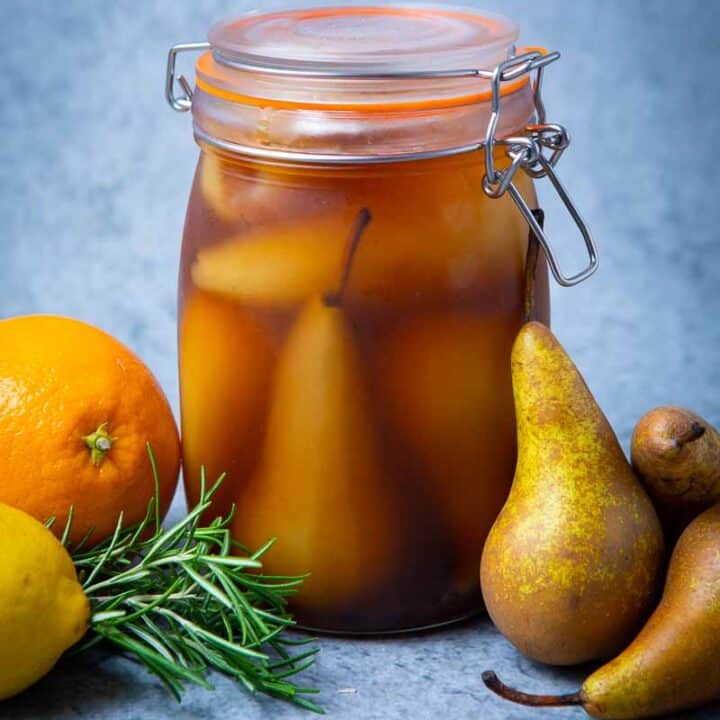 Brandied Pears
---
Description
Cook a big batch of Brandied Pears and turn them into delightful Christmas gifts! Find out which pears to buy and which products you'll need. 
---
560

ml (2 1/4 cups) brandy

560

ml (2 1/4 cups) water

250g

(1 1/4 cup) brown sugar

3

whole cloves

3

whole star anise

2

cinnamon stick

2

lemon, zested

2

orange, zested

3

rosemary sprigs

8

pears, peeled and cored
---
Instructions
Combine all of the ingredients, except for the pears, in a large saucepan. 

Bring to a boil for 1 minute, stir and reduce to a simmer.

Place the pears in the simmering liquid. 

Cover with a lid and let them gently simmer for 20 minutes, or until the pears are tender and cooked through. 

To store: Place the pears with a slotted spoon in sterilised Tala glass-top jars.

Sieve the liquid and pour it in with the pears, ensuring the fruit is submerged. Store in a cool dark place.

To serve: Pour the brandy sauce in a saucepan and cook on a medium-high heat until sauce thickens and coats the back of a spoon. 

Add the pears to it and gently heat through. 

Serve the pears and sauce with vanilla ice cream and chopped walnuts.
Notes
Watch out for the type of pears you purchase. Sweet, eating pears will dissolve in the cooking process. The best varieties you can use is Conference, Bosc or Seckel.
Prep Time:

15 minutes

Cook Time:

30 minutes

Category:

Dessert

Method:

Boil

Cuisine:

French
Keywords: brandied pears, preserved pears recipe, storing pears in alcohol, pear dessert recipe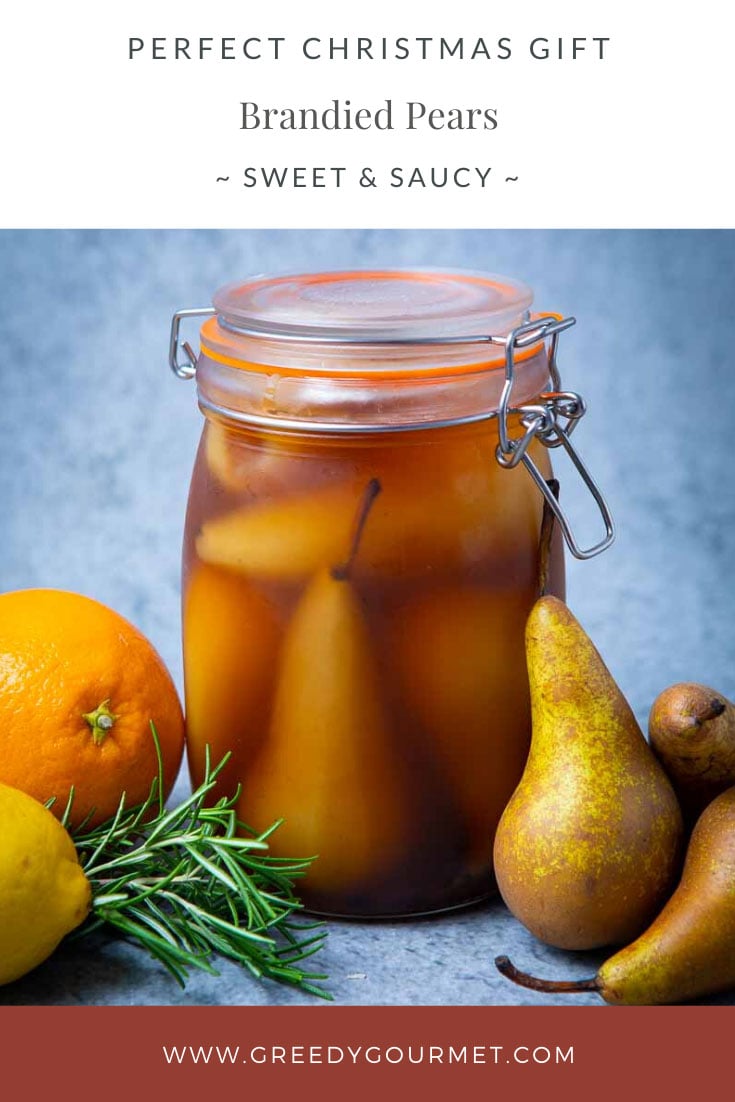 *This is a sponsored post