Enjoy this stupendously delicious vegan butter bean mash recipe. The end result is creamy, tasty and healthy! Make this easy butter bean mash recipe from scratch using the humble yet creamy butter bean.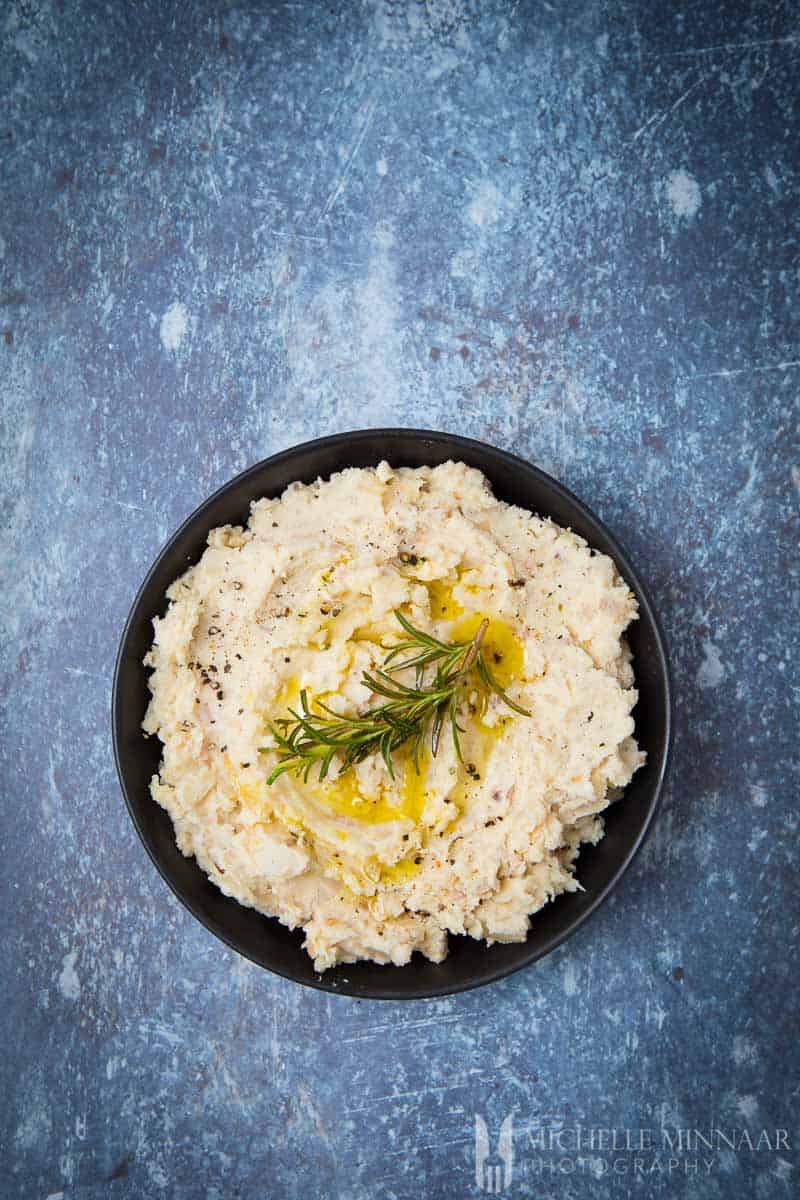 This comforting and creamy recipe shouldn't be underestimated. It is nutrient rich, creamy, as well as filling. It only takes minutes to prepare so is an excellent choice to add to your weekly meal plan.
Also, did I mention that this butter bean mash recipe is completely vegan? Yes, forget adding extra calories to your mash recipe and make it a vegan one instead.
In addition, this is one of the most inexpensive mash recipes you'll ever encounter. Goes to show, you don't need to purchase premium quality produce or ingredients to make a premium tasting butter bean mash like this one.
Add your favourite herbs or spices and spin this mash in the direction you want. Enjoy and let me know which combination of flavours you went for!
herby vegan butter bean mash recipe with rosemary
This is a very simple butter bean recipe to master. The key to nailing this recipe is to source the proper bean – that is, the butter bean. Butter beans are also known as lima beans, sieva beans or Madagascar beans.
Visually, they are larger than your ordinary bean and they are white to beige in colour. Most noteworthy, they are known for their soft and creamy texture.
They are perfect for cooking. Also, they are a fantastic addition for salads. For instance, you can use butter beans in a nutritious warm butter bean salad with vegetables.
Also, you can make a cold butter bean salad with pesto which is perfect for the summer months. You should totally check out this white bean dip recipe.
butter bean history
Originally, the butter bean came from Latin America. More specifically, from the Andes region. The cultivation of these beans goes back all the way to 2000 B.C.!
Down through the ages, the use of this specific bean was spread throughout the Americas. In the 14th century, one could find butter bean dishes around the Rio Grande region.
Did you know that there are in fact two types of butter bean? There are those which contain small seeds – these are referred to as the sieva type. They are most commonly found from Argentina all the way up to Mexico.
The second variety includes those beans which contain large seeds. These are known as lima beans.
Today, you can purchase butter beans in canned form. However, it is also not uncommon to purchase them dried. Nevertheless, either form make an excellent addition to any type of meal because they are quite nutritious.
For example, this butter bean mash is perfect as a healthy side dish that can easily fill you up. In Spain, the butter bean is just one of the ingredients needed to make the famous paella (Valencian type).
best substitutes for butter beans
As the butter beans are relatively soft and creamy in texture, you will need to substitute with a bean that has a similar texture. These are some of the top substitutes for butter beans:
cannellini beans - they are large and white. Soft in texture, too, and mild in flavour.
red kidney beans - they fall apart and are mushy when cooked.
fava beans - they are very similar in taste and you can manipulate them in a similar fashion.
edamame beans - this only works as a substitute when you remove the outer shell
garbanzo beans - relatively good substitute. If you have them in a dried form, soak them overnight!
Bean substitutes that you should stay away from definitely include the mung bean as it has a firm texture. Also, steer clear of smaller bean types such as the adzuki beans, black eyed peas and pinto beans.
butter bean mash ideas
This is a simple vegan butter bean mash recipe. However, just because it is vegan doesn't mean it's plain. My recipe involves a herby butter bean mash with the use of rosemary.
However, the butter bean mash works with any type of herb. For example, the butter bean also pairs well with fresh parsley, fresh coriander, oregano, sage, and chives. Basically, with any type of common herb.
The butter bean mash also works very well with spices. To send this plateful in a Middle Eastern direction, try adding a touch of cumin powder, ground coriander powder and a hint of sumac for some acidity. Sprinkle with some white sesame seeds and finish with some pomegranate seeds.
If you feel like adding a more continental flavour, then add a pinch of smoked paprika. The normal paprika version also works very well. Careful though, the butter bean mash will change colour.
If you want to take this recipe to the next level for carnivores, I highly recommend frying up some bits of bacon and adding to your taste.
creamy butter bean mash with garlic
Another common flavour enhancer of butter bean mash is garlic. I highly recommend roasting the garlic on low heat in the oven first. The garlic will add a sweet note to the butter bean mash – this combination would work very well with thyme.
Plus, it will still remain a vegan recipe. Otherwise, if you wish to stick to the recipe, just season to taste.
butter bean mash calories
The beauty of this recipe is that it is perfect for those trying to cut down on bread or heavy butter-filled mashes. This butter bean mash is an excellent idea for those who are weight conscious. Furthermore, the butter bean is a rich source of potassium.
butter bean recipes
I love using leftover butter beans in soups. Inspire yourself with this hearty sausage soup with butter beans or this baked kabocha squash and butter bean soup.
These are both delicious – true winter warmers – making them perfect on a cold and rainy day.
However, if you really want to test the creamy nature of the butter beans, then make this butter bean, bacon and thyme soup. It's silky smooth and very enjoyable!
In addition, because of the soft nature of the butter beans, they are perfect for casseroles.
Check out my pork sausage, leek, carrot and butter bean casserole. It's really easy to make and uses very simple ingredients, but the end result is heavenly!
For more side dish inspiration, check out the following:
Print
Butter Bean Mash
---
Description
A herby butter bean mash with rosemary. Make this simple and vegan butter bean mash recipe in just a matter of minutes. It is inexpensive and nutritious.
---
30

ml (1 tbsp) olive oil

2

onions, peeled and finely chopped

2

garlic cloves, peeled and crushed

1

sprig rosemary

500g

(1lb) cooked butter beans

1

lemon, juiced and zested
---
Instructions
Gently fry the onion, garlic and rosemary in the oil until the onions are soft and cooked through.

Add the butter beans to the pan, stir and heat through.

Drizzle with lemon juice and stir in the zest.

Mash the beans manually. Alternatively, pour half the mixture into a food processor and blend until smooth, stirring in the remaining butterbean mixture.

Serve immediately.
Notes
Treat butter bean mash the same as you would potato mash. It's just healthier!
Prep Time:

15 minutes

Cook Time:

20 minutes

Category:

Side Dish

Cuisine:

French
Nutrition
Serving Size:

1 serving

Calories:

232

Sugar:

4.6 g

Sodium:

13 mg

Fat:

8.3 g

Saturated Fat:

1.3 g

Carbohydrates:

32.4 g

Fiber:

7.9 g

Protein:

9.4 g
save the recipe to your pinterest board