Cucumber salad is one of those simpler recipes that is handy for any occasion, whether it be a barbecue or simply preparing tomorrow's lunchbox.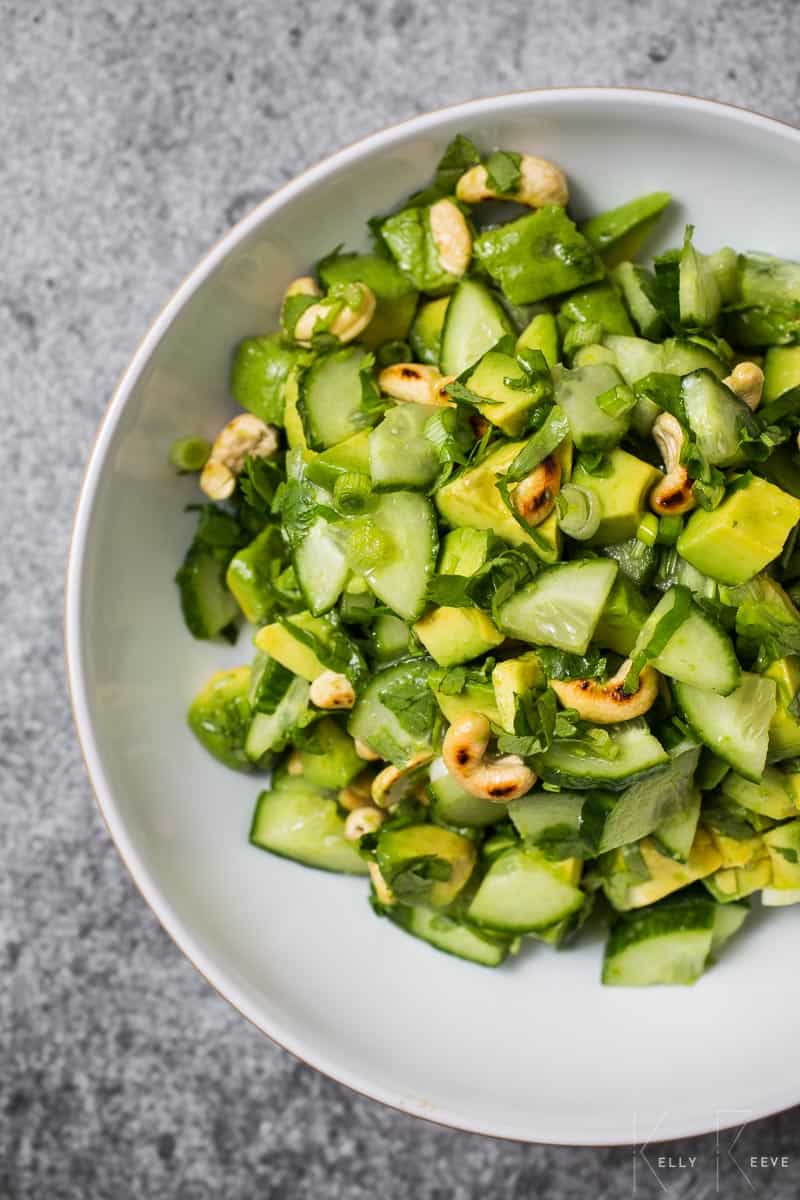 Plus, this salad will leave you feeling guilt-free as most of the ingredients inside are green and super healthy! You can eat as much as you want.
Preparation time is quick and this recipe is an excellent option as a side dish or main for vegans or vegetarians! I just love the taste and vibrant colours of this salad and I hope you will too.
selecting the cucumber
The quality of the cucumber salad can go downhill the moment you pick the wrong cucumber. Nowadays, the type of cucumber we get in the supermarket is sort of long and soft.
Sometimes, when you give the ends a squeeze you'll realise how soft they are. This is not good!
Many people don't realise this, but a cucumber should be firm and have little spikes on its skin. The spikes are evidence that the cucumber is fresh.
People who eat organic cucumbers or grow their own, know exactly what I am talking about. Not only do you want the right crunch in your cucumber salad, but surely also the right taste.
Did you know that the cucumber comes from India? It has been around for more than 3000 years. Today, China accounts for more than 75% of the world's cucumber produce.
If you find you have plenty of cucumber leftover after making this recipe, check out my cucumber ribbon salad for a healthy lunch that packs some serious flavour!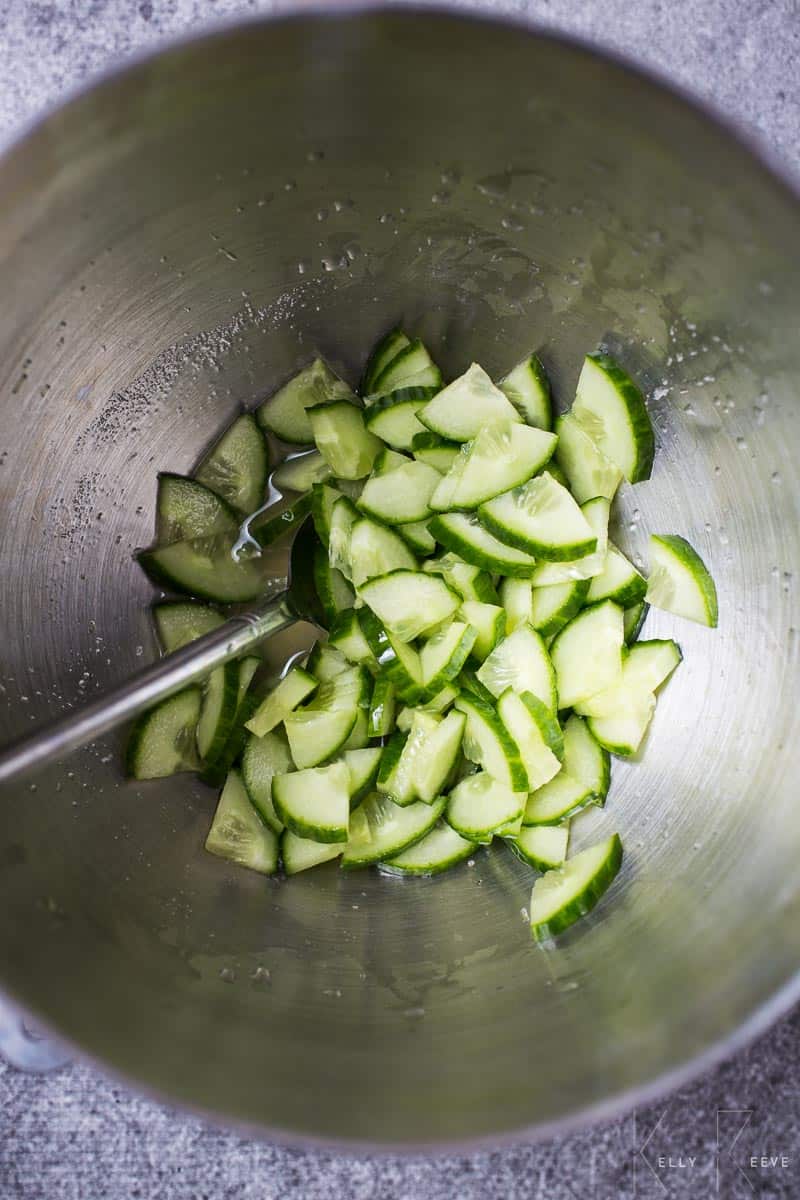 the avocado is also important
The avocado is also an important element in this cucumber salad and should not be neglected. I've recently mentioned how one should source the perfect avocado in the supermarket in my mango salsa recipe.
Let's face it, nothing is more disappointing, when you spend so much money on buying avocados and it's dotted with brown spots or tastes off. There are tips and tricks that can help you prevent this from happening.
Today, I'll give you a very good trick how to cut and clean avocado properly. Take a knife and cut the avocado in half.
Twist the two halves against each other, so they separate. With this step, you should have two perfect halves in your hands.
Then, take a tablespoon and literally scoop the avocado out. I used to peel the avocado and it took forever. With the scooping, you'll have a perfect dome on your cutting board.
Do you normally use the tablespoon as well? This trick also works with kiwis, but with a teaspoon of course!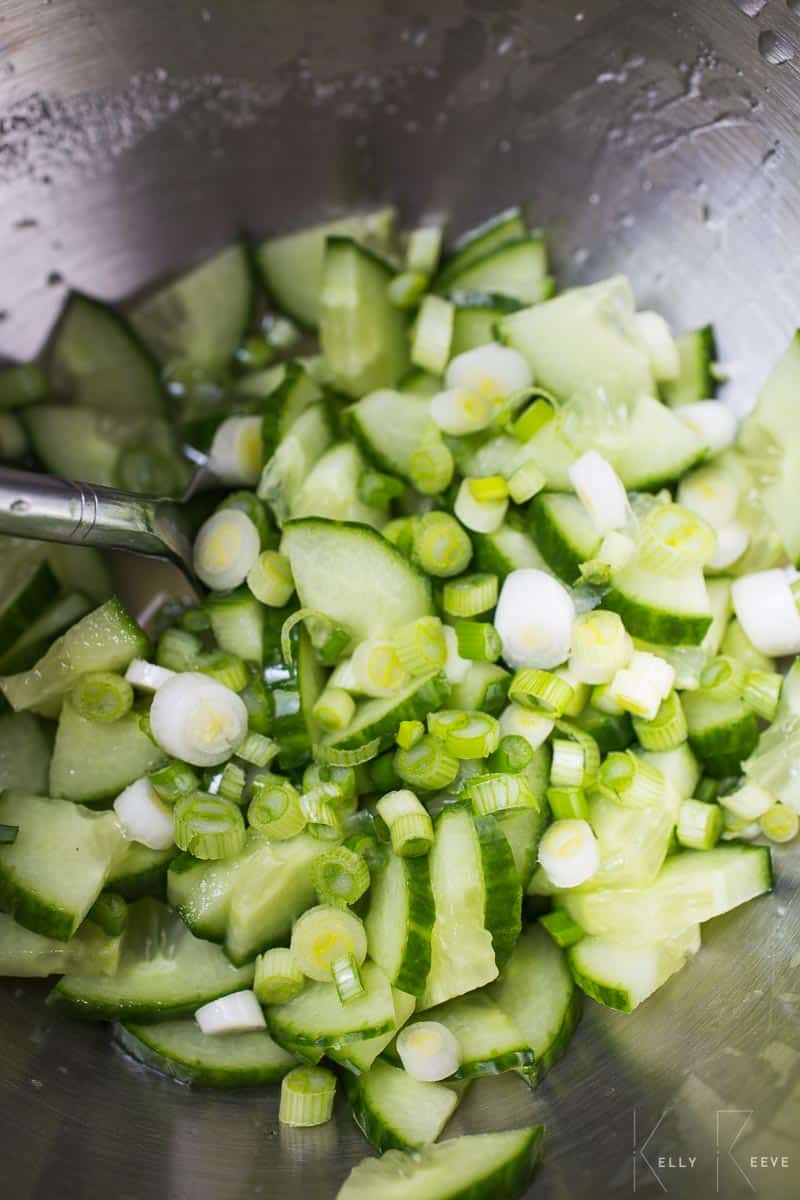 spring onions
Who doesn't love spring onions? These will not only give a tanginess to the cucumber salad but also a certain sweet crunch.
Sometimes, the spring onions can have a strong taste. If you don't particularly fancy spring onions, then you can opt for chives. They are not as strong, but still have a certain taste to them.
parsley
Speaking of herbs, this cucumber salad wouldn't be completely without diced parsley. It will refresh your palate and make each bite even more impactful with flavour.
Haven't got parsley? No problem, you can also substitute with coriander. This will give your cucumber salad an Asian twist.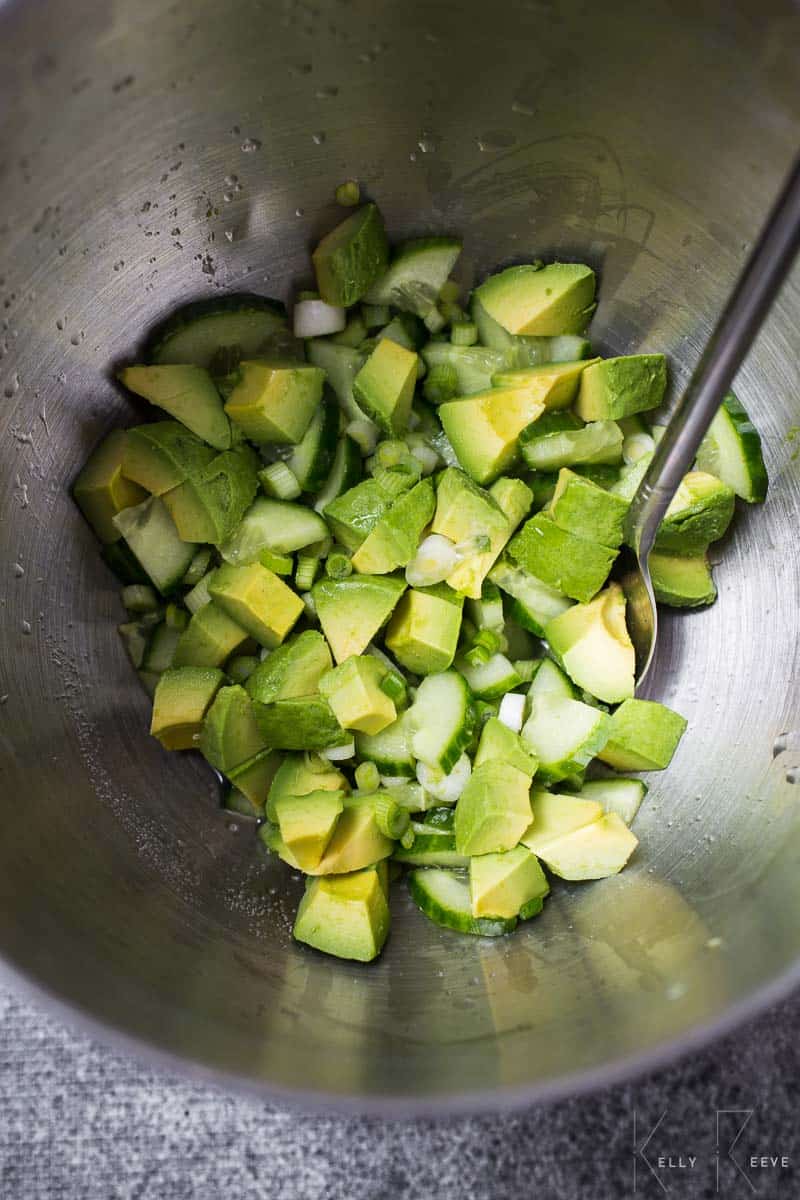 dicing and cutting
Guys, it is so important that you take care how you chop things. The flavours will be distributed evenly if everything is cut to roughly the same size.
It will also make your cucumber salad much more appealing to the eye. Take the time to cut everything evenly. You won't regret it once you see and taste the final result!
cashews
I like my cashews toasted. Not only are they crunchier, but they also introduce a new type of flavour to the cucumber salad.
They are sweet and once you toast them they will be even richer in taste. Again, this cucumber salad is an excellent option for vegans or vegetarians.
You'll get the necessary proteins out of the cashews. Some people go a step further and add a boiled egg. However, I think this recipe is perfect as is.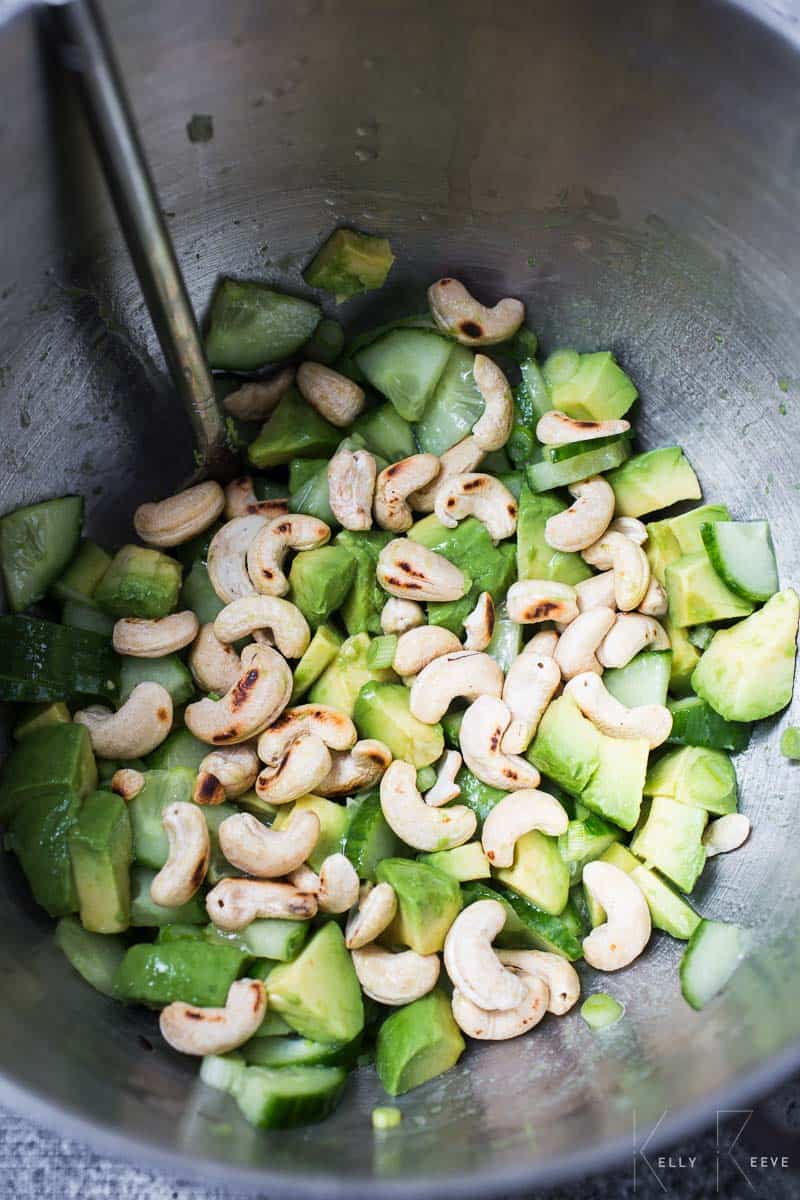 the dressing
For the dressing, you can either use lemons or lime. Remember, you want that nice acidity to complement the fattiness of the avocados and cashews.
Sometimes, I run out of lemons. Therefore, I just use a very simple balsamic vinaigrette, with more vinegar than oil.
If you use too much oil, the dish will be too fatty. Even if the fats are healthy, it just won't go together. You need some acidity!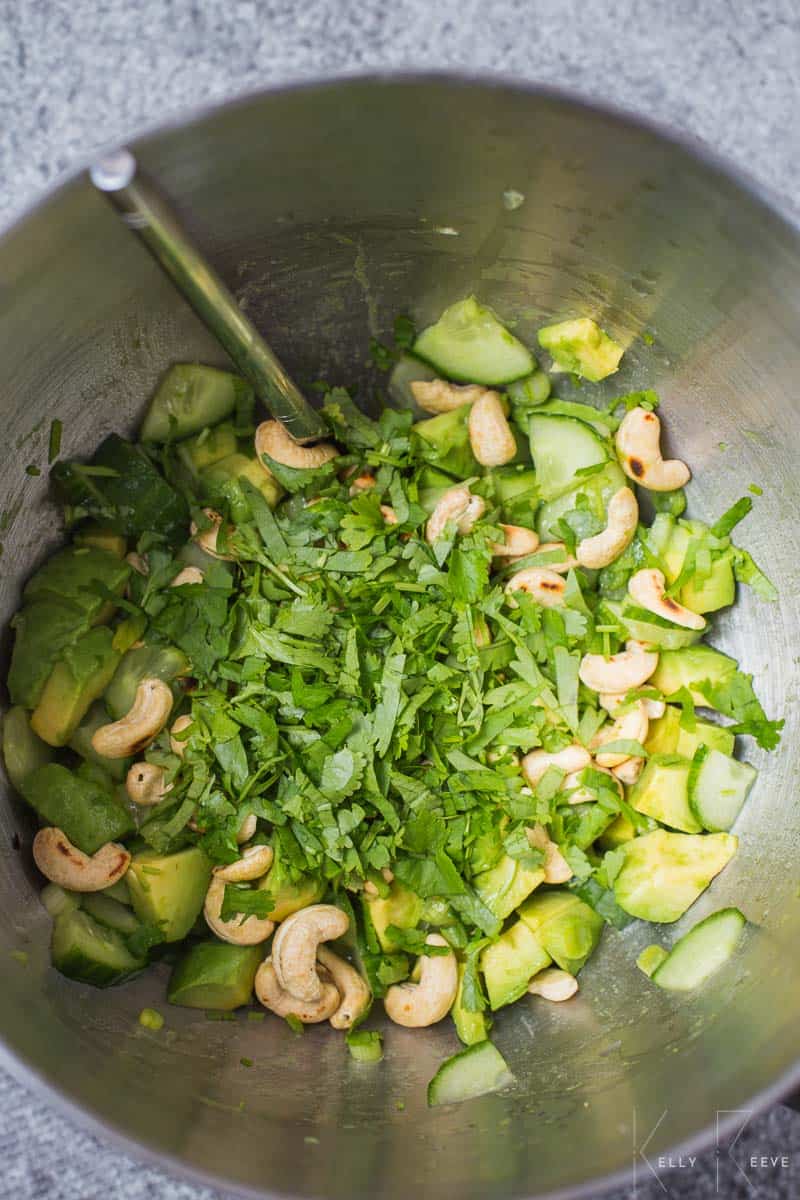 asian twist
Are you a foodie that enjoys exotic flavours and spicing things up a bit? If so, you'll love this Asian twist. Try using sweet chili sauce instead of the usual dressing.
Also, substitute cashews with crushed peanuts. This version of the cucumber salad is always served with Thai fish cakes, as they go hand in hand.
It's not common for the avocado to be served, try it with plain cucumber, onions and coriander. This Thai version of the cucumber salad is also very refreshing and very satisfying.
Alternatively, add fresh, chopped red, chilli to the lot.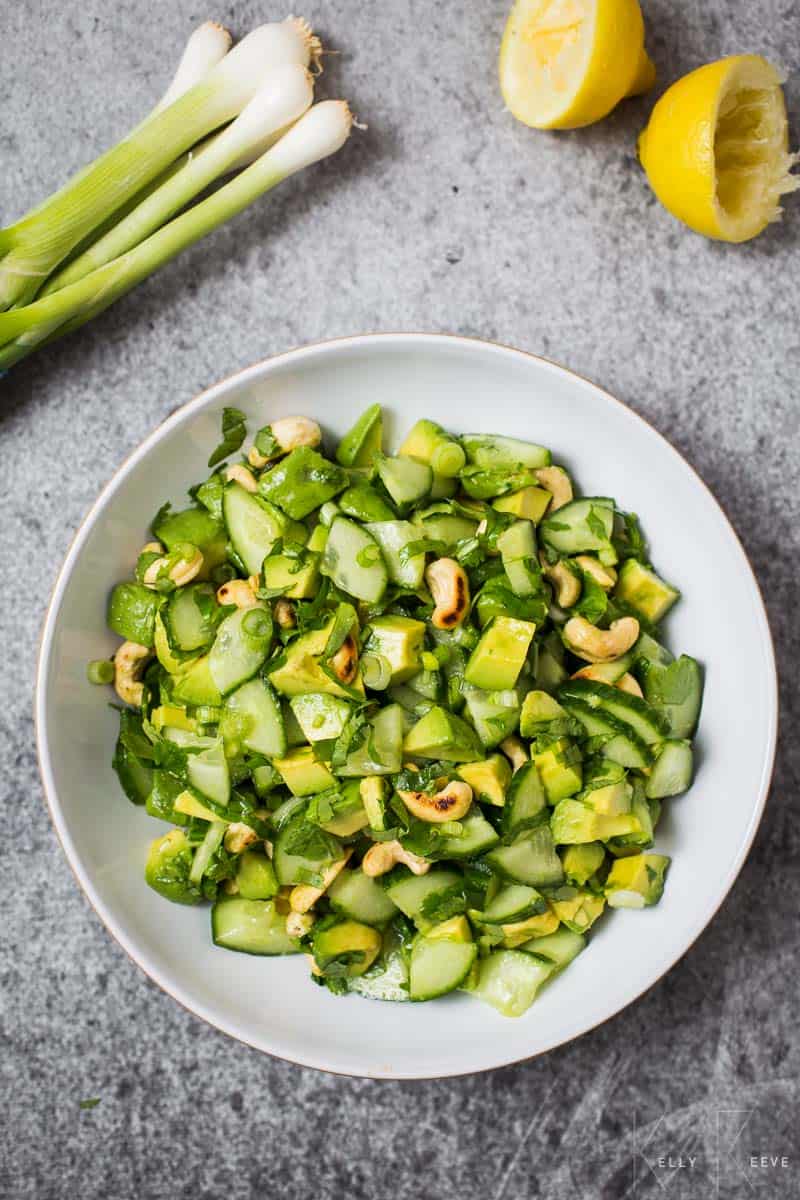 serving
I hope you guys enjoy this cucumber salad. In my opinion, it's the perfect salad for meats straight off the BBQ such as honey glazed smoked ribs or steaks.
For a Chinese version of this recipe, check out smashed cucumber salad.
Don't forget to get a nice light lager. Your meal or BBQ wouldn't be complete without it. Enjoy!
More complementing side dishes
Print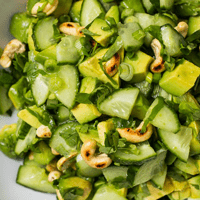 Cucumber Salad with Avocado and Cashews
---
1

cucumber, washed, quartered lengthwise and sliced

10

spring onions, washed and finely sliced

2

avocados, peeled, pitted and chopped

120

g

(4oz) cashew nuts, toasted

60

g

(2oz) parsley or cilantro, washed and chopped

1

lemon, juiced

15

ml

(1 tbsp) caster sugar
Salt and pepper, to taste
---
Instructions
In a large salad bowl, mix the cucumber, onions, avo, nuts and herbs together.
Pour the lemon juice in a cup and stir in the sugar until dissolved.
Pour the sweetened lemon juice over the salad and season to taste.
Give it a good stir and serve immediately. Enjoy!
Nutrition
Serving Size:

1 serving

Calories:

281

Sugar:

5.1 g

Sodium:

18 mg

Fat:

22.6 g

Saturated Fat:

4.6 g

Carbohydrates:

19.5 g

Fiber:

6.6 g

Protein:

5.5 g
save the recipe to your pinterest board


A special thanks to Kelly Reeve for assisting with the recipe shoot.