A low carb zucchini recipe with the added zing of garlic and chilli made with a vegetable spiralizer.
Do you ever wonder how people make "noodles" out of vegetables? They use a simple machine called a Spiralizer.
This is not just the latest craze of kitchen gadgetry but the machine that will go down in the history books as the invention we could never do without, just like the knife and fork or the blender.
If you have faith in the trade gurus, you must get your hands on this latest life changing kitchen appliance, specially made for determined health conscious individuals.
Shredding and slicing fruit and vegetables into ribbon-like noodles has always been possible with a julienne peeler, now a fuss-free and appealing trend has hit the markets with the arrival of the super cool Spiralizer.
This reasonably priced and handy piece of machinery is creeping into the mainstream, with a healthy shove from health fundis far and wide.
With this little machine, your meals and meal presentations will go from novice to expert in one simple turn of the handle! It can also help transform your diet from a carb dependency to a strategic focus on delicious healthy fruit and vegetables.
Using the Spiralizer is quick, easy and simple. The machine does not take up much space and is about the size of an average toaster, depending on the model.
Cut the fruit or vegetable of your choice symmetrically with a flat edge on one side. Load one end into the Spiralizer, stabilise it and turn the handle – much like you would a desktop pencil sharpener.
It has a built-in finger guard so the machine will not mistake your finger for a carrot! You must be careful, though, the blades are exceptionally sharp.
The food will spiral down into the catchment bowl cutting it into slinky noodles.
Spiralizers come with different blade attachments that allow you to create different variations of your noodles. This little gizmo can create thin spaghetti shapes, slices and it has attachments that are easy to install, remove and store.
Something to excite your palate and not the boring everyday, run of the mill vegetable preparations and presentations.This machine is a cost effective addition to your culinary competence, most Spiralizers are dishwasher friendly making clean-up quick and easy.
It is a new improved variant of a traditional slicer. Professional kitchens use it to benefit from the perfect aesthetics it produces in their food preparation.
Carb-free, low carb, paleo and banting – spiralizing at its best
This is the perfect machine for those who are desperately trying to cut out the carbs and transform themselves into carb free enthusiasts, believe me, it is much easier to ditch the carb habit with this machine, than without it.
Nutritionists are loving this latest craze as people are eating plates full of ribboned or julienned veggies, eating your daily recommended vegetable intake just became so much more appealing.
The Spiralizer is the secret to adding more fruit and vegetables to your diet and helps to make it so much more interesting and exciting to follow a healthy nutritional eating plan. Making you and your family's lifestyle healthier in every way.
You don't have to be a vegetarian to invest in a Spiralizer. The Spiralizer simply transforms your vegetables into tangible ingredients that are easier to cook and create exciting dishes with.
The Spiralizer is the latest and greatest gadget that makes boring repetitive food preparation and meals so much more exciting and visually appealing.
Whether you are fasting, detoxing, vegetarian, paleo dieting or banting this machine is your next best friend.
It is a new improved variant of a traditional slicer. Professional kitchens use it to benefit from the perfect aesthetics it produces in their food preparation.
Fruit and veggie inspirations with your Spiralizer
The Spiralizer has the ability to transform most long vegetables into seemingly endless long ribbons. Fry them in a bit of butter and voila!
Salads have transformed their dull and dreary existence with this little machine. Firm textured root vegetables are perfect for ribboning, and even squash, cucumbers, pumpkin and firm fruits such as pears and apples can also be processed this way. Even marrows – overgrown courgettes – can be used.
Certain vegetables, like aubergines, can fall apart when they are cooked, most vegetables will keep their shape and texture if they are gently stir-fried or boiled.
Carrot ribbons, processed with the slicing blade, add crunch and texture to a slaw or salad. Alternatively, you can stir-fry the carrot ribbons for a few minutes in some coconut oil with garlic as a healthy side dish.
You can also use it to make Creamy Curried Courgette Noodles.
Using the thicker noodle blade to create curly sweet potato fries, toss them in some olive or coconut oil and bake them until crispy. Run a sweet potato through the Spiralizer making it thin and easily manageable.
Sauté with some spinach and other vegetables, then drizzle a little cashew sauce on top and you have yourself a salad full of nutrients and divine flavour.
Prepare an apple by spiralizing around the core and use the strand for a warm crispy apple pie on a cool Autumn day.
If you have a penchant for Asian food, mooli is a large, white vegetable, part of the radish family.It is used in Asian cooking.
Use mooli in place of rice noodles to make professional looking rainbow vegetarian pad thai with peanuts and basil, or use it raw in Asian salads. It simply looks spectacular when you use your Spiralizer.
The current uber-trend is 'courgetti.' Try this amazing Garlic and Chilli Courgetti.
Using the thin noodle attachment on the slicer to create long twirls of pasta makes the vegetables look like noodles. Quickly stir the courgetti for 20 seconds, then finish off with a bolognese sauce or stir in some pesto.
Or, you can add a protein of your choice, for example, beef, prawns or chicken.
Cooking courgetti is a much speedier than boiling carb loaded lethargic pasta. Spiralized vegetables can be eaten cooked or raw.
Toppings for burgers, tacos or any other dish, impress your friends by using a Spiralizer to prepare the onions, peppers, cucumbers and more.
They'll think you have amazing knife skills and that you have been standing in the kitchen all day long creating long, spiralled strands of vegetables.
Whether you're looking to change your diet or simply create a new culinary experience, the Spiralizer is the multi-purpose, must-have cooking utensil.
It's quick, easy, safe and so diverse, you'll reap the nutritional benefits in no time at all. Use the Spiralizer to unlock a whole new world of recipes and a whole new approach to food for you and your family.
You can even use marrows for this recipe. Alternatively, check out this roast marrow recipe that will work for courgettes as well.
More side dish inspiration
Print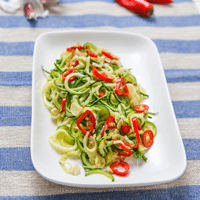 Garlic & Chilli Courgetti
---
Author:

Michelle Minnaar

Prep Time:

15 minutes

Cook Time:

5 minutes

Total Time:

20 minutes

Yield:

2

1

x
Scale
Ingredients
5

ml (1 tsp) butter

5

ml (1 tsp) vegetable oil

2

cloves garlic, sliced or crushed

1

red chilli, thinly sliced

1

large courgette, spiralized
Salt and pepper, to taste
---
Instructions
In a large frying pan or wok, heat the butter and oil until the mixture sizzles.
Add the garlic and chilli and fry for 30 seconds to release the flavours.
Add the courgette spaghetti to the pan and stir vigorously while the vegetable is cooking.
Once the courgette has slightly softened, season to taste.
Remove from the heat and serve immediately.
---
Notes
Don't cook the courgette for too long because it will become soggy.
Substitute the butter for oil to make this recipe vegan.
Nutrition
Serving Size:

1 serving

Calories:

91

Sugar:

4.25 g

Sodium:

146 mg

Fat:

8.15 g

Saturated Fat:

1.6 g

Carbohydrates:

5.1 g

Fiber:

2.25 g

Protein:

4.25 g

Cholesterol:

5 mg
save the recipe to your pinterest board