Geelrys, or "yellow rice" in English, is a classic side dish in South African cuisine. It is perfect for when you need something livelier than just plain old boiled rice.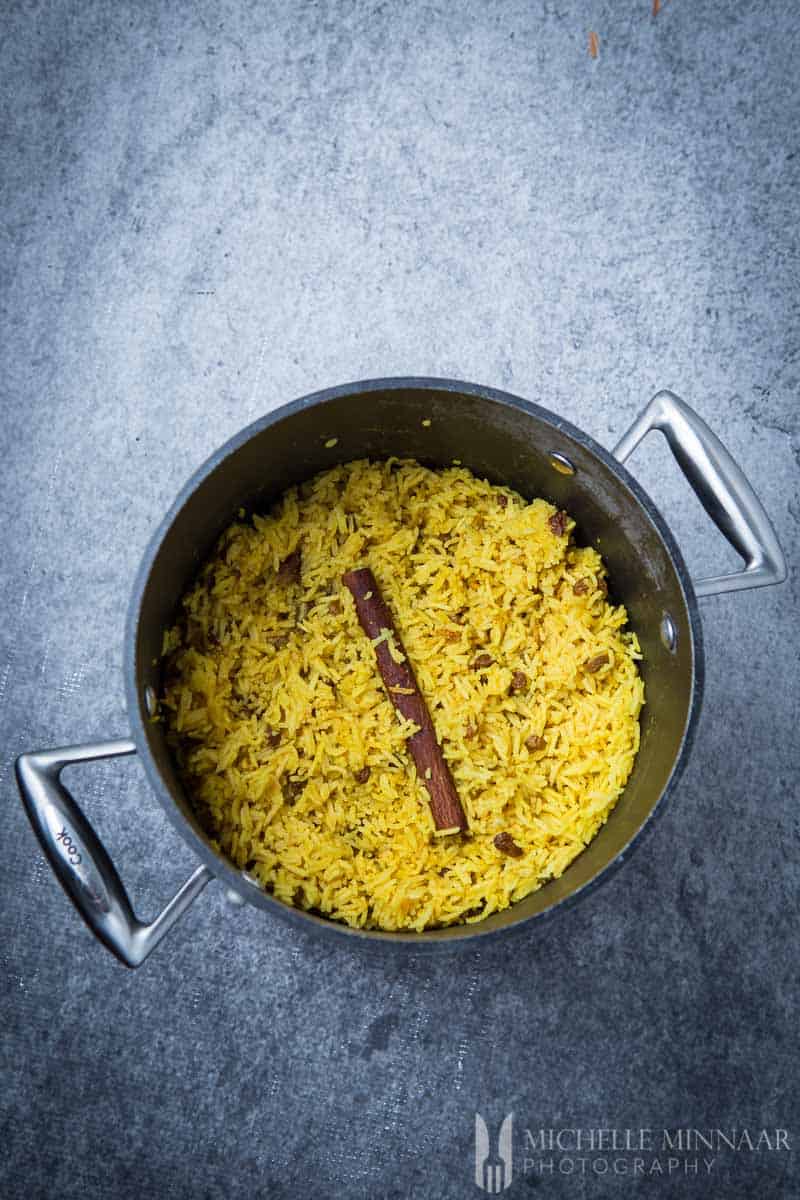 With a few additions you can even consume it on its own as light lunch at the office. If you think it sounds a bit too experimental for weeknight meal, you are mistaken.
Most of the traditional South African recipes are delightfully simple to reproduce, meaning you will have more time left over for yourself and your family. Why not enjoy the exotic flavours of geelrys?
what makes geelrys yellow?
The secret ingredient of geelrys is turmeric, in itself subtle in flavour but very powerful. Turmeric is the spice that lends curry its characteristic yellow tinge.
Along with the cinnamon, it creates an Asian flavour, and the dish looks like something you might find in an Indian restaurant. It is, however, very much a South African dish. The use of such exotic spices date back to colonial times.
other spices that make rice yellow
Turmeric is not the only spice that can add this beautiful yellow colour to a rice dish. Saffron does the same thing however the aroma is different. You might know saffron from the traditional yellow risotto Milanese.
Saffron is widely used throughout the Middle East where it is grown commercially. You could make geelrys with saffron if you wanted to, but be warned that saffron is the most expensive spice in the world.
My advice for you would be to stick with the turmeric for your geelrys.
tricks with spices
The basic recipe does not need a lot of different spice but obviously the turmeric and cinnamon are crucial to making the dish work. I usually add ground cinnamon, as well as an entire cinnamon stick.
The use of both versions amplifies the flavour. It looks enticing serving a big bowl of geelrys with the cinnamon stick still inside, indicating to diners what's in store.
If you find the basic spice blend a little too bland, you can add a tiny bit of chili to give it a bit of a kick. Be careful not to overdo it though.
You still want to be able to taste the aromas from the turmeric, cinnamon and the raisins.
A dash of freshly cut herbs completes the dish. For this purpose parsley or coriander are the best herbs to use. If you don't like the characteristic perfumed aroma of coriander, you can leave it out.
If you want to serve the geelrys with a more traditional meat roast, you'd be better off with parsley, which has a more versatile flavour.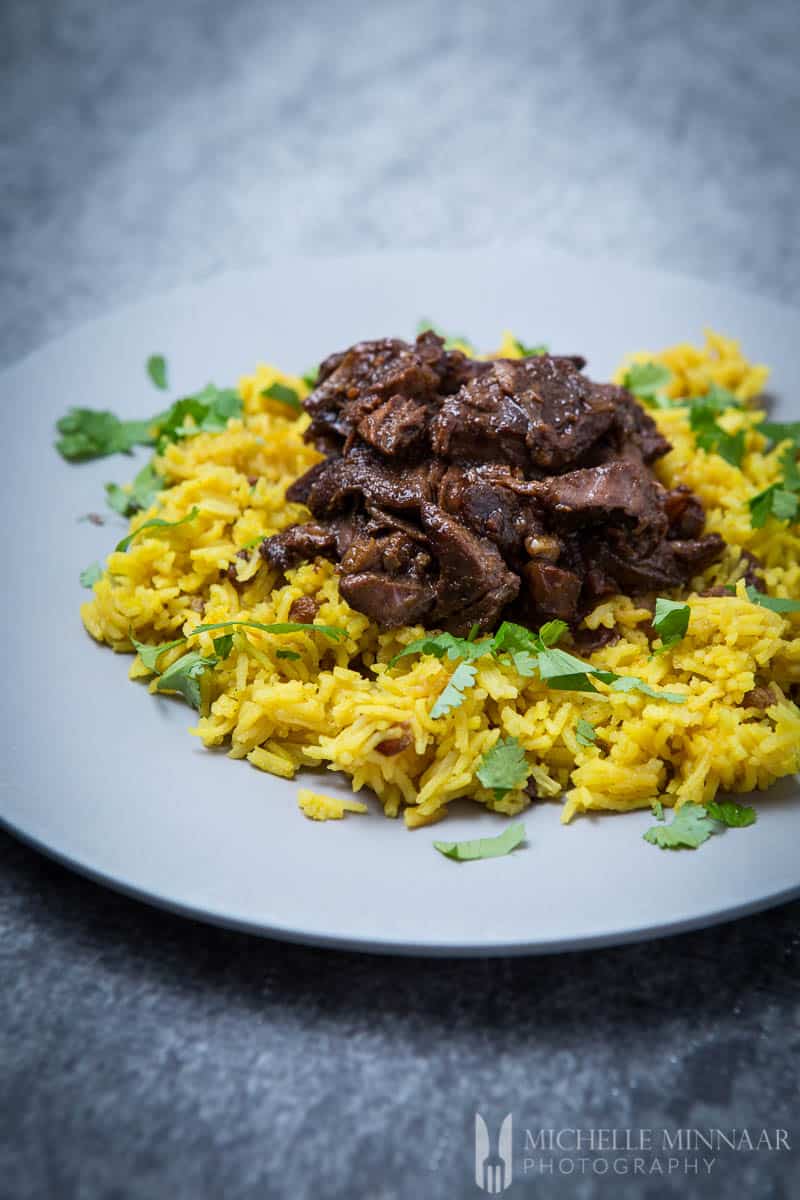 additions
Traditionally raisins are mixed into the geelrys to bring some sweetness to the dish. This helps to balance the slightly bitter flavour of the turmeric and gives variation in the texture.
If you are not a fan of raisins you can leave them out, or you can replace them with green peas. If you are looking for a bit more crunch you can add some peanuts or cashew nuts.
This twist turns it more into a kind of pilau - check out my cashew rice pilaf.
variations
The geelrys works fantastically as a side dish but with of bit of creativity it can be more than that. You can add any sort of vegetables you want and make it into a standalone vegetarian or vegan dish - ideal for a healthy work lunch.
Green peas work well, as do butternut squash or courgette. You can clear out the fridge, such as using thinly cut carrots or bell peppers, turning it into a vibrant dinner.
Let me know what secret ingredient you come up with and how it improves your version of the geelrys.
serve with meat
Geelrys is simply great for serving with meat. If you are intending to cook a full blown South African meal, serve denningvleis with it. These two go together like fish and chips!
Geelrys is also great for any other type of meat roast or stew. Think of dishes where you would normally serve plain white rice, and you can substitute it with geelrys instead.
With the addition of fresh coriander on top, it will work very well with a heavy type of meat such as Indian roast leg of lamb.
serve with seafood
Looking at the geelrys it almost looks like paella only without the fish doesn't it?
Actually there is no reason not to pair fish or seafood the geelrys. South Africa is rich in seafood and fortunately, we can also get our fair share here in the UK too.
A plate of geelrys served with grilled tiger prawns from the barbecue on top will satisfy any seafood lover.
Steamed cod, baked seabass or any white fish will be taken to the next level when served with geelrys. Last year, I made baked seabass with a carrot salad. You should try it with geelrys as well.
Roast marrow would serve as a great side dish to complement geelrys.
storage
Geelrys can easily be stored for a couple of days in the fridge. You can even freeze it for later use if you don't eat it all. So, don't be scared to make a big batch.
You can always keep it for later and have an easy side dish ready in no time. In this sense, it is a very practical dish as well as simple to make and extremely versatile!
Print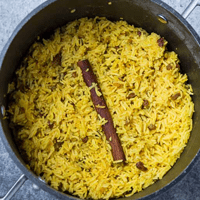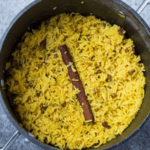 Geelrys
---
500

ml

(2 cups) long grain rice

1

ℓ (4 cups) chicken or vegetable stock

5

ml

(1 tsp) turmeric

5

ml

(1 tsp) ground cinnamon

1

cinnamon stick

30

ml

(2 tbsp) brown sugar

125

ml

(1/2 cup) sultanas or raisins
---
Instructions
Place the rice, stock, sugar, cinnamon, turmeric, sultanas and cinnamon stick in a pot.
Boil for 20 minutes or until the rice is cooked.
If there is any excess water, drain it.
Remove cinnamon stick and serve.
Notes
The stock can simply be substituted with water.
The rice can be frozen for later use.
Prep Time:

10 minutes

Cook Time:

20 minutes

Category:

Side dish

Cuisine:

South African
Nutrition
Serving Size:

1 serving

Calories:

262

Sugar:

5.2 g

Sodium:

13 mg

Carbohydrates:

58.2 g

Fiber:

1.3 g

Protein:

4.9 g
save the recipe to your pinterest board