Barbecuing is a simple cooking that leaves you plenty of time to enjoy a glass of wine and talk to your guests. However, just because it's not an involved process does not have to mean plain flavours. In fact, there is a lot you can do to pack flavour into whatever it is you are going to put on the barbecue.
There are all kinds of marinades, rubs and spice mixes. For example, have a look at my jerk spice recipe which I regularly use on BBQ meats and seafood. Another flavour enhancer for your barbecue dishes is sauces. One of the most popular sauces in the world is the barbecue sauce. Many of us probably have one in the fridge or in the pantry, but have you actually made one yourself? As a matter of fact, it is surprisingly easy, as you will see here in my recipe for a gluten free barbecue sauce.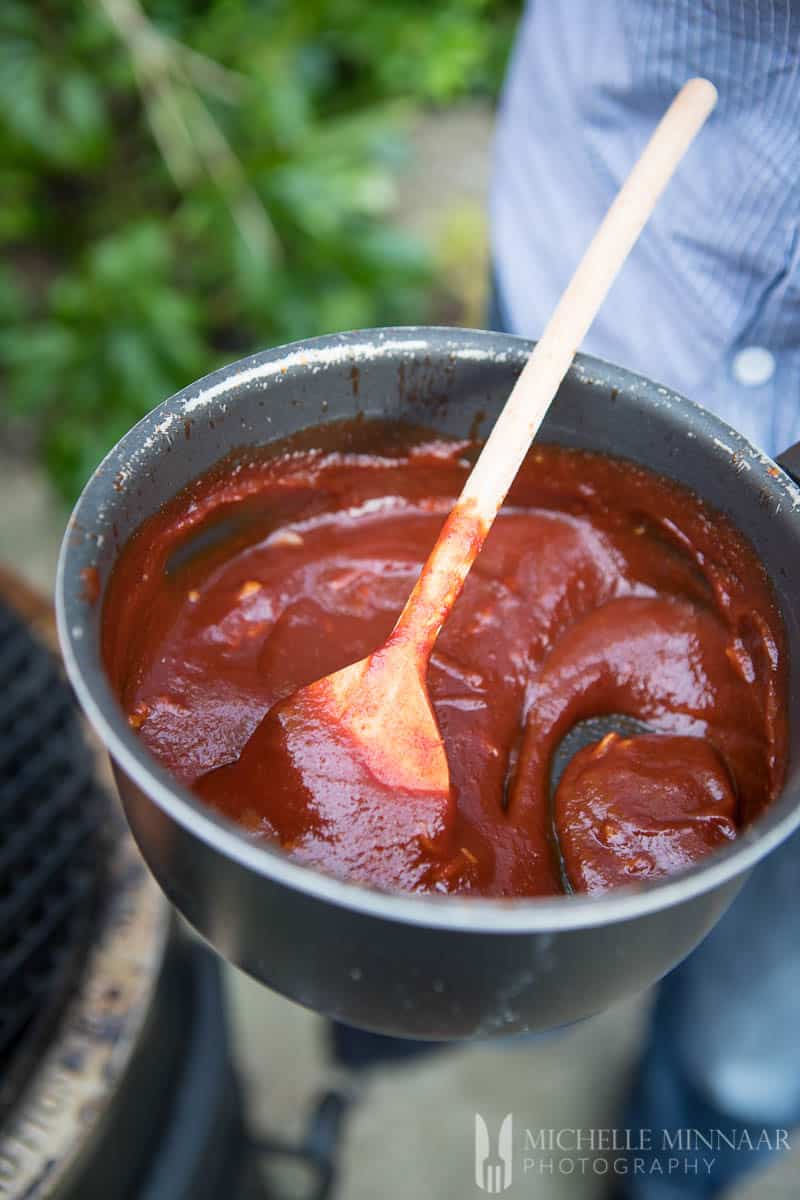 gluten free barbecue sauce
A gluten free barbecue sauce is the perfect sauce for any meat you might throw on the grill this summer. It can also be used as a dipping sauce for sweet potato fries or potato wedges. It takes only about 10 minutes to prepare so even if you are entertaining guests, you will still have time to rustle it up.
Generally speaking, the ingredients vary widely, but the usual makeup of a barbecue sauce is a tomato base, mustard, vinegar, and spices.
Nowadays, there is an almost endless selection of barbecue sauces available in the supermarkets. Mexican barbecue, Kansas barbecue, Alabama barbecue and on and on it goes. Sometimes it can be hard to tell exactly what a store-bought barbecue sauce contains. Quite often you will find a handful of untranslatable stuff on the back of the bottle, mostly stabilisers and the like. Therefore, I decided to make my own gluten free barbecue sauce. At least this way I know exactly what the sauce contains.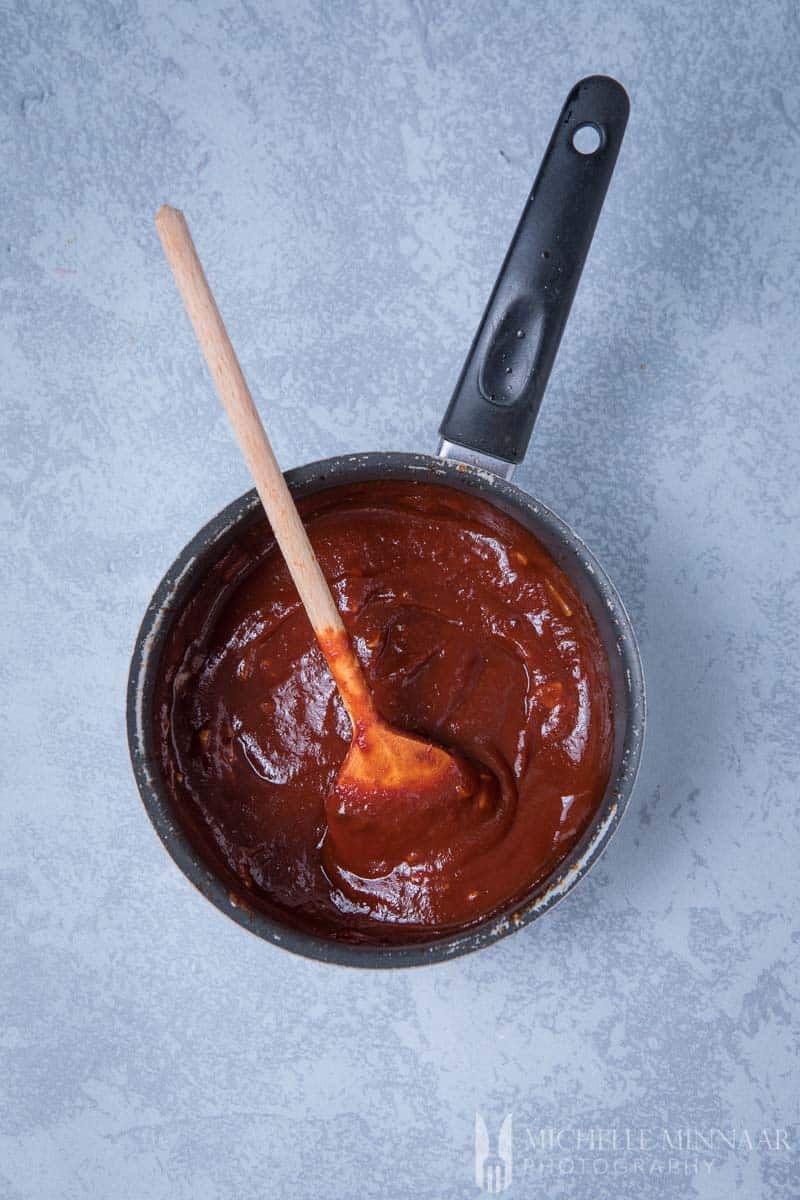 barbecue sauce history
Ever since man discovered fire and started to cook food over it, experimenting has taken place and techniques have evolved to improve the flavour of the food being cooked. Historians know of marinades for roasting meat as far back as Roman times.
The style of the barbecue sauce which we know today is a much more recent invention though. Food industry giant Heinz launched its first tomato ketchup in 1875 and it was probably not long after that somebody thought of using it as a base for a more complex and spicier sauce - the barbecue sauce.
It is hard to say for sure who invented it or when exactly it took place. However, I think it is safe to say that it was invented in America. In fact, the oldest known recipe is archived in the library of the Johnson & Wales College of Culinary Arts in the city of Providence, Rhode Island. It is dated 1913 and created by a certain Mrs. Howard. Containing tomato ketchup, mustard powder, cayenne pepper, vinegar and onion salt, it has a lot of similarities with our modern day version of barbecue sauce.
During the first half of the 20th century, several commercial versions of the barbecue sauce sprung up all over America. The popularity of barbecue sauce increased dramatically from the 1950s and onwards, as more and more people became house owners. People now had the means to live the modern American lifestyle and all that came with it. This included the barbecue.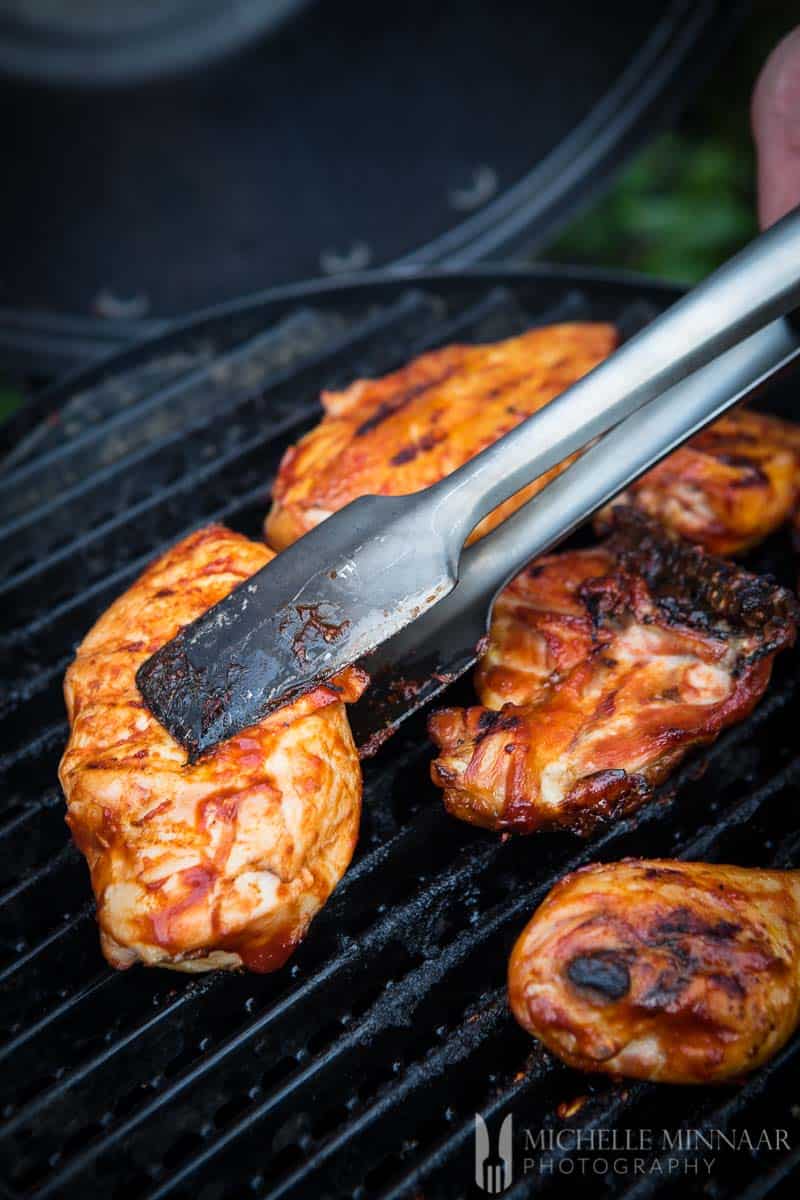 bbq sauces
My gluten free barbecue sauce recipe is fairly basic and true to the original barbecue sauce varieties. If you feel like it could do with a bit more you simply add what spice you find suitable. I have used smoked paprika in my gluten free barbecue sauce because I find the smokiness to be an indispensable part of the barbecue flavour. If you don't like it or if you can't get smoked paprika, you can use normal paprika instead.
The classic recipes, as well as mine, call for cayenne pepper. How much of it you use it up to your own preference. Start by adding a little, taste the sauce and add more slowly until it has enough heat for your liking. Alternatively, you can use another type of dried chili pepper. Other spices you can add could be flakes of green peppercorn, garlic powder, oregano, parsley or even a pinch of cinnamon.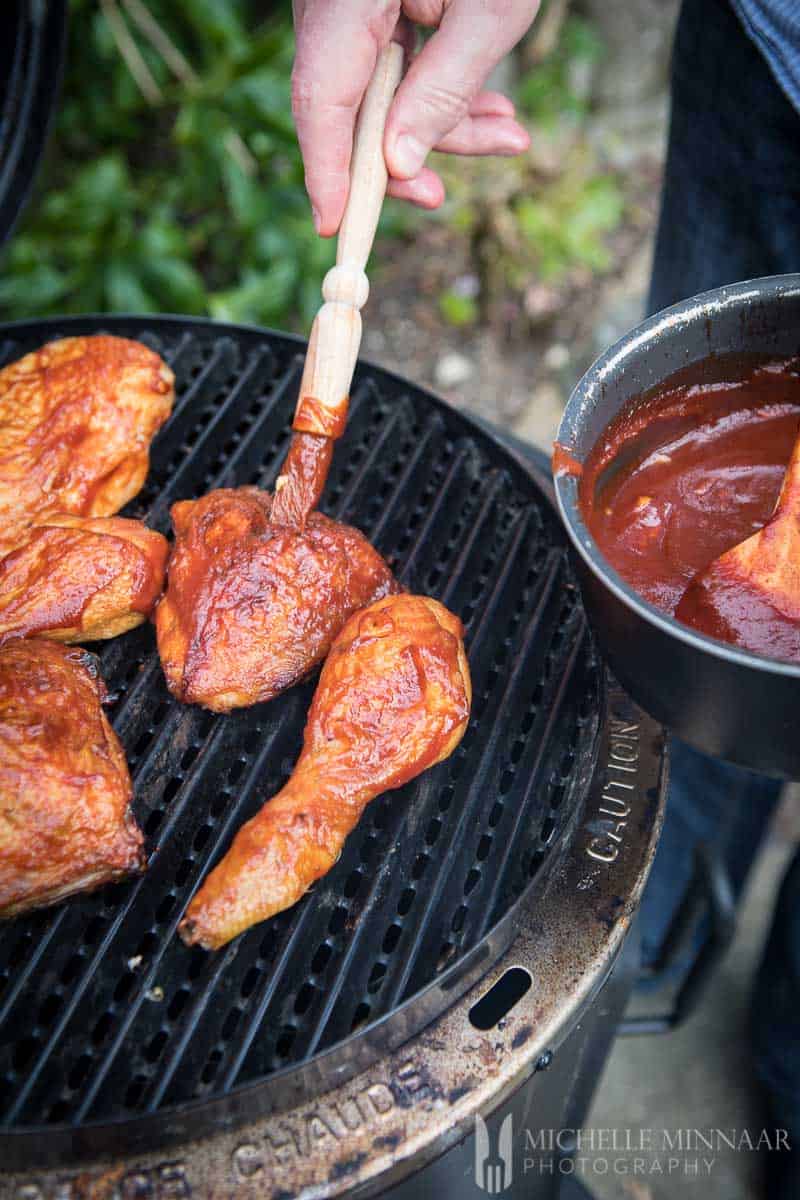 Many commercial producers use corn syrup or molasses as the sweet element of the barbecue sauce. Since these products aren't exactly healthy I prefer to use brown sugar in my recipe. The sugar plays an important role if you put the sauce on the meat before grilling it. It will caramelise and not only have some lovely burnt aromas, but will also make the sauce stick better to the meat.
If you want to make sure that your sauce stays gluten free, be sure to check the labels of the store bought ingredients that they really are gluten free. There should be plenty of gluten free products you can use for this so just keep an eye out.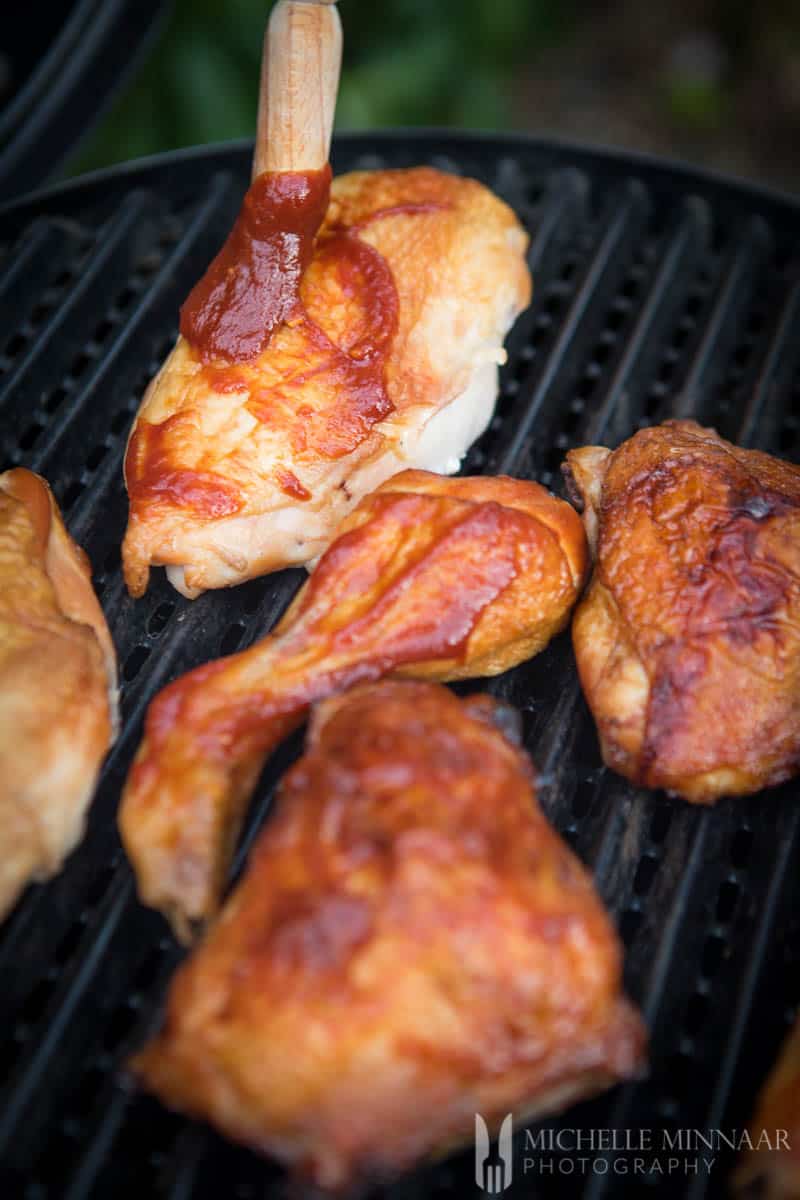 foods
The gluten free barbecue sauce is a very versatile sauce that can be used with almost any kind of meat. I can recommend it particularly for that all-time American barbecue classic – ribs. If you want extremely mouth-watering inspiration for ribs, have a look at some of my ribs recipes:
Also, I recently made these brined chicken wings and if ever there was to be a great dipping sauce for them, this gluten free barbecue sauce would certainly be it. In fact, you can use the gluten-free barbecue sauce in two different ways. You can baste the chicken wings while grilling them, or you can use it as a dipping sauce afterward. The same goes for chicken drumsticks, thighs, and breasts. To make the most of the barbecue sauce, check out my oven-baked barbecue chicken.
Surprisingly, gluten free barbecue sauce is actually also quite lovely with vegetables. Try it on grilled peppers or grilled courgettes. It adds that bit of barbecue flavour to the vegetables that means you don't even need to eat meat with it. Don't forget plain or sweet potato fries!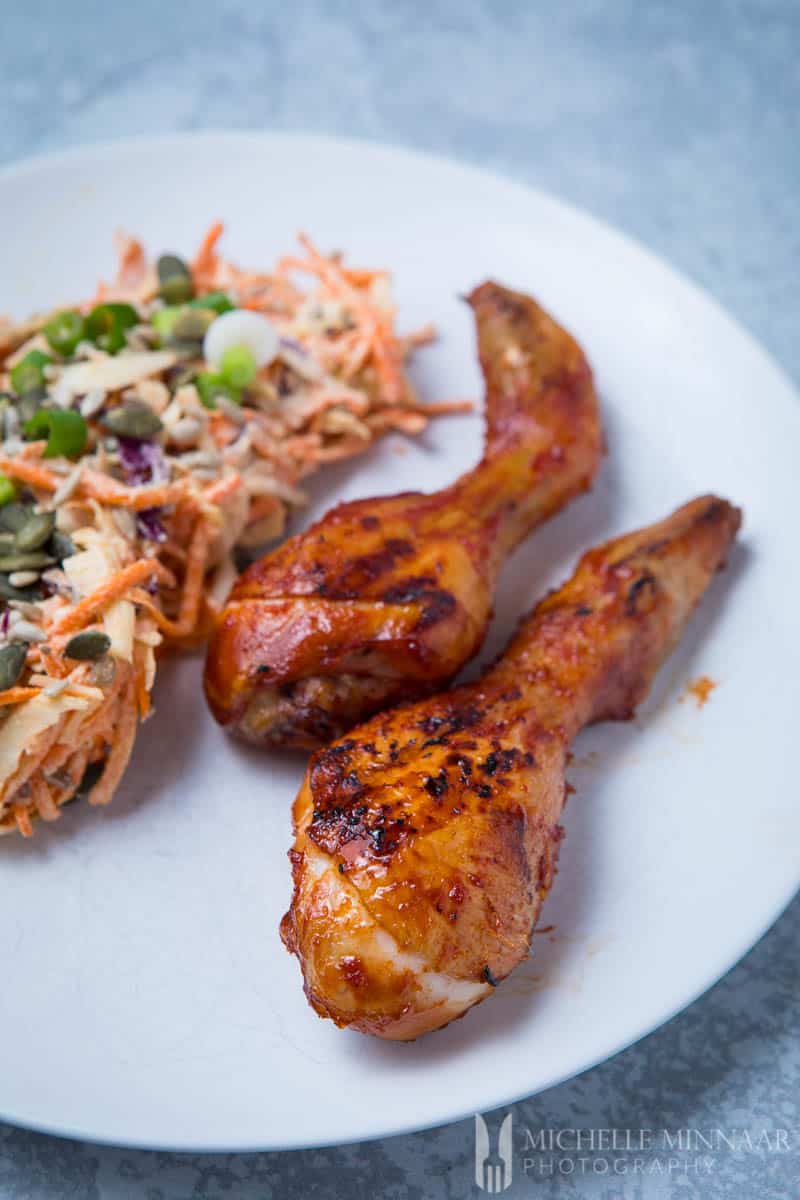 What is your favourite way to enjoy barbecue sauce?
Print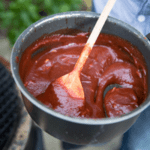 Gluten Free Barbecue Sauce
---
Description
Learn how to make gluten free barbecue sauce yourself and become the neighbour with the best sauce! Find out about its history and what to serve it with.
---
30

ml

(2 tbsp) vegetable oil

150

g

(5 oz) ketchup

30

ml

(2 tbsp) Worcestershire sauce

15

ml

(1 tbsp) peanut oil

15

ml

(1 tbsp) mild mustard

30

ml

(2 tbsp) brown sugar

5

ml

(1 tsp) Smoked paprika

2.5

ml

(1/2 tsp) cayenne pepper
---
Instructions
Place all the ingredients in a small saucepan.
Heat the sauce on a low heat until well blended and the sugar has dissolved.
Use the sauce as a dip or baste with your favourite meat or vegetables.
Notes
Just check the labels of ingredients on each product you use. There are plenty of gluten-free options available.
If you can't get hold of peanut oil, check out these peanut oil substitutes.
Prep Time:

10 minutes

Cook Time:

10 minutes

Category:

Side Dish

Cuisine:

American
Nutrition
Serving Size:

1 serving

Calories:

155

Sugar:

14.6 g

Sodium:

533 mg

Fat:

10.6 g

Saturated Fat:

2 g

Carbohydrates:

15.9 g
save the recipe to your pinterest board