Mushroom bhaji is a deliciously spiced Indian mushroom recipe. Basically, it is pan-fried mushroom paired with the traditional Indian spices.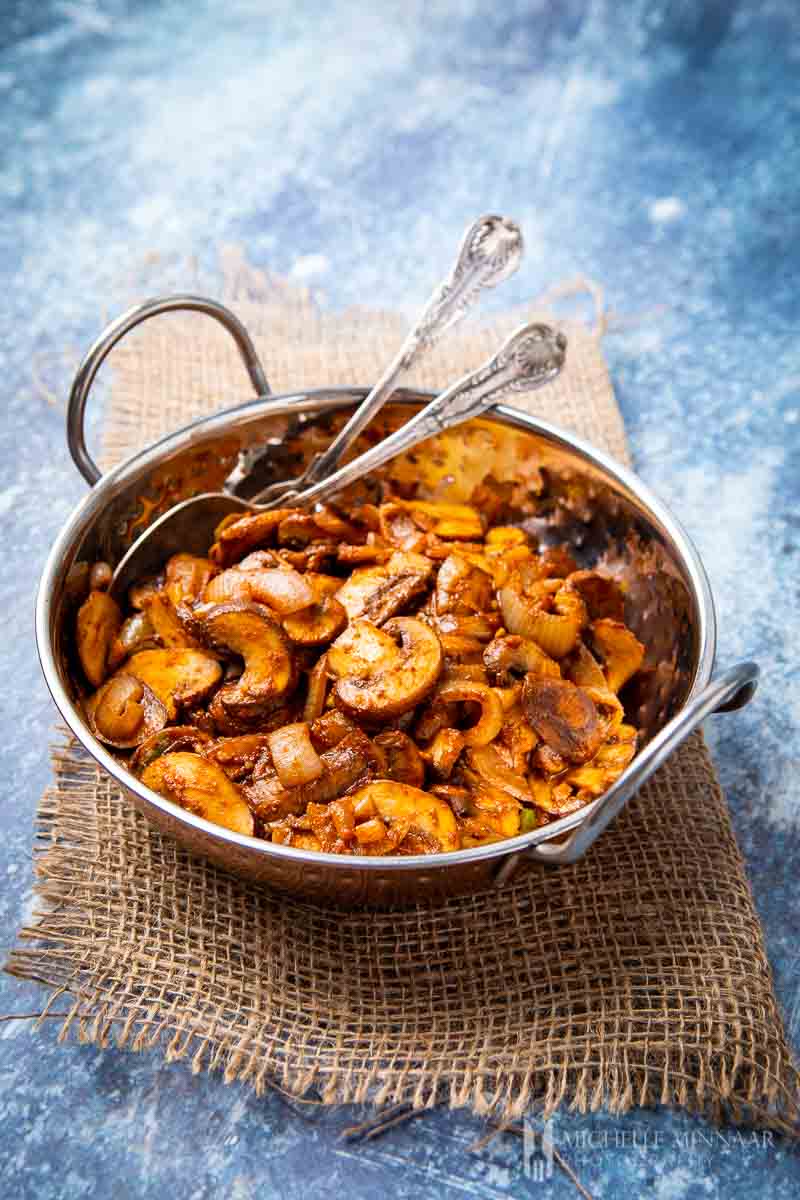 Typically, a bhaji recipe is served as a starter dish or a side dish to other Indian recipes such as mixed vegetable curry or beef kofta curry. So, feel free to get creative with your pairings.
Also, if you are a bhaji lover, you'll know that mushroom bhajis come in all forms and sizes.
For example, you can find a version of a bhaji recipe in the form of spheres that have been deep-fried in a batter; just like this mushroom pakora that works best with a homemade pakora sauce.
In addition, you can also find healthier versions like my recipe, without the deep-frying and the batter.
So, if you've found gorgeous mushrooms on sale, or if you've got excess mushrooms, then dare to try these vibrant mushroom bhajis. Indulge in some earthy and spicy Indian flavours.
You can easily master this recipe and make it in under 30 minutes. Enjoy!
mushroom bhaji recipe
On top of this mushroom bhaji recipe, I've made plenty of bhaji recipes before. For example, I've enjoyed making brinjal bhaji, bhindi bhaji and potato bhaji.
They're all vegetarian-friendly, nutritious and tasty, and are an excellent way to use up any leftover vegetables that you spot at the bottom of the fridge.
If you are still wondering what a bhaji is, let me explain. In essence, a bhaji is a fritter or a fried snack food, originating from the Indian sub-continent, and there are many variations of them throughout India and Pakistan.
In general, bhajis are popular snacks in the regions of Kerala, Assam, Maharashtra, Odisha, Bengal and many more. In some of these regions, bhajis are also known as pakoras. Indeed, they are practically the same
Lastly, a mushroom bhaji can also be called bhajji, bhajiya as well as bajji. You can find mushroom bhajis being served as starters in restaurants, or being sold as street food in tapris (on the streets) as well as the dhabas (roadside eateries).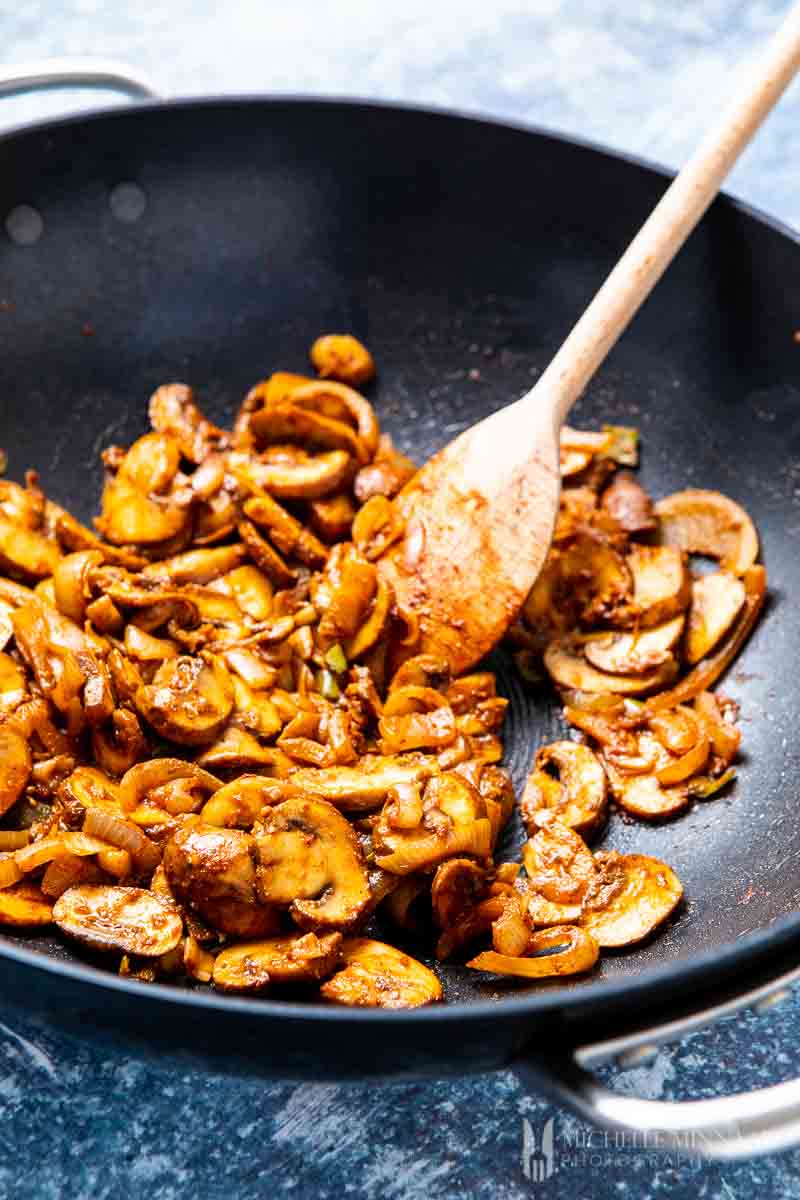 how to make a bhaji recipe
Here's a list of things that can help you complete this authentic mushroom bhaji recipe:
which mushrooms are best for bhajis?
For any mushroom bhaji recipe, you should be sourcing firm and fresh mushrooms. The mushroom bhaji will taste even better if you have completely fresh mushrooms, picked from the forest.
If you have the opportunity to source fresh mushrooms, by all means use them in this recipe. Freshness is key.
In either case, here are the best types of mushrooms you can use for making a mushroom bhaji:
common mushroom - also known as button mushrooms
oyster mushrooms - one of my favourite mushrooms (careful, they are quite fragile)
Portobello mushrooms - these are more expensive, hence they are usually cooked whole. However, when you chop them up, you can use them in a mushroom bhaji recipe.
Cremini mushrooms - one of the best mushrooms, which also works in stews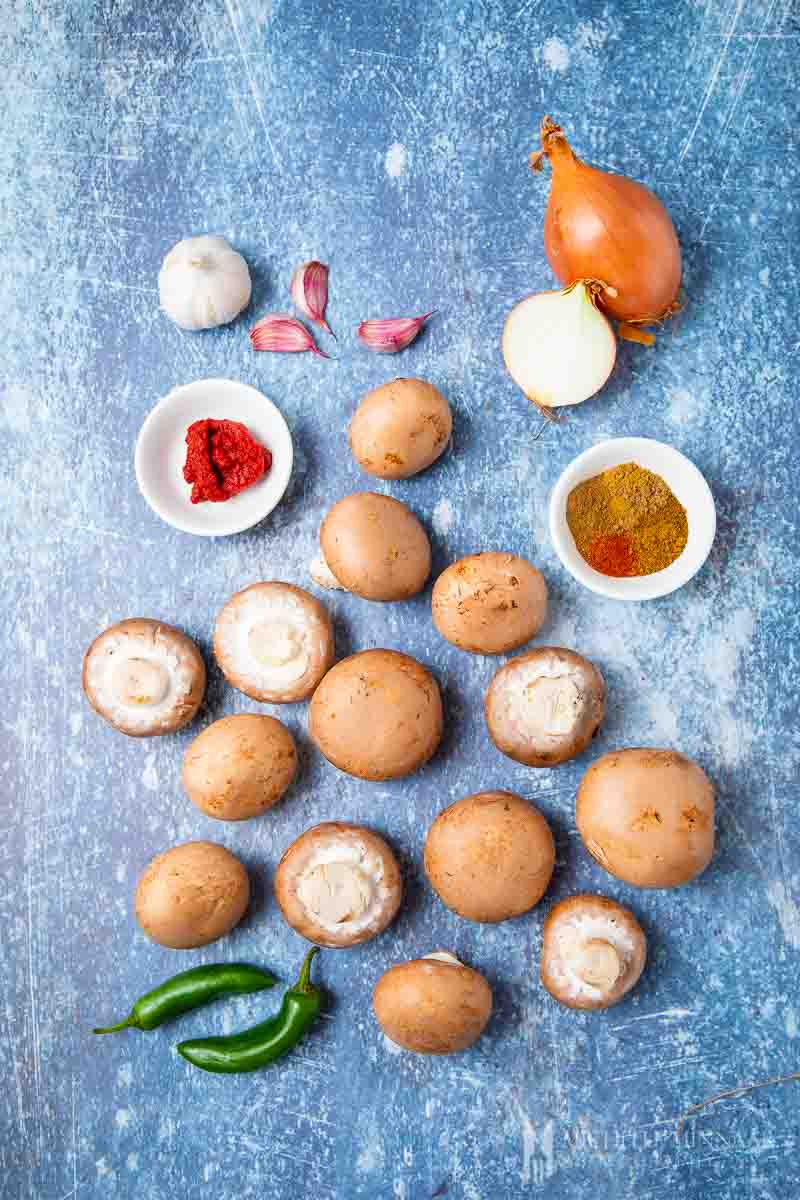 What are your go-to mushrooms? Let me know in the comments section.
If you haven't used up all your mushrooms in this mushroom bhaji, then feel free to take inspiration for another mushroom recipe:
Cooking tip: Here's a handy tip for frying mushrooms. When you roast or pan-fry the mushrooms, don't crowd them. If you do, they won't brown as efficiently. This is true also for the making of this mushroom bhaji.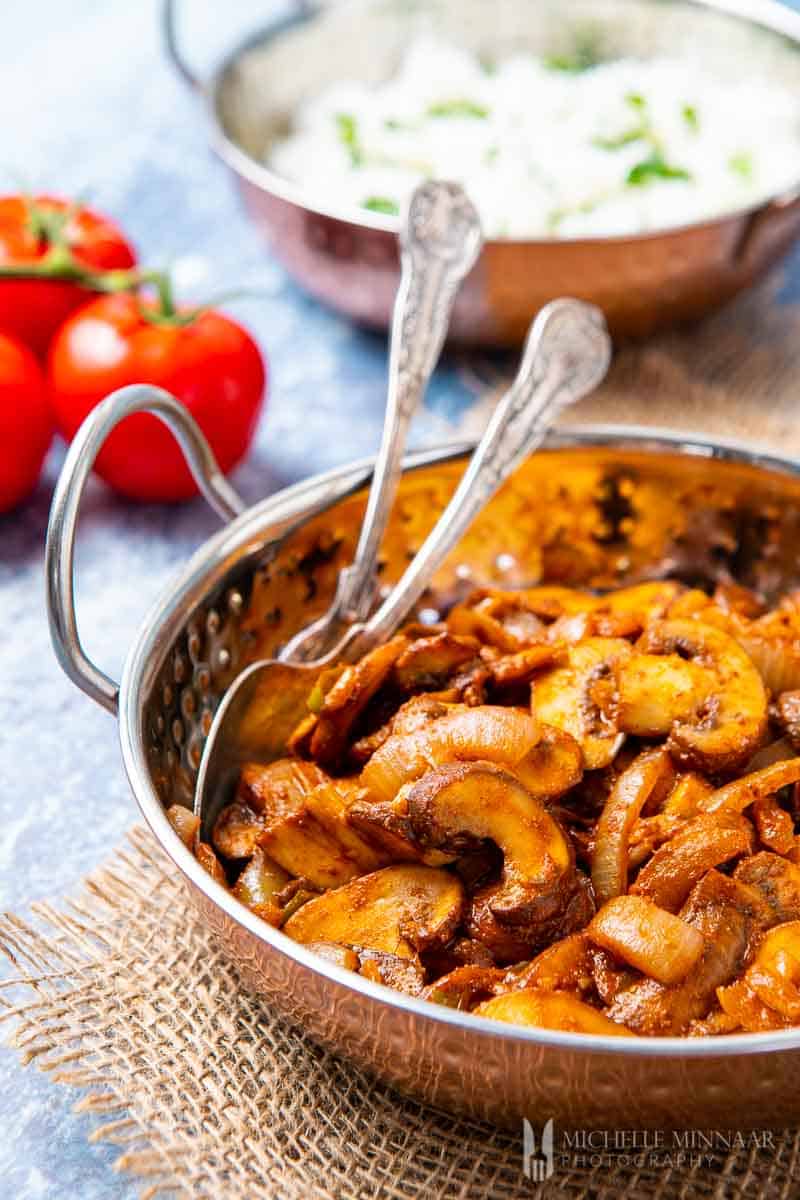 is mushroom bhaji healthy?
Yes, my version of mushroom bhaji is definitely healthy. Above all, it is completely vegan. So, this bhaji recipe is an excellent idea for those on a vegetarian diet, vegan diet, keto diet as well as for those who strive to eat better and healthier.
The reason why you don't have to panic about this bhaji recipe is because my version doesn't involve the batter and the deep-fryer. Even then, you can use unscented coconut oil and enjoy your mushroom bhaji guilt free.
In either case, if you want to take this mushroom bhaji one step further, there is a way in which you can make it even healthier. Instead of using vegetable oil to fry the mushrooms, use a low-calorie cooking spray or a premium olive oil.
These are excellent substitutes for vegetable oil. If you are looking for more similar healthy recipes like this mushroom bhaji, check these out: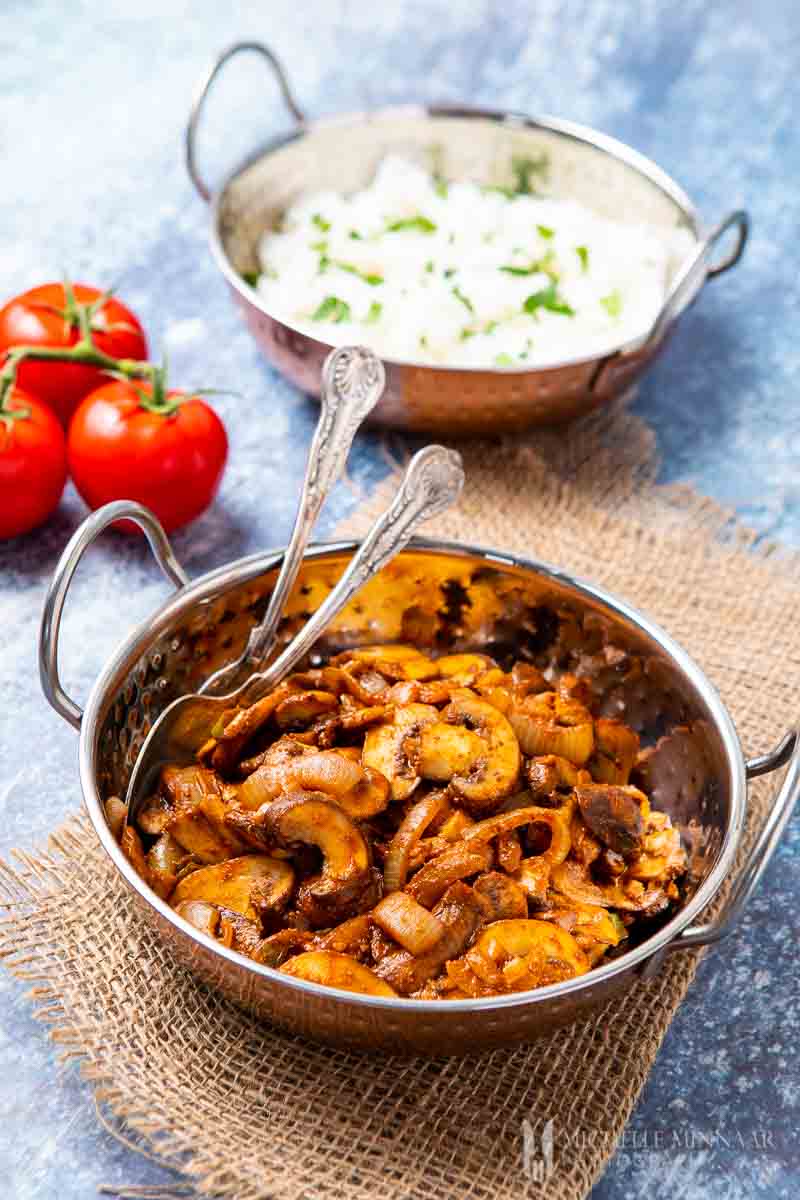 cauliflower and mushroom bhaji
You can make many variations of this mushroom bhaji recipe. For instance, you can toss cauliflower into the frying pan.
You can also consider using these:
onions - even onion bhajis are excellent
peppers - if you use banana peppers this is called mirchi pepper
spinach - the earthy flavours with the spinach will work perfectly
bread - yes, you can make bread bhajis!
potato or aloo - if you've got leftover potatoes then make bombay aloo or saag aloo
best toppings for mushroom bhajis
Here are my favourite toppings:
fresh coriander
fresh spinach
lemon or lime juice
fresh parsley
fresh red or green chilli peppers
how to serve mushroom bhajis
You can serve the mushroom bhaji as a starter or as a side dish to other typical Indian dishes. For instance, you can also consider making sides dishes like basmati rice, naans, rotis, chicken chaat kerala parathas.
In addition, you can enjoy the mushroom bhaji as a main course. Just double up on the portion size.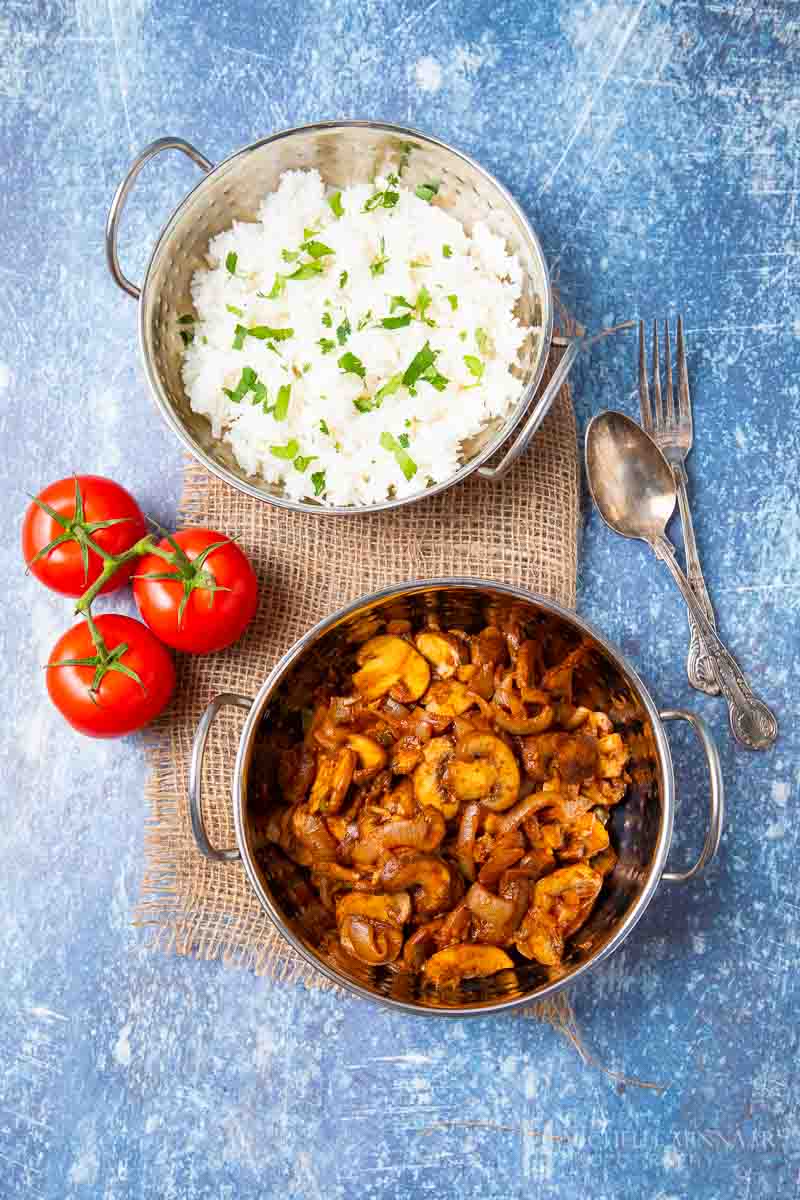 How would you serve and enjoy your mushroom bhaji? Let me know in the comments section below!
Print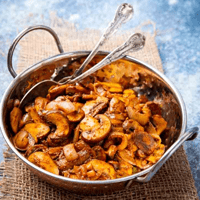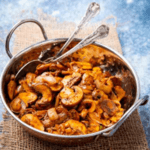 Mushroom Bhaji
---
Description
Try this irresistible mushroom bhaji recipe today, which is perfect for vegetarians and vegans.
---
30

ml

(2 tbsp) vegetable oil

1

onion, peeled and sliced

2

garlic cloves, peeled and crushed

5

ml

(1 tsp) ground cumin

5

ml

(1 tsp) ground coriander

1

green chilli, washed and finely diced

2.5

ml

(1/2 tsp) chilli powder

450

g

(1lb) mushrooms, cleaned and sliced

15

ml

(1 tbsp) tomato puree

2.5

ml

(1/2 tsp) garam masala

60

ml

(4 tbsp) fresh cilantro, washed and chopped
---
Instructions
Gently fry the onion in the oil for about 10 minutes, or until softened.
Add the garlic and fry for another 2 minutes.
Stir in the cumin, coriander and chilli powder and fry for another 2 minutes.
Turn up the heat and fry the mushrooms until cooked, which should take no more than 5 minutes.The onions should be tender by then, if not, cook for a little longer.
Stir in the tomato puree and garam masala and cook for another 2 minutes.
Serve immediately as a side dish to an Indian meal, topped with fresh cilantro.
Notes
Depending on the type of chilli and chilli powder used, this mushroom bhaji has the potential to be very spicy. Tweak the quantities used to your desired heat. You can omit it altogether, if needed.
Prep Time:

10 minutes

Cook Time:

20 minutes

Category:

Side DIsh

Method:

Pan Fry

Cuisine:

Indian
Keywords: mushroom bhaji, mushroom bhajia recipe, how to make mushroom bhaji