Papas Arrugadas, meaning "wrinkled potatoes" in Spanish, is a typical Canarian dish found across the islands.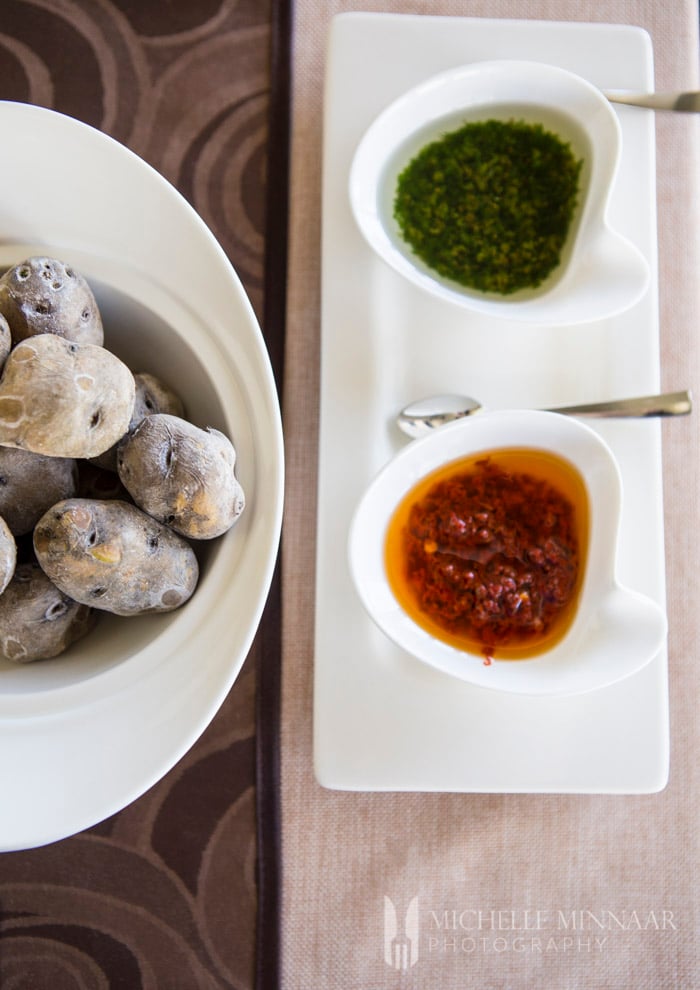 Cook More Spanish Food At Home
The "wrinkled" concept shouldn't be confused with the manky potatoes that you've left in the kitchen cupboard for weeks at a time, which leaves you wondering whether they are still edible.
No. Instead the fresh potatoes take on a shrivelled appearance when boiled in heavily salted water with salt ending up lightly encrusted on the skin.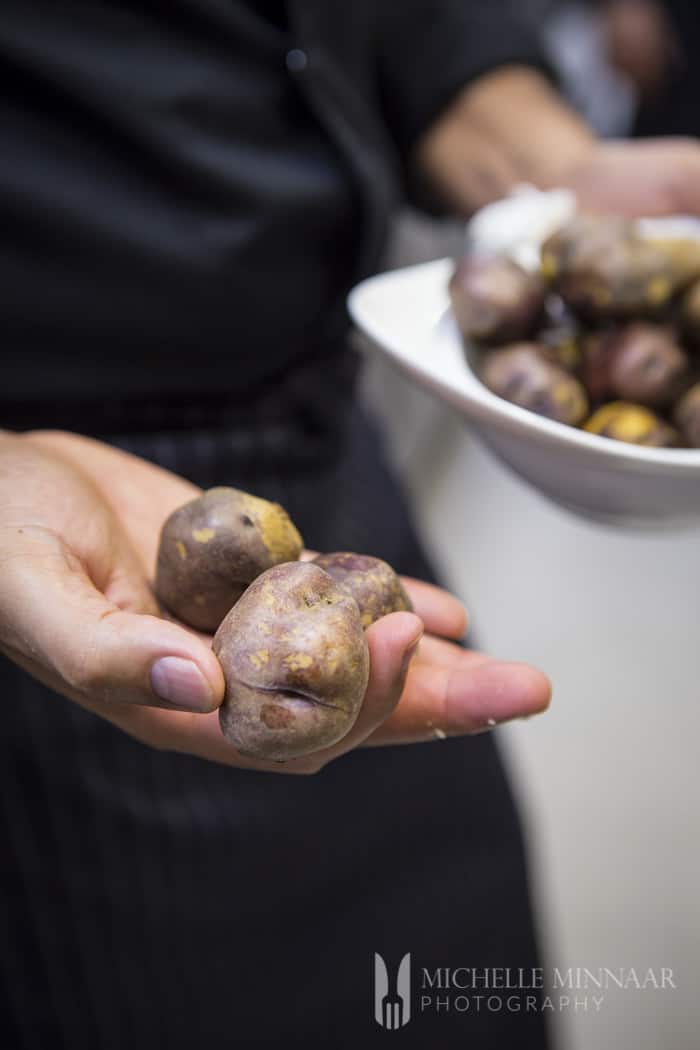 The Canary Islands might form part of Spain but in spirit it's more South American thanks to is history spanning centuries ago. One such example is the use of the word "potato", which is "patata" in Spanish but "papa" on the islands, the same word used in Quechua, the language spoked in the Andes.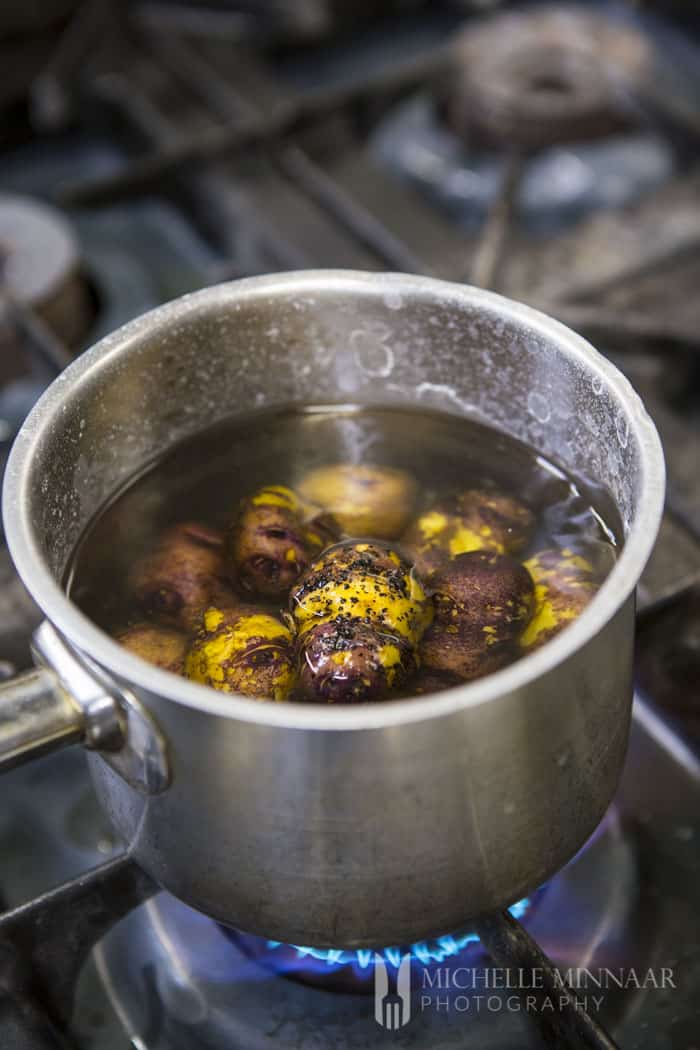 Ages ago, sailors used to boil potatoes on ships with sea water. Salt was highly prized in those days and people living far from the beach, in mountainous areas used to reuse salted water over and over again.
Today lots of people eat these potatoes for lunch, an ideal snack because the skin keeps the potato intact and can be enjoyed with a range of sauces but with Mojo Rojo and Mojo Verde in particular.
Today there are around 26 varieties of potato grown in Tenerife. These are fussy potatoes that somehow prefer this island's ideal climate with the correct high altitude.
Papas Negras, black potatoes, were used in this recipe and is a local delicacy priced at €6.50 per kilogram. Photogenic they are not but once you bite through the skin you are met with bright yellow flesh with a sweet taste and compact texture.
A pure novelty, especially dunked in the red and green sauces, originally adopted from the Portuguese Molho de Piri-Piri and Molho Cru, respectively.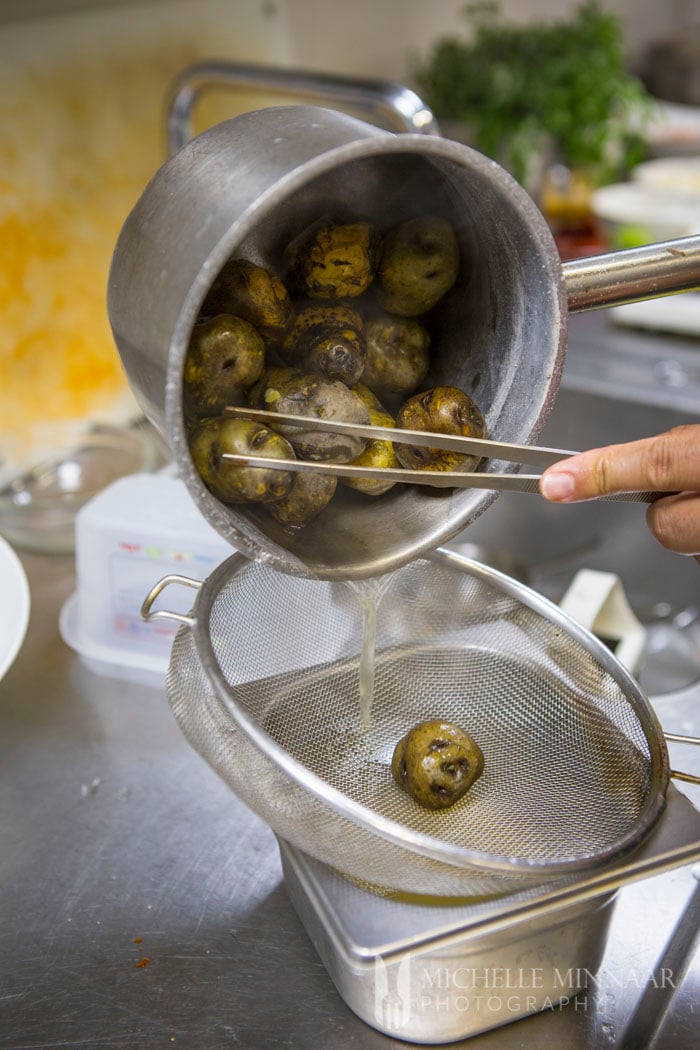 By now you might have given up on preparing this at home because this potato variety can't be found elsewhere in the world. Fret not, you can use any type of potato, as long as you cook it whole in its skin.
New potatoes will work! What is important is that you use sea salt and after draining the potatoes, dry frying them in the pot afterwards. For some reason the potatoes come out perfectly seasoned.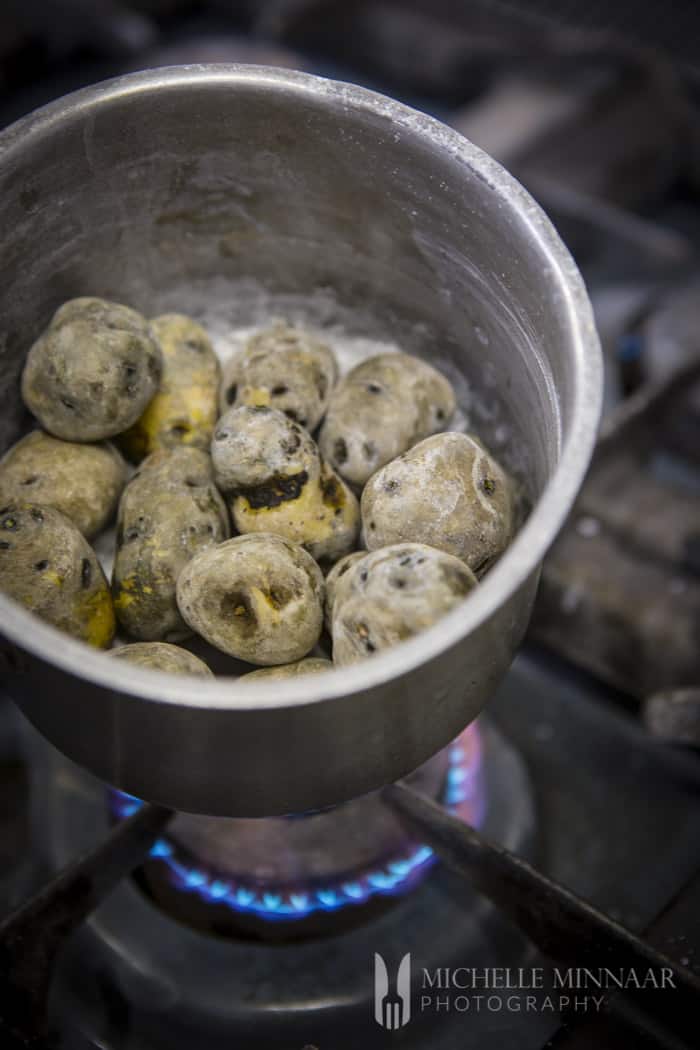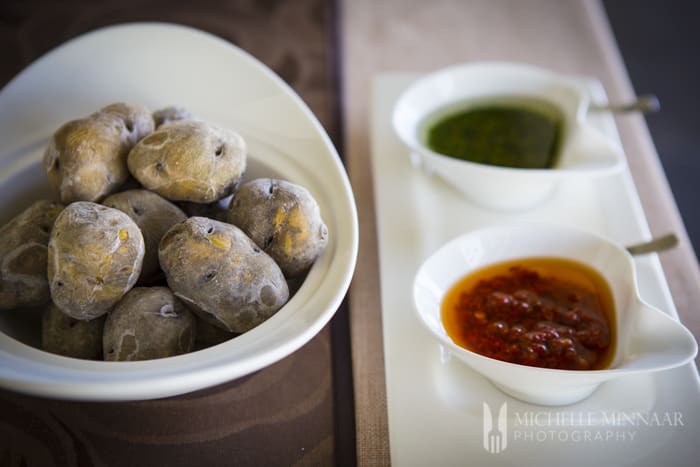 The recipe was demonstrated to me, thanks to Tenerife Tourism, at El Ancla, a plush restaurant based in Kn Arenas del Mar Beach and Spa Hotel, in El Medano.
When you enter the hotel you will be struck by its serenity. Why? No kids! This is an adult only hotel, with a windy beach where the Windsurf World Cup is held every year.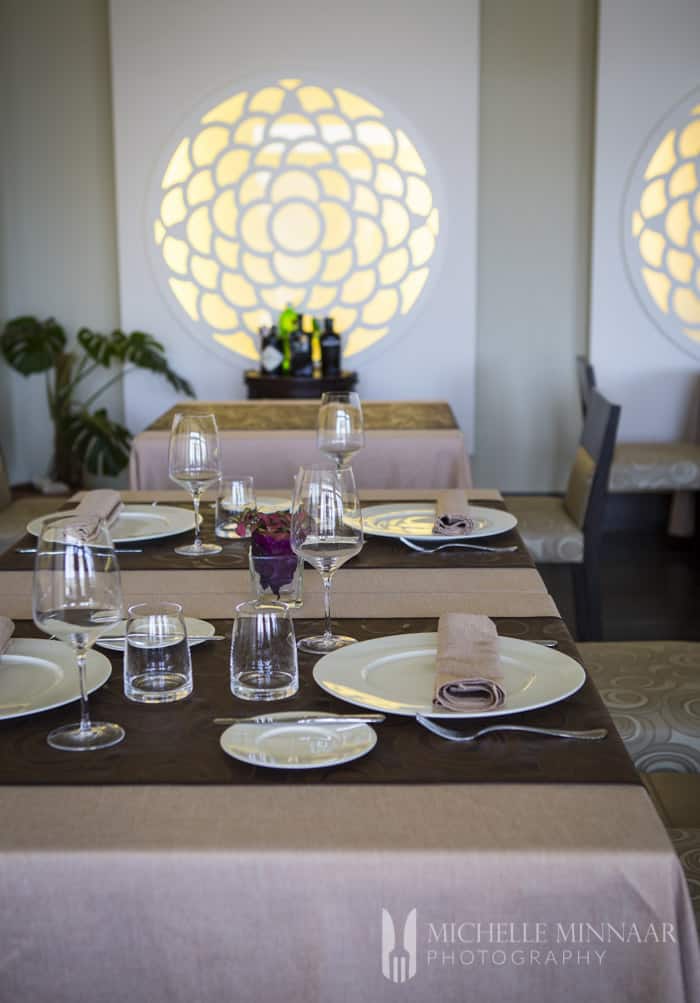 Spain is second country on the list who consumes the most fish in the world and they certainly know what to do with octopus. In this case it was seared and served with two types of sweet potato and a red pepper chilli jam. Pure bliss.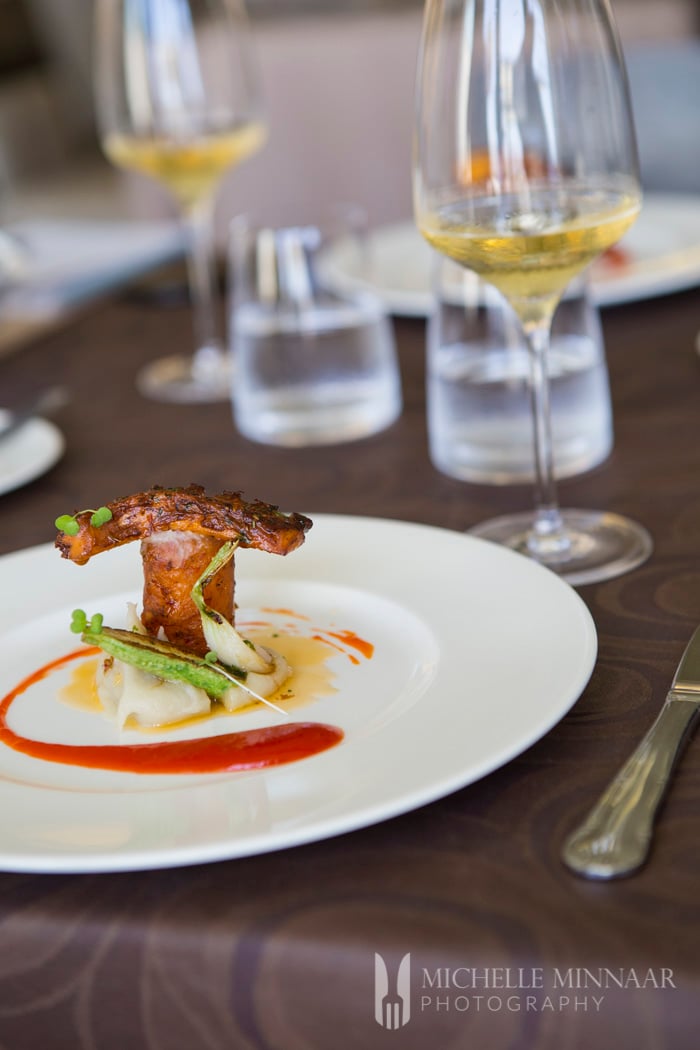 The handsome fellows with me are Juan Carlos Clemente on the left and El Ancla's head chef, Carlos Dominguez, on the right. Hello!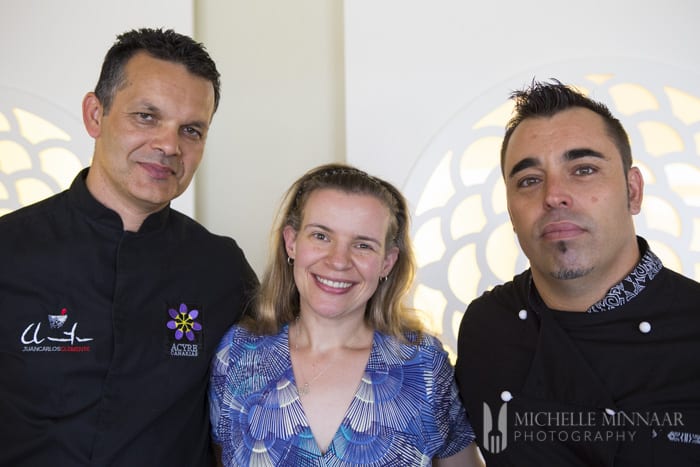 If you love dip recipes and the Mediterranean spirit, check out htipiti, white bean dip and melitzanosalata.
For more delicious potato recipes, check out boulangere potatoes.
Print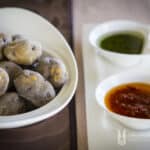 Papas Arrugadas
---
Description
Papas Arrugadas is an authentic dish from the Canarian cuisine. This Spanish recipe comprises boiled potatoes served with Mojo Rojo ("red sauce") and Mojo Verde ("green sauce").
---
1

l (4 cups) water

120

g

(4oz) sea salt

800

g

(2lbs) Old Canarian potatoes
---
Instructions
Wash the potatoes.
Cook until tender in the salted water.
Drain the water, place back in pot and fry dry on the hob to frost with salt.
Serve with Mojo Rojo and Mojo Verde.
Prep Time:

15 mins

Cook Time:

5 mins

Category:

Side Dish

Method:

Boiling

Cuisine:

Spanish
Nutrition
Serving Size:

200g

Calories:

154

Sugar:

Sugars

Sodium:

593 mg

Fat:

0.2 g

Saturated Fat:

0

Unsaturated Fat:

0

Trans Fat:

0

Carbohydrates:

34.9 g

Fiber:

Dietary Fiber

Protein:

4 g

Cholesterol:

0
Keywords: papas arrugadas recipe, wrinkled potatoes, patatas arrugadas, papas canarias, canarian potatoes
save the recipe to your pinterest board