Pico de gallo is a Mexican salsa always served as a starter or as a side dish during parties. It is a coarser salsa than the traditional guacamole, which is a creamy Mexican avocado dip.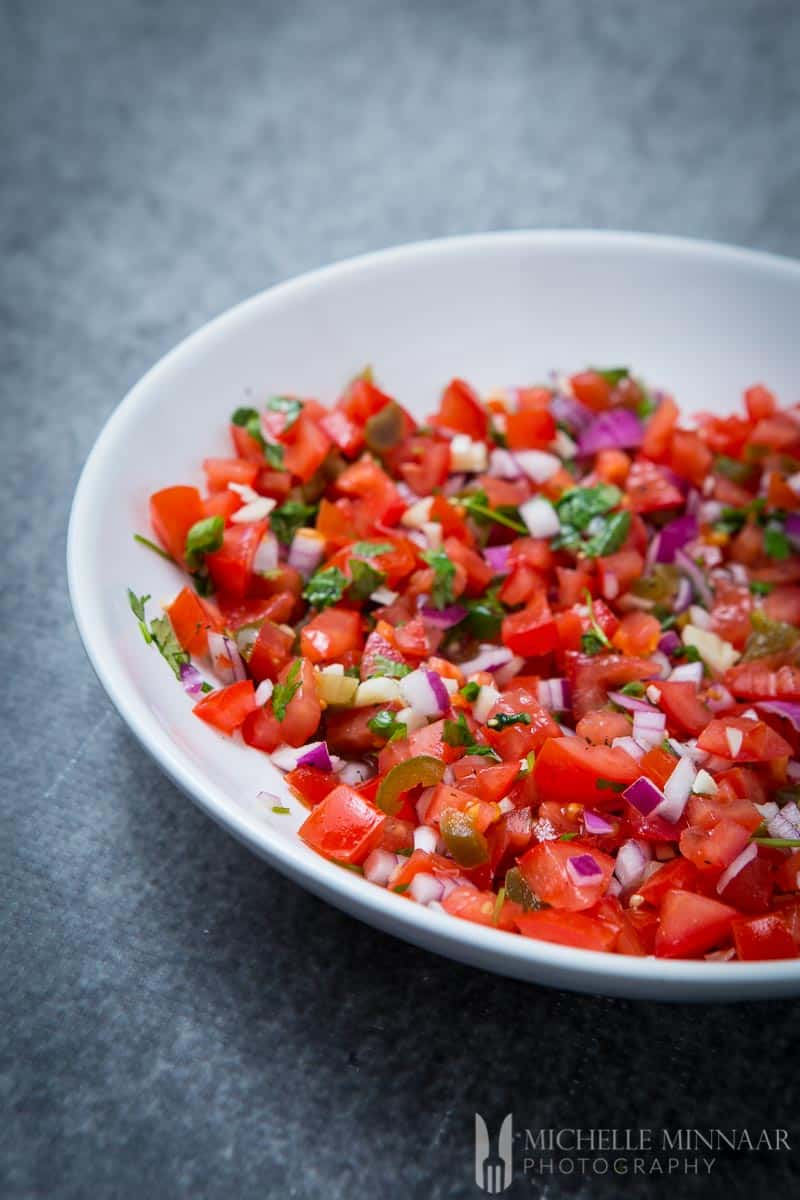 In either case, pico de gallo is best served fresh with a pack of tortilla chips with your feet up on the couch. Perhaps even with an icy, light beer as a reward for a hard day's work.
The hardest thing about this recipe is the chopping and dicing process. Precision and consistency adds great value to the overall appearance of the pico de gallo.
As a result, this vibrant salsa is definitely a recipe you'll want to keep for the spring and summer when fresh produce is at its best. You can easily adjust the heat of this tomato salsa and combine the ingredients to your liking.
pico de gallo
Pico de gallo, also commonly referred to as salsa fresca - meaning "fresh salsa", is an authentic Mexican dish which is basically a tomato salsa using traditional ingredients found in Mexico. It translates in Spanish to "roosters beak".
There has been speculation as to how this tomato salsa dish received its name. According to some historians theorise that pico de gallo got its name because people started eating it by pinching pieces of it into tortillas.
Generally speaking, scooping up the tomato salsa into the tortilla. Others argue, that the pico de gallo salsa resembles a bird-feed like texture.
types of tomatoes
To keep things as authentic as possible, why not use the same type of tomatoes that people use in Mexico? These include the Roma tomato, which is a type of tomato that is more firm than others. Perfect for pilla de gallo, as it won't be so soggy.
Roma tomatoes account for more than 50% of Mexico's production of tomatoes, so they are very fitting in respect to the authenticity of this recipe. Plus, you can get them everywhere!
You can also use the large, round, vine-ripened tomatoes. They are at their best straight off the vine. Give pico de gallo a go in the summer months, so that you can include your fresh tomatoes straight from your garden!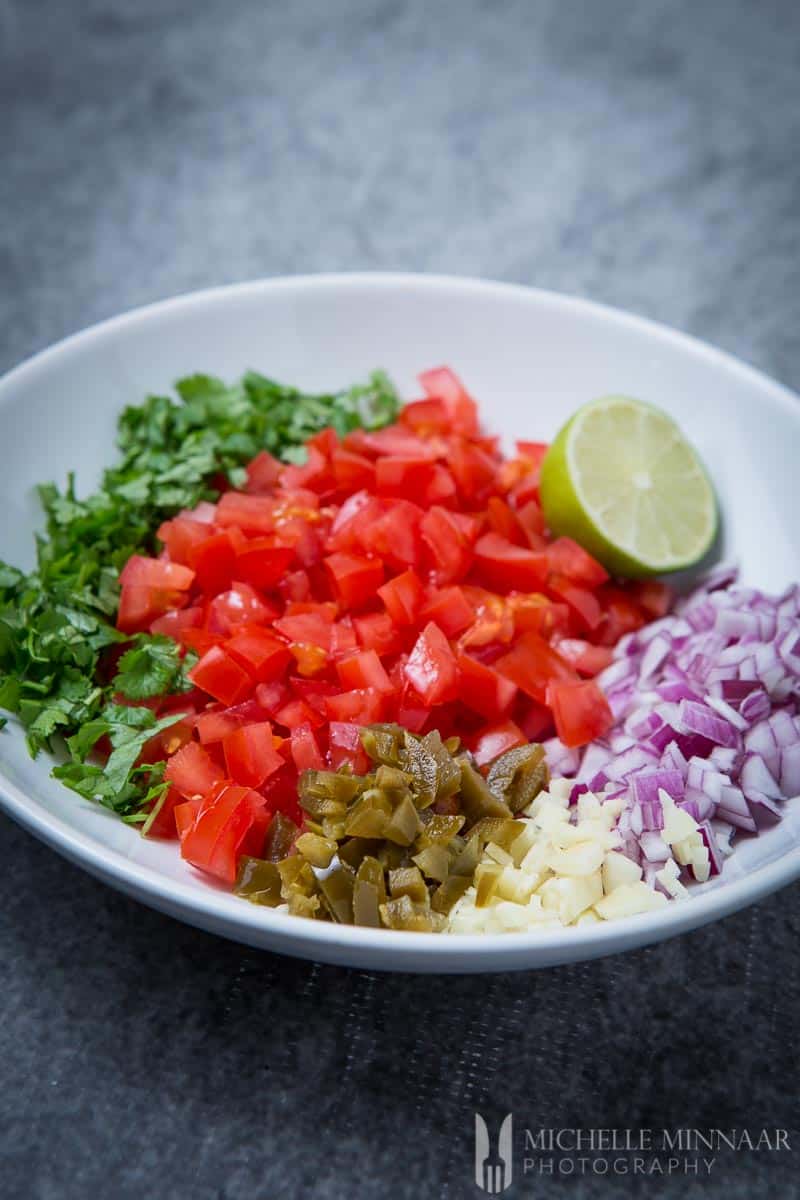 jalapenos
As you can see, I've used jalapeno peppers. Beware, these can be quite hot. Fresh is best, but you can use pickled ones as substitute. The pickled ones in a glass jar tend to be much milder and won't burn your tongue to smithereens.
Although you might fall in love with jalapenos, the traditional pico de gallo recipe calls for using serrano peppers.
The Serrano pepper is a type of hot chili pepper originally found in the mountainous region of Puebla and Hidalgo in Mexico. Have you ever heard of the Scoville heat scale?
This unit system measures amount of heat a chilli pepper possesses. So, it is a perfect way to give you an indication what the difference is between a serrano and jalapeno pepper.
The serrano pepper has roughly 10,000 to 23,000 Scoville heat units. Comparatively, a jalapeno pepper has around 2,500 to 8,000 Scoville heat units. As you can see, the serrano pepper is much hotter.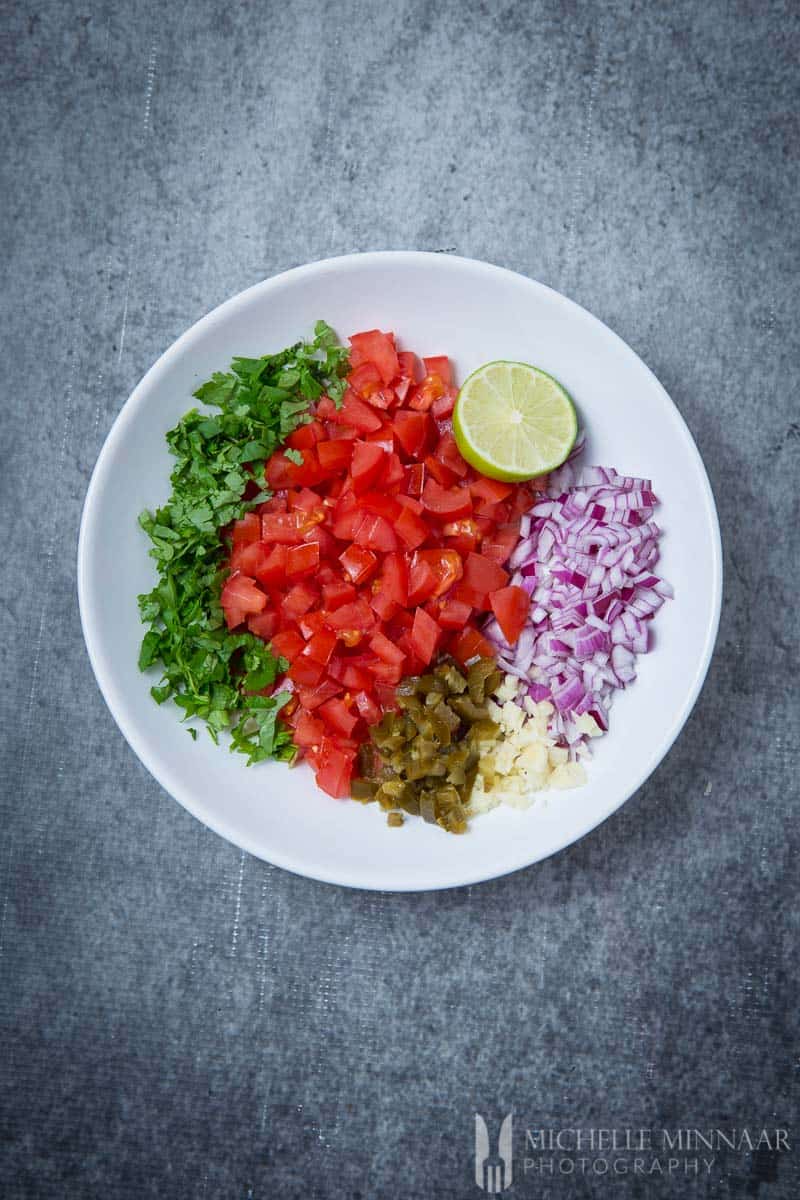 cilantro or coriander
Why isn't there just a single word for coriander? It's confusing, isn't it? Especially, when in Mexico and the U.S. people refer to it as "cilantro". Cilantro is when the plant has its first vegetative stage.
Once the plant flowers and develops seeds, which are also excellent for cooking, it is then referred to as "coriander". Some people also call it Chinese or Mexican parsley.
The beauty of this pico de gallo is that you can add as much coriander as you want. Personally, I love this aromatic herb and can't get enough of it. If you are not so keen on using it, then you can easily substitute with parsley. Parsley has a more bitter taste, but you will still end up with a satisfying result.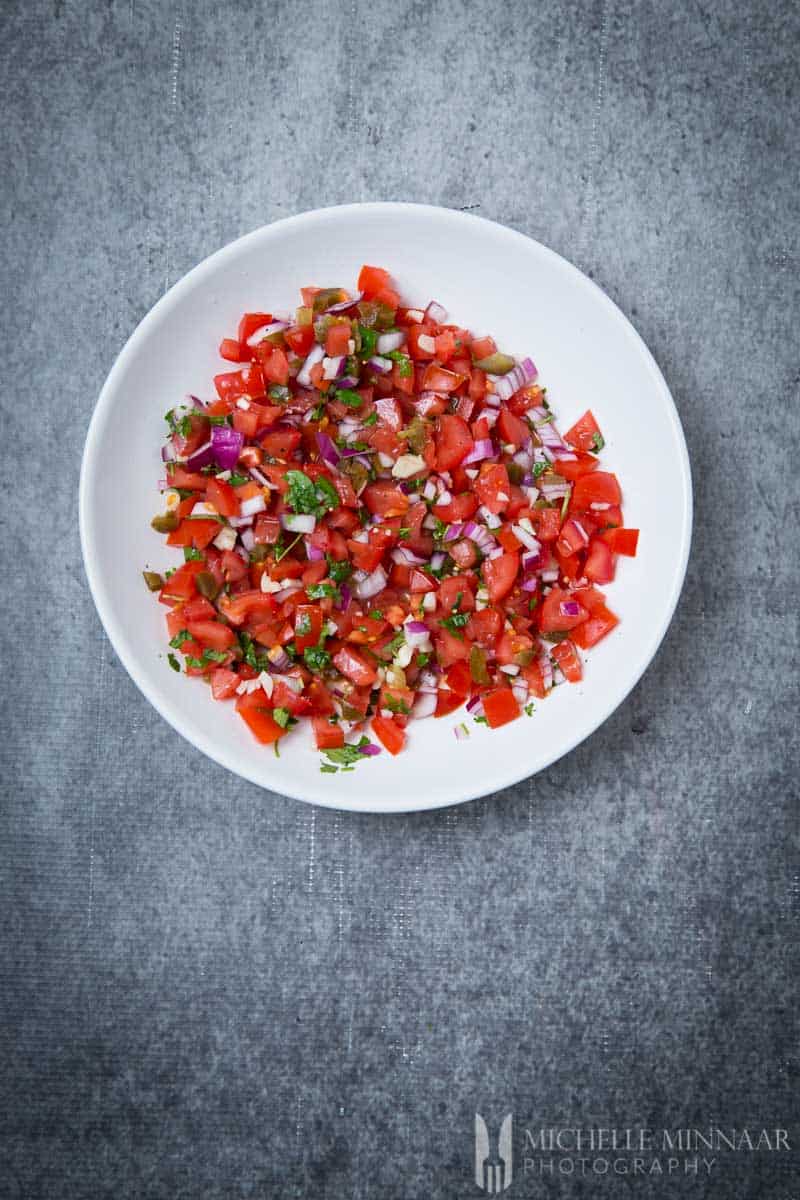 other variations
I just love the versatility of this tomato salsa. One ingredient that I would love to add to this pico de gallo is sweetcorn. I recommend adding fresh sweet corn off the cob.
You can buy a couple of fresh sweetcorn cobs and save the rest for making other delicious recipes such as the grilled sweetcorn with feta and chilli. Or, you can try something simpler such as the bacon-wrapped sweetcorn.
Other welcome additions are fresh avocado, chickpeas or mung beans. I've used mung beans with tomatoes before in my mung bean salad, along with avocadoes. If you add jalapenos, you can turn the mung bean salad into one of your Mexican side dishes.
add exotic fruit
Another idea is to add ripe, exotic fruit once it is available in the summer. Firstly, you can use mango and add it with the other ingredients in the pico de gallo tomato salsa.
Or, you can also take out the tomatoes and create a savoury mango salsa. Pineapple and serrano peppers, or fresh chilli, work extremely well together.
Lastly, you can also add fresh pomegranate seeds and create a vibrant pomegranate salsa. This salsa will also be one of the first to disappear, just like this pico de gallo.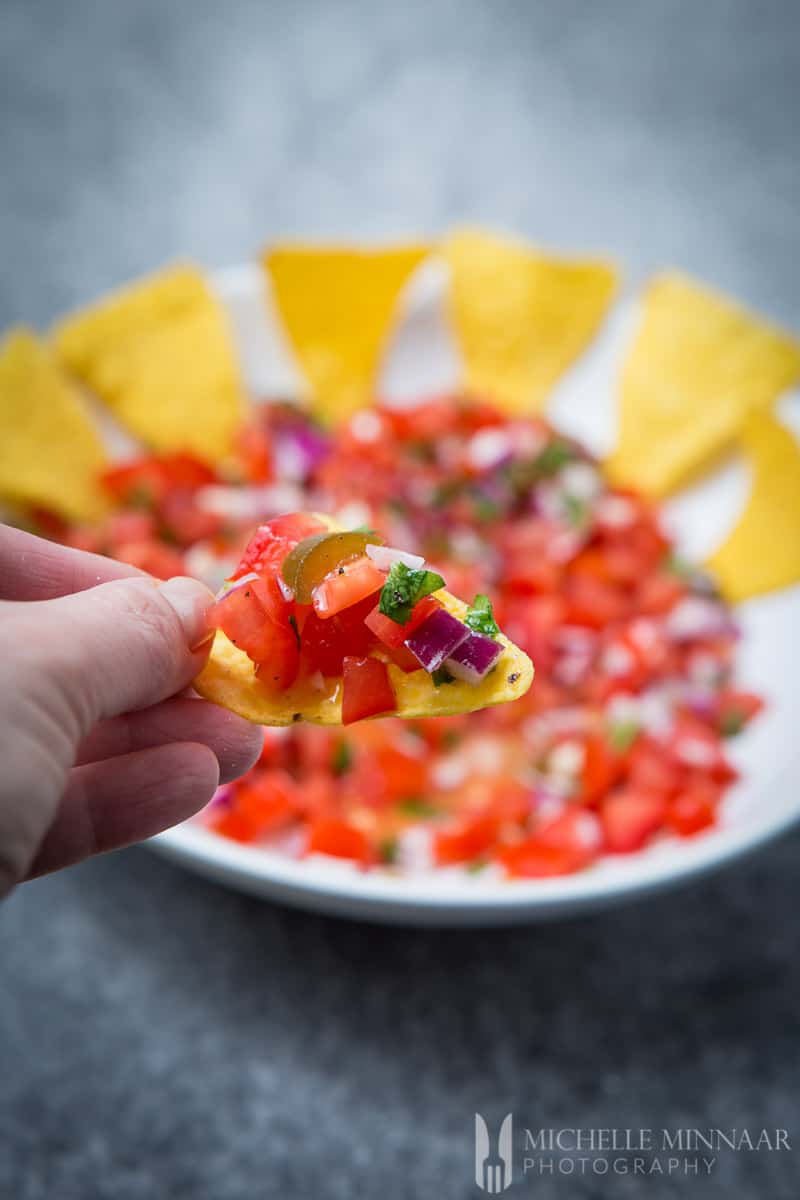 take a middle eastern spin
Speaking of parsley, why not take a Middle Eastern spin on this pico de gallo recipe? Keep the chopped tomatoes, chopped parsley (instead of coriander), onions, mint and bulgur. Drizzle with olive oil and lemon juice.
Once you mix all the ingredients, you will end up with a version very reminiscent of the tabbouleh salad. So, instead of a Mexican night, you can have a Middle Eastern night and pair it with other salads like the fattoush salad. Or, serve it with this Greek dip, htipiti, tzatziki or melitzanosalata.
So, which version of the pico de gallo will you make?
What is your favourite Mexican starter?
Print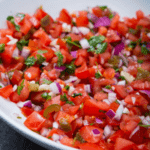 Pico de Gallo
---
5

tomatoes, washed and finely chopped

1/2

red onion, peeled and finely chopped

1

jalapeno, finely diced

250

ml

(1 cup) fresh coriander leaves, washed and chopped

3

garlic cloves, peeled and crushed

1/2

lime, juiced
Salt and pepper, to taste
---
Instructions
Place all the ingredients in a large bowl and stir well.
Season to taste and serve immediately.
Notes
Serve as a side dish as part of a Mexican feast, or with tortilla chips as a starter or snack.  
Prep Time:

15 minutes

Category:

Starter

Cuisine:

Mexican
Nutrition
Serving Size:

1 serving

Calories:

31

Sugar:

3.7 g

Sodium:

7 mg

Carbohydrates:

6.9 g

Fiber:

2.1 g

Protein:

1.4 g
save the recipe to your pinterest board