Although most of us enjoy a relaxed and proper breakfast when given the choice, most of us rush around most mornings giving breakfast little thought. That doesn't mean you have to eat badly though, these protein flapjacks would more than suffice!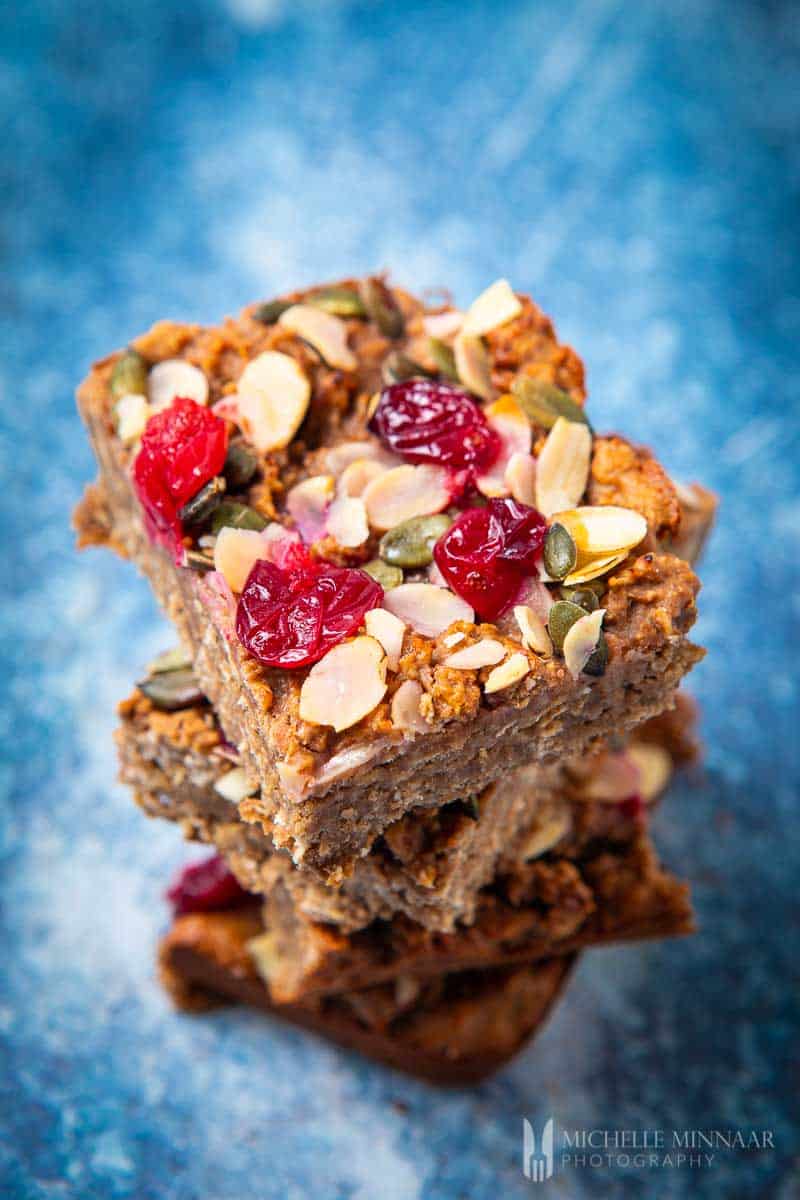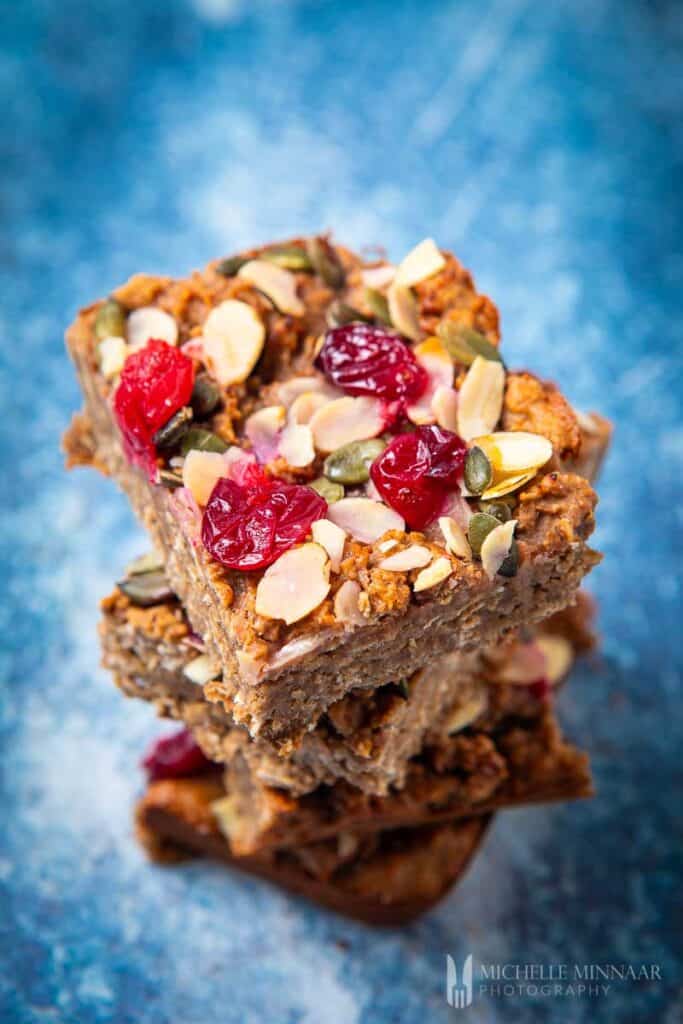 With the addition of protein powder, this healthy snack is wonderful if you are heading to the gym. Even better, exercise first and enjoy it as a post-workout treat to replenish your muscles.
Preparing this flapjack recipe is dead easy. Once you have mixed up all the ingredients, it's a matter of waiting for the flapjacks to bake. The great thing about making your own protein flapjacks is that you can easily tweak it with different flavours.
In this case, I have added pumpkin seeds and dried cranberries. You can either use them as a topping or simply add them straight into the mix and let them form part of the protein flapjacks.
protein flapjacks recipe
These protein flapjacks wouldn't be complete without White's Jumbo Organic Oats. I have to come favour these oats, as they have the best creamy texture with a firm bite, especially when it comes to porridge.
However, not only are these oats highly suitable for porridge, but they can be used in baking recipes as well. The oat flakes are hearty as well as organic. With each bite of the protein flapjacks, you also experience the flavour and texture of the oats.
Best of all, the oats are grown by a collection of trusted 25 British Organic Arable farmers. No wonder nine consecutive Great Taste Awards have been won. As a cherry on top, White's is also certified by the UK Soil Association.
I regularly use these oats for my morning porridge. I also like to sprinkle some of the oats over any crumble recipe. Check out the fabulous vegan oat cookies I made recently!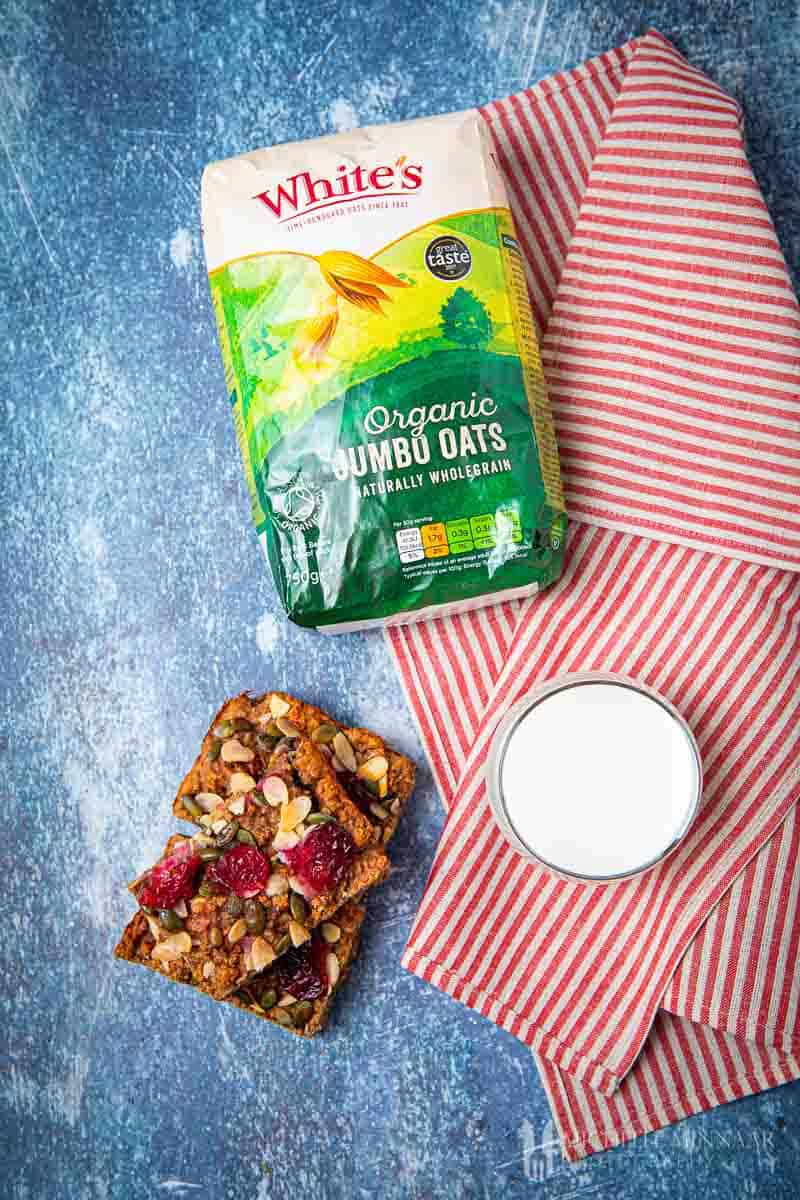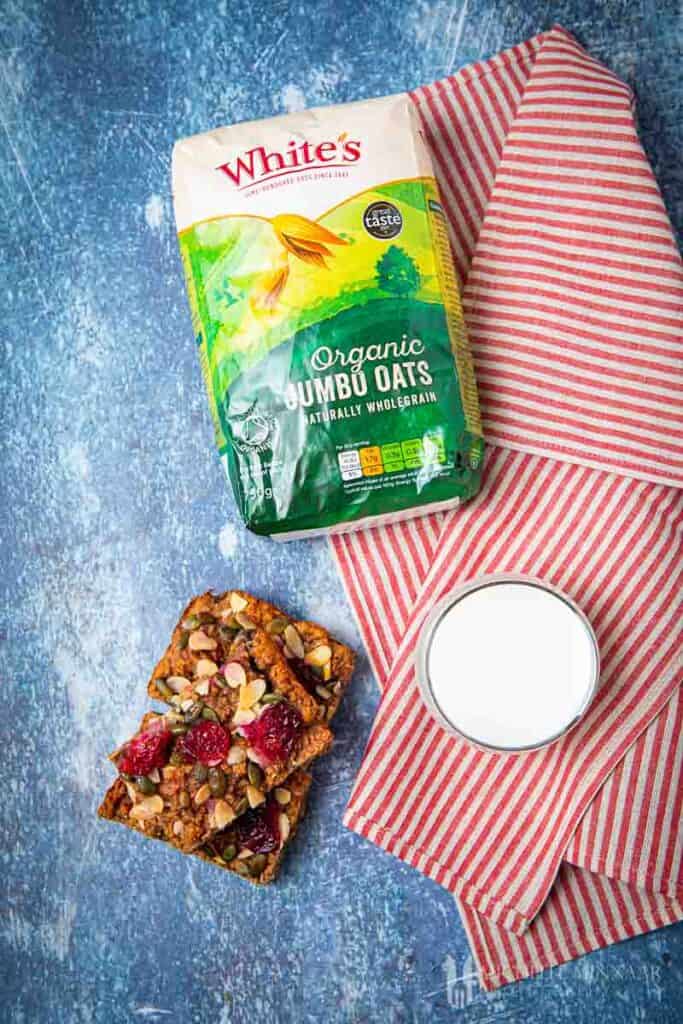 I bet by now you are starting to wonder what makes these White's Jumbo Organic Oats so special. Well, a 750g pack of oats contains:
fibre
beta glucan which helps lower cholesterol
low in saturated fat
no added sugar
only 109 calories per serving – and you are actually satiated!
Oats are suitable for vegetarians and vegans, plus they are 100% organic! It doesn't get better than this, does it?
vegan protein flapjacks
If you are vegan and wondering whether this recipe is suitable for you, fret not. You don't have to struggle to convert this flapjack to become vegan-friendly.
In my original recipe, I used ordinary cow's milk. This is in fact the only ingredient you need to substitute, in order to make them vegan protein flapjacks.
Good substitutes for ordinary milk are soy milk, rice milk or almond milk. You can use the remainder of the milk to make an almond milk porridge, or the equivalent. It makes a delicious and nutritious start to your day!
Keep in mind the type of protein powder you use though. There are many vegan-friendly brands out there, so just read the labels when you go shopping.
The rest of the ingredients are completely plant-based. Therefore, if you are keen to stick to a vegan diet, there is no need to rule out the pleasure of having some delicious protein flapjacks for breakfast or as a snack.
Also, check out my fantastic chocolate and banana protein shake. It is gluten-free, vegan, dairy-free and sugar free. I drink it religiously at least three times a week!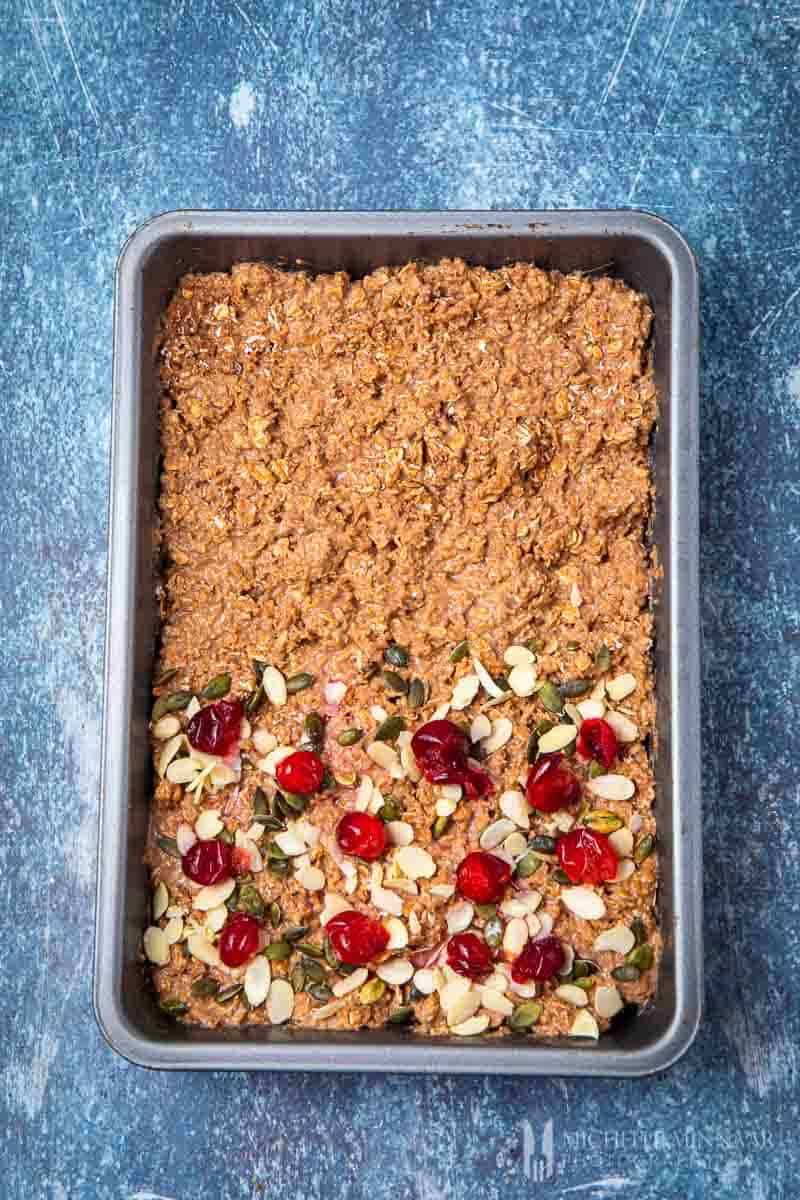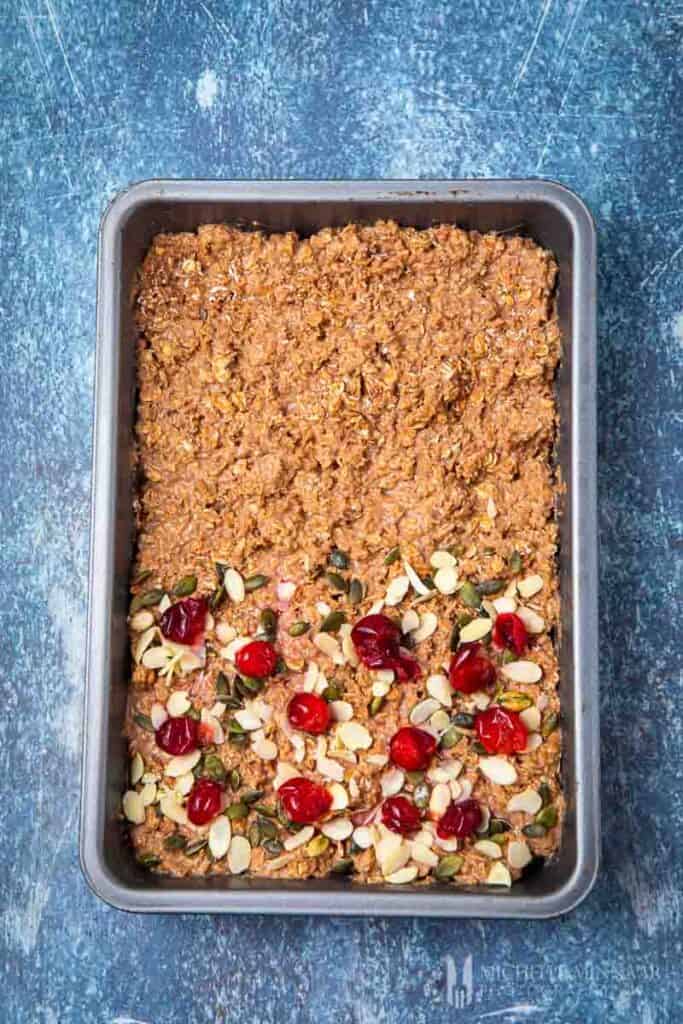 protein flapjacks with no nuts
However, it is actually optional to add nuts to the protein flapjacks. Even if you have a peanut intolerance, you can substitute the peanut butter for coconut or soy butter instead.
If you desire some texture every mouthful, but don't want to add nuts, there are plenty of alternatives. For example, you can use all sorts of dried fruits – raisins, dried apricots or berries, just to name a few.
The same thing goes for toppings. If you do not like nuts, there is no need to use nuts or seeds for the topping. How about using grated coconut instead. On the other hand, if you want to treat yourself, you can top off the protein flapjacks with chocolate.
Banana protein flapjacks
There many variations available if you want to make these protein flapjacks your own. One popular option is banana protein flapjacks.
You can either choose to top off the protein flapjacks with slices of banana, or you can add banana to the mixture. The best way is to dice up the bananas, a bit similar to large chocolate chips, and then add to the mixture. The addition of bananas can potentially make the texture of the protein flapjacks slightly more dense and mushy though.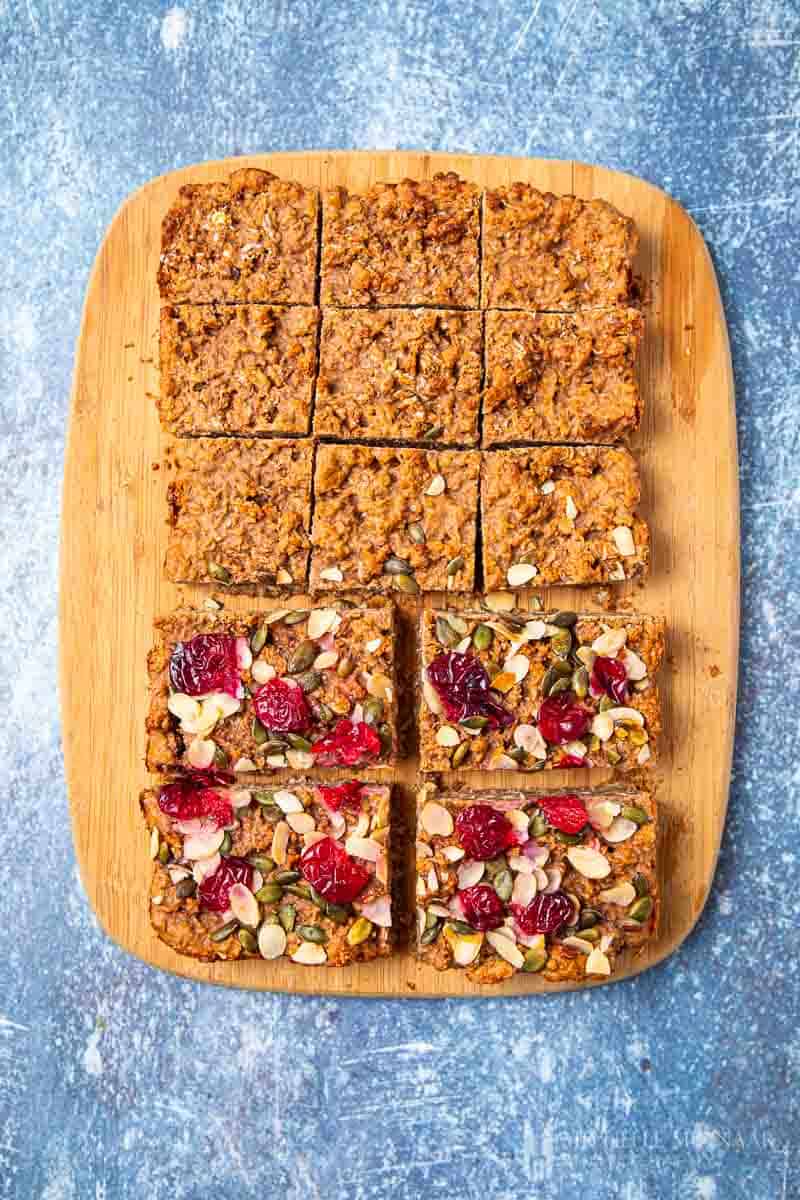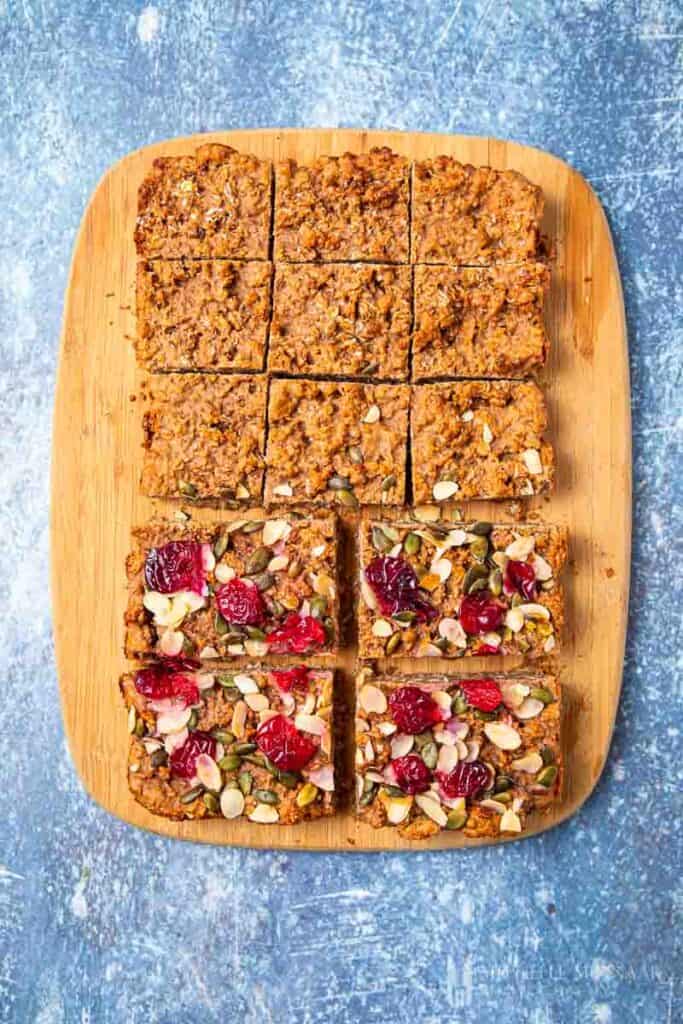 On the other hand, you get the added value of not only the banana flavour and extra sweetness but also the healthy minerals. Above all else, bananas are rich on potassium. This mineral is supposed to be good for your blood pressure and heart.
Furthermore, it can help to preserve your bone structure. All the more reason to add a bit of banana to your protein flapjacks!
For more inspiration on flapjacks as well as a bit of background knowledge, have a look at these sugar free flapjacks.
Also, for more sugar free recipes, check out the following:
healthy sweet breakfast recipes
Do you have a sweet tooth? You'll love the options below!
Print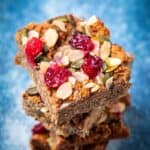 Protein Flapjacks
---
Description
Learn how to make protein flapjacks. Perfect  before gym or post workouts. Packed with protein, it's great for breakfast or as a snack.
---
300g

(3⅓ cups) White's Organic Jumbo Oats 

100g

(1 cup) protein powder

5

ml (1 tsp) ground cinnamon

2.5

ml (½ tsp) ground nutmeg

225g

(1 cup) peanut butter

75

ml (5 tbsp) date syrup

10

ml (2 tsp) vanilla extract

22.5

ml (1½ tbsp) peanut oil

250

ml (1 cup) plant-based milk

30

ml (2 tbsp) pumpkin seeds [optional]

30

ml (2 tbsp) dried cranberries [optional]
---
Instructions
Preheat the oven to

200°C/fan 180°C/390°F/gas mark 6.

Grease a 30x20cm (12 x 8in) baking tin and set aside. 

Place the oats and protein powder in a large mixing bowl with cinnamon and nutmeg.

Incorporate peanut butter, date syrup, vanilla extract and peanut oil with the dry mixture.

Once the ingredients are well combined, add milk systematically and mix until an even consistency is formed. 

[Optional] Sprinkle the fruit and seeds on top before placing the tin in the oven.

Tip the mixture into the baking tin and bake for 15 minutes or until golden brown. 

Remove from the oven and place on a cooling rack. 

Once cooled, slice into portions and enjoy!
Notes
You can use regular milk or any plant-based milk you prefer.

If you have an affinity for other seeds and nuts, feel free to add some extras to the mix. 

The extras can be added as a topping or form part of the actual flapjacks.

For a touch of glamour, melt the chocolate of your choice, and dip half of each cooked flapjack slice into it. Leave to dry and enjoy later. 

Storage: Store in an airtight container in a cool dark place.
Prep Time:

15 minutes

Cook Time:

20 minutes

Category:

Snack

Method:

Bake

Cuisine:

English
Keywords: protein flapjacks, high protein flapjack recipe, British flapjacks, healthy snack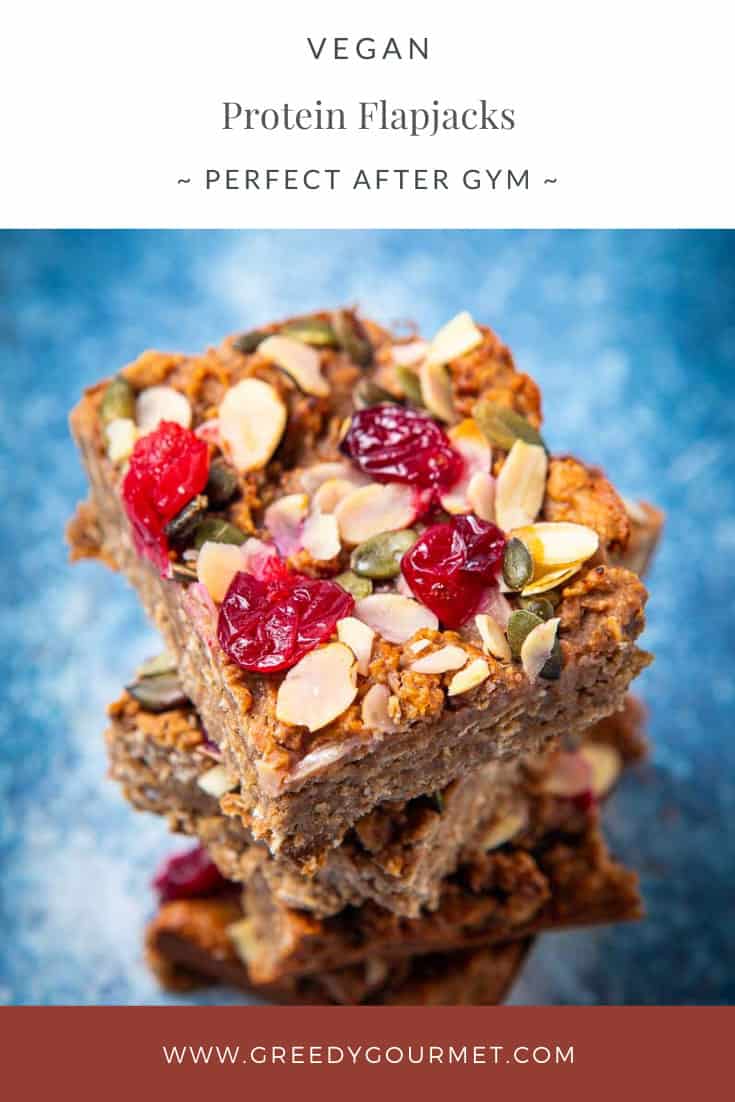 P.S. This is a sponsored post.