Roasted jerusalem artichokes are simply delicious. Most people want to make roasted jerusalem artichokes because of the nutty flavour that they release, accompanied by the crispiness of the skin. They are also nice and creamy when roasted. With all these different flavours and textures going on, these natural flavours will create a beautiful taste in your mouth that will make you want to eat them right out of the oven. Careful though, even though they are delicious and irresistible, they are hot. Make sure, you don't burn yourself!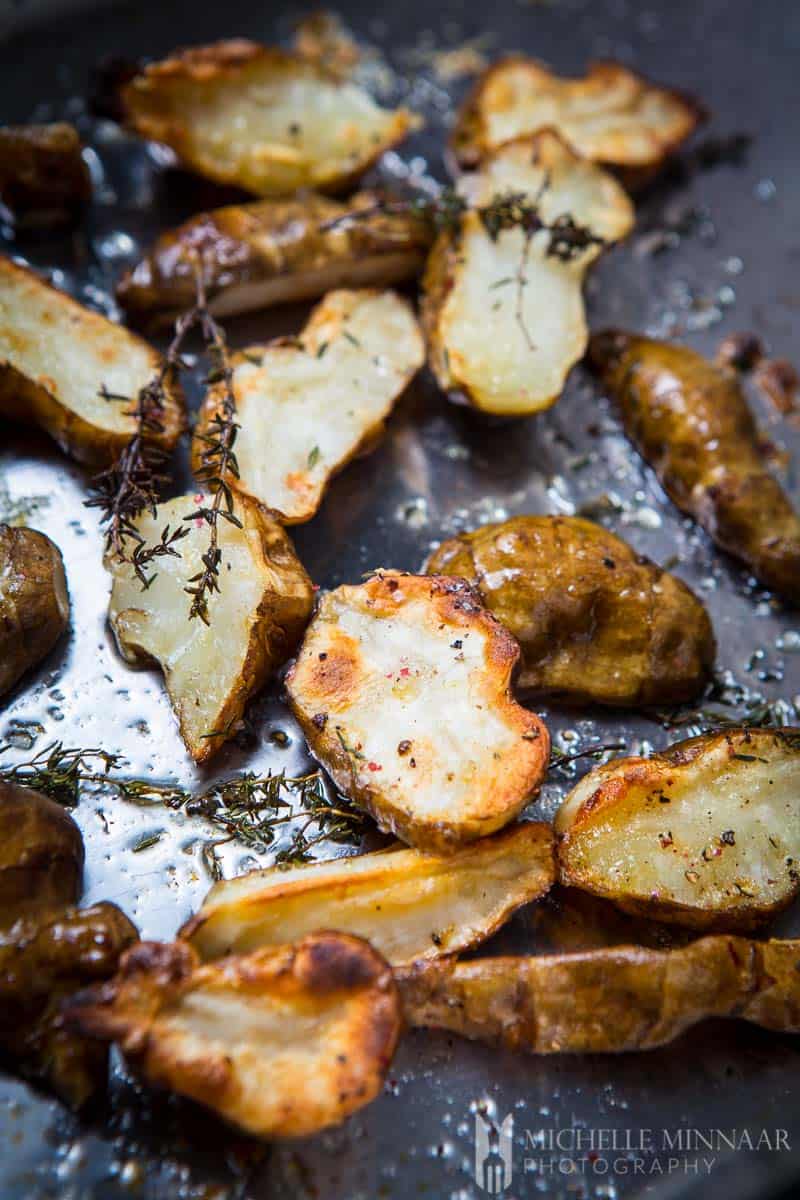 What are Jerusalem artichokes?
Jerusalem artichokes belong to the winter vegetable family. You might also know them as: sunroot, sunchoke, earth apple or topinambour. Would you believe that jerusalem artichokes actually belong to a species of sunflower? They are very similar to potatoes, as they are also a tuber. The only difference is that potatoes don't go soft and creamy like roasted jerusalem artichokes do.
Origin of Jerusalem artichokes
Don't worry, you are not the first and last person to question whether jerusalem artichokes are actually from Jerusalem. The answer is no, they are not. In fact, they originated in North America, long before the arrival of the European colonies. It is most likely that Pocahontas used to eat this vegetable. But let's not get ahead of ourselves here. Jerusalem artichokes only made their way into the European market after the colonization of the east coast of North America.
Where can I get Jerusalem artichokes?
When in season, you can buy Jerusalem artichokes in supermarkets and greengrocers. My suggestion to you is to get these from a local market, to ensure you obtain the highest quality produce. These usually have the most nutrients and flavour.
Appearance and different types of Jerusalem artichokes
They sort of look like ginger or galangal at first glance. Be very cautious when you select your jerusalem artichokes and don't mistake them for the above-mentioned vegetables. Be sure to carefully read the label before you make your final purchase.
In terms of appearance they come in various colors. These are the different types of colours you can find:
White-skinned: these are easy to grow in colder climates and shorter summers – basically perfect for Britain. They have round roots and they mature quickly.
Red-skinned: these are a bit easier to clean and they don't have so many nodules attached to them. They are a bit tougher to grow and come in various tones of colour and can almost look purple.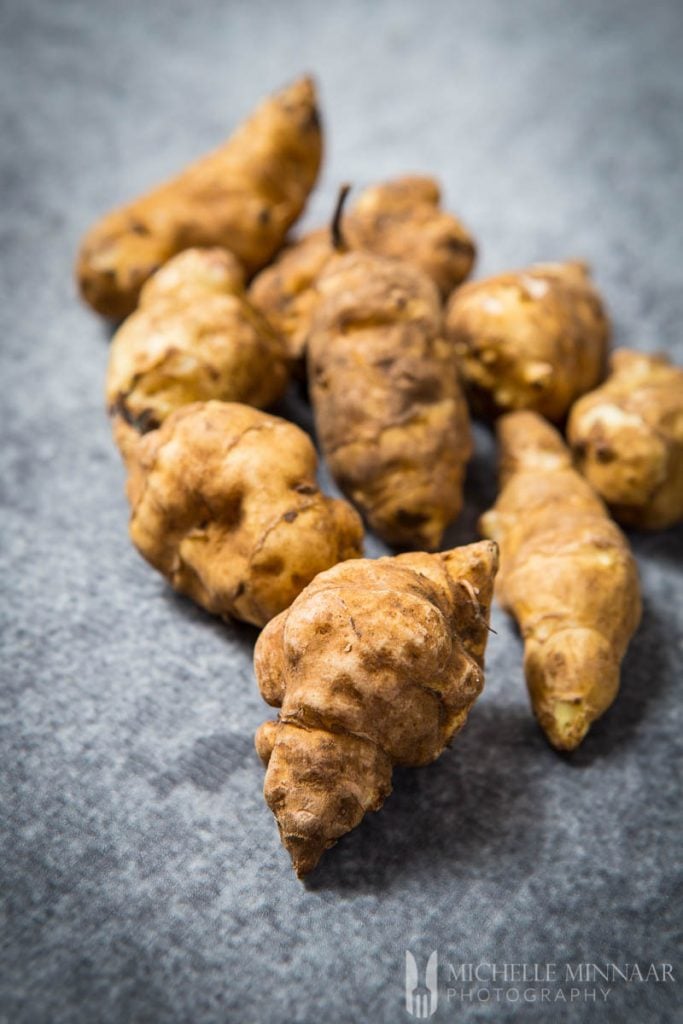 Growing your own Jerusalem artichokes
As mentioned before, white-skinned jerusalem artichokes are great for colder climates. These are the ones you should attempt to plant if you like growing your own produce in your garden. You should plant them around the time you plant tomatoes. This would be in early spring. The longer the season you give them, the longer roots they will have, which in turn means you can enjoy making more roasted Jerusalem artichokes!
Health Benefits
The health benefits of this recipe are just never-ending. Jerusalem artichokes are a great source of vitamin C, thiamin, niacin, riboflavin and folate. They are surprisingly low in starch and contain no saturated fat or cholesterol. Super healthy! Jerusalem artichokes will help you with appetite regulation, vision, clearing up your skin and its great for your bones. There are absolutely no downsides.
Great for diabetes
Since Jerusalem artichokes are low in starch, have natural occurring fructose and help regulate sugars in the blood, they are great for people suffering from type II diabetes. Roasted jerusalem artichokes don't contain any oil, only if you add oil for roasting. This is of course optional. You can also check out this recipe with sweet potatoes that contain similar qualities to roasted Jerusalem artichokes.
Great dish for vegans and vegetarians
No surprise here! You can get a lot of nutritional value from roasted Jerusalem artichokes. This recipe is great for vegans looking to make a hearty and filling dish. It can be used of course as a side dish to other vegan friendly foods. You can be as creative as you want.

Practical information
When you roast your jerusalem artichokes, cut them in half. This will decrease the cooking time in the oven. Also, having a nice crispy layer of the inside part of the jerusalem artichoke is great! A common question that I hear most of the time is "Should I eat skin of Jerusalem artichokes or not?". My answer is absolutely. The skin is full of vitamins and if you roast the jerusalem artichokes properly, you will get a great crispiness and you won't even notice the skin. Just make sure to clean them thoroughly.
Herbs and more
You can use these herbs to add flavour to your roasted Jerusalem artichokes. They will cut through the creaminess and nuttiness of the dish and give it a fresh boost.
Thyme – I used thyme for this recipe. Thyme is great for improving digestion, and its oils are also used to cure sore throats and bronchitis. I prefer to use thyme as its oils are not as bitter as the ones released by rosemary.
Rosemary – great for protecting the body from bacterial infections. Oils are a bit too bitter for my liking, even when roasted. But great for risottos.
Bay leaf – a bit unusual, but surprisingly this herbs adds great flavour to jerusalem artichokes. Try it!
Chives – these will give the dish more freshness and tanginess.
Garlic – this is a fantastic addition. If you are a fan of garlic, then make sure you chop some up and roast them. They will provide lovely bitter-sweet tones to the dish.
Substitutes
You can use multiple substitutes for this recipe. To achieve the most similar effect in terms of taste I highly recommend the use of parsnips.
Parsnips – they are a bit sweeter, but still have that earthy taste one loves!
Sweet potatoes – these are definitely sweeter and contain more caramel notes on the palate. Great if you are a diabetic
Carrots – again, using any root vegetable is great for this dish. I have a great recipe for roasted carrots, you can find it here.
Beetroot – more earthy and a bit sweet at the same time. Especially when roasted, it releases a sweeter taste.
Potatoes – maybe the most bland of all these choices but still a great root veggie. Great as a side dish.
Celeriac – a lovely winter vegetable, with that characteristic celery taste, that also becomes slightly sweet when oven roasted.
Be creative for spring
You can make a salad with roasted jerusalem artichokes. Make sure you cool them first! Cut them up into quarters or smaller pieces. Throw in a bit of rocket salad and freshly chopped carrots (cut in thin circles). Adds some nuts or chickpeas to include protein to the dish and you've got yourself one rocking salad!
For more inspiration for amazing recipes please look at:
Print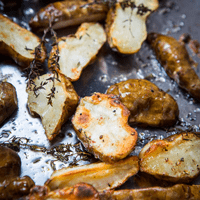 Roasted Jerusalem Artichokes
---
Author:

Michelle Minnaar

Prep Time:

5 minutes

Cook Time:

45 minutes

Total Time:

50 minutes

Yield:

4

1

x
Scale
Ingredients
450g

(1lb) jerusalem artichokes

30

ml (2 tbsp) vegetable oil
Salt and pepper
Fresh thyme sprigs, optional
---
Instructions
Preheat oven to 170°C/350°F fan/gas 3.
Scrub the artichokes thoroughly, removing any blemishes with a knife.
Halve them lengthwise and cover with oil and season liberally. Optional, add the thyme sprigs.
Roast in the oven until tender and golden, which takes around 45 minutes.
Serve as a side dish.
---
Nutrition
Serving Size:

1 serving

Calories:

145

Sugar:

10.8 g

Sodium:

295 mg

Fat:

7 g

Carbohydrates:

19.8 g

Fiber:

1.8 g

Protein:

2.3 g
save the recipe to your pinterest board