This runner bean chutney is perfect when you have a glut of runner beans leftover from your allotment. This chutney recipe is easy to prepare and makes a perfect Christmas present.

Made with humble ingredients, you'll love this runner bean chutney's consistency and it can be served in numerous ways.
For instance, the addition of traditional Indian spices like turmeric means it will pair well with a beef kofta curry and basmati rice.
Not having a homemade chutney in the fridge is like depriving yourself of an excellent meal. Sometimes, your dinner might need just a little punch of extra flavour.
This chutney is your answer, so it is always a good idea to have a spare jar in the fridge. That being said, if you serve this runner bean chutney as a side dish or as a spread, you'll love it!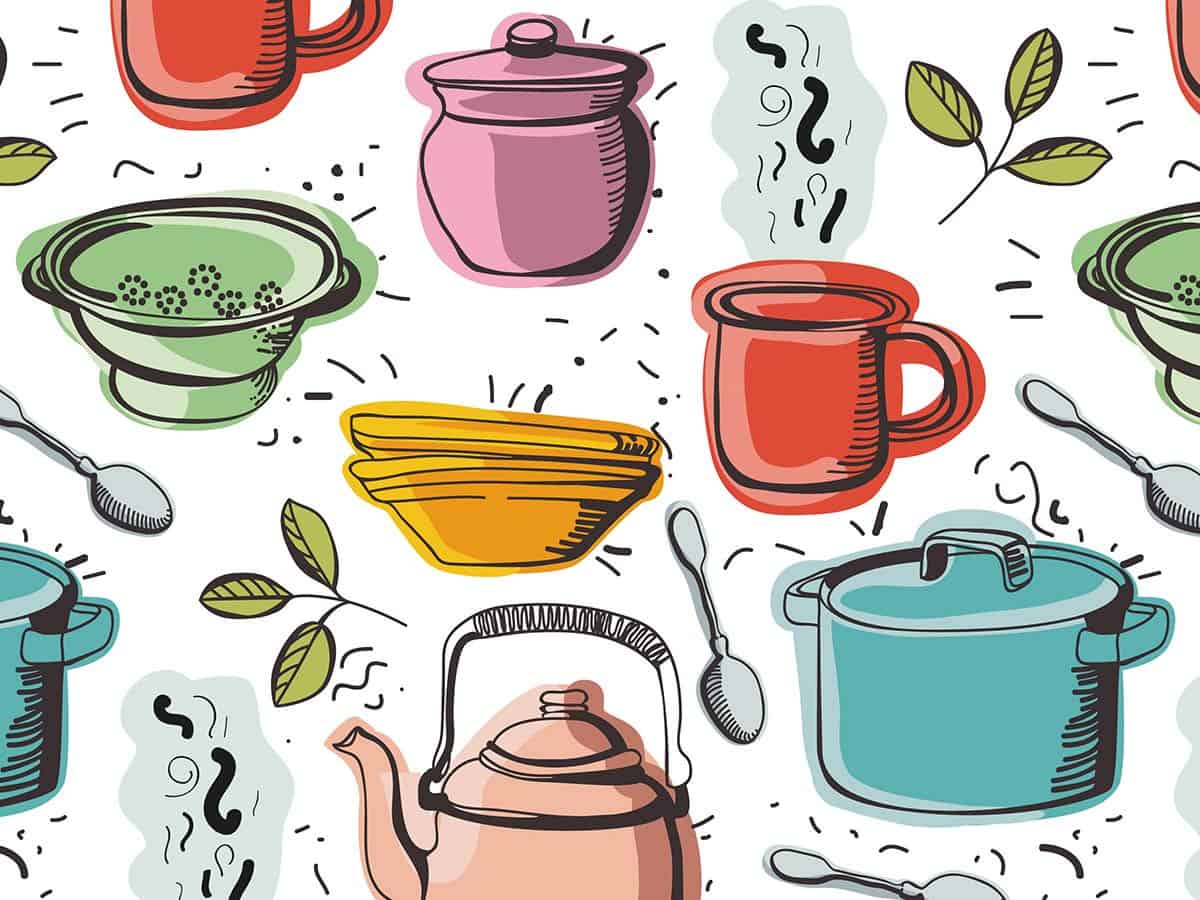 CHUTNEY EQUIPMENT YOU NEED
Check out the ultimate list to chutney making equipment. You actually don't need that much and most of the items are quite affordable!

Making your own preserves is a great and satisfying hobby. Giving the gift the lovely food to your friends and family are especially rewarding!
Runner bean chutney recipe
When was the last time you enjoyed a homemade chutney? If you had to think about the response for more than five seconds, then it's time that you make one soon.
If you have never attempted making chutney from scratch, then this runner bean chutney recipe is perfect! You will find out that making chutney is actually easier than making homemade berry jam.
It doesn't involve as much preparation. In addition, the runner beans won't make such a mess in the kitchen as compared to the forest fruit.
On the whole, I always say that preserving fruit and vegetables is an art. Not only is it sustainable, it can also be potentially healthy, depending on how much sugar you use.
When you make homemade jams, chutneys, jellies, pickles, etc., you don't need to worry about any preservatives, additives, chemicals, sweeteners or any other nonsense which could pose as a health risk.
where to buy Runner bean chutney
Runner bean chutney is not something you come across every day. Especially, if you are looking for it in the run-0f-the-mill supermarket.
Most of the times, you will be able to locate the popular sorts like mango chutney, pear chutney, peach chutney, tamarind chutney or, if you're really lucky, beetroot chutney.
These types of chutneys are aimed at the 'mass market'. However, runner bean chutney is quite special. Your best bet is to look for it at a local farmer's market or delicatessen.
However, nothing beats a homemade chutney. Especially, when you're the one who made it with a loving touch.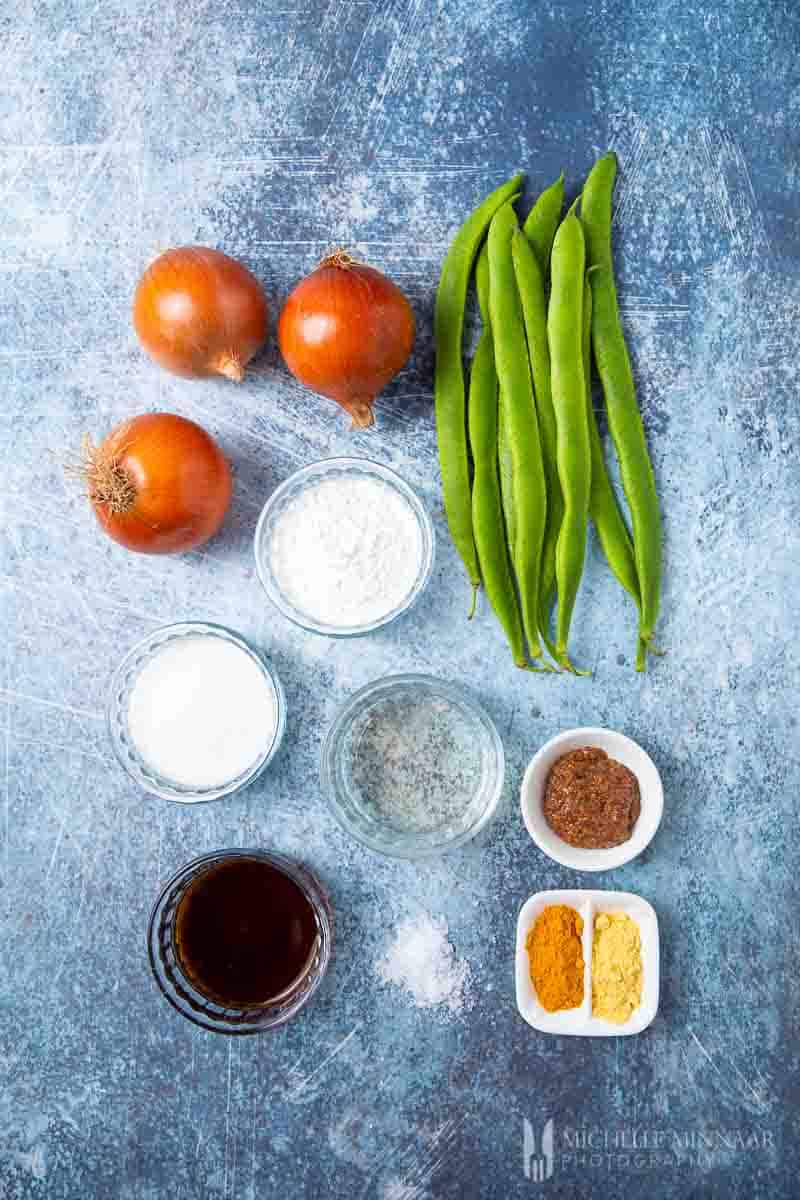 What are runner beans?
A runner bean is a type of bean which has green knife-shaped pods. You might also know runner beans as scarlet runner beans or multiflora beans.
Sometimes, people also mistakenly refer to runner beans as butter beans or lima beans, which is incorrect. These two types of beans are a completely different variety of beans.
Butter beans are large beans with a white colour. I've used them to make these amazing butter bean recipes:
In either case, runner beans are equally delicious and versatile just as butter beans. In comparison to butter beans, this species of beans originated in Central America. Today, runner beans are also cultivated in the UK.
Did you know that when they grow, they bloom with stunning red flowers? Oftentimes, people see this as a bonus for growing runner beans in their own garden.
Also, it is rumoured that that the red flowers attract hummingbirds. Knowing these facts, I wouldn't mind growing runner beans in my garden.
Slow cooker runner bean chutney
Runner beans are like any type of beans. They should be cooked thoroughly before you consume them. Otherwise, you might end of with a chewy mouthful which is rather unpleasant.
As you know, cooking beans sometimes takes a long time. Therefore, you should consider saving your time by using a slow cooker.
The slow cooker will not only cook your runner beans through properly, you don't have to stand around and wait for the chutney to cook!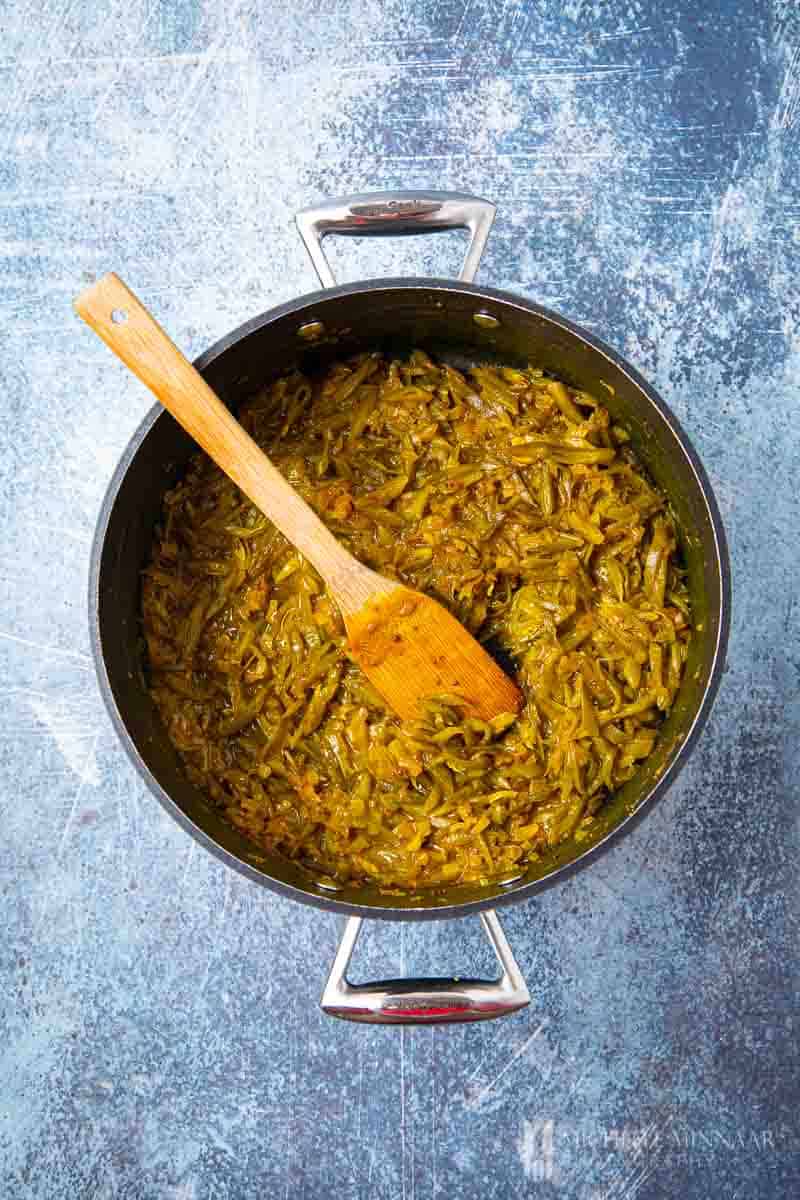 Curried runner bean chutney
As mentioned before, you can easily jazz up this runner bean chutney recipe. All you need are a couple of Indian spices.
Just add a pinch of each of these and see which flavour you prefer the most. Most of all, you can make each jar of this runner bean chutney different by altering the spice proportions.
Don't be shy to experiment. Just take a look at these spices below:
Turmeric or these turmeric substitutes - don't add too much as this runner bean recipe already calls for turmeric
Asafoetida or these asafoetida substitutes
Chilli powder - or hot paprika if you wish for a milder substitute
Ground cumin powder
Garam masala spice mix
Curry powder - I also enjoy adding a pinch of madras curry powder because it is spicy
If you are looking for more inspiring chutney recipes, check out these chutneys below:
You can serve your Indian dishes with a variety of chutneys. This way, your dinner guests will get to select their favourite one.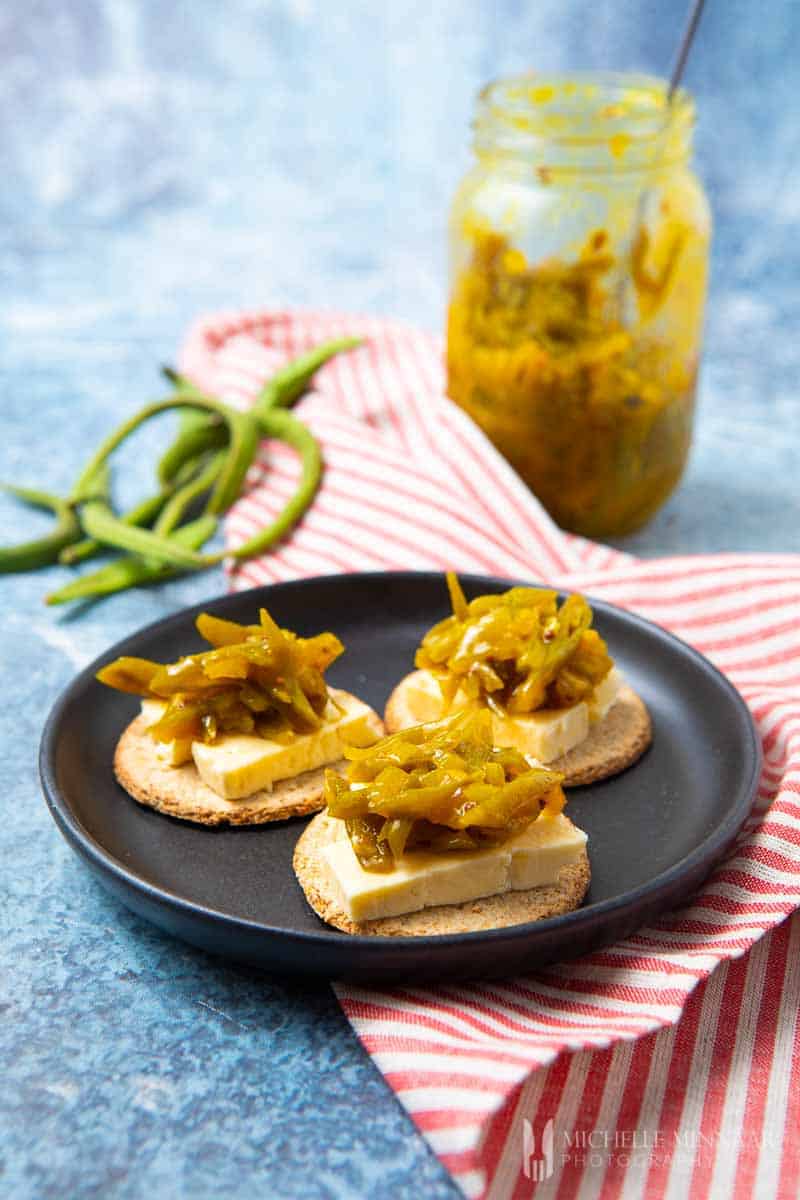 Have you ever cooked with runner beans? Have you ever tried a runner bean chutney before? Let me know in the comments section below.
Print
Runner Bean Chutney
---
Description
Homemade runner bean chutney makes an excellent Xmas present. Learn about runner beans and how to make a runner bean chutney recipe from scratch.
---
3

medium onions, peeled and finely diced

200

ml

(7fl oz) malt vinegar

1

kg

(2.2lbs) runner beans, washed, trimmed and sliced thinly diagonally

15

ml

(1 tbsp) English mustard powder

15

ml

(1 tbsp) ground turmeric

20

g

(2/3 oz) cornflour

200

ml

(7fl oz) white wine vinegar

250

g

granulated sugar

22.5

ml

(1 1/2 tbsp) wholegrain mustard

7.5

ml

(1 1/2 tsp) flaked sea salt
---
Instructions
Place the onions into a large, heavy-based saucepan and pour over the malt vinegar.
Bring the contents to a gentle simmer and cook for 15 minutes until the onions have softened, stirring occasionally.
Plunge the beans into a large pan of boiling water. Let it reach a simmering point and continue to cook for another 3 minutes. Drain the beans in a colander then run it under cold water. Drain again.
Stir in the sugar and remaining white wine vinegar into the onions, then bring it to a boil and cook for 2 minutes.
Add the beans to the onions and simmer gently for 10 minutes, stirring occasionally.
Mix the mustard powder, turmeric, cornflour and 45ml (3 tbsp) of the white wine vinegar until smooth.
Pour the slurry in with the onions and beans, stirring vigorously to avoid any lumps forming.
Stir in the the wholegrain mustard and salt.
Gently simmer the chutney for 20 minutes, stirring regularly so that nothing sticks to the bottom of the pan.
Transfer the chutney into sterilised jars.
Once cooled, store in a cool dark place for at least a month.
Notes
The chutney fills roughly 1.5 litre jars.
Prep Time:

45 minutes

Cook Time:

1 hour

Category:

Chutney

Method:

Boil

Cuisine:

English
Keywords: runner bean chutney, runner bean recipe, chutney recipe, vegan chutney recipe