What is sauce vierge or vierge sauce? It is a famous sauce from the French cuisine, comprising olive oil and a lemon juice base with tomatoes. In French, it means 'virgin sauce' and the recipe reminds of the Mexican pico de gallo. However, the former is tarter and calls for fewer ingredients.
You can enhance the flavour of your sauce vierge with other herbs such as dill, tarragon or parsley. Usually, sauce vierge is served with steamed, baked or grilled white fish. However, sauce vierge works well with other recipes too! If you really love the sauce, don't be afraid to serve it with chicken or steak. You can make this sauce quickly and efficiently in your kitchen. What's more, it stores quite well and has a decent fridge life.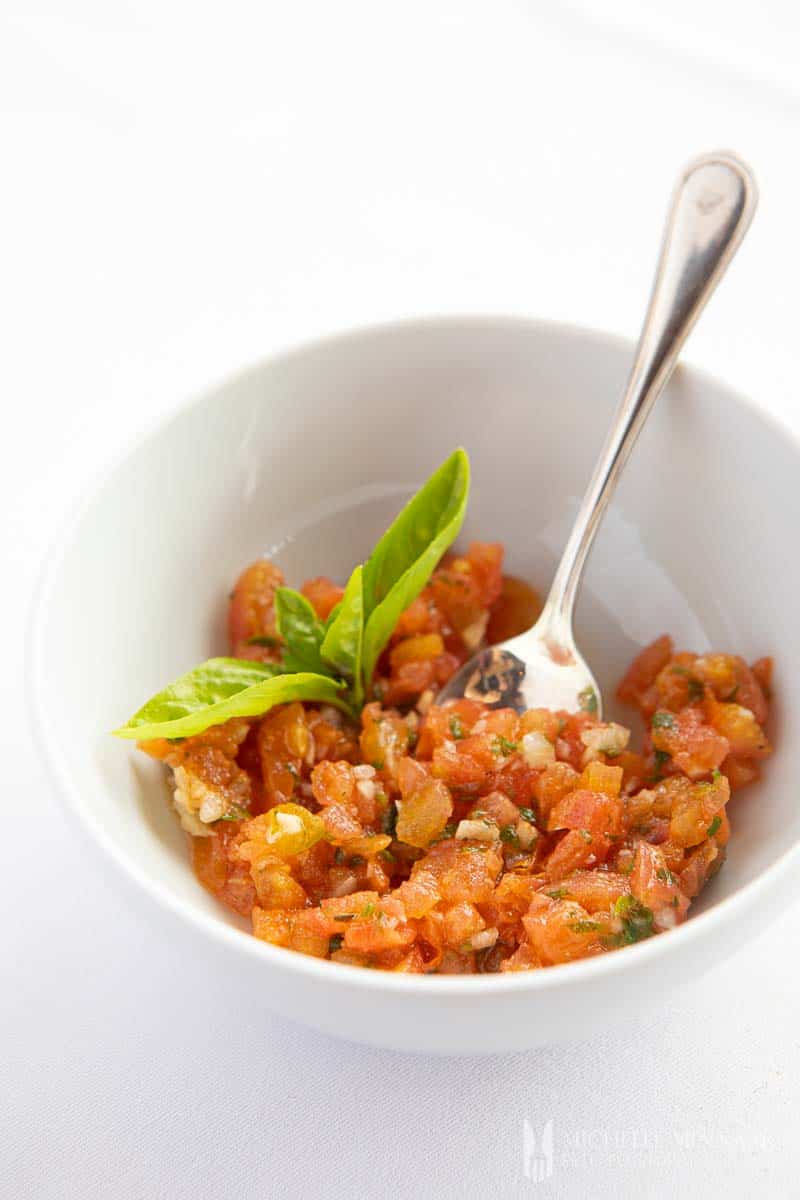 eating healthy at Hotel Botanico & Oriental Spa
Truth be told, I haven't come across sauce vierge until my recent visit to Hotel Botanico in Tenerife. While most people go on a diet to look good in a bikini or swim shorts before going on holiday, the world's collective mindset appeared to have shifted to a healthier one. Gone are the days that holidays are seen as an excuse to indulge and binge. Why should you want to anyway? By now you should know the consequences to any action you take, so why not make the wise choice by staying on the healthy path?
No, the idea of living off salad leaves whilst on holiday doesn't appeal to my either. Hotel Botanico does a great job at debunking the myth that you have to live in a constant case of deprivation if you want to lose weight or simply want to lead a healthy lifestyle. At its restaurant, The Slim, I was blown away by the sheer variety of dishes offered by the creative chefs. It all comes down to choices we make on a daily basis. When I think of sauces, I automatically reach for the wine and cream to drench my fish with. Now if you opted for sauce vierge instead, you would have consumed half the calories. The week-long Slim and Wellness Spa Program definitely left me with plenty of food for thought.
I'll tell you more about my full experience later!
sauce vierge recipe
Sauce vierge wasn't well-known until it was rediscovered by the public in the 1980's. The French chef Michael Guerard, one of the main founders of nouvelle cuisine, widely popularised it in his restaurants. If you didn't know already, nouvelle cuisins is a form of French cuisine where dishes are presented with more sophistication and portion sizes are, somewhat jokingly, regarded as notoriously small. As such, sauce vierge became a very popular 'Mediterranean style' sauce because of its lightness and use of Mediterranean flavours. Since then, sauce vierge became one of the most popular French sauces, just like the infamous sauce hollandaise or sauce béarnaise.
There are many versions of a sauce vierge recipe all around France. However, the main ingredients which are without a doubt necessary to complete a sauce vierge are:
olive oil - in this case I recommend sourcing a premium version - try an olive oil from the south of France
tomatoes
lemon juice
garlic
salt and black pepper
However, Hotel Botanico has added its own twist to this sauce vierge recipe. By using light soy sauce and a bit of ginger, the flavour is enhanced and gives the sauce an Asian fusion spin.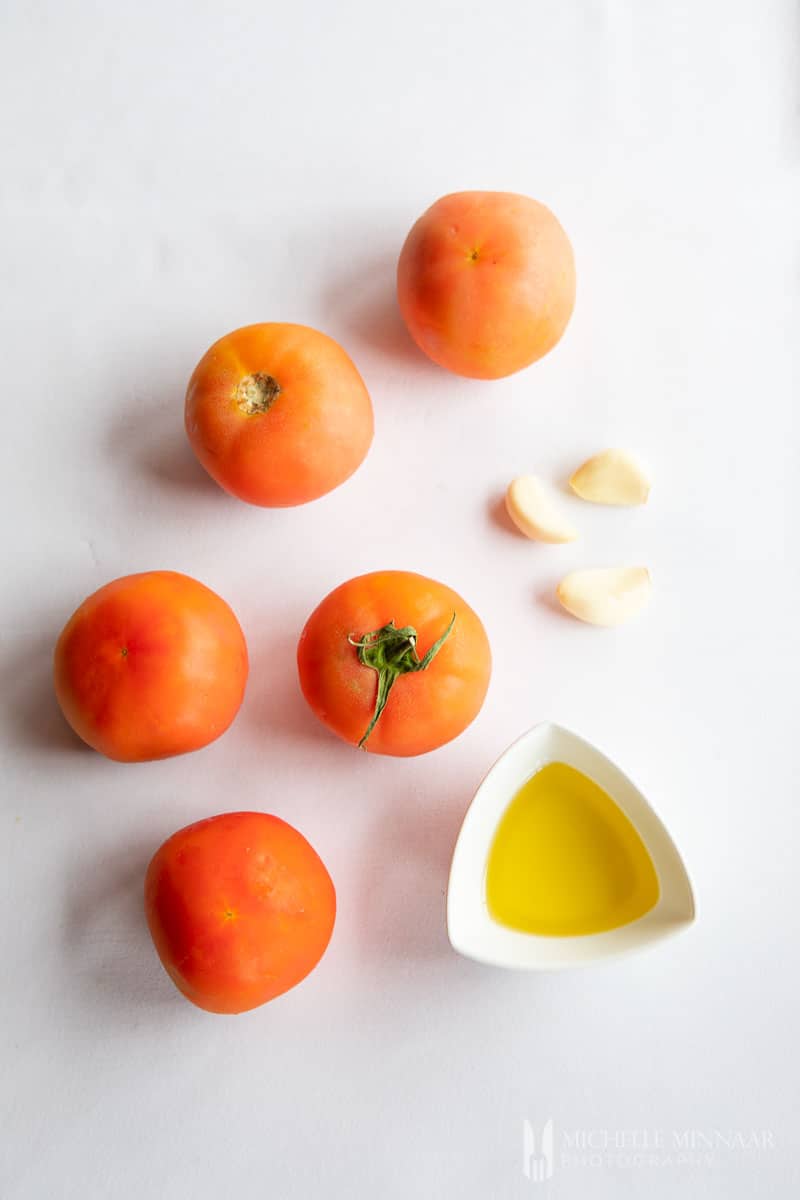 types of tomatoes
As with any type of sauce, the higher the quality of your ingredient, the better it will taste. Start with the olive oil.
I recommend going for a premium olive oil as it will enhance the olive flavour of the sauce. You can use any of the following options:
Greek olive oil
French olive oil
Croatian olive oil
Italian olive oil
As a last resort, purchase the premium brand in the supermarket if you haven't got a local delicatessen near you. Trust me, the better your olive oil, the better your sauce vierge.
Now, as for the tomatoes, this is where you can get creative. Naturally you can use the traditional Roma tomatoes or standard red tomatoes. However, I encourage you to have a bit of fun and experiment. For instance, if you would like to follow the technique of 'nouvelle cuisine' and serve your dish elegantly, then include other types of tomatoes. In short, make a multi-coloured sauce vierge by using different types of tomatoes. That being said, I recommend you source one yellow tomato, one green and one purple. I also use this trick to fancy up my tomato carpaccio or caprese dish. The dish will not only look stunning, but it will look like you've put a lot of thought and effort into your sauce. In addition, the different types of tomatoes offer different textures and flavours.
For example, the purple or black tomatoes will be very ripe and soft. The green tomatoes will be more firm and tart. The yellow tomato also will carries hints of acidity and will also have a firm texture. As you can see, every bite will come with different textures and flavours, exciting your taste buds and taking them on a rollercoaster ride.
tomato basil sauce vierge
You can add more Mediterranean flavours into the dish by incorporating and infusing the sauce with herbs. For example, you can easily chop up some fresh basil leaves, which always complements tomatoes beautifully. Since sauce vierge is usually served with white fish, shellfish or white meat, herbs will work splendidly. Therefore, you can consider any of the following herbs to make this sauce vierge recipe your own:
parsley
watercress
chives or these 6 chives substitutes
tarragon or these tarragon substitutes
thyme or these 9 thyme substitutes
marjoram or these 10 marjoram substitutes
coriander / cilantro or these coriander substitutes
sage or these sage substitutes
Any of the above-mentioned herbs work exceptionally well with any recipe you are intending to serve your sauce with. Which variation or which herb will you go for?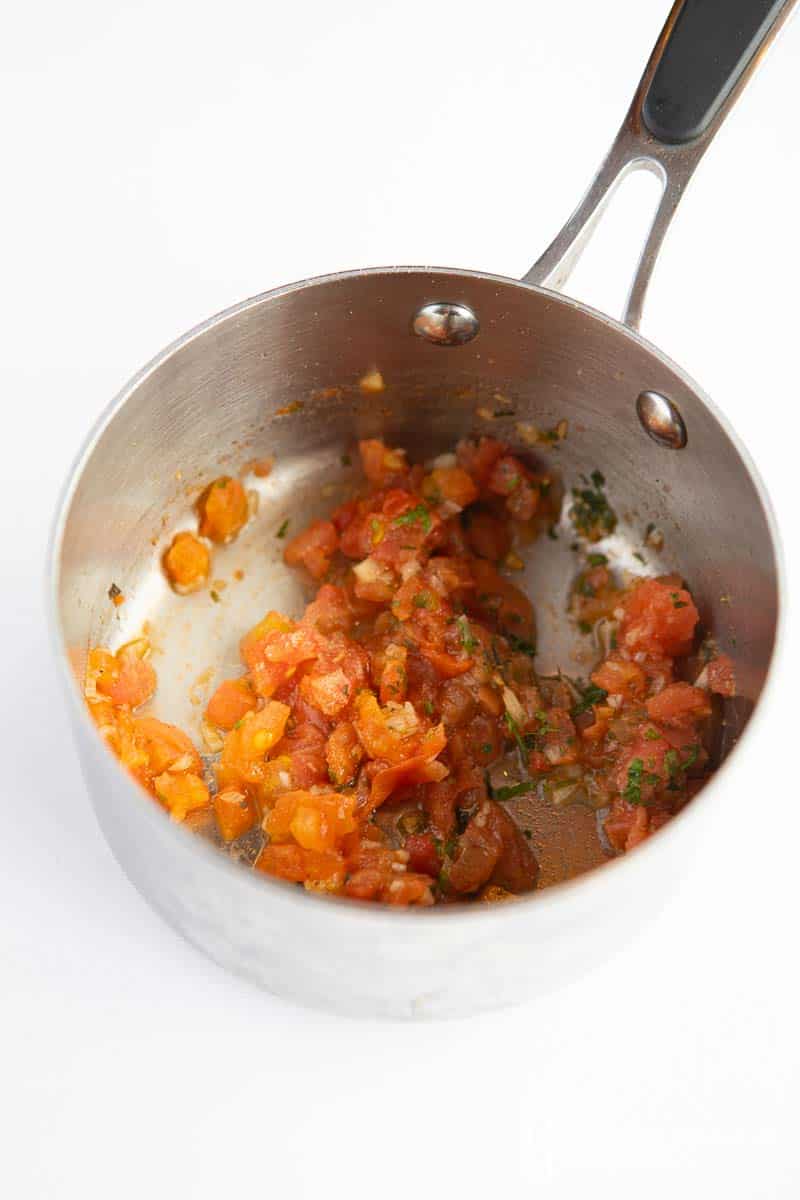 what to serve with sauce vierge
white meats & other meat
As mentioned above, you can serve the sauce vierge with white meat. The best would be to pour over the sauce over some sous-vide chicken breasts or smoked turkey.
You can also serve it over this crying tiger steak, as the ginger and the soy sauce will tie in with the Asian recipe perfectly.
shellfish
If you've made a large batch of the sauce, you can also serve them alongside these delectable moules a la mariniere. It also works with other types of shellfish like:
lobster
mollusks
clams
crayfish
pasta
In addition to fish and shellfish, you can also serve the sauce vierge with fresh pasta. For example, consider making your own fresh fusilli pasta and use the sauce as a topping.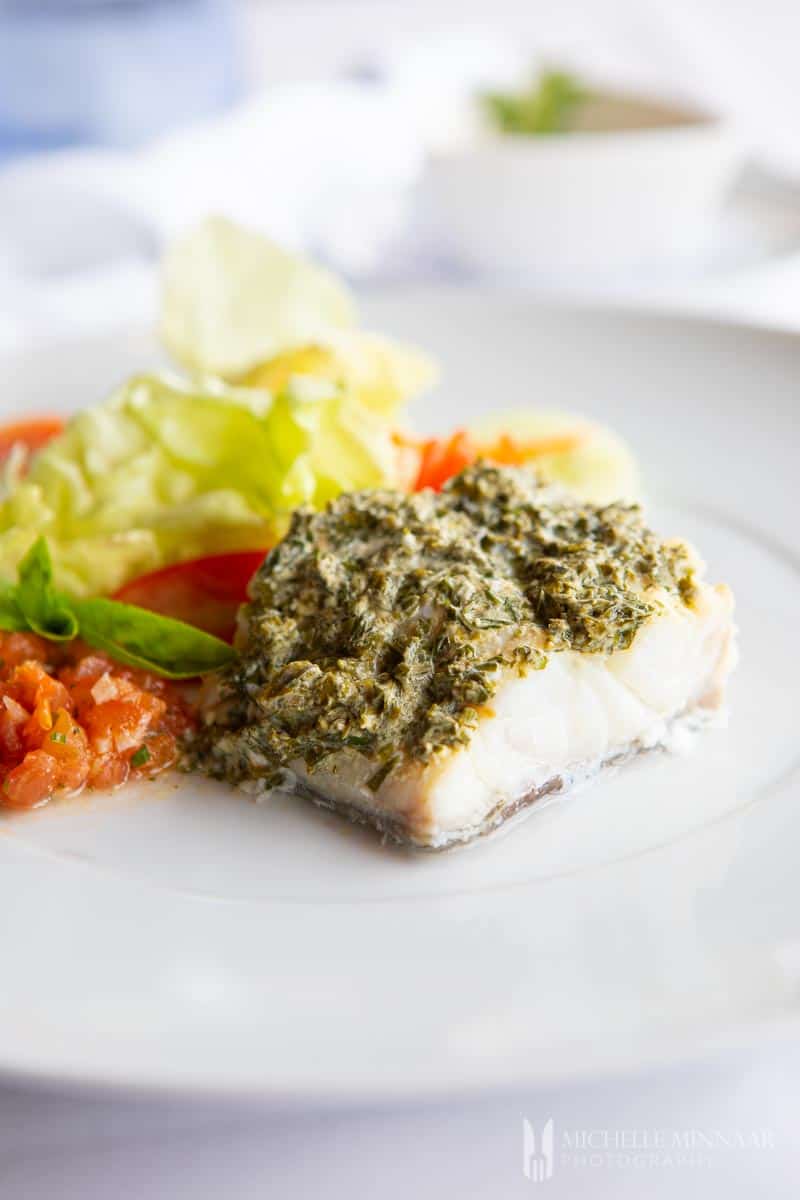 serving with white fish
White fish is the optimal choice to pair the sauce with. There are many white fish you can consider.
halibut sauce vierge
If you feel like creating a fancy fish recipe with a delicious sauce, then use halibut. Halibut is not the cheapest fish, however it is very delicate and tastes excellent.
Other alternatives are hake and plaice.
steamed cod with sauce vierge
Steamed cod is in my opinion one of the best pairings you can do as the flesh goes very well with the texture of the sauce. If you have leftover cod, you can also enjoy these cod recipes:
grilled bass with sauce vierge recipe
Seabass is another delicious white fish with firm white flesh. You can steam it or grill it,or bake it. For instance, you can add sauce vierge to this baked seabass with avocado recipe or this pan-fried seabass.
The sauce also works with other white fish such as sole.
What would you serve the sauce vierge with?
Print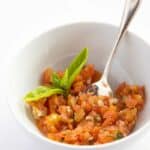 Sauce Vierge
---
Description
Sauce vierge is a French & Mediterranean sauce which is made with olive oil, lemon juice, garlic, toamtoes & herbs. Serve with white fish, shellfish & meat.
---
15

ml

(1 tbsp) light soy sauce

20

g

(2/3 oz) ginger root, peeled and grated

4

tomatoes, washed and finely chopped

1

garlic, peeled and crushed

15

ml

(1 tbsp) olive oil

1.25

ml

(1/4 tsp) salt

2.5

ml

(1/2 tsp) freshly ground black pepper
---
Instructions
Place all the ingredients in a sauce pan.
Heat through for 2 minutes, while stirring then serve immediately with protein of choice. Enjoy!
Prep Time:

10 minutes

Cook Time:

3 minutes

Category:

Sauce

Method:

Fry

Cuisine:

French
Keywords: sauce vierge, vierge sauce recipe, French sauce recipes, mediterranean sauce, sauce to serve with fish