Have you ever heard of takuan? I'm pretty certain that you've come across it once or twice in your life without even realising it. Takuan is one of the most popular Japanese foods. In short, it's pickled Japanese daikon radish. More specifically, it's the yellow crunchy stuff you generally find in your sushi roll. For example, you can order takuan maki or takuan sushi. Next time you go for sushi, notice the delicately sliced, yellow pickled radish inside. It's a flavour booster as well as a neutraliser that goes very well with the sweet, salty and umami flavours of sushi and many more dishes. Naturally, you can find canned or sealed takuan in Asian specialty stores.
However, always being an ambassador for freshness and homemade quality, today you'll learn how to make it yourself without any additives or chemical agents. Equally important, you can use the leftovers to make other recipes.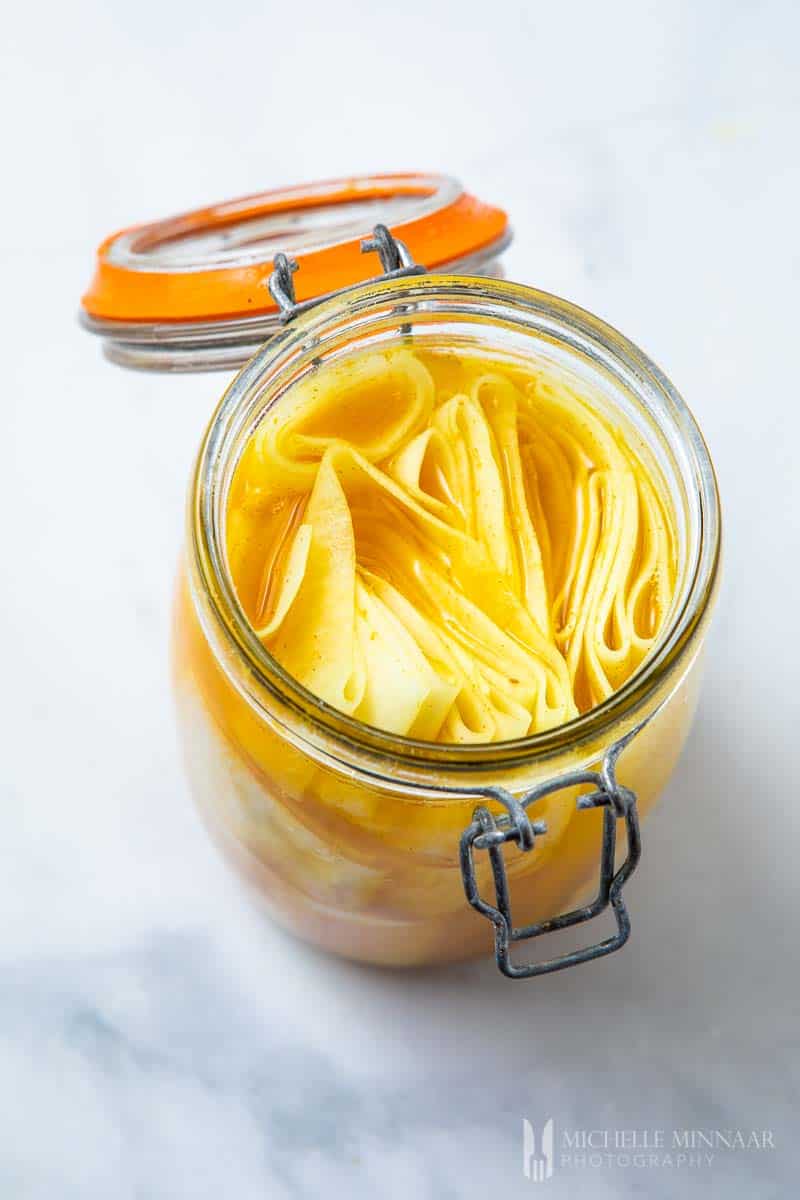 takuan Japanese pickled daikon radish
Before you learn how to make Japanese takuan pickle yourself, you'll need to procure the correct ingredients. Luckily, these are readily available in the supermarket, whether it be Asian or regular. So, if you want to complete this takuan recipe, make sure you find Japanese daikon radish. Compared to normal radishes which come in the form of small red bulbs, the daikon is a large piece of vegetable. It looks like a large, pale carrot if you ask me. In addition it's completely white. As regards the flavour profile, it's not as sharp and peppery as the normal radish.
The flavour profile of the Japanese daikon radish is sweet and mild. Also, it has a great crunch to it. Hence, not only can you use the daikon in this takuan recipe, you can use the leftovers in stir-fries or salads. For example, it would work great in these dishes: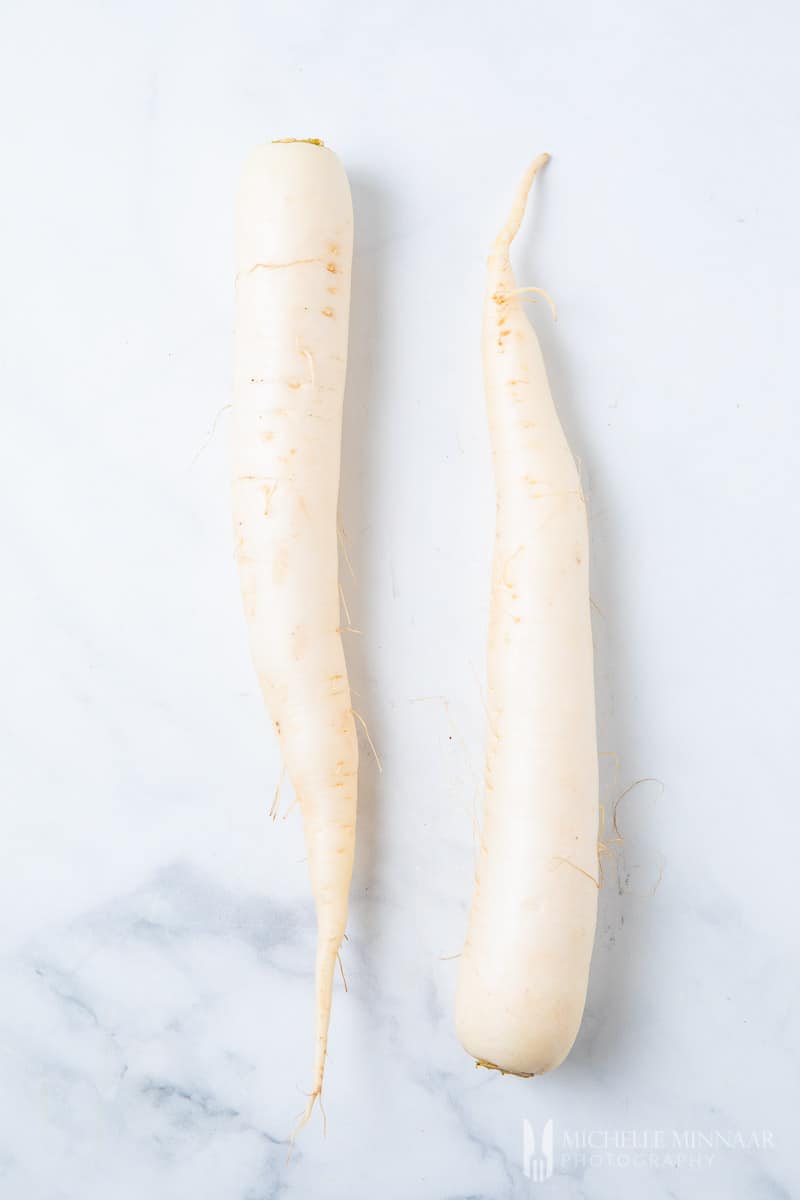 Now that we know which ingredient we need, I'll tell you all about takuan. In essence, takuan is a Japanese daikon pickle recipe, although you might also know takuan by other names, including:
takuwan
takuan-zake
danmuji
In Japan, usually you serve it with tsukemono (other pickled or preserved vegetables) and, traditionally, to obtain the best results, takuan is sun-dried (hanging in the sun for a few weeks). This step is performed to dehydrate and preserve the daikon. The next step involves pickling with salt and various spices. Lastly, the pickling process usually lasts some months. Sometimes takuan is also smoked.
To learn more about takuan, click right here.
Takuan sōhō
Take care not to confuse takuan (the edible one) with Takuan Sōhō – which is actually a person – one of the major names in Zen Buddhism from the mid-16th to mid-17th century. Nevertheless, he is credited with the discovery of the takuan recipe. Hence the name.
how to make takuan
So, are you concerned about cutting the daikon radish perfectly for the takuan recipe? Don't worry, the solution is simple. You'll need the KitchenAid Vegetable Sheet Cutter. For the most part, it's a perfect opportunity to be creative with your meals. For example, you can use the KitchenAid Vegetable Sheet Cutter to substitute pasta with a simple courgetti recipe or with other vegetables. You can also try making this pickled dikon recipe with it.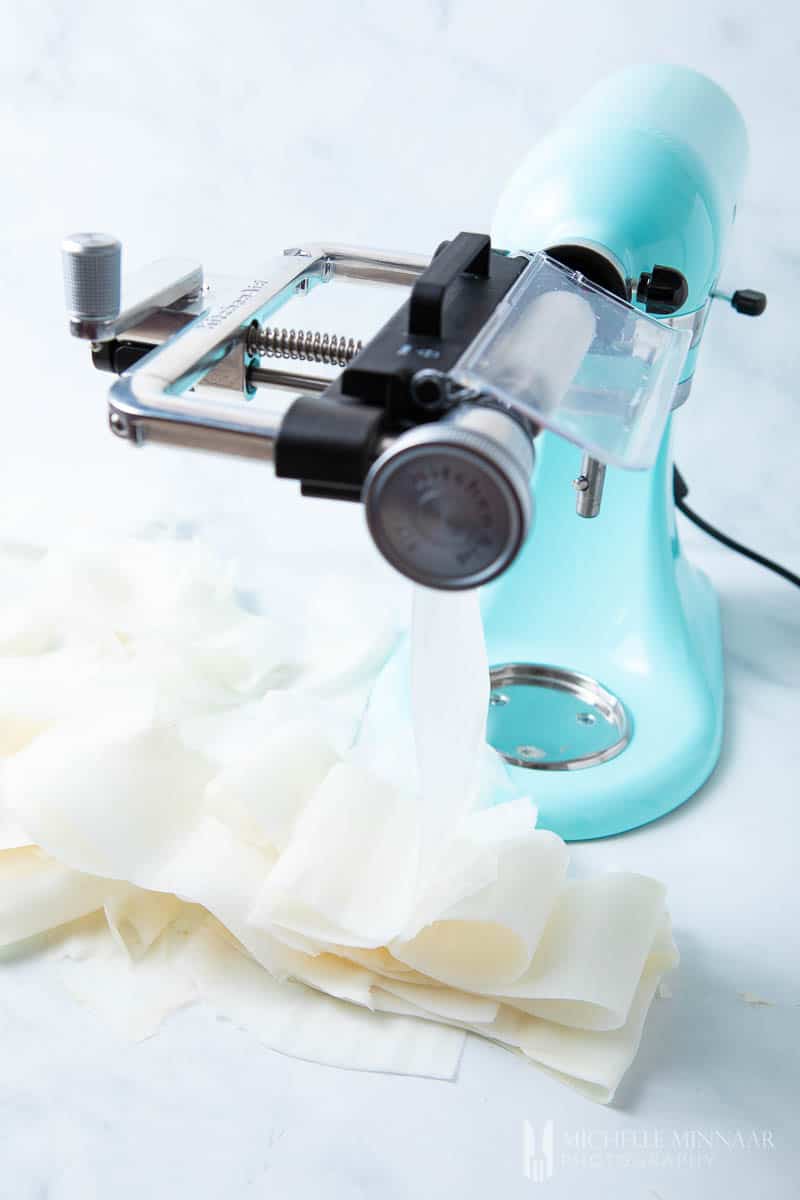 Thanks to the 2 blades available, you can easily produce thinner or thicker sheets, depending on your recipe. For example, for this takuan pickle, the thinner the better. So thank goodness you have an amazing machine to help you out – I simply can't imagine myself doing this manually. Due to the durable, long-lasting premium metal construction, you can recreate your favourite recipes fast and hands-free!
attach and cut away
In essence just attach the KitchenAid Vegetable Sheet Cutter 5KSMSCA to the 4.8 L ARTISAN Stand Mixer from KitchenAid. As a matter of fact, I've discovered the benefits of having such a machine in the kitchen when I made my traditional lemon chess pie. Of course, you can attach many more accessories to the 4.8 L ARTISAN Stand Mixer, including:
3L Bowl
Flex Edge Beater
Dough Hook
4.8 L Bowl
Pouring shield
6-Wire Whip
and much more… like the Vegetable Sheet Cutter
By the way, don't you just love the colour I've chosen? You too can personalise with your favourite colour! To learn more about KitchenAid, click right here.
more recipes
So, here are just a few recipes you can make perfectly thanks to the KitchenAid Vegetable Sheet Cutter 5KSMSCA: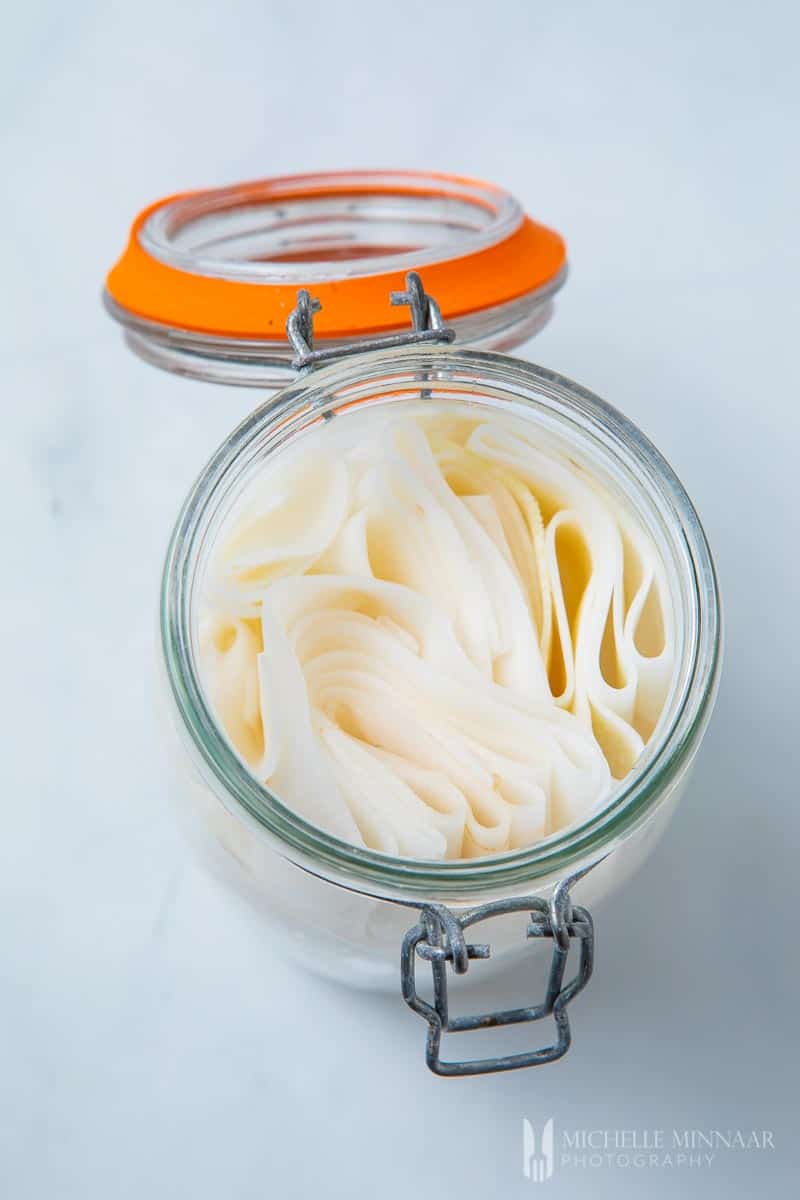 how to make takuan pickle
All in all, it's about the pickling process! In fact, the thinner your daikon slices, the quicker it will pickle, but there is no doubt that making takuan is quite a delicate task. Once prepared, gently place your freshly cut daikon into a jar of your choice. Pack as much daikon as possible into the glass jar, but leave adequate room for the water and the rice wine vinegar. Provided that you follow these steps, you'll have a fabulous looking pickle.
where to buy takuan
So, my first recommendation is to visit an Asian specialty store. Once there, you are bound to find takuan in the sushi aisle or sushi ingredients section. Otherwise, before you give up, you can also purchase takuan online. See below.
Sushi Sushi Takuan Daikon Radish Pickled – click right here
Yutaka Pickled Radish – click right here
Pickled radish – click right here
As you can see, there are many options. However, I still recommend making fresh takuan at home.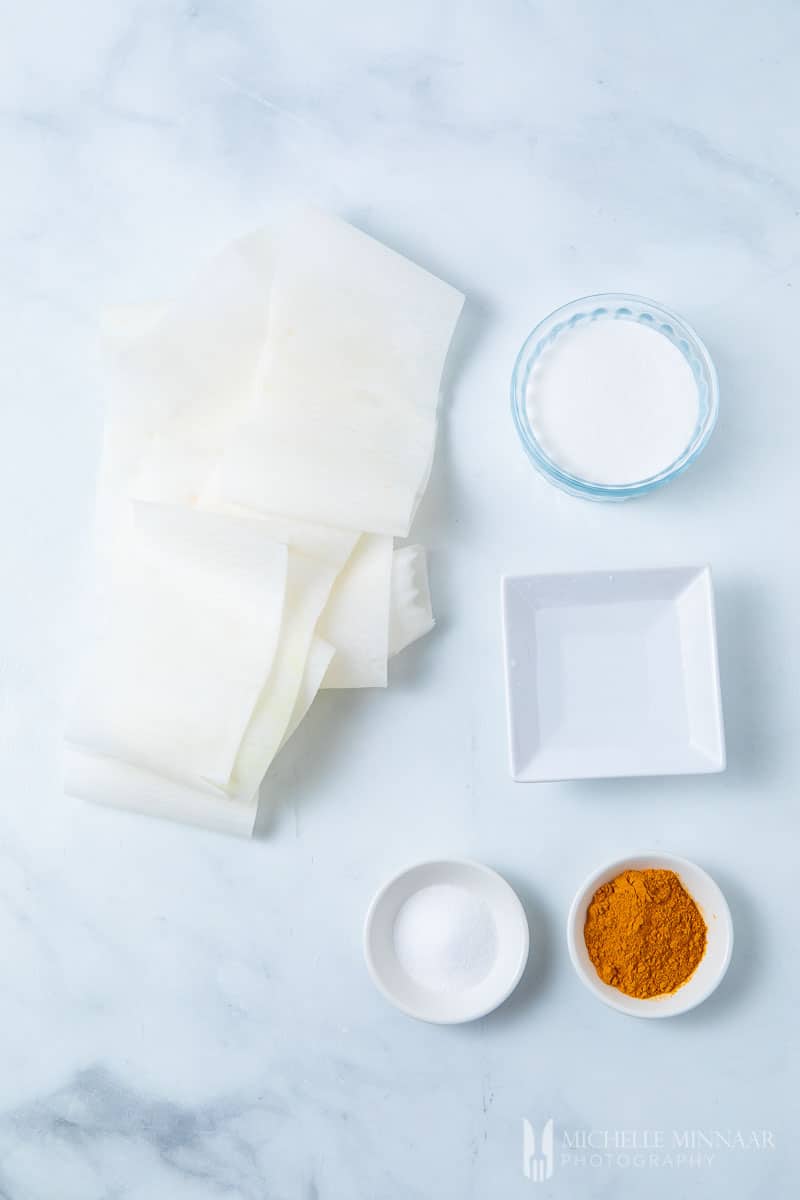 seasoning
First of all, what gives takuan its distinct yellow colour is the turmeric powder. Alternatively, you can also use raw turmeric juice so it delivers an even more powerful yellow colour. Although, for those of you who are well aware of the taste of turmeric, it has its distinct taste. In comparison, the powder is milder and will not overwhelm the recipe in combination with the other ingredients.
If you can't get your hands on turmeric, check out these 14 turmeric substitutes you can use instead.
is takuan good for you?
In short, the answer is yes. In Japan, it is commonly eaten after the meal to help with digestion. Daikon in itself stimulates weight loss. Just check out some of its health benefits:
lowers inflammation in the intestines
prevents cancer
improves the immune system
and much more
So yes! In conclusion, takuan is great for you. Especially when combined with turmeric juice or turmeric powder. So, go ahead and enjoy making this traditional Japanese dish.
What would you make with KitchenAid's vegetable cutter?
Print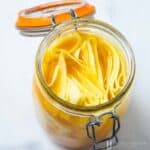 Takuan
---
Description
Takuan is a traditional Japanese and Korean dish, often served at the end of the meal, as a topping or with sushi. You might know it takuwan, takuan-zuke and or danmuji (in Korean). Learn how to make this easy takuan recipe in just a few easy steps.
---
1

daikon radish

15

ml (1 tbsp) salt

125

ml (1/2 cup) sugar

125

ml (1/2 cup) rice wine vinegar

5

ml (1 tsp) ground turmeric

125

ml (1/2 cup) water
---
Instructions
Peel the radish and then slice it thinly as desired (see notes).
Sprinkle with salt and leave for 2 hours in order to draw out moisture.
Place the salt, sugar, vinegar, water and turmeric in a saucepan and bring to a boil.
Continue stirring the pickling mixture until all the salt and sugar have dissolved. Set aside to cool down.
Squeeze the excess moisture out of the radish and place the vegetable in a sterilised, airtight storage container.
Pour in the pickling liquid, ensure all surfaces of the radish are covered.
Wait for at least 2 days, but preferably 1 month, for the flavours to develop.
Serve with a bowl of rice or miso soup.
Notes
Some methods entail keeping the whole radish intact and only slicing it after it's been fermented for a long period.
Traditionally, takuan is cut into thin rounds or julienned. In this case, I used KitchenAid's vegetable cutter and created sheets. This makes room for creativity, e.g. slicing them in fettuccini-like strands to top rice with.
Turmeric is used to lend the radish its golden colouring. Traditionally, the radish turns yellow naturally after long periods of pickling. These days, shortcuts are rampant, hence the use of turmeric.
Prep Time:

30 minutes

Cook Time:

10 minutes

Category:

Pickling

Method:

Boil

Cuisine:

Japanese
Keywords: takuan, Japanese pickled radish recipe, korean pickle, takuan-zuke, danmuji, takuwan
save the recipe to your pinterest board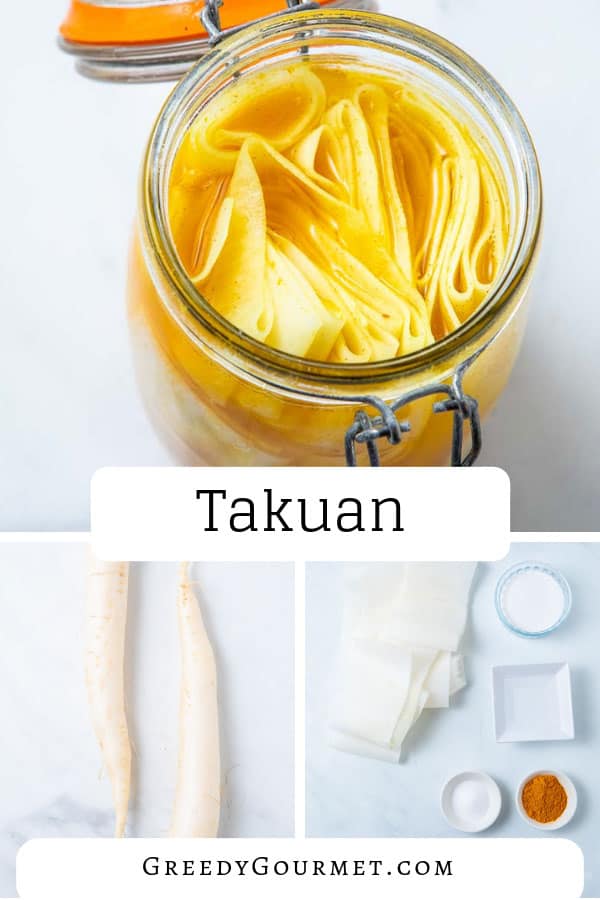 *This is a sponsored post