Once you have vegan cauliflower mash for the first time, all the other mashes will forever pale in comparison. Forget butter when you've got amazing vegan substitutes like almond milk.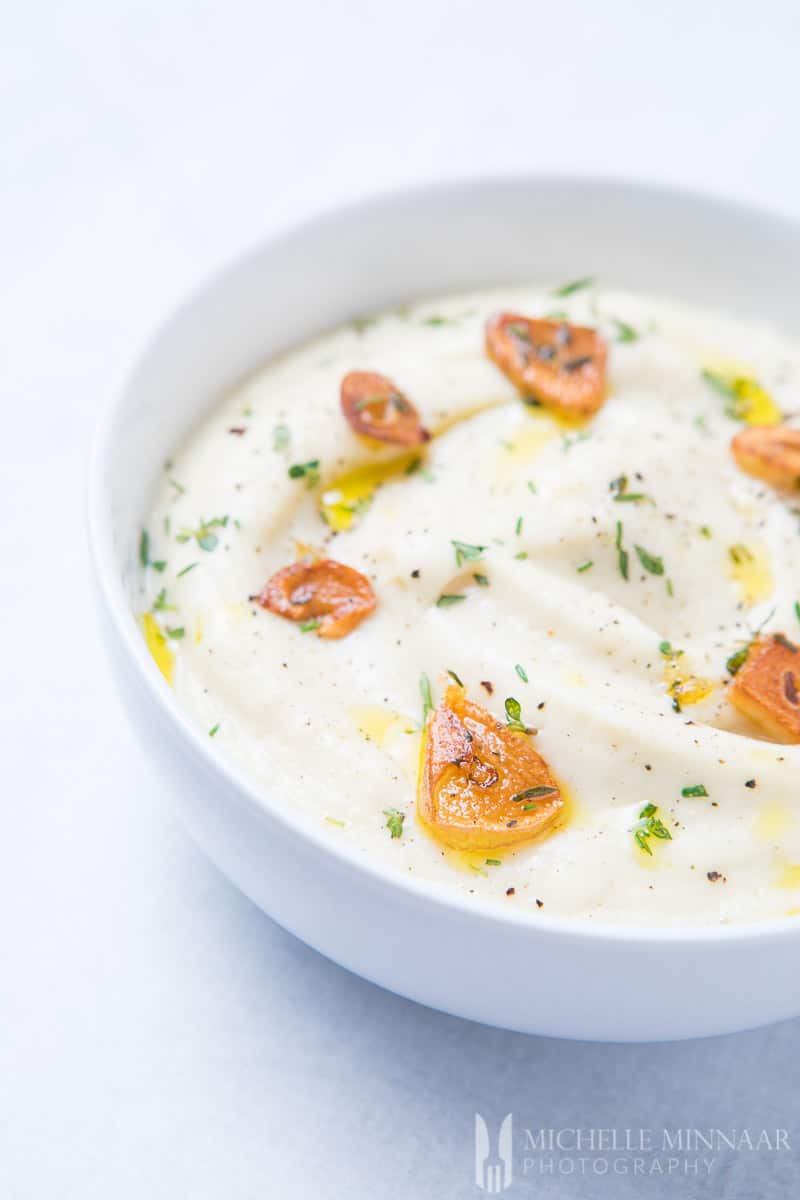 The best part about making vegan cauliflower mash is that you can liberally eat it without the added guilt! You can add the mash as a side to another delicious vegan main course, or double up on the portion size and eat it as is.
Overall, it's a fabulous way to enjoy a filling meal without affecting your waistline. Enjoy!
vegan cauliflower mash
Simply put, vegan cauliflower mash consists of cooked cauliflower, almond milk and roasted garlic. Once you hit the blend button on your food processor, you can season accordingly to your own liking. It's almost too easy!
I recommend using a bigger cauliflower for a nuttier and creamier taste. However, if you would like to experiment with the colour and make things more fun, you can use different varieties of cauliflower.
For example, there is the traditional white cauliflower, orange cauliflower, purple cauliflower and green cauliflower.
The best possible substitute is the purple one, as the green cauliflower is sometimes known as 'broccoflower'. In terms of consistency, it's the former is best substitute.
If you are thinking about substituting cauliflower with broccoli – don't! Broccoli will not work with this type of recipe as a mash. That's also why the green cauflower is not very suitable.
There are other root vegetables that are perfectly suitable for this recipe, which I will mention soon in detail.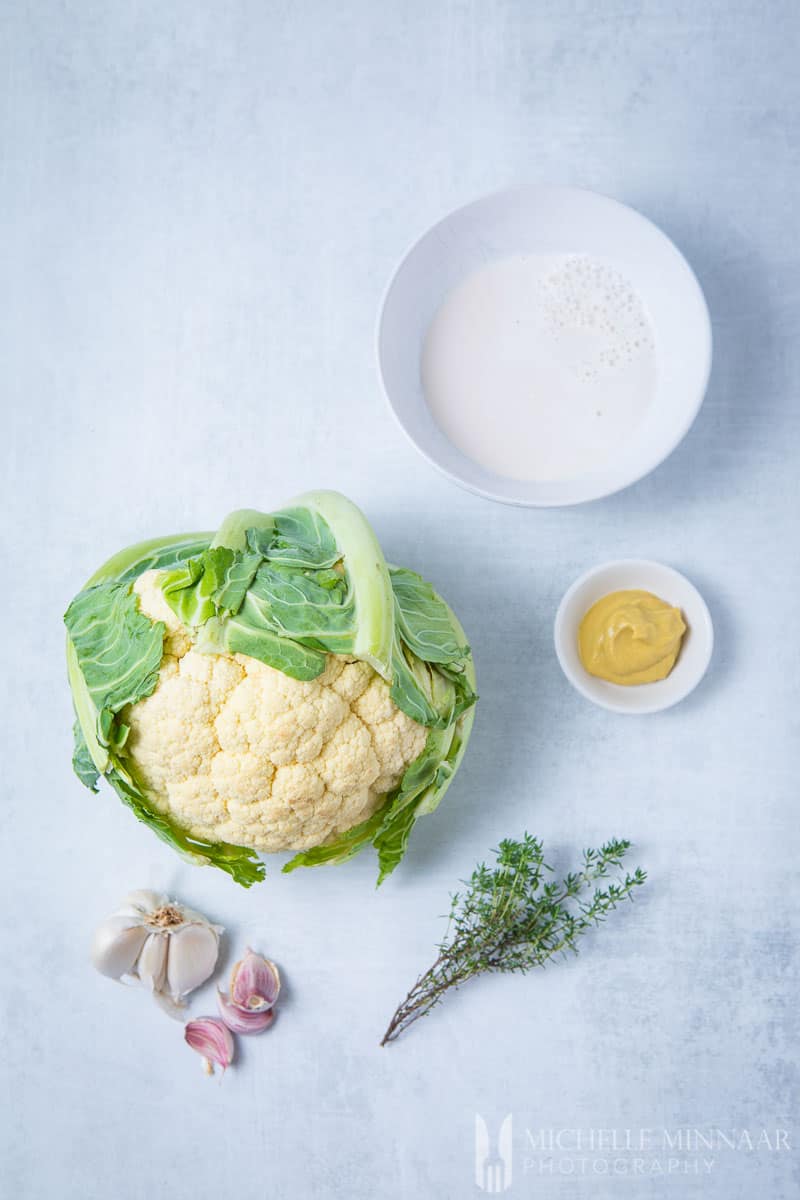 with roasted garlic
I love roasted garlic. It is one of my favourite additions to any type of meal that I prepare, especially when it comes to cooking roasted vegetables.
Roasted garlic is an easy way to add more flavor and complexity to something as simple as these roasted green beans for example.
In its raw form, it is sharp and overpowering, yet when raw it's best when it comes to health benefits. Garlic has beneficial effects when it comes to the digestive system, as well as reducing blood pressure and risk of heart disease. It is said that it can even cure the common cold!
When lightly fried, the roasted garlic changes from a sharp flavor to a sweet nutty one that complements so many savoury dishes. I like to include the roasted garlic in the mash itself as well as sprinkling it on top for additional flavour.
almond milk
A cauliflower mash can be prepared using cow's milk. However, as this is a vegan recipe, that is of course a no go. A fantastic alternative is almond milk. It has an aromatic nutty flavour that in my opinion complements the cauliflower well.
Furthermore, almond milk has the advantage over standard milk of being low in calories and cholesterol free! All the more reason to start using almond milk.
When you buy almond milk, make sure to get an unflavoured one. It is not uncommon to find almond milk flavoured with vanilla, and this is not a good match for cauliflower. Be careful when you read the label!
Another option is to use the old and trusted soy milk. As always, a good alternative for cows' milk when you are looking for dairy free alternatives in the kitchen.
Soy milk has a more neutral flavour than almond milk and is in that sense more versatile for cooking. Other options are rice milk and oat milk, but I find these too aromatic. Which substitute would you use?
add potato
The cauliflower mash can be made very fluffy and light. However, if you feel like giving the mash a little bit more substance, simply add a couple of potatoes to the mash.
It will give you are more filling mash, although still not a heavy one and still vegan. You can also add some sweet potato, which is good for regulating your blood sugar.
Besides, cauliflower and sweet potatoes are a great combination! By using sweet potatoes you will however lose the white colour of the original mash, due to the orange pigmentation of the sweet potato.
You can check out a delicious roasted sweet potato mash that I've made recently here.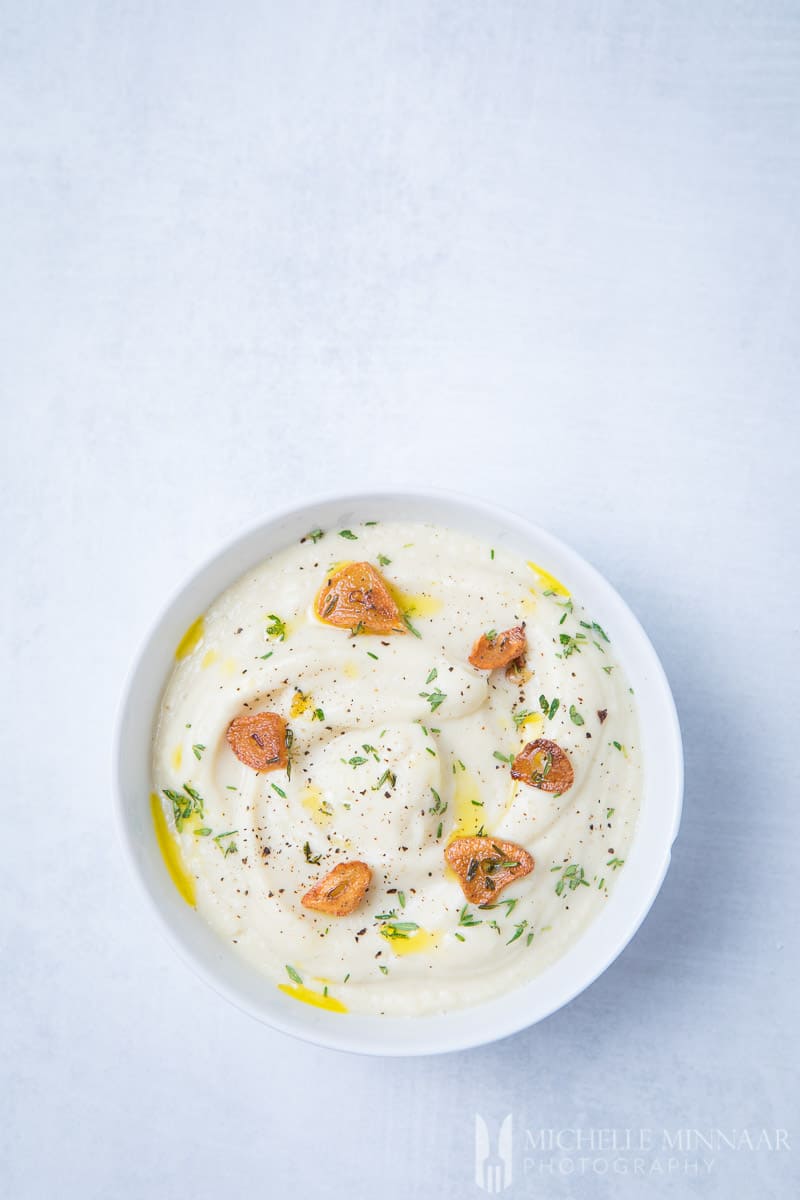 add celeriac
Celeriac is also a great addition to any mash whether it is a plain potato mash or a vegan cauliflower mash. It adds a certain tangy flavour that you just only find in celeriac.
You don't need to use an entire one though, as that would overpower the cauliflower. Just use a quarter of the celeriac or even less than that, to boost the flavour of the cauliflower mash.
As you know, I come from South Africa and we like to jazz things up a bit. We've even got our own version of mash called boereboontijes.
It's a very traditional potato mash side dish, however we mix in green beans for a bit of crunch. Explore the flavours of this traditional South African side dish.
other root vegetables
There are more alternatives you can make use of. For example, you can use a couple of roasted Jerusalem artichokes that also pack a delicious nutty flavour, which goes well with the cauliflower.
Parsnips are equally good for adding some edge to the cauliflower mash. To spice things up, consider tossing in some delicious cumin roast carrots like these.
So, what would your version of vegan cauliflower mash look like? Would you stick to the original recipe, or would you deviate and make it your own? Leave a comment below!
toppings
A little sprinkle of something on top finishes off the cauliflower mash. Along with the roasted garlic you can sprinkle with some toasted almond slivers to give a little crunch.
A touch of green from some fresh herbs adds the final touch. Finely chopped thyme or rosemary will be especially good flavour combinations.
I also like to sprinkle a little bit of nutmeg, it works so well. I hope you enjoy this delicious vegan mash recipe!
Looking for more vegetable side dishes? Check out the ones below:
Print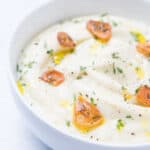 Vegan Cauliflower Mash
---
Author:

Michelle Minnaar

Prep Time:

15 minutes

Cook Time:

15 minutes

Total Time:

30 minutes

Yield:

4

1

x
Description
A vegan cauliflower mash is a fabulous substitute to those heavy traditional mashes. You'll need cauliflower, almond milk, roasted garlic and seasoning.
---
Scale
Ingredients
4

garlic cloves, peeled and chopped [optional]

5

ml (1 tsp) olive oil

1

medium cauliflower, washed and cut into florets

60

ml (4 tbsp) almond milk

15

ml (1 tbsp) Dijon mustard
---
Instructions
[Optional] Gently fry the garlic in the olive oil until browned and tender. Set aside.

Boil the cauliflower in salted water until just tender. Drain.

Return the cauliflower to the pot and mash, along with the garlic and splashes of milk until a mash forms.

Serve as you would do with plain potato mash.
---
Notes
If you have roasted garlic at hand, you can add it to the cauliflower.

Using a food processor will result in a puree, like in the photos. For a rougher texture, mash the cauliflower by hand.
Category:

Side Dish

Cuisine:

American
Nutrition
Serving Size:

1 serving

Calories:

59

Sugar:

1.2 g

Sodium:

55 mg

Fat:

5 g

Saturated Fat:

3.4 g

Carbohydrates:

3.4 g

Fiber:

1.2 g

Protein:

1.2 g
save the recipe to your pinterest board