Ever had a delicious Amarula cheesecake before? First of all, this is not your ordinary cheesecake recipe. In fact, it's a very special type of cheesecake made with a unique ingredient called Amarula. Being native to South Africa myself, I know exactly what Amarula is. In short, it is a type of South African cream liqueur that's extremely tasty. In South Africa, it's used in many delicious dessert recipes or often just enjoyed on its own. So, I thought I would share this unique liqueur with you. It's a cheesecake unlike any you've ever tasted! Above all, Amarula cheesecake is a South African classic and almost every household has their own version of it. Mine is very easy to master. You just need to follow a few simple steps and the result is mind-blowing cheesecake.
The hardest part is not to sip away during the preparation process as this is a very tempting liqueur. Yes, it's as good as it looks! So, the next time you want to impress your guests, don't even hesitate to make this Amarula cheesecake.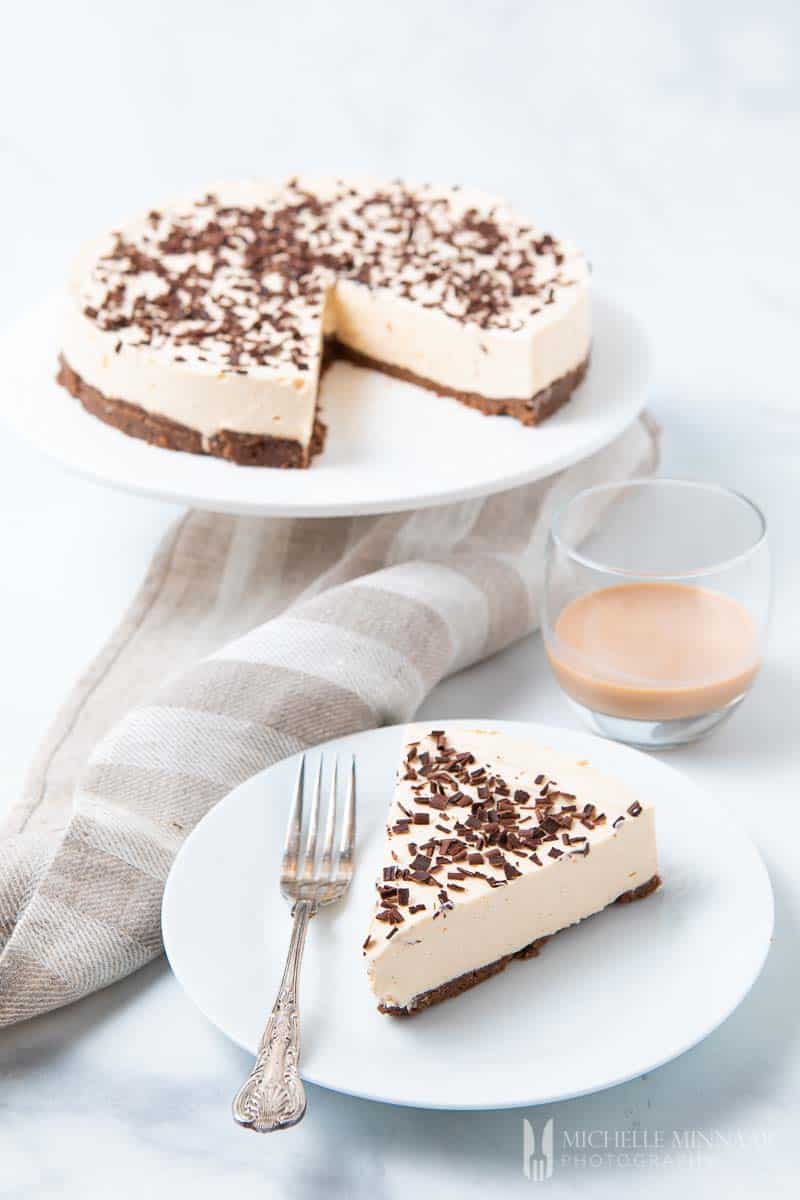 easy Amarula cheesecake recipe
If you ask for cheesecake in South Africa, you will for sure be offered a slice of Amarula cheesecake. In South Africa, it is one of the top desserts, somewhere up there with peppermint crisp tart (also excellent). I've always drawn inspiration from my South African heritage. For example, in the past I've shared with you tons of savoury South African recipes. For example:
However, this time I want you to indulge in what South Africa has to offer on the sweet side! So, let's start with this incredible and tasty Amarula cheesecake recipe.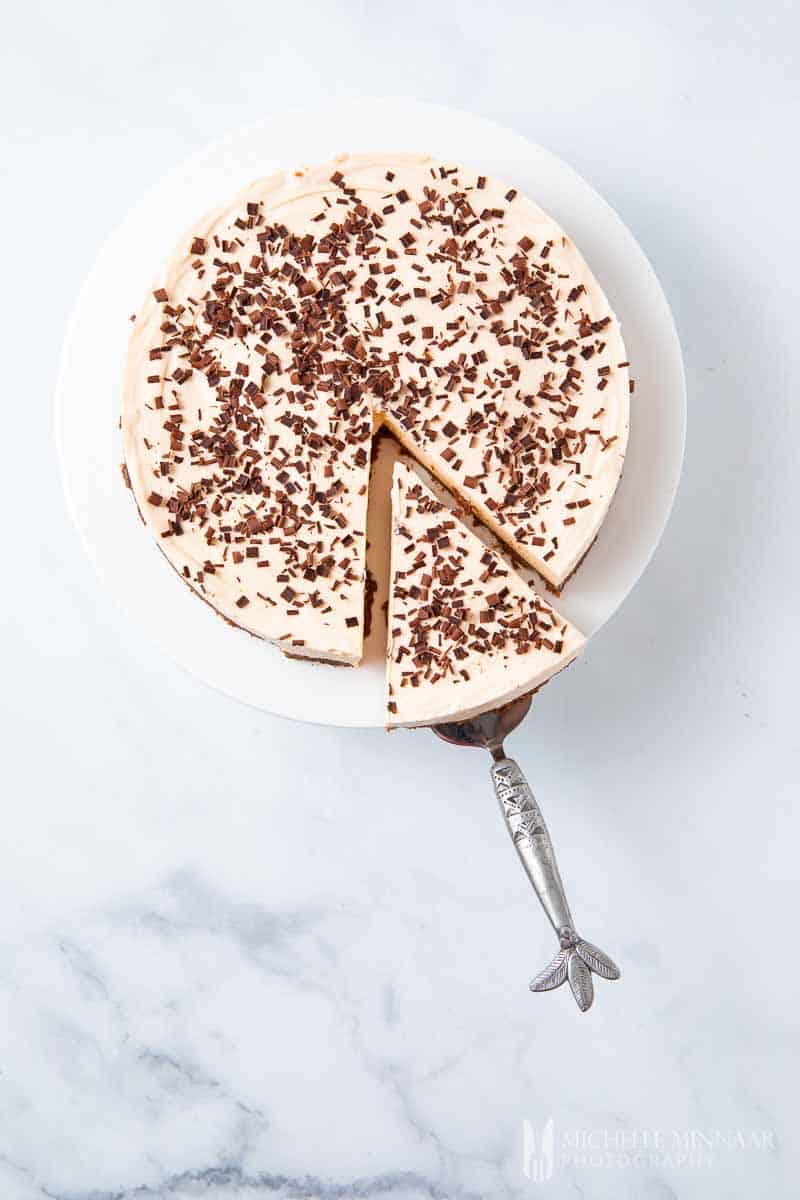 Firstly, this Amarula cheesecake is a no-bake cheesecake recipe. It has a biscuit base. Often this is the part where you can get creative because you can select the type of biscuits you like best. Next, it calls for cream cheese, whipped cream, and some other ingredients. Above all, to make this a true Amarula cheesecake recipe South African style, you'll need Amarula.
South African cheesecake recipes with Amarula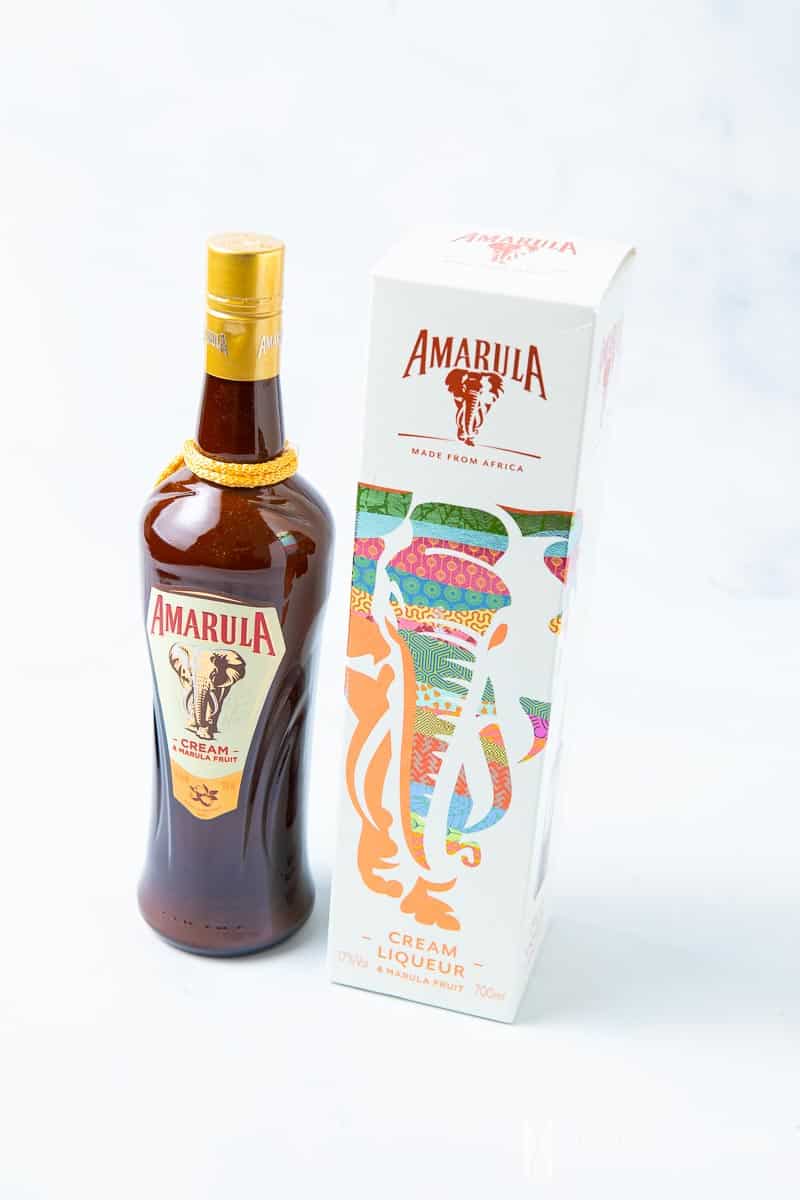 So, the main ingredient for this Amarula recipe is Amarula cream liqueur. Ordinarily, Amarula is made from the African marula tree, which is a sort of fruit tree. The marula tree is native to the Miombo woodlands which form a broad belt across south-central Africa. In addition, the tree is protected under South African law.
Did you know that the marula tree is known for its aphrodisiac properties? Moreover, it's also a part of many South African festivals involving fertility and so on. In Swaziland, the Marula festival is celebrated at the King's residence. So, the marula tree and the Amarula made from it are an integral part of South African legends and culture.
how is Amarula made?
So once the marula fruit ripens in the sun, the fruit is de-stoned, crushed and then the fermentation process occurs. After, the Marula 'wine' ages in French oak for a minimum of 2 years. This is where its flavour comes from. If you taste the Amarula, you'll know that it tastes of a distinct vanilla flavour. Next, the infusion of the dairy cream occurs, which gives the Amarula its smooth and silky texture.To learn more about how Amarula is made, click here.
Here's a fun fact. Elephants very much enjoy eating the fruit of the marula trees. In addition, the murula tree is also called the Elephant Tree because elephants must travel for miles for it. Therefore, Amarula is vastly associated and involved with elephant conservation efforts. Hence, the Amarula trust was established in 2002. It aims to safeguard the elephant wildlife with multiple sustainable and environmental projects. Click here to find out more.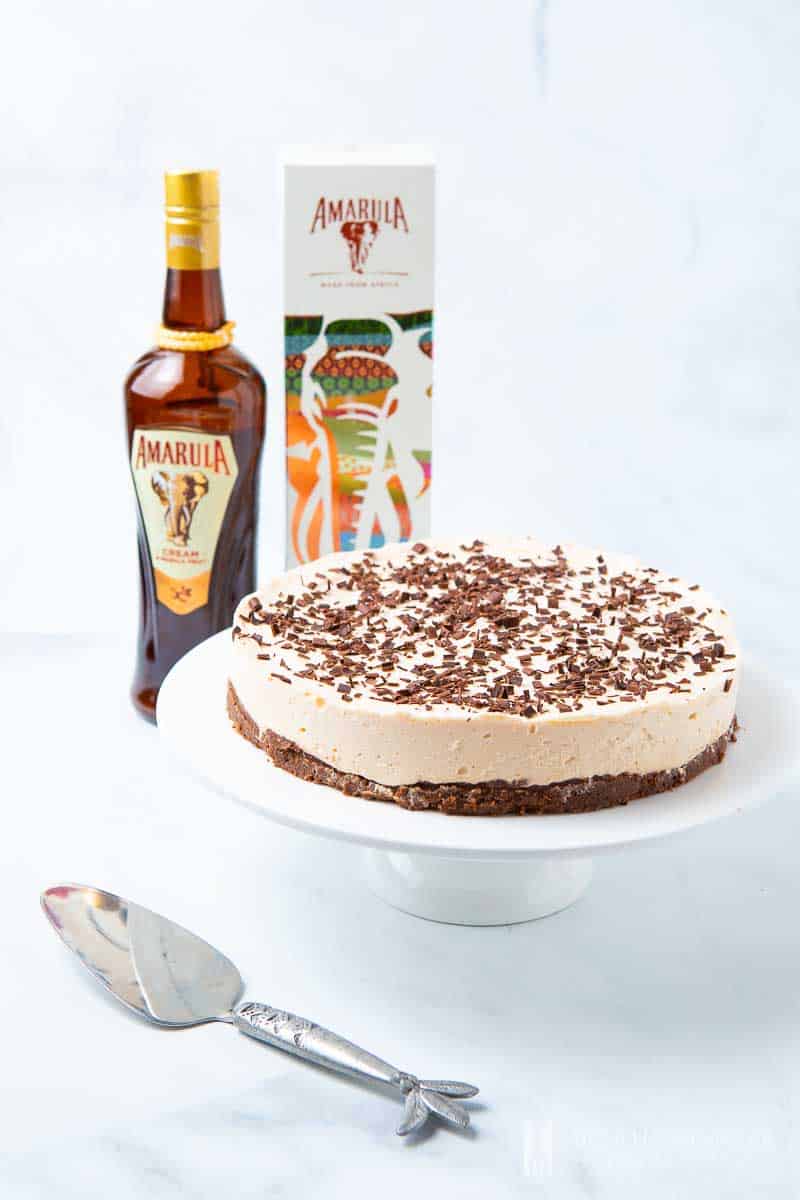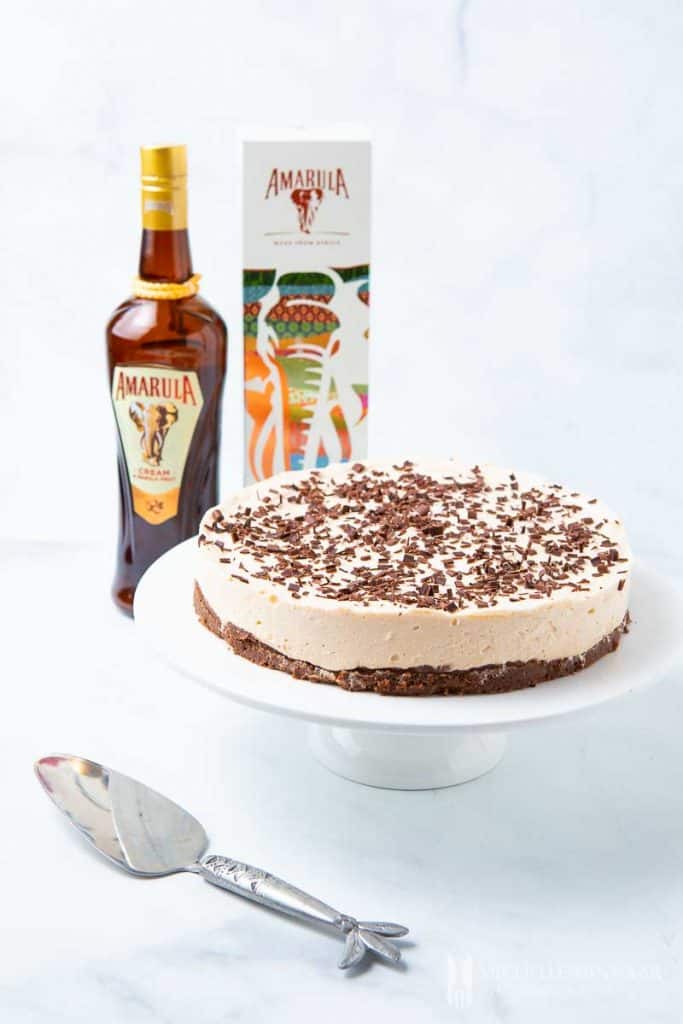 how to serve Amarula
This liqueur is straight from fruit to glass! You should serve it in a glass with ice. This is the best way to enjoy it. Just a word to the wise, sip slowly as it contains 17% alcohol. You can drink it alone or you can use it in cooking. such as in the making of this incredible Amarula cheesecake recipe. For other recipes where you can add Amarula, check out this link.
non-bake Amarula cheesecake recipe
Besides the fact that making this Amarula cheesecake is really easy, you can put your own twist on it. For instance, you can select any biscuits or cookies you love most to make the base of this cheesecake. I recommend using a biscuit which contain cocoa. In essence, this will complement the lovely creamy texture as well as the sweetness of the cream cheese.
Also, make sure to press the biscuits together properly for best results!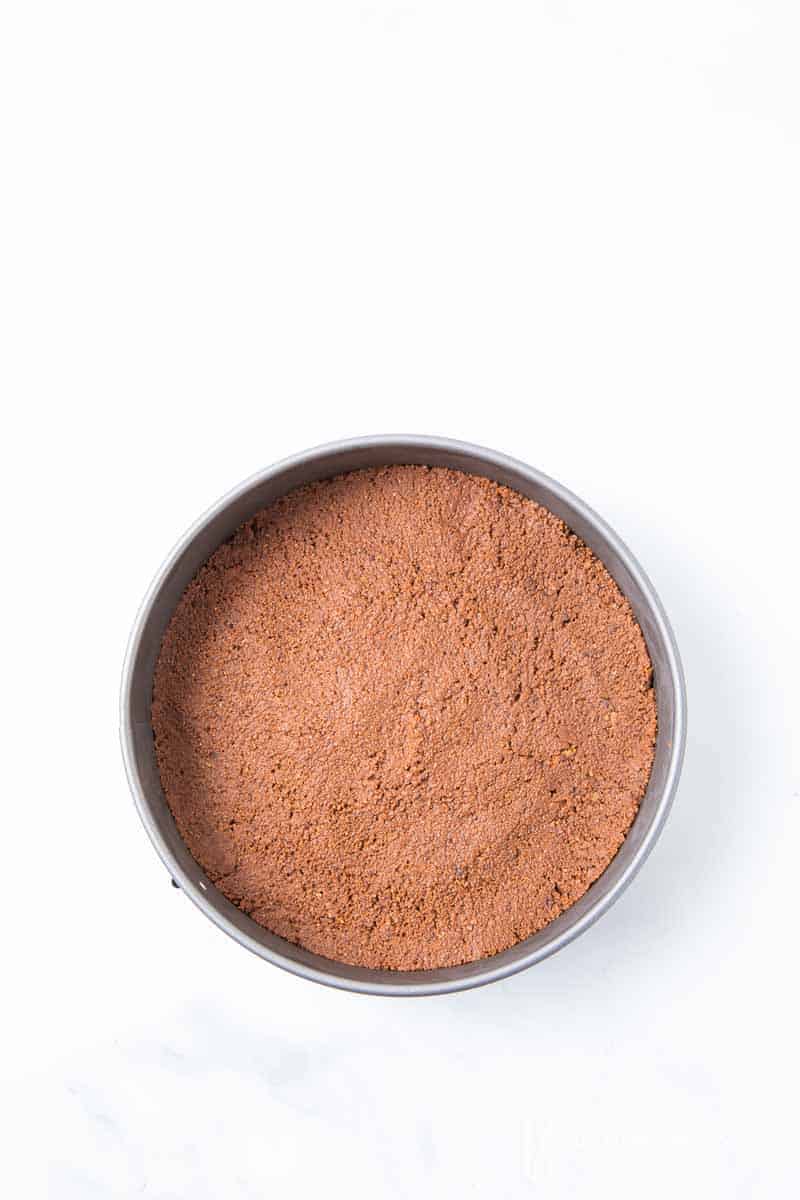 amarula cheesecake – South African style
Of course, what makes this cheesecake filling special is the addition of the Amarula. The Amarula infused with the cream cheese gives it a lovely vanilla caramel flavour unlike any other. If you find out that you are out of Amarula or you forgot it, there are alternatives you can use.
Bailey's cheesecake
This is one of the most popular substitutes. Just use the same amount of Baileys.
Cointreau cheesecake
Cointreau tastes of citrus fruits. Therefore, if you want to experiment, why not add a splash in as well.

no-alcohol, no-bake cheesecake
For a no-alcohol alternative, you can always find inspiration in other cheesecake recipes. For example, tempt yourself with these:
Amarula cheesecake with chocolate
Here comes the best part! Serving! As you can see, I like to serve my gorgeous slice of Amarula cheesecake with chocolate shavings. Moreover, I like to drown it in the delicious Amarula cream.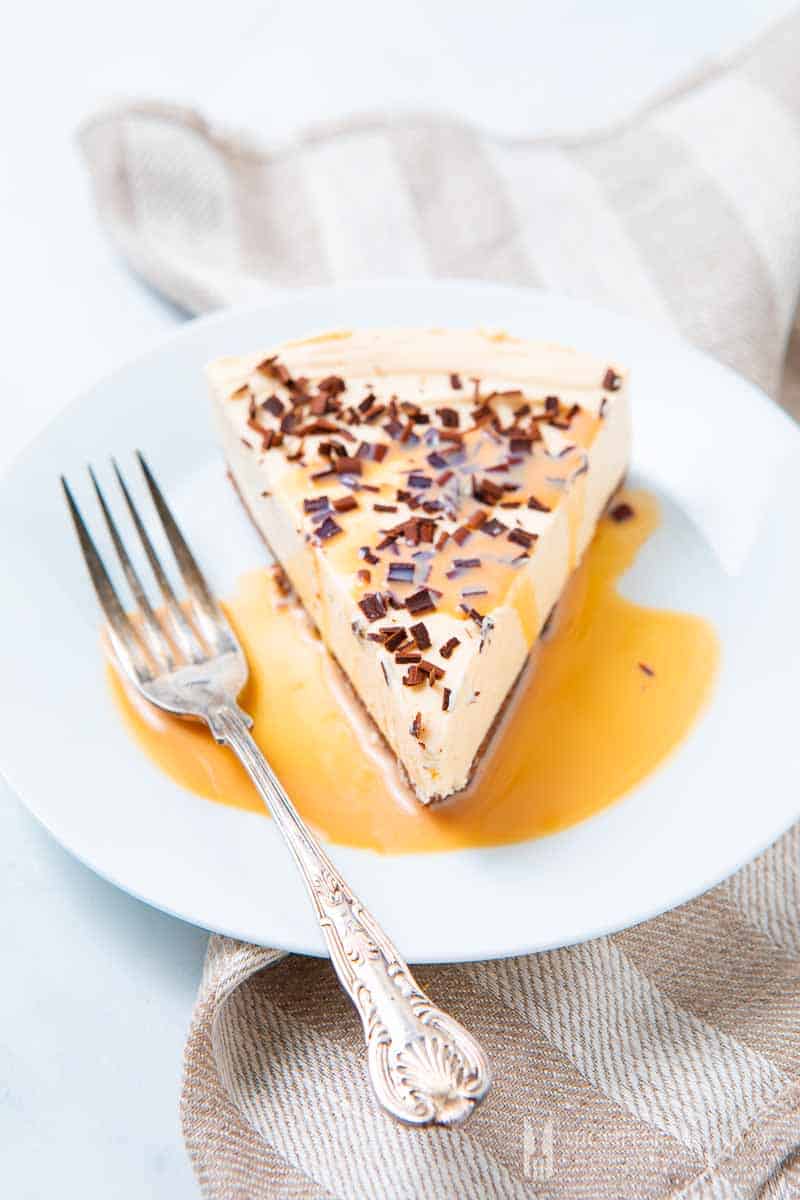 However, you can also consider other toppings. For instance:
white chocolate shavings
chocolate syrup
pieces of caramel
whipped cream
fresh fruit and much more
So, when will you make your Amarula cheesecake?
Print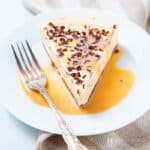 Amarula Cheesecake
---
Description
Amarula cheesecake is a South African style no-bake cheesecake using unique Amarula liqueur from the marula tree. It carries creamy notes of vanilla and caramel.
---
200

g

(7oz) chocolate digestive biscuits

100

g

(31/2oz) butter, melted

150

ml

(5fl oz) Amarula liqueur

20

ml

(4 tsp) gelatine powder

500

g

(1lb) cream cheese

130

g

(41/2oz) caster sugar

200

ml

(7fl oz) double cream

30

g

(1oz) dark chocolate, grated
---
Instructions
Crush the biscuits into fine crumbs. You can use a food processor to do this, or place the biscuits in a sealable bag and use a rolling pin.
Place the biscuits in a large bowl and pour in the butter slowly, stirring as you go. Continue mixing until everything is well combined.
Transfer the buttery crumb mixture to a 23cm (9in) springform pan. Using the back of a dessert spoon, spread the contents to an even layer.
Place the pan in the freezer while you prepare the topping.
Pour the Amarula liqueur in a small bowl and sprinkle the gelatine powder evenly on top. Leave for 3 minutes.
Place the bowl over a pot of simmering water, letting the gelatine mixture gently heat through. Stir constantly so that all the gelatine dissolves into the liqueur.
Beat the sugar and cream cheese until light and fluffy.
Whip the cream in another bowl until stiff peaks form.
When the liqueur has cooled down a bit, strain the liquid into the sweetened cream cheese, using a spatula.
Fold in the whipped cream, ensuring that all the ingredients are well incorporated.
Remove the springform pan from the freezer and pour the cheesecake filling onto the crust and smoothen with a spatula. Give it a few gentle shakes and bangs (!) to let any air bubbles escape.
Refrigerate the cheesecake for at least 6 hours; overnight works best for it to fully set.
Before serving, sprinkle the grated chocolate on top.
Serve each cheesecake slice with a shot of Amarula poured on top. Enjoy!
Prep Time:

45 minutes

Cook Time:

5 minutes

Category:

Dessert

Method:

Chill

Cuisine:

South African
Keywords: amarula cheesecake recipe, south african dessert, south african cheesecake,
save the recipe to your pinterest board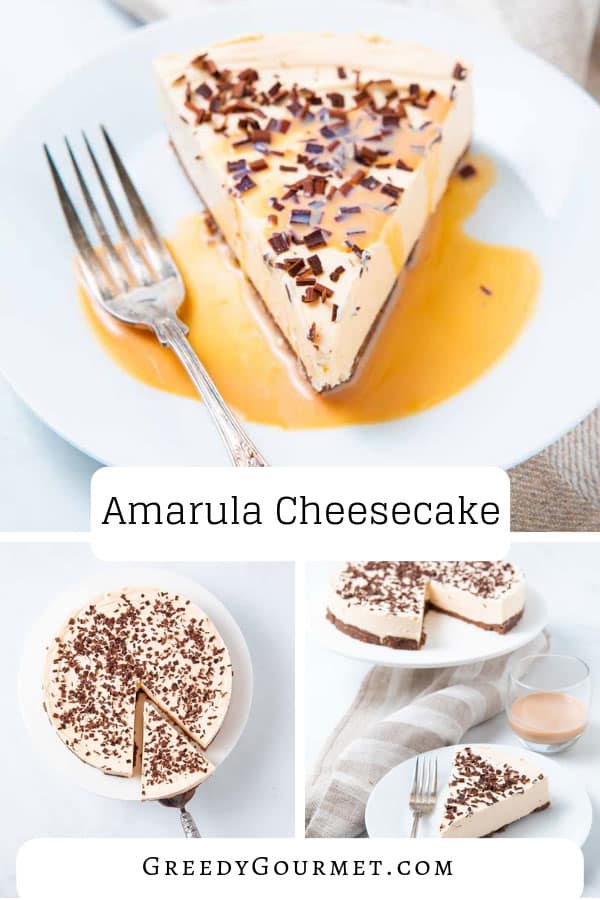 P.S. This is a sponsored post.