An apricot cobbler is one of those incredible desserts that we all grew up with. Whether it is apricot pie, apricot crumble or apricot cobbler or a tempting lemon chess pie.
In essence, this apricot cobbler takes the cake when it comes to deliciousness. Especially if you make this cobbler recipe in the summer with fresh apricots. Without a doubt, that's my absolute favourite part – preparing the apricots. It's so hard not to have a bite when they are so fresh and ripe.
You'll know once the cobbler is ready once you see a beautiful golden crust. In particular, you must resist the tempting smell and wait for that golden crust if you want perfection.
The best part about this apricot cobbler is the fact that it is an absolutely crowd-pleasing recipe. It should be noted that it is made up of inexpensive and fresh ingredients.
Plus, you can easily feed a hungry family with guests if you just make one large batch. It's relatively quick and easy to prepare. Besides, it's a great idea if you've bought a large batch of apricots and don't know what to do with them.
Enjoy making this all-American fabulous fruity cobbler. I can't wait to cobble something together again soon!
fresh apricot cobbler recipe
This apricot cobbler wouldn't taste the same if you didn't use fresh apricots. Fresh apricots are available from spring and last in the super markets sometimes till the end of the summer.
Although, from May to July is the optimal time to get them. That's when they are at their best – soft and ripe!
When it comes to apricots, no one really knows where they exact origin is. Historians argue between Armenia, China and India. The apricot first came to Greece because of Alexander the Great.
Back then, apricots were called praecocia and praikokion. Once the were traded in the Southern Greek port, they were called berikokkia. In fact, apricots were cultivated for thousands of years in Persia as well. Back then, they were traded in their dried form. They were referred to as al-barquq.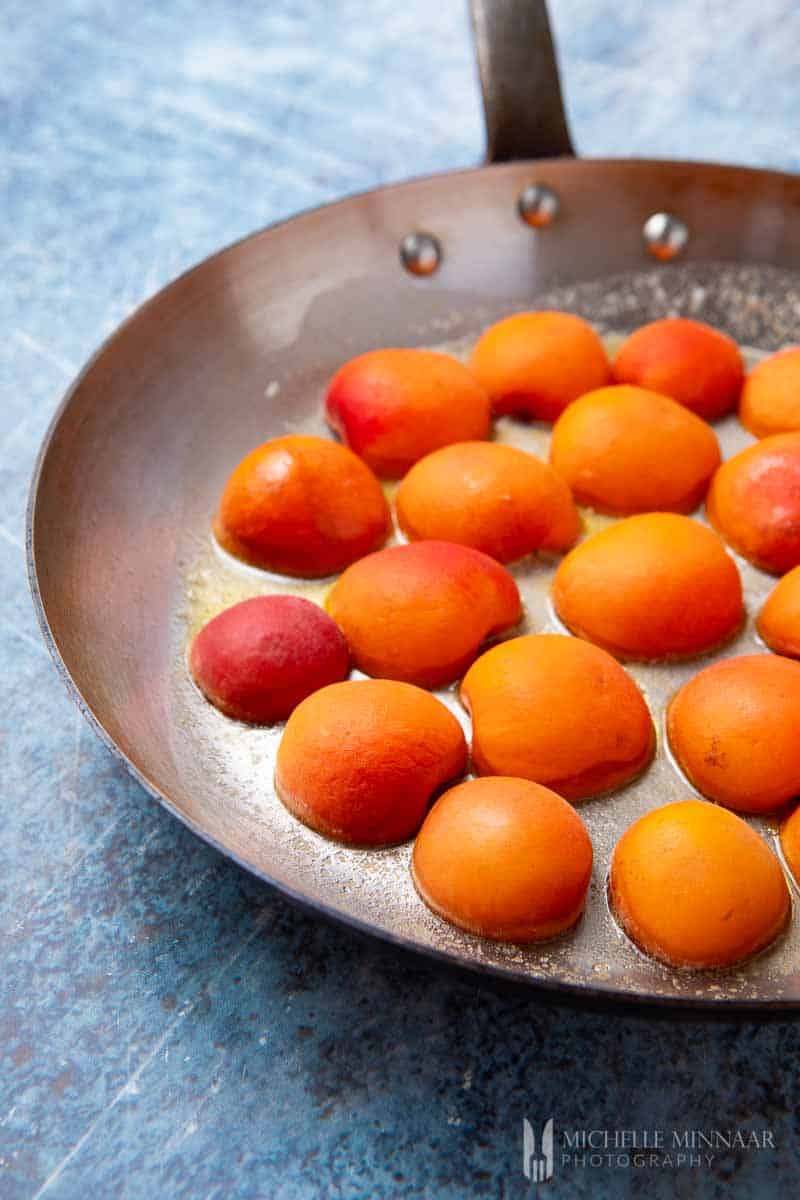 Once they were traded in Spain, they were called albaricoque and albercoc. Soon in France, they became known as aubercot and abricot. The apricot first came to Britiain in the 16th century. That's when they started calling them apricots.
Interesting how the nomenclature of an ingredient changes throughout time by trade? I find it completely fascinating.
types of apricots
There are a variety of apricots you can select for your apricot cobbler recipe. In fact, there are around 50 varieties of apricots that I've found out about. Let's divide the best types of apricots to use according to season.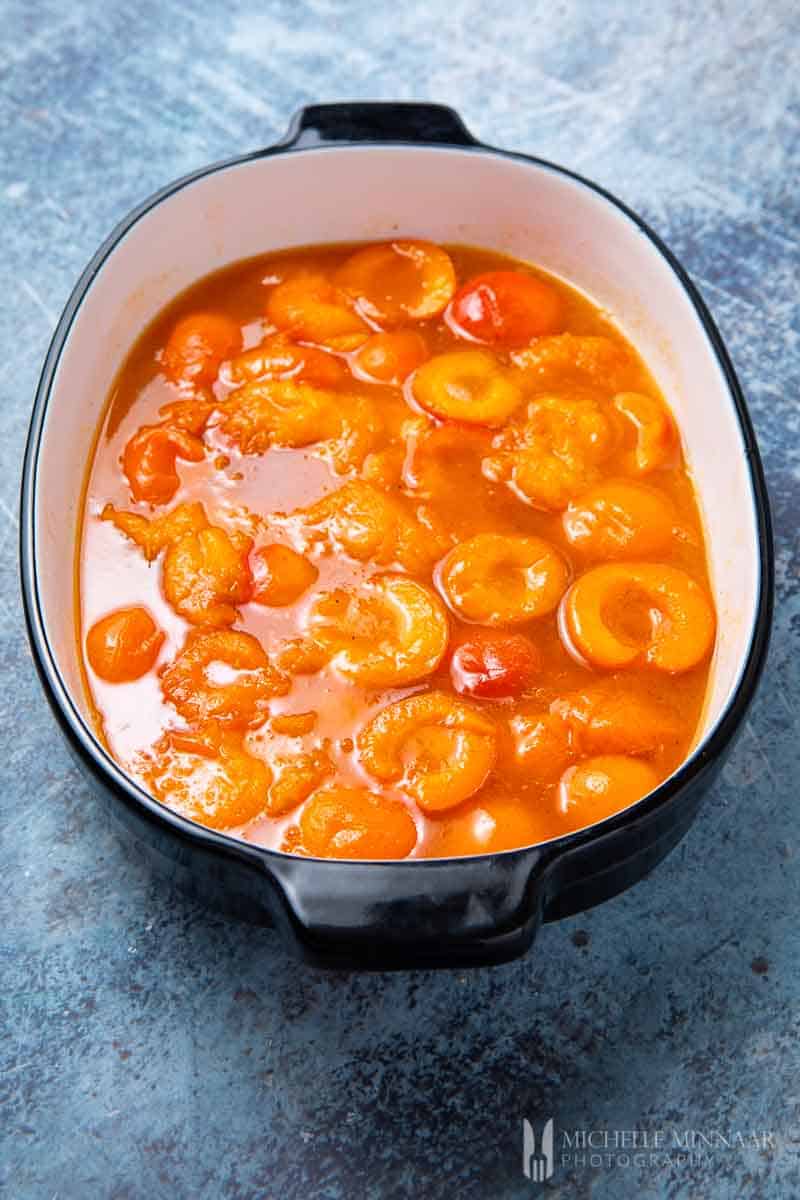 First, the best types of apricots early on in the season (spring) are:
Gold Kist – medium to large, sweet tart flavour
Castlebrite – medium and firm
Early Golden- large and quite flavourful, use when fresh
Secondly, the best types of apricots to get in the middle of season (early summer) are:
Blenheim or Royal – the most commercial apricots
Tilton's – large, use only when fresh
Pixie-Cot – sweet and juicy, medium sized
Thirdly, the best types of apricots to get in the late season (end of summer) are:
Autumn Royal – good balance between tartness and sweetness
Moorpark- very juicy and aromatic, very sweet
To learn more about the different variety of apricots, click right here.

If you buy a large batch of apricots, you can also use the leftovers for savoury apricot recipes. For instance:
Tempting, right?
can I use canned apricots for a cobbler recipe?
In sum, the answer is yes. Although, nothing compares to when you use fresh apricots. Also, they release their juices into the apricot cobbler making it moist and pleasant.
That being said, if you do decide to use canned halved apricots, then you need to look out for two things:
First, drain the excess sugary fluid well otherwise your apricot cobbler will be wet and soggy.
Second, use less sugar in your cobbler recipe as the canned apricots will be sweet enough.
However, I encourage you use fresh apricots for best results.

dried apricot cobbler
A dried apricot cobbler recipe will be completely different as well. I would only recommend using dried apricots with a crumble recipe. Just take a pack of dried apricots and soak them in a water solution with some sugar and lemon juice for flavour.
As for the crumble, take inspiration from these fantastic crumble recipes:

apricot cobbler with pie crust
In this case, I've used a pie crumble on top of my apricot cobbler. This way, the apricot juices are absorbed and every bite is moist and juicy. You can opt for covering the whole apricot cobbler. Or you can also place pieces of the pastry throughout your cobbler.
apricot cobbler bisquick mix
To make your life really easy and accelerate the cooking process even more, you can opt for using a Bisquick mix. Contrary to making your own crust, this step will only take you a couple of seconds. Without a doubt, you can use other types of mixes to speed things up in the kitchen. Especially is just as busy as mine.
apricot cobbler with oatmeal
In this case, for extra crunch, consider adding oatmeal on top to get that perfect crumble consistency. In addition, if your variety of apricots are particularly juicy, the oatmeal will absorb the extra moisture.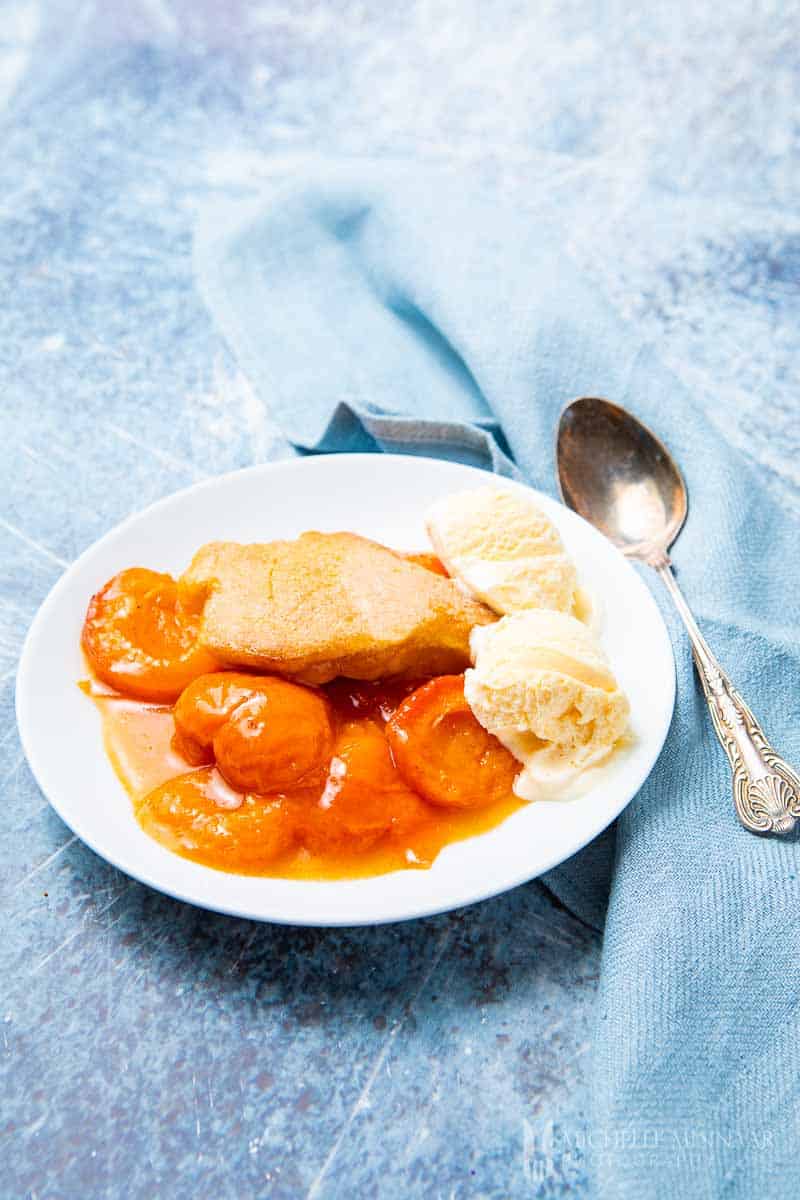 serving
In short, top off your apricot cobbler recipe with a silky smooth vanilla ice cream, double cream, vanilla custard, pink custard or whipped cream. In fact, the best possible combination I can think of is almond milk ice cream. 
More fresh apricot recipes for you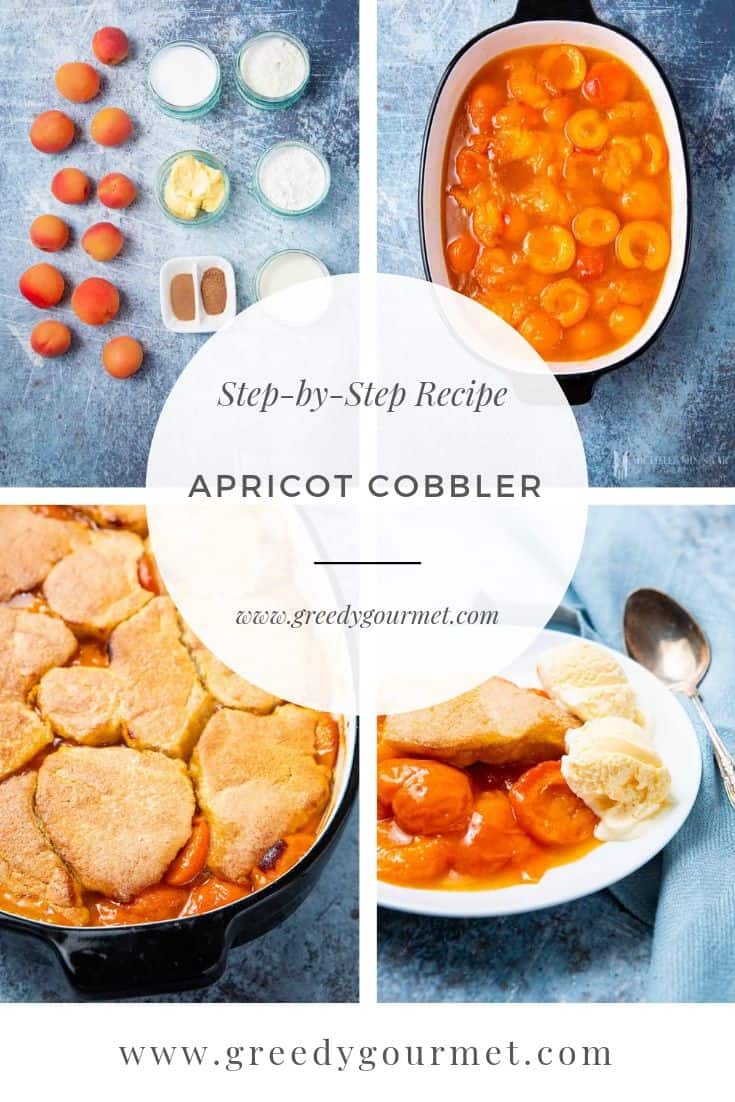 Print
Apricot Cobbler
---
Description
This apricot cobbler is simply amazing thanks to fresh apricots being used. This is American desserts at its best! Enjoy with ice cream or custard.
---
Filling
170g

(

¾ cup

) granulated sugar

15

ml (1 tbsp) cornstarch

1.25

ml (¼ tsp) ground cinnamon

1.25

ml (¼ tsp) ground nutmeg

1

kg (2lbs) fresh apricots, washed and halved

15

ml (1 tbsp) butter
Topping
256g

(

2 cups

) all-purpose flour

52g

(

¼ cup

) caster sugar

15

ml (1 tbsp) baking powder

5

ml (1 tsp) salt

100g

(

7 tbsp

) butter

30

ml (2 tbsp) granulated sugar

250

ml (1 cup) milk
---
Instructions
Preheat the oven to 200°C / 390°F / gas mark 6.
For the Filling, bring 250ml (1 cup) of water, sugar, cornstarch, cinnamon and nutmeg to the boil.
Stir until thickened, which should take around 1 minute.
Reduce the heat, add the apricots and butter.
Simmer for 5 minutes or until heated through.
Pour the filling into a 23cm x 33cm (9X13 inch) baking dish.
For the topping, combine the flour, caster sugar, baking powder and salt in a large bowl.
Cut the butter into the flour mixture until mixture resembles coarse crumbs.
Systematically pour the milk into the crumble until the topping is just moistened.
Spoon the wet mixture evenly over the apricot filling and dollops.
Sprinkle the granulated sugar evenly over the topping.
Bake for 30-35 minutes, or until golden brown.
Serve with ice cream, custard or cream. Enjoy!
Notes
Use only as much milk as needed to moisten the crumble. You don't want the flour mixture to get too soggy and difficult to handle.
Prep Time:

20 minutes

Cook Time:

50 minutes

Category:

Dessert

Method:

Bake

Cuisine:

American
Keywords: apricot cobbler recipe, fresh apricot cobbler, American dessert