Apricot tart is the ideal dessert to enjoy in late summer when this fruit is at its peak. When walking past these orange jewels it is hard to resist them.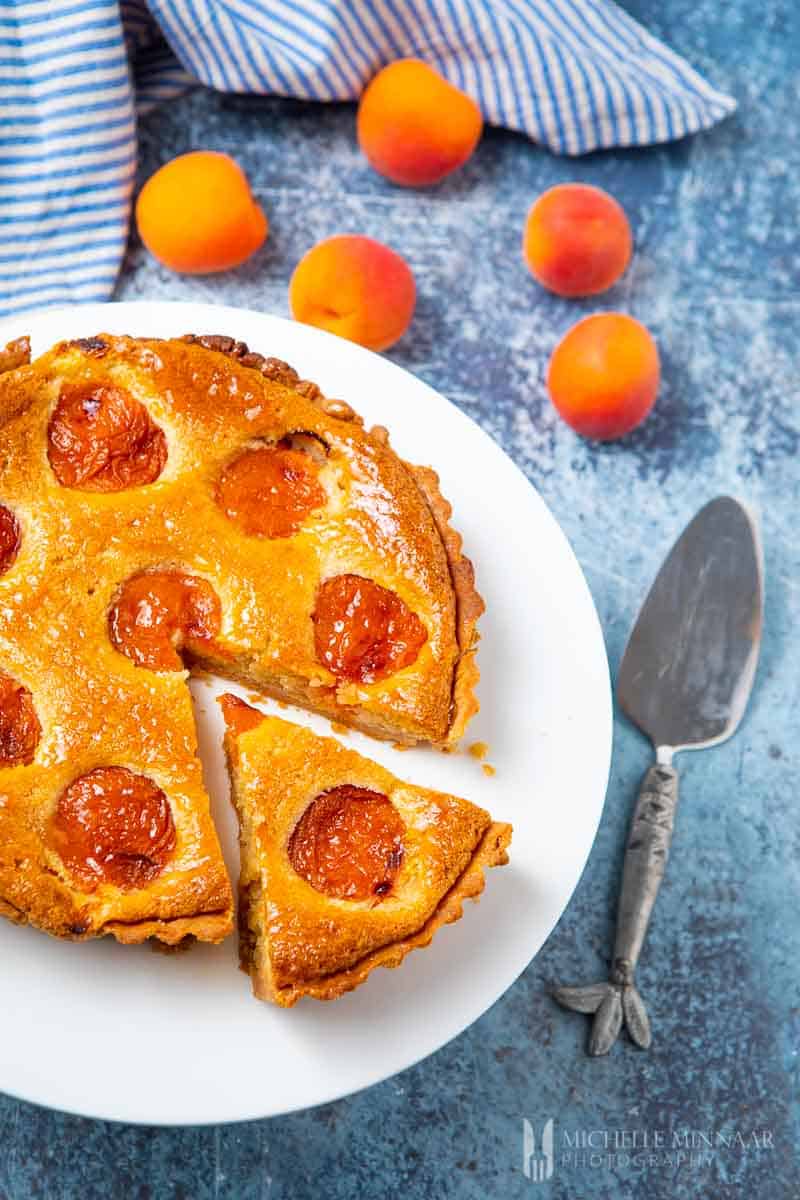 The possibilities what you can make with juicy, tart yet sweet apricots are endless – apricot tart, apricot jam, apricot marmalade, apricot pie, apricot crumble, apricot cobbler and cake. Don't you just want to run out and grab a few punnets of this fruit immediately?
In addition, with this tart recipe you can outcook your grandmother any day of the week. What's best, you can easily substitute the apricots with peaches or any other type of fruit.
For example, you can consider apples, pears, rhubarb, cherries, strawberries, and much more. As you can see the tart base is quite versatile.
apricot tart easy recipe
When I think of an apricot tart, my mind goes immediately towards those tarts that can be found in Paris. Have you ever seen them on display in one of French capital's boulangeries or famous pastry shops?
What I am referring to are those apricots tarts where the apricots are perfectly assembled close to one another. Also, they are flambéed at the top to give them that beautiful char.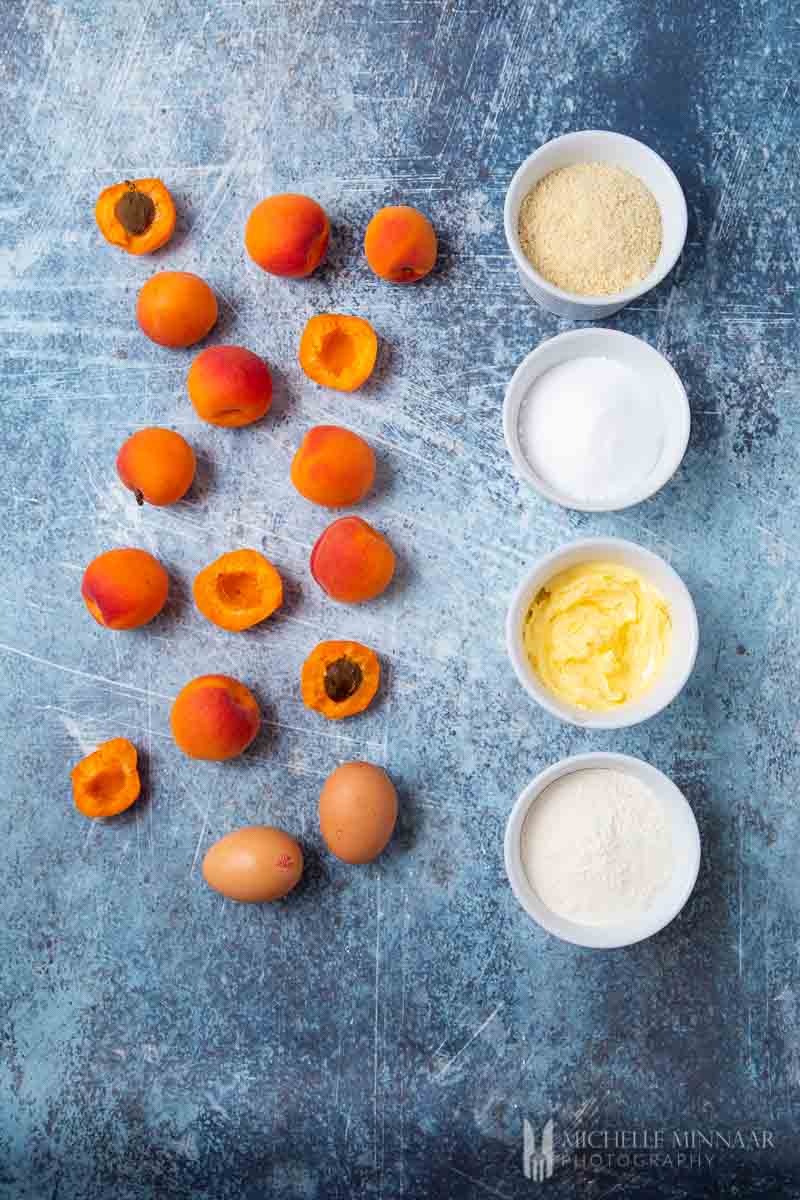 However, even when those professionally made tarts are indeed excellent, there is a lot of satisfaction in making your own apricot tart. Besides, professionally made or not, the taste will never be compromised with this tart recipe.
What I love most about making any fruity tart or pie, is that often you have leftover fruit. If you have leftover apricots, you can also inspire yourself with these delicious fruity recipes:
If you feel like you've had enough sweetness from the apricot tart, you can also use apricots in a savoury recipe. For instance:
Of course, you can also enjoy the leftover apricots as a fruity snack in between meals.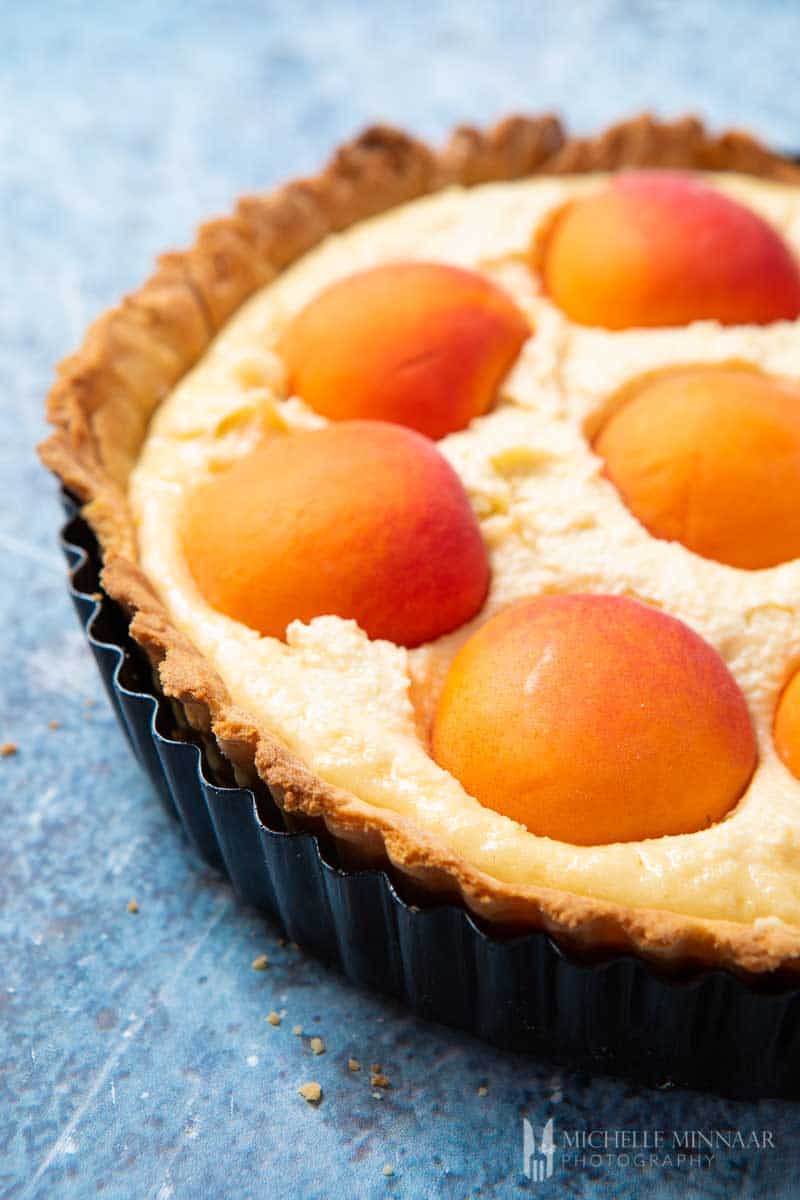 how to make an apricot tart
French apricot tart recipe
Although this apricot tart is more of a rustic recipe, you too can decide to make this recipe the French way. Although, it will require a few extra minutes when it comes to preparation time.
First of all, you are going to have to cut the apricots into perfectly uniform moon shapes. Take your time as this is what will make your apricot tart really beautiful in the end.
When you have the tart base ready, carefully place the apricots on top. Stack them very closely to one another so that there is practically no space in between the apricots.
You can opt to place them 'face down' or 'upwards' to expose the apricot flesh. I recommend you turn the apricots 'flesh-side up' so that they have the opportunity to caramelise during the baking process.
If you have an oven with a basic grill function, I recommend you use it towards the end of the cook. Place the apricot tart directly under the grill function and give it 2-5 minutes depending on your temperature setting. This way, you won't need a professional burner.
To make it a truly French recipe, don't forget to dust the tart with powdered sugar when you serve it. This really gives it that glam effect.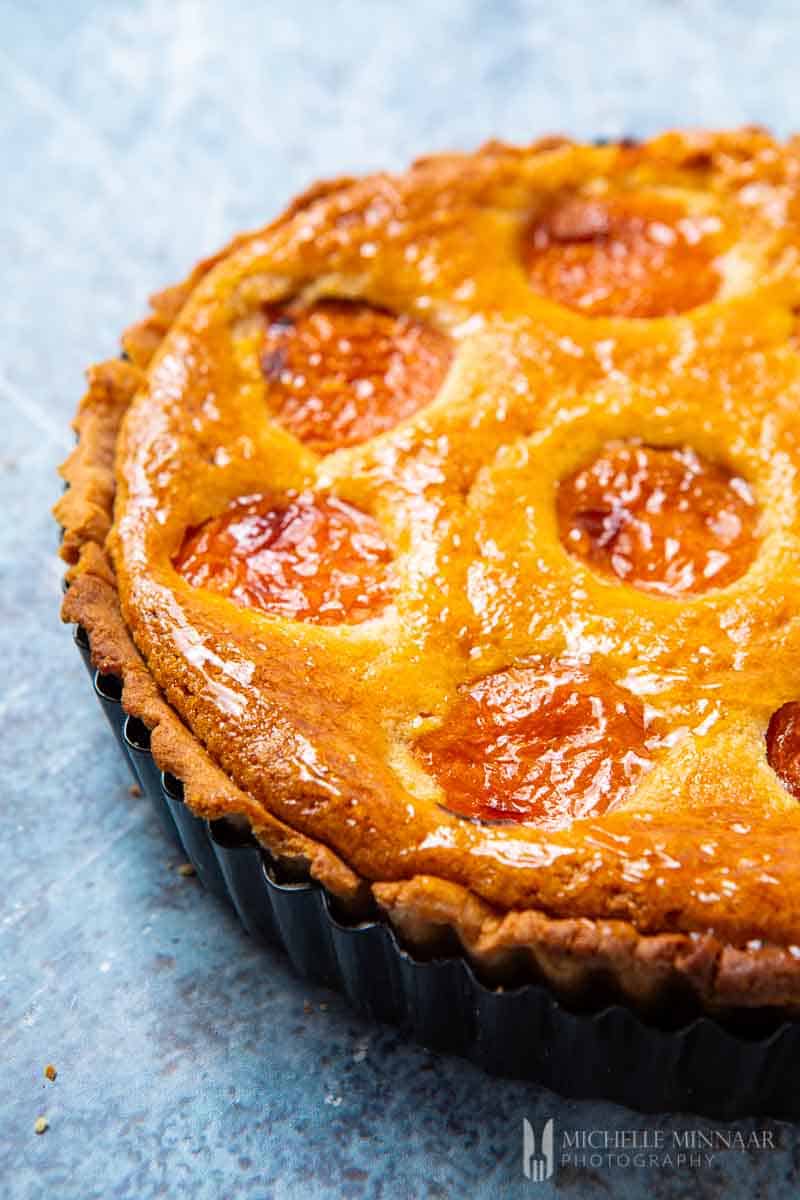 apricot tart with almond crust
Apricots and almonds are a classic combination of tasty flavours. This way you can give the apricot tart some edge and extra texture. Just sprinkle some almond flakes on top.
The almond flakes will provide a subtle crunch as well as a nuttiness that will balance the tartness of the apricots. In fact, you can also opt to roast them prior to placing them on top of the apricot tart.
Who doesn't love roasted almonds? You can also use other types of nuts. For example:
pistachios – these work very well and give the apricot tart a Mediterranean / Middle Eastern flavour
macadamias – they are quite expensive but excellent
walnuts – crush them up first
cashews – use only as a last resort for nuttiness
dried apricot tart
You can also use dried apricots for this apricot tart recipe. You'll just have to chop them up into smaller pieces and distribute them evenly across the tart. This way, you'll have an apricot piece in every single bite of the tart.
Another possibility is to use canned apricots. However, you have to drain the liquid and dry them properly. Otherwise, your apricot tart filling would get extra wet, and it wouldn't bake properly.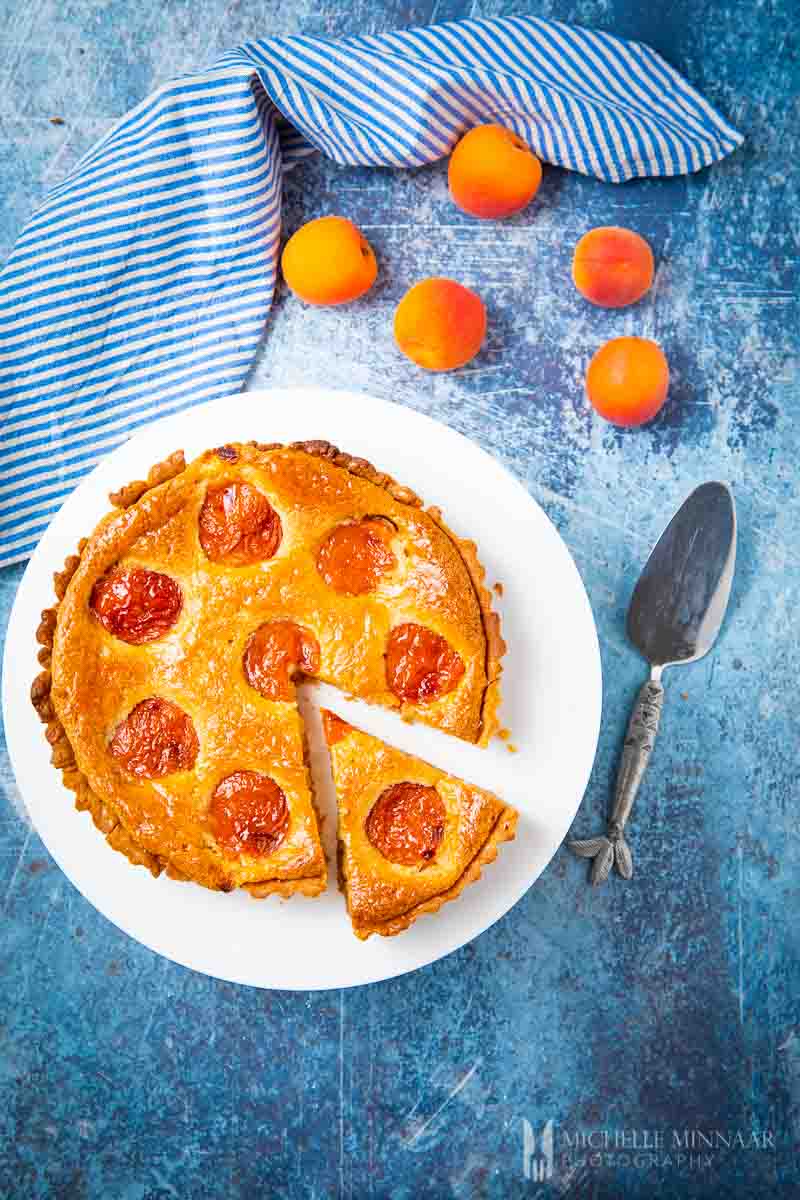 toppings
There are several toppings you can consider. Let's start with the most obvious ones.
Although, my ultimate recommendation for this apricot tart recipe is to pair it with 'amandes de lait' ice cream, which is almond milk ice cream. If you have the opportunity to get your hands on this type of ice cream, then by all means go for it!
More fresh apricot recipes for you
How would you serve your apricot tart recipe? What is your favourite recipe using fresh apricots? Let me know in the comments section below.
Print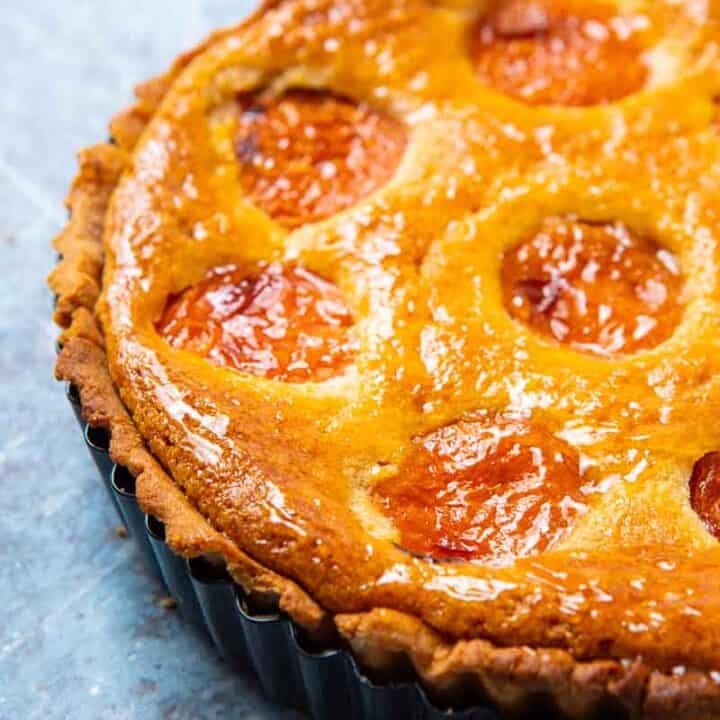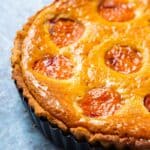 Apricot Tart
---
Description
This apricot tart is a really simple and delicious recipe. Nothing beats a homemade apricot tart. Especially when it is made with fresh apricots. Enjoy!
---
Pastry
175g

(

6oz

) plain flour, plus extra for dusting

75g

(

3oz

) cold butter, cubed

25g

(

1oz

) caster sugar

1

egg, beaten
Filling
125g

unsalted butter, softened to room temperature

125g

caster sugar

25g

plain flour

125g

ground almonds

1

large free-range egg, beaten

4

large apricots, washed, pitted and halved

60

ml (4 tbsp) apricot jam
---
Instructions
For the pastry, mix the flour and butter in a food processor until the mixture resembles breadcrumbs.
Add the sugar and mix for 1 minute.
Add the egg and 15ml (1 tbsp) of water.
Mix until the dough comes together.
Roll the pastry out on a floured surface as thinly as possible, about £1 coin (3mm) thick, and use to line a 28cm (11in) round, loose-bottomed fluted tart tin, making a small lip around the top. Prick the base of the pastry all over with a fork.
Line the pastry with greaseproof paper and fill with ceramic baking beans or uncooked rice.
Place it in the fridge to chill for 20 minutes.
Preheat the oven to 200°C/180°C fan/390°F/gas mark 6.
Blind bake the pastry in the preheated oven for 15 minutes.
Remove the paper and beans, then return the pastry to the oven to cook for another 5 minutes.
When cooked, trim the excess pastry level with the top of the tin. Set aside to cool.
Reduce the oven's temperature to 150°C/130°C fan/300°F/gas mark 2.
For the frangipane filling, cream the butter, sugar, flour and almonds together in a food mixer.
Slowly pour in the egg, while the machine is running, mixing until the ingredients are fully incorporated.
Rest the frangipane for 5 minutes.
Pour the filling into the pastry case and spread it evenly.
Arrange the apricot halves on top of the filling, skin side up.
Bake for 30 minutes or until golden.
While the tart is still warm, heat the apricot jam and brush the tart all over with it.
Let the tart cool down for a few minutes, then remove it from the tin.
Slice and serve. Enjoy!
Notes
If you don't have a food processor you can rub the flour and butter with your fingertips.
You can canned apricots if fresh apricots aren't in season. Just make sure you dry each one carefully before placing it on the filling.
Prep Time:

30 minutes

Cook Time:

50 minutes

Category:

Dessert

Method:

Bake

Cuisine:

French
Keywords: apricot tart recipe, fresh apricot tart, baked apricot tart, apricot and frangipane tart