Battered halloumi is an excellent alternative to meat. For instance, you can easily substitute classic schnitzel with this vegetarian dish.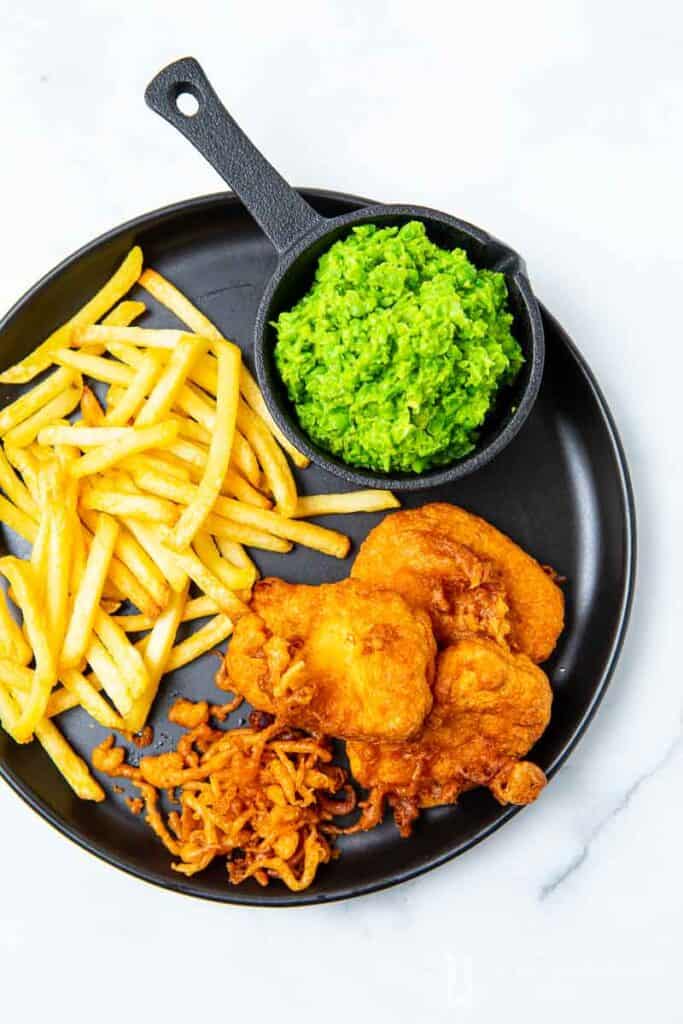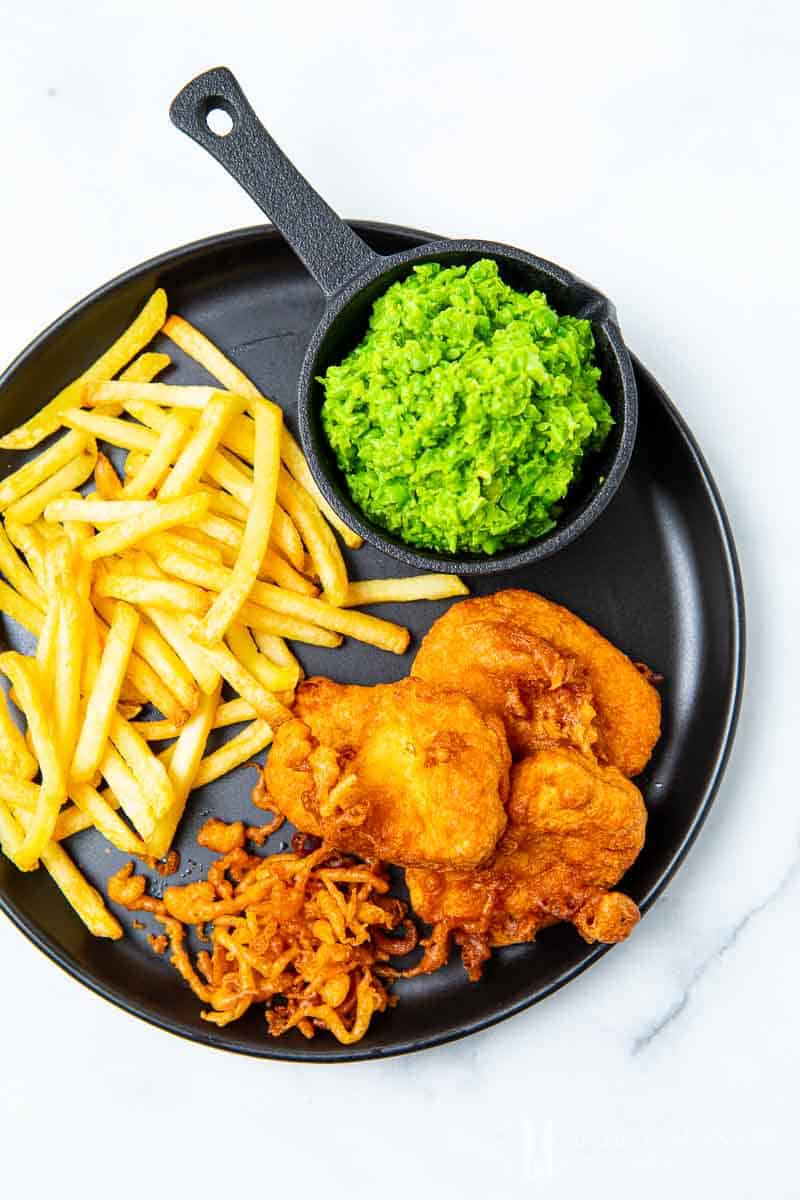 Better yet, think of this excellent battered halloumi recipe an alternative to traditional fish and chips. This dish offers a crispy beer batter and highlights the soft textures of halloumi cheese.
The recipe is best paired with a side of chips or potato wedges. Combined with a tasty dip, it makes the perfect finger food. In particular, this should be the go-to finger food recipe for vegetarians.
The total time to make the battered halloumi from scratch is roughly 30 minutes. Once you master the batter, you can practically use it with any other ingredients.
Therefore, stop going out to pubs for delicious battered finger food. You can make it yourself with half the expense. So grab a cold beer and enjoy!
products you need for this recipe
There are quite a few items you are going to need from your pantry to make this battered halloumi recipe.
The best part is, you can purchase some of these items in large quantities, especially when there is a special price discount. Why not take advantage?
Take a look below to find out which products you'll need to locate in your kitchen pantry and see if you've got any missing: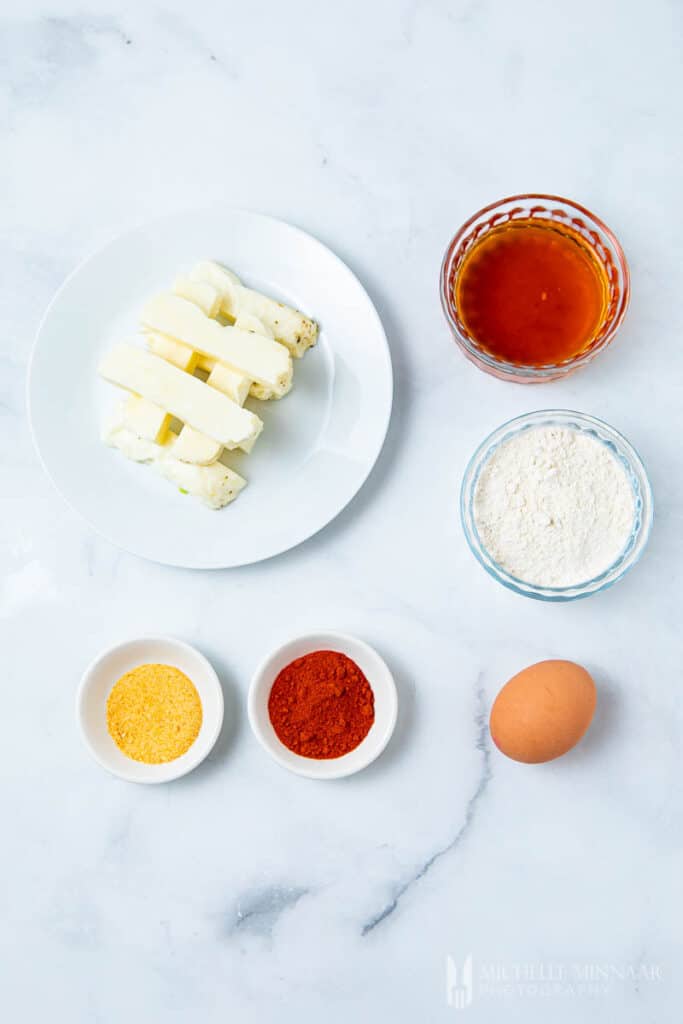 easy battered halloumi recipe
Halloumi is a brined cheese, mostly made out of goat's and sheep's milk. However, some varieties also contain cow's milk.
In essence, halloumi is the perfect cheese for those who suffer from lactose intolerance allergies. Moreover, it is a nutritious substitute for meat.
Even though it is a semi-hard cheese, it has quite a high melting point. This means, you can easily put it on the grill or fry it in a pan without it falling apart.
Generally speaking, most halloumi cheeses age anywhere from 1 to 2 years.
The origin of halloumi cheese is from Cyprus. However, halloumi can be found all over the Mediterranean coast, Greece, Turkey, Lebanon, etc.
I love cooking with halloumi. Check out some of my easy halloumi recipes:
Do you have a favourite halloumi recipe? Please share in the comments section below.
how to make perfect beer batter
When it comes to deep frying food, it's all about that crispy beer batter. The end result should always be finger-licking delicious!
So, first things first. Go for a premium quality beer. The best choice would be an organic craft beer.
Secondly, to make the perfect batter for the battered halloumi, make sure to refrigerate the beer. Some batter recipes even call for the addition of ice to lower the temperature of the batter.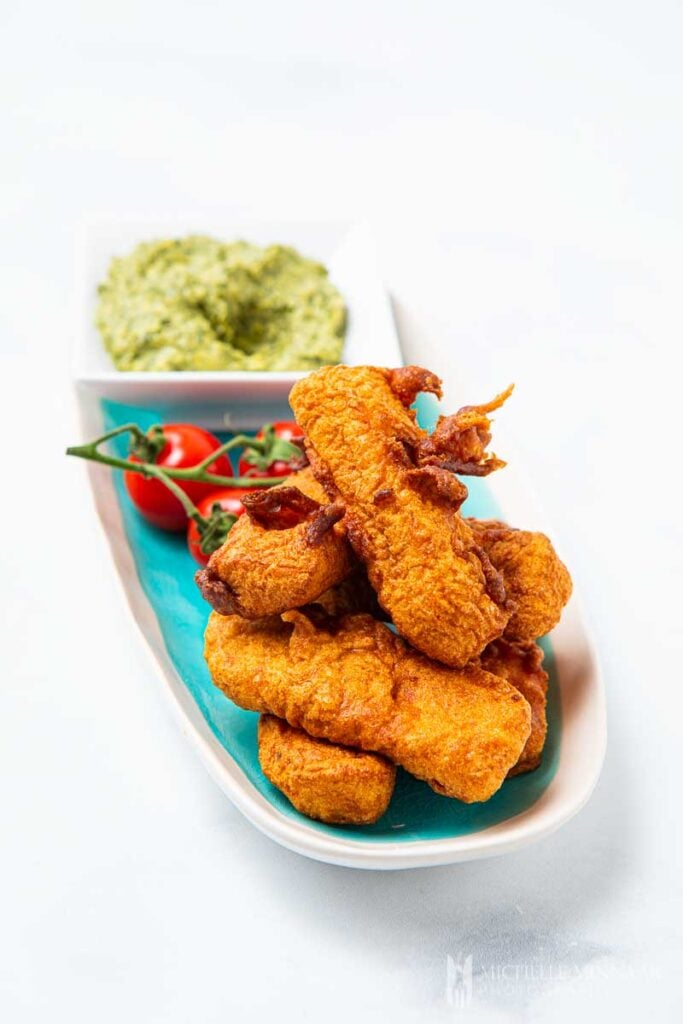 You won't need to add ice if your beer is nice and cold.
Next, make sure that when you take the halloumi, dip it in the batter and place it in hot oil. The oil must reach a very high temperature.
The difference between the cold batter and the hot oil will result in a crispy batter. That's the secret to a successful batter.
Handy tip: Do not overcrowd the halloumi when you fry it. It's best if you fry a couple of pieces of battered halloumi at a time.
Otherwise, you can change the temperature of the oil and the end result will be soggy.
This batter recipe is also perfect for other ingredients. For instance, you can use it with vegetables like asparagus or peppers.
However, you can also use it for cod or haddock and make fish and chips.
battered halloumi calories
Even though battered halloumi is a healthy alternative to meat, the fact that this recipe involves deep frying is not beneficial to those who count calories.
One way to reduce the calorie intake of this recipe is to let the battered halloumi pieces rest on paper towels once they come out of the fryer.
The paper towels will absorb the excess oil.
Next, instead of vegetable oil, you can deep fry the battered halloumi in unscented coconut oil. Unscented coconut oil is more advantageous for your digestion. Plus, it contains anti-inflammatory qualities.
Otherwise, you can always cut down on the side dish. For example, don't serve the battered halloumi with chips. Rather serve it with a green salad.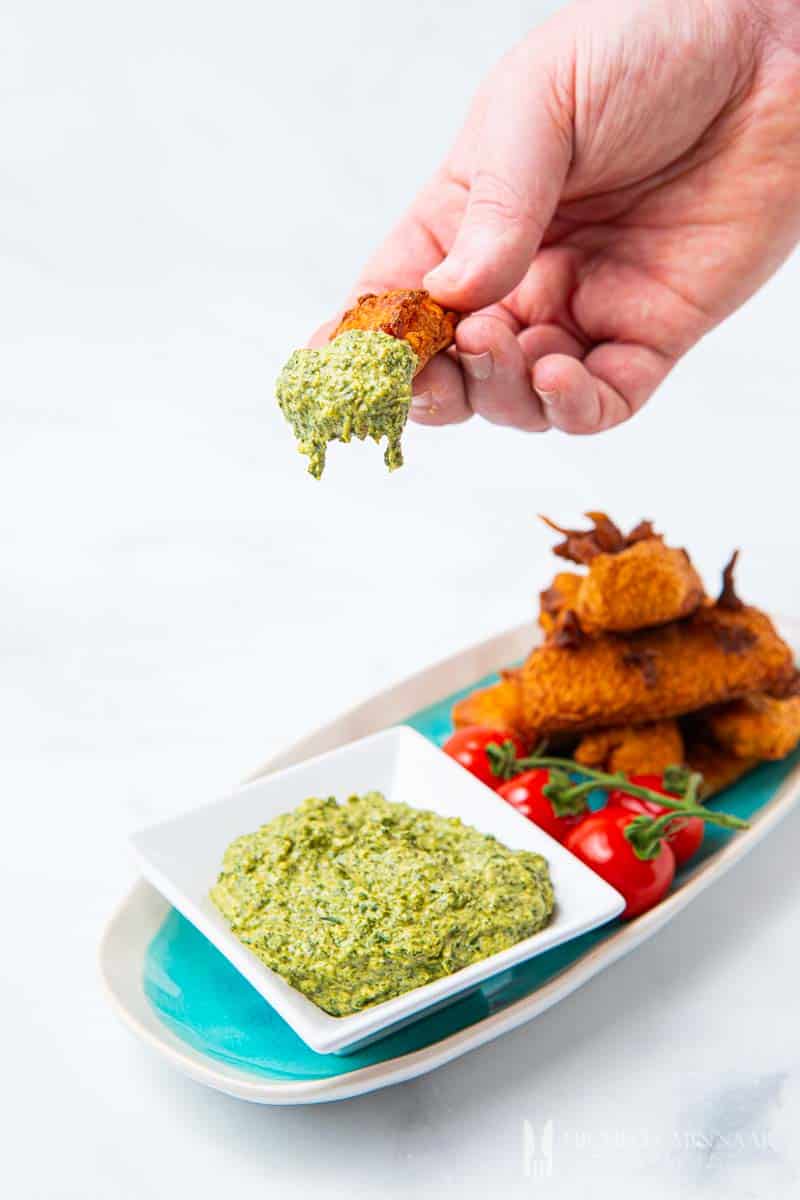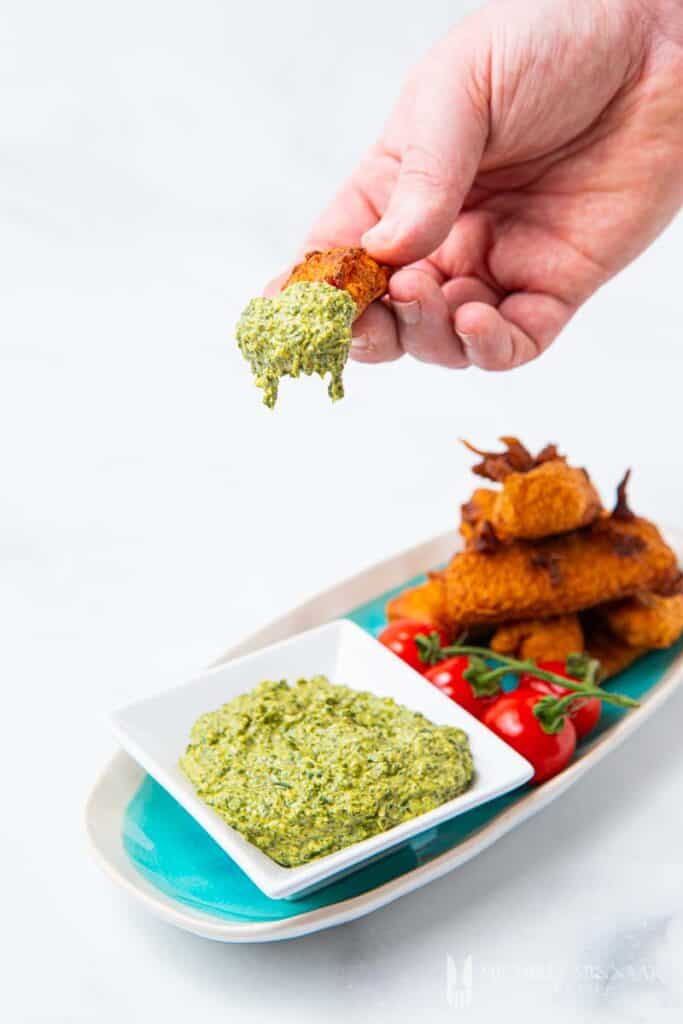 best sides for battered halloumi
Here are the best side dishes that work perfectly with this battered halloumi:
In addition, here are some dips you might enjoy with the battered halloumi:
If in doubt, pair the battered halloumi with some fresh cherry tomatoes and a green dip. Otherwise, you can also pair it with green garden salad.
Don't forget to grab a cold beer when you are about to enjoy your battered halloumi.
How would you enjoy your battered halloumi recipe? Do you have a favourite dip in mind? Let me know in the comments section below.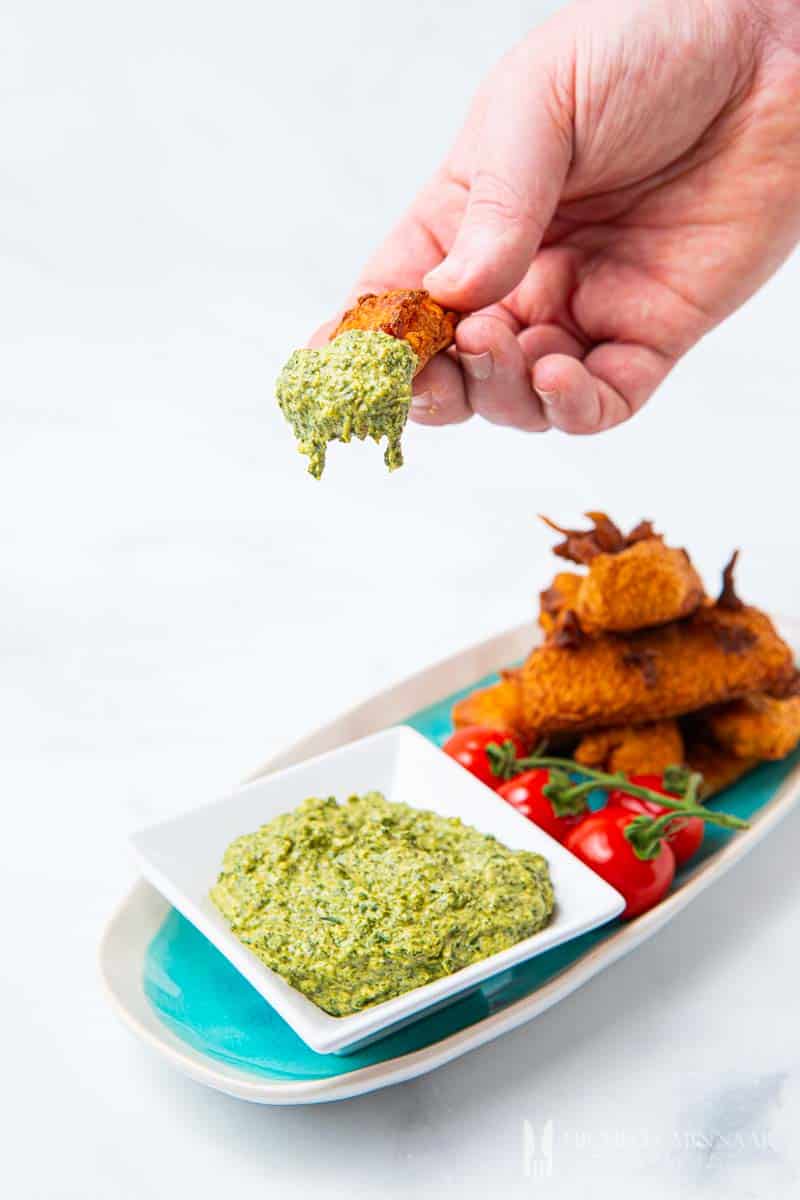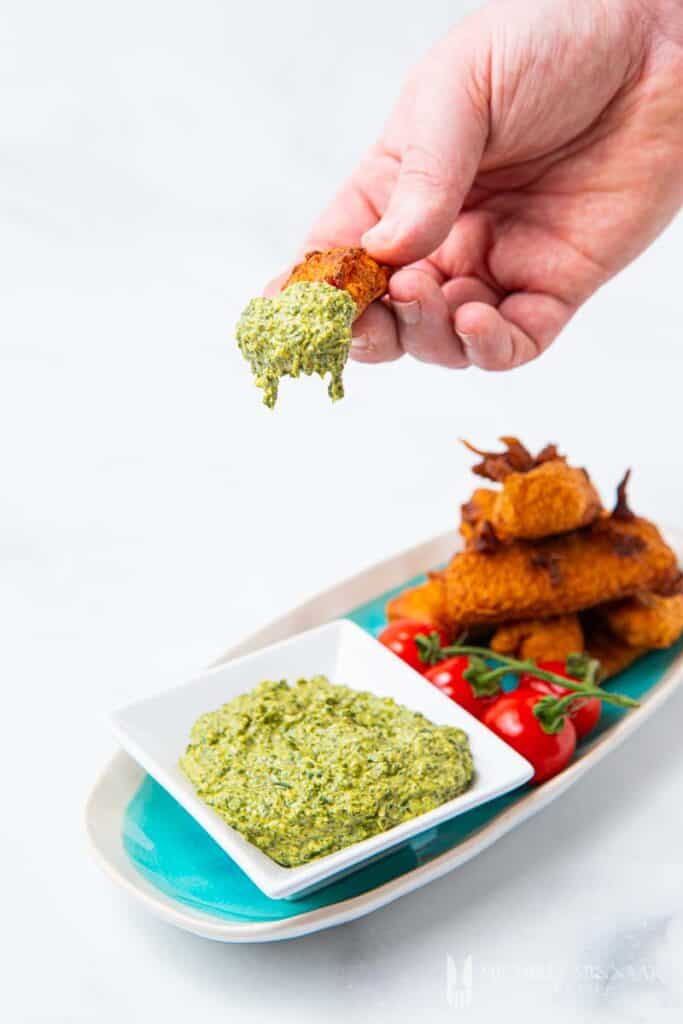 Print
Battered Halloumi
---
Description
Crunchy and crispy battered halloumi recipe that's best paired with a dip. Finger-licking delicious!
---
---
Instructions
Cut the halloumi into fingers that are 2.5cm (1in) thick.
Dry them thoroughly with paper towels and set aside.
Tip the flour, garlic and paprika into a large bowl and make a whole in the center.
Crack an egg in the middle and whisk, slowly incorporating the egg into the flour. 
When the mixture completely dried up, add a splash of beer to the flour at a time and keep whisking until you've used up all the beer. Ensure that the batter has a smooth consistency, i.e. no lumps!
Heat plenty of oil (at least 5cm/2in deep) in a large, deep saucepan. Ideally, the temperature should reach 180°C (355°F). Test whether the oil is hot enough by dropping a small amount of batter in the oil. If it bubbles, floats to the top and browns, it's ready.
Dunk a halloumi finger in the batter, ensuring that it's covered completely, and gently lower it into the hot oil. 
When it's brown and crispy all over, remove from the pan with a slotted spoon on paper towels. Continue to cook the halloumi wedges in batches until everything is fried.
Serve immediately with your favourite dipping sauce. Enjoy! 
Notes
If you've become vegetarian but still miss fish and chips, you can serve these halloumi batons with green pea mash and potato chips!
Prep Time:

15 minutes

Cook Time:

15 minutes

Category:

Dinner

Method:

Deep Fry

Cuisine:

Greek
Keywords: battered halloumi, beer battered halloumi recipe, deep fried halloumi chips with dipping sauce, fried halloumi with peas and chips