This no-bake Biscoff cheesecake is the real deal when it comes to pure indulgence. All you need are Lotus Biscoff biscuits and the usual cheesecake ingredients to make this cheesecake recipe. Altogether, it is a creamy cheesecake with an airy and smooth consistency.
In addition, it also comes with a crunch factor from the biscuits. The biscuit bottom provides that lovely flavour of the Lotus biscoff biscuits which makes the biscoff cheesecake irresistible. Think of this cheesecake like a speculoos cheesecake - it's practically the same thing.
The best part is, you can make this biscoff cheesecake in a total of thirty minutes or less. The hardest part is waiting for the cheesecake to solidify in the fridge. However, patience is a virtue and before you know it you'll be able to enjoy a slice of this tasty dessert.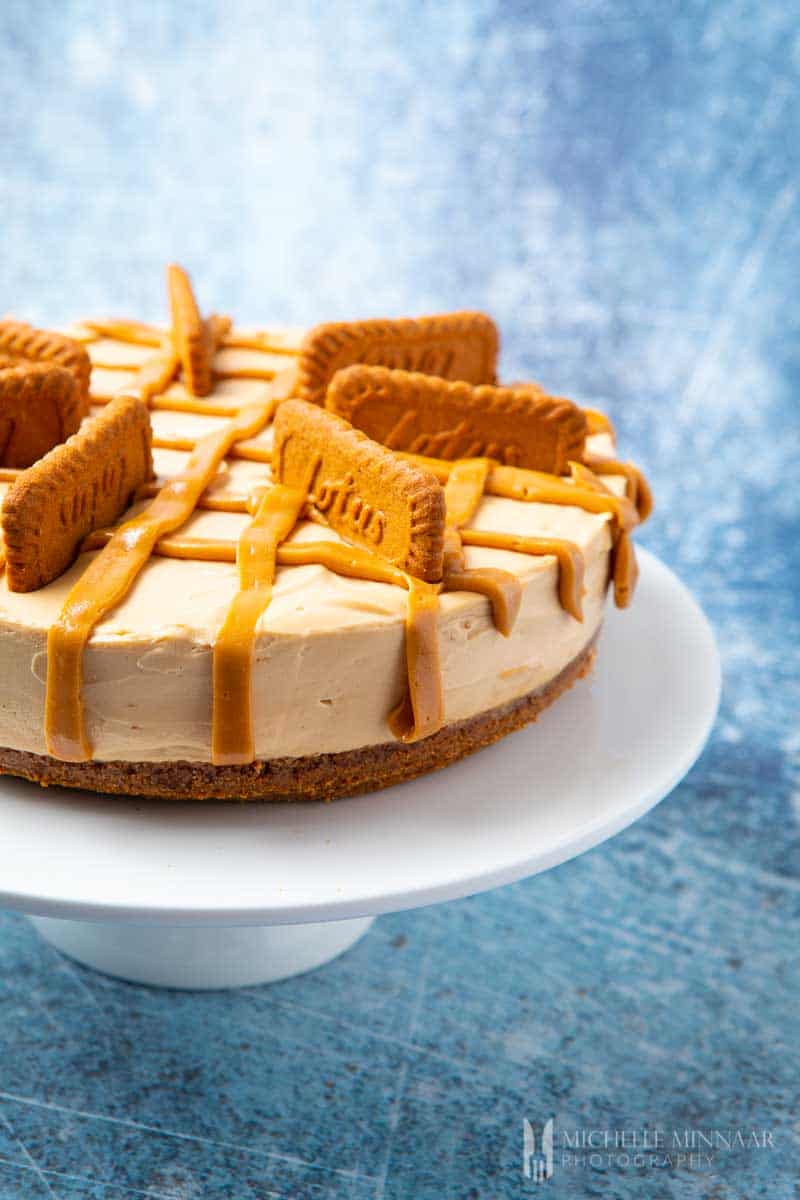 essential ingredients you need
Equipment you need for this cheesecake
no bake lotus biscoff cheesecake
If you are looking to learn how to cook Biscoff cheesecake, this recipe post is all you'll ever need. Since Biscoff biscuits are the hero ingredient in this cheesecake recipe, you'll need to source them. Of course, the recipe also works with other types of biscuits. For instance, you can consider plain digestives. Otherwise, the best substitute is speculoos cookies, so you can practically make a speculoos cheesecake.

biscoff cheesecake crust
The key to nailing this biscoff cheesecake is the bottom biscoff biscuit crust. Actually, once you complete the cheesecake crust, the rest of the steps are easy as pie!
The first thing I recommend is purchasing an extra pack of Lotus biscoff biscuits. The reason behind this is because when I make a dessert, I usually tend to nibble on the biscuits. Sometimes, I find myself running short because I've absentmindedly eaten a few during the process. Hence, always purchase an extra pack. It will also come in handy when you decorate the biscoff cheesecake.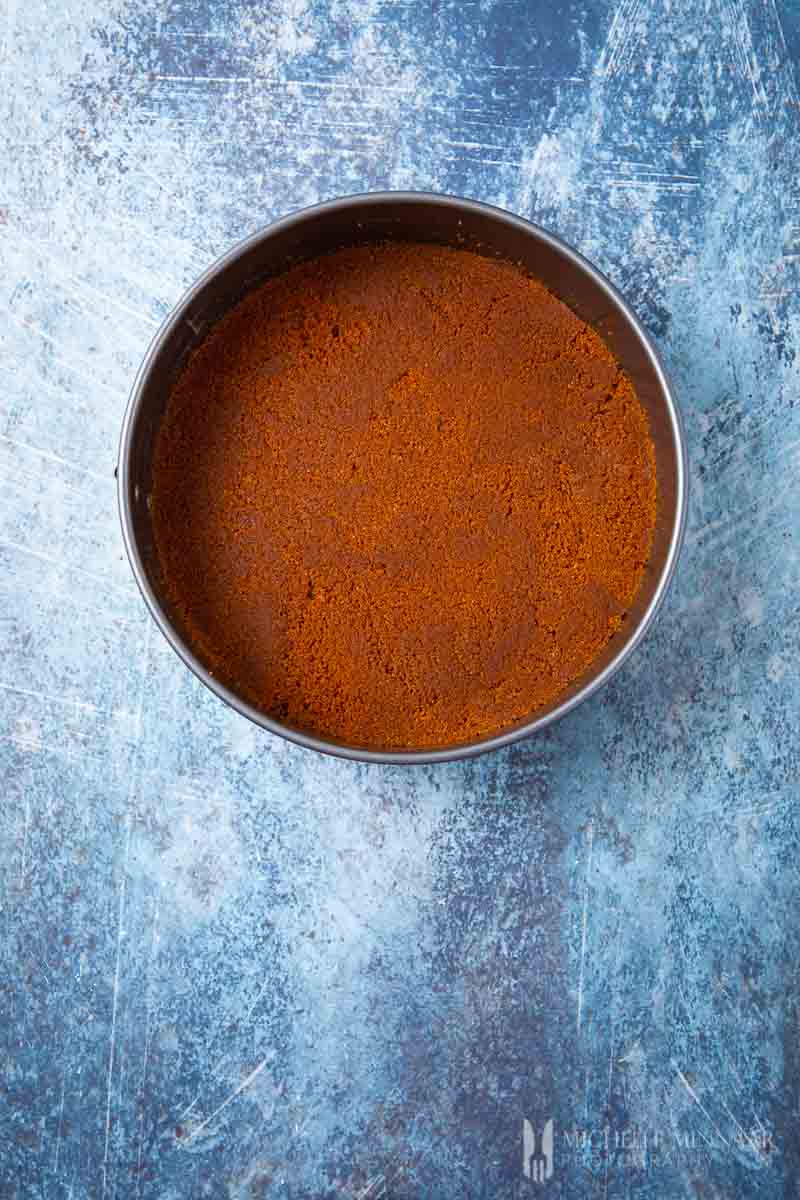 Next, crush the biscuits and add the butter. I recommend taking the butter out of the fridge as soon as you start the cheesecake. The butter will slowly loosen up and it will be easier to incorporate. As a baker, I can tell you that you should always strive for having butter, and in other cases eggs as well, at room temperature. The ingredients will bind together better.
Once you have the mixture ready, gently press it in your form and let it set. As an extra tip, put it in the fridge to set for a couple of minutes. The cheesecake crust will solidify even further.
low sugar cheesecake
The best part is that this biscoff cheesecake recipe doesn't call for too much sugar. For instance, there is no added sugar into the cheesecake crust. The biscuits are already substantially sweet. Plus, one of my peeves is when there is too much sugar in a dessert because it tends to overwhelm the other flavours.
If you notice, my cheesecake recipe only calls for a bit of icing sugar. You don't have to worry about it not being sweet enough. This is solved by the addition of vanilla extract.
If you still want to make the cream cheese mix less sweet, then add the sugar element step by step. This way, you are in control of the level of sweetness. You can also consider adding some sugar-free alternatives. For instance, take a look at these:
If you have the right sugar alternative, you can make countless sugar-free recipe without actually using a spoonful of sugar. Just think about what you save in calories.
chocolate biscoff cheesecake
If you have a craving for chocolate in particular, you can also make this a chocolate biscoff cheesecake. Simply purchase some cocao powder and include a couple of spoons into the cream cheese mixture. Be advised that it will completely change the colour of your biscoff cheesecake to a brownish colour.
There is no need for you to purchase chocolate and melt it. You can still follow this recipe as a no-bake recipe with cocoa powder.
If you want add the chocolatey flavour but with to also retain the original flavour of the biscoff cheesecake recipe, then make two layers!
You can make one layer with the cocoa powder and one without. The key here is to add the first layer and let it cool in the fridge for a while. When it sets, add the second layer on top. Although your preparation time is prolonged, it's so worth the effort.
Lastly, if you are not a big fan of the biscoff spread, you can substitute it with peanut butter.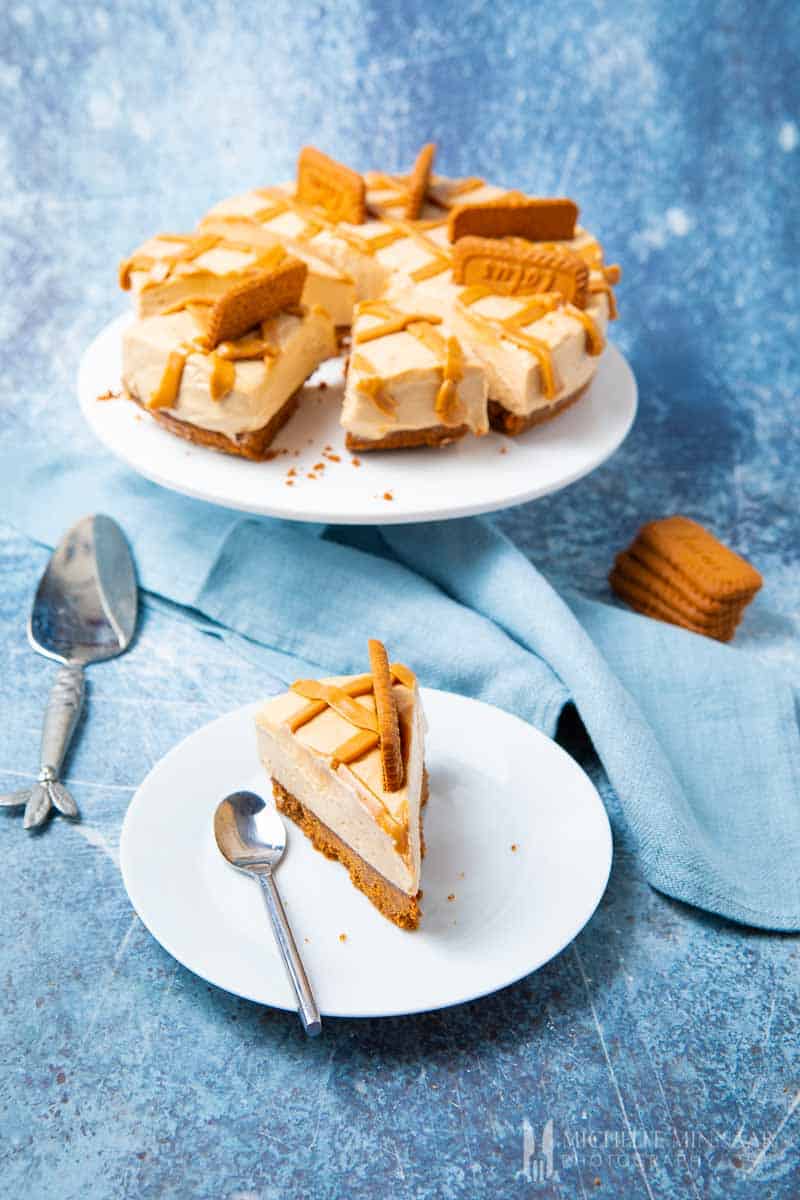 vegan biscoff cheesecake
If you want to turn this biscoff cheesecake recipe vegan, you can easily do so. Biscoff cookies and spread are already vegan, but you need the following ingredients:
serving & toppings
Decorate the cake with extra biscuits on top and pipe the drizzle on top. You can also consider topping the cheesecake with salted caramel like I did here in my salted caramel cupcakes.
other cheesecakes you might like
If you have leftover cream cheese, you can also consider these types of cheesecakes: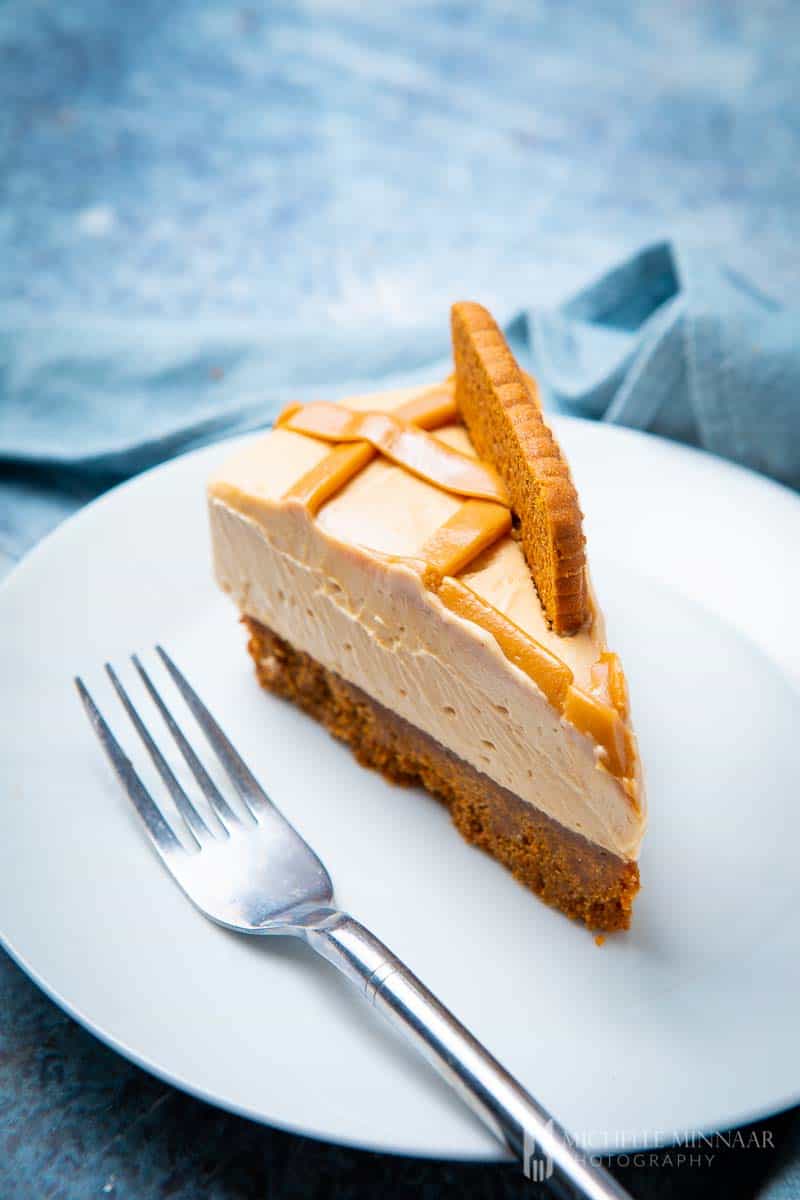 You can also inspire yourself with the Amarula cheesecake recipe and serve this cheesecake with a shot of Amarula. Altogether, it will provide a nice contrast - just bear in mind that then this dessert becomes adult-only!
If you feel like having more chocolate, try these luscious chocolate cherry brownies. For a fruitier alternative, try this amazing apricot cobbler.
How would you serve this biscoff cheesecake? Do you have a favourite topping in mind?
Print
Biscoff Cheesecake
---
Description
Fancy Biscoff cheesecake? Here is the only recipe you'll ever need. This no bake cheesecake makes for the perfect summer dessert. I dare you to try it!
---
450

g

(1lb) Lotus Biscoff biscuits

175

g

(6oz) unsalted butter, melted

750

g

(1 1/2lbs) cream cheese

180

g

(6oz) icing sugar, sifted

7.5

ml

(1 1/2 tsp) vanilla extract

450

g

(1lb) Biscoff spread

600

ml

(20fl oz) double cream
Extra Biscoff biscuits [optional]
---
Instructions
Crush the biscuits in a sealable plastic bag with a rolling pin, until everything turns into crumbs.
Mix the butter with the crumbs.
Spoon the mixture into the base of a 23cm (9in) springform cake tin and level with the back of a spoon.
Combine the cheese, 150g (5oz) sugar, 325g (11½oz) Biscoff spread and vanilla in a bowl and beat until well combined with a stand mixer.
Pour 450ml (15fl oz) of the cream in another bowl and whisk until peaks form.
Gently fold the cream into the cheese mixture.
Spoon the cheesecake filling on top of the biscuit base and spread evenly.
Place in the fridge for at least 6 hours, but preferably overnight, to set.
Once set, release the side of the cake tin and place on a serving plate.
Zap the 125g (4½oz) Biscoff spread in the microwave for shorts spurts until it's runny.
Mix the remaining remaining 150ml (5fl oz) cream and 30ml (2 tbsp) sugar with the Biscoff.
Drizzle or ice the sauce over the cheesecake as you please and decorate with Lotus Biscoff cookies to your heart's delight. Enjoy!
Notes
If you're going to make this, decide to go out with bang. I.e. none of this low-fat business. For optimal results, this cheesecake should be created with full fat products.
In the shops you fill find two versions of Biscoff spread: smooth and crunchy. In this recipe we used the smooth version but we have been told by readers that opting for crunchy takes it to a whole other level!
Prep Time:

30 minutes

Cook Time:

1 minute

Category:

Dessert

Method:

No Cook

Cuisine:

Belgian
Keywords: biscoff cheesecake, biscoff recipe, summer dessert recipe, no bake cheesecake