Soft, moist, fluffy and heart stoppingly delicious, these are the best carrot cake cupcakes you'll ever try!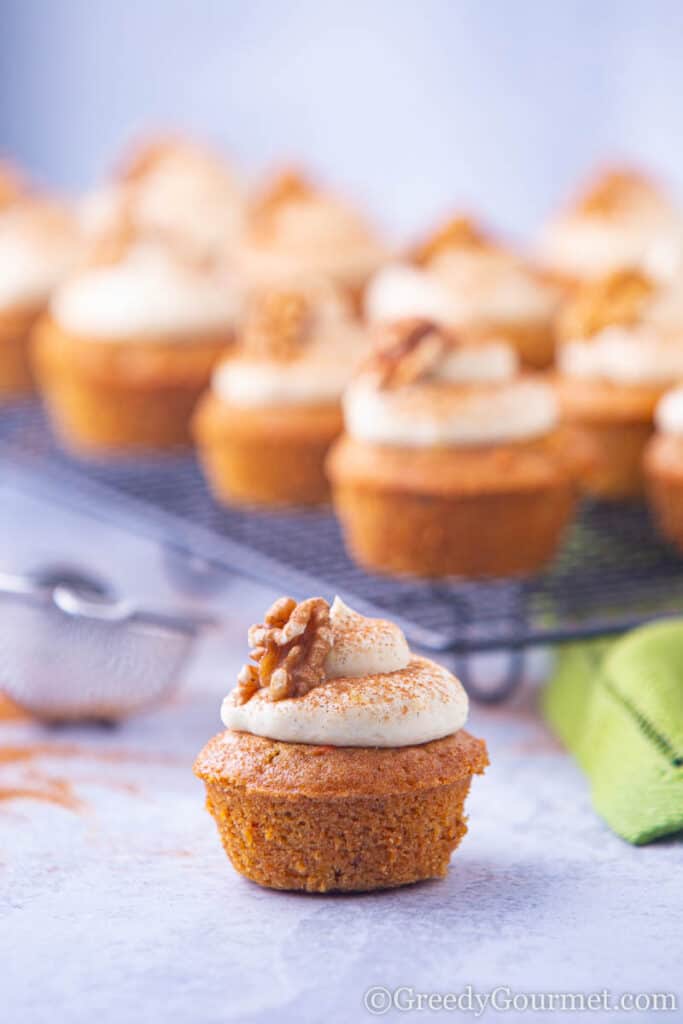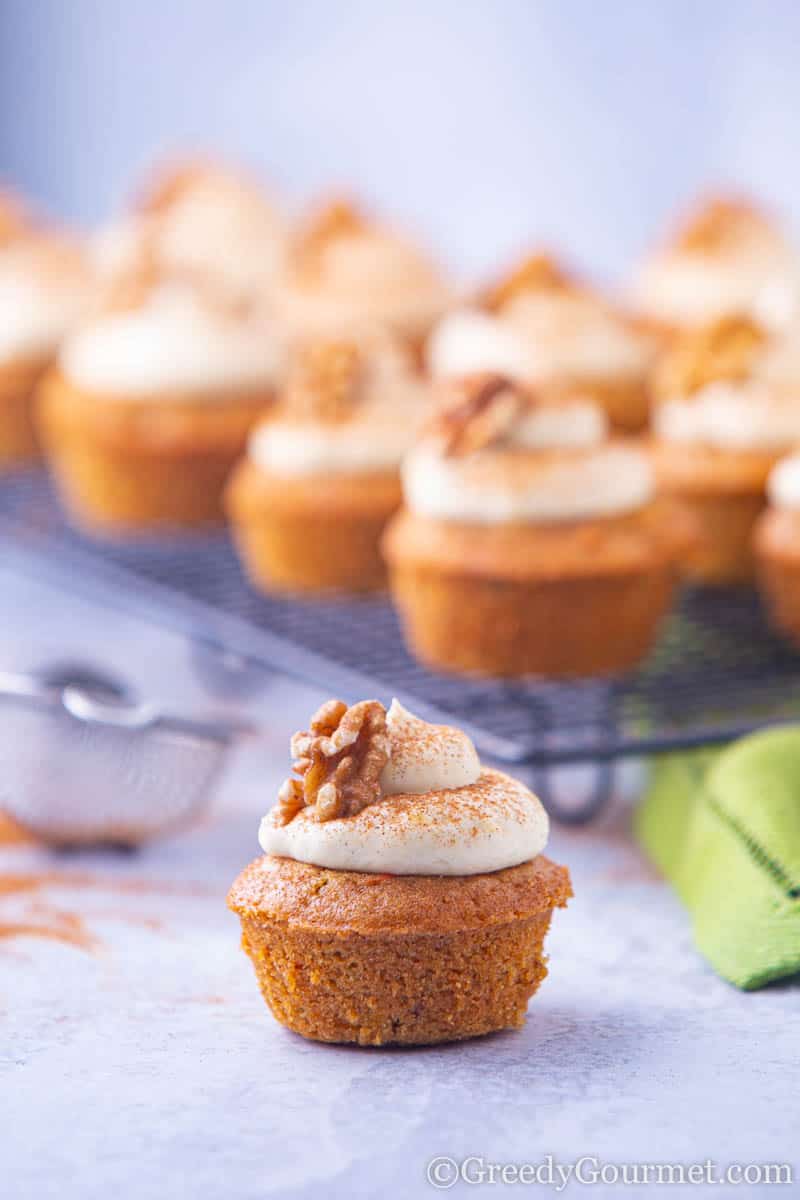 You'll need a few standard baking ingredients, some basic kitchen items and a sweet tooth. The rest will be taken care of by a nifty kitchen gizmo.
K-Mojo Digimaster
All the hard work in this carrot cake cupcake recipe can be done by one sleek little machine. The K-Mojo DigiMaster is a class apart when it comes to an all-in-one kitchen assistant.
It chops, juices, slices, emulsifies, kneads, blends, grates, shreds, whisks and grinds. For this recipe, you'll need the K-Mojo to get its mojo working on the carrots.
If you're like me, you know that grating carrots is absolutely no fun. Imagine standing over a bowl and grating carrot after carrot until you have enough grated carrots to make carrot cake cupcakes?
Lots of people are put off baking or cooking because of laborious tasks like peeling, chopping or slicing. That's such a shame, because everyone should experience the joys of creating food. The rewards taste so much better when they're homemade.
This super sleek, powerful and fast machine makes grating carrots a breeze. This otherwise time-consuming process will take barely a minute. Then you'll be free to carry on baking these incredible cupcakes.
Make this recipe a breeze and get yourself a K-Mojo Digimaster to do all the hard work.
Carrot cake cupcake recipe
Carrot cake + Cupcake + cream cheese frosting = absolute heaven!
This recipe adds up to an indulgent delight. The ingredients are all straight forward (you'll probably have most of them in your cupboard).
How to make carrot cake cupcakes
Making this carrot cake cupcake recipe is easy. It can be broken down into a few simple steps:
Make the carrot cake cupcake batter, grating the carrot and mixing it with the other dry ingredients and wet ingredients for the batter
Fill each cupcake liner and bake in the oven
Make the cream cheese frosting
Add the cream cheese to the top of each cupcake
Add the walnut and cinnamon topping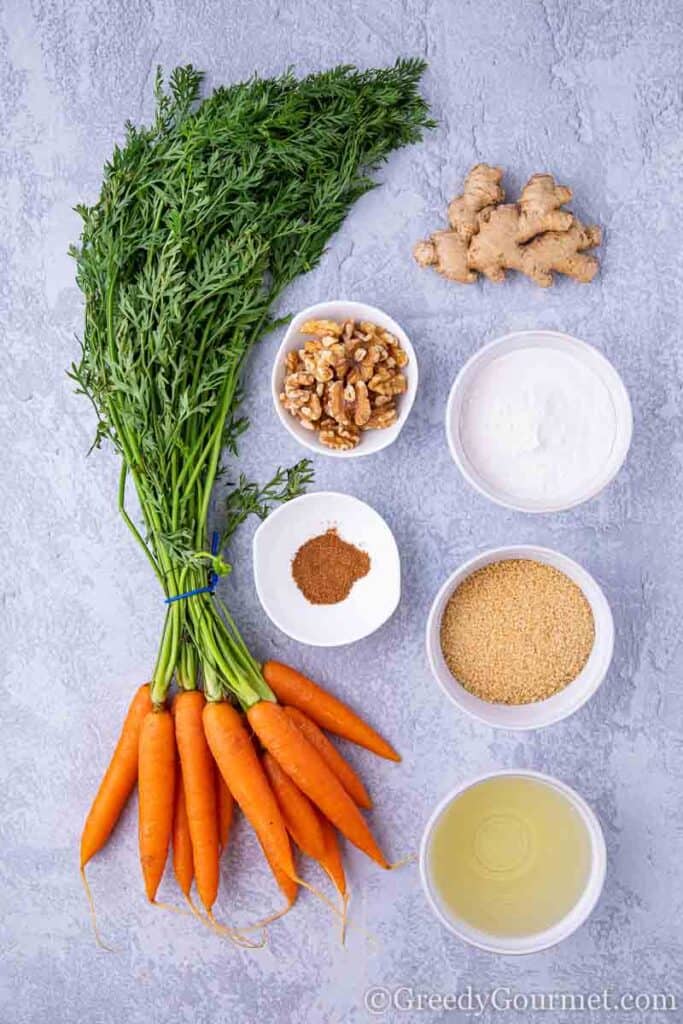 Making the carrot cake cupcakes
Making the actual cakes is a cinch. First, you'll simply top and tail each carrot, then the K-Mojo DigiMaster will do all the hard work, finely grating the carrots.
You'll then mix the freshly grated carrots in with all the other ingredients – except the chopped walnuts – including brown sugar, baking powder, flour, vegetable oil and spices, ready to bake each cupcake. Carrot works really well with these ingredients, as you'll already know if you're a carrot cake nut like me!
Dividing the batter
Once you've finished mixing, you'll want to divide your carrot cake cupcake batter into the little cupcake liners, then place them in the oven. Bake them for around 20 minutes at 170°C/150°C fan (340°F/300°F) or until cooked through.
How to know when carrot cake cupcakes are done
But how do you know when each carrot cake cupcake is done? With a toothpick inserted, if it comes out clean, it's ready to go.
Next, you'll place your carrot cake cupcakes on a wire rack, letting them cool completely.
While your carrot cupcakes are cooling, you'll make your cream cheese frosting.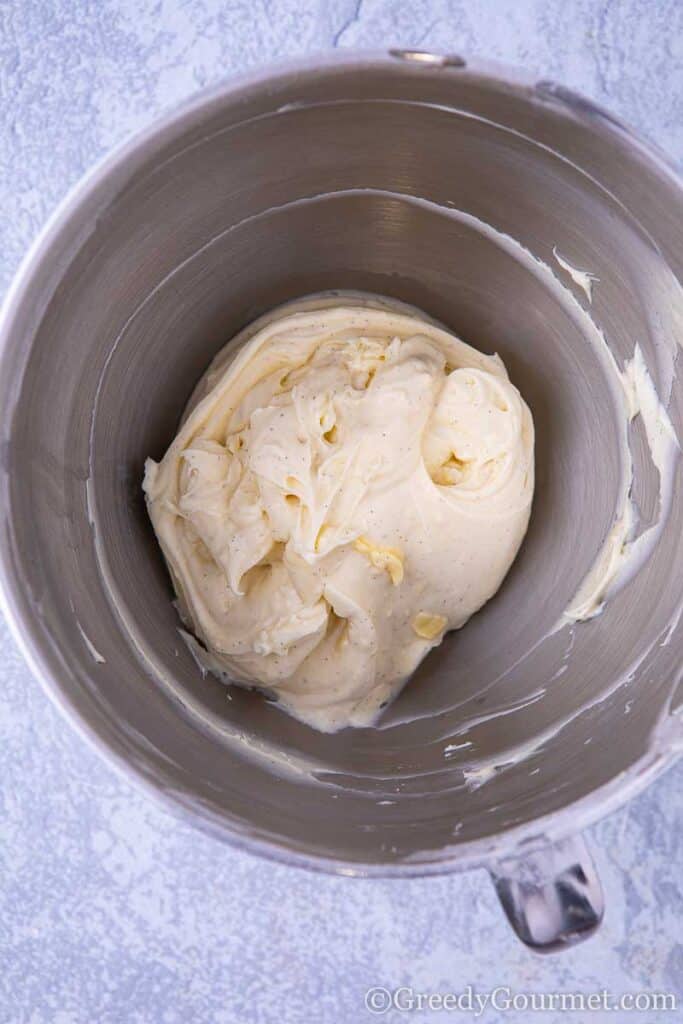 Making the cream cheese frosting
The cream cheese frosting recipe is really important. It's not enough to have a moist, fluffy cupcake – the best carrot cupcakes with cream cheese frosting are delicious from top to bottom. With these babies, you can have your cake and eat your icing all day long!
To make the cream cheese frosting, you first need to beat the butter in a mixing bowl for a couple of minutes. Then, add the powdered sugar and beat some more.
When the butter and the powdered sugar are well mixed, beat the cream cheese into the mixture. By now, the cream cheese frosting should have a fluffy texture. Now it's ready to be piped onto your cooled cupcakes.
The final flourish
Once you've topped each carrot cake cupcake with cream cheese icing, add a final sprinkle of cinnamon and walnut halves.
Tips for making carrot cake cupcakes
Here are a few key tips for making moist, fluffy cupcakes with deliciously indulgent cream cheese frosting:
When grating the carrots in the K-Mojo DigiMaster, give them an occasional pulse – you'll end up with finer grated carrots. The finer the carrots, the more evenly the carrots will be distributed in the cupcakes and the better texture your cupcakes will have
When mixing your cupcake batter, take it easy. Whisking too fast – especially if using a stand mixer – can collapse the air bubbles in the batter. These are crucial for getting that perfectly light, fluffy texture that's so important for this carrot cake cupcake recipe
Be generous with how much cream cheese frosting you put on each of the carrot cake cupcakes. Stick to the amounts stated in this recipe and you should be fine
Oil – either sunflower or vegetable – is much better than butter when it comes to cupcake texture
Buy non-stick cupcake liners or spray a tiny bit of oil on them, to avoid your cupcakes sticking to the liners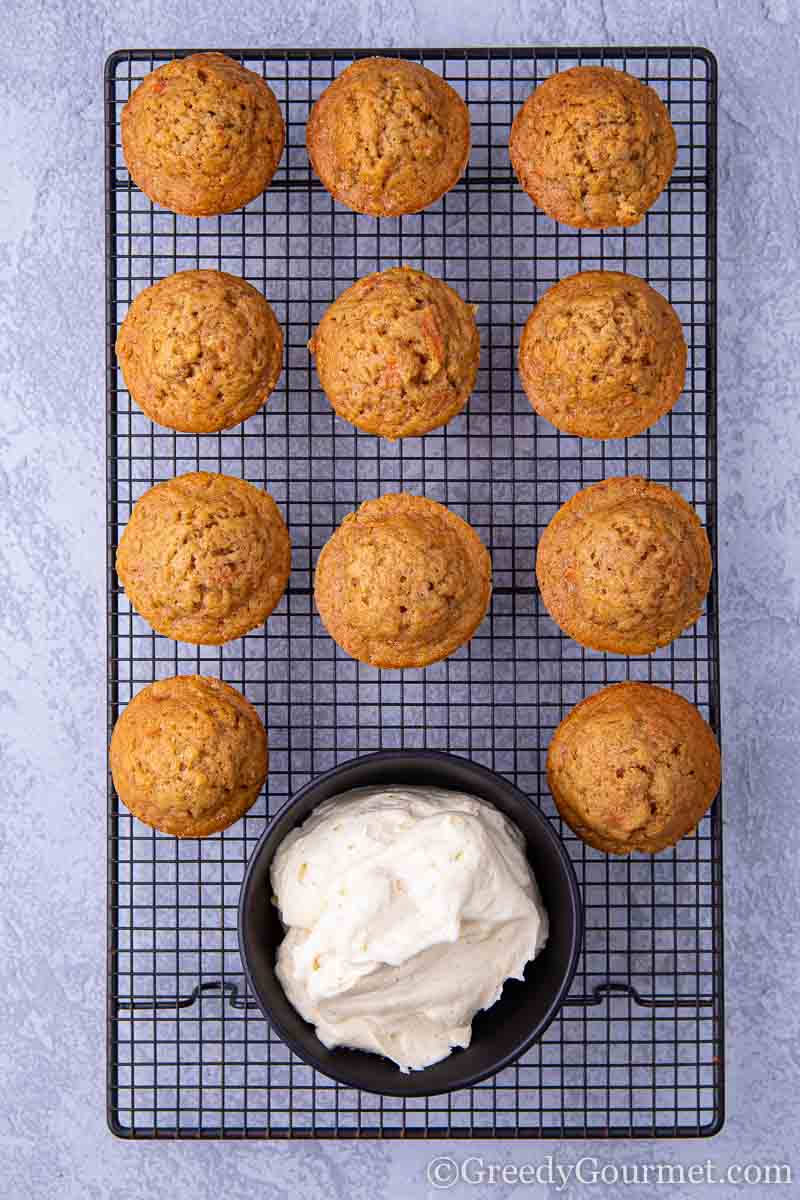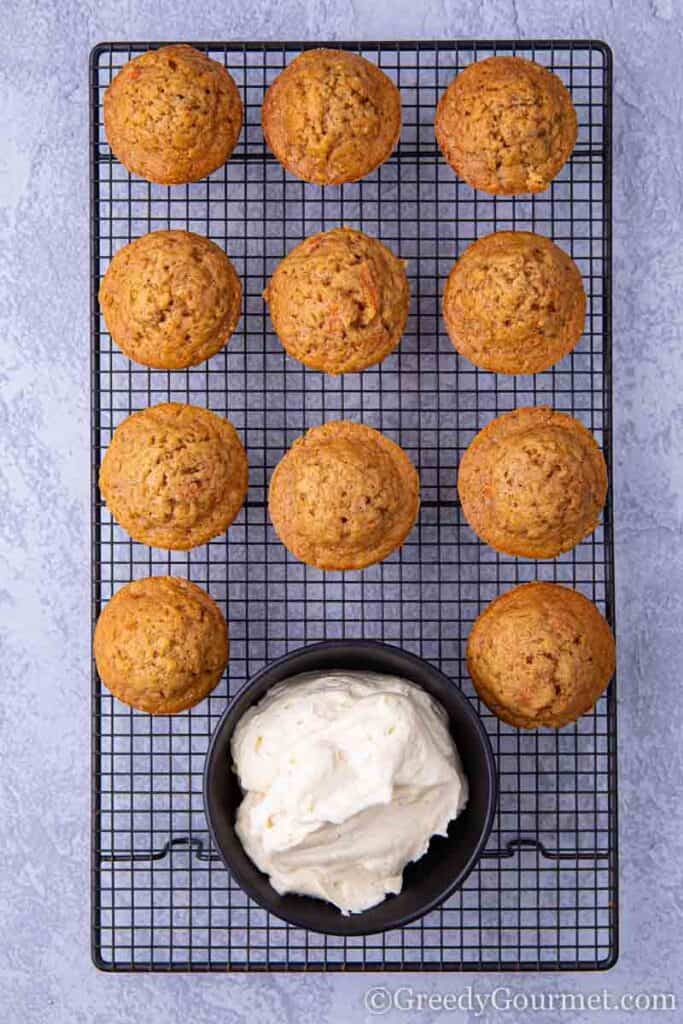 How do you store cupcakes?
Store your carrot cake cupcakes in an airtight container at room temperature. You can store them for 2-3 days.
Cupcakes shouldn't be stored in a refrigerator, unless you live in a really hot climate. If you do, and you decide to store them in the fridge, they'll last for about a week.
Can you freeze carrot cake cupcakes?
If you want to store your carrot cake cupcakes for even longer, you can freeze them. It's better to freeze them without the cream cheese frosting – just make the frosting again once you've thawed your cupcakes.
Carrot cake cupcakes can be frozen for 2-3 months.
Are carrot cake cupcakes healthier than other cupcakes?
As carrots are a major part of these cupcakes and, unlike lots of other cupcakes, they don't contain chocolate, this carrot cake cupcake recipe is healthier than many other types of cupcakes.
Of course, they're still a decadent treat!
How do you make healthier carrot cake cupcakes?
You can definitely make a healthier cupcake recipe. If you're on a certain diet, or prefer a lighter cupcake recipe, you'll want to substitute some of the ingredients in this carrot cake recipe.
First of all, substitute coconut oil for sunflower oil. Coconut oil has many proven health benefits.
You could also substitute brown sugar for coconut sugar. 
For the cream cheese and butter frosting, you could make a healthier version by swapping using a low-fat cream cheese. You could also reduce the sugar to 175-200g.
How do you make gluten free carrot cake cupcakes?
If you want to make a gluten free carrot cake cupcake recipe, just replace the self-raising flour with a gluten free flour like arrowroot or a similar alternative.
If you do swap these flours, you can make a 1:1 swap. You'll just need to add an extra spoonful of baking powder.
How do you make carrot cakes extra moist?
There are a few simple things you should avoid. First of all, don't overmix the batter. Secondly, don't overbake.
You could also add a teaspoon of sour cream. Sour cream is a great way to stop cakes from drying out.
Can you make cupcakes ahead of time?
Yes you can. Bake them up to two days in advance and store them on your kitchen countertop, unfrosted, in an airtight container.
Make the cream cheese frosting part of this recipe the day of serving your cupcakes.
How many cups is 200g of carrot?
200g of grated carrot amounts to 1⅘ cups.
Is it better to use oil or butter in carrot cake?
Unlike many other cake recipes, carrot cakes are oil-based. Using oil helps to keep them moist and makes them last for longer.
The flip-side of this is that you need extra leavening power than you would with cakes with a butter/sugar mixture. This is where baking powder and self-raising powder come in.
What do you do with leftover carrots?
If you've got a whole load of leftover carrots, put them to good use. Check out these great Greedy Gourmet recipes for some divine inspiration!
Cumin roast carrots – make this delicious side as a pairing with a big hearty Sunday roast 
Roasted carrots – another great Sunday roast side dish option
Carrot chutney – if you've never made homemade chutney before, you've got to try this!
Carrot and parsnip mash – so satisfying and yet so very easy, this side would make a healthy, delicious addition to just about any meat dish, but also goes great as a dish by itself
How to make carrot juice – one of the best ways to use leftover carrots is to juice them. If you've never tried, now's the time!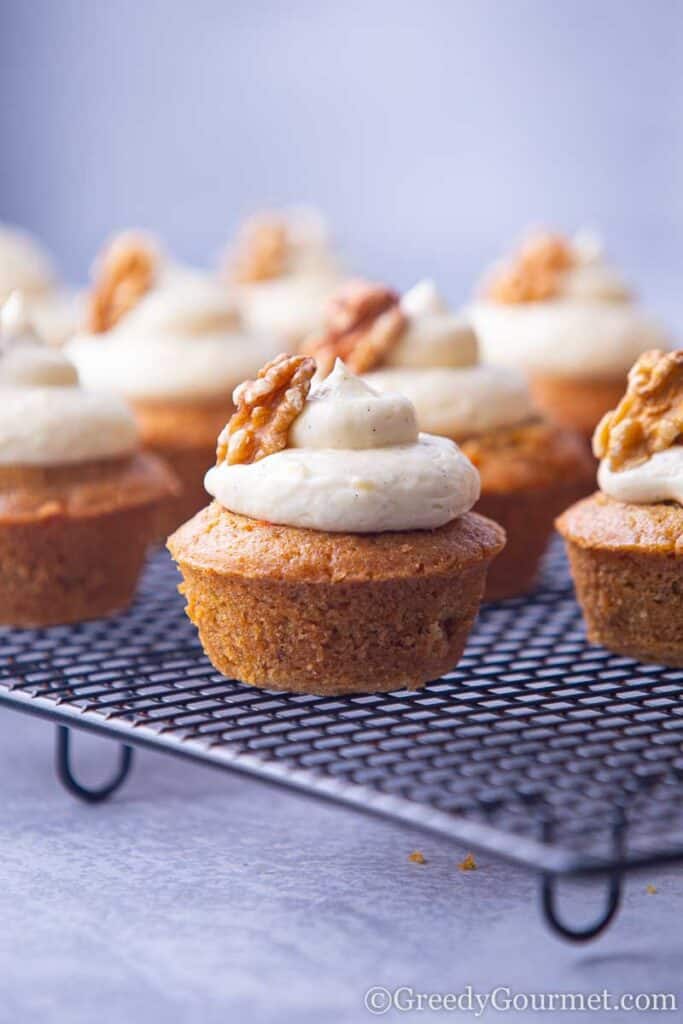 More amazing cupcake recipes
If you enjoyed making – and eating – these scrumptious little cupcakes, you won't want to miss these recipes:
Pumpkin cupcakes – these little beauties are the perfect autumn/fall treat. Beautifully decorated, soft, fluffy and with a wonderful cinnamon flavor, these cupcakes are an absolute must
Oreo cupcakes – joyful decadence doesn't get much better than this! If you're an Oreo fan, you won't want to miss this recipe
Chocolate orange cupcakes – these little cupcakes are not Terry's… they're mine, all mine!
Chocolate fairy cakes with Amarula buttercream – ok, so they're not strictly cupcakes, but you have to try them! Pure heaven
Drizzled lemon curd cupcakes – lemon cupcakes don't get much better than this. Easy to make and dangerously addictive… you have been warned!
Creme Egg cupcakes – the creme de la creme of decadent cupcakes! This is an amazing recipe that you have to try!
Chocolate cupcakes – sometimes, the simple way is best. This chocolate cupcakes recipe is a straightforward, no messing masterclass in how to make the perfect cupcake
Salted caramel cupcakes – if you like your cakes with a salted caramel taste, these little cupcakes are the ones for you. Blissfully simple and unbelievably tasty
Raspberry and white chocolate cupcakes – these cupcakes are so pretty you won't want to eat them. But you'll soon discover that, while they look gorgeous, they taste even better!
Mother's Day cupcakes – there's not a mother on the plant who could resist these sumptuous little cupcakes!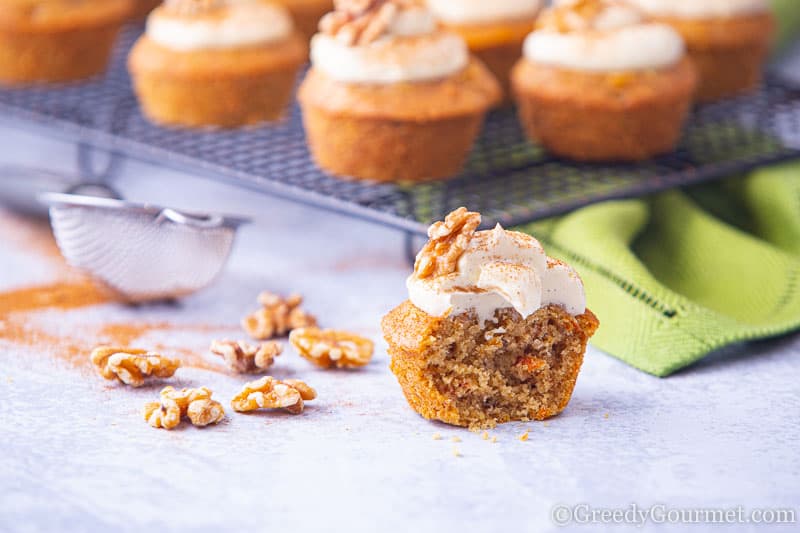 What dish would you make with your K-Mojo Digimaster shredder attachment?
Print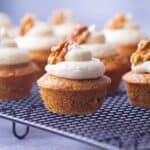 Carrot Cake Cupcakes
---
Author:

Michelle Minnaar

Total Time:

40 minutes

Yield:

16

cupcakes

1

x

Diet:

Vegetarian
Description
These moist carrot cake cupcakes are easy to prepare. A great recipe to bake with kids. Top with cream cheese frosting, walnuts and ground cinnamon.
---
Carrot Cake Cupcakes
200g

(

1⅘ cups

) carrots

250

ml (1 cup) sunflower oil

4

large eggs

225g

(

1¼ cups

) brown sugar

300g

(

1¾ cups

+

2 tbsp

) self-raising flour

10g

(

2 tsp

) baking powder

3g

(

1 tsp

) ground mixed spice

3g

(

1 tsp

) ground ginger

75g

(

⅘ cups

) walnuts, shelled and chopped

16

walnut halves, to decorate
Cream Cheese Frosting
140g

(

9 1/2 tbsp

) butter

225g

(

1 2/3 cup

) icing sugar, sieved

210g

(

1 cup

) cream cheese

7.5

ml (1 1/2 tsp) vanilla extract
---
Instructions
Preheat the oven to 170°C / fan 150°C / 340°F / gas mark 3.
Grease a cupcake tin or line the tin with cupcake cases. You will need 2 tins.
Peel, then top and tail, the carrots.
Using the K-Mojo DigiMaster's shredder attachment, grate all the carrots.
Place the carrots, along with all the ingredients, bar the walnut halves, in a mixing bowl and stir thoroughly. Alternatively, you can use a stand mixer to do the job.
Divide the batter evenly between all the cupcake cases, then place in the oven.
Bake for 20 minutes, or until cooked through. Do the toothpick test by sticking it in the middle of a cupcake. If it comes out clean, it's ready!
Remove the tins from the oven and transfer the cupcakes onto a cooling rack.
While the cupcakes are cooling, prepare the cream cheese frosting.
Leave the butter to warm to room temperature and cut into cubes. Place the butter in a bowl and beat with a stand or hand mixer on high speed until pale and fluffy, which should take about 2-3 minutes.
Beat the sugar into the butter for 3-5 minutes until well mixed.
Don't forget to scrape the bowl occasionally with a rubber spatula to ensure that all ingredients are blended well together.
Add the cream cheese and beat until fluffy.
Pipe the icing on cooled down cupcakes.
Sprinkle with cinnamon and top with walnut halves. Enjoy!
Notes
If you find that you have a lot of cream frosting leftover, don't let it go to waste! Use it in a later recipe by following my guide on freezing cream cheese frosting.
Prep Time:

20 minutes

Cook Time:

20 minutes

Category:

Dessert

Method:

Bake

Cuisine:

British
Keywords: carrot cake cupcakes, moist carrot cake cupcakes, carrot cake muffins, carrot dessert recipe, baking with carrots
P.S. This is a sponsored post.