A classic comfort food that's quick, delicious vegetarian and easy to cook, this cauliflower cheese pasta recipe has got it all!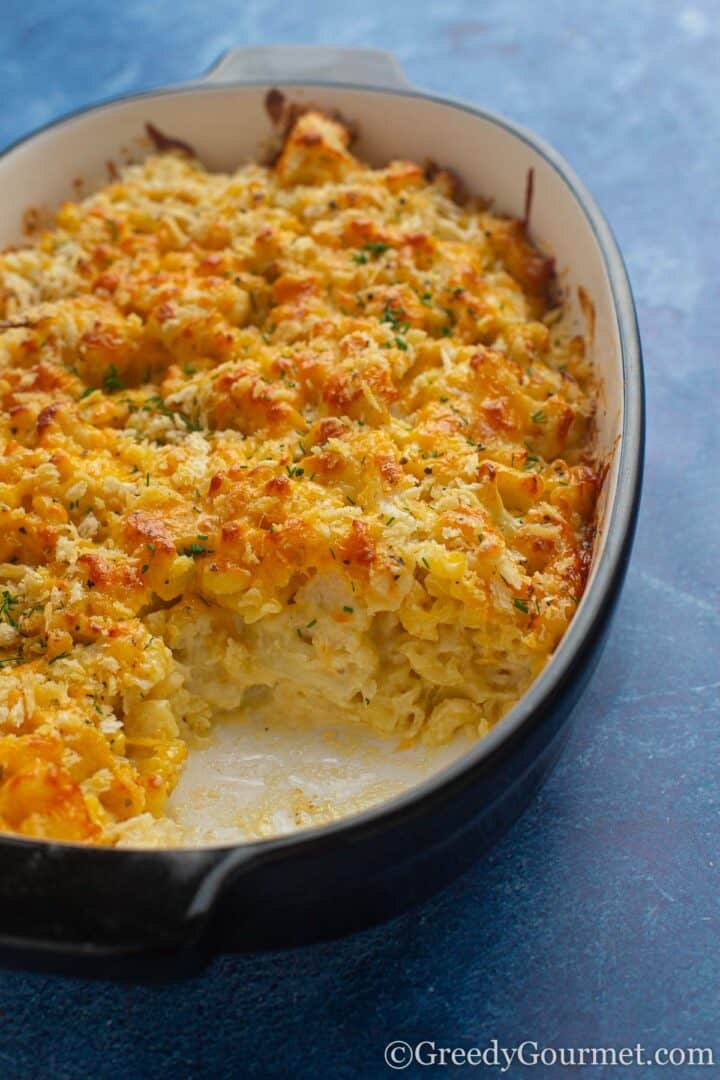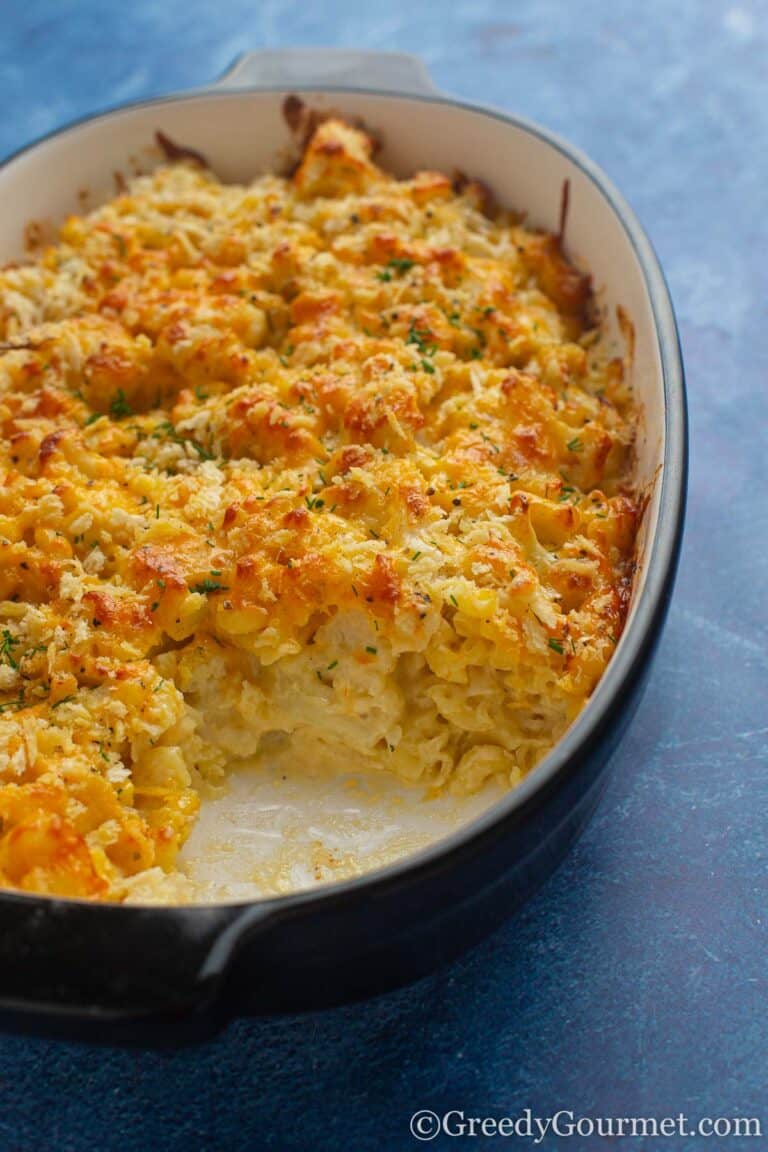 Sometimes, simplicity is bliss, especially when it involves a creamy cheese sauce. Ideal for a hearty lunch, no fuss midweek meal or even as part of a classic Sunday roast, this recipe is an absolute winner!
Why you'll love this cauliflower cheese recipe
The ultimate comfort food
It's extremely easy to prepare and the cook
The combination of the cauliflower, the cheese and the pasta is wonderful
It's very adaptable – you can put your own twist on it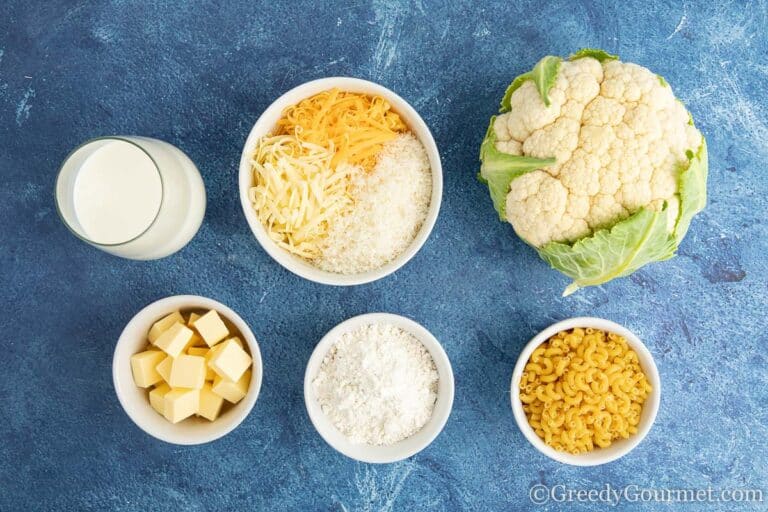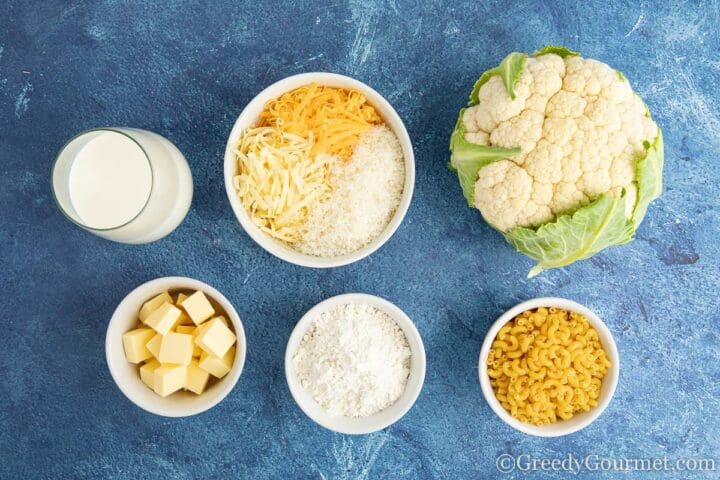 Equipment you'll need for this recipe
There are a few essential pieces of kit you'll need in your kitchen in order to get this recipe right:
Large saucepan – you'll need this to cook your pasta, cauliflower and cheese sauce roux
Colander – a quality colander is needed when draining pasta
Baking dish – you'll finish off the cauliflower cheese pasta in the oven in a baking dish
How to make cauliflower cheese pasta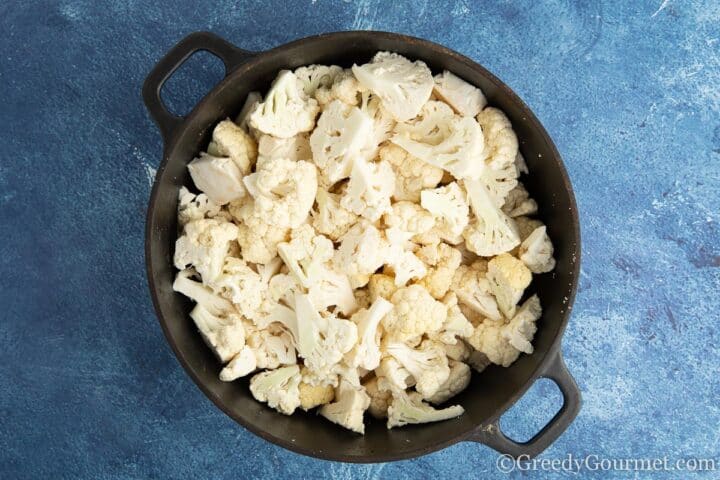 Parboil the cauliflower florets.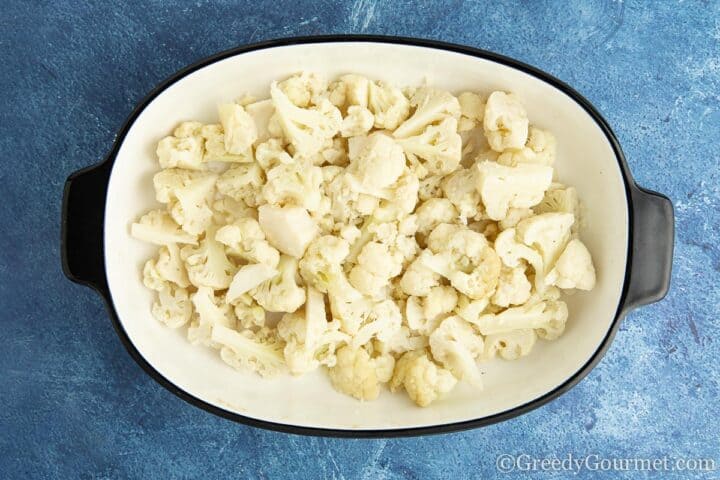 Drain and tip into baking dish.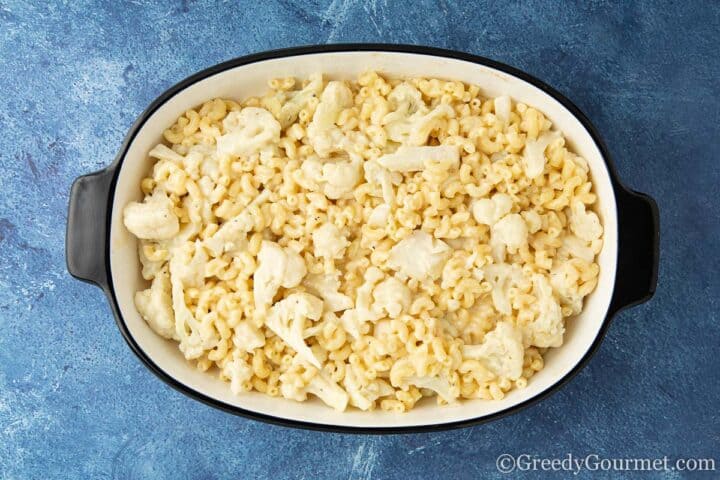 Cook pasta according to package instructions. Drain, then mix in with the cauliflower.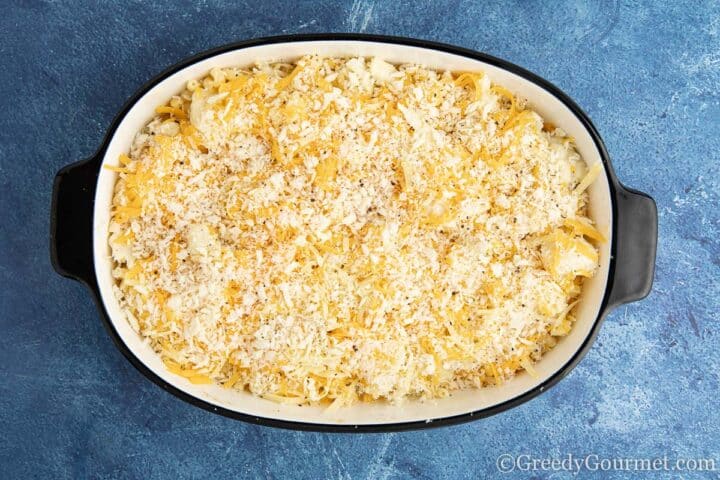 Make the béchamel sauce, stir it in the cauliflower pasta, then cover and cheese and breadcrumbs. Bake until bubbling and golden. Enjoy!
Top Tips
Don't overcook the cauliflower to avoid a watery cheese sauce. Around 5 minutes should be fine.
What to pair with this recipe
Sides
Crusty bread
Simple, rustic food doesn't get any better than creamy pasta with crusty bread. Good quality fresh crusty bread will do a treat, but make it extra special with my cheesy garlic bread or pesto stuffed bread.
Wine pairing
Rich, fresh white wines are the best option when it comes to pairing with cauliflower cheese pasta. I recommend a Chardonnay, Sauvignon Blanc or Sémillon.
Variations to this recipe
You can use either whole milk or semi skimmed milk with this recipe. I prefer a creamier sauce, so I've gone with whole milk, but it's totally up to you.
You can make this recipe vegan – use unsweetened almond milk in place of cow's milk, cashew nut butter in place of butter and Applewood smoky vegan cheese.
You can use a food processor to make your own bread crumbs, making use of leftover stale bread.
Add chopped onion, shallots or garlic along with the cauliflower for extra flavour.
Add your favourite veg for extra colour, texture and flavour – carrot, squash or broccoli work particularly well.
You can add a herbal dimension to the dish with a few sprigs of rosemary, thyme or oregano.
Spice works well with cauliflower cheese pasta. Nutmeg is particularly ideal, with an earthy aroma and flavour that perfectly complements the cheese sauce. You could use chilli powder, cayenne pepper or paprika.
Add a teaspoon of mustard to the cheese sauce for an earthy kick
Add pancetta or crispy bacon pieces before placing in the oven.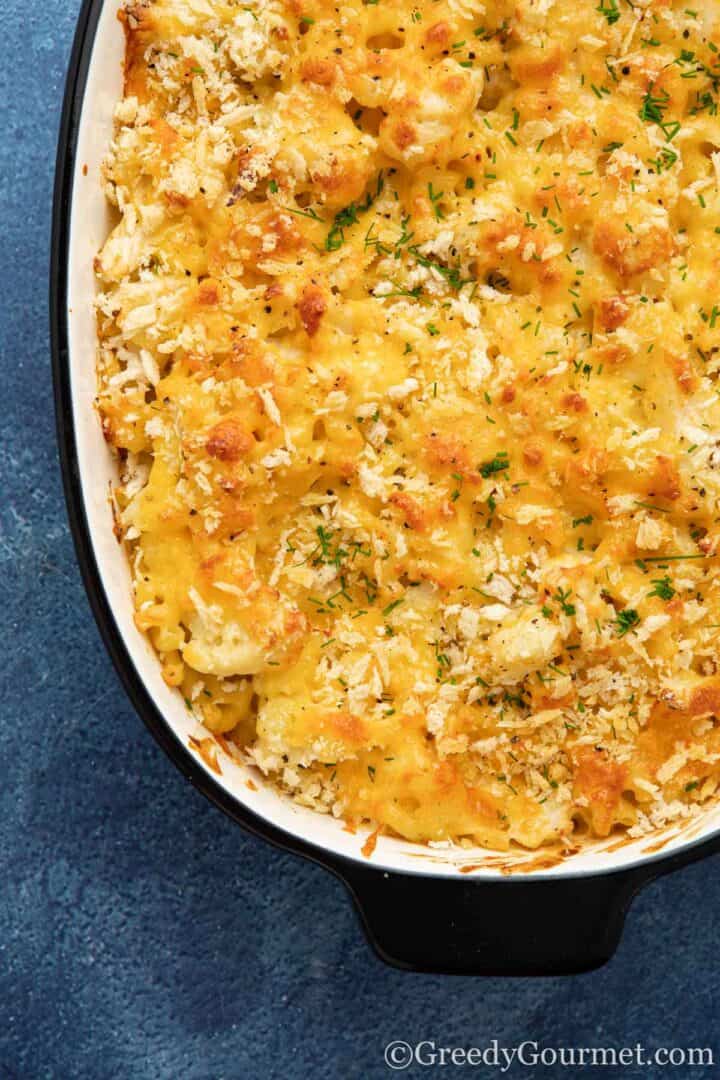 Top Tips
Add a drizzle of olive oil to the dish before placing it in the oven. This will make the surface extra crispy.
Remove some of the pasta cooking water when draining the pasta. This can be used to help bind the pasta to the sauce and also to thicken the sauce.
Don't overcook the cauliflower. Around 3-5 minutes is plenty of time.
Add the milk to the flour and butter mixture gradually. This will help you get a nice consistency to your cheese sauce, without lumps.
How do you prepare cauliflower?
Of course, you can buy ready chopped cauliflower florets from the supermarket. However, I recommend buying a whole fresh cauliflower from your local green grocers. It will taste much better!
First of all, try to avoid cauliflower heads with lots of black spots on them. You can remove these with a knife, so a few aren't a problem.
Peel the leaves off the cauliflower and use a paring knife to cut the florets as close to the stem as possible. Break them off and place them to one side.
Once you've removed all the florets, rinse them in a colander and leave them to drain.
What's the best pasta to use for this recipe?
For this recipe, it's macaroni all the way!
However, penne or rigatoni are also great choices when it comes to making a cheese pasta bake.
Why does my cauliflower cheese sauce go watery?
This can happen when you overcook the cauliflower. When overcooked, cauliflower releases water. This then seeps into the rest of the dish, causing the sauce to become thin and watery.
This can happen even if your sauce is thick on its way into the oven. So, to avoid a thin watery cheese sauce, simmer your cauliflower for around 5 minutes until just about tender, before adding to the baking dish.
Why does my cauliflower cheese separate?
If your cauliflower cheese pasta has a grainy, oily texture, it's probably because it was cooked at too high a temperature. Have the oven at 190°C (375°F) and you should be fine.
Why is my cauliflower cheese lumpy?
Most likely because you've not cooked out the flour during the roux stage. It's important to cook on a low heat, stir regularly and add the milk slowly, one bit at a time. That way, the flour gradually incorporates the milk, cooks gently and creates a smooth sauce, without lumps.
How should I store leftovers?
Cauliflower cheese pasta tastes just as good the next day! Store leftovers in a sealable airtight container and place in the fridge. They'll stay good for up to 3 days, although I recommend eating the day after cooking.
Can this recipe be made ahead of time?
Yes! If you're cooking for a crowd, this is the ideal recipe. You can prep all the ingredients, right up to step 9 in the instructions below, three days in advance.
Then, when you're ready to serve, pop it in the oven and finish the job!
Can you freeze cauliflower cheese pasta?
How do you reheat this dish?
Yes. As this dish is cooked in the oven in the first place, the best way to reheat it is in the oven. However, set a lower temperature when reheating – oven at 175°C (350°F) – add a splash of water and loosely cover. It should be ready in around 15 minutes.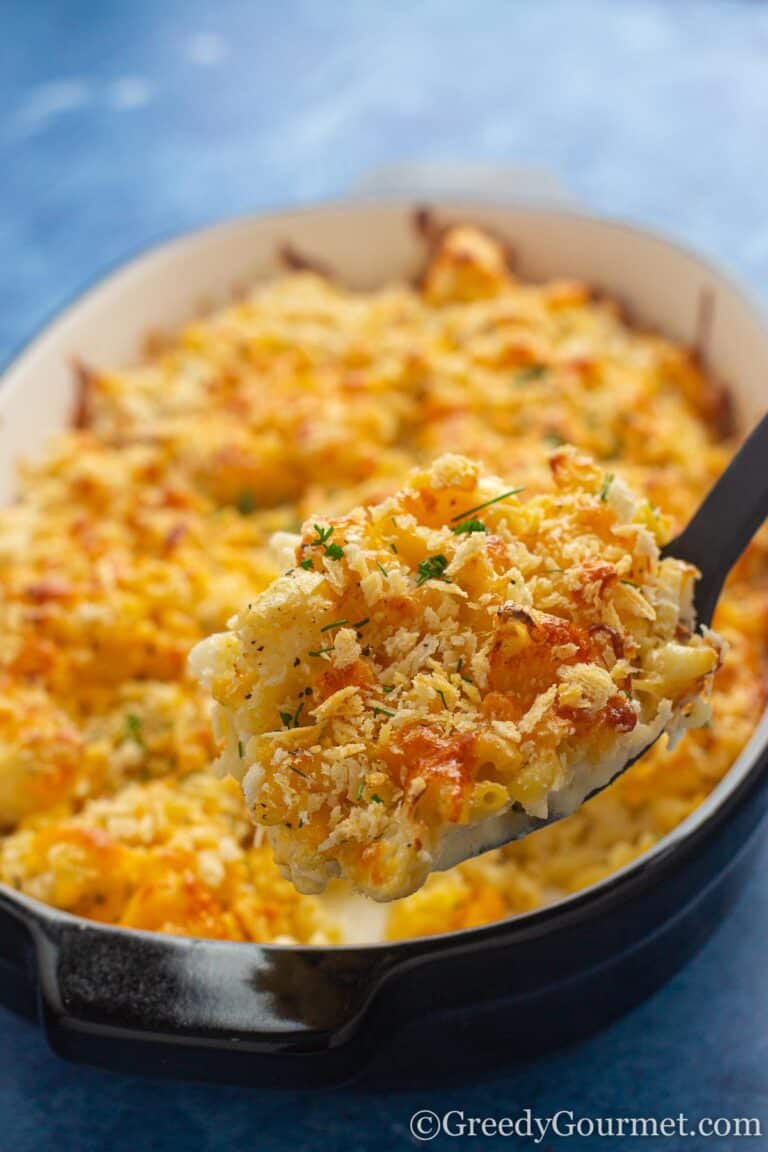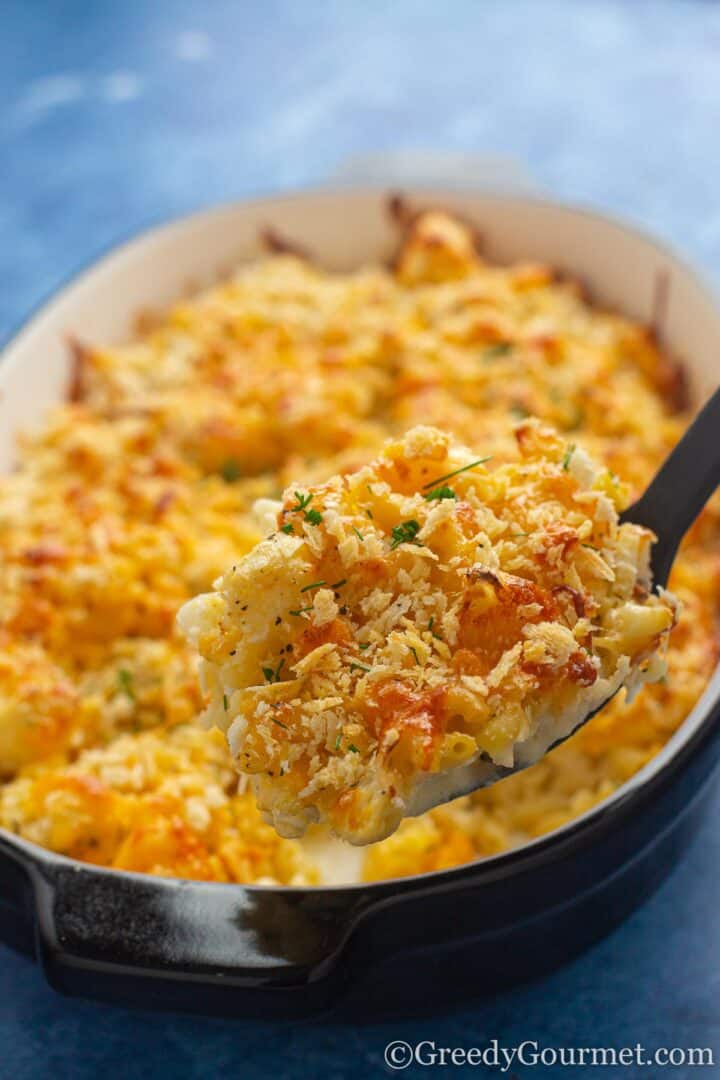 More amazing cauliflower recipes
The humble cauliflower is such an underrated vegetable. There are so many ways it can be used, from delicious breaded bites to irresistible curries. Here are some of my favourite examples of quality cauliflower recipes that get the taste buds tingling!
Print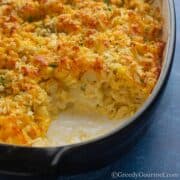 Cauliflower Cheese Pasta
---
Author:

Michelle Minnaar

Total Time:

55 minutes

Yield:

6

portions

1

x

Diet:

Vegetarian
Description
Indulge in this creamy and comforting Cauliflower Cheese Pasta. With tender cauliflower florets and cheesy sauce, it's a delicious vegetarian delight!
---
1

cauliflower, cut into florets

225

g

(8 ounces) macaroni

2 tablespoons

butter

2 tablespoons

all-purpose flour

480

ml

(2 cups) milk
Salt and pepper to taste

100

g

(1 cup) breadcrumbs

115

g

(1 cup) shredded cheddar cheese

57

g

(1/2 cup) shredded Red Leicester cheese (or any other cheese of your choice)
---
Instructions
Preheat your oven to 190°C (375°F) and grease a baking dish.
Simmer  the cauliflower florets in salted water for about 5 minutes, or until the cauliflower is tender. Drain and set aside. 
Cook the macaroni according to the package instructions until al dente. Drain and set aside.
In a large saucepan, melt the butter over medium heat. Add the flour and whisk continuously for 1-2 minutes to make a roux.
Gradually pour in the milk while whisking constantly to prevent lumps from forming. Continue whisking until the sauce thickens and comes to a gentle boil. Season with salt and pepper to taste.
Remove the saucepan from the heat and stir in the cooked macaroni  and cauliflower until well coated with the sauce.
Transfer the macaroni and cauliflower mixture to the greased baking dish and spread it out evenly.
In a small bowl, combine the breadcrumbs, shredded cheddar cheese, and shredded Red Leicester cheese.
Sprinkle the breadcrumb and cheese mixture evenly over the macaroni and cauliflower.
Bake in the preheated oven for 20-25 minutes, or until the breadcrumbs are golden brown and the cheese is melted and bubbly.
Remove from the oven and allow the dish to cool for a few minutes before serving.
Serve the baked cauliflower cheese pasta as a main dish or as a side dish alongside a salad or vegetables. Enjoy!
Prep Time:

20 minutes

Cook Time:

35 minutes

Category:

Dinner

Method:

Bake

Cuisine:

British
Keywords: cauliflower cheese pasta, cauliflower cheese pasta bake, easy cauliflower cheese pasta bake, cheesy cauliflower pasta, two cheese pasta with cauliflower