Ever made your own homemade chia seed bread? It's time to polish those bread-making skills of yours. I promise you, that once you start baking your own bread at home, you will never purchase another loaf in your life.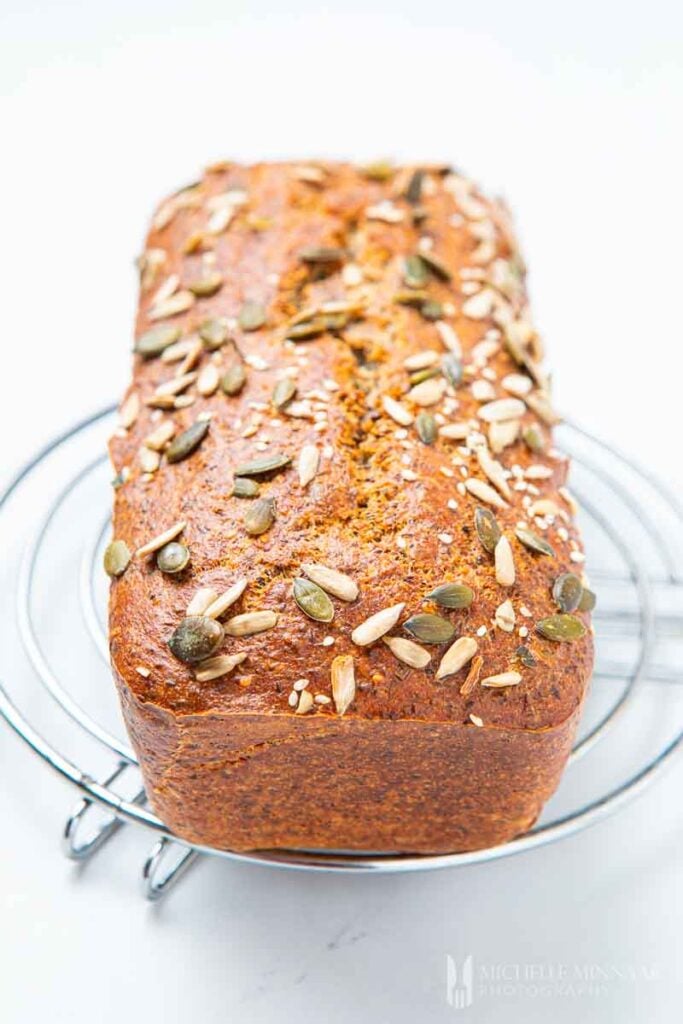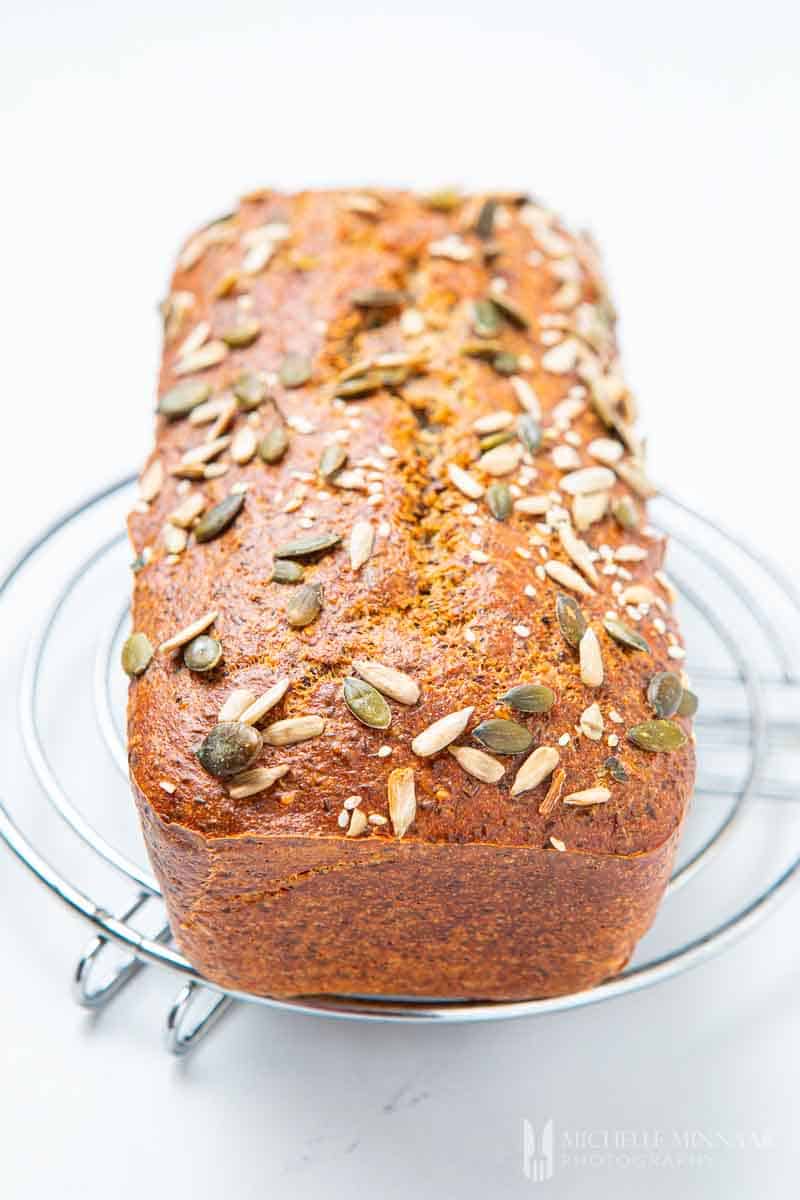 Nothing beats a slice of fresh bread right out of the oven, especially when it's still steaming hot. This goes for any type of bread.
However, this chia seed bread is one of my absolute favourites because I love the texture. It's not your ordinary plain loaf of bread if you know what I mean.
The chia seeds inside the bread give a nice crunchy bite to it. Along with the other seeds on top, this low-carb chia seed bread is exactly what you need to get you through the day.
Believe it or not, you can make this bread in just under two hours. The process isn't complicated at all. Once you are done, you can enjoy a slice of the seed bread with butter, savoury spread, cheese, jam or marmalade.
Otherwise, you can always consume it as is or serve as a side dish to a healthy soup. It's completely up to you.
products you need for this recipe
Here's a list of the top products you will need to create this easy-to-make chia seed bread recipe.
There are a few seeds along with other ingredients which you will need, so don't be afraid to purchase these in bulk. You can never get enough of seeds.
You can always add them to your morning almond milk porridge or use as a topping for your yoghurt.
Whatever you prefer. Just take a look below and see what you'll need: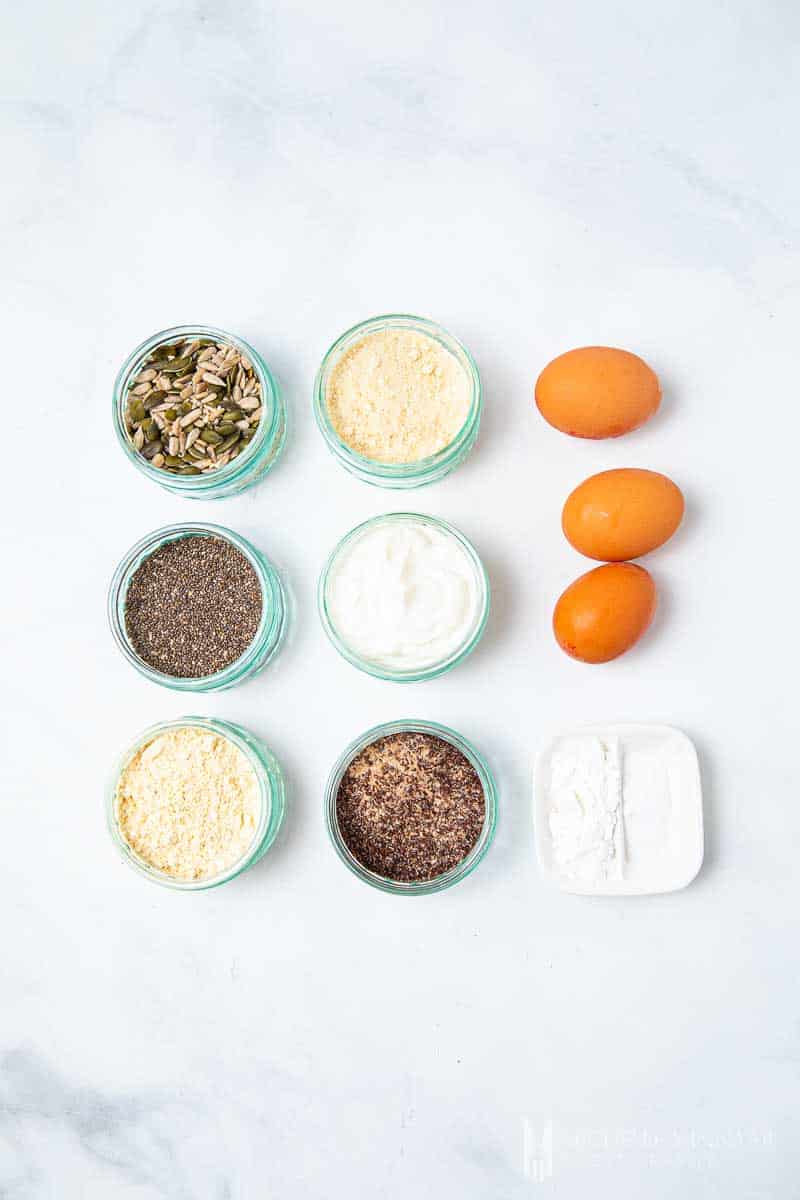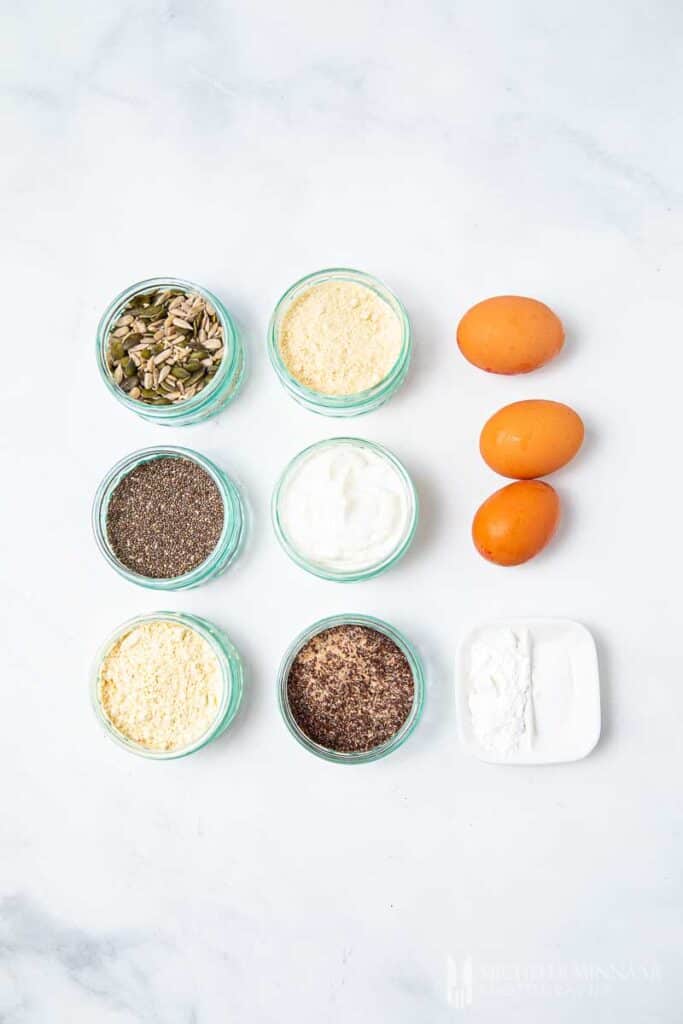 where to buy chia seed bread
It's not so common to find a fresh batch of chia seed bread in the supermarket. Perhaps, if you source your bread from a bakery, you will have increased chances of finding it there. Nevertheless, chia seed bread is not your common daily bread.
However, nothing beats making your own fresh batch. Give it a go and see for yourself.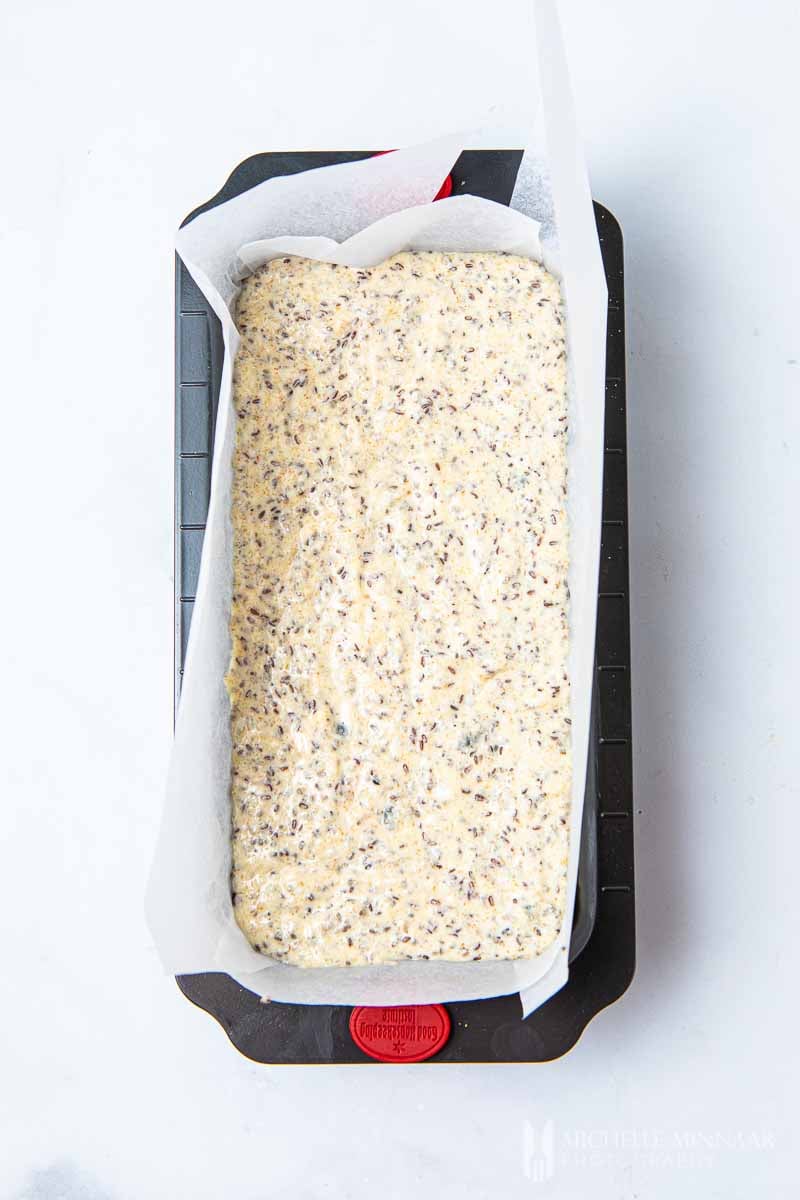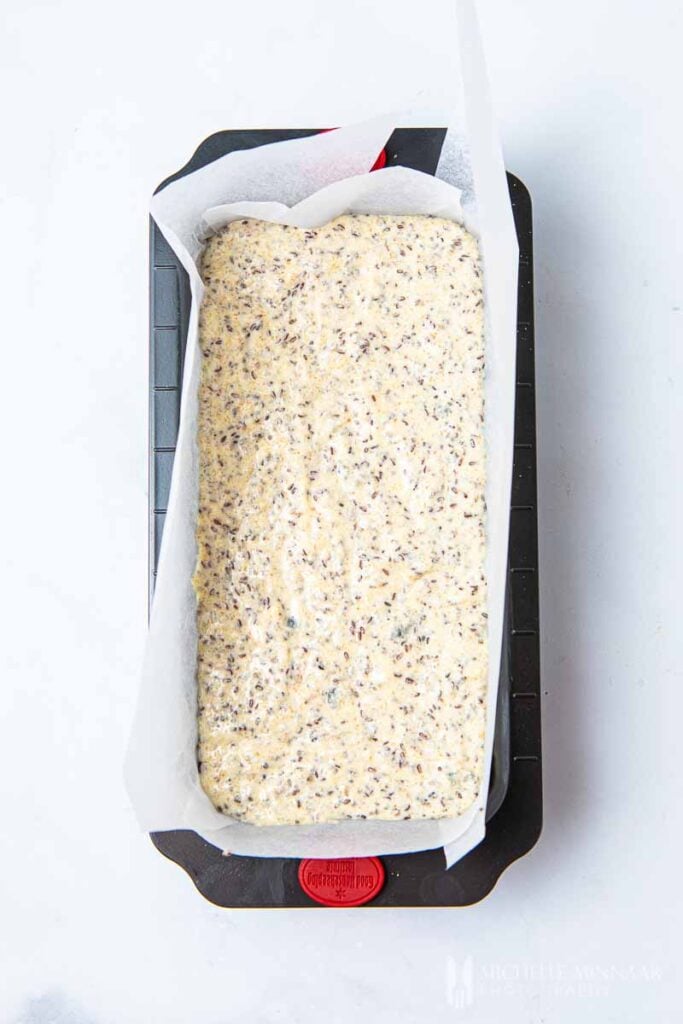 chia seed recipes
Did you know that chia seeds contain a lot of essential nutrients? These little seeds are packed with omega-3 fatty acids and contain a lot of fibre. It's no surprise chia is on the rise. Moreover, they are high in anti-oxidants and proteins.
What's more, chia seeds are so incredibly easy to incorporate into your diet. You can toss them into a salad, or a cobbler recipe. You can incorporate chia seeds into a savoury recipe or a sweet recipe – whatever takes your fancy. Or you can simply add them into your yoghurt.
If you've purchased a larger batch of chia seeds than you know what to do with, then have a look at these overnight oats with chia and blueberries. Oh so good!
You can also add Nigella seeds into this recipe. Or use these Nigella seed substitutes.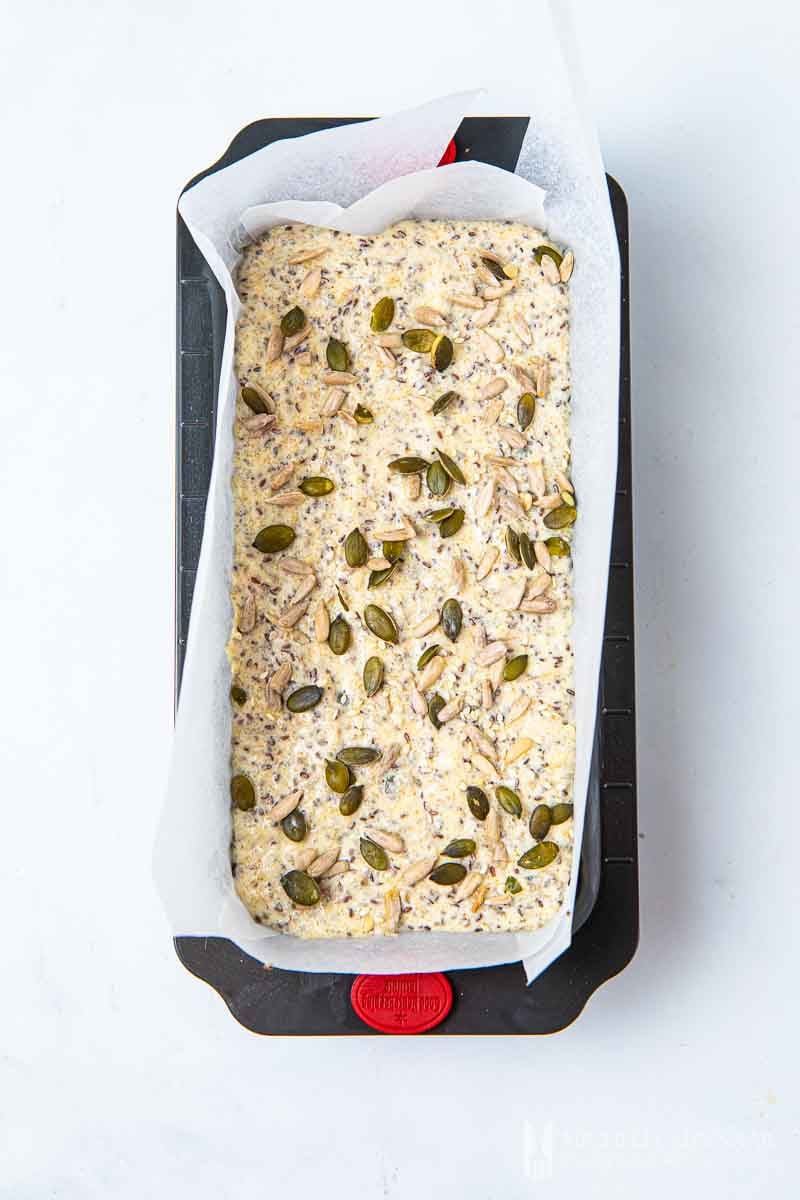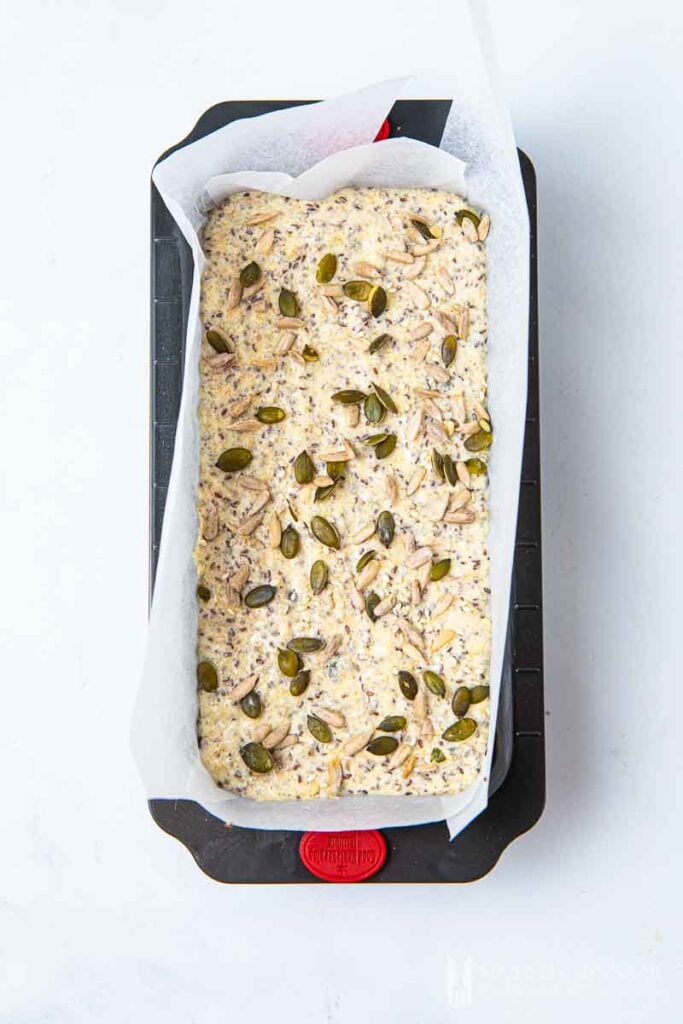 how to store & freeze bread
This chia seed bread keeps quite well. If you store it in the open, the bread can last you generally up to three days before it starts to really dry out. However, if you take the proper precautions, it can last you a lot longer.
For instance, if you would like to store it in your kitchen cupboard, wrap it in a plastic bag. The trick here to keeping the bread moist and 'fresh' is to insert into the plastic bag a small cup of water. Seal the bag off completely, not allowing any air to escape.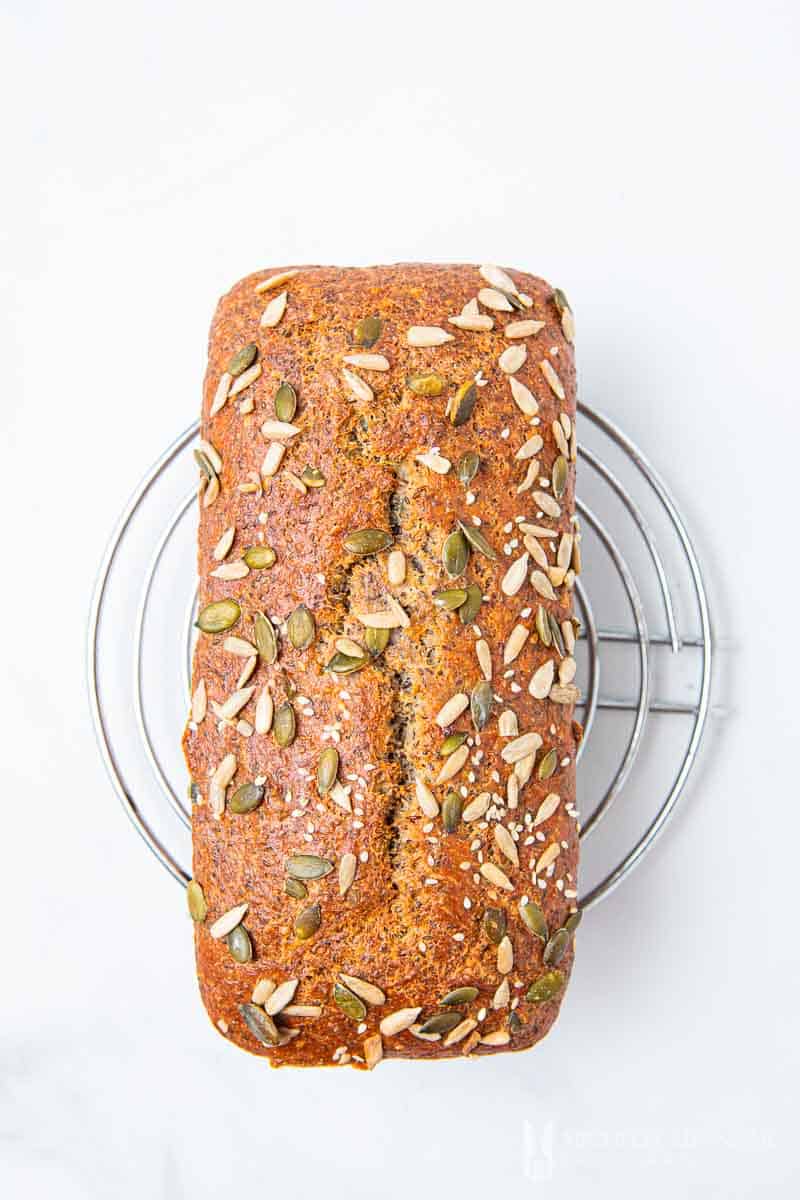 Overnight, the chia seed bread will absorb the moisture from the water, keeping the bread nice and soft. This is one of those old kitchen hacks grandmothers used back in the day to keep their bread fresh.
Otherwise, if you've made a larger batch of bread, you can freeze it without any problems. The chia seed bread freezes very well. Just place the bread inside a freezer-friendly bag. You can freeze the bread for up to 6 months.
I recommend cutting up the large batch of bread into smaller sections and freezing them in sections.
First of all, it's going to be a lot more efficient when it comes to finding space for the bread in the freezer. Next, you can control your portion size and unfreeze only one batch at a time.
It's a lot more sustainable and you won't have to throw out any leftovers.
Wondering what to eat this bread with? Try some chicken liver pate!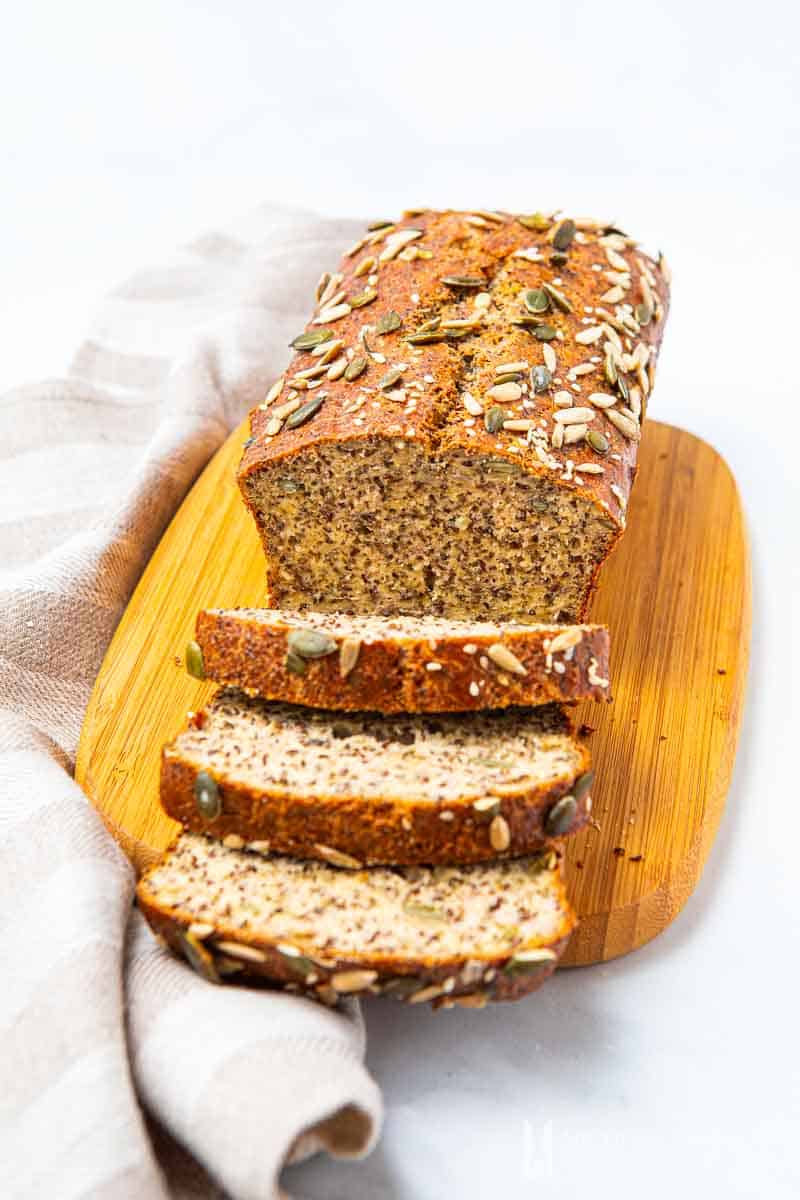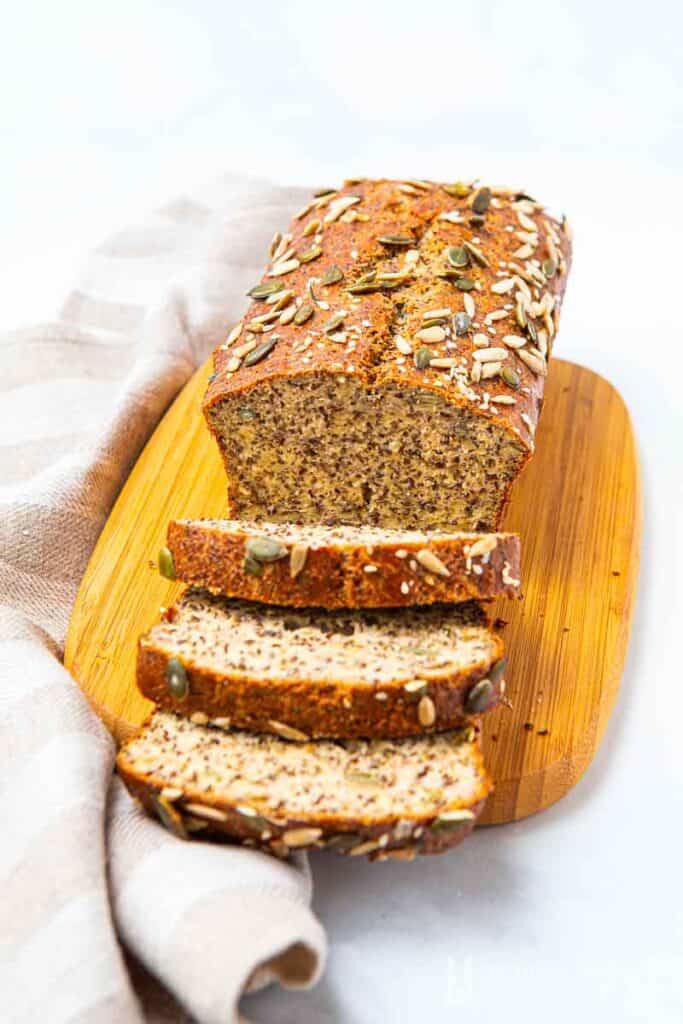 What is your favourite way to use chia seeds?
Print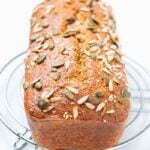 Chia Seed Bread
---
Description
Learn how to make your own chia seed bread. This easy low carb bread recipe is excellent for beginners and you can freeze it too.
---
500g

(

2 cups

) Greek yoghurt 

6

eggs

225g

(

2 cups

+

4 tbsp

) ground almonds

12g

(

1 tbsp

) baking powder

5

ml (1 tsp) salt

36g

(

6 tbsp

) psyllium husks 

60g

(

6 tbsp

) chia seeds

30g

(

4 tbsp

) mixed seeds
---
Instructions
Line a 22cm/2lb loaf tin with parchment paper.
Using a stand mixer, mix the eggs and yogurt until you reach an even consistency.
Tip in the ground almonds, baking powder and salt. Mix.
Add the psyllium husks, chia seeds and half of the seed mix. 
Preheat the oven to 170°C/150°C fan/340°F/gas mark 3. 
Scrape the dough into the lined tin and let it rest for 15 minutes. 
Once the time it up, sprinkle with the remaining mixed seeds and bake in the oven for 1 hour and 10 minutes, or until the bread is golden brown and a toothpick comes out dry when inserted. 
Serve warm with your favourite toppings. Alternatively, store in an airtight container for no more than 3 days. 
Notes
You can substitute the Greek yogurt with quark. 
You can use a combination of your favourite seeds to add to the bread as well as to top it with. In this case, I used pumpkin, sesame and sunflower seeds. 
This bread is freezer friendly.
Prep Time:

20 minutes

Cook Time:

1 hour 20 minutes

Category:

Breakfast

Method:

Bake

Cuisine:

German
Keywords: chia seed bread, gluten free bread recipe, low carb bread recipe