Doesn't this chocolate delice dessert look the part? In essence, it is a rich chocolatey dessert with intense flavours, secured by the addition of chocolate. Pay attention all chocolate lovers. This is the recipe you've been looking for!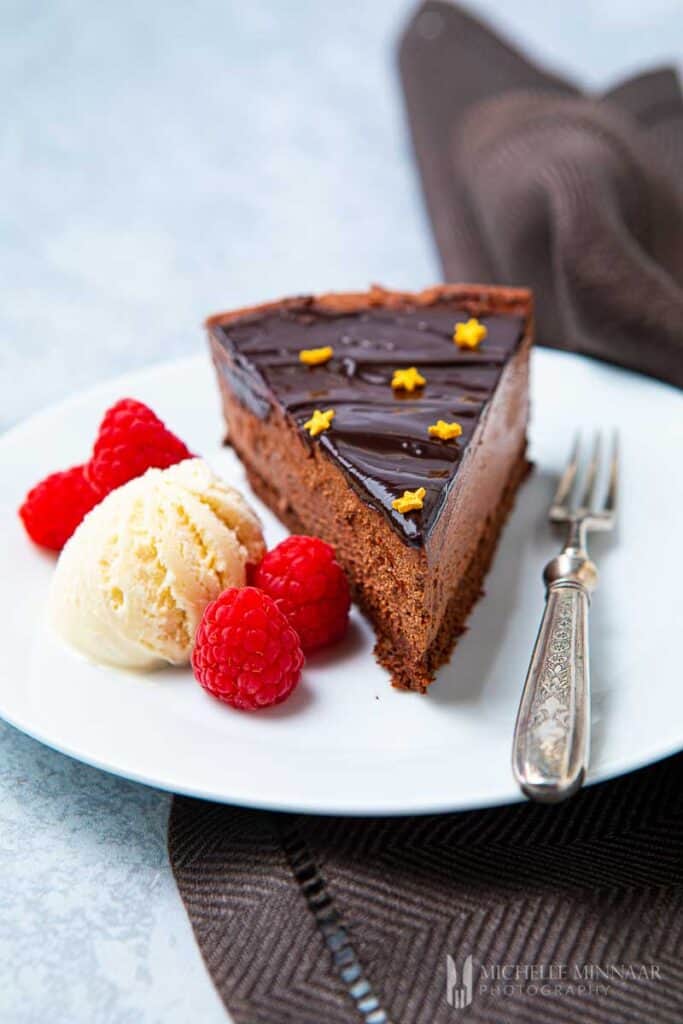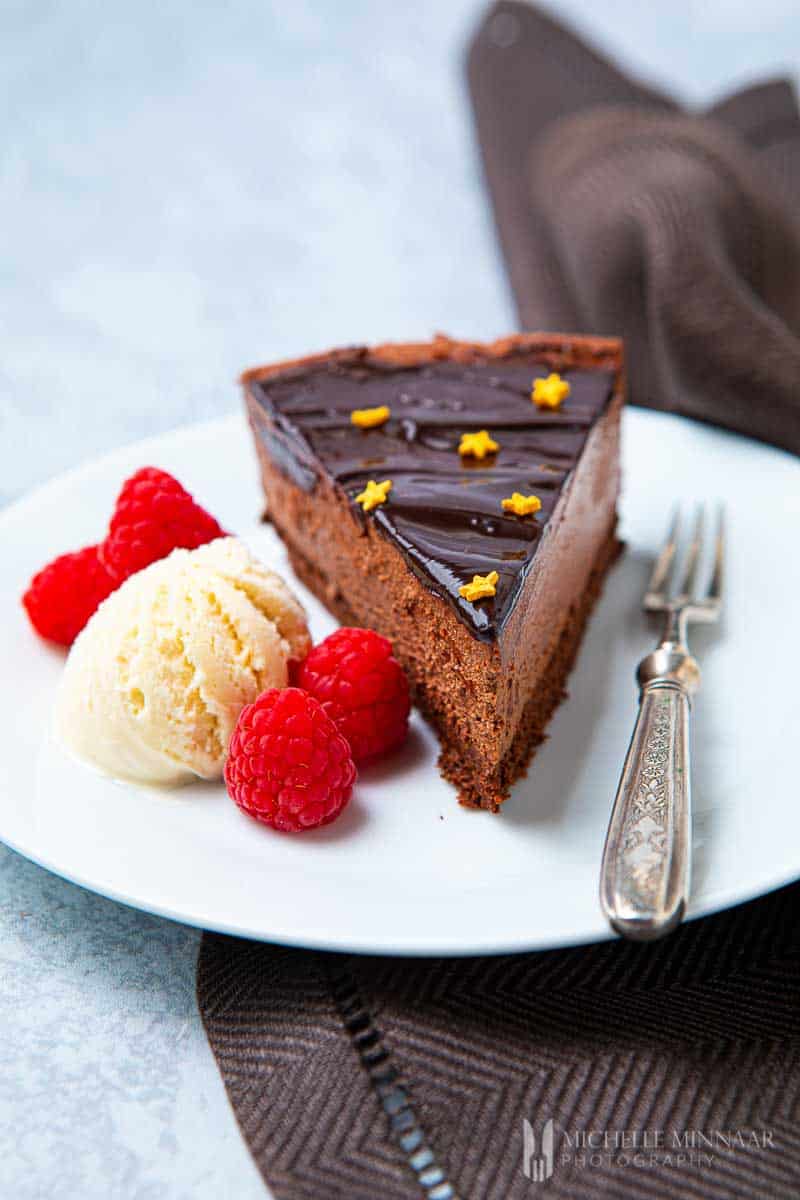 What's best, you can control the level of intensity of this chocolate delice by substituting with different kinds of chocolates. Milk, dark or extra dark. I personally adore dark chocolate as it creates a more refined version of a chocolate delice dessert.
However, that doesn't mean that I don't enjoy a sweeter version of a chocolate delice. In fact, if you love chocolatey cakes, you should consider trying out this equality luscious Kinder Bueno cheesecake. Or try out this equally rich and beautiful Millionaire's cheesecake recipe.
products you need for this recipe
Here is a list of the top thing you'll need to recreate this easy-to-make chocolate delice recipe. Plus, keep in mind, that if you purchase a large batch of some of these suggested products, you can make even more delicious recipes at home. Take a look below:
Most noteworthy, this chocolate delice cake is so exquisite, it tastes and looks like it was purchased from a premium bakery or cake shop. So, surprise your friends and show off your amazing cooking skills. Enjoy and let me know how it works out for you.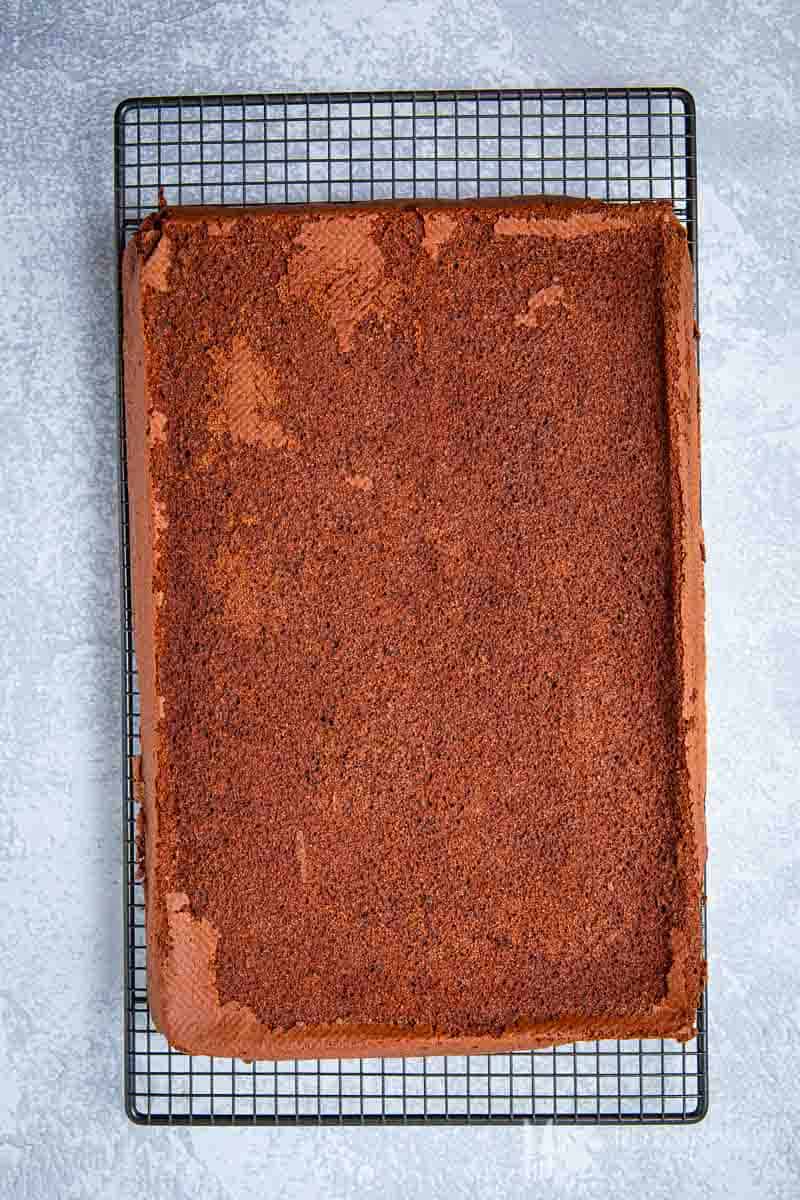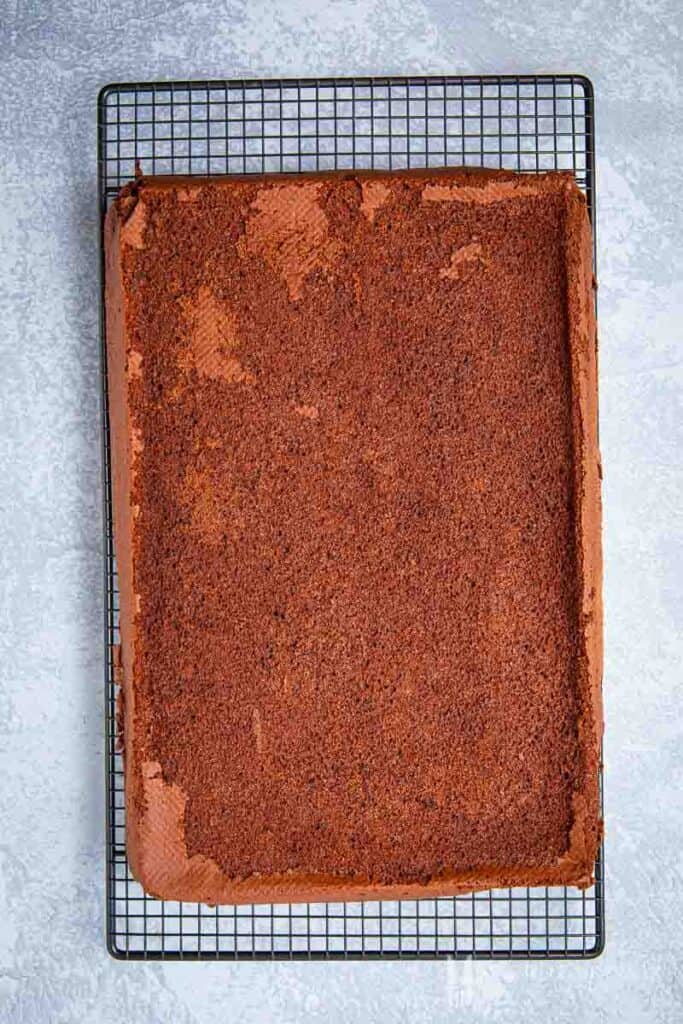 So, before you start preparing your chocolate delice, make sure you've got these products at home. They will definitely ease things for you!
Is there a product or ingredient which you wouldn't be able to live without in the kitchen when making cakes? Let me know in the comments section below.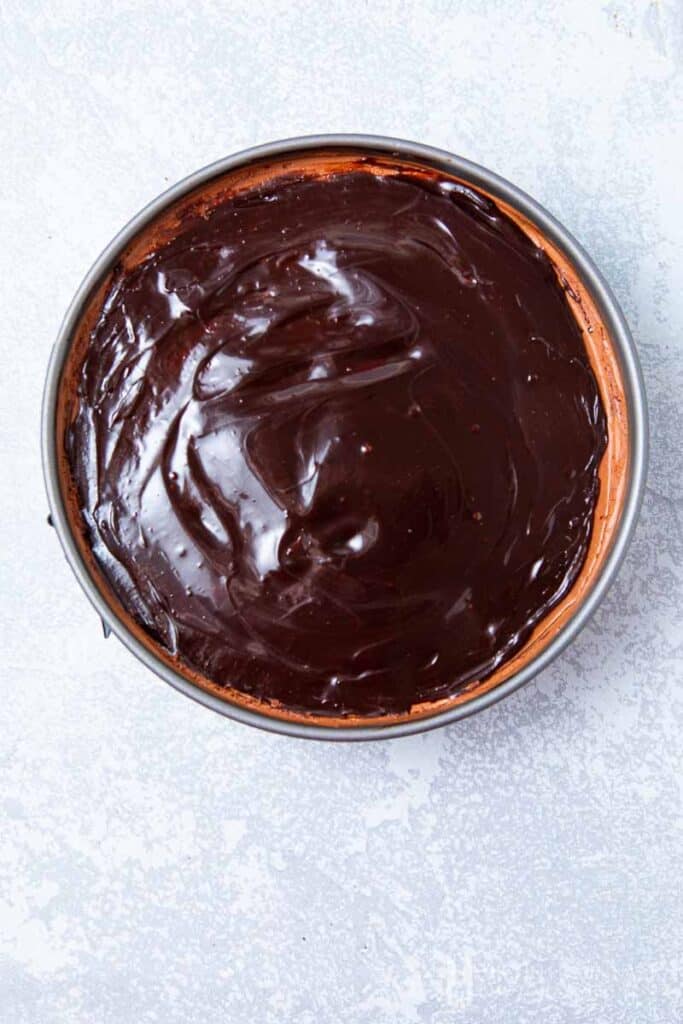 dark chocolate delice
In my opinion, if you opt for dark chocolate, you can make this chocolate delice really sophisticated.
I consider dark chocolate being any chocolate that contains above 70%. In fact, dark chocolate is alko known as plain chocolate. Generally speaking, dark chocolate is made with higher amounts of cocoa, with more fat sourced from the cocoa butter, not the milk.
Naturally, the higher the percentage of the dark chocolate, the more bitter and acidic it tastes. Most of the times, people refrain to eating dark chocolate on its own because it's not as sweet. However, enjoying a piece of dark chocolate every now and again is beneficial for the liver, according to Chinese traditional medicine.
Nevertheless, cooking with dark chocolate can produce extraordinary results, such as this chocolate delice.
Tip: The darker chocolate you use, the more intense and rich the cake will be. I recommend using 70 – 85% dark chocolate. For those who enjoy bold flavours, go for 90% and above.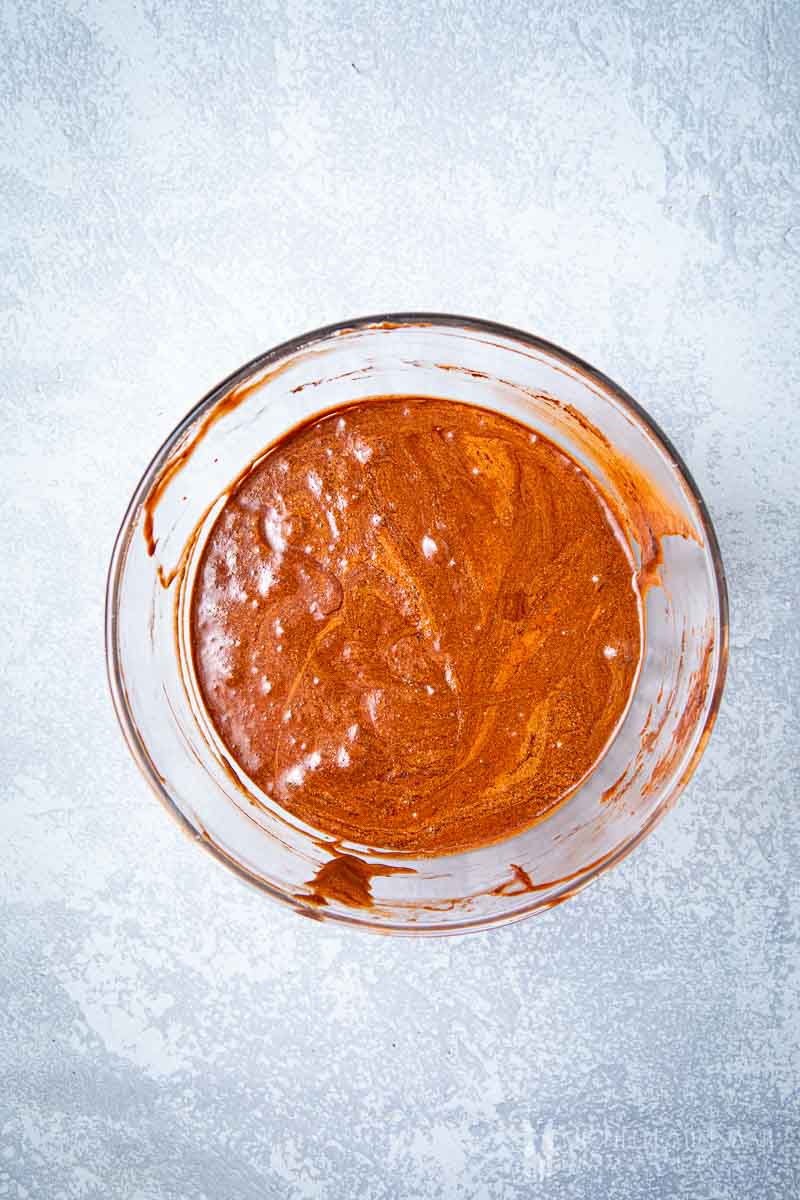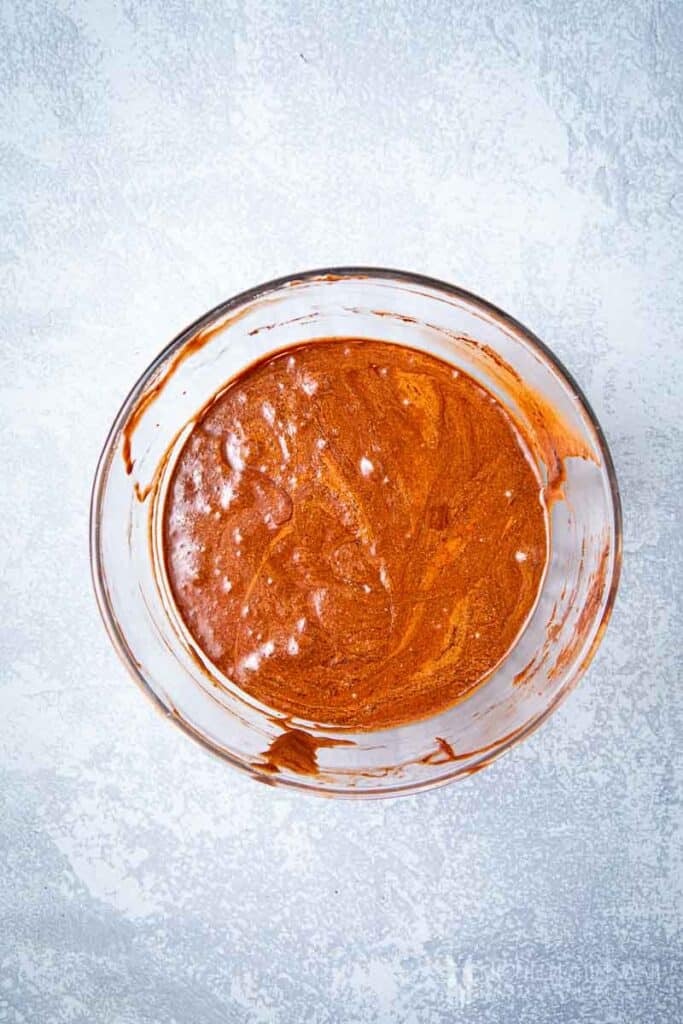 salted chocolate delice
Adding salt to desserts is fairly popular because it generally enhances the flavours. For instance, it's no surprise to find salt with desserts which contain caramel. These salted caramel cupcakes are evidence to this!
Same can be said about salt and chocolate. Oftentimes in fancy restaurants, you can find chocolate mousse being served with a few sprinkles of sea salt. The sea salt completely brings out the intensity of the chocolate.
Therefore, you can also add a little of salt into the chocolate delice and let the salt work its magic on the flavours.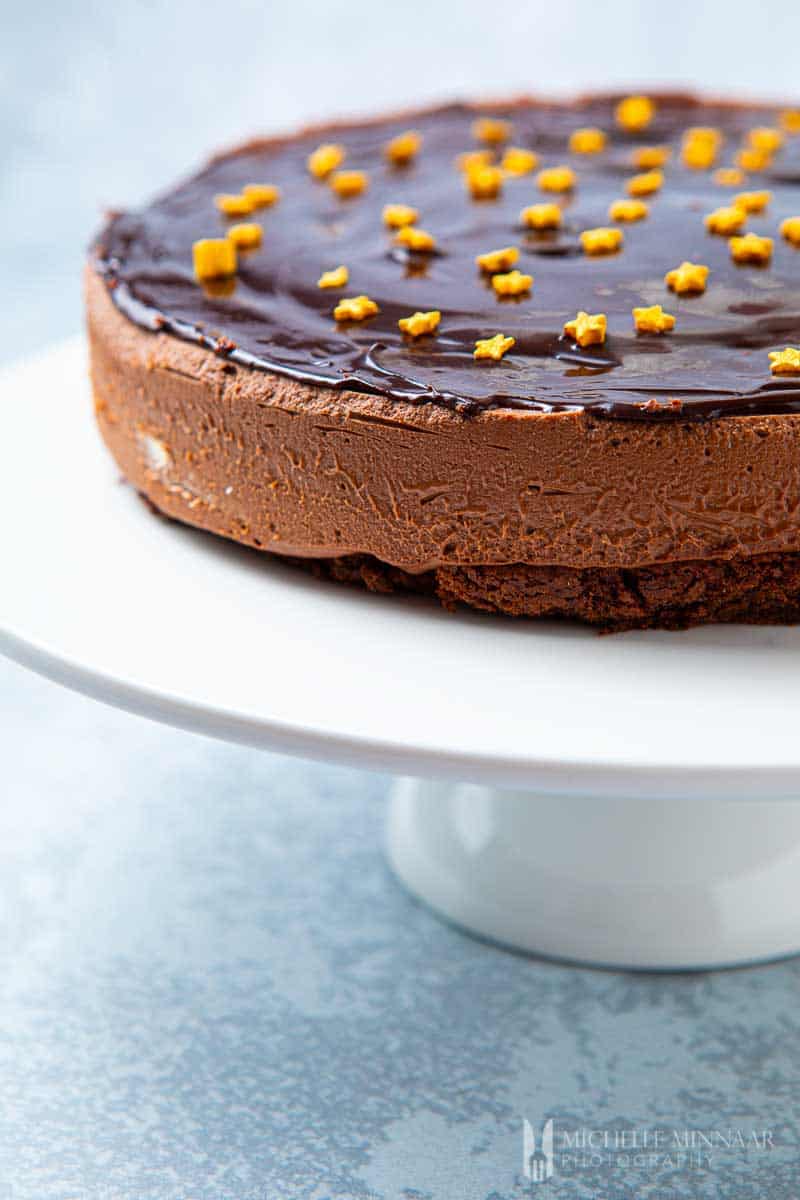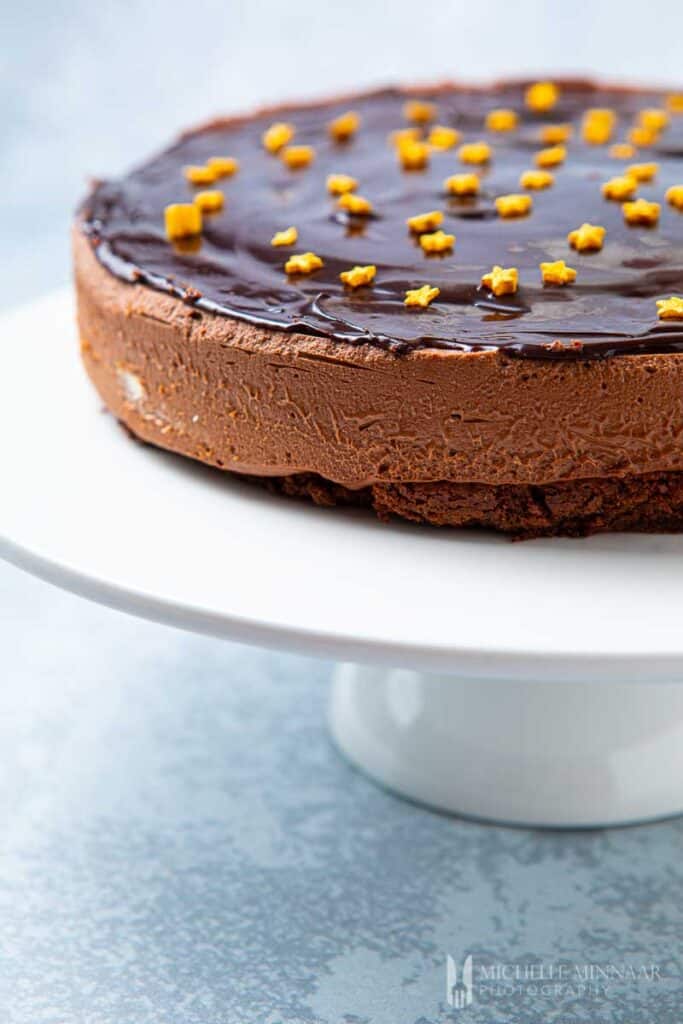 chocolate delice calories
Oh boy, don't even think about this. As you know, this is a rich chocolate dessert that's quite sinful. If you would like to save on some calories, then don't pair this chocolate delice with a side dessert.
Otherwise, I recommend using low-calorie sweeteners or alternatives to sugar. Also, I enjoy using coconut sugar instead of ordinary sugar.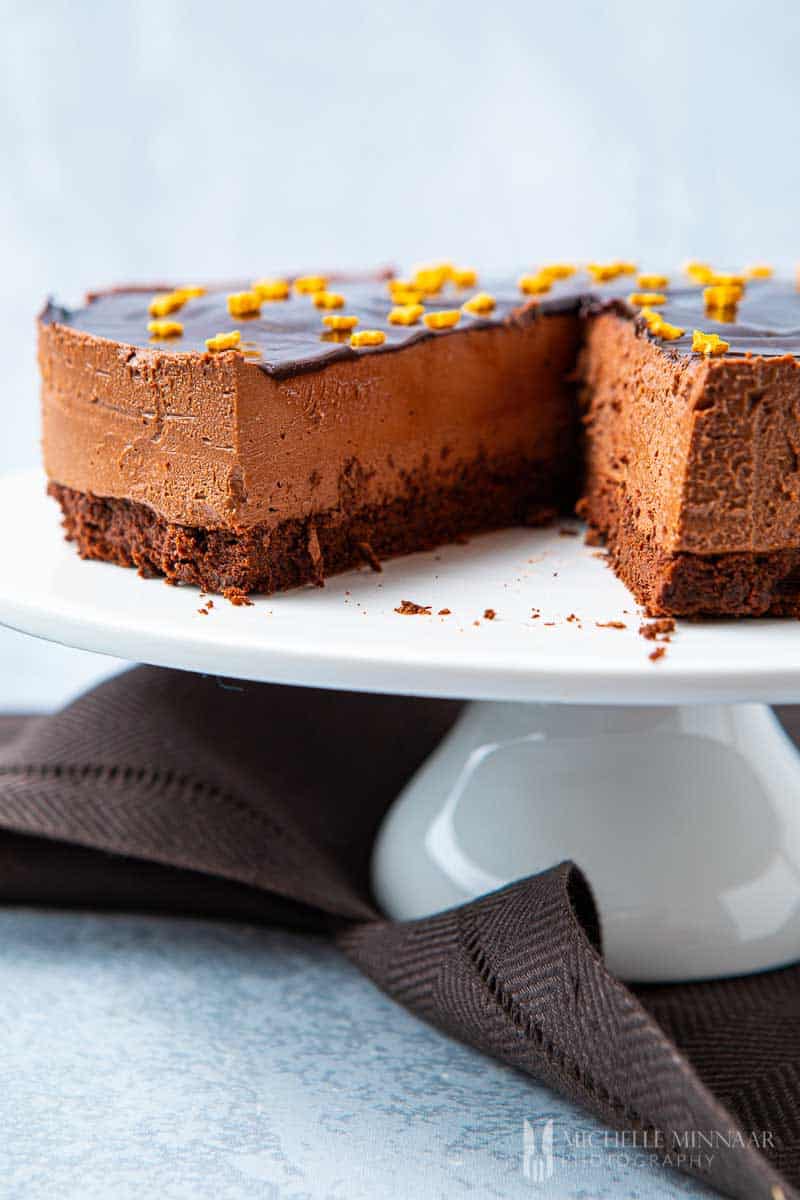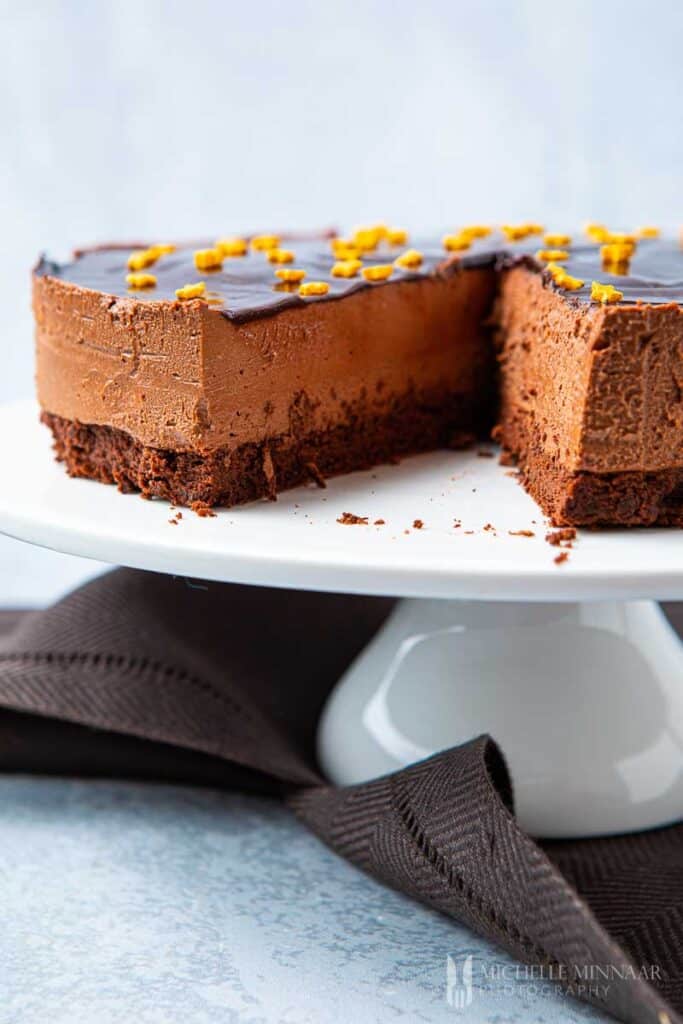 what to serve a chocolate dessert with?
There are plenty of combinations that work well with a slice of homemade chocolate delice. For instance, you can consider serving it with the following ingredients, depending on if you want to make a light or intense dessert.
To intensify the flavours of this chocolate delice, consider the following combinations:
dark chocolate shavings – best if you use chocolate 85% and above.
dark chocolate squares – again, best if you use a premium extra dark chocolate (85% or above)
raw cacao nibs – you know what they say, this is the healthiest form of cacao.
sea salt – top your chocolate delice with sea salt as it brings out the flavour of chocolate
pour over some chocolate fudge sauce – you can never go wrong with that
almond flakes, cashews, pecans or nuts in general work very well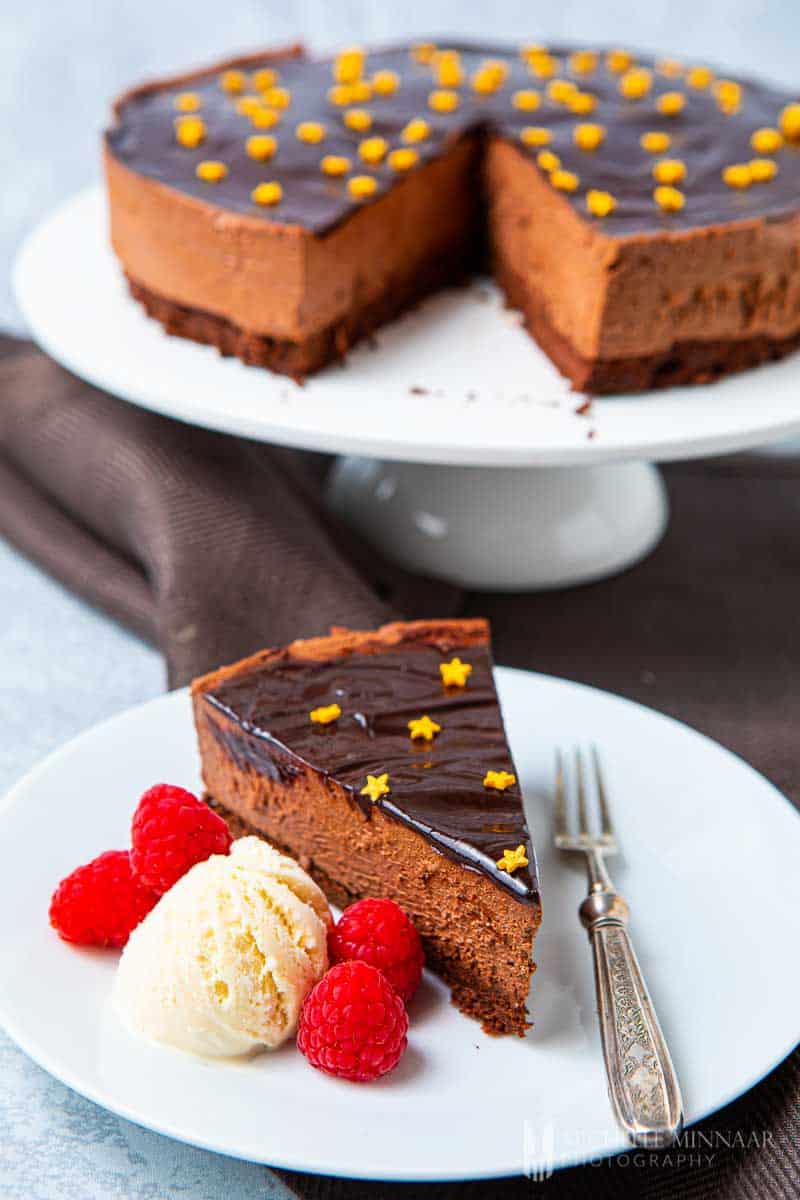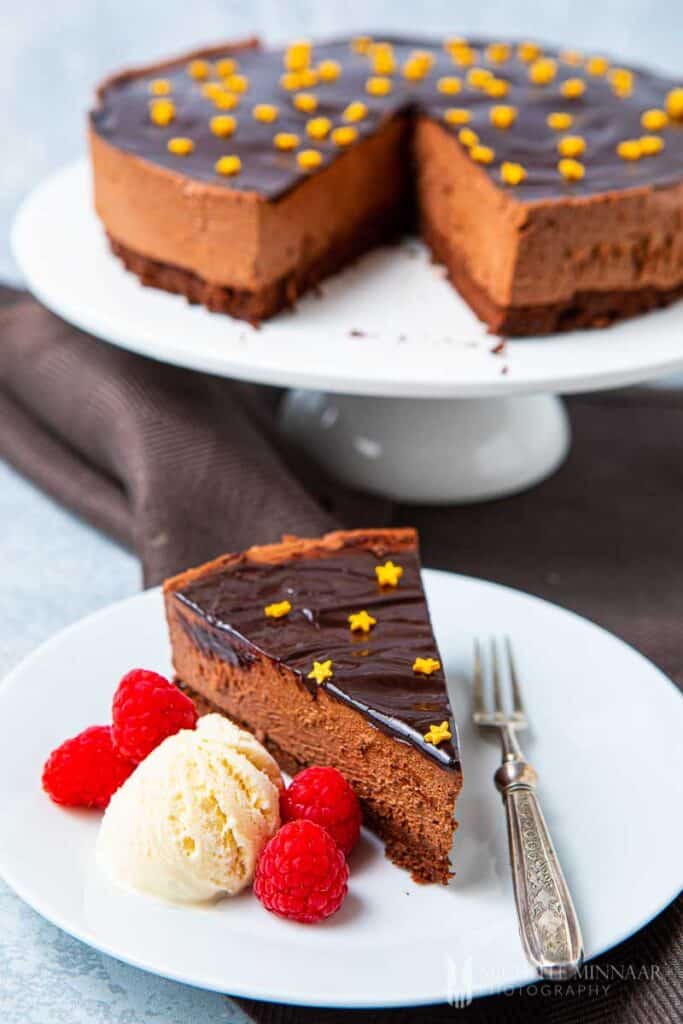 In order to create a lighter version, go for these combinations:
fresh berries: at best strawberries, raspberries or other types of forest fruit will lighten up the chocolate delice
strawberry curd is an excellent idea for a topping
candied oranges or orange zest will add that fruity flavour
pineapple ice cream – the acidity of this ice cream will cut through the intense flavours of the chocolate
peppermint ice cream – similarly, the peppermint ice cream will have a refreshing effect on the chocolate delice
Otherwise, feel free to decorate your chocolate delice as you wish. For example, you can use cake decorations and sprinkle edible decorations on top.
How would you serve your chocolate delice? Would you make your chocolate delice with dark, milk or extra dark chocolate? Let me know what works best for you and enjoy.
GIVEAWAY
This week one lucky winner to receive one bottle of Mahiki Coconut Rum.
MAHIKI Coconut is a liqueur refined with Jamaican and Polynesian rum and rounded off with coconuts from Samoa.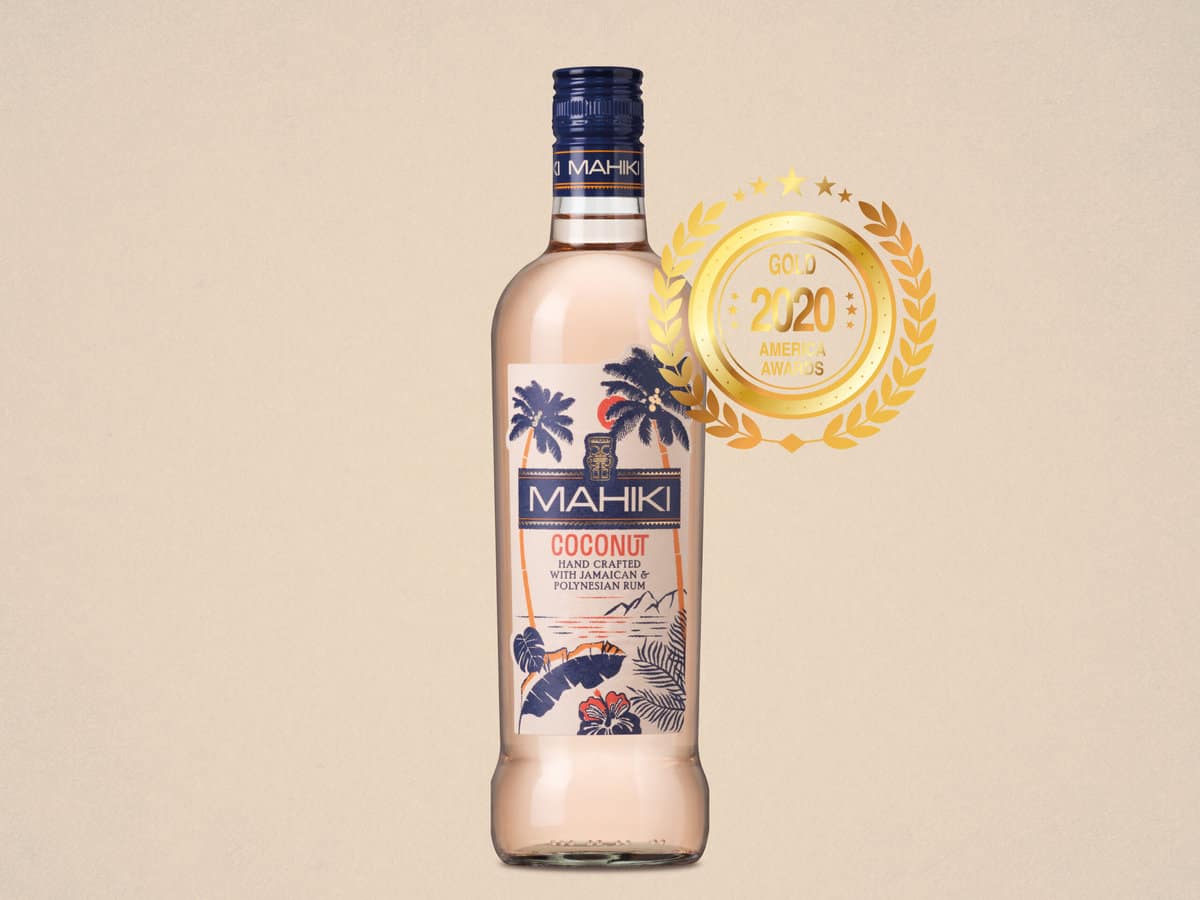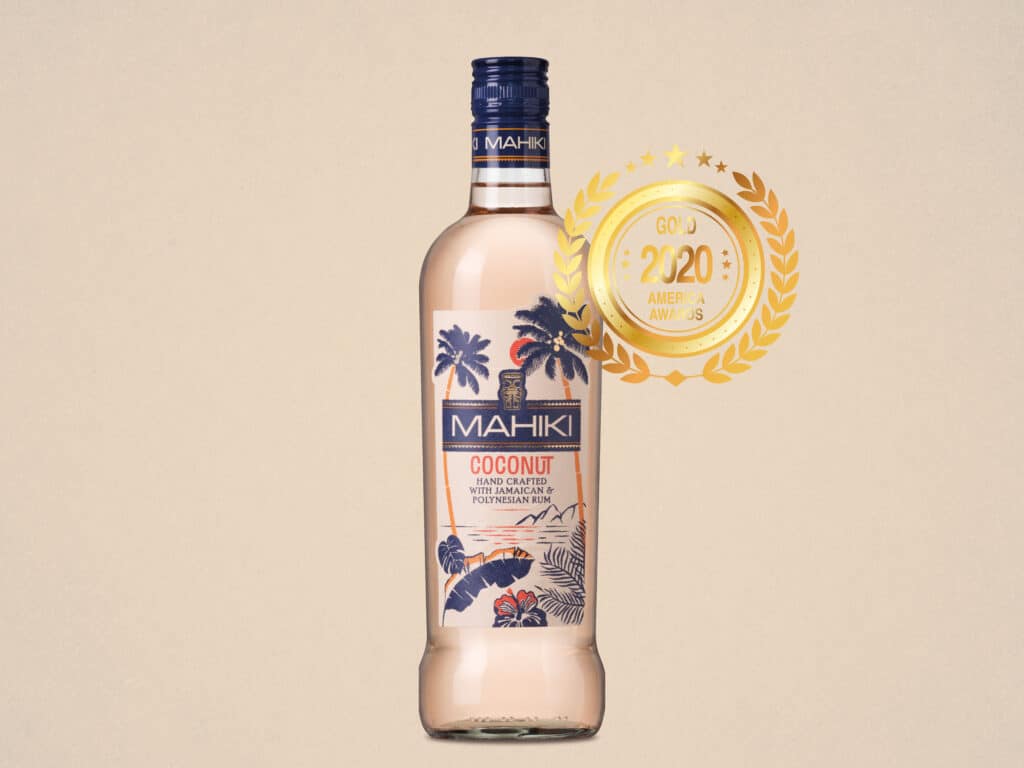 With an alcohol content of 21 percent, it can be used in many ways: The coconut liqueur can be enjoyed pure, well-chilled on ice, but is also ideal for mixing with other spirits, liqueurs, fruit juices and lemonades.
Its colour is unmistakably rose, as coconut water from fresh coconuts turns to rose after ripening – creating this special effect.
At the AMERICA AWARDS 2020 the MAHIKI Coconut was awarded the gold medal. The coconut liqueur prevailed over its opponents and convinced the judges. In the competition, an expert jury evaluates wines, spirits and beers.
The international jury is made up of experienced buyers, trade journalists and other industry experts. "We are delighted that the MAHIKI Coconut was able to win its second international award within a very short time.
Winning the gold medal at the AMERICA AWARDS shows that the coconut liqueur also meets the taste of the American market", explains Cord Hendryck Vinke, Marketing Director MBG Group.
a Rafflecopter giveaway
Entering is easy, just follow the instructions below.
HELP
Here you can find a tutorial on how to enter with Rafflecopter.
If your form is not showing, try refreshing the page.
Complete the form, otherwise your entries will not count.
Make sure the mandatory entries (e.g. leave a blog comment) are completed first.
Don't forget to come back daily for extra entries via Twitter.
If you're viewing this post by email, please come to the actual webpage to enter.
Competition Question: What is your favourite chocolate-based dessert?
Print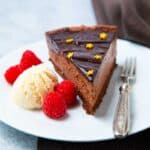 Chocolate Delice
---
Description
Chocolate delice is perfect for special occasions such as Valentine's Day. This classic French dessert recipe is a real crowd please. 
---
Chocolate Sponge Base
175g

(

6oz

) plain chocolate, broken into small pieces

175g

(

⅞ cups

) caster sugar

6

large eggs

30

ml (2 tbsp) cocoa powder
Filling
155g

(

5½oz

) 70% dark chocolate, broken in pieces

1

medium egg

90

ml (6 tbsp) double cream 

150

ml (⅔ cup) milk 
Glaze
75g

(

⅓ cup

) caster sugar

60

ml (4 tbsp) water

25g

(

¼ cup

) cocoa powder

45g

(

¼ cup

) double cream

1.5

gelatine leaves
---
Instructions
For the Chocolate Sponge Base: Preheat the oven to 180°C/fan 160°C/350 °F/gas 4.
Lightly grease a 33cm x 23cm (13in x 9in) tin and line with nonstick baking parchment.
Place chopped chocolate in a microwave-safe bowl; microwave in 30-second intervals, stirring between each, until melted.
Separate the eggs into different bowls.
Place the sugar and egg yolks in a stand mixer's bowl and whisk until light and creamy. Pour in the chocolate and stir until evenly blended.
In a separate bowl, whisk the egg whites until stiff. 
Stir a large spoonful of the egg whites into the chocolate mixture. 
Mix gently, then fold in the remaining egg whites and the sieved cocoa powder. 
Spread the chocolate mixture evenly in the prepared tin. 
Bake for about 20 minutes or until firm.
Remove the cake from the oven, leave in the tin, cover with a dry tea towel and leave until cold.
Using a 23cm (9in) springform cake tin as a sort of cookie cutter. Cut a circle out of sponge, then place it inside the springform cake tin. The base is now ready.
For the Filling: Place chopped chocolate in a microwave-safe bowl; microwave in 30-second intervals, stirring between each, until melted. Set aside.
Lightly beat the egg in a bowl. 
Bring the cream and milk to the boil, then pour onto the egg, whisking vigorously. Slowly whisk this mixture into the melted chocolate. 
Leave it to settle for a little while and skim off any bubbles should they pop up.
Pour the mixture over the chocolate sponge base in the spring form tin. 
Allow to cool for 30 minutes, then chill for at least 6 hours but preferably overnight.
For the Glaze: Soak the gelatine in water until soft, then squeeze it dry. Set aside.
Place the water and caster sugar in a saucepan and bring to the boil.
Simmer for 4 minutes, then add the cocoa powder and cream. 
Bring the mixture back to the boil and simmer for another 3 minutes. 
Remove from heat.
Stir in the gelatine until it's dissolved.
Pass the chocolate glaze through a sieve then let it cool down to 35°C. 
Pour the glaze evenly over the delice filling and leave to cool in the fridge for at least an hour.
Carefully release the chocolate delice from the springform tin and place it on a serving plate.
[Optional] Sprinkle with golden starts and serve with berries and ice cream. Enjoy!
Notes
If you don't have a microwave to melt the chocolate with, you can do the following. Place the chocolate in the top of a double boiler or a heatproof bowl set over, not in, a saucepan of simmering water. Cook, stirring occasionally, until melted. It will take about 2 to 3 minutes.
There will be leftover chocolate sponge left. It can be enjoyed on its own, or served with whipped cream and fresh berries and a bonus dessert!
Prep Time:

2 hours

Cook Time:

1 hour

Category:

Dessert

Method:

Chill

Cuisine:

French
Keywords: chocolate delice, chocolate delice recipe, rich delice, french chocolate dessert, rich chocolate recipe