These utterly delicious chocolate fairy cakes are the perfect 'pick-me-up'. Rich, moist, indulgent and easy to make, they're sure to be a huge hit with chocoholics.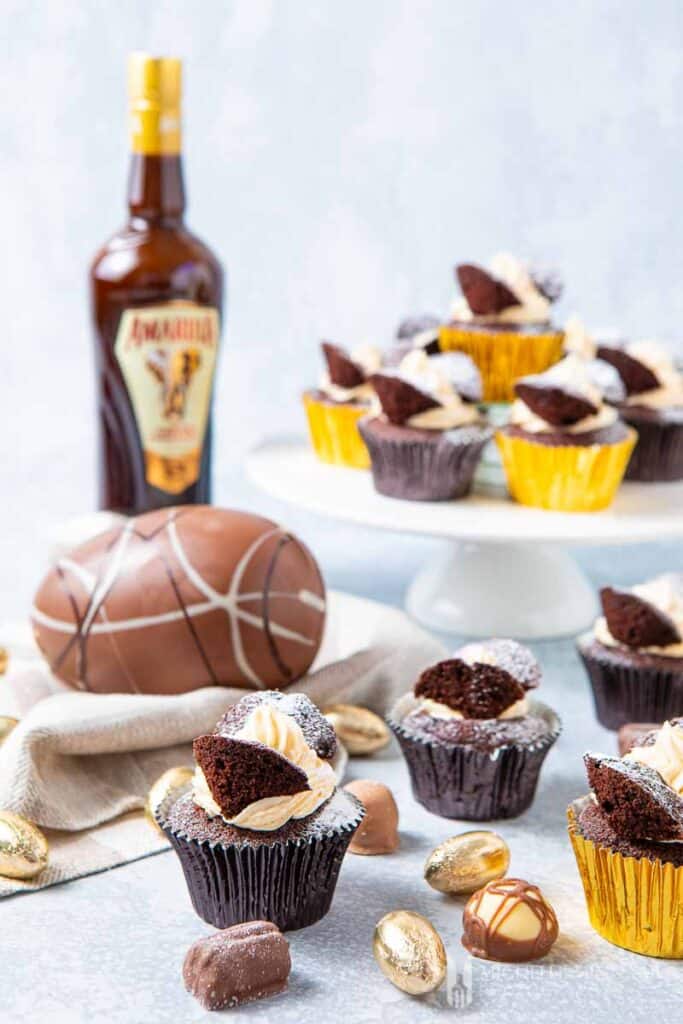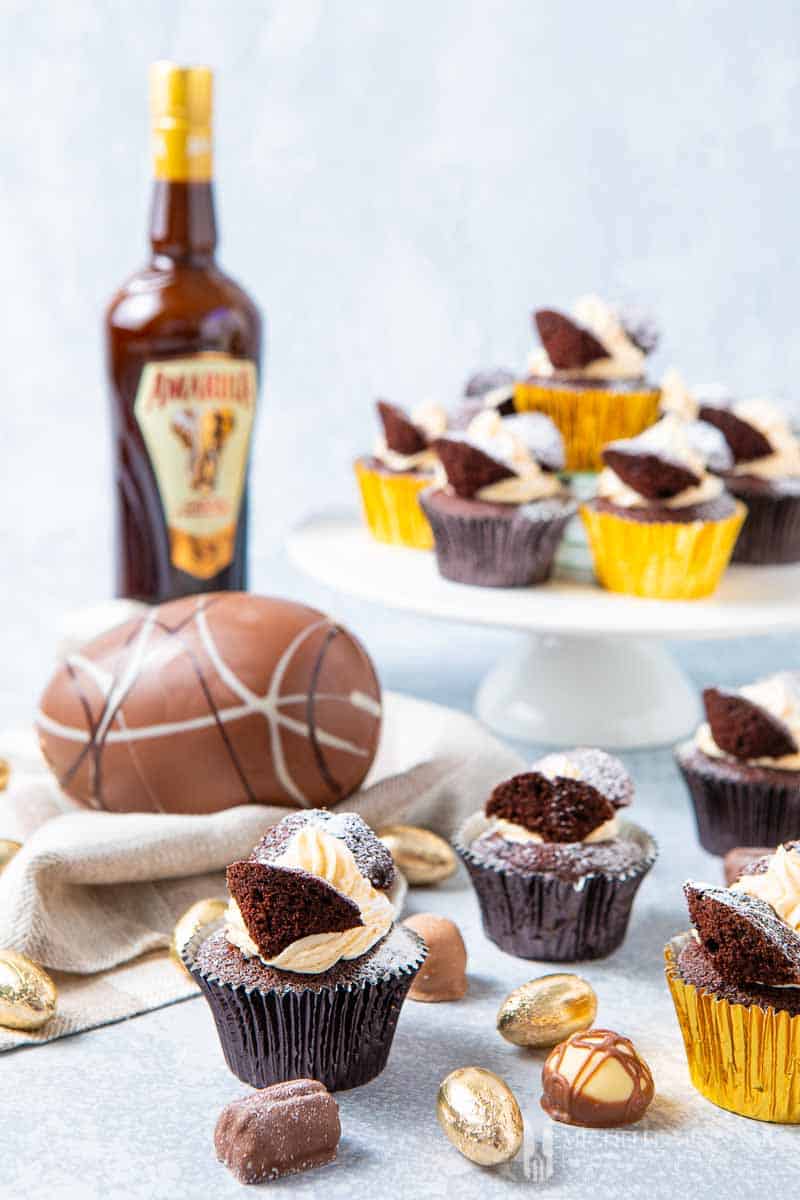 The secret ingredient? The heavenly African cream liqueur known as Amarula.
Easy chocolate fairy cakes recipe
Chocolate is definitely the theme of the recipe. With that in mind, occasions such as Easter and Christmas are the ideal occasions to serve these baked goods.
If you're cooped up inside the house, why not get baking with your family and friends? It's a constructive way to use time while enjoying quality time with your loved ones.
The chocolate fairy cakes can be enjoyed by adults and children alike. Although the buttercream is boozy, there is a quick and easy solution.
Prepare the buttercream first, then take the kids' share out of the bowl, before adding the adjusted ratio of Amarula to the adults' buttercream. Problem solved!
So you want to know how to make chocolate fairy cakes? This recipe is easy to follow and will leave you with a dessert to die for!
But, if yours aren't quite perfect the first time round, keep trying! Remember, practise makes perfect. And meanwhile, you get to eat more of these delicious chocolate fairy cakes!
But this is no ordinary chocolate fairy cake recipe. Most of the standard ingredients are there – cocoa powder, butter, eggs, caster sugar, icing sugar, self-raising flour etc. But with this recipe, I've got a South African ace up my sleeve...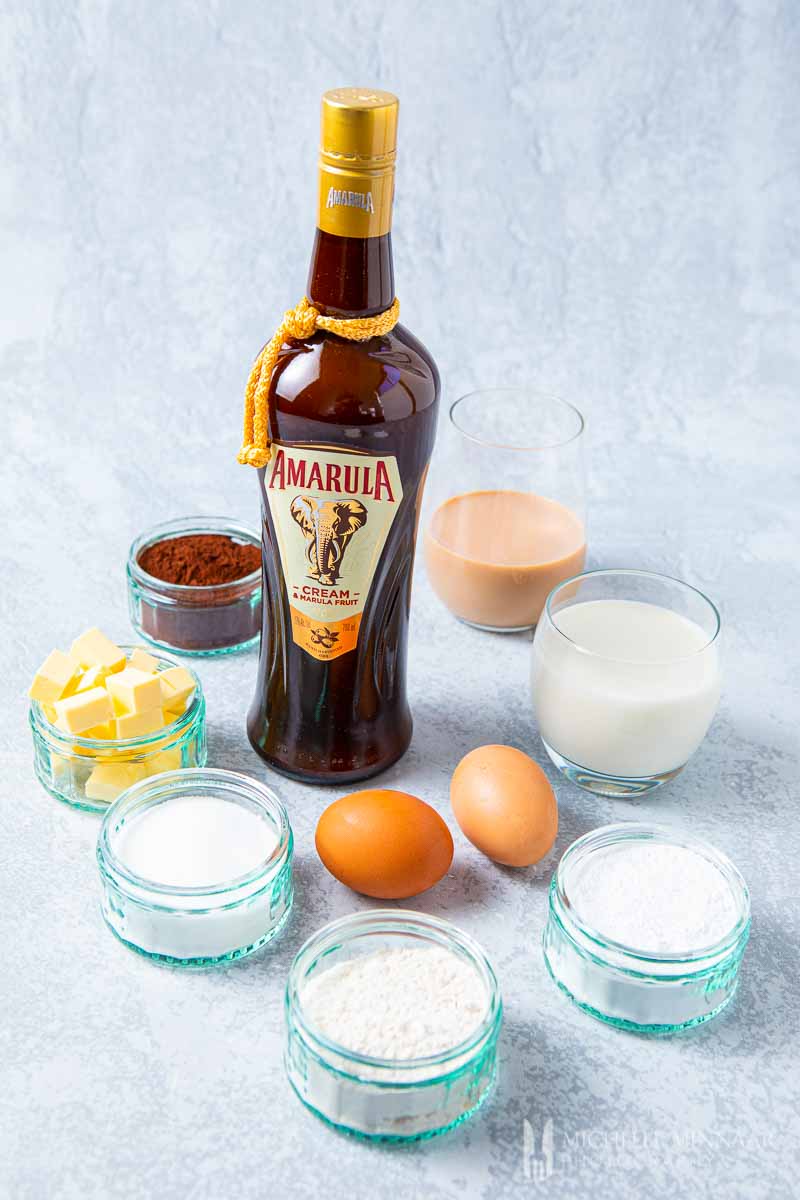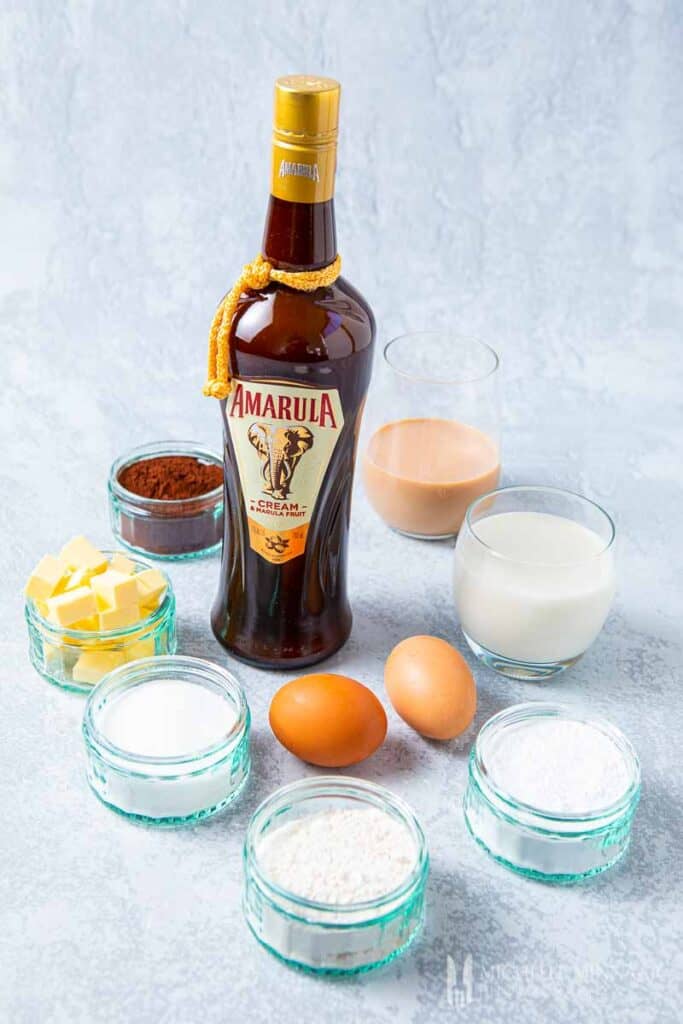 If you've always wanted to make chocolate cupcakes Mary Berry-style, you've come to the right place. The key is simple ingredients (icing sugar, egg, butter, cocoa powder, self-raising flour etc.), precise measuring and perfect cooking temperature (gas mark 4), as well as timing.
Amarula Cream Liqueur – made with love
Amarula is a cream liqueur with a remarkable flavour. Imagine dipping a rainbow in melted caramel and smoky, chocolatey, nutty vanilla. Chances are you can't! Which is why tasting is believing.
A staple of practically every household in South Africa, Amarula is a typical after dinner drink. But it's also hugely popular as an ingredient for indulgent desserts. With such a complex taste, there's no wonder!
The story of the making of Amarula adds to the mystique of this delicious African liqueur. It all begins at the marula tree, which only grows in one area of the world – the southern part of Africa, where the grounds are free from frost and the temperature is warm all year round.
Each year, elephants make a journey of hundreds of miles to feast, just as the fruits become perfectly ripe. Naturally, they never forget the taste of the marula fruit – they make the journey year after year and have done for as long as anyone knows. Because of this, the tree and its fruit have taken a special place in African folklore.
Much like the elephants, marula trees are protected under South African law. The sale of the fruit is controlled, only sold to a handful of natural producers. One of them, of course, being Amarula.
Once sun-ripened to perfection, the fruits are pulped and fermented. Then the marula 'wine' is distilled and aged for two years in French oak barrels. This gives the wine a chance to take on natural toasted flavours, with hints of vanilla.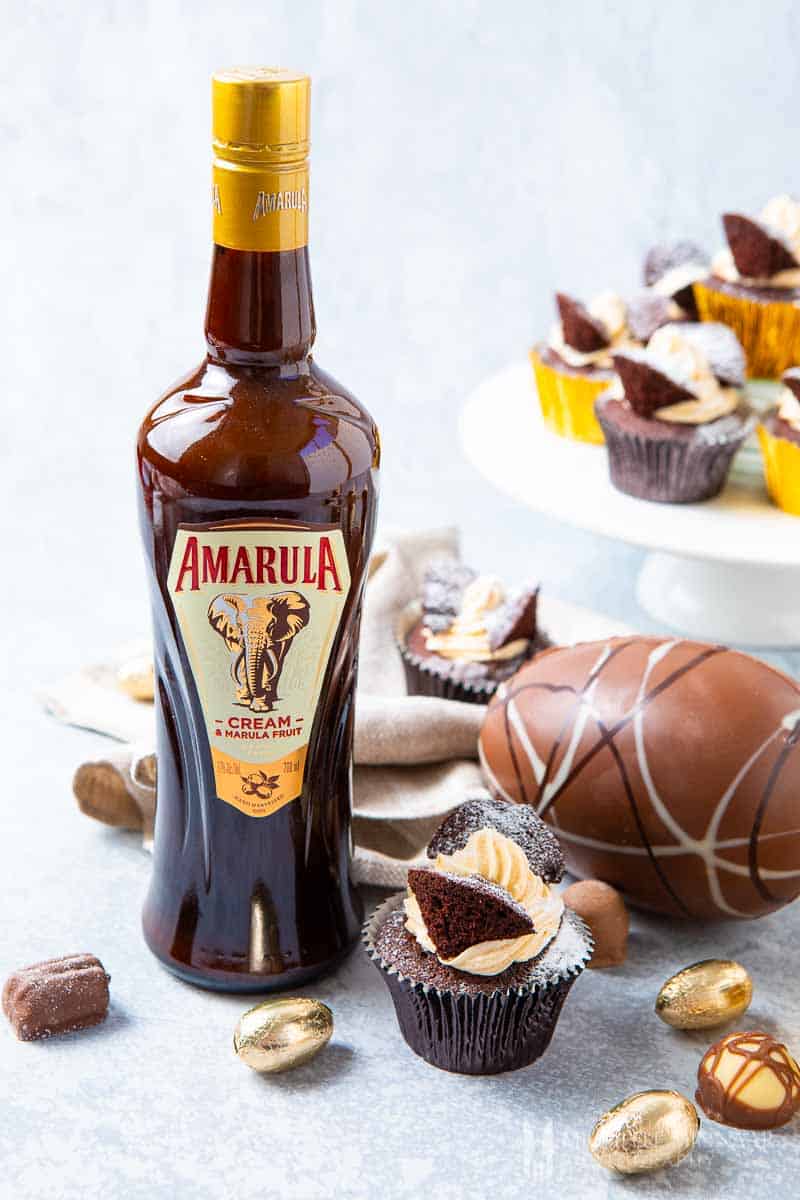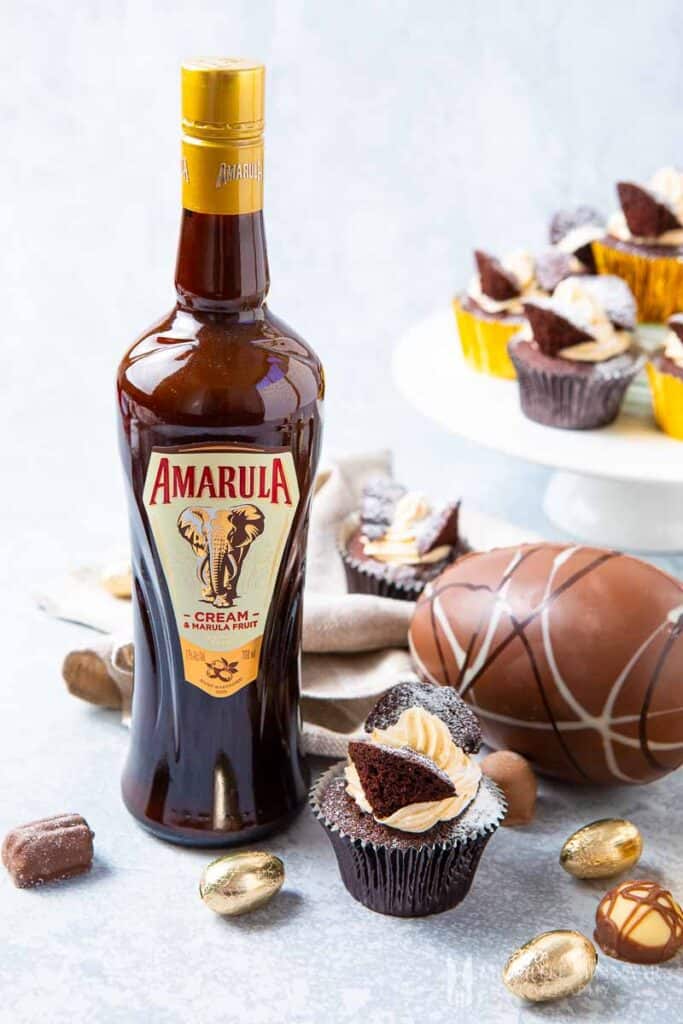 Finally, the marula wine is blended with dairy cream, to create Amarula. The result is a rich, velvety texture with a fruity taste that explodes in your mouth. So, as you savour this one-of-a-kind South African liqueur, think of the elephants who travel so far for a taste. And think of the love and dedication that goes into making Amarula.
The taste of the marula fruit
So, what does the marula fruit taste like? Even when ripe they are quite tart, with a rich, velvety nutty taste. Then there's a hint of citrus, with a mix of ripe pears, passion fruit and guava.
There's no wonder the fruit is so revered by the animal kingdom. It's not just the rambling elephants that feast upon the fruit of the marula tree. Many African animals, like rhinos, giraffes and monkeys can't get enough either!
In fact, legend has it that the nomadic elephants wait for the fallen fruit to ferment. Then they get a little tipsy under the African sun.
Well, who can blame them? After such a long, gruelling journey, you'd need something to take the edge off!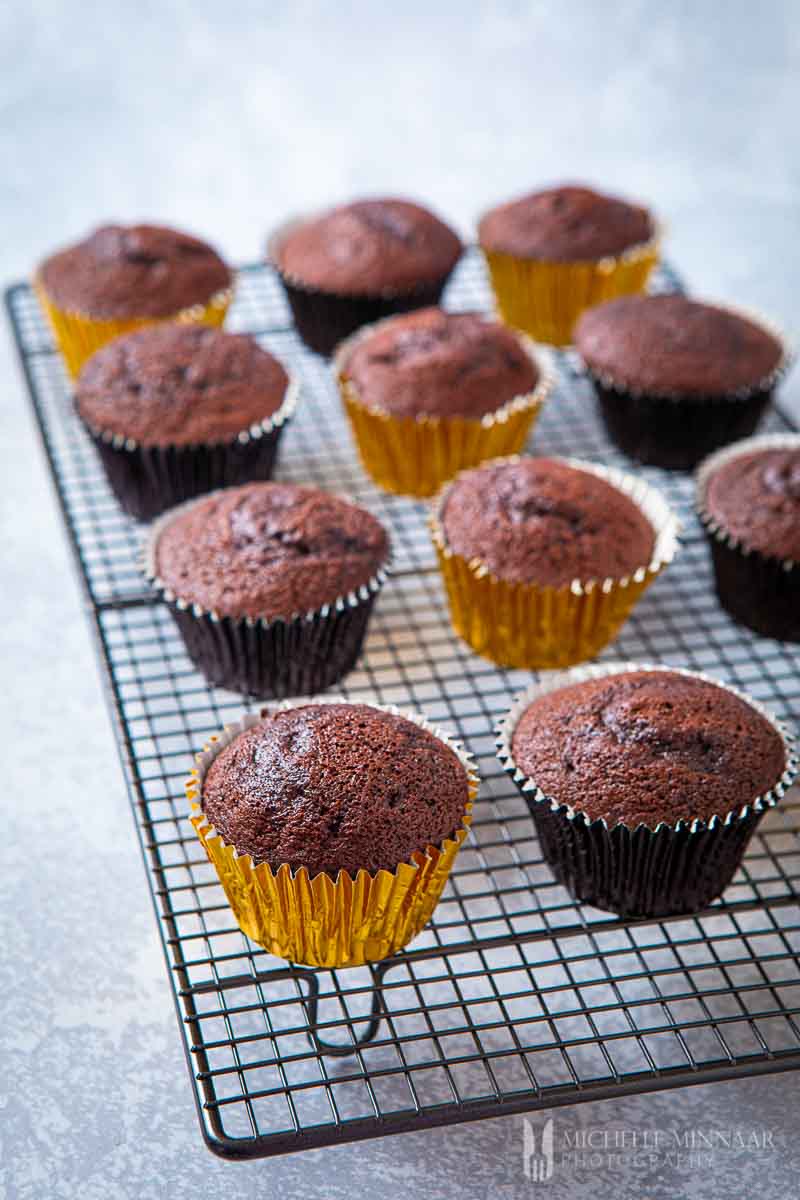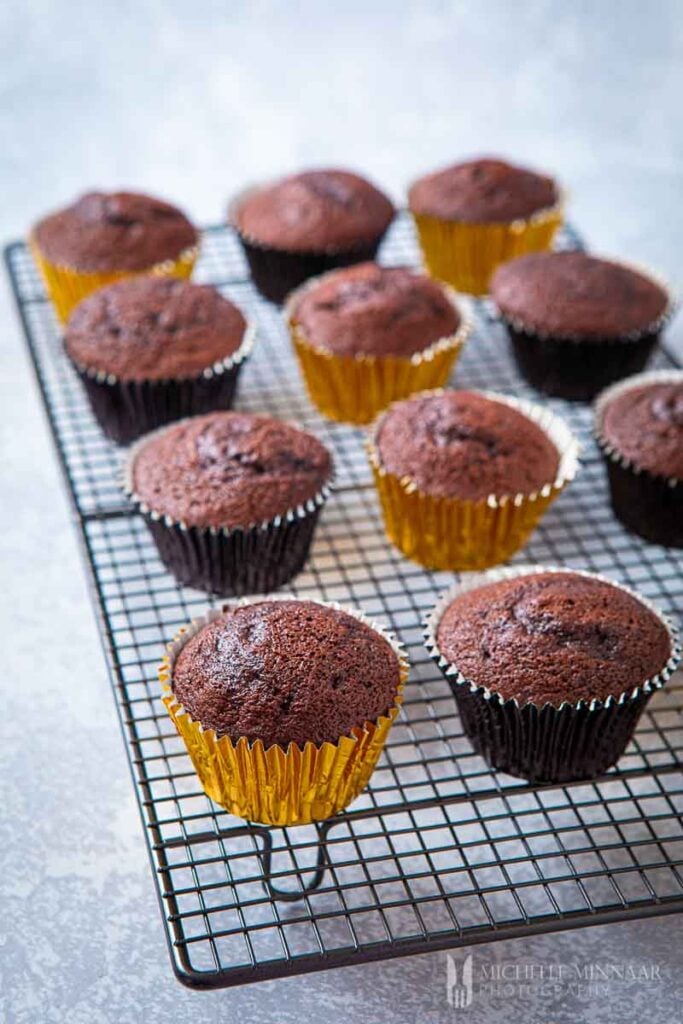 Amarula chocolate fairy cakes
With its unique taste, Amarula is the perfect complement if you want to make an irresistible dessert. With a flavour that can hit you with anything from guava, mango and strawberry to pear, caramel and vanilla, the sumptuous South African cream liqueur goes perfect with a sweet treat.
Because of its creaminess, it goes particularly well with chocolatey cakes and desserts.
Amarula buttercream
In this recipe, the Amarula buttercream that's spread on top of each cake will make all the difference. Once the cakes are in their cases, the Amarula buttercream is piped on top of each. Then you'll have chocolate fairy cakes Mary Berry would be proud of!
As you make your buttercream, blending your icing sugar with your butter, you'll slowly pour the Amarula in. The icing sugar and butter will combine to form a rich butter cream that will take each cake to another level. Then you'll add the Amarula and you'll take each cake to another planet!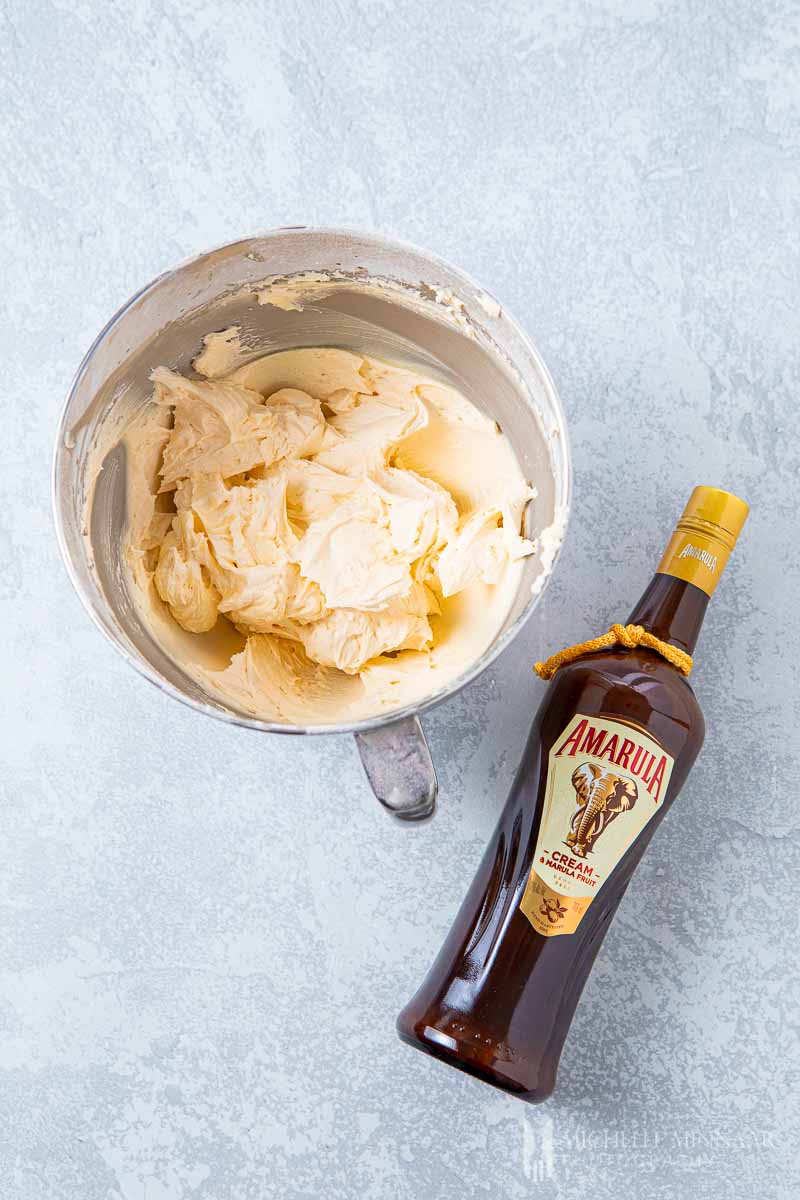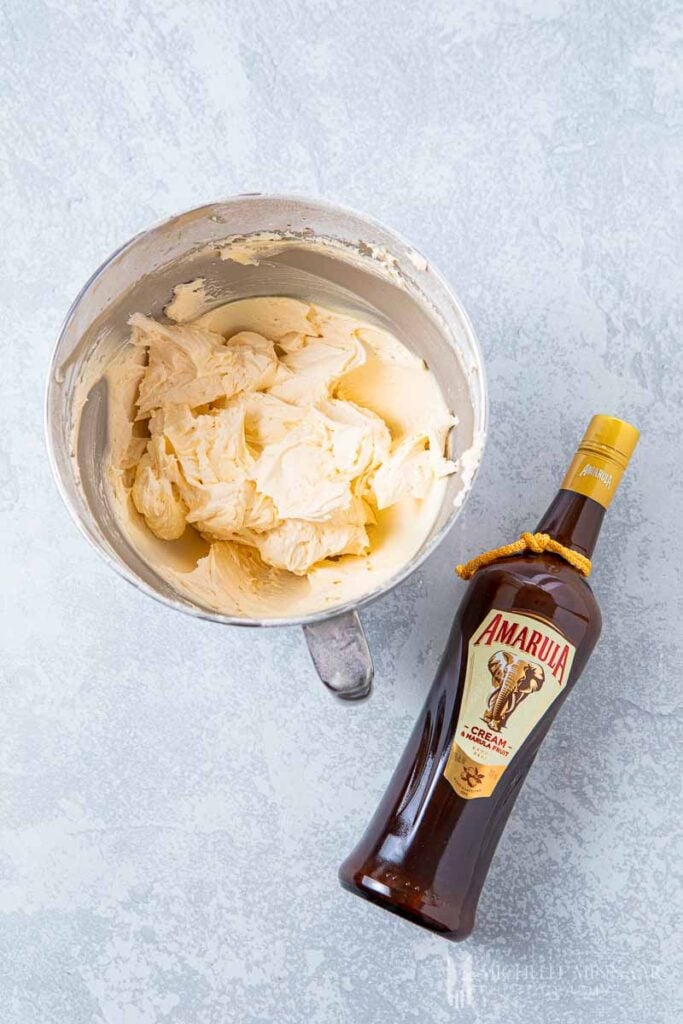 Other amazing Amarula recipes
Once you've sampled the unique taste of Amarula, you'll want to start experimenting by using it to make different desserts. Here are a few great recipes to get you started.
Don Pedro drink – an indulgent dessert beverage that's out of this world
Malva pudding – a decadent South African pudding that, once tried, you'll never forget
Amarula cheesecake – believe it or not, cheesecake just got even better
Where did fairy cakes originate?
They've been around in England for hundreds of years! A simple combination of ingredients (eggs, flour, icing sugar etc.) was used to create a delicate sponge.
Each cake was often baked in individual cases or cups (from which the American term 'cupcake' came). The cases were either pottery cases, ramekin cases or molds (this is way before paper cases).
Traditionally, the cakes would have their tops cut off and a layer of jam spread across the sponge. Then each cake would have the top put back on (often in the form of 'wings') and the cakes would be put back in the oven.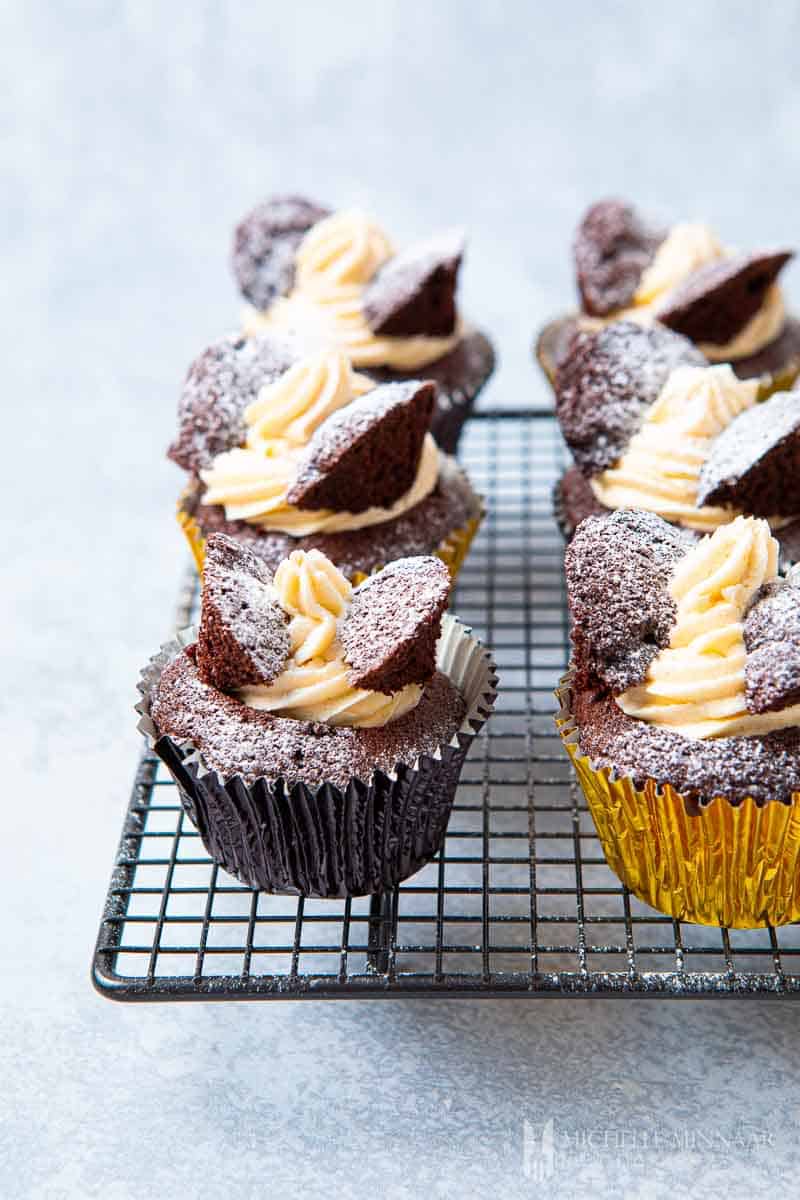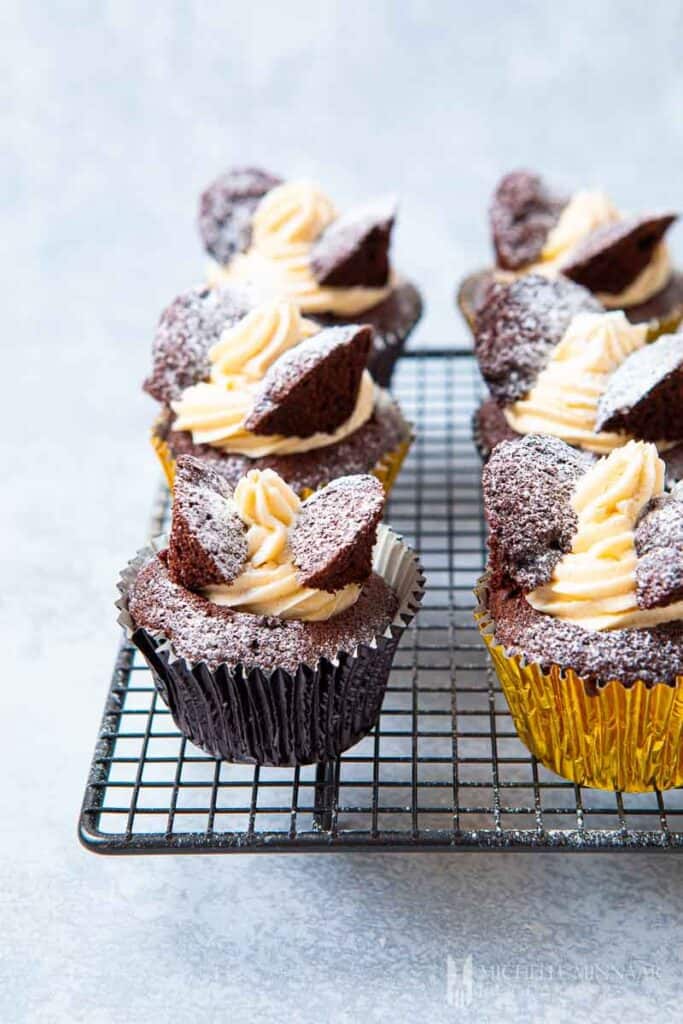 Where did their name come from?
One reason for the name of the cake is because of its small size. While these chocolate fairy cakes aren't the smallest, traditionally this type of cake would be a dainty little delight.
The most obvious fairy-like feature, and the main reason for the name of these cakes, are the 'wings'. With my recipe, the tops of each cake are sliced off. They then become the wings of the chocolate fairy cakes.
Then again, it's an enchanting little cake, just like fairies. So their magical qualities no doubt have something to do with the name of these cakes!
What's the difference between fairy-cakes and cupcakes?
A fairy cake is usually lighter, baked to a light Victoria sponge and topped with a modest amount of icing. Its more decadent cousin, the American cup cake, is often a denser cake, with a more elaborate frosting on top.
They tend to be richer – for example, an American version would use far more cocoa powder than typically English Mary Berry chocolate cupcakes. They also use more sugar (icing sugar and caster sugar), and are much larger cakes than their English counterparts.
Of course, times change and definitions get blurred. Nowadays, the terms can be mixed and matched.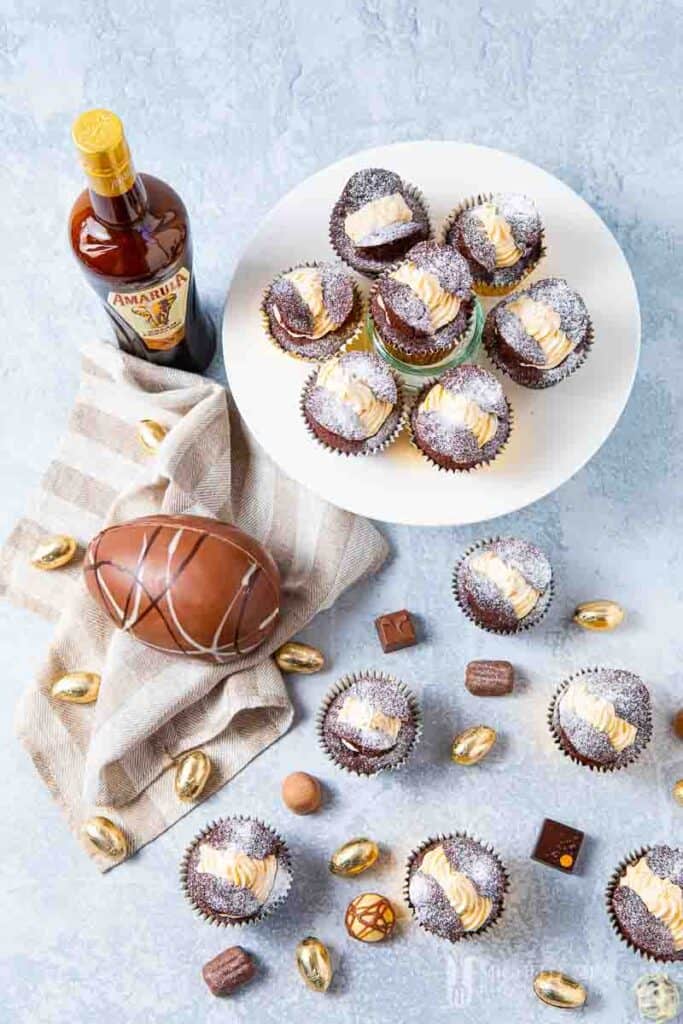 Some amazing cupcake recipes
Check out these great South African recipes
Amarula is truly is the taste of South Africa! But it's just one example of the many colourful creations and culinary sensations to be found in South African cuisine.
Not enough people have discovered the joys of South African cooking. So, why not try some of these national favourites and discover a whole new food culture?
Print
Chocolate Fairy Cakes with Amarula Buttercream
---
Description
Chocolate Fairy Cakes with Amarula Buttercream is an adult-only dessert best served on special occasions such as Easter and Christmas. So lush!
---
Fairy Cakes
Amarula Buttercream
---
Instructions
For the Fairy Cakes: Preheat the oven to 180°C / fan 160°C / 355°F / gas mark 4.
Line two muffin tins with paper or foil cases.
Place the flour, cocoa powder, baking soda and powder in a bowl and set aside.
Using a stand mixer, cream the butter and sugar until light and fluffy.
Add the eggs and vanilla, then beat well.
Alternate between adding a bit of the flour mixture and a splash of milk at a time, while mixing, until you run out of both ingredients.
Fill the cake cases ¾ full.
Bake for 15 minutes, or until cooked through. Do the traditional skewer test - when inserted it should come out clean.
Place the cakes on a cooling rack and leave cool completely.
For the Amarula Buttercream: Using a clean bowl, whip the butter in a stand mixer on a low speed.
Add all the icing sugar systematically and beat until well incorporated with the butter.
While the mixer is running, slowly pour in the Amarula until it's well combined. The consistency should be soft but ready for piping. If it's too soft, transfer the buttercream to the fridge to harden up a bit.
Decorating the Fairy Cakes: Using a knife, cut the tops off the cupcake and cut the circle in half. Repeat until all the cakes have been dealt with.
Pipe the Amarula Buttercream onto each cake and top with the semi-circles to create "wings".
Decorate with special extras such as mini eggs if the occasion is Easter, or sprinkles and chocolates of your choice. Enjoy!
Prep Time:

30 minutes

Cook Time:

20 minutes

Category:

Dessert

Method:

Bake

Cuisine:

English
Keywords: chocolate fairy cakes, easter cupcake recipe, amarula buttercream, amarula liqueur recipe, adult fairy cake recipe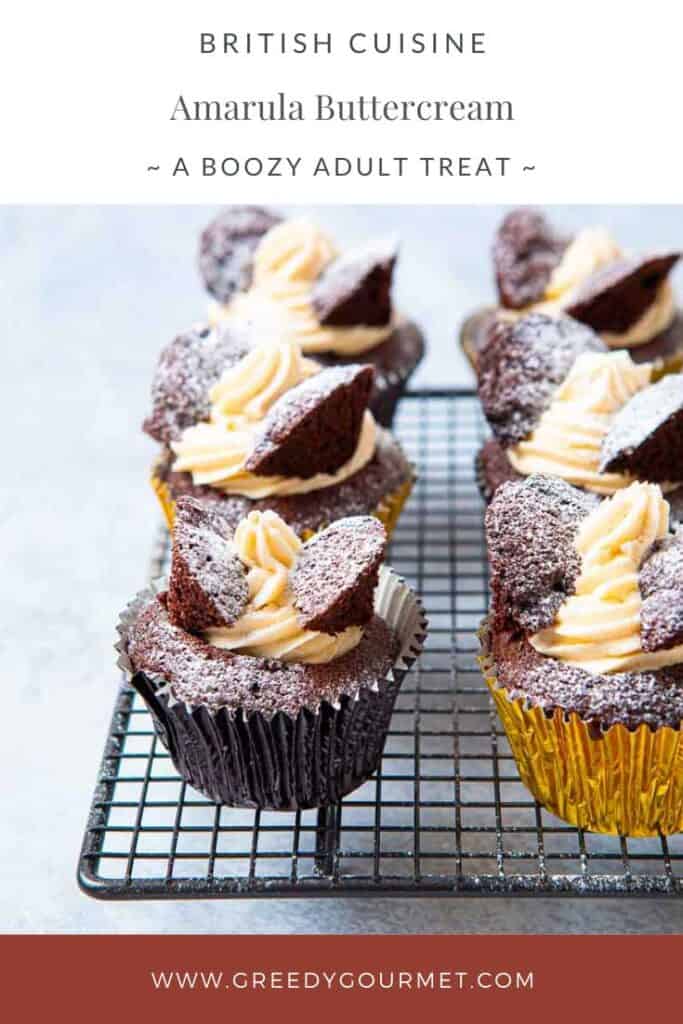 P.S. This is a sponsored post.