Don't dare to miss out on this incredible chocolate orange cheesecake! It is luscious, creamy and just the best type of cheesecake you can serve for holidays or special occasions.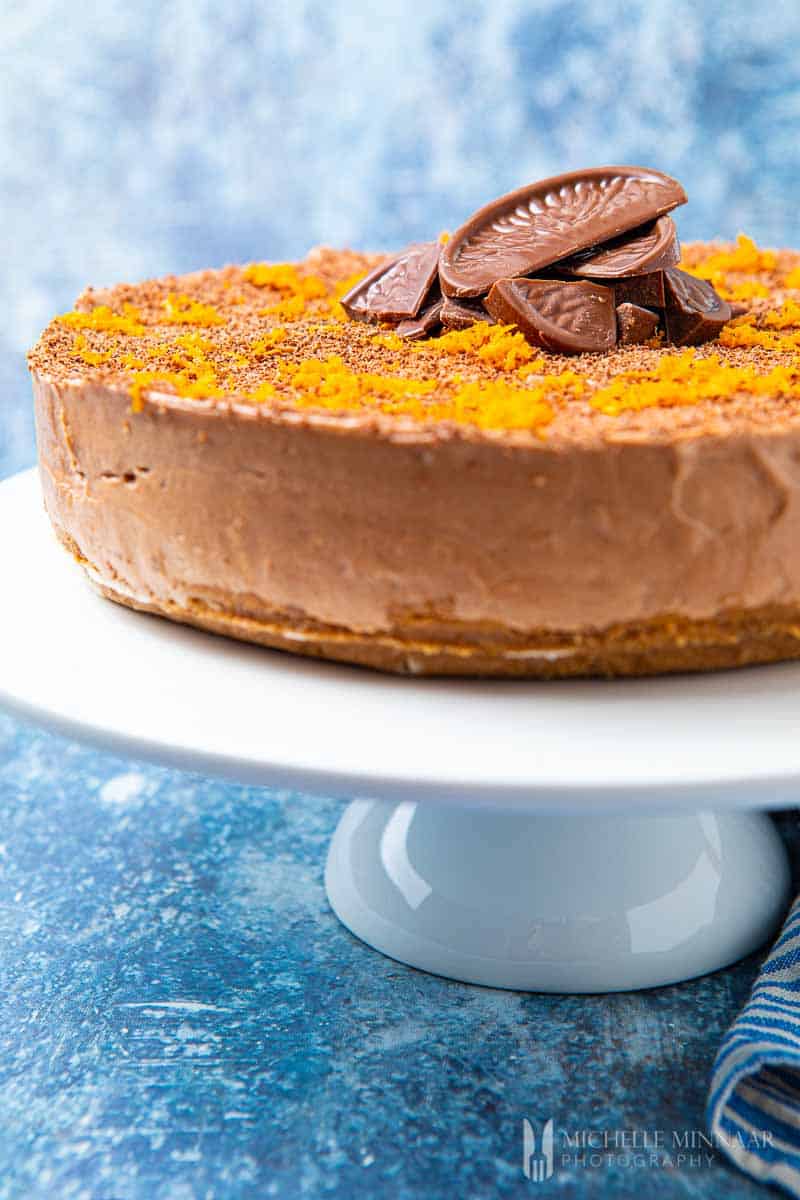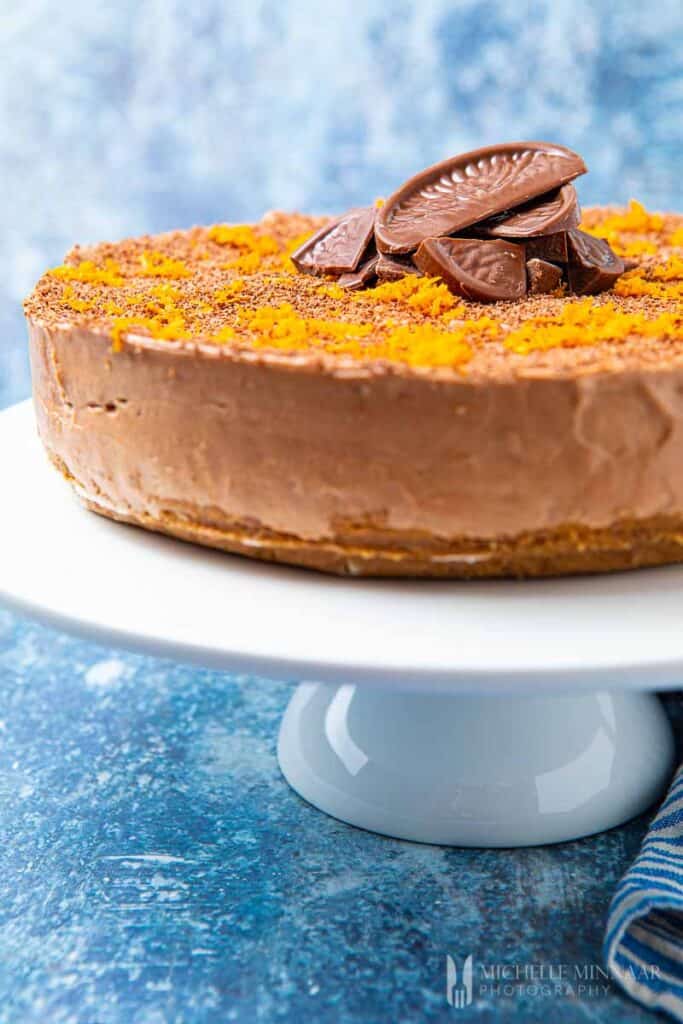 The classic British combination of dark chocolate and orange is one that never gets old. Most importantly, this combination is a must when it to winter and the relevant holidays, like Christmas or Hanukah.
That being said, whenever I think of chocolate and orange, my mind goes straight to those candied orange slices covered in dark chocolate. If you are a lover of this candy, you might want to learn more about this irresistible cheesecake recipe that I have made on the account of incorporating the rich Christmas flavours into other desserts.
This chocolate orange cheesecake is an excellent way how to benefit from the combination of chocolate and orange. The flavours run subtly through the cheesecake. In combination with the creamy cheese filling, it is absolutely to die for!
Here comes the best part. You can make this chocolate orange cheesecake in an hour. That's right. The difficulty level of this cheesecake recipe is easy. Any person can make it.
In addition, it's an excellent recipe to try with your kids as it doesn't involve any baking or cooking. Just mix the ingredients and you're good to go. So, invite your kids into the kitchen and let them join in on the fun of cheesecake making.
Chocolate orange cheesecake
Making this chocolate orange cheesecake is easy peasy. In essence, it is a no bake cheesecake that only calls for a handful of ingredients.
Altogether, you are going to need cream cheese, biscuits - for the base, milk or dark chocolate, orange extract, sugar, butter and double cream. The best part is, that you can easily tweak this recipe in any way you want to satisfy your taste buds.
For instance, as mentioned before, you can substitute the milk chocolate for dark chocolate. This will give the cheesecake a richer flavour. Next, you can also alter between the types of cookies you want for the base.
Tip: Select your favourite brand of cookies and crush them. Just make sure that they are dried or simple cookies. Chocolate chip cookies or cookies with a layer in between them, like Oreos, will not work.
If you happen to have leftover cream cheese and have no clue what to do with it, here are a few cheesecake ideas:
Or you can try these baked cheesecake recipes:
Another recipe that will definitely put you in the Christmas spirit is boiled custard.
Chocolate cheesecake with Breville
What is your favourite dessert? Do you think this chocolate orange cheesecake would rank high with regards toUK's favourite desserts? My guess is absolutely! Thanks to Breville, we have the answer!
Breville is a leading company which specialises in high quality small kitchen and cooking appliances. They are supplier a range of products, anywhere from hot water dispensers, toaster sets, waffle makers, irons, and much more. In sum, you'll be able to find any type of appliance you may need for the kitchen.
Recently, Breville launched an insightful campaign to find out which are the UK's top 10 favourite desserts! Do you have any guesses? Breville took the time to explore Google search data, to give you the answer. Here are the results:
Apple crumble - 15%
Victoria sponge - 15%
Carrot cake - 10%
Jelly - 10%
Bread and butter pudding - 9%
Cheesecake - 9%
Churros - 9%
Red velvet cake - 8%
Scones - 8%
Banoffee pie - 7%
Interesting, isn't it? What's more, is that Breville provided the results for top desserts depending on the region in the UK. For instance, apple crumble triumphs in the North East and in the London area, whereas the Victoria sponge wins in the Midlands, East and South West of the UK.
To find out more about which dessert reigns in your area, click right here. Also, find out how Brits' palates for dessert have changed over time.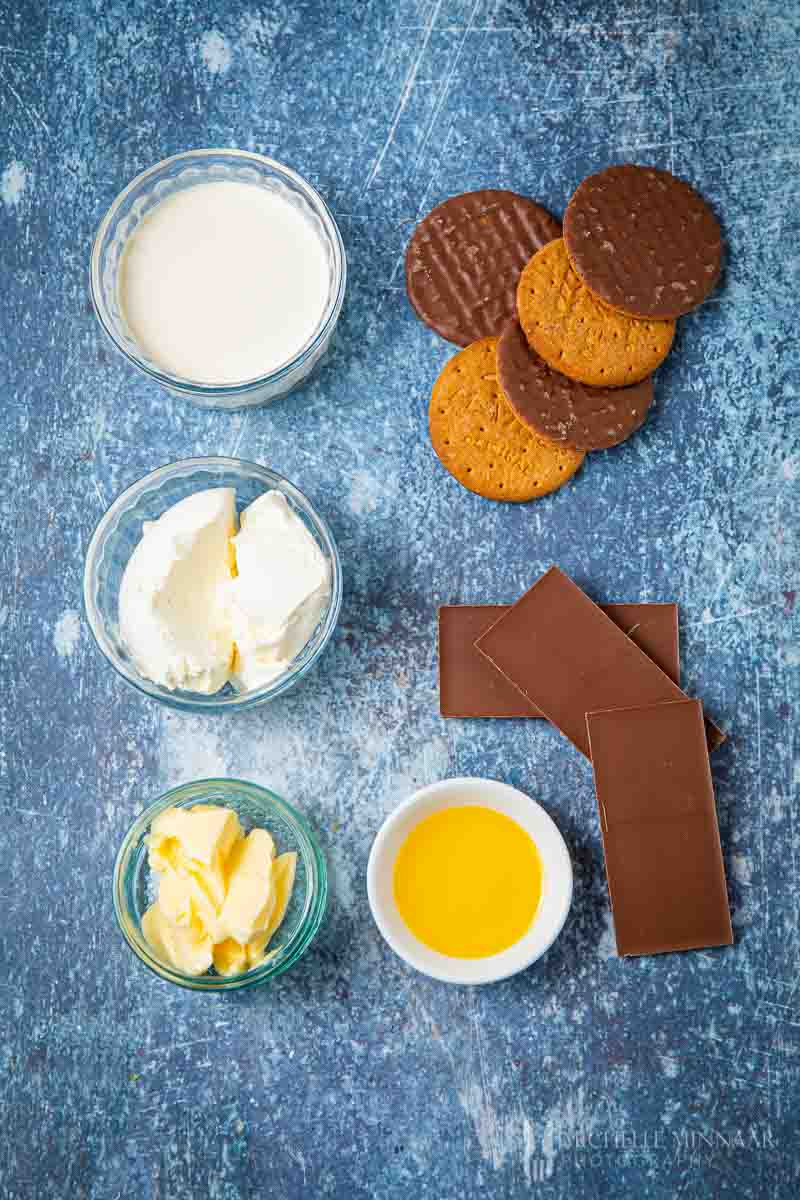 Double chocolate orange cheesecake
If you would like to make this chocolate orange cheesecake even richer, then you can make a double chocolate orange cheesecake. You can do so in two ways.
First, you can incorporate even more chocolatey flavours into the cream cheese filling. Just add 30ml (2 tbsp) of quality cocoa powder. The cocoa powder will not ruin your cheesecake consistency. On the contrary, it will add a richness that will play well with the orange flavours.
Otherwise, you can consider adding a chocolate topping or a chocolate glaze. For instance, you can use this chocolate fudge sauce to cover up the cheesecake in chocolatey goodness. Sinful, I know, but oh so good.
There are other toppings which you can consider for your cheesecake. Here are just a few ideas:
Do you have any other preferred toppings for this chocolate orange cheesecake? Let me know in the comments section below.
White chocolate orange cheesecake
You can also swap the milk or dark chocolate with white chocolate in this chocolate orange recipe. Beware, white chocolate is generally much sweeter. You might need to add extra orange extract to balance the level of sweetness.
Otherwise, you can also consider adding vanilla beans, vanilla essence or vanilla extract to enhance the flavour of the white chocolate. To learn more about the difference between vanilla essence and vanilla extract, click here.
In short, I recommend sticking to the dark or milk chocolate. It works better with the orange.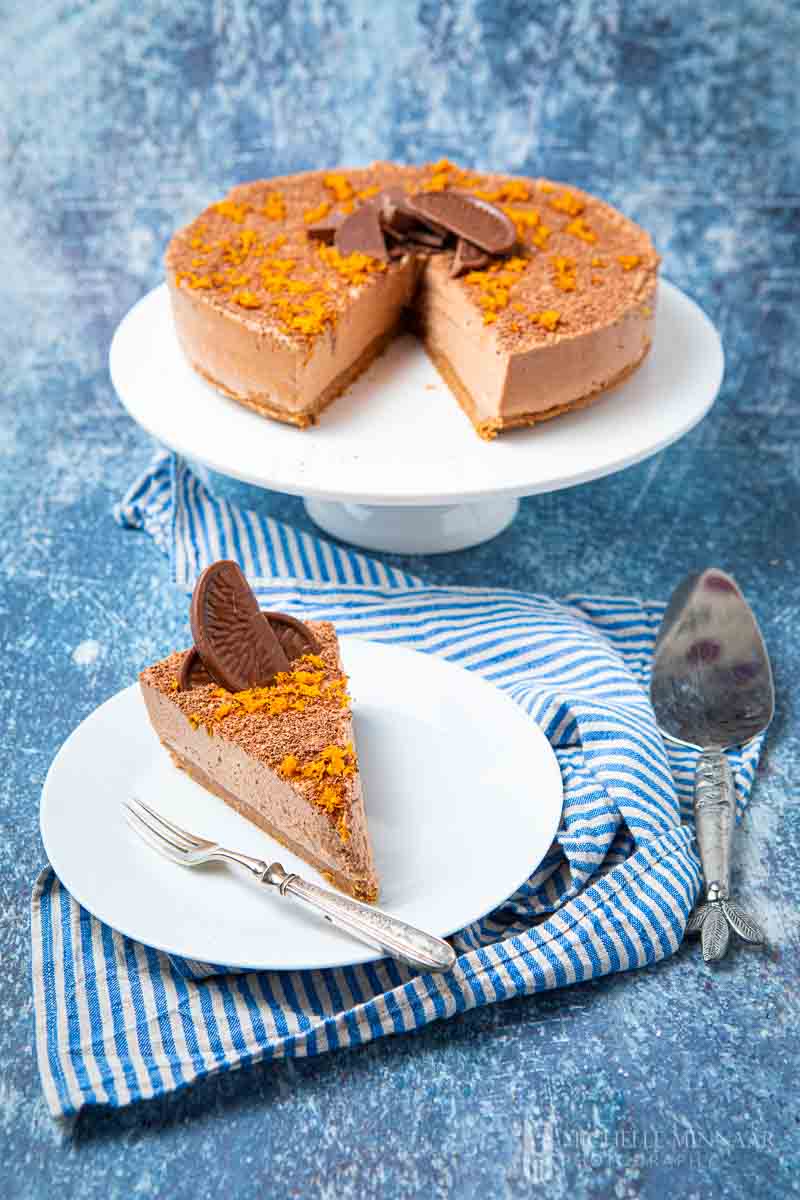 Best substitute for orange
If you would like to make a fruity yet rich cheesecake like this chocolate orange cheesecake recipe, here is a list of fruits which work well with chocolate:
Such a luscious cake should be celebrated with a glass of Madeira wine, which would pair perfectly. Otherwise, try these Madeira wine substitutes.
Print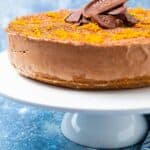 Chocolate Orange Cheesecake
---
Description
Learn how to make this chocolate orange cheesecake recipe in a few easy steps. Orange and chocolate works perfectly together in desserts.
---
300

g

(3 cups) chocolate digestive biscuits, crushed

150

g

(2/3 cup) butter, melted

360

g

(2 cups) milk chocolate, chopped

340

g

(1 1/2 cups) cream cheese

150

g

(1 1/2 cups) icing sugar

5

ml

(1 tsp) orange extract

300

ml

(1 1/2 cups) double cream
---
Instructions
For the Biscuit Base: Crush the biscuits in a sealable plastic bag with a rolling pin until everything turns into crumbs.
Mix the butter with the crumbs.
Spoon the mixture into the base of a 23cm (9in) springform cake tin and level with the back of a spoon.
Place the base in the fridge for 1 hour to set.
For the Cheesecake Filling: Melt the chocolate in a separate bowl. See Notes.
Meanwhile, whisk the cream cheese, icing sugar and orange extract until combined. 
Systematically, whisk in the melted chocolate into the cream cheese mixture.
Whip the double cream in another separate bowl until soft peaks form.
Fold the chocolate cream cheese mixture into the whipped cream, a quarter of the cream cheese mixture at a time.
Transfer the filling to the tin and spread evenly over the biscuit base.
Chill in the fridge for at least 6 hours but preferably overnight. 
Decorate with grated orange zest and chocolate pieces. Enjoy!
Notes
There are two ways you can melt the chocolate for the cheesecake filling. Firstly, you can do it in a bowl over a pan of simmering water. Or, you can give it short zaps in the microwave until everything is melted, giving it a stir in between.
You can add more orange extract if you prefer. Taste and tweak!
If you can get hold of actual orange-flavoured chocolate, you can substitute the milk chocolate and orange extract with 400g (2 cups) chocolate orange. 
Prep Time:

60 minutes

Cook Time:

5 minutes
Keywords: chocolate orange cheesecake, christmas cheesecake recipe, chocolate orange recipe, christmas dessert recipe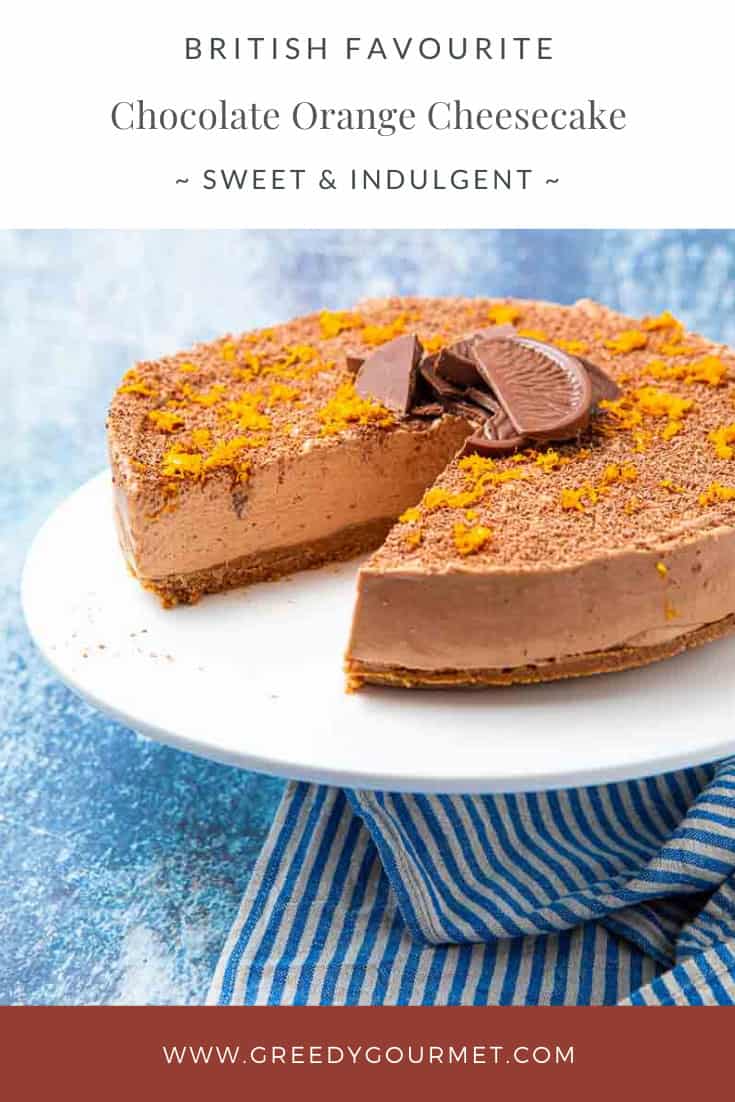 P.S. This is a sponsored post.