Are you ready to make the most delicious Christmas chocolate dessert of all time?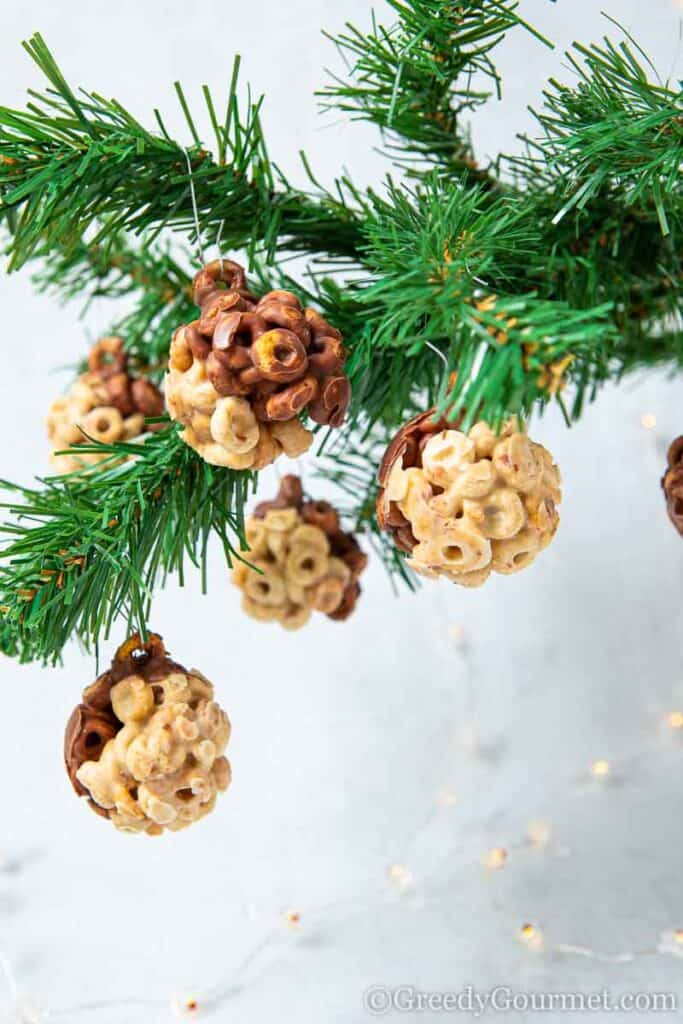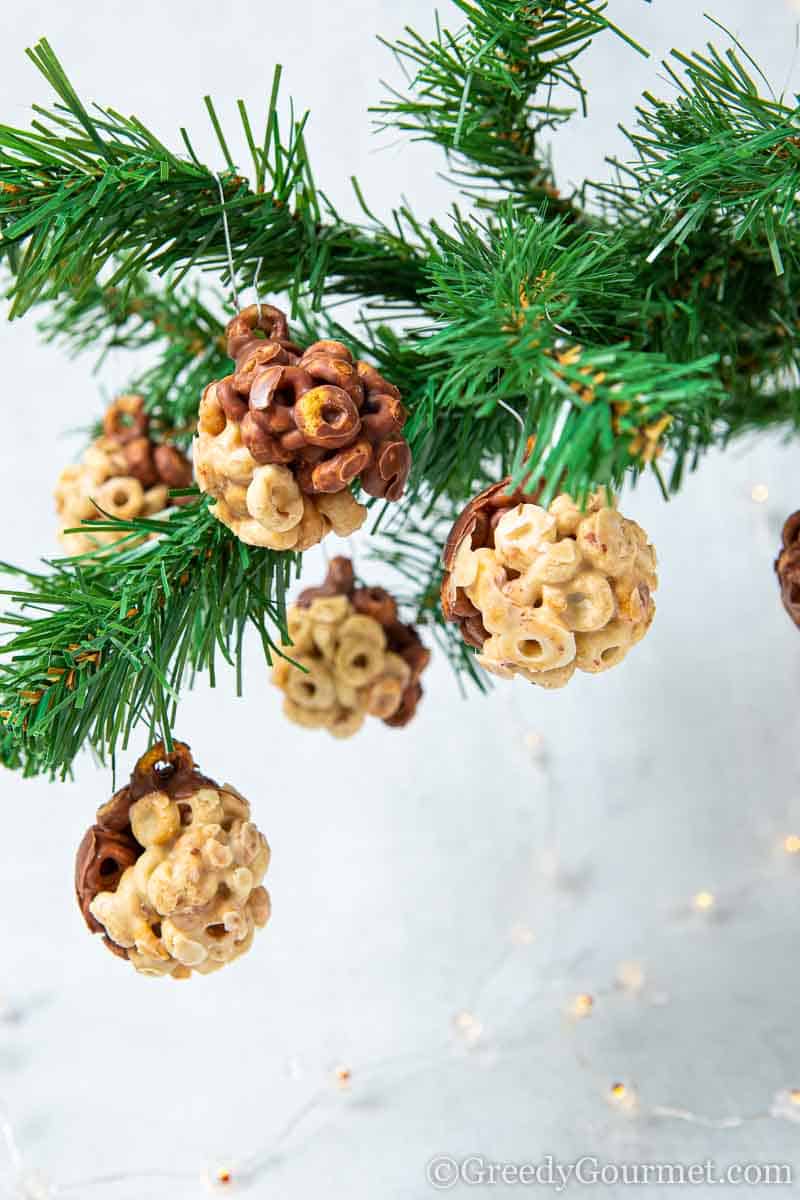 I'm serious! People go crazy for Chocolate Cheerio baubles! These are the perfect homemade Christmas treats.
So, if you want to create a memorable festive treat for your kids, or make irresistible gourmet gifts for your friends, this Chocolate Cheerio baubles recipe is for you.
Products you need for this recipe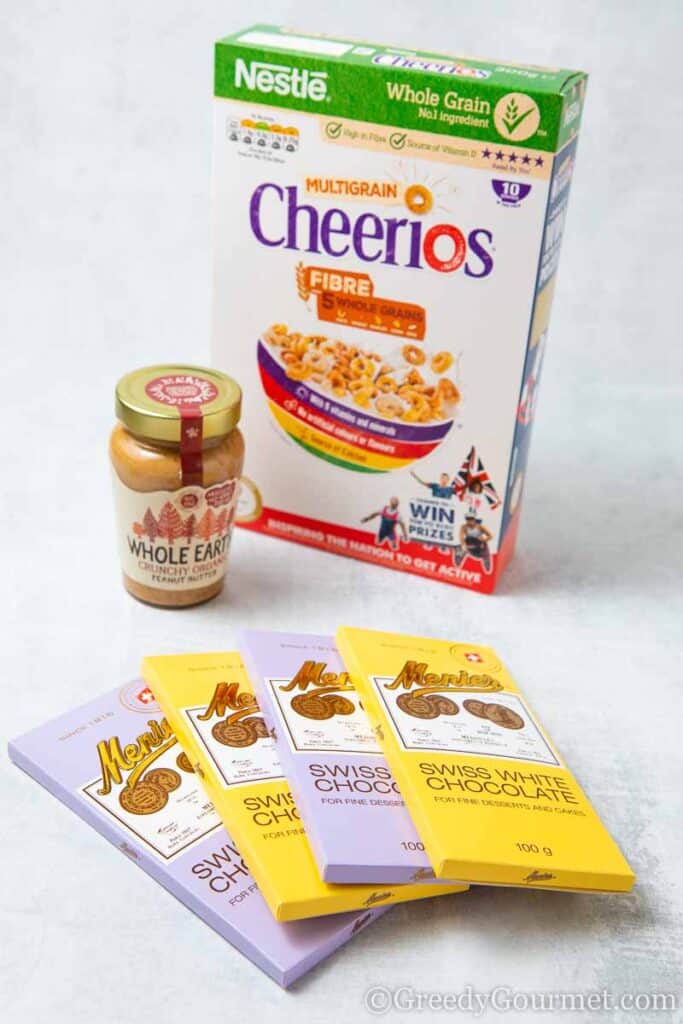 Chocolate Cheerio baubles recipe
Call off the diet! 'Tis the season to be merry and bake some indulgent Christmas treats. When it comes to indulgence, this fun, festive crunchy chocolate Cheerios recipe is as good as it gets.
If you're young at heart, you'll fall in love with these little Christmas bauble treats. As for kids... well, they'll be in dreamland! They can even help make them, which will make the Christmas chocolate snacks even more irresistible.
It's a super simple recipe to make. First you melt the dark, or plain, and white chocolate in two separate mixing bowls.
Then, to turn the decadence up a notch, you add crunchy peanut butter to the melted white chocolate.
Once you've given both bowls of melted chocolate a stir, in go the Cheerios! Like luscious little lifebuoys floating in a sea of chocolate!
Say cheerio to your Cheerios and stir them in so that every last one is covered in delicious melted chocolate.
Now comes the magical part. Take your little acrylic bauble moulds and fill each half with the two chocolate mixtures.
Milk/dark on one side and white on the other. Make sure the mixtures meet in the middle, so that they'll stay solid when chilled.
Try to mix things up a little and use different sized baubles.
Once you've chilled your little baubles for 2-3 hours, you'll have the perfect Christmas chocolate baubles! Next comes my little trick for hanging them on your Christmas tree.
All you need to do is dip a Cheerio in the melted chocolate and attach it to the top of the bauble. Then, chill each bauble on a plate for around 15 minutes.
Once it's chilled, the hoop will be ready. You can now attach your Chocolate Cheerio baubles to your Christmas tree.
Talk about a tasty Christmas decoration!
Can I Substitute Cheerios With Another Cereal?
There are three reasons why Cheerios are great for this chocolate Christmas treat recipe:
They add a satisfying crunch
They don't go soggy
They bulk out the chocolate
If you can't get hold of Cheerios, don't worry. There are a few good breakfast cereals that would work well in this recipe.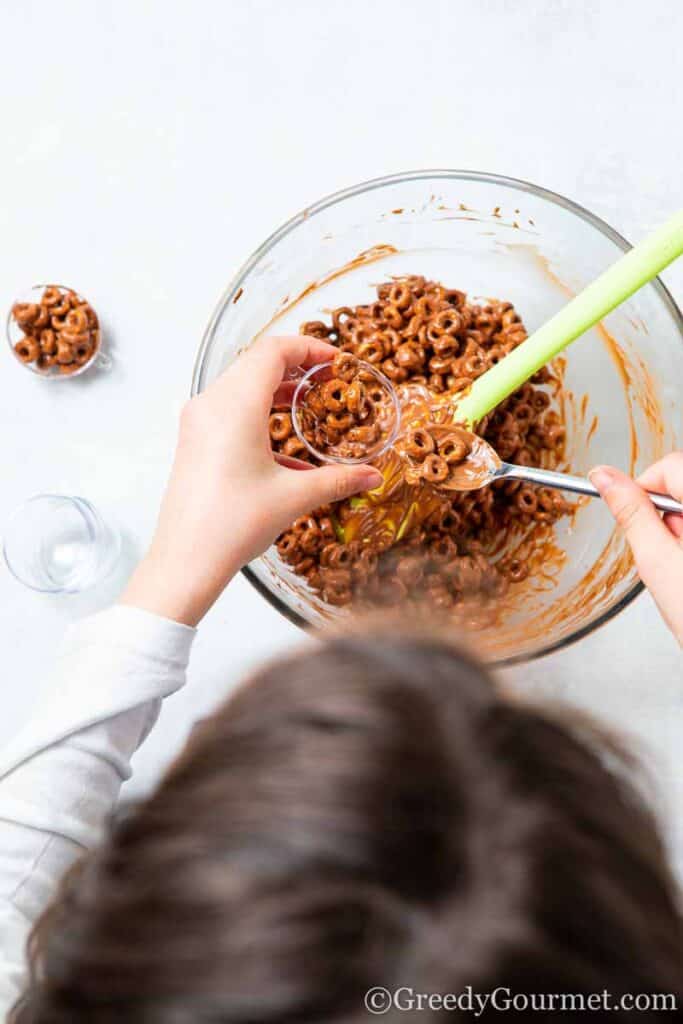 What Type Of Chocolate Should I Use?
People tend to rant and rave about using the best quality, most expensive ingredients all the time. We're not all made of money, though. Sometimes, you can be good to your pocket and get by with the basics.
This isn't one of those occasions! If you buy cheap chocolate, this recipe will taste cheap and nasty. 
Buy the best chocolate you can afford. I recommend a brand called Callebaut. It's a quality Belgian chocolate that's produced specifically for cooking and baking. It tastes heavenly and is worth every penny!
If you're going to splash out on a recipe, it should definitely be this one. After all, it's Christmas!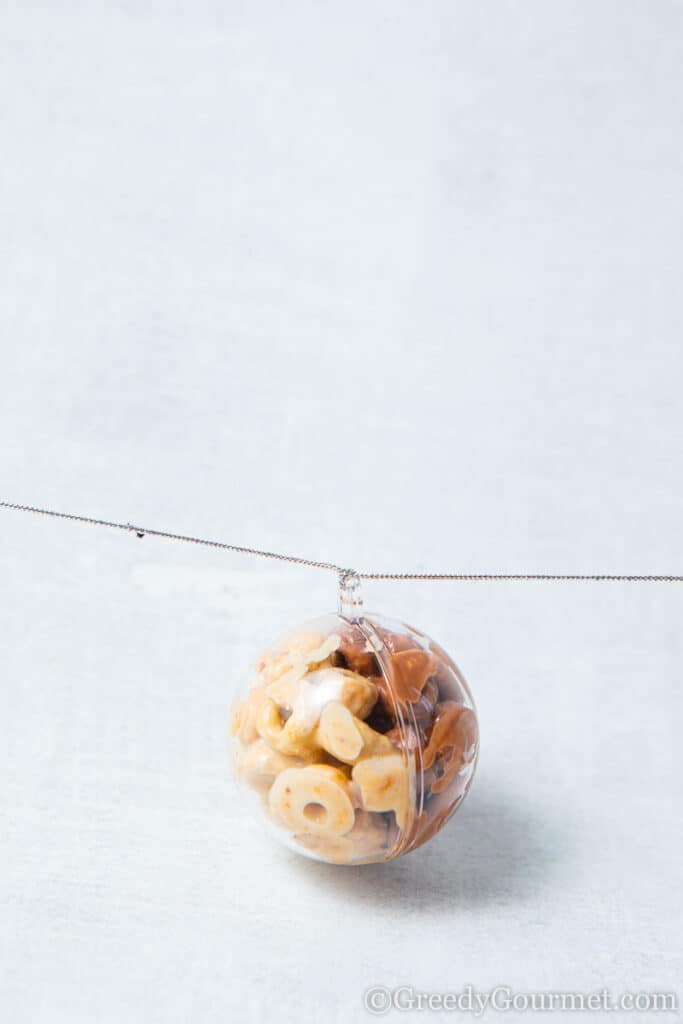 Is there a quicker way to melt chocolate?
If you want to melt your chocolate quickly, you can use a microwave. Place your chocolate in a microwaveable bowl and put it in the microwave, giving it 10-second blasts at a time and stirring after each. It shouldn't take much more than a minute.
More Christmas chocolate treats
You can have a lot of fun with silicone moulds too. They'd be perfect for homemade advent calendar chocolate. You could even make chocolate snowflake lollies with the leftover chocolate.
If you're using small moulds, leave out the Cheerios. Pour the dark chocolate in first because it has a thinner consistency that will capture more detail than the white chocolate.
After you've filled the moulds, give it a shake to get rid of air bubbles.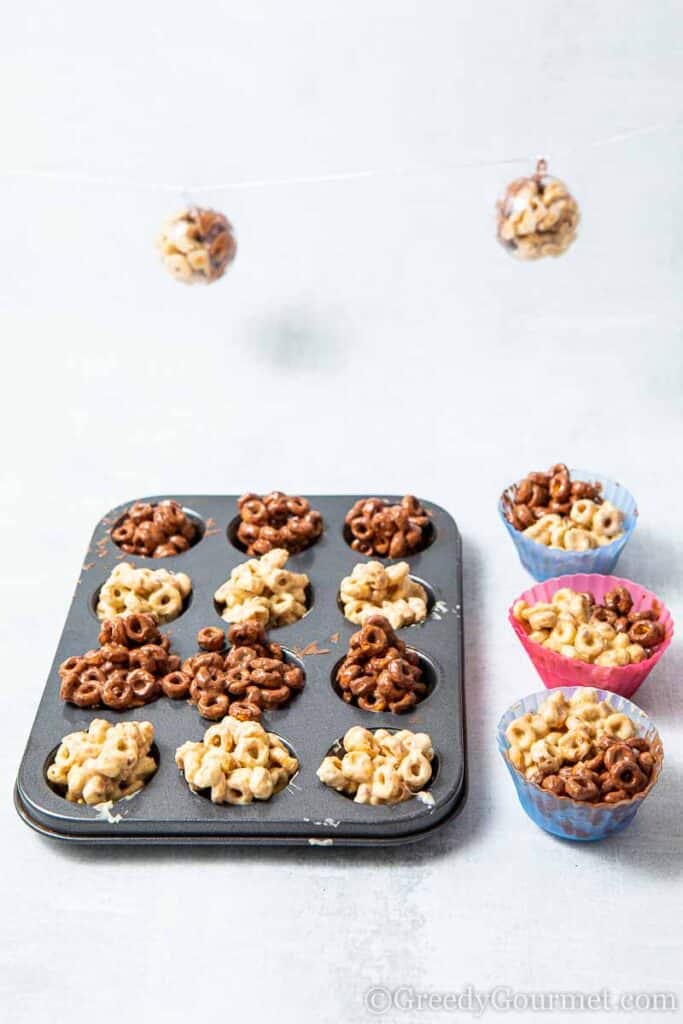 Other desserts to make the kids go weak at the knees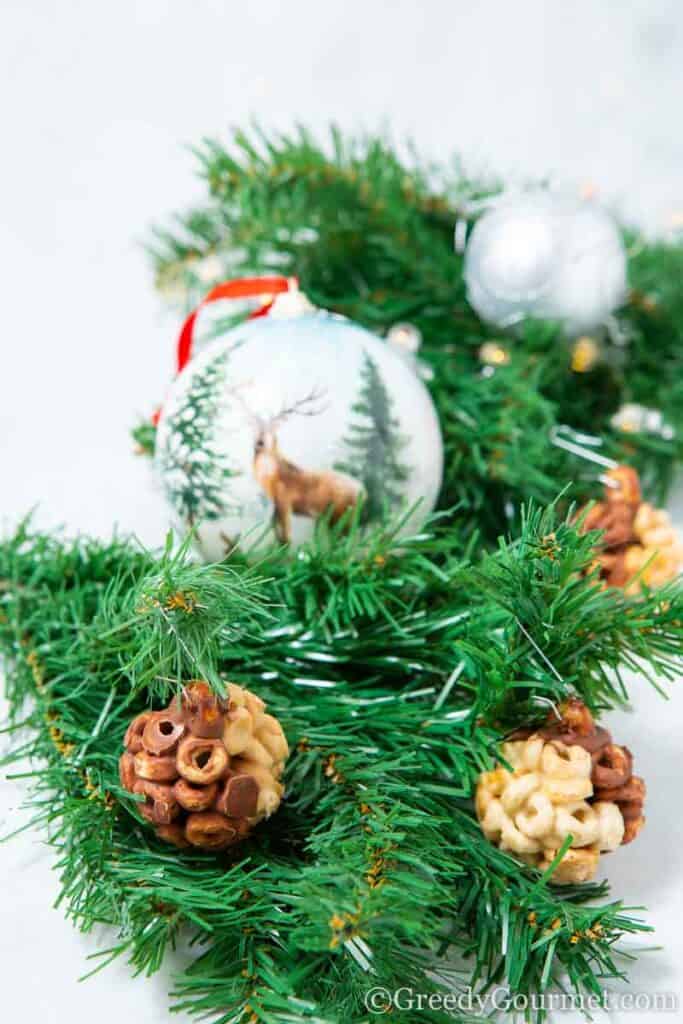 Christmas compilation recipes
When it comes to Christmas recipes, I've got you covered!
Breakfasts, snacks, treats, desserts, side dishes, cocktails, the main event… it's all here, Greedy Gourmet style! So, clear some space in your kitchen, put on your Santa apron and your Rudolph antlers and get cooking!
Print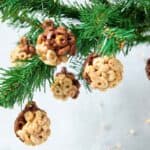 Chocolate Cheerio Baubles
---
Author:

Michelle Minnaar

Total Time:

30 minutes

Yield:

12

servings

1

x

Diet:

Vegetarian
Description
Chocolate Cheerio Baubles are great for Christmas craft activities for children. Using just melted chocolate and Cheerios, you can get so creative.
---
---
Instructions
Melt the dark chocolate in a heat proof bowl set over a pan of simmering water, making sure the base of the bowl doesn't touch the water. Stir until smooth and remove the bowl from the pan.
Melt the white chocolate in the same way and remove from the heat. Add the peanut butter to the white chocolate and stir well until smooth.
Add 33g (1 cup) of Cheerios to the melted dark chocolate and stir thoroughly until all the hoops are covered with chocolate. Add the remaining Cheerios to the melted white chocolate and do the same.
Now you need at least 10 x 5cm (2in) acrylic fillable baubles. Fill one half with white chocolate cheerios and the other with dark chocolate cheerios.
When putting the two bauble halves together, ensure that the fillings are touching each other so that they stick together in the chilling process. Chill for 2-3 hours until firm.
Remove the chocolate balls from the bauble casings.
Melt a bit of chocolate and dip one cheerio in it. Attach the dipped cheerio onto the chocolate ball, which will now act as a hoop for you to hook or string through to allow you to hang it onto your
Christmas tree. Repeat the process, until all balls are transformed into baubles.
Place the baubles onto a plate and chill for 10 minutes.
Use a hook or string to attach to your Christmas tree! Happy munching!
Notes
If you're not keen on dark chocolate, you can use milk chocolate too.
You can also use the microwave to speed things up when melting the chocolate. Remember to give it 10 second blasts and stir in between until it's all melted.
You can use different sized baubles to change things up.
Alternatively, you can create a homemade foodie gift for special occasions such as birthdays and Christmas. This will entail putting all the assembled concoctions in one block. Here's how to do it: Line a shallow tin with greased baking parchment. Drop alternate spoonfuls of each chocolate mix into the prepared tin, then tap the tin to level the mixture. Chill for 2-3 hours until firm. Turn out onto a board and wrap in cellophane. Keep chilled in the fridge until giving it away.
Another option is simply to use a lined muffin tin and filling them with the white and dark chocolate cheerios.
Prep Time:

25 minutes

Cook Time:

5 minutes

Category:

Dessert

Method:

Boil

Cuisine:

American
Keywords: chocolate cheerios, cheerio recipe, cheerio dessert, christmas crafts