An old-school classic, cornflake tart is a terrifically tasty, super simple sweet treat that will leave the whole family wanting more. So, you want to know how to make cornflake tart? You've come to the right place.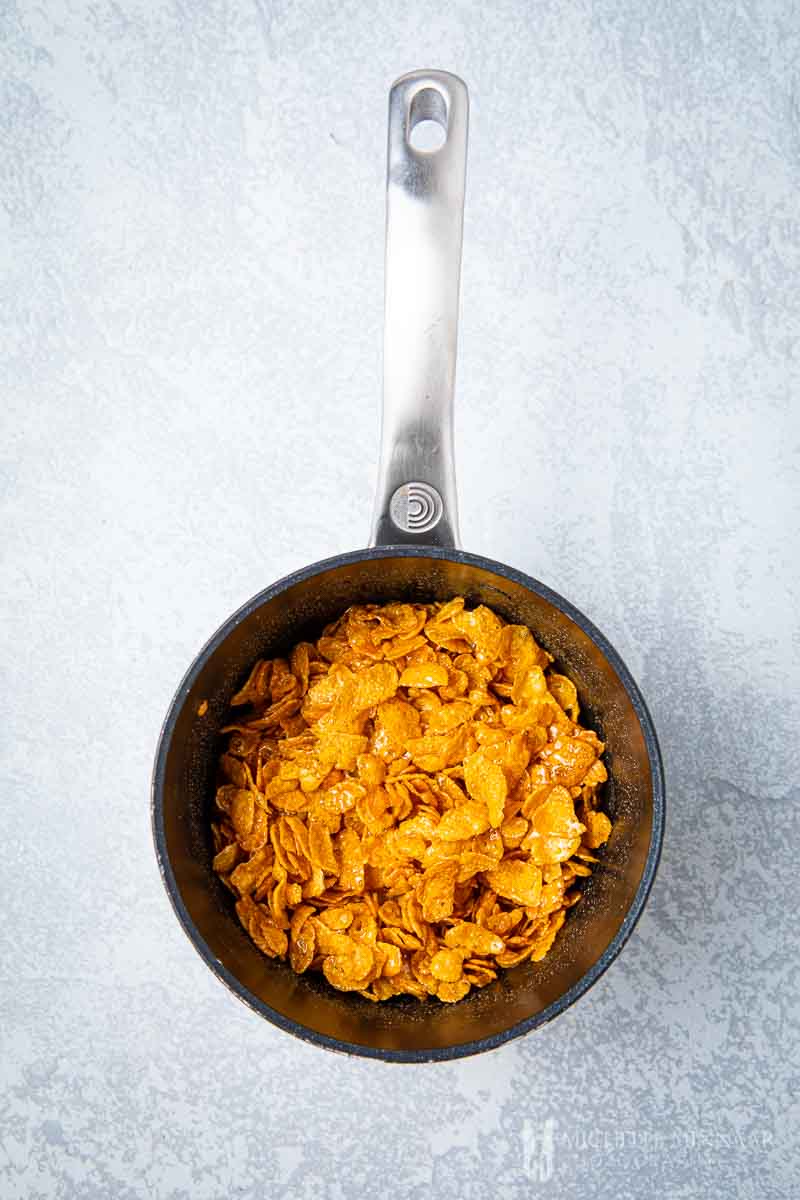 Cornflake tart recipe
If you're old enough to remember cornflake tart, chances are you grew up in the 70s or the 80s. Back then, this crunchy classic was a very popular pudding on school lunch menus up and down the UK.
Nowadays, much like coconut sponge squares and jam roly poly, cornflake tart is hard to find. It's all but disappeared from shops, bakeries and school menus.
But that's not going to stop us from getting a taste of this delicious British classic! Just imagine digging into a buttery, crumbly shortcrust pastry case, spread with rich raspberry jam and lashings of sweet and crunchy cornflakes, drizzled with luscious golden syrup!
So, you've got a sweet tooth to satisfy and you want to know how to make cornflake tart? Well, read on!
equipment you need for this recipe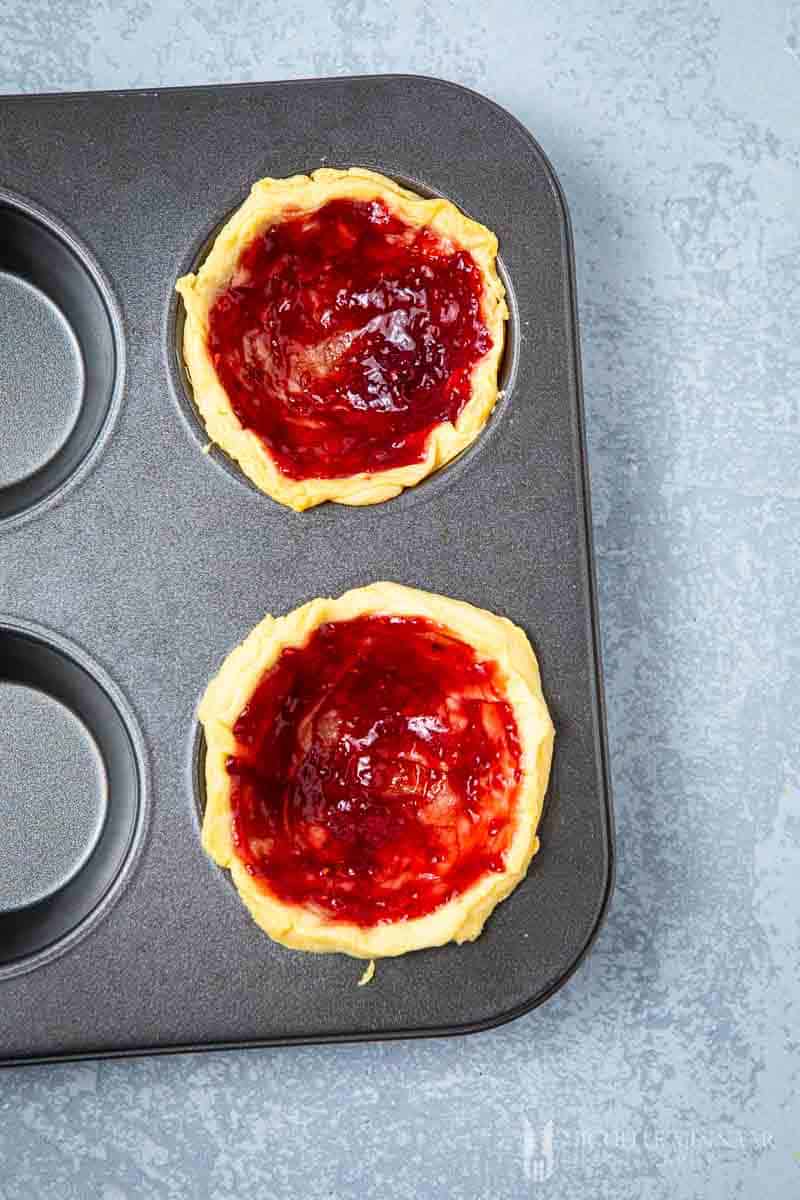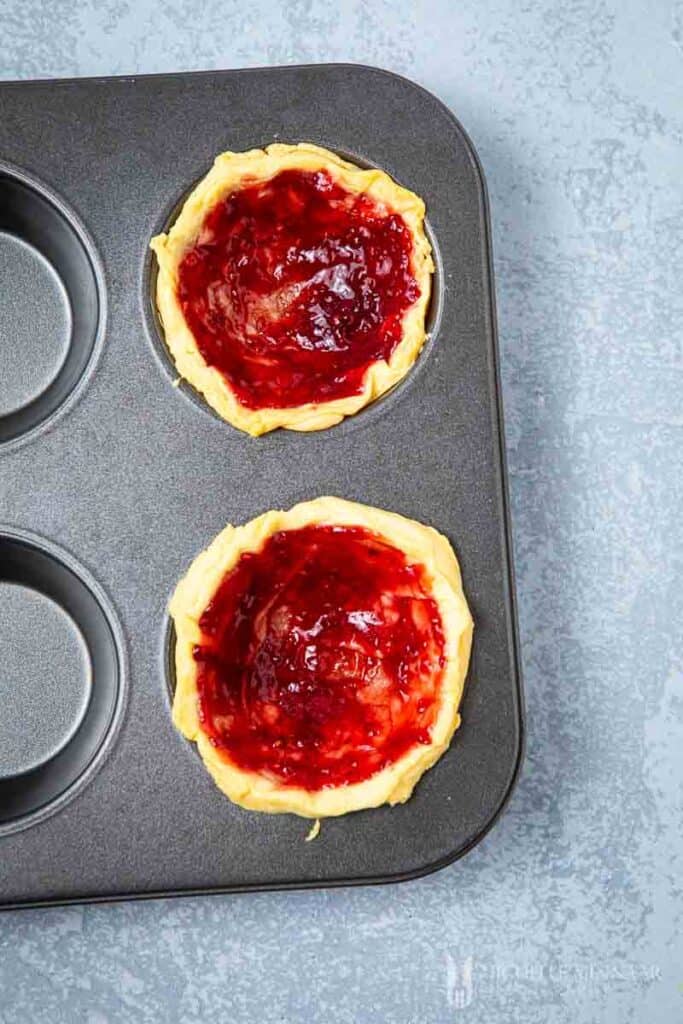 Mini cornflake tarts
If you end up with leftover shortcrust pastry, don't throw it away! Bake a batch of mini cornflake tarts for an extra bit of joy.
And if you've got kids, get them involved! These colourful reusable silicone baking cups are as inviting as the cornflakes tart will be. Or try these silicone cupcakes, which come in a variety of fun shapes. Your kids will be begging to help with the baking and eager to make their own batch!
Once baked, these mini cornflake tarts will make a perfect treat for school lunchbox. With each morsel in its own brightly coloured pastry case, they'll look great! And who knows? They might even revive the cornflake tart trend!
ingredients you need for this recipe
Ready rolled shortcrust pastry – you can always make your own shortcrust pastry from scratch (see above). But if you haven't got the time, this is a good option
Organic unsalted butter – for a rich, creamy taste
Golden syrup – for a lush, melt-in-your mouth texture, use golden syrup
Brown sugar – brown sugar will bring some sweetness to your baking
Cornflakes – go for the classic variety, or add a twist to the recipe (see later)
Raspberry jam – you can use strawberry jam too. Either way, a spread of this secret ingredient across your cornflake tart will give it that wow factor!
where did cornflake tart originate?
Cornflake tart is a classic British dish that is fondly remembered by anyone who grew up in the UK, especially in the 70s and 80s. The combination of the crunch, the luscious golden syrup, the layer of sticky strawberry jam spread across and the thin shortcrust pastry case at the bottom of the tin all added together proved too much for school kids up and down the country.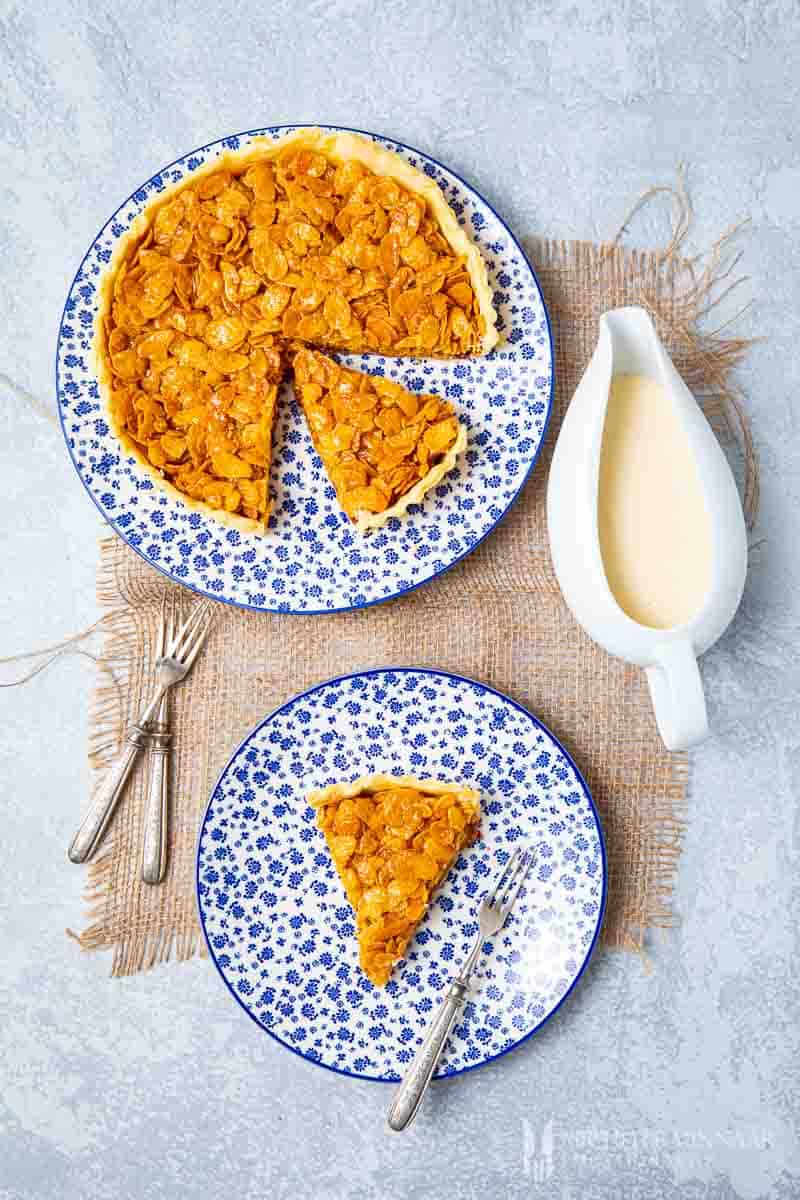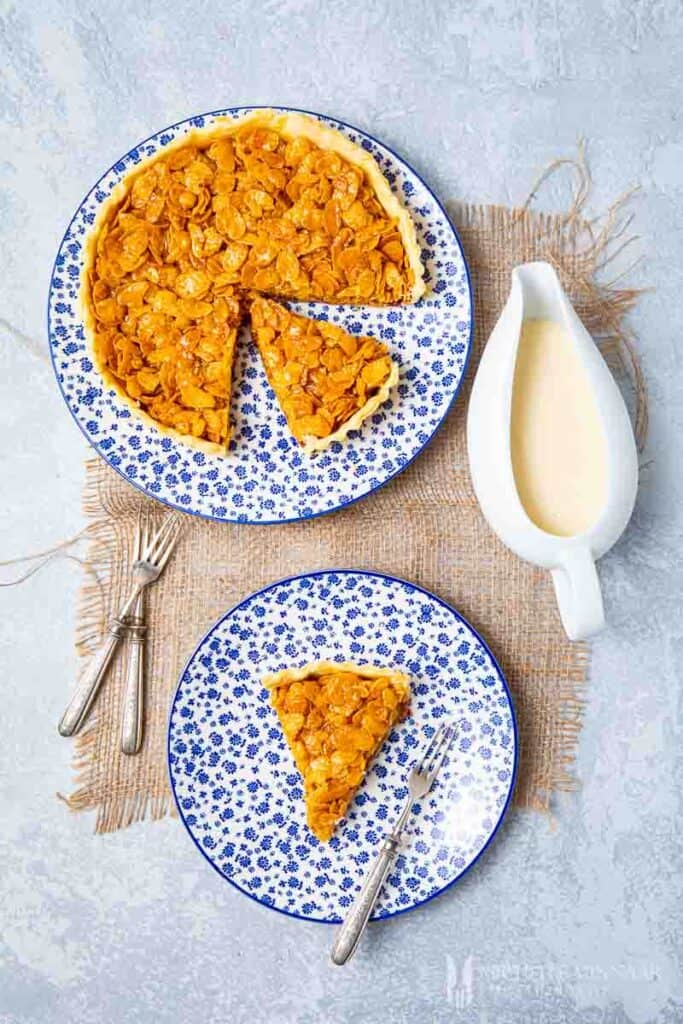 It's still irresistible today. Baking doesn't get any easier than this, which is why it's the perfect tart to make in a hurry. You can whip this recipe together in no time, throw the tart tin in the oven and, before you know it, you have a cornflake tart to tantalise the taste buds.
Nobody knows the exact origins of cornflake tart, although it's most probably the case that it's a northern tart. It first became known for the use of the 'cornflake cake' recipe in 'Nutrition and Child Welfare', a post-war food baking guide that was published in 1949.
The humble cornflake, drizzled with golden syrup, was being used to rebuild the nation after the war effort. Talk about feel good baking!
what pastry for cornflake tart?
When thinking about how to make cornflake tart, it's important to remember the importance of baking a stable pastry case. You want to make sure the tart stays together and doesn't flake or crumble too easily.
Using a tart tin with a loose base will give you a good pastry case and will help your cornflake tart hold together – just make sure you us a non-stick tart tin or when baking, or your tart will stick when it comes out of the oven.
The best option is shortcrust pastry. This is because shortcrust pastry is crumbly and will complement the flaky, crunchy texture on top. For this cornflake tart, or for any tart or pie, shortcrust pastry would be used, whereas for a pie lid or for pastries, puff pastry would be ideal.
The shortcrust pastry case is blind baked in its case in the oven first, using baking beans for an even bake. This is because it's important the that the shortcrust pastry case holds together, so it needs to be baked until it has a slight golden colour, before the other tart ingredients are spread over the top. The beans help keep the shape of the shortcrust pastry as it's baking in the oven.
All the other ingredients, such as golden syrup and sugar etc. are then spread out across the shortcrust pastry case.
If you have the time, you could even make your own shortcrust pastry! In fact, shortcrust pastry is so easy to make and doesn't really take too much time. All you need is flour, butter, sugar, and an egg yolk. Simple! You'll have your own delicious shortcrust pastry that will take this cornflake tart to another level!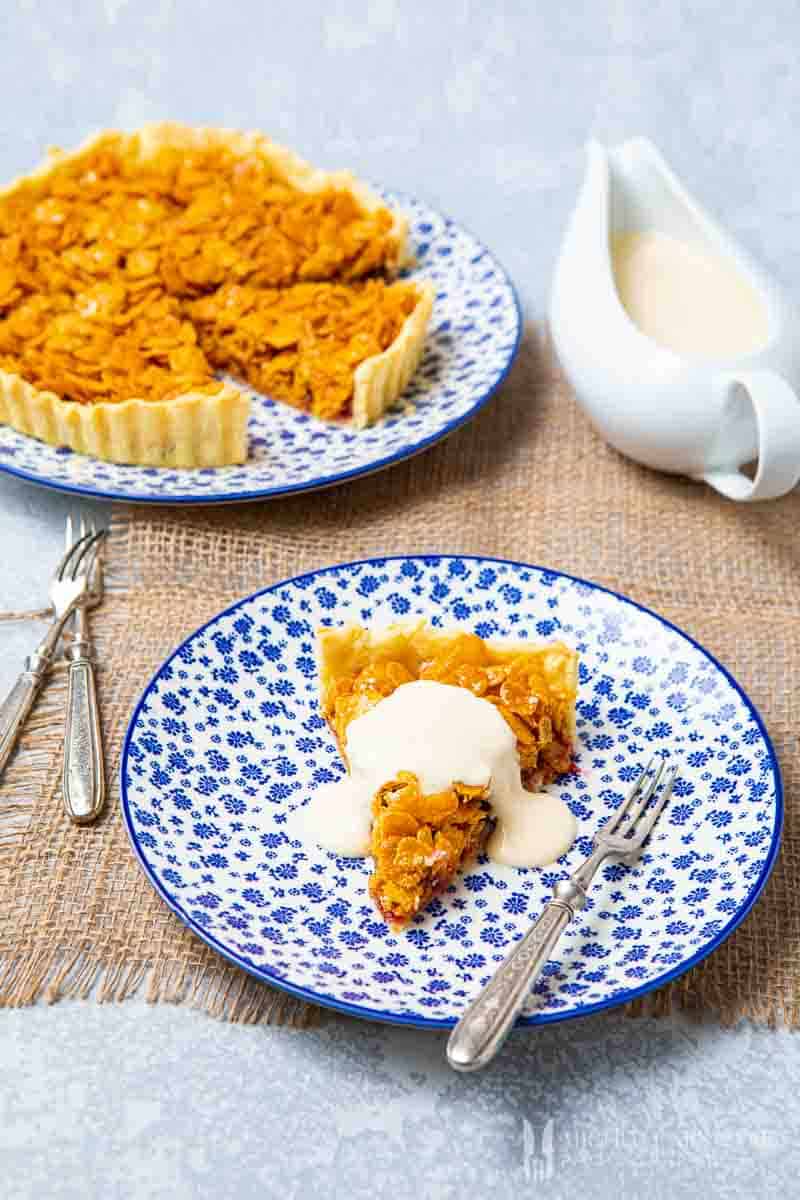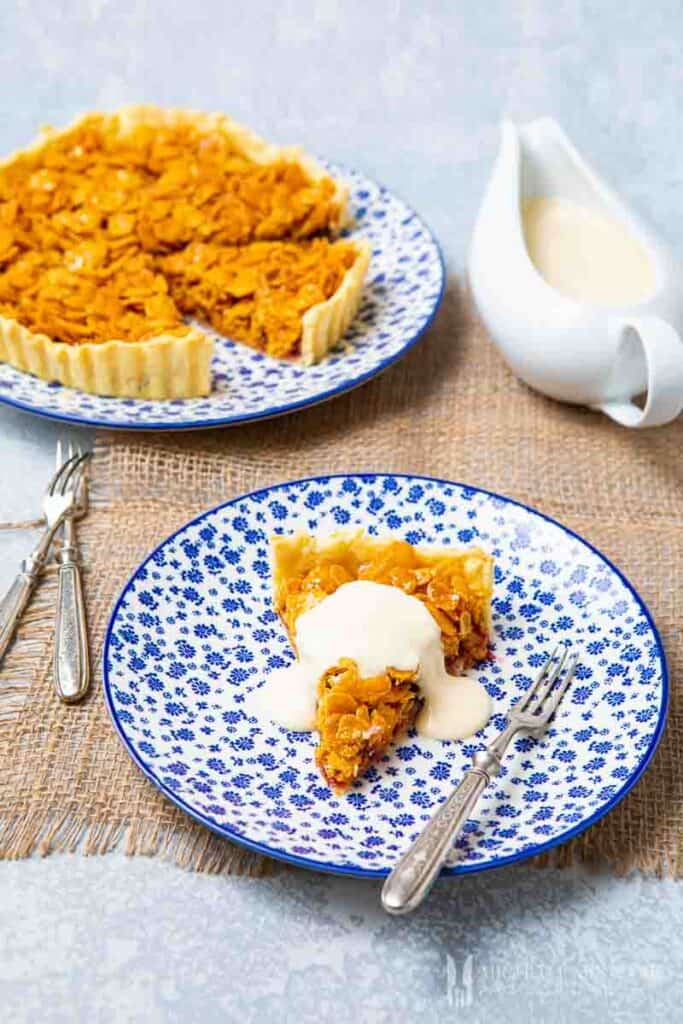 Can you make cornflake tart without syrup?
Syrup adds a luscious sweetness to this recipe. However, if you want to use an alternative, there are plenty of options available.
Maybe you want to go with a healthier choice. Or maybe you want something that's even more delectable. Either way, there are a range of substitutes that you can spread over this delicious treat.
Serve with custard
Your cornflake tart will taste amazing on its own. But, when it comes to adding a little bit of indulgence to an after dinner pudding, few things are quite as satisfying as custard, glorious custard!
Making your own custard takes a little bit of extra time and work. But if you perfect your timing and get the custard just right (not too thick and not too thin) you'll have a divine addition to just about any fruity dessert.
But, if you want to save time, take the quick and easy (but still very tasty) option of custard powder. A far better alternative to homemade custard than instant custard, custard powder can be made in minutes. And it still tastes delicious!
The best option is Bird's Custard Powder, a time honoured classic. So, pour some lush creamy custard over your warm, fresh out of the oven cornflake tart. And just try and keep a big smile off your face!
This time honoured classic is your best option. So, pour some lush creamy custard over your warm, fresh out of the oven cornflake tart. And just try and keep a big smile off your face!
If you love retro school dinner recipes, you would love this Pink Custard you can serve the tart with.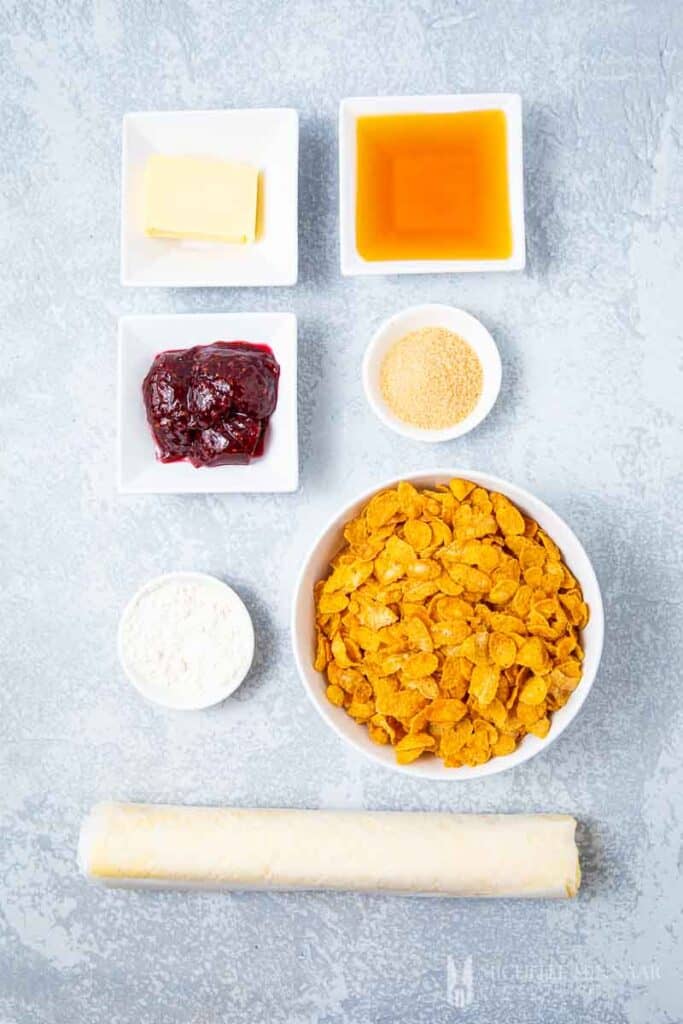 Get creative with your cornflake tart
If you fancy a little twist on a cornflake tart, you can always experiment with different flavours. Tweak this cornflake tart recipe by changing up the ingredients.
You can use different types of golden syrup, different brands of shortcrust pastry (or even make your own shortcrust pastry), or get a deeper pastry case by using a deeper tart tin, for an extra thick spread of the filling.
Here are just a few other ideas, to give you some inspiration.
You can even experiment by trying different breakfast cereals. Sure, cornflakes have the charm of an all-rounder, with a satisfying crunch that defines this retro dish. But there are plenty of other options in terms of breakfast cereals, each of which add their own spin to this cornflake tart recipe.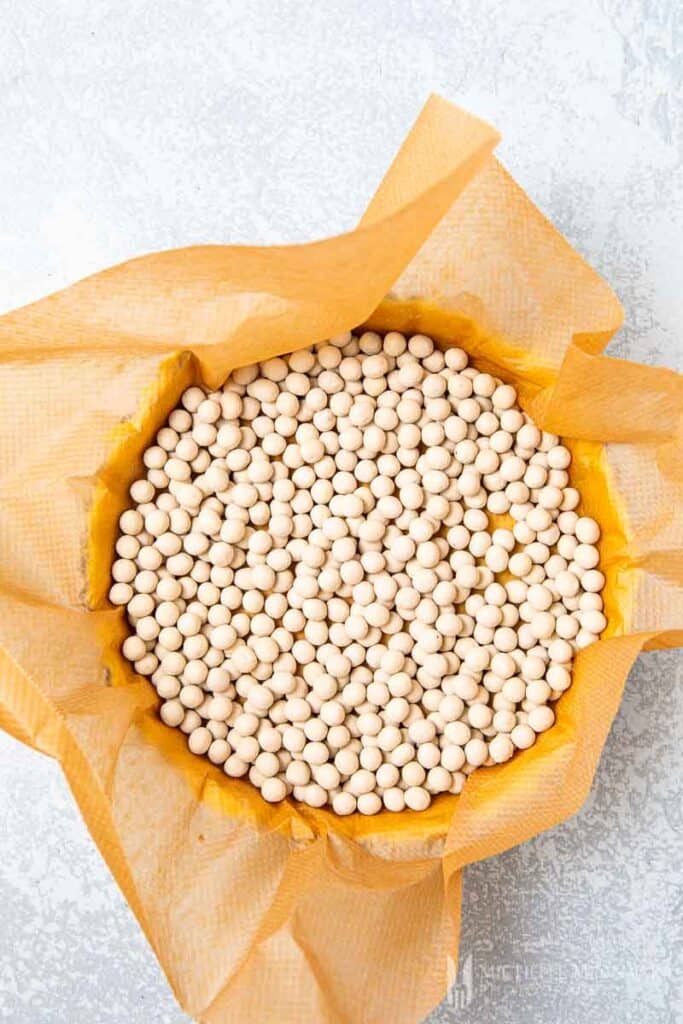 how to store cornflake tart
Once your cornflake tart has come out of the oven, has cooled slightly and is ready to eat, you'll most probably want to devour it all in one go (especially if your family are like mine)! There's something about this dessert, with its golden syrup glaze and the spread of delicious filling hidden below that makes moderation impossible!
But… if you find yourself with some slices of cornflake tart left over, you'll want to know how to store it.
Mainly because of the shortcrust pastry, the best way to store cornflake tart is in an airtight container. It'll still be delicious when you serve it up later!
how long does cornflake tart last?
For those of you who don't eat your entire cornflake tart in one sitting, it should last for 3 days when you store it in an airtight container. It'll last a little longer if you store it in the fridge, but be sure to make some delicious custard to warm it through. It'll taste like it's just come out of the oven!
more amazing desserts
Now you know how to make cornflake tart, why not try baking some other great dishes? If you're in need of a little pick-me-up, an old fashioned fruit pudding will most certainly do the trick.
So, get your apron on and get baking these other comforting classics. They'll come out of the oven smelling delicious and will leave you feeling all warm inside.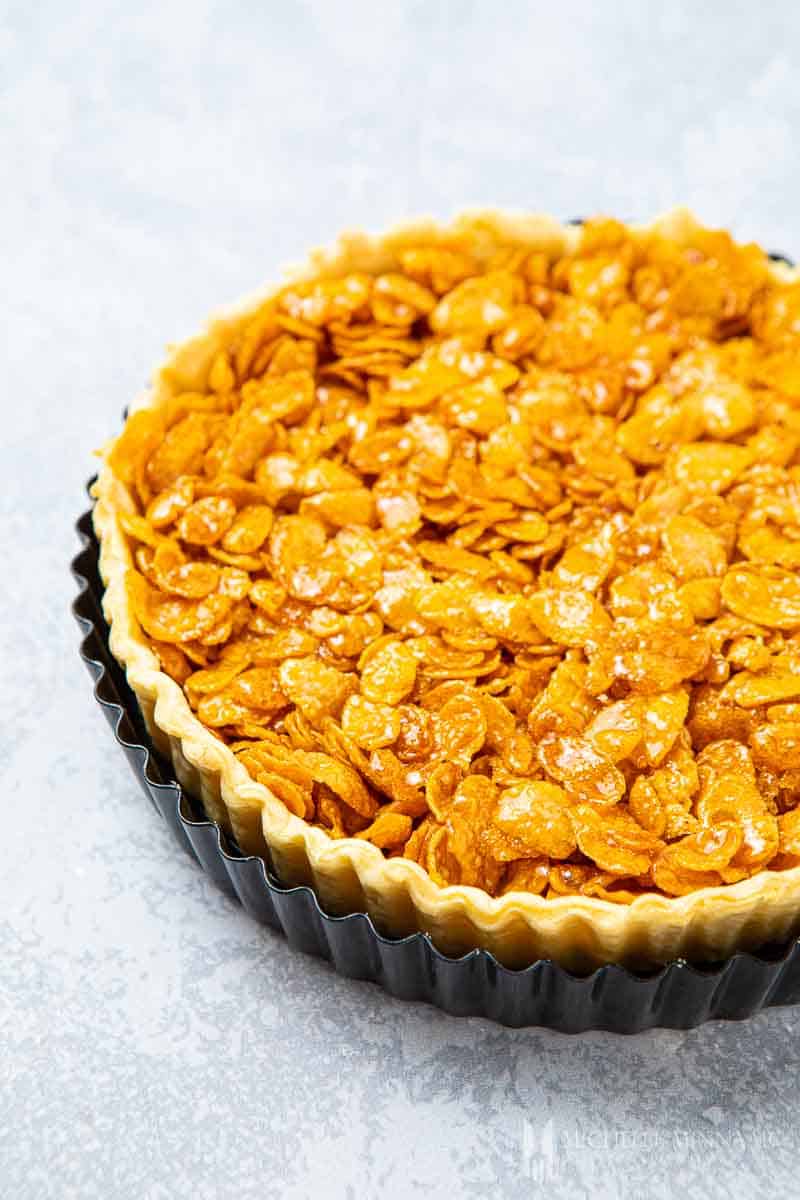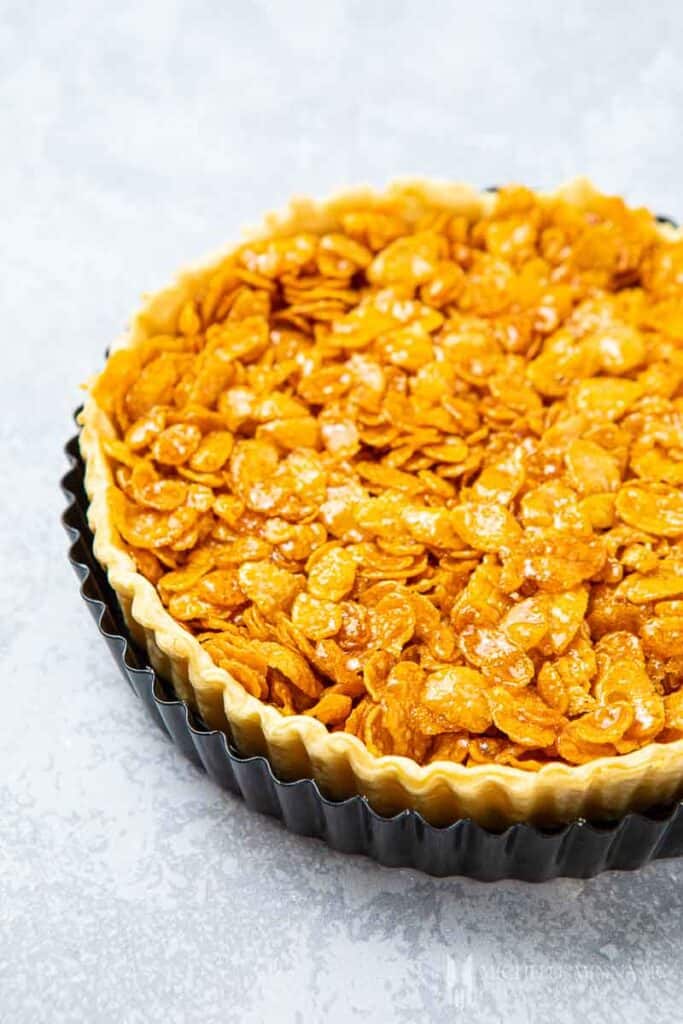 Love school dinner desserts?
Check out these classic retro recipes:
Are there any other delicious puddings from the past that you'd like to see revived? Let me know in the comments below!
Print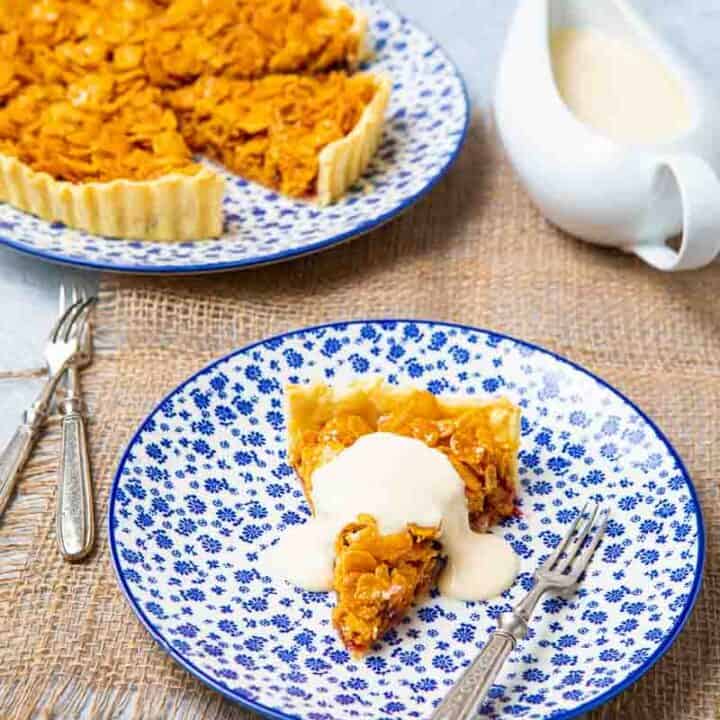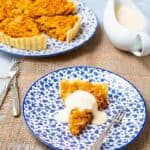 Cornflake Tart
---
Description
An old-school classic, cornflake tart is a tasty, super simple sweet treat that will leave the whole family wanting more.
---
---
Instructions
Preheat the oven to 180°C / 160°C / 355°F / gas mark 4. 
Lightly dust a clean work surface with flour. Unroll the pastry, then flatten it evenly with a rolling pin until its surface is big enough to cover a 23cm loose-bottomed tart tin. 
Lift the pastry over the tin and press into all crevices, ensuring that a small amount of excess pastry hangs over the trim. Trim if necessary.
You need to blind bake the pastry first. So line the pastry with parchment paper, then fill it with baking beans or uncooked rice.
Bake for 15 minutes. 
Remove the beans or rice plus the parchment, then continue to bake for another 5 minutes or until the pastry is golden.
Remove from the oven and trim the excess pastry from the edges.
Using a large saucepan, heat the butter, syrup and sugar until everything has melted and the mixture is smooth.   
Fold in the cornflakes and ensure everything is coated evenly.
Spoon the jam onto the base of the cooked pastry, ensuring it's evenly coated. 
Tip the cornflake mixture on top of the jam layer and gently press down until an even layer is formed. 
Bake the tart for another 5 minutes or until the cornflakes are golden. 
Serve warm with custard. Enjoy!
Notes
If you have any leftover pastry, you can make extra mini tarts out of it by using a muffin or Yorkshire pudding tin.
Feel free to play with different jams, such as strawberry or cherry jam.
For best results, you can make your own shortcrust pastry from scratch. Ready-rolled pastry saves so much time though!
The tart can be kept in an airtight container at room temperature for 3 days, if it lasts that long!
Prep Time:

20 minutes

Cook Time:

40 minutes

Category:

Dessert

Method:

Bake

Cuisine:

English
Keywords: cornflake tart, how to make cornflake tart, cornflake treacle tart recipe, old school cornflake tart, cornflake and jam tart