If you want to celebrate Easter in style, then make this fantastic Easter egg cheesecake. It's a sight for sore eyes!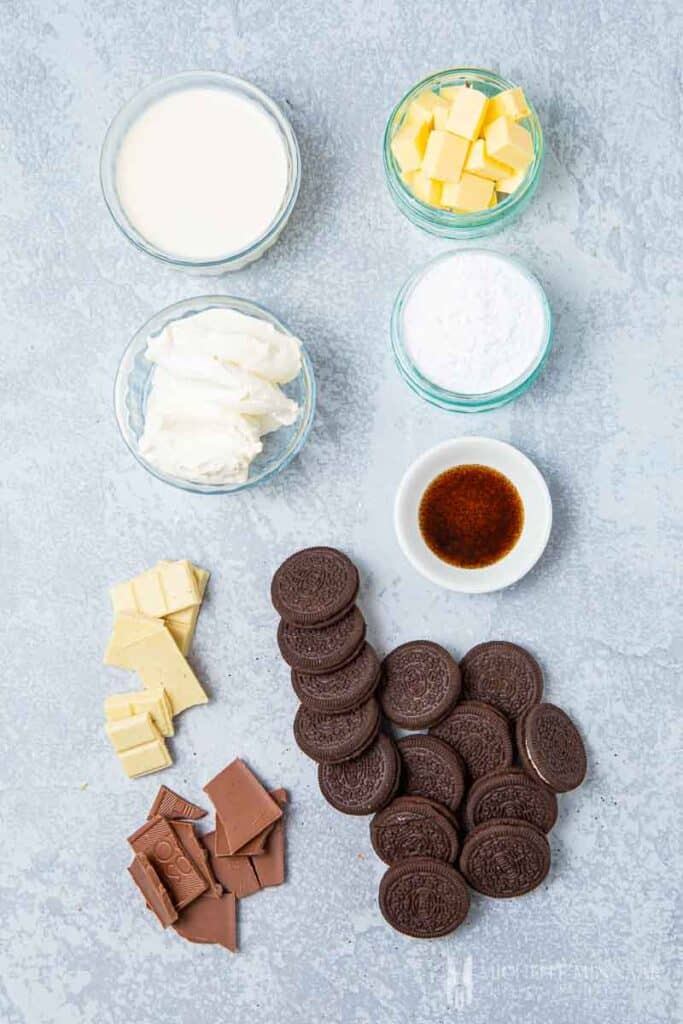 For some of us, Easter is a time for getting together with family, friends and loved ones. For others it's a time for religious contemplation. But for those of us with a sweet tooth, Easter is a time to give in to sinful pleasures and fully indulge in chocolate, heavenly chocolate! And when it comes to sweet treats, they just don't get any better than an Easter egg cheesecake.
Just imagine… scrumptious, melt-in-your-mouth white chocolate mixed into a delectable cream cheese filling, spooned on top of a crunched-up buttery biscuit base, topped with delicious Easter eggs.
Ok, stop drooling and read on to find out how to make your very own Easter egg cheesecake. Let's make sure that this Easter is one to remember!
Equipment you'll need for this recipe
easter egg cheesecake recipe
This simple, no-bake cheesecake Easter egg recipe will be a firm favourite with all the family. The only problem is, it'll be gone in the blink of an eye! So you can't just make one… you'll have to keep practising until your Easter egg cheesecake is utter perfection.
There's a time and a place for moderation and it's certainly not Easter. You may have spent the rest of the year thinking about sugar, carbs and calories (except for Christmas maybe), but the Easter period is a time to truly let go and treat yourself. So, ignore that goody-two-shoes inner voice and give in to indulgence with a guilt-free conscience!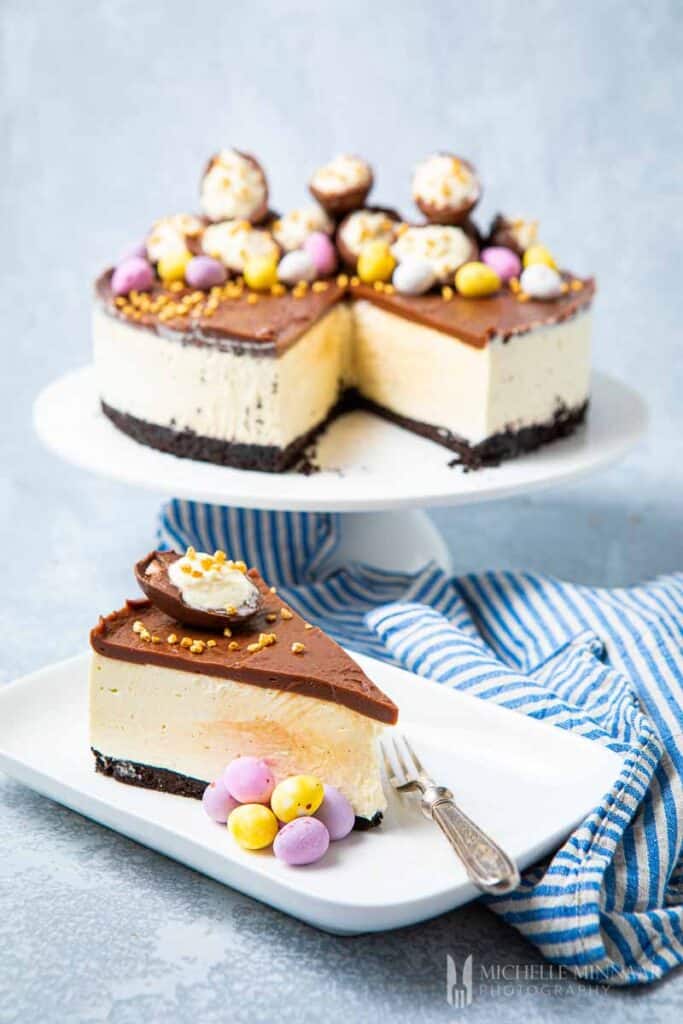 why eggs at easter?
A long-held universal symbol of new life, the association of eggs with Easter is so age-old it even predates Christianity. Eggs were a key part of pagan festivals and were used as a celebration of the onset of spring.
From the 13th century, Christians used decorative mini eggs during Easter festivities, as eating actual eggs was forbidden during the week leading up to Easter. Many of these decorative mini eggs were given as presents to children, a tradition that evolved to become the chocolate eggs-travaganza that is Easter in the modern era.
why are easter eggs chocolate?
As Easter eggs became a popular gift for children, it made sense that the popularity of chocolate would be added to the mix to create chocolate Easter eggs. Chocolate was originally served in the form of a drink by the Aztecs in what is now southern Mexico. It was later brought to Europe and by the early 19th century French and German chocolate makers were creating chocolate for eating.
The manufacture and taste of chocolate eggs were taken to new heights by John Cadbury, when he made his first chocolate egg in 1875. Before long, the famous English chocolate maker made chocolate eggs the symbol of Easter celebration.
Quite fitting then, that our recipe should be decorated with mini eggs and creme eggs – two Easter eggs created by the biggest influencer of modern Easter.
to bake or not to bake? …that is the question
There are two distinct types of cheesecake – no-bake cheesecakes and baked cheesecakes. The main difference between the two is that there are no eggs used in a no-bake cheesecake and it sets by chilling in the fridge.
Also, their textures are very different. While the filling of baked cheesecakes is usually thick and custardy, a no-bake cheesecake normally has a light, airy texture. Then of course there's the time and effort involved in the whole process. No-bake cheesecakes are much simpler and quicker to make.
oreo cookies biscuit base
When it comes to the base for a no-bake cheesecake, many recipes use plain old digestives. But, as Easter is a special occasion, this cheesecake recipe takes things to the next level.
My recipe uses the granddaddy of decadent biscuits – Oreos! If you've ever tried to open a packet of Oreos and said to yourself "I'll be good… I'll just have the one" you'll know that it's physically impossible. So, imagine the cumulative effect of many many Oreos crushed into a cheesecake biscuit base. Now we're into dangerous levels of sumptuousness!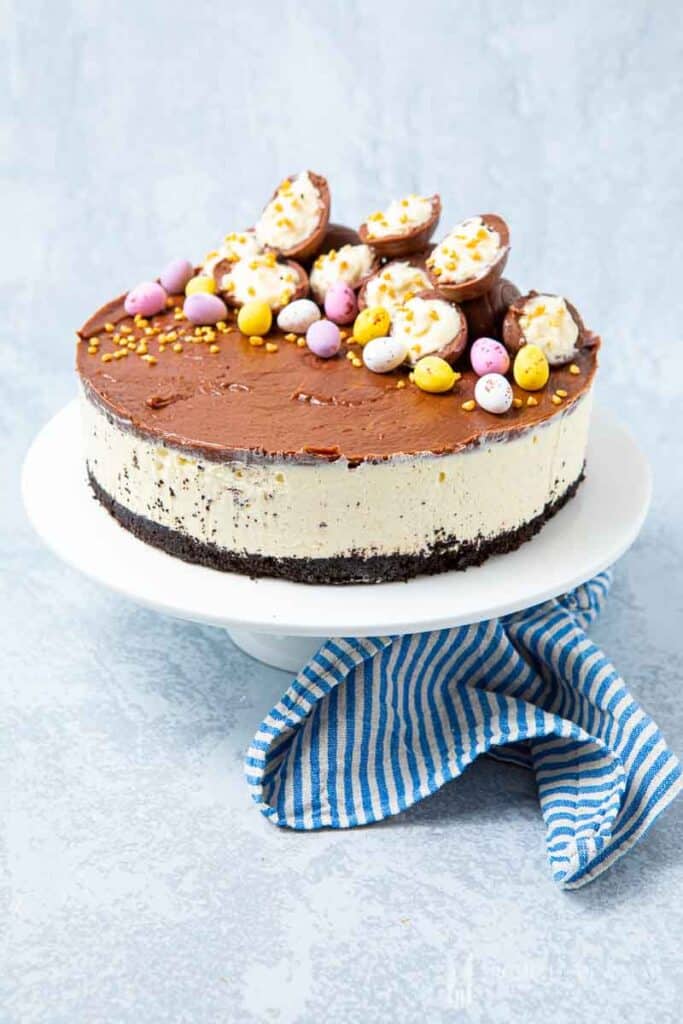 a divine easter egg cheesecake filling
As if our Easter cheesecake's crushed Oreo base isn't inviting enough, it's complemented by a rich, luxurious cheesecake filling. Our cheesecake recipe is filled with four scrumptious elements:
easter eggs for decoration
No matter how tasty your cheesecake turns out to be, one essential element to any Easter egg cheesecake is, of course, actual Easter eggs. The irresistible 'cherry on top' will add the luscious finishing touches to your Easter cheesecake and will make it look so colourful and photogenic, it would almost be a shame to eat it. Almost.
But now comes the difficult decision. Which Easter eggs are the best to use on top of the cheesecake? Well, for these Easter cheesecake recipes, I've picked two Easter egg classics.
The first one is the benchmark when it comes to Easter eggs. Easter just wouldn't be the same without Creme Eggs. A melt-in-your-mouth gooey fondant centre encased in a gorgeous chocolate shell, few things in life are quite as satisfying as that first bite of a creme egg. Cut each one in half and scatter them on top and all of a sudden you've got a creme egg cheesecake.
Finally, give your Easter egg cheesecake a kaleidoscope of colour with a sprinkling of Mini Eggs. Now you've got a creme egg cheese cake and a mini egg cheesecake in one!
how to cut your decorative creme eggs in half
You might be wondering how to cut a creme egg in half. Well, don't stress too much! Easter egg cheesecakes are supposed to have that homemade look, so your creme egg halves don't need to look perfect.
But as we know, they're fondant filled Easter eggs, so the most important thing is to ensure a filled Easter egg doesn't turn into a spilled Easter egg!
Keep that cream filling inside the Easter egg by using a heated, sharp knife to carefully cut them in half. Dip your knife in hot water before you cut each Easter egg. The blade will soften the chocolate of the egg and should be able to slice through with ease. You should end up with nicely halved cheesecake Easter eggs.
how long does easter egg cheesecake last?
It depends on how much you like cheesecake! Judging by how delicious this Easter egg cheesecake is, it'll more than likely be gone in the blink of an eye!
But if you're planning on keeping your cheesecake for another round of guilty pleasure, you'll want to know how long it can last.
At room temperature, your Easter egg cheese cake can last up to 6 hours. Ideally though, you should store it in the fridge. This is because of the cream cheese. When chilled, it should last for 5-7 days. Although, if you still have any left after the 6th day, I'll come over and finish it off for you!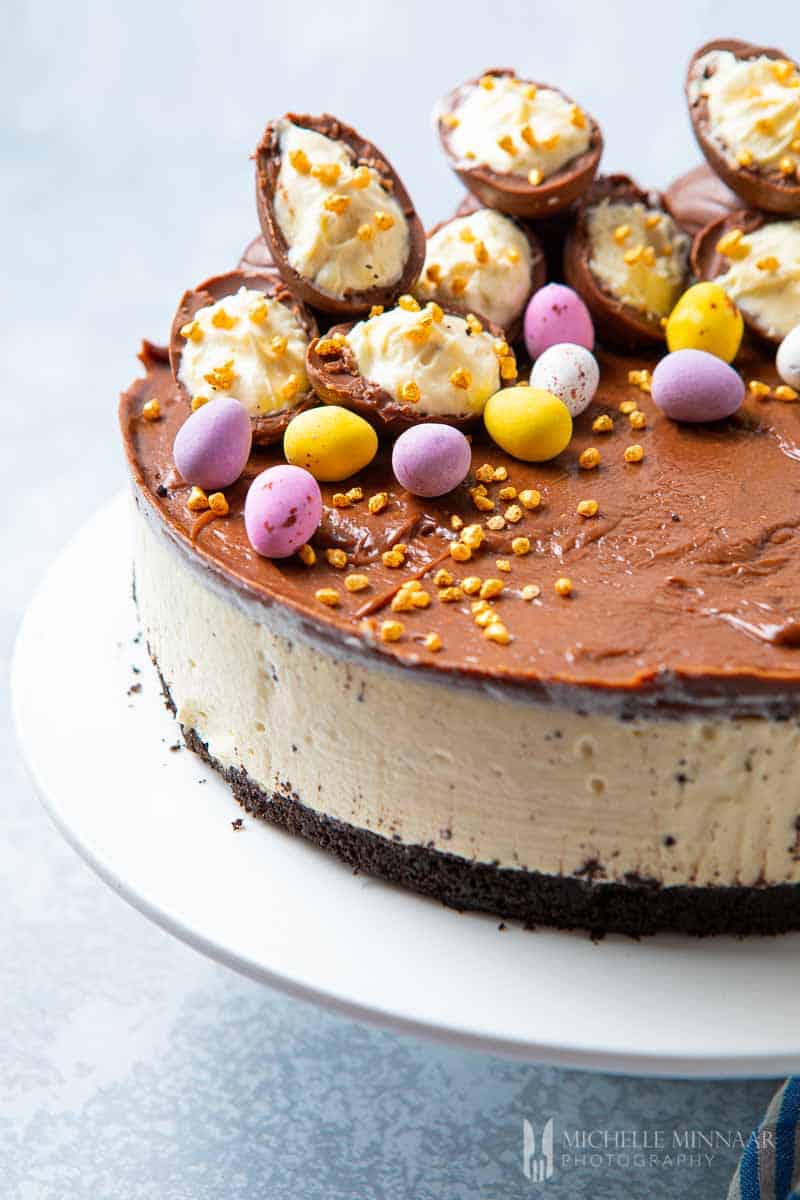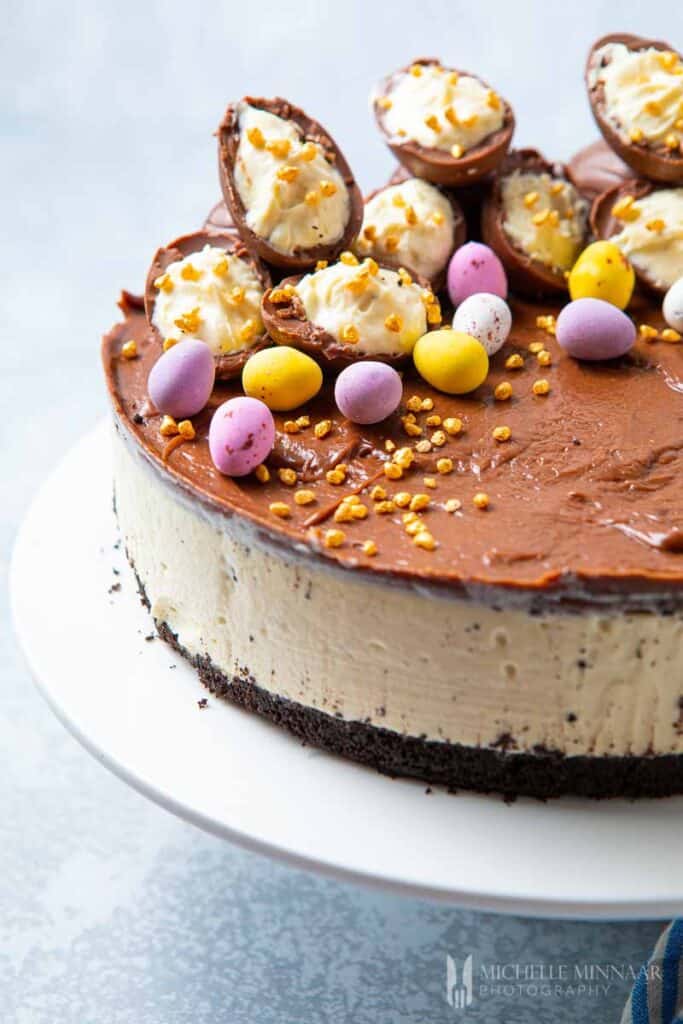 cheesecake filled easter egg
Never heard of a cheesecake filled Easter egg? A recipe that takes guilty pleasures to the next level, a cheesecake filled Easter egg is pure indulgent heaven!
If you want to know how to make a cheesecake filled Easter egg, simply follow this cheesecake recipe, except for the decoration part (save those mini eggs!). Then take a large Easter egg, cut it in half, add a spoonful of the biscuity base to the bottom of the Easter egg half. Next, spoon the cream cheese filling until the Easter egg half is filled to the brim.
Finally, sprinkle some crushed mini eggs over each cream filled Easter egg half. And there you have it! A delicious cheesecake filled Easter egg, topped with irresistible mini eggs.
Want something to satisfy your sugar tooth, but that's a little lighter than a cheesecake filled Easter egg? Why not try this Creme Egg cupcake recipe? It's an easy, fun to make recipe and will make sure that any leftover creme eggs don't go to waste.
And if you have a few mini eggs leftover, use them to decorate the cupcakes too!
other delicious cheesecake recipes
Of course, a cheesecake isn't just for Easter. Whatever the season, a cheesecake is the perfect dessert to put a smile on your face. Quite simply, it's the ultimate sweet comfort food!
Get inspired by some of my favourite cheesecake recipes. You'll have them perfected in no time.
other easter recipes
Easter egg cheesecake and cheesecake filled Easter eggs will certainly make your Easter extra special. But sweet treats aside, you'll want to cook a mouthwatering savoury recipe or two during the Easter period. Here are some sumptuous recipes, perfect for the season.
Print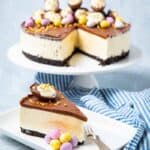 Easter Egg Cheesecake
---
Description
When it comes to sweet treats, they just don't get any better than an easter egg cheesecake. Easter is a time to fully indulge in heavenly chocolate! 
---
Biscuit Base
300

g

(10 1/2oz) Oreo cookies, fillings removed

150

g

(2/3 cup) butter
Cheesecake Filling
Decorations
---
Instructions
For the Biscuit Base:
Crush the biscuits in a sealable plastic bag with a rolling pin until everything turns into crumbs.
Mix the butter with the crumbs.
Spoon the mixture into the base of a 23cm (9in) springform cake tin and level with the back of a spoon.
For the Cheesecake Filling:
Melt the chocolate and set aside. See Notes.
Whisk the cream cheese, vanilla and sugar until combined. 
Continue whisking while slowly pouring in the melted chocolate. 
Next, whisk until all the cream is gradually poured in. Alternatively, you can whisk the cream in a separate bowl and fold it into the chocolate mixture afterwards.
Transfer the filling to the tin and spread evenly over the biscuit base.
Chill in the fridge for at least 6 hours, but preferably overnight.
For the Decoration: 
Create a double boiler by bringing a medium pot filled almost halfway with water to a simmer. Place a heatproof bowl that's just big enough to sit on top of the pot and add your chocolate chips and cream to the bowl. 
Keep stirring the chocolate, using a silicone spatula, until the chocolate is completely melted and the cream incorporated. The chocolate sauce should be perfectly smooth. Remove from the heat.
Wait for the chocolate mixture to cool down slightly, but it should still be a bit runny. 
Remove the cheesecake from the fridge and pour the chocolate on top, ensuring it to form an even layer. 
Place the cheesecake back in the fridge for about 2 hours, waiting for the chocolate to set. 
The fun part is decorating. Use any Easter eggs you please. In the case I used mini eggs, creme eggs and golden sprinkles. Have fun and enjoy!
Notes
There are two ways you can melt the chocolate for the cheesecake filling. Firstly, you can do it in a bowl over a pan of simmering water. Or, you can give it short zaps in the microwave until everything is melted, giving it a stir in between.
The cheesecake keeps for 3 days in the fridge, but if you find that you didn't use all of your cream cheese in this recipe, don't let it go to waste! Check out my guide on freezing cream cheese.
Prep Time:

45 minutes

Cook Time:

15 minutes

Category:

Dessert

Method:

Chill

Cuisine:

English
Keywords: Easter egg cheesecake, easter cheesecake recipe, white chocolate cheesecake with Easter eggs, Easter egg filled with cheesecake