I know that I've been posting a lot of savoury recipes recently, so here is some Eton Mess. Don't get me wrong, they are amazing and just as delicious as any dessert! Remember my first time cooking Sri Lankan cuisine, preparing Isso Baduma? What an adventure!
However, I feel it is time to satisfy my craving for something sweet. Therefore, making Eton Mess is the perfect dessert for summer evenings. It's not too sweet and it is totally refreshing. You'll be wanting to make it at least once a week. And yes, it's super easy. No baking involved!
What is Eton Mess?
Eton Mess is a wonderful dessert, which consists of cut fruit, freshly whipped cream and with pieces of meringue thrown in. My Eton Mess is made out of freshly cut strawberries.
The term "mess" comes from the way it is put together. Usually, you throw everything together on a plate or in a clear cup, and yes it looks a mess! Presentation is not the most important thing when it comes to this dessert. It's the taste, leaving you with a smile on your face. In fact, the Eton Mess reminds me of desserts I've recently made. Instead of fruit, I used brownies and chocolate. Make sure you check these out:
Origin
Surprise, surprise, eton mess is originally from the town Eton in the UK. More specifically, from Eton College. Some say, that Eton Mess was discovered there by accident during an annual cricket match, back in the early 1900's. Apparently, someone had dropped their meringue on the floor and served it anyway. Others say that the Eton Mess can be credited to a Labrador dog, that accidentally sat on someone's picnic basket, crushing everything inside.
Pre-made meringue
For this recipe, you can either purchase pre-made meringue or you can make it yourself. Generally, I recommend using fresh meringue for the Eton Mess. However, I completely understand if you decide to go for the pre-made stuff. If you do decide to buy the meringue, then be careful in terms of where you buy it. Sometimes, it's best to buy it directly in the bakery. The latter makes it super fresh, so there is almost no difference in taste. I can't say the same for the supermarket counterpart.
Homemade meringue
Regardless, with the pre-made meringue, it will take you no time at all. My estimation would be around fifteen minutes at most. If you want your Eton Mess to be fresh from start to finish, then try making a homemade meringue. It's really easy actually! All you need is two types of sugar and eggs. Oh, and a stand mixer or an electric hand whisk to mix everything together. Otherwise, it can be quite hard wearing on your arms. In addition, this will ensure that your mixture is fluffy and glossy at the same time.
After that, you need to place the meringue mixture into little spheres on a baking tray and insert them into the oven for a while. They take quite some time. You want the meringues to crisp up nicely, and turn a little brown on top. The longer you leave them in, the more crunch they will have. Ultimately, you want the meringue to be as crunchy as possible, so it will complement the creamy nature of the Eton Mess.
Strawberries
The original Eton Mess recipe calls for strawberries. Obviously, if you buy fresh strawberries from the farmer's market, your dessert will have tons of fresh flavour. No need to add too much sugar, because you'll want to preserve the fresh taste of the strawberries. With store bought strawberries, you'll need to add more sugar in my opinion. Personally, I don't like when there is too much sugar in desserts, it throws off the balance of flavours.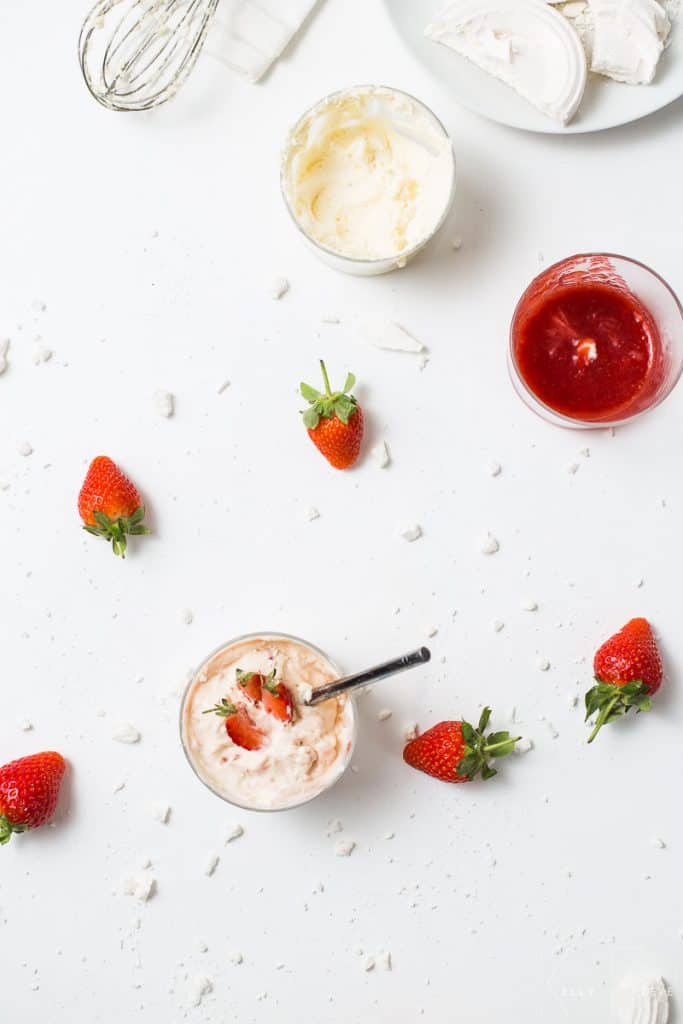 Whipped Cream
Fresh whipped cream is an absolute must for this recipe. You want that nice fluffy texture in your dessert, something that stuff from a can simply won't achieve. For getting the perfect whipped cream, you'll need to whip with an electric mixer. Wait until there are soft peaks forming on top. Just be careful not to over-whip, otherwise you'll have butter! If you over-whip, no worries, just add a little bit of liquid cream and mix gently with a spatula. Eventually, the lumps should disappear.
Dash of a little something extra
The beauty of making an Eton Mess is that it is super versatile. You can spice it up with a dash of port, rum, cognac or brandy very easily. Just don't add too much. I think a little bit of port is a perfect addition. If you're not a fan of alcohol, then you can add any type of cordial. Again, don't add too much, otherwise the Eton Mess will become rather syrupy and soggy.
I recommend adding a strawberry coulis or any fruit curd to the mixture, if you wish for the dessert to have extra flavour. Some people add fruit jam and are perfectly happy with the result. I just like to add more fresh strawberries.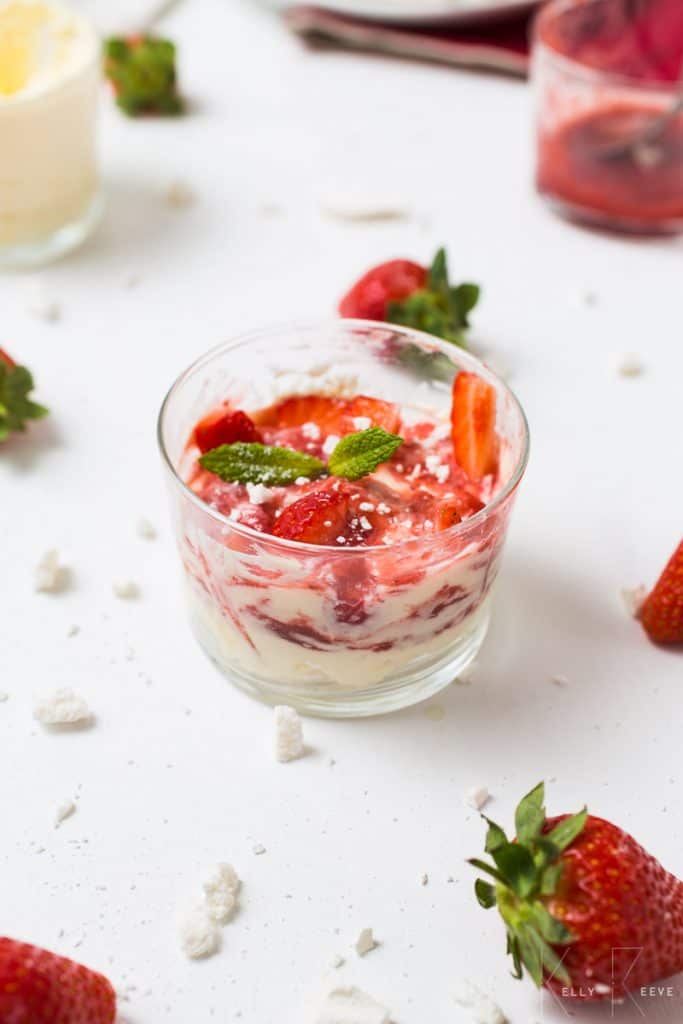 Substitutes
The most popular substitute for the strawberries are bananas, blueberries or raspberries. Usually, people add brownies or chocolate syrup to go with the bananas. I've also seen people go more exotic with the Eton Mess, and experiment with pineapple or kiwi. Sounds a bit strange, but still is delicious. As mentioned before, you can pick whatever fruit you like. Just remember, to serve the Eton Mess straightaway, otherwise the whole thing goes soggy. Add some fresh mint or chocolate shavings as garnish!
Print
Eton Mess
---
400g

(1lb) strawberries, hulled, washed and chopped

4

meringue nests, broken up

400

ml (⅔ pt) double cream, softly whipped

60

ml (4 tbsp) strawberry jam or coulis
Mint leaves, for garnishing
---
Instructions
Stir the meringue and half the strawberries into the cream.
Add the jam, and stir gently to create a swirl effect.
Divide the mixture between four dessert bowls and top with the remaining strawberries and some mint leaves.
Serve immediately. Enjoy!
Prep Time:

20 minutes

Category:

Dessert

Cuisine:

British
Nutrition
Serving Size:

1 serving

Calories:

520

Sugar:

20 g

Sodium:

80 mg

Fat:

37.9 g

Saturated Fat:

23.4 g

Carbohydrates:

44.6 g

Fiber:

2.2 g

Protein:

3.8 g

Cholesterol:

139 mg
save the recipe to your pinterest board
A special thanks to Kelly Reeve for assisting with the recipe shoot.