Ferrero Rocher ice cream sounds like a dream, doesn't it? Well, it's not a dream. It's a real delicious ice cream recipe ready for the taking. It comes with two of my favourite ingredients in the world, Ferrero Rocher chocolate and Nutella.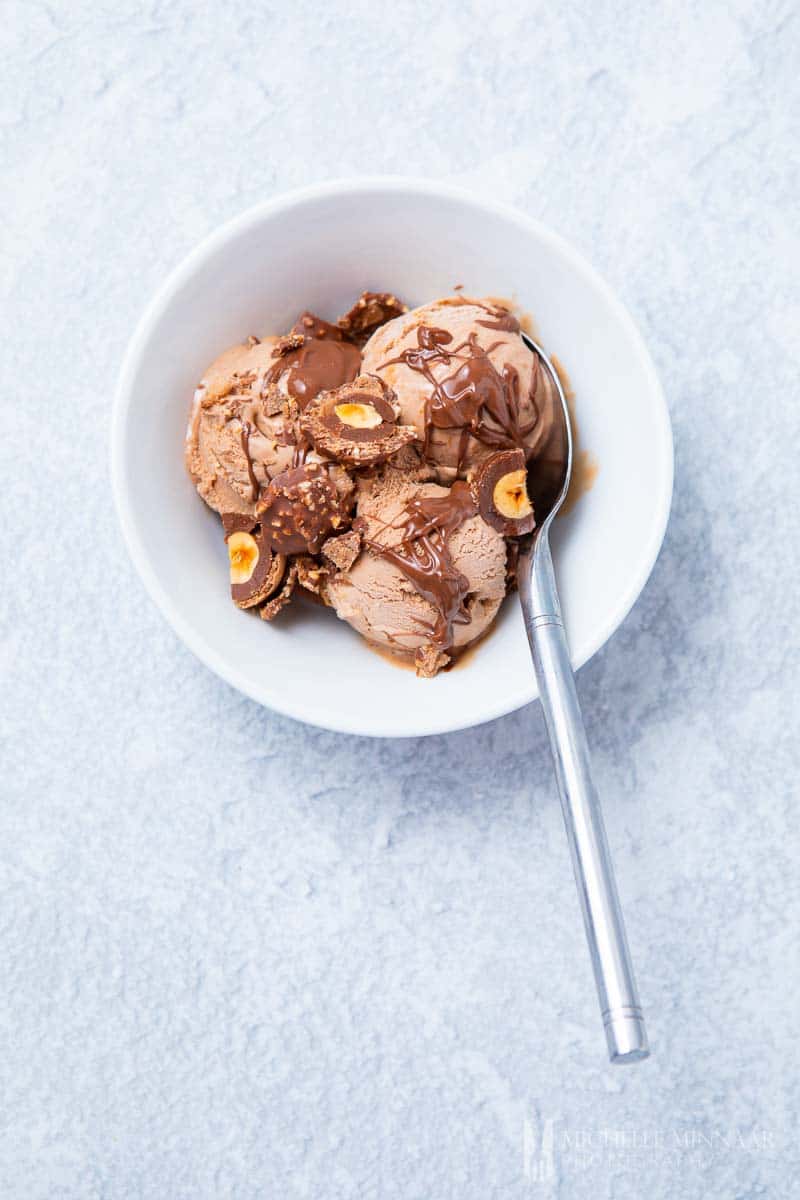 If you have a sweet tooth like me, you'll fall in love with this Ferrero Rocher ice cream recipe in a matter of seconds. It's one of those ice creams that are dangerously delicious.
Honestly, I had to practise some form of self control after having a couple of bites of this Ferrero Rocher ice cream. Nevertheless, treat yourself and indulge in the rich, chocolatey and nutty flavours of this ice cream. It just doesn't get any better.
I recommend making a large batch and not telling anybody about it. Otherwise it'll be gone in a few seconds!
Ferrero Rocher ice cream with Nutella
For those of you not in the know, Ferrero Rocher ice cream is unique for its hazelnut flavour. Generally, one should aim for the flavour as in the Ferrero Rocher chocolate balls.
These are from the famous Italian chocolatier Ferrero. In sum, they are chocolate-layered balls with thin wafer shells covered in crushed hazelnuts. 
Would you believe that these little babies were introduced in Europe only in 1982? Somehow, I had a feeling that they were around for much longer. Nevertheless, I am quite addicted to these things!
The point is, you don't need the Ferrero Rocher chocolate balls to make the ice cream. You can replicate the flavour by adding your own hazelnuts and using a hazelnut spread in the ice cream.
Ferrero Rocher ice cream – where to buy
This is quite the difficult task. I haven't heard of this type of ice cream ever being commercially sold. Perhaps I am sitting on a million-dollar idea? In either case, it's best if you just make your own.
Churning your own ice cream and eating it fresh is the best feeling. Nothing beats that taste of silky smooth ice cream right out of the churner.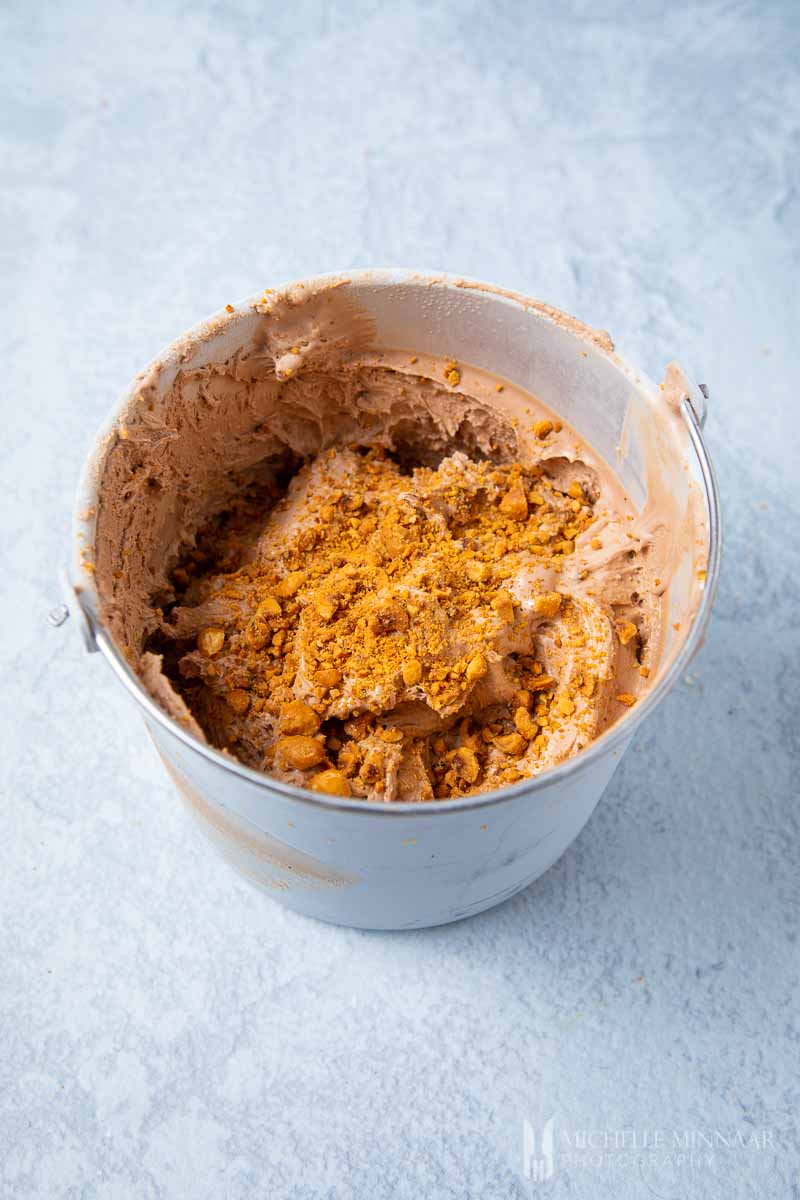 Ferrero Rocher ice cream – ingredients
As mentioned before, the main ingredients for this ice cream are hazelnuts. So, in this case I've used Nutella, which is a hazelnut spread. You can of course use other brands – just use your favourite hazelnut spread. However, I find that this specific type of hazelnut spread is the easiest to source.
If you've got leftover Nutella, then definitely make this sinful slow cooker Nutella fudge recipe. Totally worth it!
Next, you should also have hazelnuts to complete this recipe. If you don't have hazelnuts, no need to panic. You can still replicate the flavour of hazelnuts with almonds or macadamia nuts.
You can also opt for making the ice cream your own and tossing cookies into the mix. For example, I always like to toss in my favourite biscuits. The end result is nice and crunchy. There is nothing wrong with having a coarse ice cream recipe.
Ferrero Rocher ice cream – calories
Don't even go there. If you are thinking about this question or this fact, then stop right now. It's not worth ruining the pleasure of eating this Ferrero Rocher ice cream.
If you wish to go lighter in the calories, there are ways for you to do so. For example, serve the ice cream alone without a waffle.
Secondly, don't add any extra toppings, especially no more chocolatey ones. In this case, simplicity is key. 
If you want to reduce even more calories, go light on the sugar and use less Nutella.
Lastly, I recommend you limit your serving size and eat the Ferrero Rocher ice cream before 4 pm. This is the standard, unspoken Italian and French rule. Honestly, however, this Ferrero Rocher ice cream is too good to care! You'll see.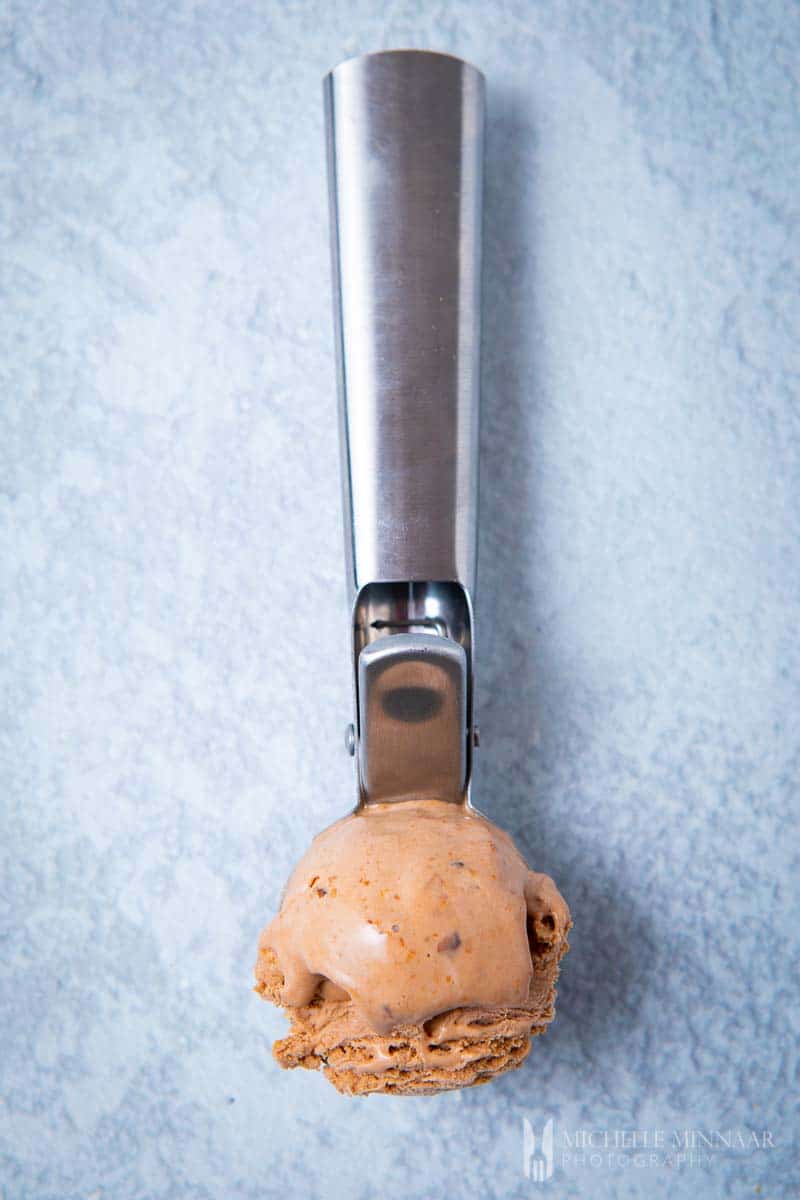 Ferrero Rocher ice cream cake
When you are finished with your ice cream, there are many ways for you to experiment with it. For instance, you can make an ice cream sandwich and stick the ice cream in between two biscuits or cookies.
Or, you can turn this Ferrero Rocher ice cream into a cake. Just let it freeze and set in a form which you can then turn out on a plate. Decorate heavily with chocolate, Nutella and Ferrero Rocher chocolate balls. Hey presto – you've got yourself a cake in disguise!
Lastly, as an idea, you can also add a scoop of this ice cream as a topping to a delicious creamy cupcake. So, let's get to more serving and topping ideas.
serving
You can opt to serve the ice cream in a waffle cone. This is the way I've done it. You don't have to make them from scratch. Although, this would be the ideal solution for best results.
However, the store-bought waffles are equally delicious and crunchy. Just select your favourite type of waffle. I recommend getting a thicker one.
Otherwise, go for serving it alone, as is, with lots more Ferrero Rocher chocolate balls. You can also crush them up and use them as topping for the ice cream.
In addition, you can also serve a scoop of the ice cream with these other recipes:
For a more balanced dessert, serve the ice cream with a fruity coulis. Take inspiration from my baked chocolate cheesecake with cherry coulis recipe. You'll get the gist of making fruity coulis in no time.
Lastly, you can serve the ice cream with fresh fruit like strawberries, kiwi or raspberries. They'll lighten things up in an instant and you won't be overwhelmed with the feeling of death by chocolate.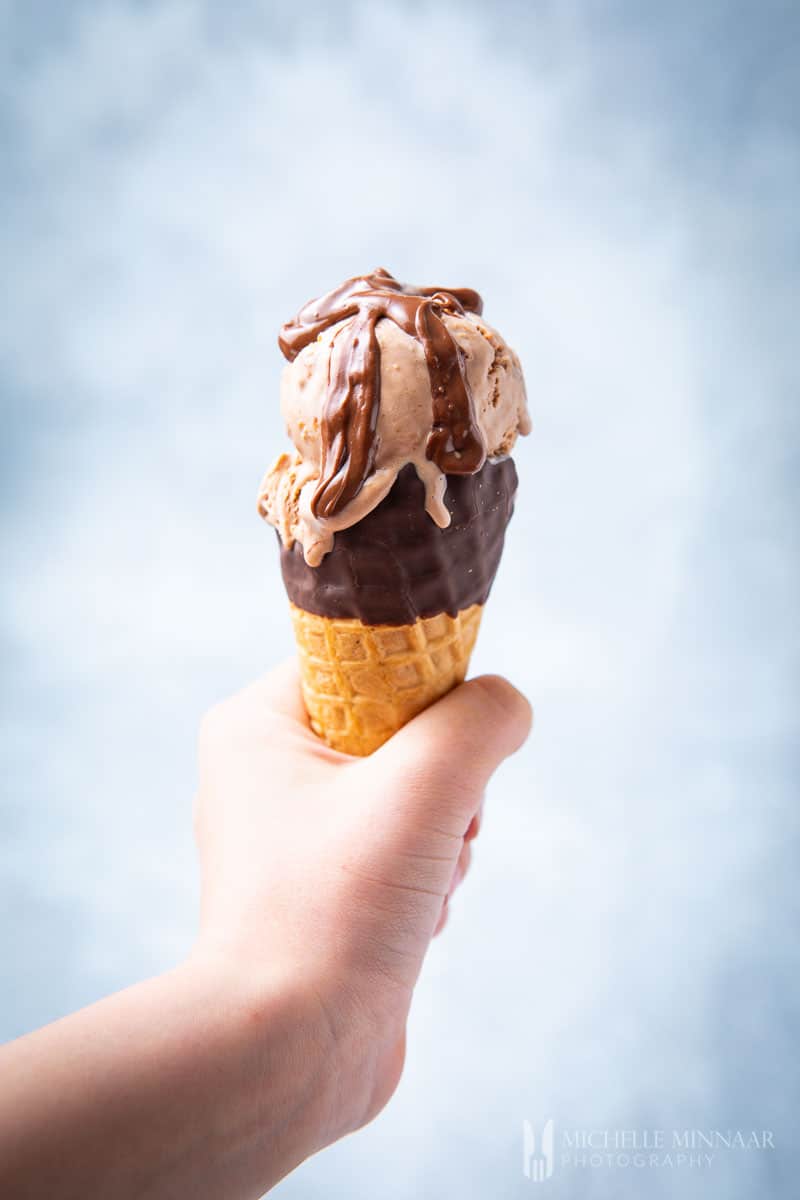 other ice creams
Let me tempt you with other amazing ice cream recipes that you might want to consider for the upcoming sunny days. Here are just a few:
These are equally tasty and irresistible. Plus, you can make them in no time. So which one is your favourite ice cream recipe?
Print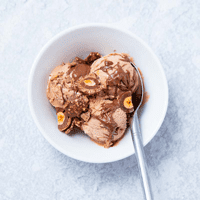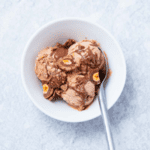 Ferrero Rocher Ice Cream
---
Description
Combine roasted hazelnuts & your favourite hazelnut spread to make this irresistible Ferrero Rocher ice cream. It's a top ice cream recipe that you'll love.
---
500

ml

(2 cups) double cream

250

ml

(1 cup) whole milk

125

ml

(1/2 cup) + 15ml (1 tbsp) granulated sugar

6

large egg yolks

75

ml

(5 tbsp) Nutella

90

ml

(6 tbsp) chopped, toasted hazelnuts
Extra Nutella, for serving
---
Instructions
Combine the cream, milk and 15ml (1 tbsp) sugar in a saucepan. Bring to a slow simmer then remove from the heat.
Stir in the Nutella until it's dissolved. Bring the mixture back up to a slow simmer.
While the Nutella mixture being brought up to heat, take a large bowl, whisk together the 125ml (1/2 cup) sugar and egg yolks. Continue whisking until the egg mixture has doubled in volume and has a light yellow consistency.
Temper hot milk into the sugar yolk mixture, by slowly adding hot milk about 60ml (1/4 cup) at a time, whisking to distribute heat. Once all the milk has been added, transfer mixture back into the saucepan.
Place the saucepan over medium-low heat. Stir until mixture reaches nappé consistency, or 80°C (180°F) on a kitchen thermometer. Let mixture sit at this temperature for 5 minutes to pasteurise the eggs.
Pour the contents to a large bowl and place it in cold water in order for the mixture to cool down while you stir it.
Freeze the Nutella and hazelnut mixture in an ice cream maker according to your unit's instructions.
Add the hazelnuts halfway through the churning process.
Once the volume has increased by half and reached a soft serve consistency, transfer mixture into an airtight container and let harden in the freezer for at least 30 minutes before serving.
Decorate with swirls of Nutella and crushed Ferrero Rocher balls.
Notes
Alternatively, use your favourite chocolate hazelnut spread.
Some ice cream makers have a slot available to add extras during the churning process.
Prep Time:

10 minutes

Cook Time:

1 hour 30 minutes

Category:

Dessert

Method:

Freeze

Cuisine:

Italian
Keywords: ferrero rocher ice cream recipe, ice cream maker recipes
save the recipe to your pinterest board