Surprisingly, gluten free scalloped potatoes have nothing to do with scallops. Scalloped potatoes are actually America's answer to France's potato gratin, with layers of sliced potatoes baked in a creamy sauce.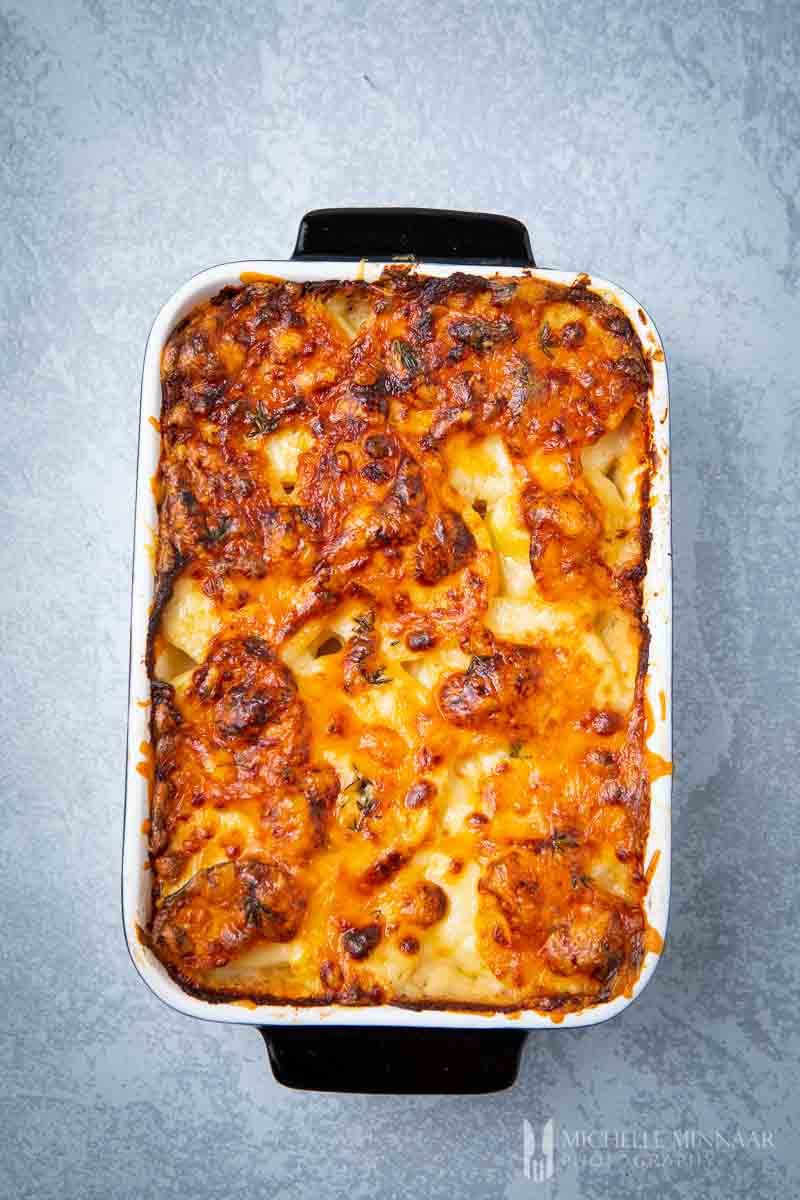 Gluten free scalloped potatoes are the perfect side dish for roast meat, or chicken. For extra indulgence, you can add different kinds of grated cheese, and make the gluten free scalloped potatoes even more irresistible.
In addition, scalloped potatoes is an excellent side for fish. Depending on what you are planning to serve the scalloped potatoes with, you can adjust the seasoning.
Simple is often better as gluten free scalloped potatoes do not require many ingredients or much effort to make. However, despite the humble ingredients, the result is a fantastically flavourful dish that will be a hit on every dinner table. Guaranteed.
gluten free scalloped potatoes with cream
Admittedly, gluten free scalloped potatoes is slightly retro. I, however, find that to be a good thing. Many of us probably enjoyed scalloped potatoes with Sunday roasts growing up, and perhaps forgot about them a bit since then. Scalloped potatoes are a pure comfort dish.
The sauce to cover the layered potatoes with is usually made from milk and cream. Adjusting the ratio towards more cream than milk will make the gluten free scalloped potatoes even more delicious, but potentially a bit heavier.
If I am serving the gluten free scalloped potatoes with fish, I find they can do with a little extra cream.
Some people try to keep it lighter by avoiding cream, however, I find that cream is important to obtain the right creamy texture that makes scalloped potatoes so enjoyable. This amazing potato recipe pairs brilliantly with my chicken with green peppercorn sauce.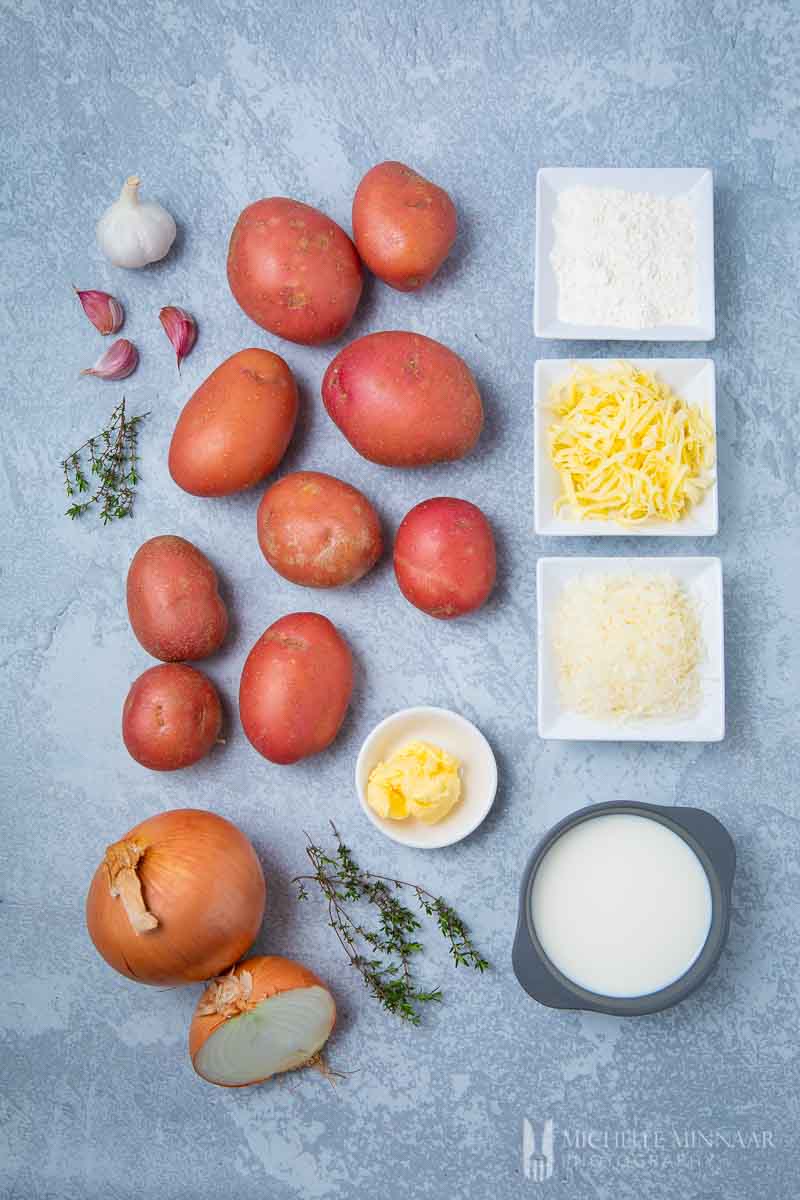 gluten and dairy free scalloped potatoes
If you are trying to avoid dairy products as well as gluten, there are ways to do it. Most well assorted supermarkets will have dairy free alternatives to cream, which will work just as well as standard cream.
That being said, without the cheese, the scalloped potatoes will not have the same creamy texture that you would expect. Nevertheless, it is possible to make gluten free scalloped potatoes without dairy products too.
Try it as a more filling side dish for a baked sea bass recipe, for example.
flourless scalloped potatoes
The trick to making the sauce is that you need some starch to bind it together. Normally, this job would be done by all-purpose flour. However, there are alternatives that will enable you to make the best gluten free scalloped potatoes.
The best substitute is rice flour, which is completely gluten free, but will still help you to get that texture you are looking for in the sauce. After all, scalloped potatoes are just sliced potatoes in a tray cooked in creamy sauce, so that sauce has to as good as it can get.
Also, take a look at these 12 cassava flour substitutes, as it lists many gluten free flour alternatives. You might just find the flour you need.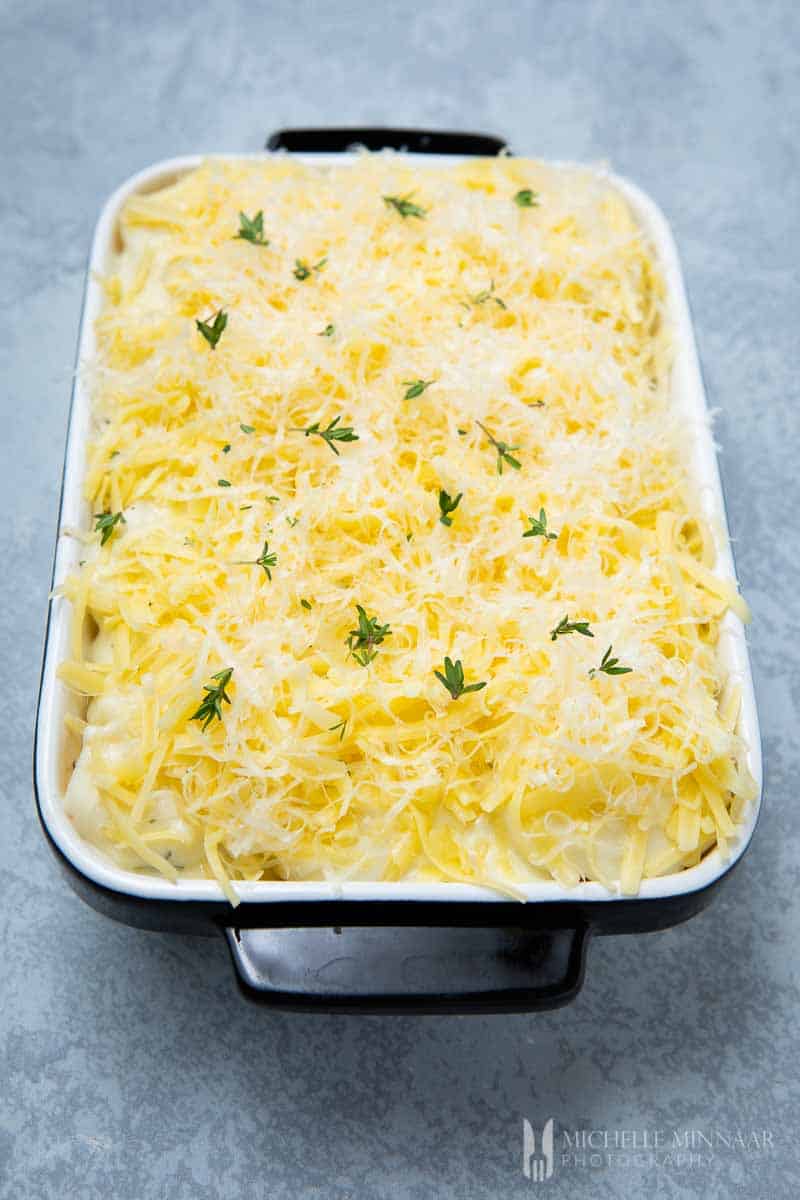 seasoning
Normally, I season my scalloped potatoes quite modestly. All I use is a bit of garlic in the sauce, as well as some thyme in between the layers of potato slices.
Needless to say, I also season with salt and pepper until I get the flavour just right. However, depending on what you are going to serve the scalloped potatoes with, you can season the dish differently to make it fit well.
Say for instance that you have been cooking a beautiful 7 hour slow roast lamb shoulder. Gluten free scalloped potatoes would be an ideal side dish for this gorgeous roast.
You can stick to the thyme theme, which also works well with lamb. However, you can also add a little bit of rosemary into the scalloped potatoes.
Be careful though, rosemary is very aromatic and not for everyone. Moreover, you should not put rosemary on the top of the tray. When baked in the oven, the herbs on top might burn and the aromatic oils can turn bitter.
Nutmeg is another seasoning that works extremely well with potatoes and a creamy, cheesy sauce.
The perfect seasoning fore scalloped potatoes, nutmeg has a warming, wintery flavour to it, so if you are cooking fish, such as air fried salmon you might consider leaving the nutmeg out.
Instead, you can sprinkle the finished scalloped potatoes with chopped chives to add some freshness.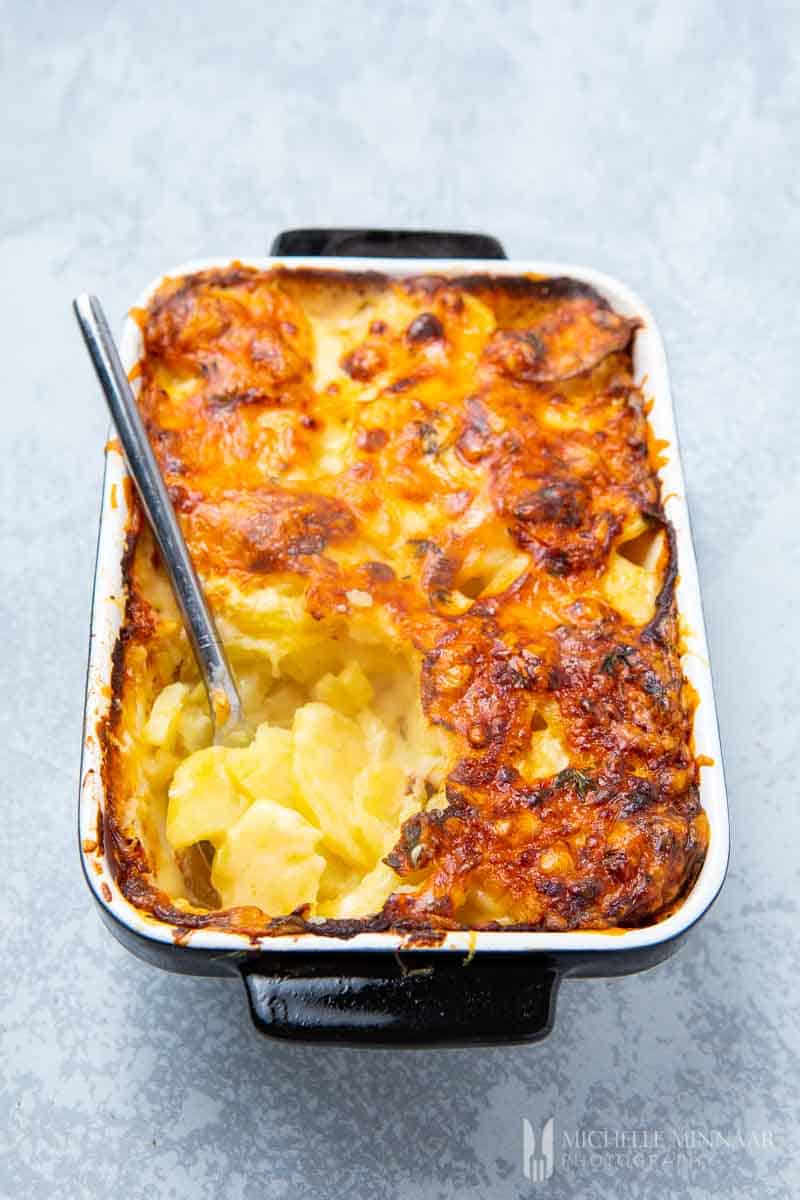 gluten free scalloped potatoes with cheese
I will not say that cheese always makes everything better, however, in this case it does. Some cheese in between the layers simply lift the gluten free scalloped potatoes to heavenly heights.
There are a number of cheeses you can use for scalloped potatoes. One of my favourites remain parmesan cheese. If you use parmesan cheese, don't be heavy handed because the cheese is quite salty.
It has a beautiful nutty flavour though, that combines well with the other elements in the dish.
Another option is the classic Emmental cheese. A semi-hard cow milk's cheese with a distinct nutty flavour and the ability to make every kind of gratin extra cheesy and stringy.
A bit of an outsider, which I still have to try out in my next batch of gluten free scalloped potatoes, is asiago cheese. This north Italian cheese bears resemblance to parmesan and grana padano, however it is somewhat smoother.
If you are interested in finding out more about asiago cheese, and what you can substitute it with check out this article.
For more delicious potato and cheesy recipes, check these out:
keep it green
Gluten free scalloped potatoes is a rich dish. It is not the type of thing you cook for a light lunch. However, combined with the right main course, you will have a fantastic dinner.
To balance out you should consider something green to along with it as well. Imagine this beautiful venison roast with scalloped potatoes on the side.
To balance the dish and refresh the palate, you will need some vegetables too. Sous vide Brussels sprouts will do this beautifully and keep in line with the rustic dinner, as will roast marrow and tobacco onions.
Print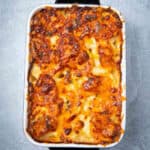 Gluten Free Scalloped Potatoes
---
Author:

Michelle Minnaar

Total Time:

1 hour 40 minutes

Yield:

12

side dish servings

1

x
Description
Learn how to make gluten free scalloped potatoes for dinner tonight. This American recipe is simple to follow and will become a family favourite!
---
45

ml

(3 tbsp) butter

1

onion, peeled and thinly sliced

5

garlic cloves, peeled and crushed

30

g

(1/4 cup) gluten-free flour

250

ml

(1 cup) vegetable stock

500

ml

(2 cups) milk

7.5

ml

(

1 1/2 tsp

) salt

2.5

cm (

1/2 tsp

) black pepper

15

ml

(1 tbsp) fresh thyme leaves, washed and finely chopped

2

kg

(4

1/2lbs

) potatoes, peeled

200

g

(2 cups) Cheddar cheese, grated

50

g

(

1/2 cup

) Parmesan cheese, grated
---
Instructions
Preheat oven to 200°C/fan 180°C/gas mark 6.
Slice the potatoes into 1cm (

½in

) thick rounds.
Sauté the onion in the butter for 5 minutes or until softened.
Add the garlic and continue frying for another 2 minutes.
Stir in the flour then slowly pour in the stock while stirring.
Add the milk, salt, pepper, 5ml (1 tsp) thyme, and stir until everything is well combined.
Let the sauce reach a slow simmering point and start to thicken, then remove from the heat.
Arrange half of the potatoes in an 9x13x3in (23x33x8cm) oven-proof dish.
Pour half of the cream sauce over the potatoes. Then sprinkle half of both cheeses evenly over the sauce.
Arrange the remaining potato slices evenly in the dish. Cover with the remaining sauce and sprinkle the remaining cheeses evenly on top.
Cover the dish with foil and bake for 30 minutes.
Remove the foil and bake uncovered for another 30 minutes, until the potatoes are cooked through and the top crust is golden brown.
Serve immediately with a green salad.
Notes
If you like onions, keep them in. Otherwise, strain them before pouring the sauce over the potatoes.
Prep Time:

20 minutes

Cook Time:

1 hour 20 minutes

Category:

Side Dish

Method:

Bake

Cuisine:

American
Keywords: gluten free scalloped potatoes, gluten free potato recipe, American scalloped potatoes
save the recipe to your pinterest board