This goat's cheese and beetroot tart is pure comfort food, however still light enough to be enjoyed on a summer's day. It makes for the perfect starter or light lunch for when you have guests over. The prep time is next to nothing and after that the goat's cheese and beetroot tart can sit in the oven, freeing you to tend to your guests. Furthermore, the first beetroot of the season will be available soon. Perhaps you even have them in the garden yourself? What could be better than using the tasty seasonal vegetables in you daily cooking?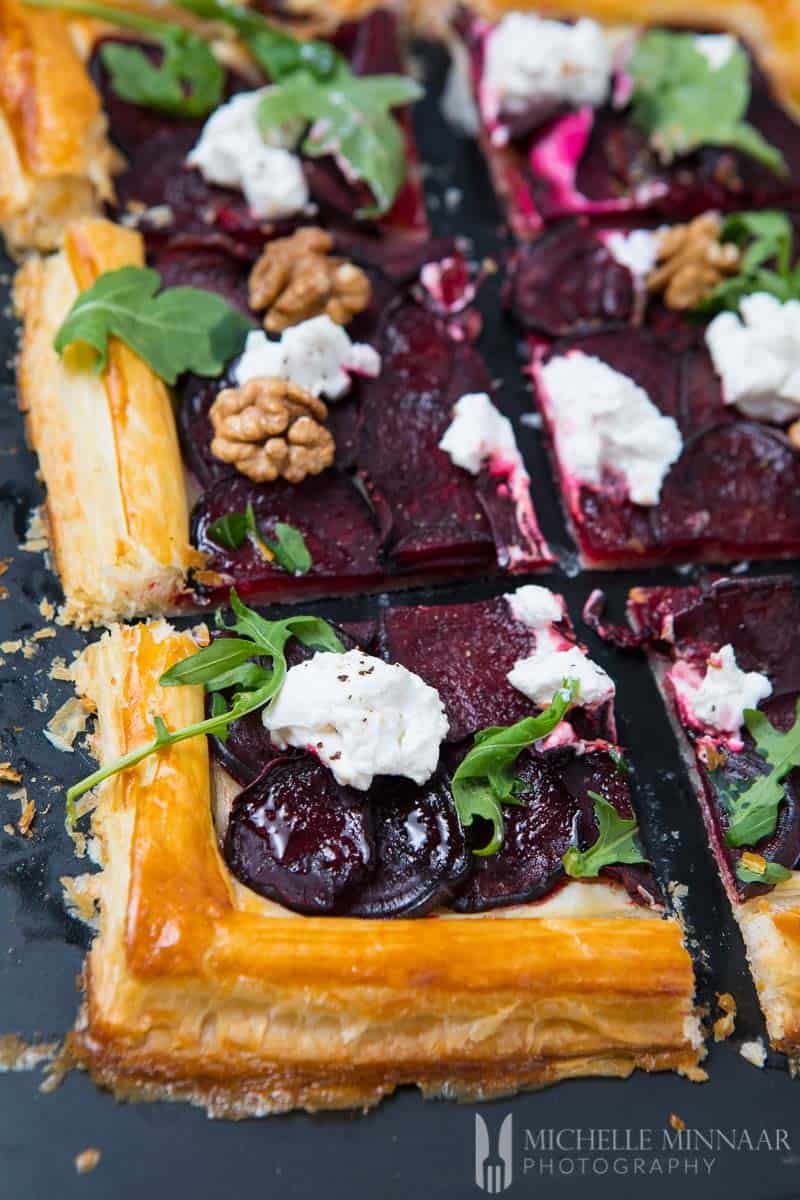 goat's cheese and beetroot tart
A goat's cheese and beetroot tart is a delightful dish because it is perfectly balanced. Beetroot has a beautiful savoury, earthy flavour, with a delicate sweetness to it. This sweetness is especially apparent when the beetroot is baked or roasted. You will be amazed how well beetroot works with the goat's cheese flavours. So even if you might think that you are not the biggest fan of goat's cheese, you owe yourself to try out this recipe. Trust me.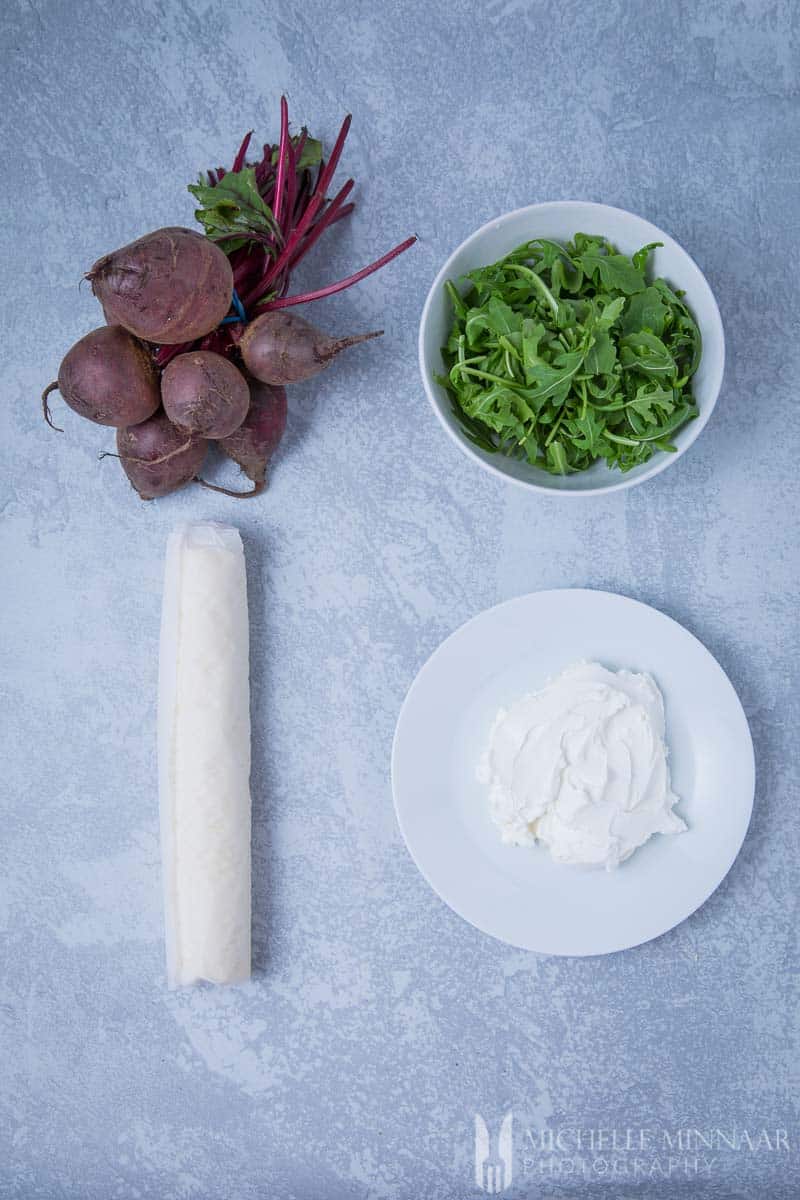 using my oven
I love to use my oven, and if you look at my recipes, you'll see that I use the oven quite a lot. I am fortunate to own a great oven and I simply love using it, even now in the summertime. Rustic winter dishes, big roasts and so on might be the first thing that springs to mind when you think of oven cooked food. However as I am trying to demonstrate with the goat's cheese and beetroot tart, you can also use the oven for summer-style food too.
The problem is that when you are as fond of using your oven as I am, there inevitably comes a time for one of these jobs that that is probably my least favourite to do in the kitchen – cleaning the oven. It is just one of those tedious tasks that you postpone and even though you do your best, it is extremely difficult to get it completely clean. I simply don't have the patience or the time for such a grimy job. However, there comes a point where there is no choice but to tackle it.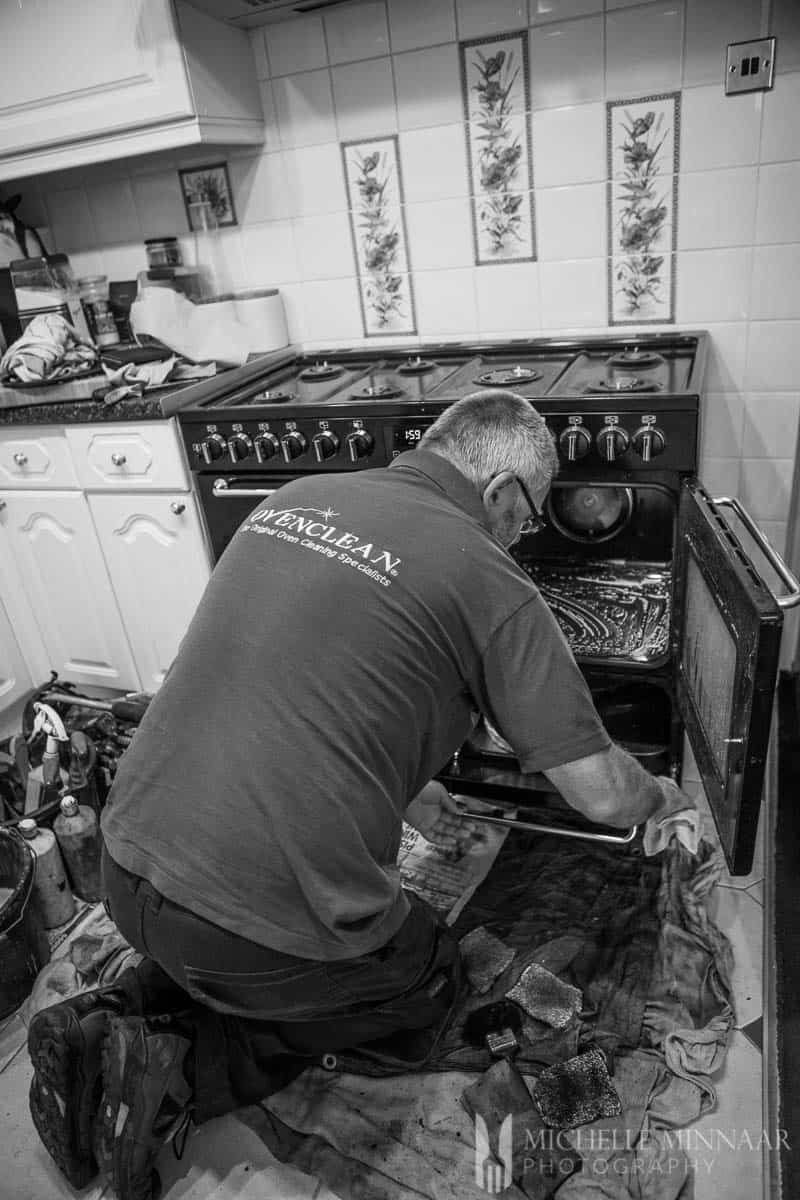 ovenclean
Thankfully there is an easy and efficient solution to this problem. With Ovenclean you can book a professional to come and clean your oven at home! Just like booking a plumber or anything else that needs to be fixed around the house. Brilliant, right? Why haven't I thought of doing this sooner?
Ovenclean offers first class quality cleaning, not only of your normal oven, but also the gas hobs, microwave, extractor, and even your barbecue, AGA or range cooker can get the royal treatment and become like new again. I booked a cleaning for my entire range cooker, which cost £90. The fee of the cleaning is based on the size of the task and thereby the amount of time it will take to clean the oven. I wanted it all cleaned, however it is also possible to just book cleaning for some sections. For example, if you feel like you can handle the gas hobs yourself, let Ovenclean deal with only the oven itself.
Via their website Ovenclean.com you can obtain a free quote on your job, and book an appointment when it suits you. Nick from Ovenclean did a terrific job on my range cooker and everything from the hobs to the oven look as good as new. This means I can enjoy the summer cooking up many more delicious dishes, such as the goat's cheese and beetroot tart.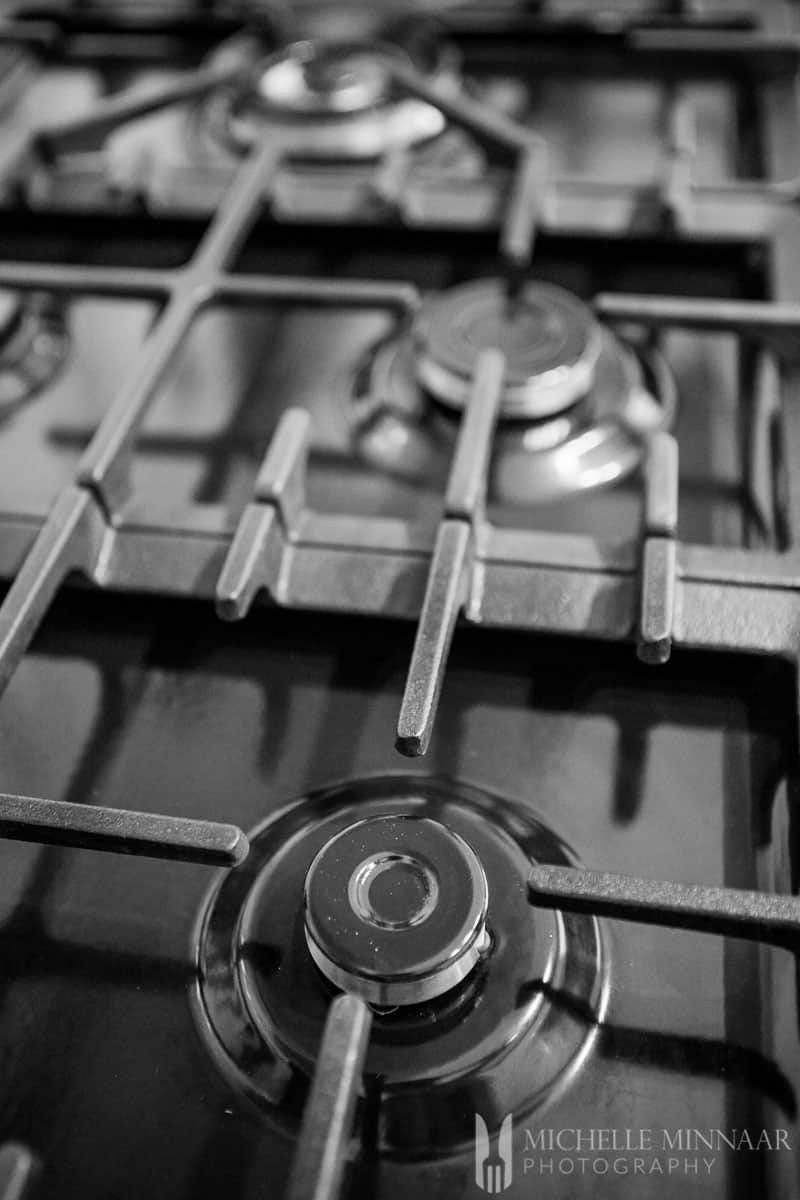 the goat's cheese
As a lover of goat's cheese, I love them in it in all shapes and sizes. The cheese can be soft or hard, but if you can get your hands on a lovely crumbly goat's cheese, it'll work well with the beetroot. One type that works particularly well is Valencay, which is a French goat's cheese that resembles a grey pyramid. It has an excellent texture and is very delicate – a top notch goat's cheese and beetroot tart.
beetroot
Beetroot is often associated with winter, such as my roasted beetroot. They are every bit as delicious in the summer. In fact, even better now when they are freshly dug up. Beetroot is excellent as a summer vegetable and treated right you can use it for salads as well, as I did here in my smoked salmon salad with beetroot.
Beetroot is very rich on vitamin A and C, as well as the minerals calcium and iron. Research shows that beetroot has an extremely high content of antioxidants, believed to strengthen the immune system and prevent many serious illnesses. Apparently, according to ancient Romans, beetroot is an aphrodisiac. I will let you do your own research on that one.
In any case there is no denying that beetroot is a healthy vegetable to eat and that we should try to incorporate it more into our diet. If you are cooking with fresh fresh beetroot, do not throw away the leaves. These are a great addition to a salad, or you can cook them like spinach and serve as a side for meat.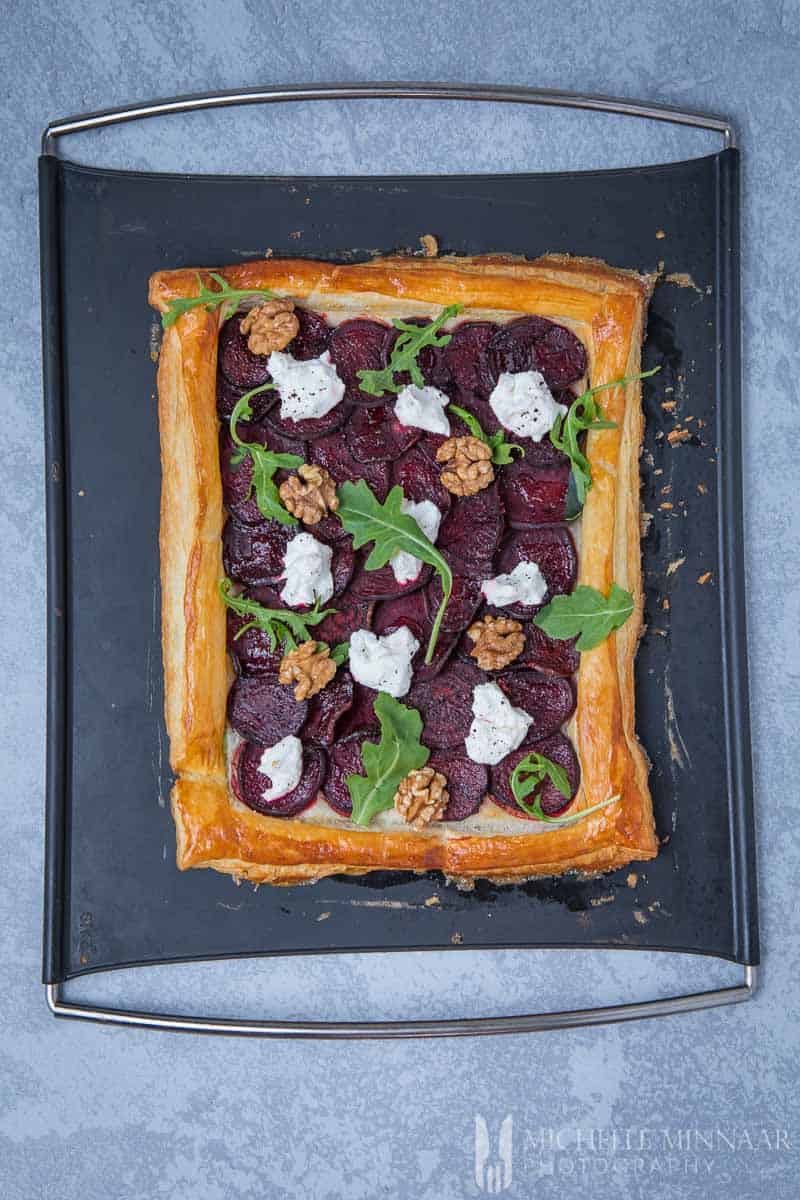 Goat's cheese tart
The recipe is really simple to make and requires little in terms of preparation time. It is of course possible to make your own puff pastry. However, I honestly struggle to see the added value by doing this. With this sort of thing I find it acceptable to cut corners and go with a store bought ready-made pastry. What you can get nowadays is so good that you will never taste the difference anyway.
If the goat's cheese scares you a little, try starting out with a milder one to see what you like. The very mild ones only taste slightly "goaty" and once baked with the beetroots the flavour will be even more subtle. If on the other hand you simply love goat's cheese then don't be afraid to prepare this recipe with a stronger one.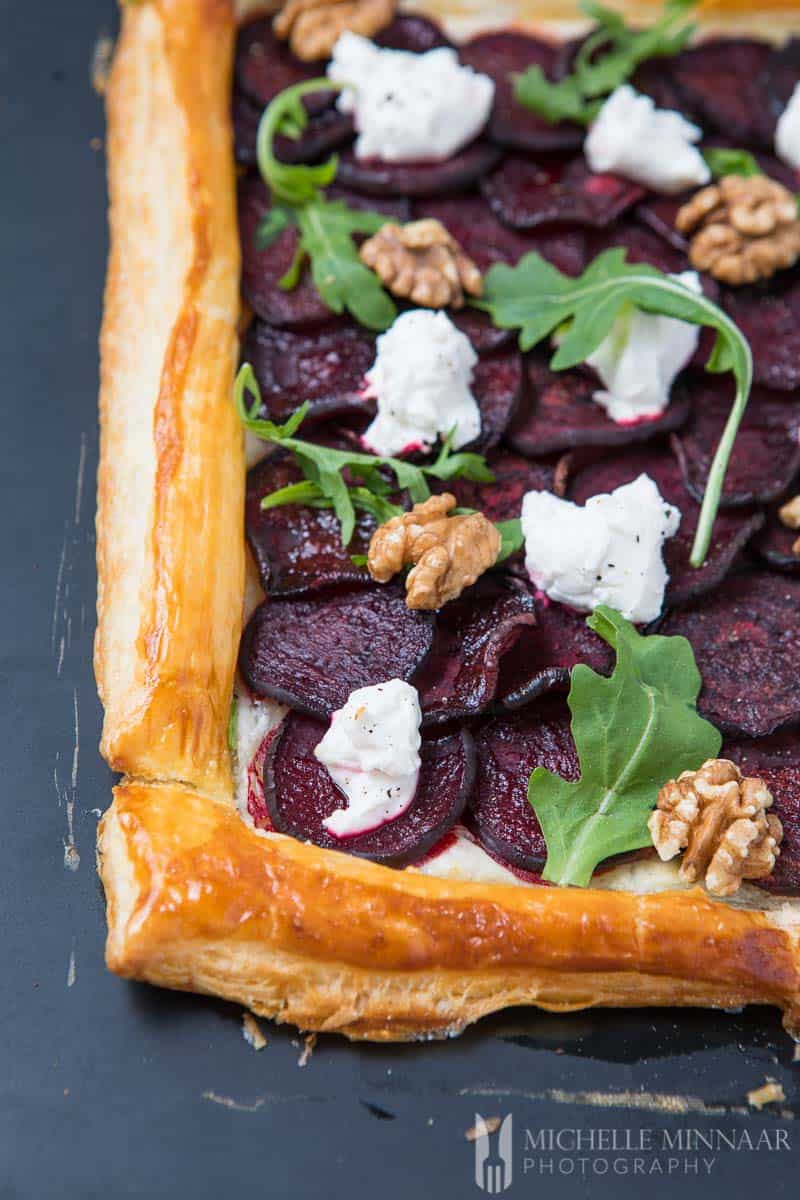 Serving
Serve the finished goat's cheese and beetroot tart with a sprinkle of fresh rocket salad. Also, add some roughly chopped walnuts. The bitter flavours of both these elements work with the sweetness of the baked beetroot and the creamy goat's cheese. It is perfect for an easy and rustic starter. Simply slice up the tart in little squares and serve with the rocket salad on top.
Serve it with a salad on the side for a lunch dish. If you love goat's cheese as much as I do, try my goat's cheese salad. Otherwise, a simple cherry tomato salad is always a tasty side.
What is your favourite beetroot recipe?
Print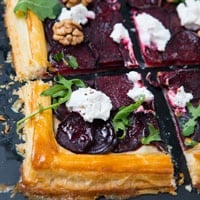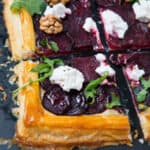 Goat's Cheese and Beetroot Tart
---
Author:

Michelle Minnaar

Prep Time:

15 minutes

Cook Time:

60 minutes

Total Time:

1 hours 15 minutes

Yield:

6

1

x
Description
A goat's cheese and beetroot tart is not only super easy, it's a fantastic way to use seasonal produce. Serve for lunch, as a side dish or light dinner.
---
Scale
Ingredients
450g

(1lb) beetroot, peeled

30

ml (2 tbsp) olive oil
salt and freshly ground pepper

1

pack (320g) ready-rolled puff pastry sheet

200g

(

7oz

) goat's cheese crumbled

9

walnuts, roughly chopped

60g

(

2oz

) rocket/arugula, washed
---
Instructions
Preheat the oven to 200°C/400°F/gas mark 6.
Slice the beetroot thinly, using a mandolin.
Place the beetroot slices in an ovenproof pan, drizzle with oil and season.
Bake the beetroot for around 20 minutes or until cooked and tender.
Meanwhile, put the pastry on a baking sheet. Score a small border around the edges of each piece with a knife and then prick within the border with a fork. Bake on the shelf below the beetroot for 15 minutes or until puffed and golden.
Remove from the oven and, if the centre has risen, gently flatten it.
Arrange the beetroot slices inside the borders then sprinkle with cheese.
Put the tart back into the oven and cook for 10 minutes.
Remove the tart and quickly sprinkle the walnuts on top and let the tart cook for a further 3 minutes.
Remove from the oven, cut into 6 pieces and serve with rocket.
---
Notes
If you are in a hurry and don't have the time to roast the beetroot beforehand you can buy the beetroot pre-cooked, but they shouldn't be of the pickled kind.
Category:

Starter

Cuisine:

English
Nutrition
Serving Size:

1 serving

Calories:

425

Sugar:

7.2 g

Sodium:

533 mg

Fat:

30.2 g

Saturated Fat:

12.7 g

Carbohydrates:

25.7 g

Fiber:

3.3 g

Protein:

10.3 g

Cholesterol:

41 mg
save the recipe to your pinterest board