Gratin dauphinois is undoubtedly my favourite French side dish! I love eating it with all kinds of French recipes. Above all, I love eating it with a pan-fried beef steak, topped with a fabulous blue cheese sauce.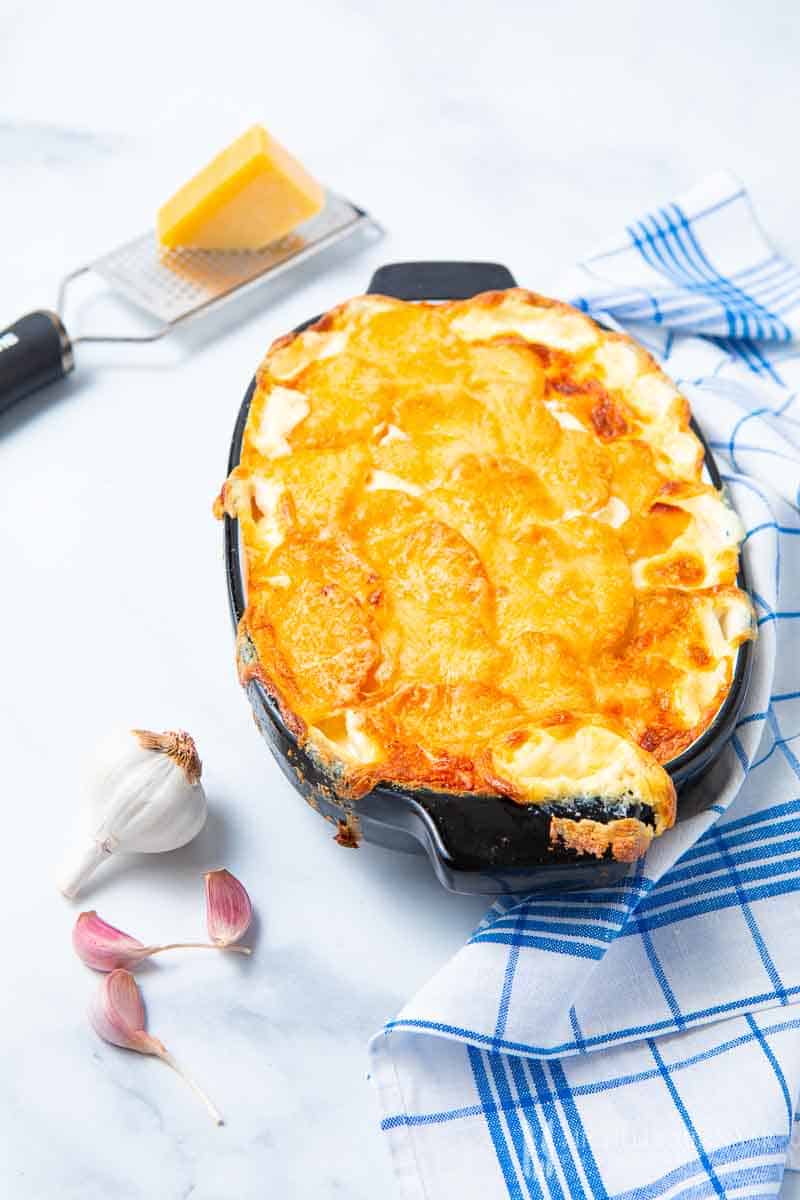 Gratin dauphinois is the essence of French comfort cooking. It's quick and easy to prepare. The most difficult part is the actual preparation of potatoes but if you have the correct tools, i.e. potato peeler and mandolin, it is a doddle.
Prior to starting this recipe, you also need to source the right type of potatoes. Remember, if you source potatoes which are starchier, they'll fall apart. In addition, you'll end up with a mushy consistency.
A gratin dauphinois is best made with a firm waxy potato. Enjoy exploring one of France's essential recipes!
how to make a French gratin recipe
You will need the following tools and equipment to make it happen:
gratin dauphinois – a French recipe
A gratin dauphinois is a traditional French recipe. Basically, it comprises sliced potatoes and it is baked in milk or/and cream. You might also know this recipe by these names:
pommes de terre dauphinoise
potatoes a la dauphinoise
gratin de pommes a la dauphinoise
Be careful not to confuse this dish with pommes dauphine, which isa completely different dish. In comparison to a gratin dauphinois recipe, this dish is basically a crispy deep-fried potato puff.
Basically, it is made up of a potato mash mixed with choux pastry. The balls resemble Italian parmesan arancini, but they don't contain the cheese element, or rice for that matter.
Oftentimes, gratin dauphinois is served a side dish to savoury tarts, quiches, meaty roasts, steaks and other French recipes. For instance, typically, a server would ask you whether you would like gratin dauphinoise or French fries with your steak.
As always, the best answer is the former. In some ways, gratin dauphinois is a creamy potato recipe and is actually similar to the English scalloped potatoes, which is gluten free as well.
Sometimes a French gratin contains lots of grated French cheese, aged cheese or even in exceptional cases mild blue cheese. In either case, a gratin can be altered easily by the addition of particular ingredients.
Basically, you must pick which ingredients you would like to enjoy best and make your own version of the gratin dauphinois.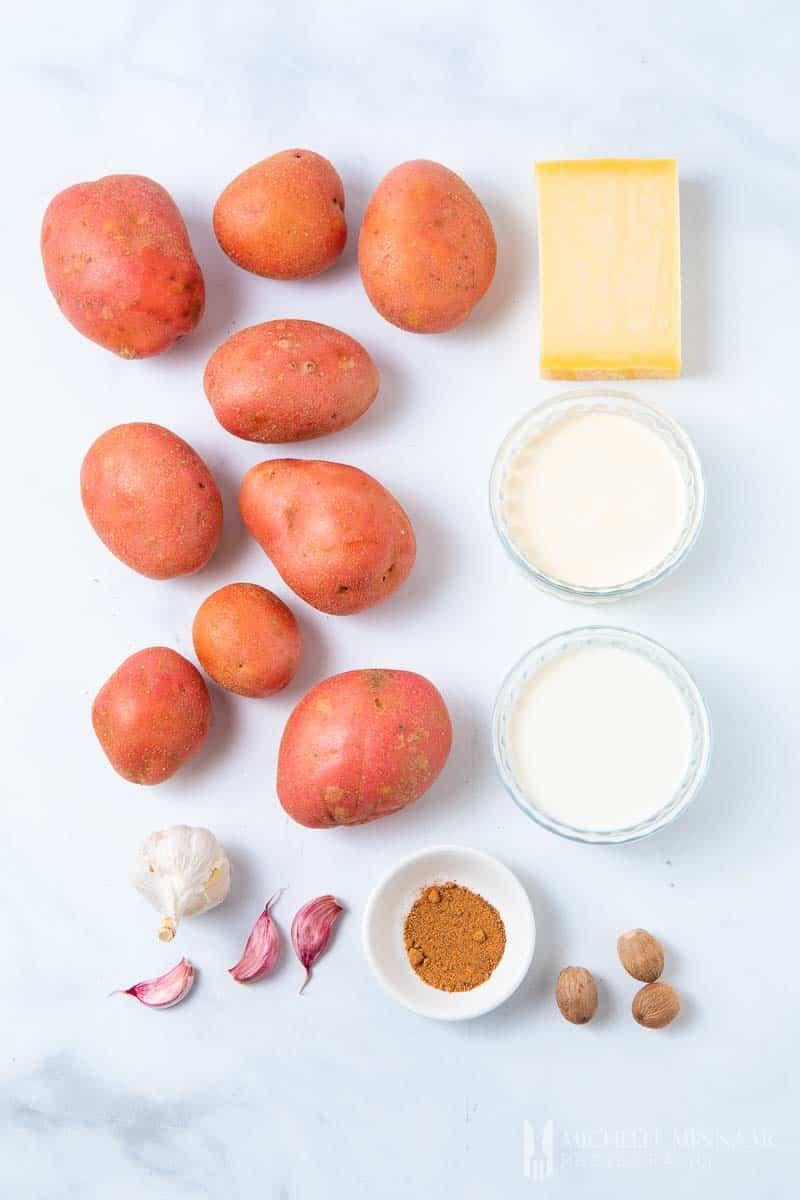 gratin dauphinois history
Gratin dauphinois comes from the Dauphine region in France, which is in the south-eastern part of the country. The first time this dish came to existence was in 1788.
Apparently, the gratin was served alongside an ortolan, which is a type of bird that is eaten whole. The dinner was hosted by the Duke of Clermont-Tonnerre, Charles-Henri.
Since then, the gratin was vastly enjoyed not only in the south-eastern part of France, but it also made its way to the capital.
which are the best potatoes for a gratin?
This is one of the key questions one must ask before starting this recipe as the potatoes will undoubtedly make or break the gratin dauphinois.
Now, the gratin must consist of firm potatoes that can withstand the heat. Preferably, they should also hold their structure while you serve it.
What you don't want are potatoes which turn mushy, i.e. the type of potato used in mashed potatoes. So, this means you need to source potato which are waxy, not starchy.
The waxy type of potatoes hold their shape when you cook them, which makes them perfect for this gratin dauphinois recipe. Waxy potatoes you need to consider include:
Yellow Finn
Yukon Gold
Charlotte
Jersey Royals
Anya
Baby/mini potatoes – but these are a nightmare to peel
Red potatoes – these work too
These firm potatoes are also an excellent idea for making potato salads. For instance, you can consider these additional recipes if you have leftovers:
As you can see, there are plenty of potato recipes you can make with these leftover waxy potatoes. However, a gratin dauphinois is one of the best ones.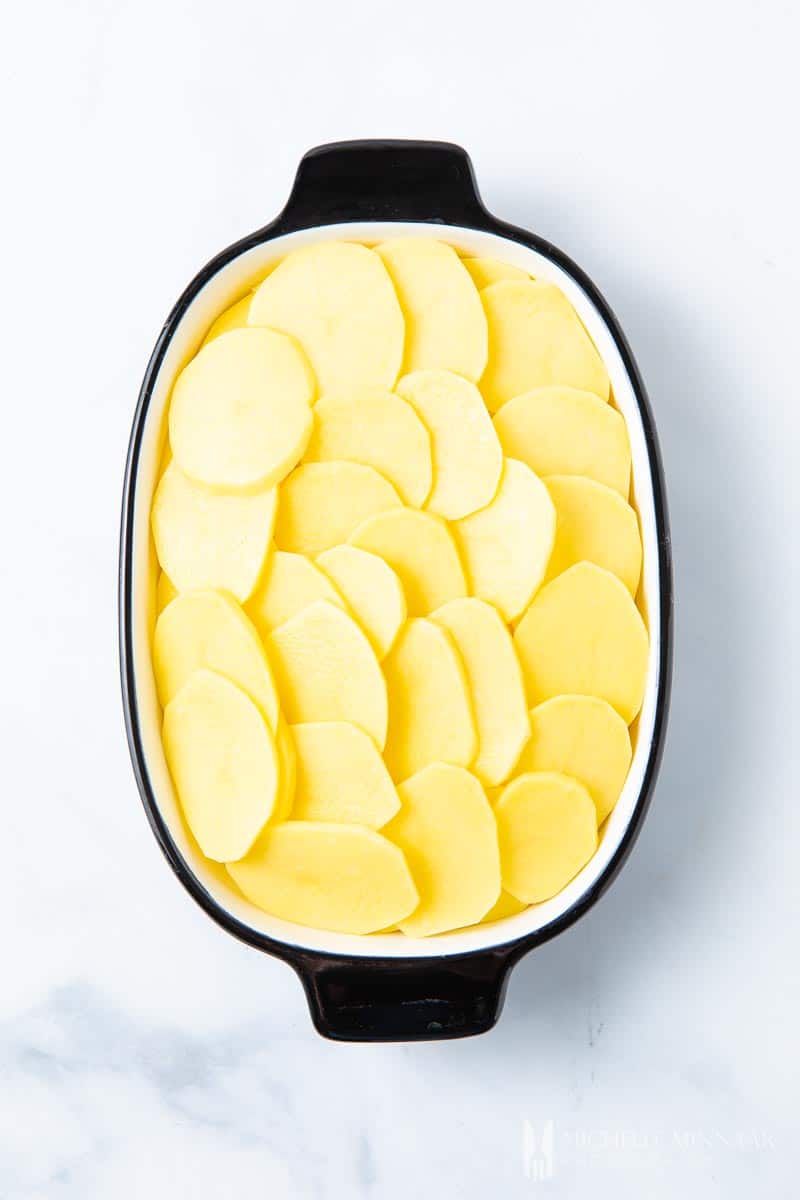 Julia Child's gratin dauphinois
Without a doubt, you will find a gratin dauphinois recipe in Julia Child's famous French cookbook. Having said that, I decided to take a peek at her version.
As you know, Julia Child was a huge fan of butter, so her recipes call for tons of it.
Tip: In fact, before you place the potatoes into the baking tray, make sure you butter the bottom as well as the edges. The butter will provide the fats needed to cook the potatoes properly. Plus, they will give them that incredible buttery flavour that is irresistible.
Now, in her gratin dauphinois, Julia also calls for the addition of Swiss Gruyere cheese, just like mine. Gruyere is a yellow hard cheese from Switzerland.
It is made with cow's milk and it carries slightly salty flavours. Oftentimes, a Gruyere cheese gets saltier and nuttier with its age.
Nevertheless, it is one of the most perfect cheeses for a gratin dauphinois recipe.
best gruyere substitutes for a gratin recipe
If you can't find any Gruyere cheese in the supermarket, there are a considerable number of substitutes out there which you can use for a gratin dauphinois. For example:
You can also consider adding blue cheese to a gratin dauphinois. The blue cheese adds a complexity to the gratin and makes it really enjoyable with a sous-vide steak recipe.
Don't forget about blue cheese sauce! For the blue cheese, you can consider English stilton, Roquefort (my top pick), Gorgonzola or Danablu. Don't forget that you can also jazz it up with some herbs like thyme.
More side dish inspiration
With what would you serve your gratin dauphinois recipe? Let me know!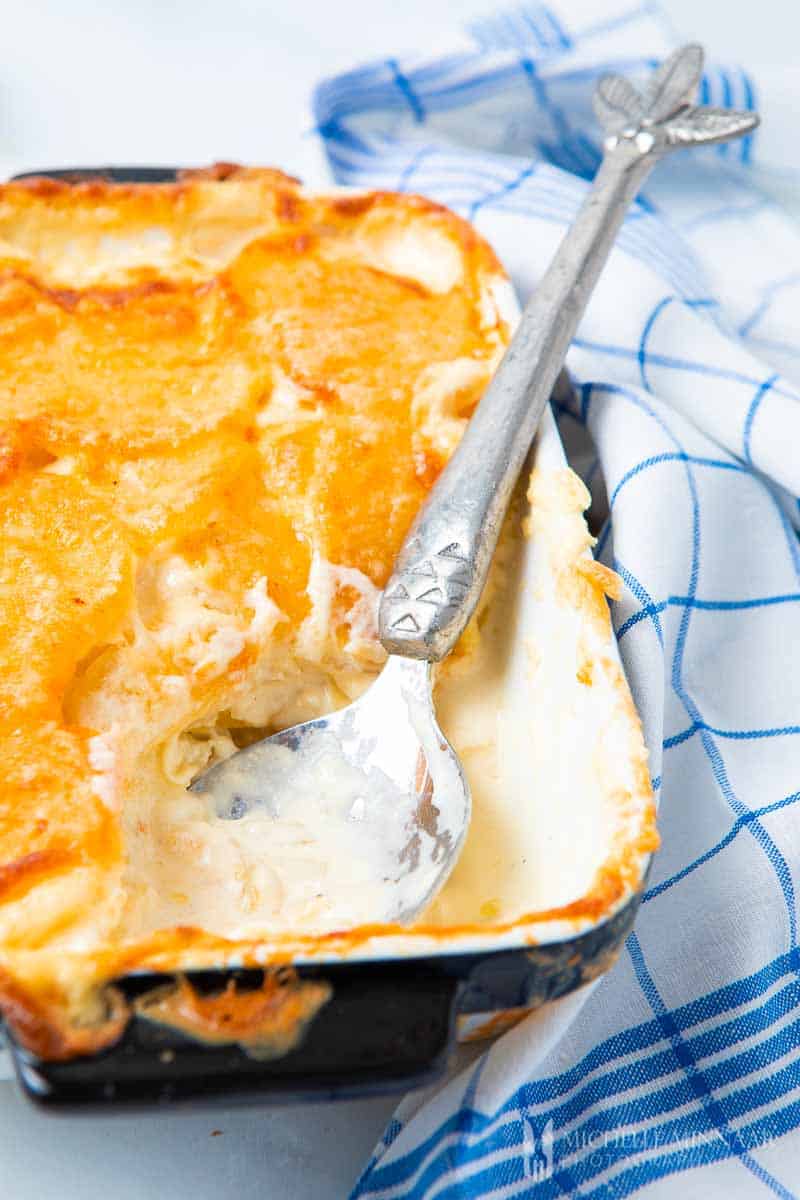 Print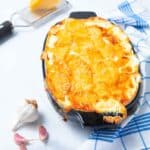 Gratin Dauphinois
---
Author:

Michelle Minnaar

Prep Time:

20 minutes

Cook Time:

1 hour

Total Time:

1 hour 20 minutes

Yield:

6

side dish servings

1

x
Description
A gratin dauphinois is one of the best and most popular French recipes. This creamy potato recipes is best served as a side dish with steak.
---
30

ml (2 tbsp) butter

1

kg (2lbs) potatoes, peeled and thinly sliced

300

ml (½pt) double cream

300

ml (½pt) milk

2

garlic cloves, peeled and crushed

1.25

ml (¼ tsp) ground nutmeg

60g

(

2oz

) Gruyere cheese, grated [optional]
---
Instructions
Preheat the oven to 160°C/fan oven 140°C/320°F/Gas 4.
Peel the potatoes and cut them as thinly as possible. Plunge the slices thinly in a bowl of cold water to wash off some of the starch.
Dry the potato slices thoroughly with a tea towel.
Butter a large ovenproof dish.
Pour the milk, cream, garlic and nutmeg in a saucepan. Heat the contents until it reaches boiling pot. Remove from the heat and season to taste.
Arrange the potato slices in the dish, reserving the prettiest ones for the top to arrange neatly.
Pour the creamy mixture over the potatoes.
Place the dish in the oven and bake for 45 minutes.
Remove the dish and sprinkle the cheese on top and bake for another 15 minutes.
Serve with a green salad as a vegetarian lunch or with your favourite French meat dishes. Enjoy!
Notes
In this case, a mandolin is ideal for slicing the potatoes thinly. A food processor is another good alternative.
Traditionally, cheese is not included in this classic French recipe. Parmesan would make a good alternative to this version though!
If you don't use cheese, just cook the potatoes for 1 hour straight.
Category:

Side Dish

Method:

Bake

Cuisine:

French
Keywords: gratin dauphinois, French potato recipe, sliced potato recipe, vegetarian potato recipe