Harissa aioli is one of those sauces that go hand in hand with my harissa prawns recipe, or any finger-food for that matter! It's an undeniably delicious dip, which can easily enhance the flavour of any ingredients.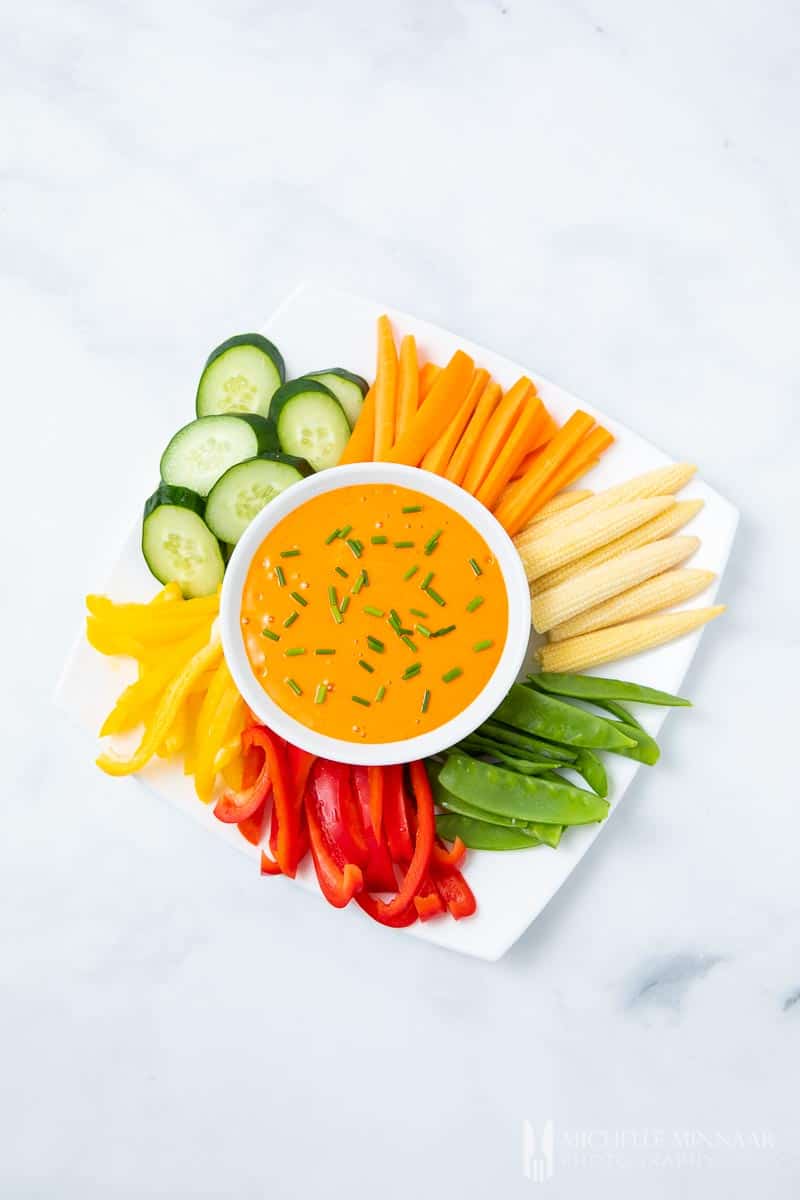 In this case, you can also serve the harissa aioli with raw vegetables.
Making harissa aioli takes no longer than a couple of minutes. In my opinion, there's nothing better than enjoying a fresh and homemade sauce. Forget the stuff that comes in a jar and make it yourself. Indeed, it is that easy.
Take my avocado oil mayo for instance. That's another fantastic 5-minute dip. So, as you can see, you don't have to be a professional chef in order to make gourmet homemade sauces and dips.
homemade harissa aioli recipe
Making harissa aioli is like making homemade mayonnaise. It calls for olive oil and eggs, however it is seasoned with fresh garlic gloves and chilli paste, or in this case harissa sauce (which gives it a lovely red, yet creamy colour).
Generally speaking, you can serve harissa aioli as a dipping sauce. You can also serve it with a delicious burger recipe. For instance, it could work very well with this minted lamb burger for extra spice.
Or, you can also try pairing it with a fantastic vegetarian butternut and chickpea burger.
how to make an aioli
Here's what you'll need to replicate my harissa aioli as well as other homemade aioli recipes.
harissa aioli definition
There are two things that we need to define with a harissa aioli recipe. First, let's start with defining aioli.
Aioli is a sauce which comes from the Mediterranean region. In short, it is a creamy sauce made with garlic and olive oil. Translated from Catalan and Provencal, it literally means 'garlic and oil'.
Today, you can find an aioli sauce in Spain, France and Italy (mostly in the Southern parts). If you visit Spain, you are more than likely to find aioli being served with pimientos de padron or patatas bravas.
Now, harissa sauce or harissa paste is a very hot chilli pepper paste that originates in North Africa. Generally speaking, it is made with roasted red peppers, serrano or baklouti peppers (which are very high in terms of heat).
Harissa paste is ordinarily seasoned with fresh garlic, coriander seeds, caraway seeds and cumin, combined with olive oil.
You can easily find harissa sauce in Tunisia, as it is considered one of their main condiments. There, you can find it being served with a couscous recipe, stews and chickpea soup.
In Algeria, it is used as a rub for grilled vegetables, especially eggplants/aubergines. You can also find harissa in Morocco or Israel, in shawarmas and kebabs.
So, this harissa aioli is a perfect combination of two classic sauces. Think of it this way, two is better as one! Don't you agree?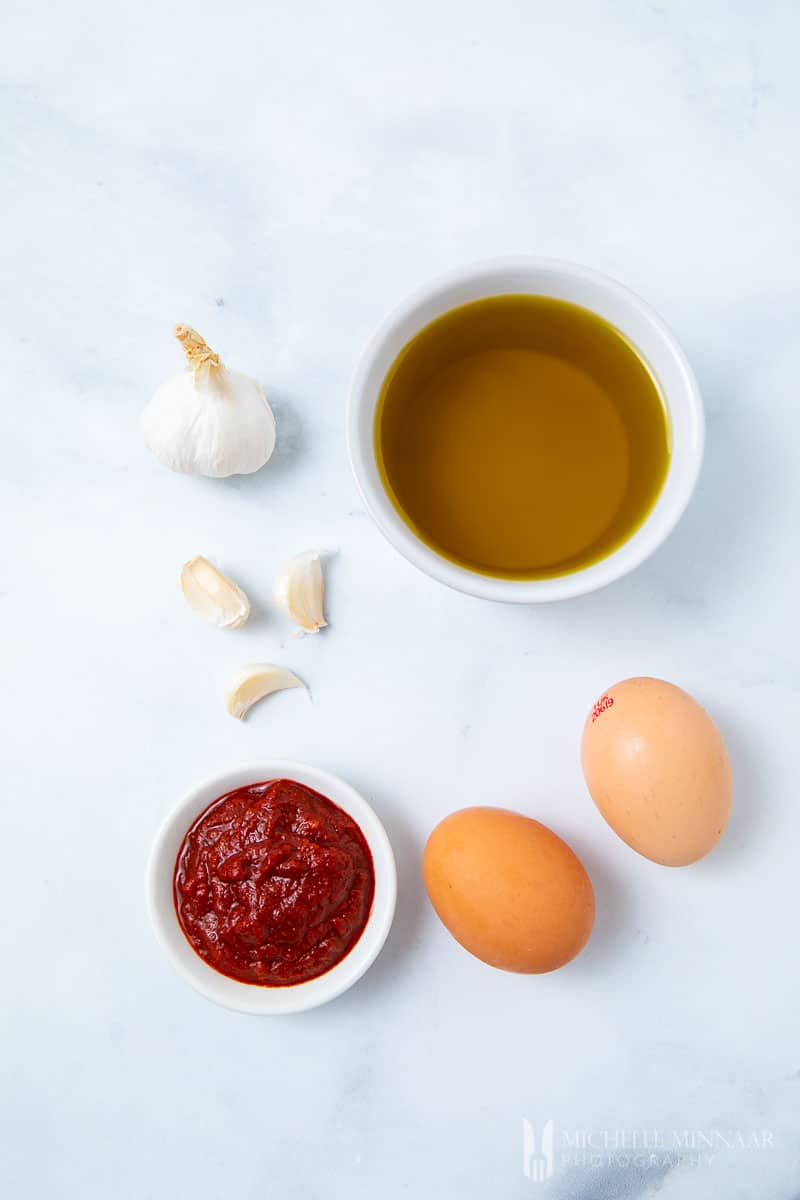 what does harissa aioli taste like?
Due to the fact that harissa paste is made with roasted sweet peppers and chilli you can expect a subtle sweetness. If you char the red peppers enough, you might even be able to detect a smoky flavour. In either case, it is a sweet, spicy and creamy sauce.
red pepper harissa aioli
If you love the taste of red bell peppers, you can roast some and make your own red pepper paste. The colour of your harissa paste will not only intensify, but so will the taste.
Plus, it is an excellent way to go easy on the spicy harissa paste and create your own mild version of harissa aioli.
If you've got leftover red bell peppers, you can make these delicious recipes:
harissa aioli vegan
My version of a harissa aioli calls for egg. In fact, the current version from the Provencal region includes egg yolks and lemon juice (making it very similar to a mayonnaise).
However, previous and original versions didn't include the egg and were more focused on the garlic.
In either case, when adding egg yolks is not an option for you, make this harissa aioli without the egg emulsifier. Hence, you are going to end up with a delicious harissa aioli that's vegan.
Tip: If you don't make your harissa sauce or harissa paste from scratch, then make sure it says it's suitable for vegans on the jar.
how to flavour an aioli recipe
You can add a couple of ingredients to add extra flavour to this harissa aioli. For example, you can add:
saffron
more chilli pepper powder
thyme, oregano, coriander, basil, parsley, watercress (for herby notes)
smoked paprika powder
lemon or lime juice
In fact, you can add these to any homemade sauce or dip you are attempting to make. For instance, take some inspiration from these recipes: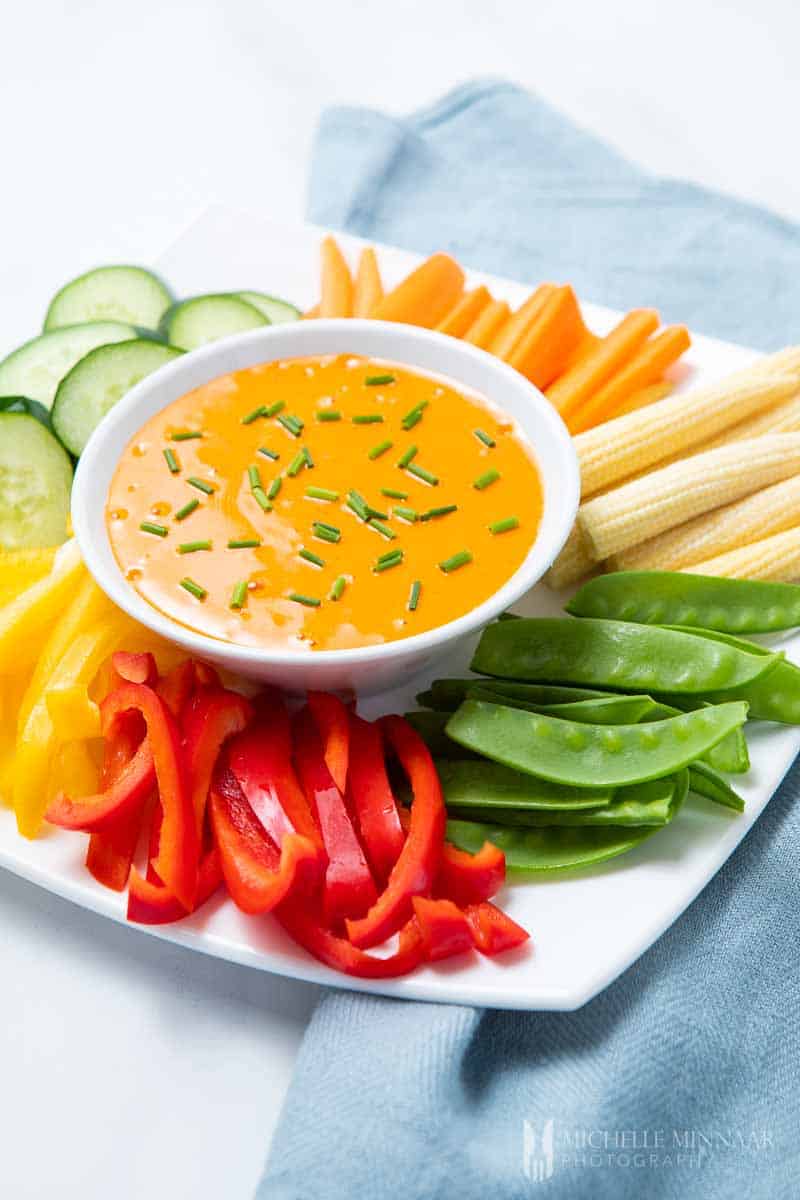 best toppings for aioli recipes
You can serve this harissa aioli as a dipping sauce with a few extra toppings. For example, you can consider the following toppings to enhance the flavour of the aioli:
chives
scallions
fresh herbs like watercress, parsley, coriander or these coriander substitutes
jalapenos
fresh red chillies or green chillies
watercress
sweetcorn
oregano
marjoram or these marjoram substitutes
thyme or these thyme substitutes
rosemary
freshly grated garlic (might be too overwhelming for some)
What would you serve your homemade harissa aioli with? Let me know in the comments section below.
Print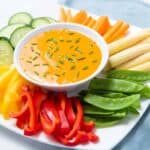 Harissa Aioli
---
Description
This harissa aioli is a good example of a homemade dipping sauce. It is made with harissa paste and a traditional aioli. It's a finger-licking combination.
---
2

garlic cloves, peeled and finely crushed

2

egg yolks

1.25

ml (¼ tsp) salt

15

ml (1 tbsp) lemon juice

15

ml (1 tbsp) white wine vinegar

250

ml (1 cup) oil

30

ml (2 tbsp) harissa paste
---
Instructions
Place the garlic, egg yolks, lemon juice, vinegar, and salt in a food processor and blend until combined and thickened.
While the food processor is running, slowly pour in a thin stream of oil. The mixture should start thickening immediately. The mayonnaise is ready when you've added all the oil.
Stir in the harissa paste and serve immediately with vegetable crudites. Enjoy!
Notes
When it comes to the oil, pick a neutral-flavoured one. E.g. sunflower, canola, grapeseed, vegetable and peanut. 

You can use olive oil too but the aioli will take on a bitter aftertaste, which some people adore.

Use as much or as little harissa paste as you like. 

If you're short on time, you can buy the mayonnaise and stir in the garlic and harissa paste.
Prep Time:

5 minutes

Cook Time:

0 minutes

Category:

Sauce

Method:

Blend

Cuisine:

French
Keywords: harissa aioli, harissa mayo recipe, harissa dip