These juicer pulp muffins are 100% dairy-free and lactose-free! If you want to learn how to cook sustainably in the kitchen, this is the recipe for you.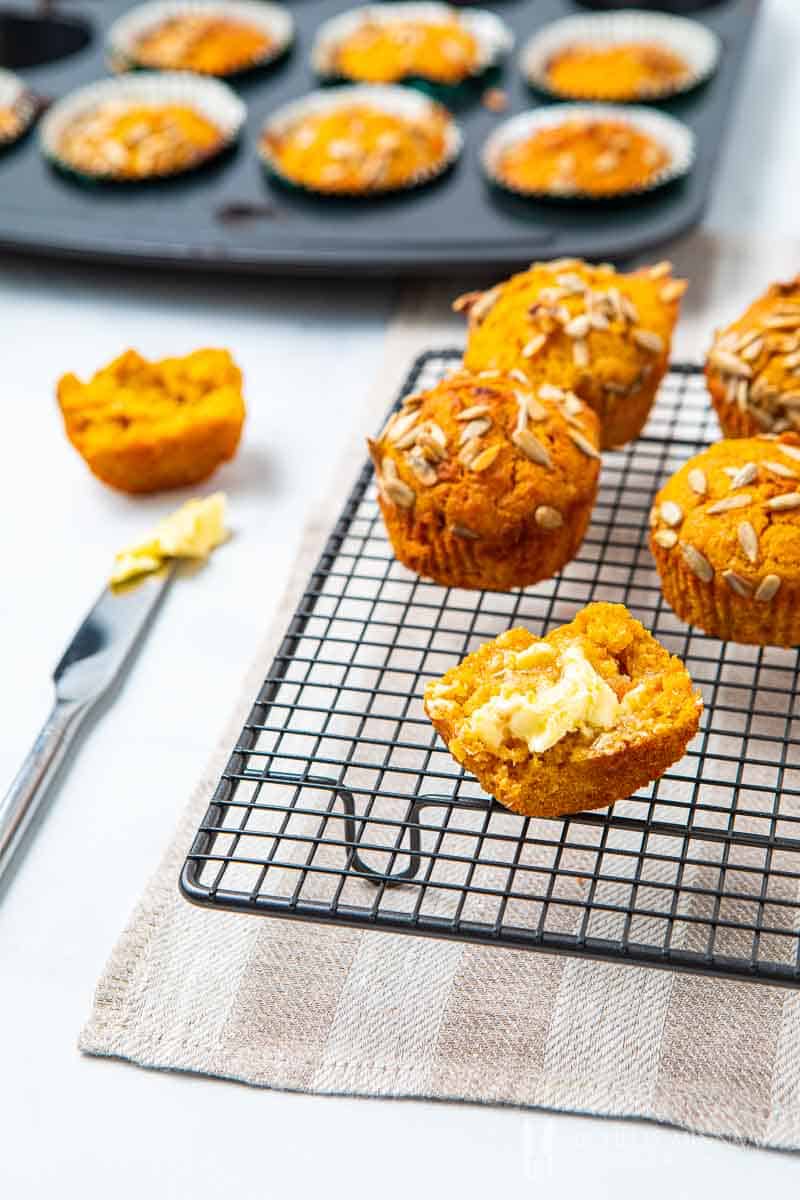 Right after you finish making your carrot juice, don't even think about throwing away the remains of the carrots inside the juicer. Why would you? Especially, when you can make delicious juicer pulp muffins.
Generally, I am an ambassador for using up the whole of the ingredient with which I cook and reducing the amount of waste that goes in my trash bin.
For instance, every time I peel vegetables, I set the peel aside for the compost.
This time though, I wasn't going to let something so delicious like juicer pulp get away. Some people even add it into their carrot juice for a bit of texture.
I took it to the next level though and made my very own healthy dairy-free juicer pulp muffins.
products you need for this recipe
Here is a list of things you need in your kitchen to make sure that you make your juicer pulp muffins correctly.
Do you have a product which you always use for your muffin recipes? Perhaps, for decorative purposes?
I'd love to know what your secret kitchen tools are to help me become a better baker. Let me know in the comments section below.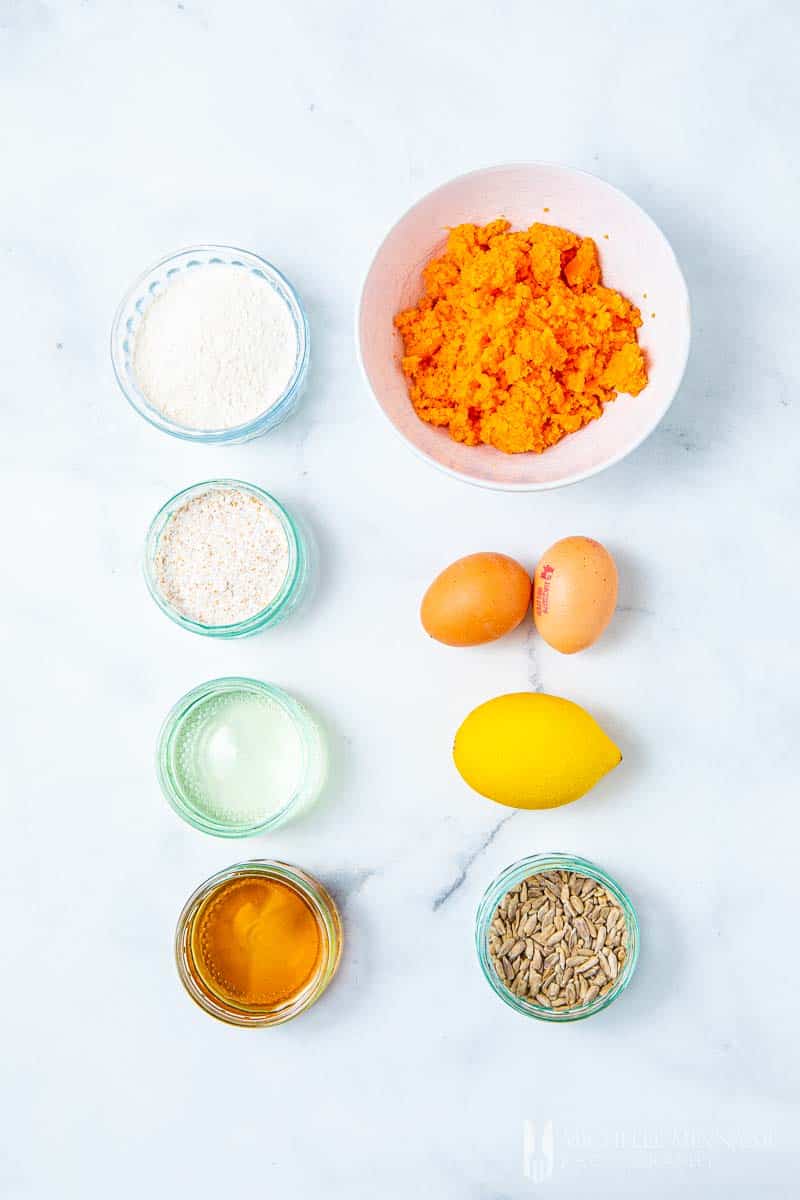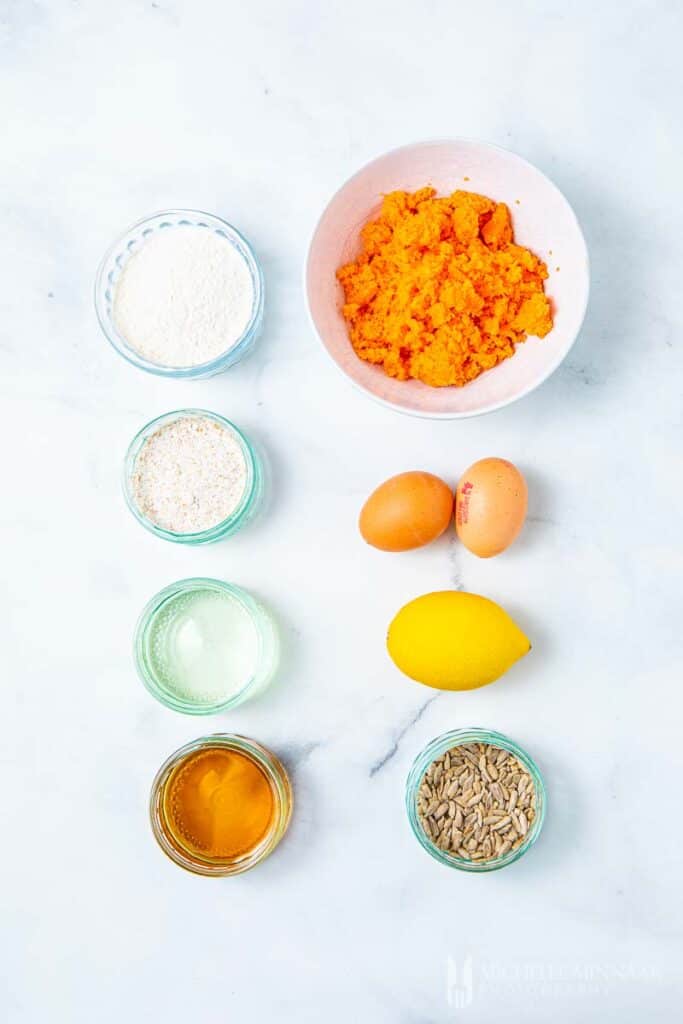 carrot muffin recipe
For this juicer pulp recipe, I've reused my juiced carrots in the form of pulp.
In my opinion, carrot is an excellent and healthy way to create delicious desserts. Today, you can find those classic carrot recipes like a fluffy carrot cake or carrot cake muffins with a creamy frosting.
Well, these juicer pulp muffins are like carrot cake muffins, but they are much healthier. First of all, they don't call for the addition of milk or any dairy. It's completely optional.
Second of all, instead of sugar, I've opted to use a bit of honey. In combination with the lemon zest, this gives the juicer pulp muffins a sweet yet tangy bite.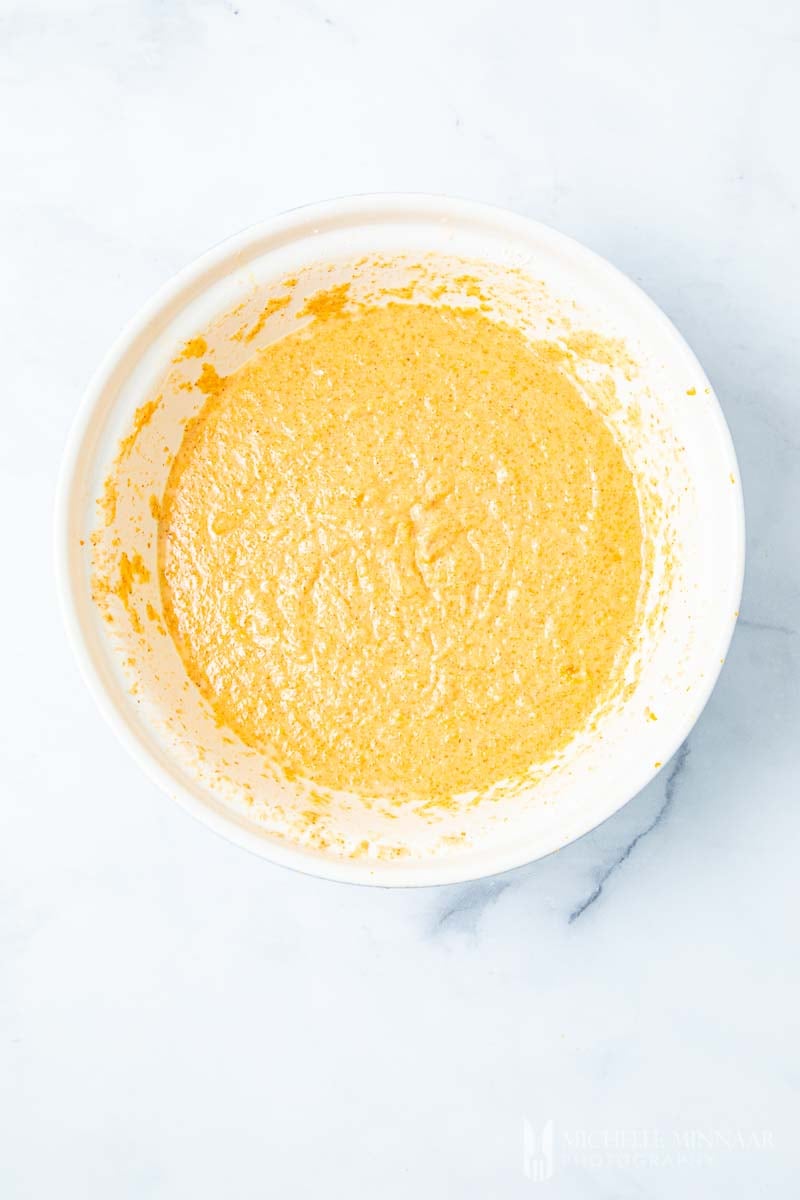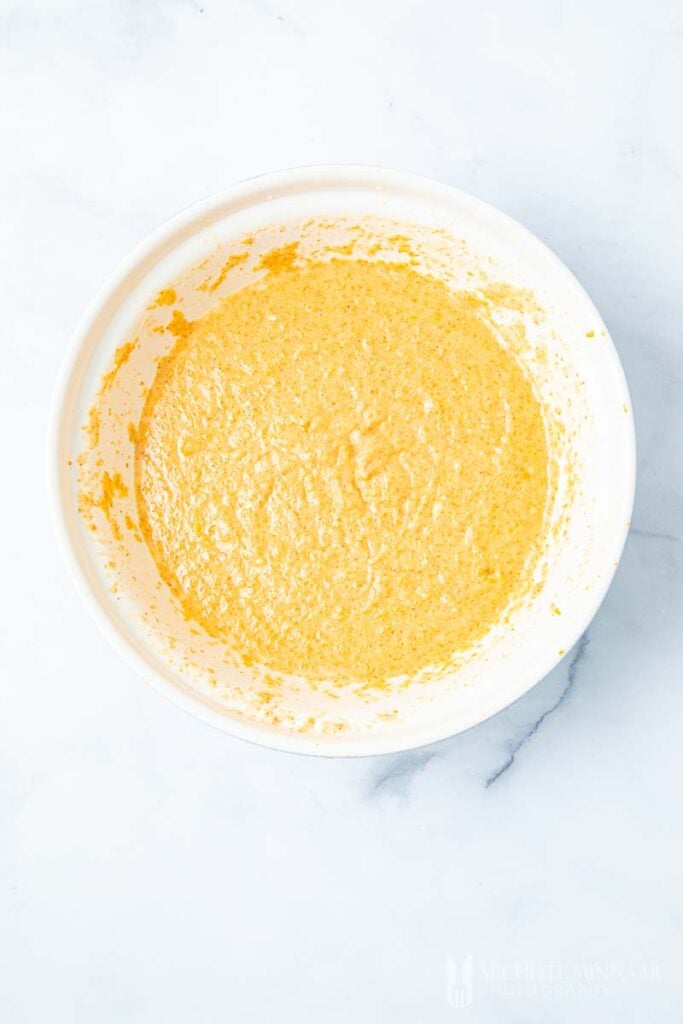 The best part is, that you can practically use any combination of pulp you've got remaining in your juicer.
For instance, let's say you've made a delicious carrot and beet juice. You can use up all the pulp.
Although, if I am thinking about flavour combinations for making juicer pulp muffins, then try out these juices and make muffins with the waste:
carrot and orange (3 carrots, 1.5 oranges)
carrot, apple and ginger ( 2 carrots, 2 apples, 1 small root of ginger)
beetroot and carrot (4 carrots, 1 beetroot)
carrot, spinach, lemon and celery (3 carrots, handful of spinach, juice of 1 lemon, 1 stalk of celery)
You can use up the pulp of these different types of flavour combinations and still make delicious juicer pulp muffins.
It all depends on what flavour you feel like – earthy, sweet, citrusy? Take your pick.
Which carrots are best for muffins?
If you want to take advantage of the natural sweetness carrots bring to a recipe, then I recommend going for sweeter varieties. This way, you can also limit your sugar intake.
Therefore, the best varieties of carrots for muffins and juicing are the following: Bolero, Short 'n Sweet, Little Finger, St Valery and Scarlet Nantes.
All of the above-mentioned varieties are sweet, juicy and packed with earthy flavours.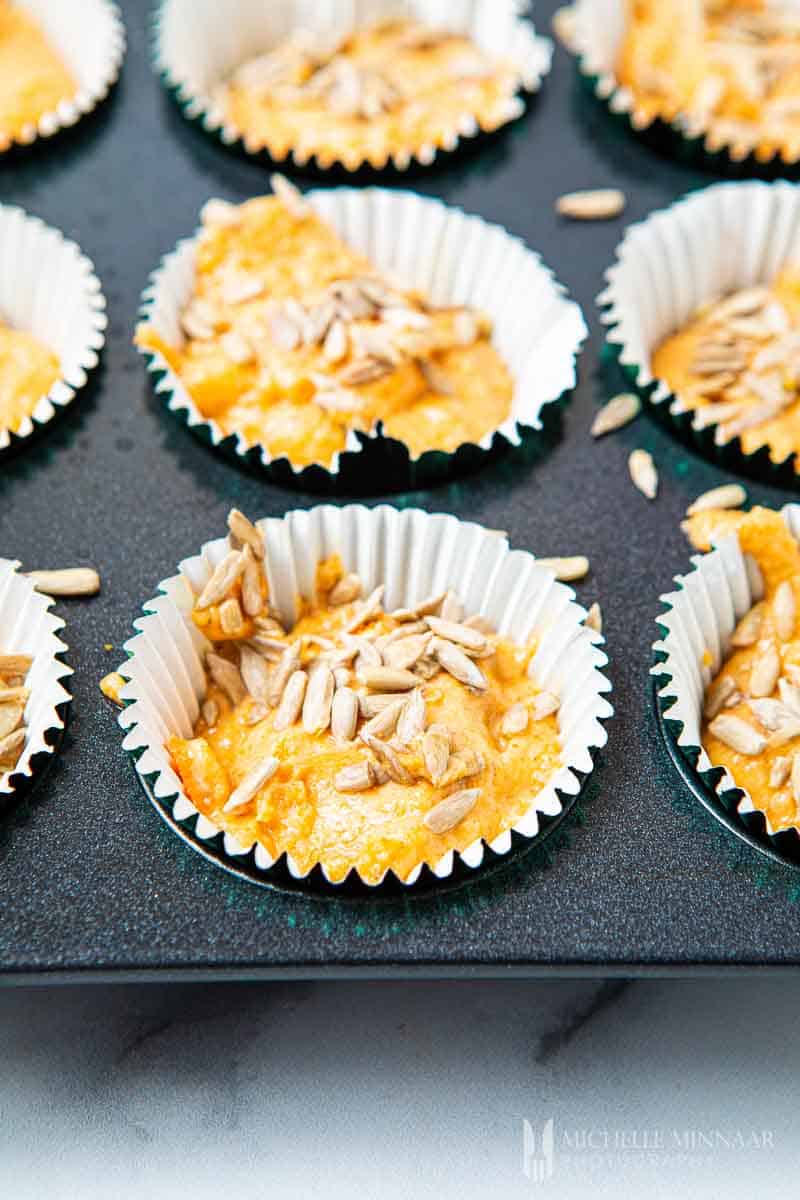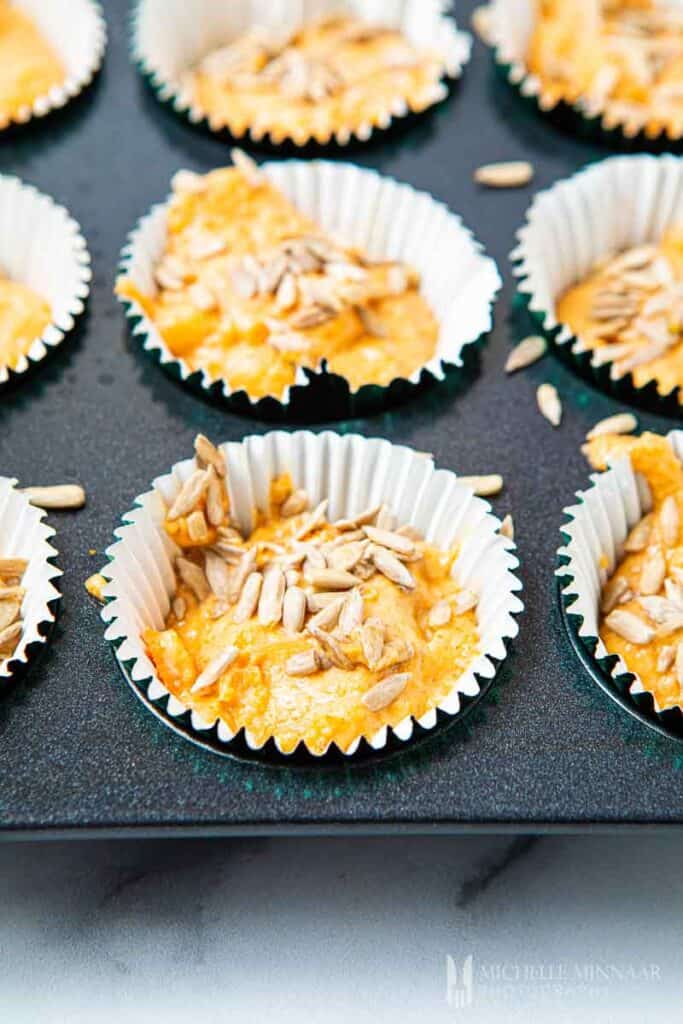 These are also the best ones if you wish to just snack on some carrots with some homemade ranch dressing.
If you've purchased a large quantity of carrots, you can always try your hand at the following recipes:
Of course, you can use all sorts of carrots to make these juicer pulp muffins. Purple, white, yellow, short varieties, baby carrots, you name it.
However, I believe that for best results, the sweeter varieties are the best.
juicer pulp bread
Instead of making juicer pulp muffins, you can also make juicer pulp bread. In this case, carrot bread.
Simply change the form and use a longer and narrower baking pan. The one you would use for a lemon drizzle cake for instance.
With a juicer pulp bread, you can alter between two versions: sweet or savoury. The key element here is the addition of honey.
So, it's completely up to you whether you would like to omit the honey or not.
best toppings for carrot muffins
There are a few toppings which I consider my favourites when baking muffins made with carrots.
Take a look at the following toppings suggestions below and tell me which ones are your favourites:
seeds - this is the best option for healthy muffins
juicer pulp - you can dry out the carrot pulp and add it as a topping
cream cheese frosting - this combination will taste like carrot cake
chocolate chips - it's best to use white chocolate chips for this recipe
raisins - I would also include these in the batter
lemon zest - for even more citrusy flavours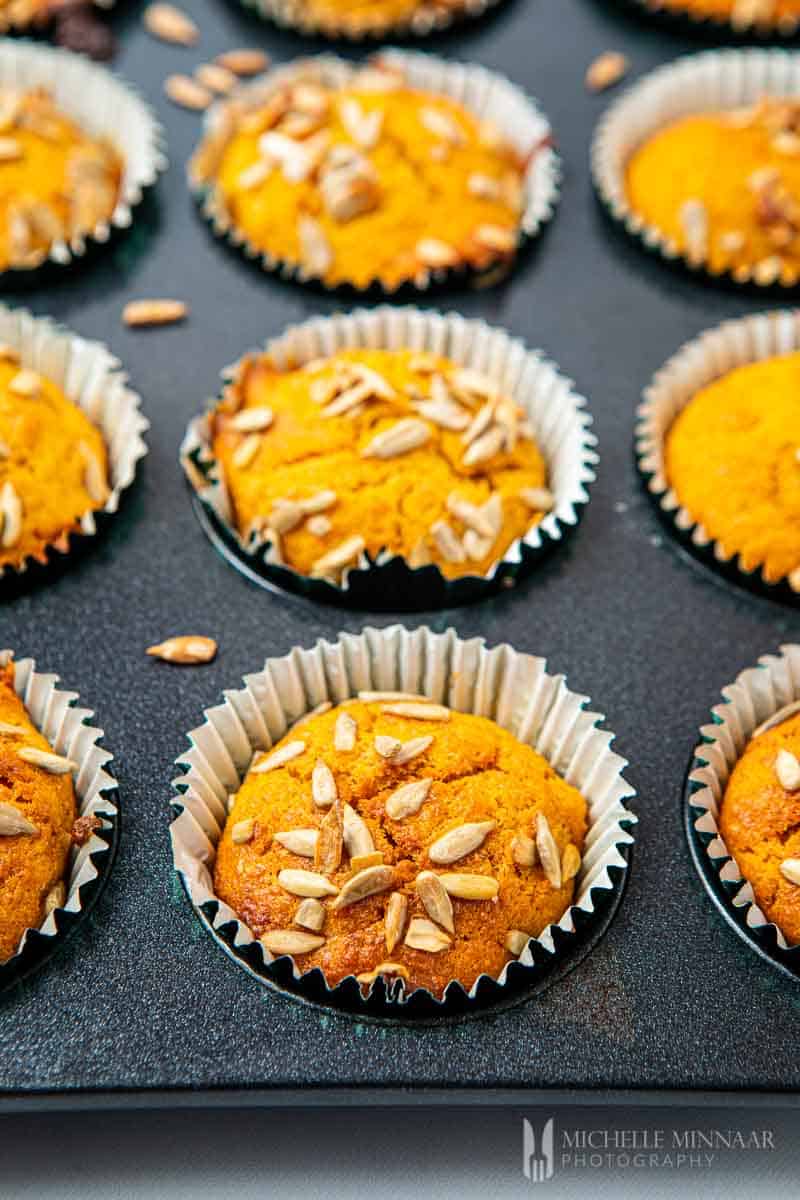 How would you serve your juicer pulp muffins? Do you have a combination of flavours in mind? Let me know in the comments section below.
Print
Juicer Pulp Muffins
---
Description
Make juicer pulp muffins from the leftover juice pulp when you make fresh juices. Here I used carrot pulp but can be substituted with anything. 
---
Dry Ingredients
290

g

(2 1/4 cups) flour, sieved
(1

1/2

cups

) wholemeal flour, sieved

22.5

ml

(1 1/2 tbsp) baking powder

5

ml

(1 tsp) salt
Wet Ingredients
375

ml

(1 1/2 cup) sunflower oil

250

ml

(1 cup) honey

15

ml

(1 tbsp) lemon zest

6

eggs

750

ml

(3 cups) juicer pulp
Extras
---
Instructions
Preheat the oven to 180ºC/fan 160ºC/350ºF/gas mark 4. 
Grease a muffin pan or line with baking cups.
Mix all the dry ingredients in a large bowl. 
In a separate bowl, whisk together the oil, honey, lemon zest and eggs until smooth. 
Slowly fold the dry ingredients into the wet until just incorporated. 
Stir in the juice pulp. If the mixture seems on the thick side, add a small splash of milk to loosen it up a bit. 
Divide the batter between the muffin cups evenly. 
Sprinkle each muffin with sunflower.
Bake for 20 minutes or until golden brown. You can do the toothpick test, which is done by inserting a toothpick in the center of a muffin. If it comes out dry and clean the muffins are cooked. 
Serve with butter or your favourite toppings. Consume within 3 days. Enjoy!
Notes
In this case, I used leftover carrot pulp after juicing. You can use any type of juice pulp in this recipe.
Prep Time:

15 minutes

Cook Time:

20 minutes

Category:

Muffins

Method:

Bake

Cuisine:

English
Keywords: juicer pulp muffins, juice pulp muffin recipe, pulp from juicer muffins, carrot pulp muffins, leftover juice pulp recipe