Kinder Bueno cheesecake is real. Yes, it exists! I know it sounds too good to be true, but trust me, once you taste this cheesecake, you will have an unreal experience.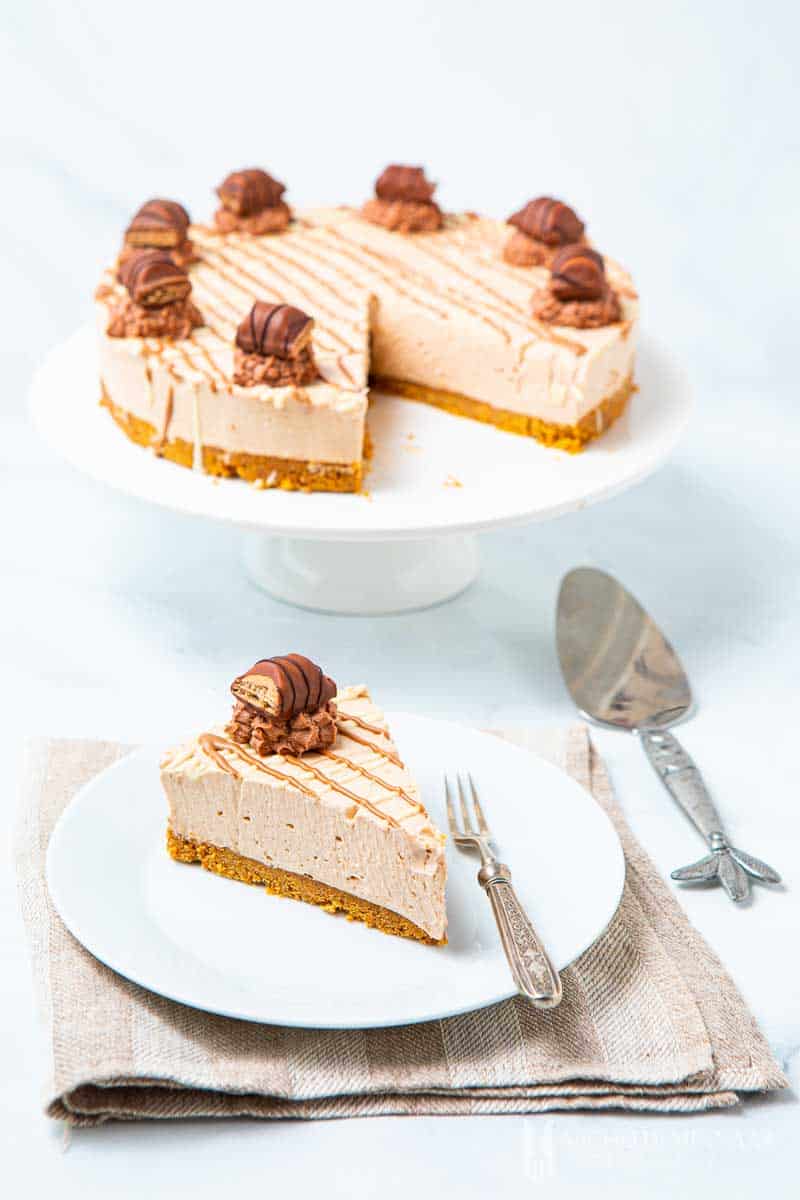 We all love Kinder Bueno, so attention all Kinder Bueno lovers. This Kinder Bueno cheesecake has stolen the hearts of many cheesecake eaters. Including mine.
Just ask yourself, when was the last time you enjoyed Kinder Bueno? I know that, at times, it could be embarrassing to purchase one of these candy bars at the supermarket.
Especially if you haven't got any kids, because these babies are known as a kids' candy. Hey, I've been there.
However, there is no shame in purchasing these delicious Kinder Bueno candy bars and enjoying them. Better yet, using them to make the ultimate Kinder Bueno cheesecake recipe. Don't you agree?
So, try out this amazing cheesecake recipe and see for yourself just how addictively delicious it is. A word to the wise, if you've got kids at home and a partner with a sweet tooth, hide the Kinder Bueno well.
Otherwise, when the day comes to actually make the cheesecake, you'll discover that the chocolates are gone. This could easily happen!
products you need for this recipe
Before you start your Kinder Bueno cheesecake recipe, take a look below and see which products you need to complete it. That being said, I've made a list of suggestions for the top products which you'll need in any case to complete almost any type of cheesecake recipe.
Kinder Bueno candy bars - why not purchase a pack of 30 Kinder Bueno bars for this Kinder Bueno cheesecake? You know, just in case some happen to mysteriously disappear, if you know what I mean.
3 sizes of cake tins - now you can decide which size you would like to make your cheesecake. As for me, my opinion always remains the same - the bigger the better.
Kinder chocolate bars - a box of 10 packs of these small chocolate bars can be used for topping ideas.
cake knife - serve the Kinder Bueno cheesecake with this special cake knife.
stand mixer - with this kitchen robot, you'll never have to whisk ever again. I always have a trustworthy kitchen robot like this one in my kitchen.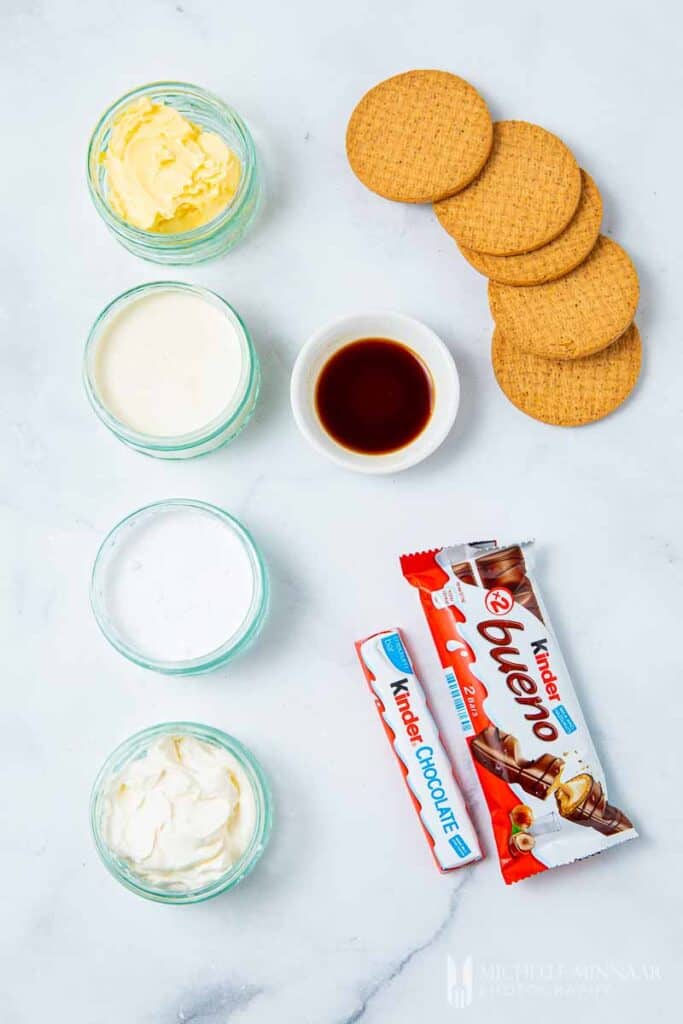 Kinder Bueno cheesecake
The hardest part of completing this Kinder Bueno cheesecake recipe is to not munch on the candy. This is why it's a great idea to purchase more packs than you need for this recipe, just in case. Or better yet, just purchase a large box which contains multiple packs.
Nevertheless, this cheesecake recipe is completely irresistible. It has a lovely rich chocolatey flavour which is complemented by the chocolate / candy bar toppings.
Actually, this Kinder Bueno cheesecake reminds me of other luscious no bake cheesecakes recipes that I've made before.
I have a habit of loving chocolate and candy bars. So much so, that I often make cheesecake recipes with them. Just check out some of my cheesecake creations which involve chocolate candy bars:
Indulge in these tempting and memorable cheesecake recipes. You'll be forever known as the master of cheesecakes!
Kinder Bueno recipes
This Kinder Bueno pretty much takes the cake when it comes to being the best cheesecake recipe ever! Therefore, understandably, it is no surprise that you might not want to look for an alternative.
However, if you find yourself in a situation where you must look for one because all the Kinder Bueno candy bars were sold out, there is hope.
You can still retain the original flavours of this Kinder Bueno cheesecake recipe, but you'll have to stick to the Kinder Bueno brand.
Suitable alternatives to Kinder Bueno chocolate bars are the following:
Kinder chocolate bars - this is the best alternative to Kinder Bueno chocolate bars.
Kinder egg chocolate - these are excellent as well but more suitable as toppings, especially during family celebrations, festive occasions, birthdays or Easter.
Equally delicious are Kinder schoko bons - but they are also more suitable as toppings.
Otherwise, you can also go for other chocolate bars which have a slight hazelnut flavour. The first chocolate that comes to mind is the hazel Milka chocolate or the nougat Milka chocolate bar. However, any type of nougat chocolate, or nougat itself, will work perfectly well.
Kinder Bueno Nutella cheesecake
Speaking of hazelnut flavours, you can also use a hazelnut spread to enhance the flavours of this Kinder Bueno cheesecake recipe. You can use any type of hazelnut spread, but I also go for Nutella. Nutella never disappoints.
Just add 3 tablespoons of Nutella into the cream cheese filling and you are good to go. You can control the intensity of the nutty flavours by adding or reducing the amount of Nutella you use.
If you've got leftover Nutella, then perhaps attempt to make this equally sinful slow cooker Nutella fudge.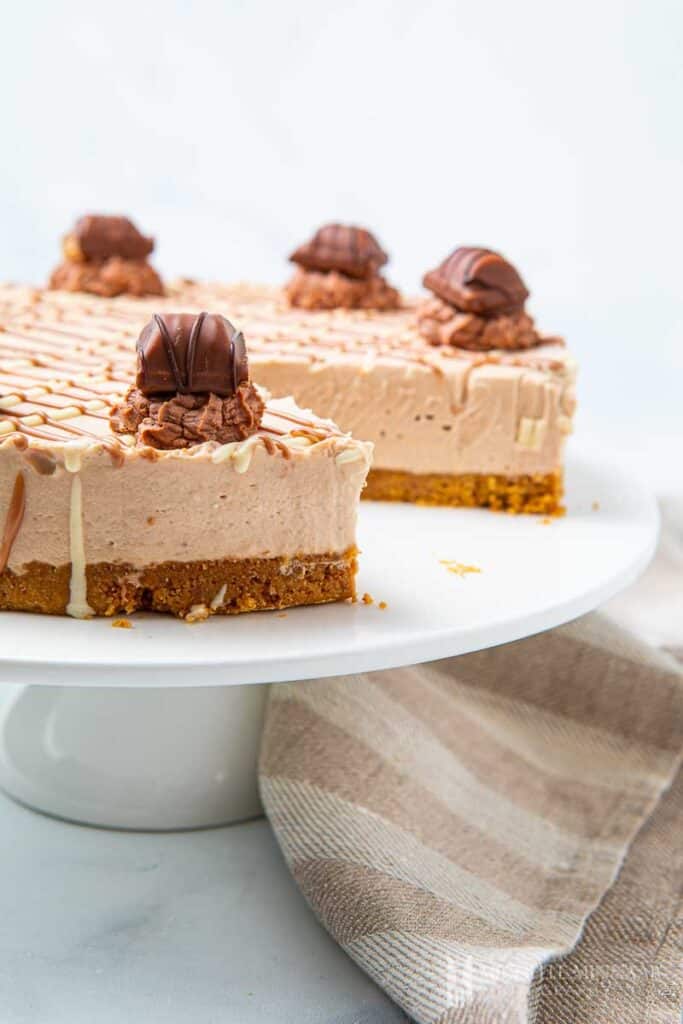 best toppings for Kinder Bueno cheesecake
Here are the best toppings you can use for this Kinder Bueno cheesecake recipe:
Kinder Bueno candy bars - by far the best and most suitable toppings
Kinder chocolate bars - another agreeable topping
chocolate fudge sauce or caramel sauce
Kinder schoko bons or Kinder eggs (an excellent choice for birthdays, celebrations or Easter).
chocolate shavings
cocoa powder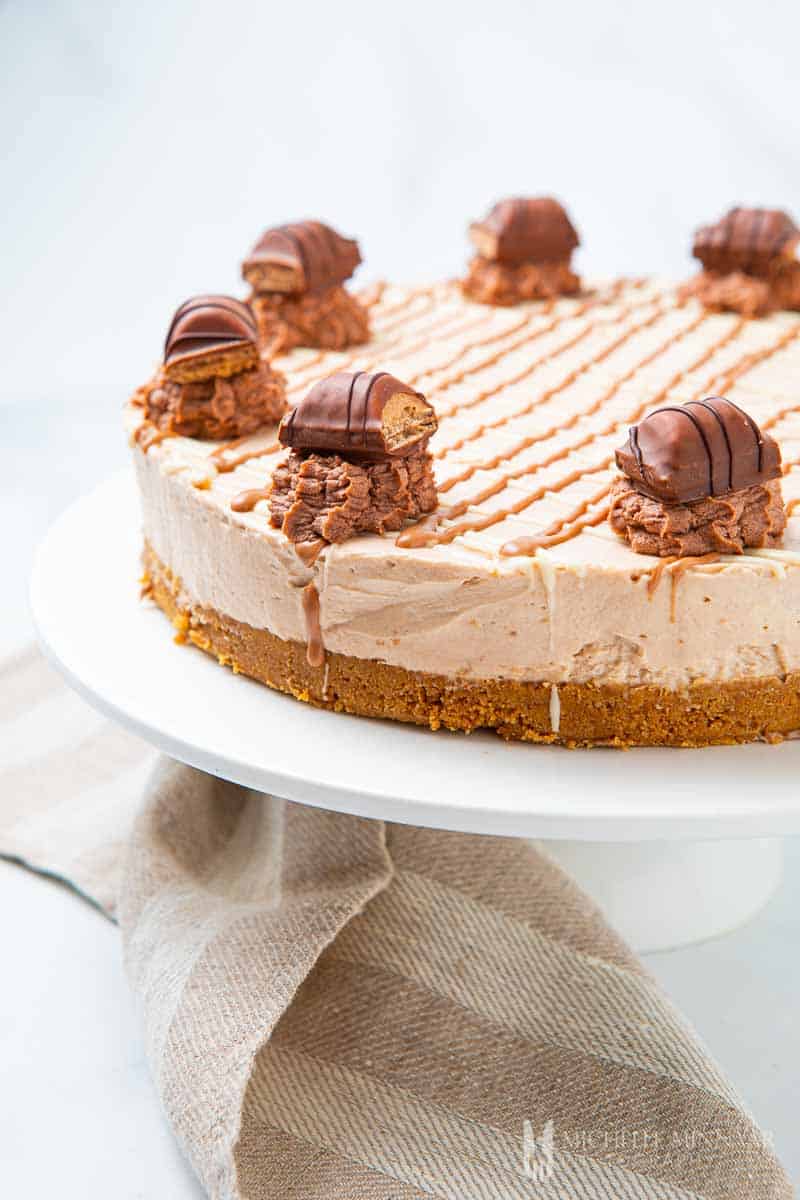 What is your favourite Kinder Bueno recipe?
Print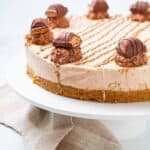 Kinder Bueno Cheesecake
---
Description
Purchase a large pack of Kinder Bueno candy bars and make this irresistible Kinder Bueno cheesecake recipe.
---
Biscuit Base
300

g

(3 cups) digestive biscuits, crushed

4

Kinder Bueno chocolate bars, crushed

150

g

(2/3 cup) butter, melted
Cheesecake Filling
500

g

(2 cups) cream cheese

100

g

(1 cups) icing sugar

5

ml

(1 tsp) vanilla essence

250

g

(20 x 12.5g) Kinder chocolate, melted

300

ml

(1 1/4 cups) double cream
Garnishing Ideas
Extra double cream, for whipping
Extra Kinder Bueno chocolate bars
Milk and white chocolate, for drizzling
---
Instructions
For the Biscuit Base: Crush the biscuits and Kinder Bueno chocolates in a sealable plastic bag with a rolling pin, until everything turns into crumbs.
Mix the butter with the crumbs.
Spoon the mixture into the base of a 23cm (9in) springform cake tin and level with the back of a spoon.
Place in the fridge to set. An hour will do. 
For the Cheesecake Filling: Melt the Kinder chocolate in a bowl by zapping it for short bursts, about 30 seconds, in the microwave, then stir. Repeat until the chocolate is completely melted. Set aside to cool. 
Combine the cheese, sugar and vanilla in a bowl and beat until well combined.
Systematically add the melted chocolate to the cream cheese mixture, while stirring vigorously, until well combined. Set aside. 
Pour the cream in another bowl and whisk until peaks form.
Gently fold the cream into the cheese mixture.
Spoon the cheesecake filling on top of the biscuit base and spread evenly.
Place in the fridge for at least 6 hours, but preferably overnight, to set.
Once set, release the side of the cake tin and place it on a serving plate.
Decorate with whipped cream, pieces of Kinder Bueno and melted chocolate. Enjoy!
Notes
I'm sure there will be no leftover cheesecake in the fridge, but there might be cream cheese leftover if you don't manage to use it all. Check out my guide on freezing cream cheese so that it is ready for your next cheesecake!
Prep Time:

40 minutes

Cook Time:

5 minutes

Category:

Dessert

Method:

Chill

Cuisine:

Italian
Keywords: Kinder Bueno cheesecake, kinder bueno recipe, cheesecake Kinder Bueno, no bake kinder cheesecake